New Waves: The ESG Megatrend Meets Green Bonds
New Waves: The ESG Megatrend Meets Green Bonds
It's clear that sustainable investing has been thrown into the limelight.
Increasingly, investors are seeing both the financial and social imperative for sustainable investing. In particular, the rapid growth of green bonds—a fixed income investment that is designed to raise funds for the climate or environment—is booming.
The above infographic from Raconteur navigates the growing green bond market against the backdrop of the broader ESG (environmental, social, and governance) investing shift.
Gathering Steam
By the end of 2020, $45 trillion in assets will adhere to sustainable practices, including ESG principles.
Despite the loss of confidence from COVID-19, investors flocked to sustainable-focused funds.In fact, global fund flows hit record levels for Q2 of 2020—surpassing $71 billion.
The fund flows are not without financial warrant. Between April 2015 and April 2019, average returns of socially responsible investments (SRI) outperformed their non-SRI peers. At the same time, 94% of sustainable indices realized stronger returns than their benchmarks between January and March 2020.
The accelerating demand for sustainable investments may seem like old news, but green bonds offer a new avenue.
What Are Green Bonds?
Green bonds raise money for climate and environmental projects, and are issued by governments, corporations, and financial institutions.
Multilateral development banks, which include the European Investment Bank and the World Bank, initially brought them to market in 2007, though they had a slow start. However, in 2019, new issues of green bonds topped $258 billion worldwide—jumping 51% in one year.
Across the green bond market there is a broad spectrum of different debt instruments. These include private placements, covered bonds, and green loans.
Green private placements occur when the sale of bonds are made to private investors, rather than through public offerings. Green covered bonds, on the other hand, are bonds that are backed by a group of assets that are sustainably-focused. Green loans are forms of loans that are meant to finance green projects.
Overall, green bonds can be diversified across a number of different sectors.
The Top Purposes for Green Bonds
What are the top sectors for green bond issuance?
| Category | 2015 | 2019 |
| --- | --- | --- |
| Alternative energy | $30.4B | $143.8B |
| Green building | $10.7B | $63.5B |
| Sustainable transport | $3.7B | $58.7B |
| Energy efficiency | $9.5B | $47.6B |
| Sustainable water | $3.1B | $23.8B |
| Pollution prevention | $1.4B | $18.1B |
| Climate adaptation | $1.8B | $15.0B |
| Sustainable forestry/agriculture | $1.1B | $11.3B |
Source: MSCI
Alternative energy, accounting for over $143 billion in green bonds, outpaces all other sectors by a wide margin. Within four years, renewable energy bond issuance has more than quadrupled.
Meanwhile, green building bonds are garnering attention. These instruments finance the construction of energy efficient buildings. Within the industry, a notable green building certification system is the LEED standard, also internationally recognized. Often, real estate investment trusts (REITs) are involved in issuing green building bonds.
Interestingly, Big Tech is also becoming more active within the green bond landscape. Google's parent company, Alphabet, has issued a record $5.8 billion in corporate sustainability bonds to fund everything from energy efficiency projects to affordable housing.
The Top 10 Countries for Green Bonds
On a country-by-country level, green bonds are most common in the U.S., China, and France.
| Rank | Country | Green Bond Issuance | 2018-2019 Change (Amount) |
| --- | --- | --- | --- |
| 1 | 🇺🇸U.S. | $50.6B | 44% |
| 2 | 🇨🇳China | $30.1B | 1% |
| 3 | 🇫🇷France | $29.5B | 113% |
| 4 | 🇩🇪Germany | $18.7B | 144% |
| 5 | 🇳🇱Netherlands | $15.1B | 105% |
| 6 | 🇸🇪Sweden | $10.3B | 66% |
| 7 | 🇯🇵Japan | $7.2B | 73% |
| 8 | 🇨🇦Canada | $7B | 63% |
| 9 | 🇮🇹Italy | $6.8B | 128% |
| 10 | 🇪🇸Spain | $6.5B | 3% |
| Top 10 Total | | $181.8B | 49% |
Source: Climate Bonds Initiative
Germany issued its first multi-billion dollar government green bonds in just 2019. One catalyst behind this was the European Central Bank's announcement that the environment would become a "mission critical" priority going forward.
This may contribute to the fact that both Germany and France saw the biggest change between 2018 and 2019.
Opening the Floodgates
As sustainable investing becomes front and center on the global agenda, questions about its impact on returns have arisen.
During times of both extreme exuberance and market crisis, companies with higher sustainability ratings have outperformed their respective benchmark. However, there is still a long way to go. Even with the record issuance of green bonds in 2019, they make up just 3% of all global bonds issued.
As demand for sustainable investments quickly grows, could it spell a watershed decade ahead for green bonds?
Support the Future of Data Storytelling
Sorry to interrupt your reading, but we have a favor to ask. At Visual Capitalist we believe in a world where data can be understood by everyone. That's why we want to build the VC App - the first app of its kind combining verifiable and transparent data with beautiful, memorable visuals. All available for free.
As a small, independent media company we don't have the expertise in-house or the funds to build an app like this. So we're asking our community to help us raise funds on Kickstarter.
If you believe in data-driven storytelling, join the movement and back us on Kickstarter!
Thank you.
Visualizing the Impact of Rising Sea Levels, by Country
Here's a look at how people around the world could be impacted by coastal flooding by 2100, based on rising sea level projections.

Creator Program
Climate change is already causing sea levels to rise across the globe. In the 20th century alone, it's estimated that the mean global sea level rose by 11-16 cm.
How much will sea levels change in the coming years, and how will it affect our population?
In the below series of visualizations by Florent Lavergne, we can see how rising sea levels could impact countries in terms of flood risk by the year 2100.
These graphics use data from a 2019 study by Scott Kulp and Benjamin Strauss. Their study used CoastalDEM—a 3D graphics tool used to measure a population's potential exposure to extreme coastal water levels—and examined rising sea levels under different levels of greenhouse gas (GHG) emissions.
Flood Risk By Region
Which countries will be most severely affected by rising sea levels?
If things continue as they are, roughly 360 million people around the world could be at risk of annual flood events by 2100. Here's what those figures look like across each region:
Africa
On the continent of Africa, one of the countries with the highest number of people at risk of coastal flooding is Egypt.
Over 95% of Egypt's population lives along the Nile river, with some areas situated at extremely low elevations. The country's lowest point is 133 m below sea level.
Asia
Asia's population will be more heavily impacted by flooding than any other region included in the dataset.
According to the projections, 70% of the people that will be affected by rising sea levels are located in just eight Asian countries: China, Bangladesh, India, Vietnam, Indonesia, Thailand, the Philippines, and Japan.
Europe
One of the most high-risk populations in Europe is the Netherlands. The country has a population of about 17 million, and as of 2019, about half of its population lives in areas below sea level.
The country's lowest point, the town Nieuwekerk aan den Ijssel, is 6.8 m below sea level.
North America
In North America, the U.S., Canada, and Mexico are expected to see the highest numbers of impacted people, due to the size of their populations.
But as a percentage of population, other countries in Central America and the Caribbean are more greatly at risk, especially in high emission scenarios. One country worth highlighting is the Bahamas. Even based on moderate emission levels, the country is expected to see a significant surge in the number of people at risk of flood.
According to the World Bank, this is because land in the Bahamas is relatively flat, making the island especially vulnerable to sea level rises and flooding.
South America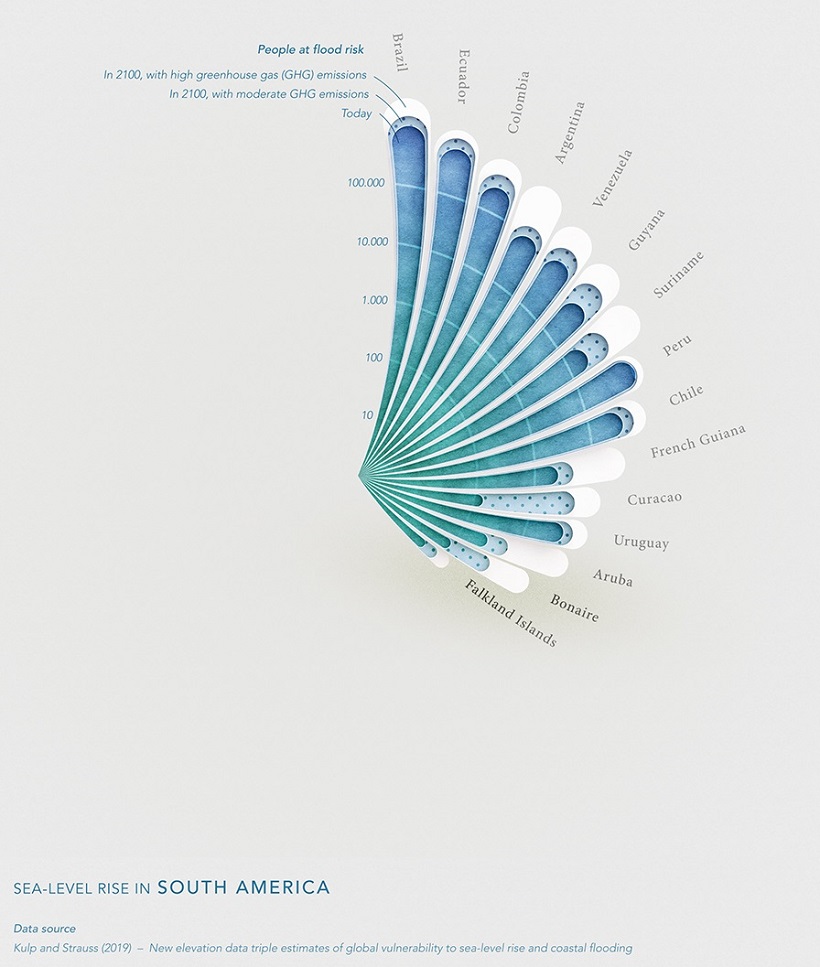 As South America's largest country by population and with large coastal cities, Brazil's population is the most at risk for flood caused by rising sea levels.
Notably, thanks to a lot of mountainous terrain and municipalities situated on high elevation, no country in South America faces a flood risk impacting more than 1 million people.
Oceania
By 2100, Polynesian countries like Tonga are projected to see massive increases in the number of people at risk of flooding, even at moderate GHG emissions.
According to Reuters, sea levels in Tonga have been rising by 6 mm each year, which is nearly double the average global rate. The reason for this is because the islands sit in warmer waters, where sea level changes are more noticeable than at the poles.
What's Causing Sea Levels to Rise?
Since 1975, average temperatures around the world have risen 0.15 to 0.20°C each decade, according to research by NASA.
This global heating has caused polar ice caps to begin melting—in just over two decades, we've lost roughly 28 trillion tonnes of our world's ice. Over that same timeframe, global sea levels have risen by an average of 36 mm. These rising sea levels pose a number of risks, including soil contamination, loss of habitat, and flooding.
As countries are affected by climate change in different ways, and at different levels, the question becomes how they will respond in turn.
What Are the Five Major Types of Renewable Energy?
Renewable energy is the foundation of the ongoing energy transition. What are the key types of renewable energy, and how do they work?
The Renewable Energy Age
This was originally posted on Elements. Sign up to the free mailing list to get beautiful visualizations on natural resource megatrends in your email every week.
Awareness around climate change is shaping the future of the global economy in several ways.
Governments are planning how to reduce emissions, investors are scrutinizing companies' environmental performance, and consumers are becoming conscious of their carbon footprints. But no matter the stakeholder, energy generation and consumption from fossil fuels is one of the biggest contributors to emissions.
Therefore, renewable energy sources have never been more top-of-mind than they are today.
The Five Types of Renewable Energy
Renewable energy technologies harness the power of the sun, wind, and heat from the Earth's core, and then transforms it into usable forms of energy like heat, electricity, and fuel.
The above infographic uses data from Lazard, Ember, and other sources to outline everything you need to know about the five key types of renewable energy:
| Energy Source | % of 2021 Global Electricity Generation | Avg. levelized cost of energy per MWh |
| --- | --- | --- |
| Hydro 💧 | 15.3% | $64 |
| Wind 🌬 | 6.6% | $38 |
| Solar ☀️ | 3.7% | $36 |
| Biomass 🌱 | 2.3% | $114 |
| Geothermal ♨️ | <1% | $75 |
Editor's note: We have excluded nuclear from the mix here, because although it is often defined as a sustainable energy source, it is not technically renewable (i.e. there are finite amounts of uranium).
Though often out of the limelight, hydro is the largest renewable electricity source, followed by wind and then solar.
Together, the five main sources combined for roughly 28% of global electricity generation in 2021, with wind and solar collectively breaking the 10% share barrier for the first time.
The levelized cost of energy (LCOE) measures the lifetime costs of a new utility-scale plant divided by total electricity generation. The LCOE of solar and wind is almost one-fifth that of coal ($167/MWh), meaning that new solar and wind plants are now much cheaper to build and operate than new coal plants over a longer time horizon.
With this in mind, here's a closer look at the five types of renewable energy and how they work.
1. Wind
Wind turbines use large rotor blades, mounted at tall heights on both land and sea, to capture the kinetic energy created by wind.
When wind flows across the blade, the air pressure on one side of the blade decreases, pulling it down with a force described as the lift. The difference in air pressure across the two sides causes the blades to rotate, spinning the rotor.
The rotor is connected to a turbine generator, which spins to convert the wind's kinetic energy into electricity.
2. Solar (Photovoltaic)
Solar technologies capture light or electromagnetic radiation from the sun and convert it into electricity.
Photovoltaic (PV) solar cells contain a semiconductor wafer, positive on one side and negative on the other, forming an electric field. When light hits the cell, the semiconductor absorbs the sunlight and transfers the energy in the form of electrons. These electrons are captured by the electric field in the form of an electric current.
A solar system's ability to generate electricity depends on the semiconductor material, along with environmental conditions like heat, dirt, and shade.
3. Geothermal
Geothermal energy originates straight from the Earth's core—heat from the core boils underground reservoirs of water, known as geothermal resources.
Geothermal plants typically use wells to pump hot water from geothermal resources and convert it into steam for a turbine generator. The extracted water and steam can then be reinjected, making it a renewable energy source.
4. Hydropower
Similar to wind turbines, hydropower plants channel the kinetic energy from flowing water into electricity by using a turbine generator.
Hydro plants are typically situated near bodies of water and use diversion structures like dams to change the flow of water. Power generation depends on the volume and change in elevation or head of the flowing water.
Greater water volumes and higher heads produce more energy and electricity, and vice versa.
5. Biomass
Humans have likely used energy from biomass or bioenergy for heat ever since our ancestors learned how to build fires.
Biomass—organic material like wood, dry leaves, and agricultural waste—is typically burned but considered renewable because it can be regrown or replenished. Burning biomass in a boiler produces high-pressure steam, which rotates a turbine generator to produce electricity.
Biomass is also converted into liquid or gaseous fuels for transportation. However, emissions from biomass vary with the material combusted and are often higher than other clean sources.
When Will Renewable Energy Take Over?
Despite the recent growth of renewables, fossil fuels still dominate the global energy mix.
Most countries are in the early stages of the energy transition, and only a handful get significant portions of their electricity from clean sources. However, the ongoing decade might see even more growth than recent record-breaking years.
The IEA forecasts that, by 2026, global renewable electricity capacity is set to grow by 60% from 2020 levels to over 4,800 gigawatts—equal to the current power output of fossil fuels and nuclear combined. So, regardless of when renewables will take over, it's clear that the global energy economy will continue changing.