Electronic Health Records as a GPS for Healthcare
Electronic Health Records as a GPS for Healthcare
As patients are bombarded with more choice and information than ever, the burdened health system seems to lack the appropriate support to manage increasing demands for personalized and convenient care.
Today's infographic comes to us from Publicis Health, and it demonstrates how electronic health records are an important piece in the puzzle to improve experiences for patients and providers alike.
At a Crossroads
As it stands, the current healthcare industry faces several challenges. Patients today have more complex needs and wants, while physicians are struggling to keep up.
25% of Americans have multiple chronic conditions.
63% of patients forget to adhere to medications.
40% of doctors feel that their work pace is chaotic.
60% of doctors feel that visits are too short to treat patients effectively.
Adding to these challenges, the healthcare industry is grappling with significant amounts of technological change, while also trying to keep costs in check. Between 2015 and 2017, hospitals lost $6.8 billion in operating income – that's an average decline of nearly 40% in just two years.
A New Direction for Patient Care
Enter electronic health records (EHRs) – platforms used to conveniently store a patient's health information and offer all sorts of services, from scheduling appointments and consultations to identifying patients at risk and guiding care decisions.
An improvement on physical paper charts, EHRs allow a patient's medical history to be shared securely and instantly across different settings.
First conceived in 2009 under the Obama administration's Health Information Technology for Economic and Clinical Health (HITECH) act, EHRs have rapidly evolved as they've been implemented in the industry, with 87% office-based doctors nationwide relying on the system.
Today, EHRs are a massive industry: the global market was worth $23.6 billion in 2016, and it's expected to reach close to $33.3 billion by 2023. It's clear their real capabilities are still just at the tip of the iceberg.
As technology progresses to incorporate artificial intelligence and big data into healthcare, the point of care for patients will likely extend beyond the four walls of a doctor's office and out into the world. In other words, EHR systems act like a GPS, helping doctors and care teams navigate patient care more efficiently. This improves patient-doctor interactions, resulting in better outcomes.
Of course, there are always challenges to overcome. Here are a few key considerations for EHRs:

What's the Problem?
The Solve
Benefits
Apps aren't for all ages
Conversational AI platforms
- All age groups are familiar with chat platforms
- Streamline user interactions
- Increases engagement
Expensive professional health system resources
AI-powered virtual assistance
- Concierge services for patients
- Access accurate patient information
- Increases engagement and adherence
Generic, one-way content
Personalized content
- Educational and relevant content, based on individual needs
Missed appointments or medication
Reminder services
- Supports optimal care
- Improves adherence
Accessibility issues
Telemedicine or transportation services
- Enables patients with transportation challenges to receive the care they need
Thinking Beyond EHR Systems
Capturing real world data and patient-reported outcomes will be important for wider applications, towards:
A deeper understanding of patient journeys
Informing clinical trial design and execution
Better characterizing patient demographics
Evaluating treatment options for sub-populations
In the future, healthcare and pharma companies could potentially use EHRs as one part of an entire suite of solutions to improve their workflow – and extend the point of care everywhere.
This is part six of a seven part series. Stay tuned for the final piece by subscribing to Visual Capitalist for free, as we wrap up the major transformative forces shaping the future of healthcare.
Charted: What are Retail Investors Interested in Buying in 2023?
What key themes and strategies are retail investors looking at for the rest of 2023? Preview: AI is a popular choice.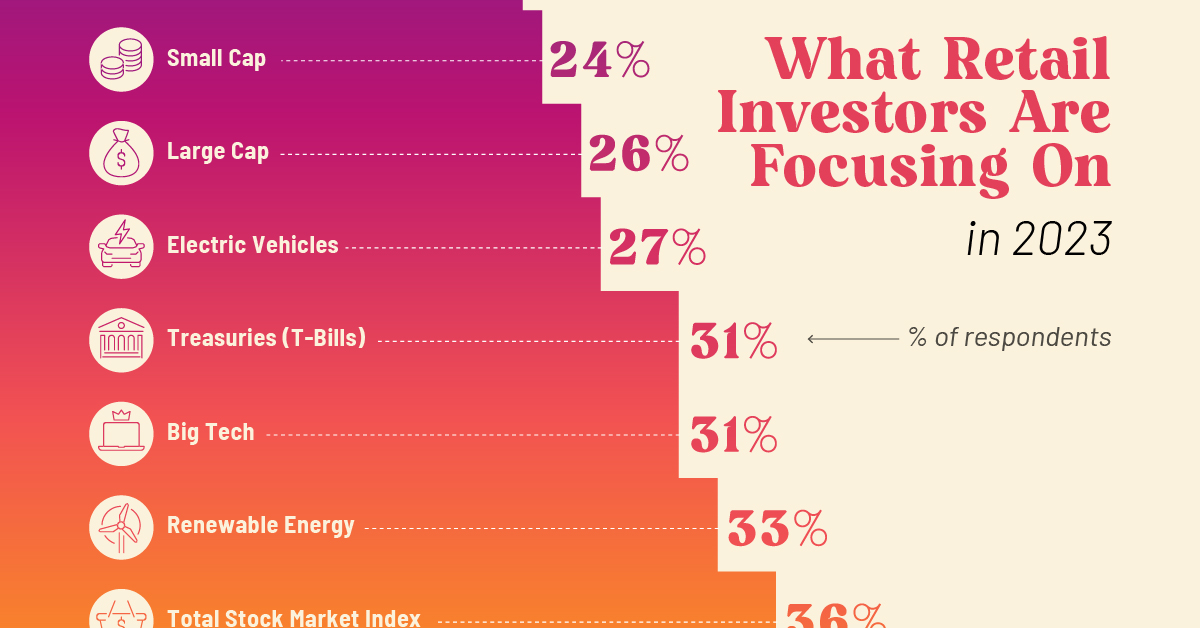 Charted: Retail Investors' Top Picks for 2023
U.S. retail investors, enticed by a brief pause in the interest rate cycle, came roaring back in the early summer. But what are their investment priorities for the second half of 2023?
We visualized the data from Public's 2023 Retail Investor Report, which surveyed 1,005 retail investors on their platform, asking "which investment strategy or themes are you interested in as part of your overall investment strategy?"
Survey respondents ticked all the options that applied to them, thus their response percentages do not sum to 100%.
Where Are Retail Investors Putting Their Money?
By far the most popular strategy for retail investors is dividend investing with 50% of the respondents selecting it as something they're interested in.
Dividends can help supplement incomes and come with tax benefits (especially for lower income investors or if the dividend is paid out into a tax-deferred account), and can be a popular choice during more inflationary times.
| Investment Strategy | Percent of Respondents |
| --- | --- |
| Dividend Investing | 50% |
| Artificial Intelligence | 36% |
| Total Stock Market Index | 36% |
| Renewable Energy | 33% |
| Big Tech | 31% |
| Treasuries (T-Bills) | 31% |
| Electric Vehicles | 27% |
| Large Cap | 26% |
| Small Cap | 24% |
| Emerging Markets | 23% |
| Real Estate | 23% |
| Gold & Precious Metals | 23% |
| Mid Cap | 19% |
| Inflation Protection | 13% |
| Commodities | 12% |
Meanwhile, the hype around AI hasn't faded, with 36% of the respondents saying they'd be interested in investing in the theme—including juggernaut chipmaker Nvidia. This is tied for second place with Total Stock Market Index investing.
Treasury Bills (30%) represent the safety anchoring of the portfolio but the ongoing climate crisis is also on investors' minds with Renewable Energy (33%) and EVs (27%) scoring fairly high on the interest list.
Commodities and Inflation-Protection stocks on the other hand have fallen out of favor.
Come on Barbie, Let's Go Party…
Another interesting takeaway pulled from the survey is how conversations about prevailing companies—or the buzz around them—are influencing trades. The platform found that public investors in Mattel increased 6.6 times after the success of the 'Barbie' movie.
Bud Light also saw a 1.5x increase in retail investors, despite receiving negative attention from their fans after the company did a beer promotion campaign with trans influencer Dylan Mulvaney.
Given the origin story of a large chunk of American retail investors revolves around GameStop and AMC, these insights aren't new, but they do reveal a persisting trend.