Chart: The Downward Spiral in Interest Rates
During the onset of an economic crisis, national governments are thought to have two chief policy tools at their disposal:
Fiscal Policy


How the central government collects money through taxation, and how it spends that money

Monetary Policy


How central banks choose to manage the supply of money and interest rates
Major fiscal policy changes can take time to be implemented — but since central banks can make moves unilaterally, monetary policy is often the first line of defense in settling markets.
As the ripple effect of the COVID-19 pandemic rages on, central banks have been quick to act in slashing interest rates. However, with rates already sitting at historic lows before the crisis, it is possible that banks may be forced to employ more unconventional and controversial techniques to try and calm the economy as time goes on.
The Fed: Firing at Will
The most meaningful rate cuts happened on March 3rd and March 15th after emergency meetings in the United States.
First, the Federal Open Market Committee (FOMC) cut the target rate from 1.5% to 1.0% — and then on Sunday (March 15th) the rate got chopped by an entire percentage point to rub up against the lower bound of zero.
As you can see on the chart, this puts us back into familiar territory: a policy environment analogous to that seen during the recovery from the financial crisis.
ZIRP or NIRP?
It's been awhile, but with interest rates again bumping up against the lower bound, you'll begin to see discussions pop up again about the effectiveness of zero interest rate policy (ZIRP) and even negative interest rate policy (NIRP).
Although the latter has been used by some European banks in recent years, NIRP has never been experimented with in the United States or Canada.
Here's a quick primer on both:
With rates sitting at zero, it's not impossible for the Fed and other central banks to begin toying more seriously with the idea of negative rates. Such a move would be bold, but also seen as highly experimental and risky with unforeseen consequences.
Global Rate Slashing
Since only the beginning of March, the world's central banks have cut interest rates on 37 separate occasions.
The only exception to this rule was the National Bank of Kazakhstan, which raised its key rate by 2.75% to support its currency in light of current oil prices. Even so, the Kazakhstani tenge has lost roughly 15% of its value against the U.S. dollar since February.
Here's a look at cumulative interest rate cuts by some of the world's most important central banks, from January 1, 2020 until today: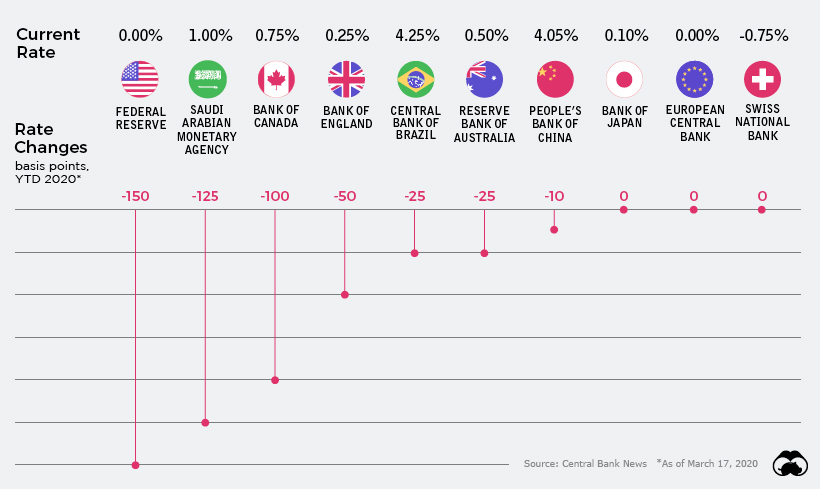 Going into the year, rates in developed economies were already between 0% and 2%.
Despite not having much room to work with, banks have slashed rates where they can — and now out of major developed economies, Canada has the "highest" interest rate at just 0.75%.
Helicopters on the Horizon
With central banks running out of ammo for the use of traditional measures, the conversation is quickly shifting to unconventional measures such as "helicopter money" and NIRP.
Life is already surreal as societal measures to defend against the spread of COVID-19 unfold; pretty soon, monetary measures taken around the globe may seem just as bizarre.
Put another way, unless something changes fast and miraculously, we could be moving into an unprecedented monetary environment where up is down, and down is up. At that point, it's anybody's guess as to how things will shake out going forward.
The World's Biggest Real Estate Bubbles in 2021
According to UBS, there are nine real estate markets that are in bubble territory with prices rising to unsustainable levels.
Ranked: The World's Biggest Real Estate Bubbles in 2021
Identifying real estate bubbles is a tricky business. After all, even though many of us "know a bubble when we see it", we don't have tangible proof of a bubble until it actually bursts.
And by then, it's too late.
The map above, based on data from the Real Estate Bubble Index by UBS, serves as an early warning system, evaluating 25 global cities and scoring them based on their bubble risk.
Reading the Signs
Bubbles are hard to distinguish in real-time as investors must judge whether a market's pricing accurately reflects what will happen in the future. Even so, there are some signs to watch out for.
As one example, a decoupling of prices from local incomes and rents is a common red flag. As well, imbalances in the real economy, such as excessive construction activity and lending can signal a bubble in the making.
With this in mind, which global markets are exhibiting the most bubble risk?
The Geography of Real Estate Bubbles
Europe is home to a number of cities that have extreme bubble risk, with Frankfurt topping the list this year. Germany's financial hub has seen real home prices rise by 10% per year on average since 2016—the highest rate of all cities evaluated.
Two Canadian cities also find themselves in bubble territory: Toronto and Vancouver. In the former, nearly 30% of purchases in 2021 went to buyers with multiple properties, showing that real estate investment is alive and well. Despite efforts to cool down these hot urban markets, Canadian markets have rebounded and continued their march upward. In fact, over the past three decades, residential home prices in Canada grew at the fastest rates in the G7.
Despite civil unrest and unease over new policies, Hong Kong still has the second highest score in this index. Meanwhile, Dubai is listed as "undervalued" and is the only city in the index with a negative score. Residential prices have trended down for the past six years and are now down nearly 40% from 2014 levels.
Note: The Real Estate Bubble Index does not currently include cities in Mainland China.
Trending Ever Upward
Overheated markets are nothing new, though the COVID-19 pandemic has changed the dynamic of real estate markets.
For years, house price appreciation in city centers was all but guaranteed as construction boomed and people were eager to live an urban lifestyle. Remote work options and office downsizing is changing the value equation for many, and as a result, housing prices in non-urban areas increased faster than in cities for the first time since the 1990s.
Even so, these changing priorities haven't deflated the real estate market in the world's global cities. Below are growth rates for 2021 so far, and how that compares to the last five years.
Overall, prices have been trending upward almost everywhere. All but four of the cities above—Milan, Paris, New York, and San Francisco—have had positive growth year-on-year.
Even as real estate bubbles continue to grow, there is an element of uncertainty. Debt-to-income ratios continue to rise, and lending standards, which were relaxed during the pandemic, are tightening once again. Add in the societal shifts occurring right now, and predicting the future of these markets becomes more difficult.
In the short term, we may see what UBS calls "the era of urban outperformance" come to an end.
Mapped: Distribution of Global GDP by Region
Where does the world's economic activity take place? This cartogram shows the $94 trillion global economy divided into 1,000 hexagons.
Mapped: The Distribution of Global GDP by Region
Gross domestic product (GDP) measures the value of goods and services that an economy produces in a given year, but in a global context, it is typically shown using country-level data.
As a result, we don't often get to see the nuances of the global economy, such as how much specific regions and metro areas contribute to global GDP.
In these cartograms, global GDP has been normalized to a base number of 1,000 in order to show a more regional breakdown of economic activity. Created by Reddit user /BerryBlue_Blueberry, the two maps show the distribution in different ways: by nominal GDP and by GDP adjusted for purchasing power parity (PPP).
Methodology
Before diving in, let us give you some context on how these maps were designed. Each hexagon on the two maps represents 0.1% of the world's overall GDP.
The number below each region, country or metropolitan area represents the number of hexagons covered by that entity. So in the nominal GDP map, the state of New York represents 20 hexagons (i.e. 2.0% of global GDP), while Munich's metro area is 3 hexagons (0.3%).
Countries are further broken down based on size. Countries that make up more than 0.95% of global GDP are broken down into subdivisions, while countries that are smaller than 0.1% of GDP are grouped together. Metro areas that account for over 0.25% of global GDP are featured.
Finally, it should be noted that to account for some outdated subdivision participation data, the map creator calculated 2021 estimates for this using the formula: national GDP (2021) x % of subdivision participation (2017-2020).
Nominal vs. PPP
The above map is using nominal data, while the below map accounts for differences in purchasing power (PPP).
Adjusting for PPP takes into account the relative value of currencies and purchasing power in countries around the world. For example, $100 (or its exchange equivalent in Indian rupees) is generally going to be able to buy more in India than it is in the United States.
This is because goods and services are cheaper in India, meaning you can actually purchase more there for the same amount of money.
Anomalies in Global GDP Distribution
Breaking down global GDP distribution into cartograms highlights some interesting anomalies worth considering:
North America, Europe, and East Asia, with a combined GDP of nearly $75 trillion, make up 80% of the world's GDP in nominal terms.
The U.S. State of California accounts for 3.7% of the world's GDP by itself, which ranks higher than the United Kingdom's total contribution of 3.3%.
Canada as a country accounts for 2% of the world's GDP, which is comparable to the GDP contribution of the Greater Tokyo Area at 2.2%.
With a GDP of $3 trillion, India's contribution overshadows the GDP of the whole African continent ($2.6 trillion).
This visualization highlights the economic might of cities better than a conventional map. One standout example of this is in Ontario, Canada. The Greater Toronto Area completely eclipses the economy of the rest of the province.
Inequality of GDP Distribution
The fact that certain countries generate most of the world's economic output is reflected in the above cartograms, which resize countries or regions accordingly.
Compared to wealthier nations, emerging economies still account for just a tiny sliver of the pie.
India, for example, accounts for 3.2% of global GDP in nominal terms, even though it contains 17.8% of the world's population.
That's why on the nominal map, India is about the same size as France, the United Kingdom, or Japan's two largest metro areas (Tokyo and Osaka-Kobe)—but of course, these wealthier places have a far higher GDP per capita.