Infographic: Which Rare Diseases Are The Most Common?
Infographic: Which Rare Diseases Are The Most Common?
Pharmaceuticals have come a long way since the apothecary days of prescribing cocaine drops for toothaches, or dispensing tapeworm diet pills.
Today, medical breakthroughs like antibiotics and vaccines save millions of lives, and contribute to the industry's mammoth size. Yet even with rapid advancements, a select group of rare diseases still fly under the radar — and together, they affect over 350 million people worldwide.
What Are Rare Diseases?
Today's infographic from Raconteur breaks down occurrence rates of notable rare diseases, and their collective impact on pharmaceutical drug sales. But first, let's look at how they're defined.
Diseases are considered rare, or "orphan" if they affect only a small proportion of the population. In general, it's estimated that 1 in 17 people will be afflicted by a rare disease in their lifetime. At the same time, as many as 7,000 rare diseases exist, with more discovered every year.
A report by the global investment bank Torreya looks at the most common types of rare diseases that are a focus for therapeutic companies around the world:
Multiple sclerosis emerges above all others, at 90 patients per 100,000 people.
Narcolepsy—intermittent, uncontrollable episodes of sleepiness—affects 50 patients per 100,000.
Primary biliary cholangitis, the damage of bile ducts in the liver, affects 40 people in 100,000.
Rounding out the top five orphan diseases are Fabry disease (30 patients per 100,000), and cystic fibrosis (25 patients per 100,000).
One catch behind these stats? There's actually no universal definition of what constitutes a rare disease. This means prevalence data like the above is often inconsistent, making it difficult to record the precise rate of natural occurrence.
The Cost of Rare Diseases
This gap in knowledge comes at a price—many rare diseases have constrained options for treatment. Orphan drugs are often commercially underdeveloped, as their limited end-market usage means they aren't usually profitable enough for traditional research.
In the United States, government-backed incentives such as tax credits for R&D costs and clinical trials are speeding up the pathways from drug to market. Other places like the EU, Japan, and Australia are also following suit.
In total, it's estimated that pharma companies focused on rare diseases are worth about half a trillion in enterprise value, roughly equal to 17.5% of the value of Big Pharma:
Non-oncology value: $315.7B
Oncology value: $193.1B
Total enterprise value: $508.8B
Source: Torreya Report. Market values are for the top 31 pure play rare disease therapeutic companies.
The average cost of an orphan drug per U.S. patient annually can climb to near $151,000 (a whopping 4.5 times that of a non-orphan drug, at $34,000). That's why the pharma industry is urgently advancing rare disease therapeutics across different categories.
Dominant Orphan Drug Sales
According to other estimates, orphan drugs are set to capture over one-fifth of global prescription sales by 2024. Blood, central nervous system, and respiratory-related drugs are currently the top therapeutic categories and are expected to keep this status into the future.
The figures below break down global orphan drug sales by therapy category, and their present and estimated future market share. Note that oncology-related orphan drug sales are excluded from this table.
| Therapy Category | 2018 Sales | Market Share | 2024E Sales | Market Share | Change in Market Share |
| --- | --- | --- | --- | --- | --- |
| Blood | $21.3B | 31.4% | $33.1B | 27.9% | -3.4% |
| Central nervous system (CNS) | $11.1B | 16.3% | $20.3B | 17.1% | 0.8% |
| Respiratory | $7.8B | 11.5% | $13.6B | 11.5% | 0% |
| Immunomodulators | $7B | 10.3% | $12.5B | 10.5% | 0.2% |
| Cardiovascular | $6.7B | 9.9% | $8.5B | 7.2% | -2.7% |
| Endocrine | $3.8B | 5.6% | $5.6B | 4.7% | -0.9% |
| Musculoskeletal | $3.5B | 5.2% | $11B | 9.3% | 4.1% |
| Systemic anti-infectives | $3.1B | 4.6% | $4.2B | 3.5% | -1% |
| Gastro-intestinal | $2.9B | 4.3% | $6B | 5.1% | 0.8% |
| Genito-urinary | $0.6B | 0.9% | $1.5B | 1.3% | 0.4% |
| Sensory organs | $0.1B | 0.1% | $1.5B | 1.3% | 1.1% |
| Dermatology | $0B | 0% | $0.7B | 0.6% | 0.6% |
| Total Sales | $67.9B | | $118.5B | | |
Source: EvaluatePharma. Industry sales are based on the top 500 pharma and biotech companies.
Much is still unknown about rare diseases in the health community. Frequent misdiagnosis, and up to an average of 8 years for an accurate diagnosis, continue to be a problem for patients.
There are two sides to the situation. On one, tech giants like Microsoft are providing digital health solutions to speed up diagnosis, through machine learning and blockchain-based patient registry.
On the other, many skeptics question whether the industry is interested in finding cures for rare diseases at all, especially when they account for a significant portion of industry revenues.
Is curing patients a sustainable business model?
Visualizing How COVID-19 Antiviral Pills and Vaccines Work at the Cellular Level
Despite tackling the same disease, vaccines and antiviral pills work differently to combat COVID-19. We visualize how they work in the body.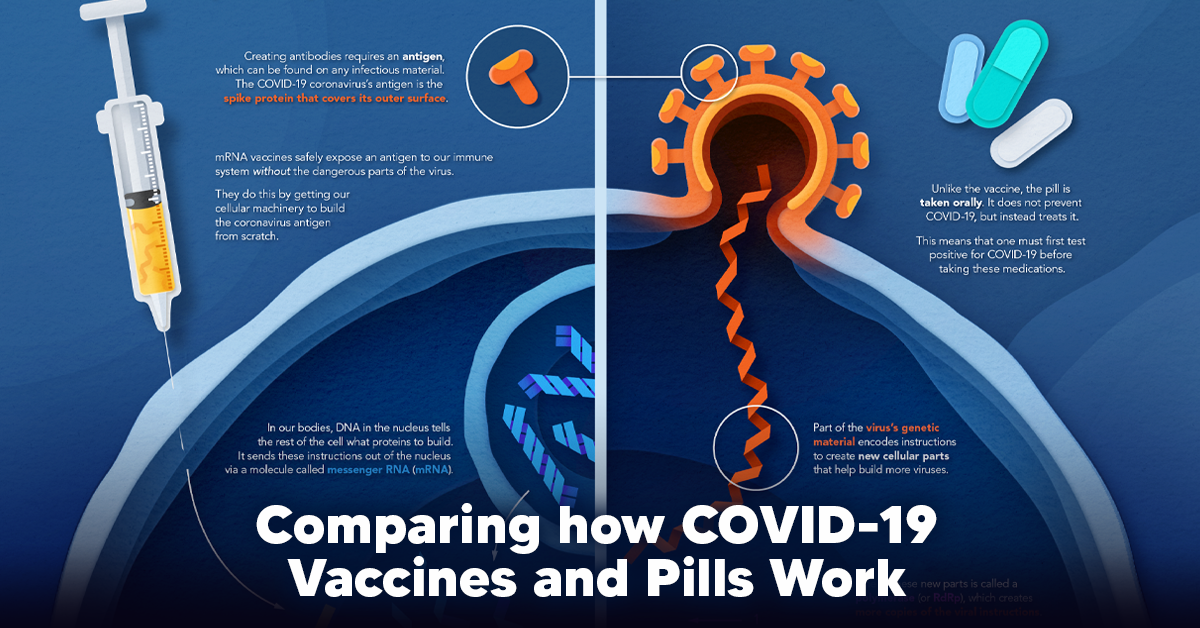 Current Strategies to Tackle COVID-19
Since the pandemic started in 2020, a number of therapies have been developed to combat COVID-19.
The leading options for preventing infection include social distancing, mask-wearing, and vaccination. They are still recommended during the upsurge of the coronavirus's latest mutation, the Omicron variant.
But in December 2021, The United States Food and Drug Administration (USDA) granted Emergency Use Authorization to two experimental pills for the treatment of new COVID-19 cases.
These medications, one made by Pfizer and the other by Merck & Co., hope to contribute to the fight against the coronavirus and its variants. Alongside vaccinations, they may help to curb extreme cases of COVID-19 by reducing the need for hospitalization.
Despite tackling the same disease, vaccines and pills work differently:

| Vaccines | Pills |
| --- | --- |
| Taken by injection | Taken by mouth |
| Used for prevention | Used for treatment only |
| Create an enhanced immune system by stimulating antibody production | Disrupt the assembly of new viral particles |
How a Vaccine Helps Prevent COVID-19
The main purpose of a vaccine is to prewarn the body of a potential COVID-19 infection by creating antibodies that target and destroy the coronavirus.
In order to do this, the immune system needs an antigen.
It's difficult to do this risk-free since all antigens exist directly on a virus. Luckily, vaccines safely expose antigens to our immune systems without the dangerous parts of the virus.
In the case of COVID-19, the coronavirus's antigen is the spike protein that covers its outer surface. Vaccines inject antigen-building instructions* and use our own cellular machinery to build the coronavirus antigen from scratch.
When exposed to the spike protein, the immune system begins to assemble antigen-specific antibodies. These antibodies wait for the opportunity to attack the real spike protein when a coronavirus enters the body. Since antibodies decrease over time, booster immunizations help to maintain a strong line of defense.
*While different vaccine technologies exist, they all do a similar thing: introduce an antigen and build a stronger immune system.
How COVID Antiviral Pills Work
Antiviral pills, unlike vaccines, are not a preventative strategy. Instead, they treat an infected individual experiencing symptoms from the virus.
Two drugs are now entering the market. Merck & Co.'s Lagevrio®, composed of one molecule, and Pfizer's Paxlovid®, composed of two.
These medications disrupt specific processes in the viral assembly line to choke the virus's ability to replicate.
The Mechanism of Molnupiravir
RNA-dependent RNA Polymerase (RdRp) is a cellular component that works similar to a photocopying machine for the virus's genetic instructions. An infected host cell is forced to produce RdRp, which starts generating more copies of the virus's RNA.
Molnupiravir, developed by Merck & Co., is a polymerase inhibitor. It inserts itself into the viral instructions that RdRp is copying, jumbling the contents. The RdRp then produces junk.
The Mechanism of Nirmatrelvir + Ritonavir
A replicating virus makes proteins necessary for its survival in a large, clumped mass called a polyprotein. A cellular component called a protease cuts a virus's polyprotein into smaller, workable pieces.
Pfizer's antiviral medication is a protease inhibitor made of two pills:
The first pill, nirmatrelvir, stops protease from cutting viral products into smaller pieces.
The second pill, ritonavir, protects nirmatrelvir from destruction by the body and allows it to keep working.
With a faulty polymerase or a large, unusable polyprotein, antiviral medications make it difficult for the coronavirus to replicate. If treated early enough, they can lessen the virus's impact on the body.
The Future of COVID Antiviral Pills and Medications
Antiviral medications seem to have a bright future ahead of them.
COVID-19 antivirals are based on early research done on coronaviruses from the 2002-04 SARS-CoV and the 2012 MERS-CoV outbreaks. Current breakthroughs in this technology may pave the way for better pharmaceuticals in the future.
One half of Pfizer's medication, ritonavir, currently treats many other viruses including HIV/AIDS.
Gilead Science is currently developing oral derivatives of remdesivir, another polymerase inhibitor currently only offered to inpatients in the United States.
More coronavirus antivirals are currently in the pipeline, offering a glimpse of control on the looming presence of COVID-19.
Author's Note: The medical information in this article is an information resource only, and is not to be used or relied on for any diagnostic or treatment purposes. Please talk to your doctor before undergoing any treatment for COVID-19. If you become sick and believe you may have symptoms of COVID-19, please follow the CDC guidelines.
Mapped: The Most Common Illicit Drugs in the World
What are the most commonly used illicit drugs around the world?
Mapped: The Most Common Illicit Drugs in the World
Despite strict prohibitory laws around much of the world, many common illicit drugs still see widespread use.
Humans have a storied and complicated relationship with drugs. Defined as chemical substances that cause a change in our physiology or psychology, many drugs are taken medicinally or accepted culturally, like caffeine, nicotine, and alcohol.
But many drugs—including medicines and non-medicinal substances taken as drugs—are taken recreationally and can be abused. Each country and people have their own relationship to drugs, with some embracing the use of specific substances while others shun them outright.
What are the most common drugs that are considered generally illicit in different parts of the world? Today's graphics use data from the UN's World Drug Report 2021 to highlight the most prevalent drug used in each country.
What Types of Common Drugs Are Tracked?
The World Drug Report looks explicitly at the supply and demand of the international illegal drug market, not including commonly legal substances like caffeine and alcohol.
Drugs are grouped by class and type, with six main types of drugs found as the most prevalent drugs worldwide.
Cannabis*: Drugs derived from cannabis, including hemp. This category includes marijuana (dried flowers), hashish (resin), and other for various other parts of the plant or derived oils.
Cocaine: Drugs derived from the leaves of coca plants. Labeled as either cocaine salts for powder form or crack for cocaine processed with baking soda and water into rock form.
Opioids: Includes opiates which are derived directly from the opium poppy plant, including morphine, codeine, and heroin, as well as synthetic alkaloids.
Amphetamine-type Stimulants (ATS): Amphetamine and drugs derived from amphetamine, including meth (also known as speed), MDMA, and ecstasy.
Sedatives and Tranquilizers: Includes other drugs whose main purpose is to reduce energy, excitement, or anxiety, as well as drugs used primarily to initiate or help with sleep (also called hypnotics).
Solvents and Inhalants: Gases or chemicals that can cause intoxication but are not intended to be drugs, including fuels, glues, and other industrial substances.
The report also tracked the prevalence of hallucinogens—psychoactive drugs which strongly affect the mind and cause a "trip"—but no hallucinogens ranked as the most prevalent drug in any one country.
*Editor's note: Recreational cannabis is legal in five countries, and some non-federal jurisdictions (i.e. states). However, in the context of this report, it was included because it is still widely illicit in most countries globally.
The Most Prevalent Drug in Each Country
According to the report, 275 million people used drugs worldwide in 2020. Between the ages of 15–64, around 5.5% of the global population used drugs at least once.
Many countries grouped different types of the same drug class together, and a few like Saudi Arabia and North Macedonia had multiple different drug types listed as the most prevalent.
But across the board, cannabis was the most commonly prevalent drug used in 107 listed countries and territories:
| Country or territory | Most Prevalent Drug(s) |
| --- | --- |
| Afghanistan | Heroin, opium |
| Albania | Sedatives and tranquillizers (general) |
| Algeria | Cannabis (general) |
| Argentina | Cannabis (herb) |
| Australia | Cannabis (general) |
| Azerbaijan | Heroin |
| Bahamas | Cannabis (herb) |
| Bahrain | Cannabis (general) |
| Bangladesh | Amphetamine |
| Belarus | Opium |
| Belgium | Cannabis (herb) |
| Bolivia | Cannabis (herb) |
| Brunei | Cannabis (herb) |
| Bulgaria | Cannabis (herb) |
| Burkina Faso | Cannabis (general) |
| Canada | Cannabis (herb) |
| Central African Republic | Cannabis (herb) |
| Chile | Cannabis (herb) |
| China | Methamphetamine |
| Costa Rica | Cannabis (herb) |
| Côte d'Ivoire | Cannabis (herb) |
| Croatia | Heroin |
| Cyprus | Cannabis (general) |
| Czech Republic | Benzodiazepines |
| Dominican Republic | Cocaine (powder) |
| Ecuador | Cannabis (herb) |
| El Salvador | Cannabis (herb) |
| Estonia | Cannabis (herb) |
| Finland | Cannabis (herb) |
| France | Cannabis (hashish) |
| Georgia | Cannabis (herb) |
| Germany | Cannabis (herb) |
| Gibraltar | Cannabis (hashish) |
| Greece | Solvents and inhalants (general) |
| Guatemala | Cannabis (herb) |
| Honduras | Cannabis (herb) |
| Hong Kong | Heroin, opium, opioids |
| Hungary | Cannabis (herb) |
| Iceland | Cannabis (general) |
| India | Heroin |
| Indonesia | Cannabis (herb) |
| Iran | Opium |
| Ireland | Cannabis (herb) |
| Israel | Cannabis (herb) |
| Italy | Cannabis (general) |
| Japan | Methamphetamine |
| Jordan | Cannabis (hashish) |
| Kenya | Cannabis (herb) |
| Latvia | Cannabis (herb) |
| Lebanon | Cannabis (hashish) |
| Liechtenstein | Cannabis (hashish) |
| Lithuania | Sedatives and tranquillizers (general) |
| Luxembourg | Cannabis (general) |
| Macao | Methamphetamine |
| Madagascar | Cannabis (herb) |
| Malaysia | Methamphetamine |
| Malta | Heroin |
| Mexico | Cannabis (herb) |
| Moldova | Cannabis (herb) |
| Mongolia | Methamphetamine |
| Mozambique | Cannabis (herb) |
| Myanmar | Heroin |
| Netherlands | Benzodiazepines |
| New Zealand | Methamphetamine, solvent and inhalants |
| Nicaragua | Cannabis (herb) |
| Nigeria | Cannabis (herb) |
| North Macedonia | Multiple types |
| Norway | Cannabis (general) |
| Oman | Opium |
| Pakistan | Cannabis (hashish) |
| Panama | Cannabis (herb) |
| Peru | Cannabis (herb) |
| Philippines | Cannabis (herb) |
| Poland | Cannabis (herb) |
| Portugal | Cannabis (general) |
| Qatar | Cannabis (hashish) |
| Romania | Cannabis (general) |
| Saudi Arabia | Multiple types |
| Senegal | Cannabis (herb) |
| Serbia | Benzodiazepines |
| Singapore | Methamphetamine |
| Slovenia | Cannabis (general) |
| South Africa | Cannabis (general) |
| South Korea | Methamphetamine |
| Spain | Cannabis (herb) |
| Sri Lanka | Cannabis (herb) |
| Sudan | Cannabis (herb) |
| Suriname | Cannabis (herb) |
| Sweden | Cannabis (general) |
| Switzerland | Cannabis (herb) |
| Syrian Arab Republic | Cannabis (hashish) |
| Tajikistan | Heroin, opium |
| Tanzania | Cannabis (herb) |
| Thailand | Methamphetamine |
| Togo | Cannabis (herb) |
| Trinidad and Tobago | Cocaine (crack) |
| Tunisia | Cannabis (general) |
| Turkey | Cannabis (herb) |
| Turkmenistan | Opium |
| U.S. | Cannabis (herb) |
| UK | Cannabis (herb) |
| Ukraine | Opioids |
| Uruguay | Cannabis (herb) |
| Uzbekistan | Cannabis (herb) |
| Venezuela | Benzodiazepines |
| Vietnam | Heroin |
| Zambia | Cannabis (herb) |
How prevalent is cannabis worldwide? 72 locations or more than two-thirds of those reporting listed cannabis as the most prevalent drug.
Unsurprisingly these include countries that have legalized recreational cannabis: Canada, Georgia, Mexico, South Africa, and Uruguay.
How Common Are Opioids and Other Drugs?
Though the global prevalence of cannabis is unsurprising, especially as it becomes legalized and accepted in more countries, other drugs also have strong footholds.
Opioids (14 locations) were the most prevalent drugs in the Middle-East, South and Central Asia, including in India and Iran. Notably, Afghanistan is the world's largest producer of opium, supplying more than 90% of illicit heroin globally.
Amphetamine-type drugs (9 locations) were the third-most common drugs overall, mainly in East Asia. Methamphetamine was the reported most prevalent drug in China, South Korea, and Japan, while amphetamine was only the most common drug in Bangladesh.
However, it's important to note that illicit drug usage is tough to track. Asian countries where cannabis is less frequently found (or reported) might understate its usage. At the same time, the opioid epidemic in the U.S. and Canada reflects high opioid usage in the West.
As some drugs become more widespread and others face a renewed "war," the landscape is certain to shift over the next few years.