The 50 Most Important Life-Saving Breakthroughs in History
The 50 Most Important Life-Saving Breakthroughs in History
For most of civilized history, life expectancy fluctuated in the 30 to 40 year range.
Child mortality was all too common, and even for those that made it to adulthood, a long and healthy life was anything but guaranteed. Sanitation was poor, disease was rampant, and many medical practices were based primarily on superstition or guesswork.
By the 20th century, an explosion in new technologies, treatments, and other science-backed practices helped to increase global life expectancy at an unprecedented rate.
From 1900 to 2015, global life expectancy more than doubled, shooting well past the 70 year mark.
Important Breakthroughs
What were the major innovations that made the last century so very fruitful in saving lives?
Today's infographic from AperionCare highlights the top 50 breakthroughs, ranging from pasteurization to the bifurcated needle, that have helped propel global life expectancy upwards.
Interestingly, while many of these innovations have some linkage to the medical realm, there are also breakthroughs in sectors like energy, sanitation, and agriculture that have helped us lead longer and healthier lives.
To see innovations on an individual basis, AperionCare breaks them down further as follows:
The breakthroughs that are credited with saving the most lives?
Toilets, synthetic fertilizers, blood transfusions, the green revolution (also known as the "Third Agricultural Revolution"), and vaccines are each credited with saving 1 billion lives. Meanwhile, pasteurization, water chlorination, antibiotics, antimalarial drugs, and the bifurcated needle have saved hundreds of millions of lives each.
There are also some unusual entries to the list.
It turns out that satellites have actually saved 250,000 lives, thanks to the ability to better forecast natural disasters. Nuclear power also gets a shout out – and it may surprise some people that nuclear energy is the least deadly form of energy per kilowatt generated.
Progress in Life Expectancy
For a graphical look at how this all has impacted life expectancy, the following chart from Our World in Data makes a very clear case:
The impact from these new technologies was first experienced in Europe at the end of the 1800s – and other continents quickly saw the benefits thereafter.
Impressively, Africa has now passed the 60 year mark in life expectancy, with numbers still rising.
Charted: What are Retail Investors Interested in Buying in 2023?
What key themes and strategies are retail investors looking at for the rest of 2023? Preview: AI is a popular choice.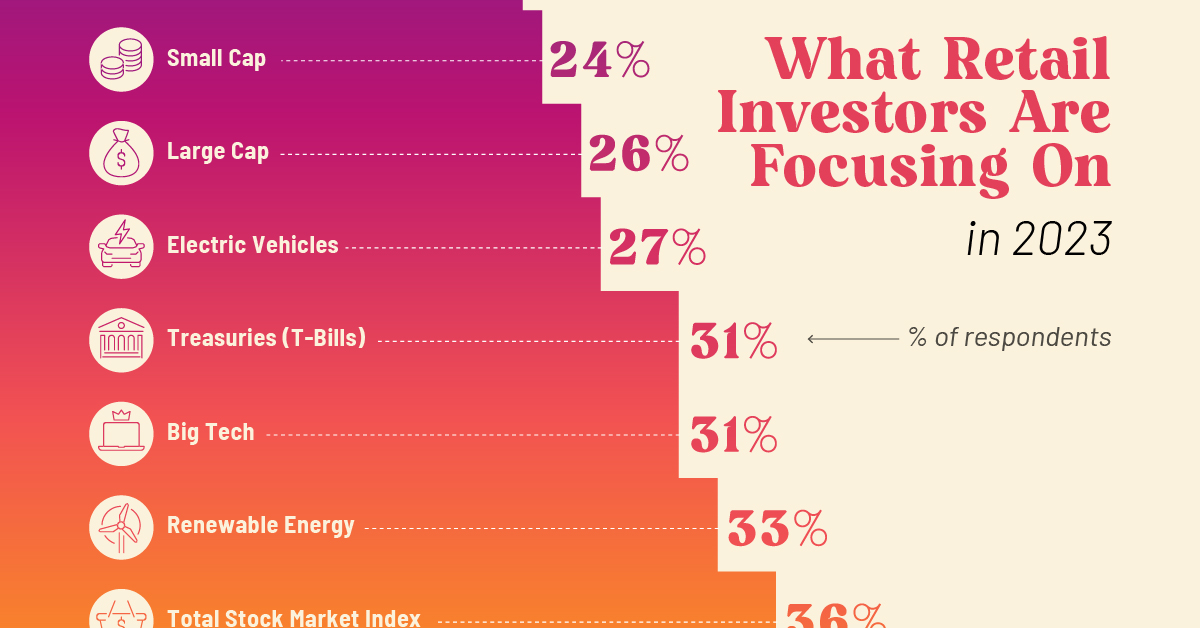 Charted: Retail Investors' Top Picks for 2023
U.S. retail investors, enticed by a brief pause in the interest rate cycle, came roaring back in the early summer. But what are their investment priorities for the second half of 2023?
We visualized the data from Public's 2023 Retail Investor Report, which surveyed 1,005 retail investors on their platform, asking "which investment strategy or themes are you interested in as part of your overall investment strategy?"
Survey respondents ticked all the options that applied to them, thus their response percentages do not sum to 100%.
Where Are Retail Investors Putting Their Money?
By far the most popular strategy for retail investors is dividend investing with 50% of the respondents selecting it as something they're interested in.
Dividends can help supplement incomes and come with tax benefits (especially for lower income investors or if the dividend is paid out into a tax-deferred account), and can be a popular choice during more inflationary times.
| Investment Strategy | Percent of Respondents |
| --- | --- |
| Dividend Investing | 50% |
| Artificial Intelligence | 36% |
| Total Stock Market Index | 36% |
| Renewable Energy | 33% |
| Big Tech | 31% |
| Treasuries (T-Bills) | 31% |
| Electric Vehicles | 27% |
| Large Cap | 26% |
| Small Cap | 24% |
| Emerging Markets | 23% |
| Real Estate | 23% |
| Gold & Precious Metals | 23% |
| Mid Cap | 19% |
| Inflation Protection | 13% |
| Commodities | 12% |
Meanwhile, the hype around AI hasn't faded, with 36% of the respondents saying they'd be interested in investing in the theme—including juggernaut chipmaker Nvidia. This is tied for second place with Total Stock Market Index investing.
Treasury Bills (30%) represent the safety anchoring of the portfolio but the ongoing climate crisis is also on investors' minds with Renewable Energy (33%) and EVs (27%) scoring fairly high on the interest list.
Commodities and Inflation-Protection stocks on the other hand have fallen out of favor.
Come on Barbie, Let's Go Party…
Another interesting takeaway pulled from the survey is how conversations about prevailing companies—or the buzz around them—are influencing trades. The platform found that public investors in Mattel increased 6.6 times after the success of the 'Barbie' movie.
Bud Light also saw a 1.5x increase in retail investors, despite receiving negative attention from their fans after the company did a beer promotion campaign with trans influencer Dylan Mulvaney.
Given the origin story of a large chunk of American retail investors revolves around GameStop and AMC, these insights aren't new, but they do reveal a persisting trend.