What Are the Five Major Types of Renewable Energy?

Subscribe to the Elements free mailing list for more like this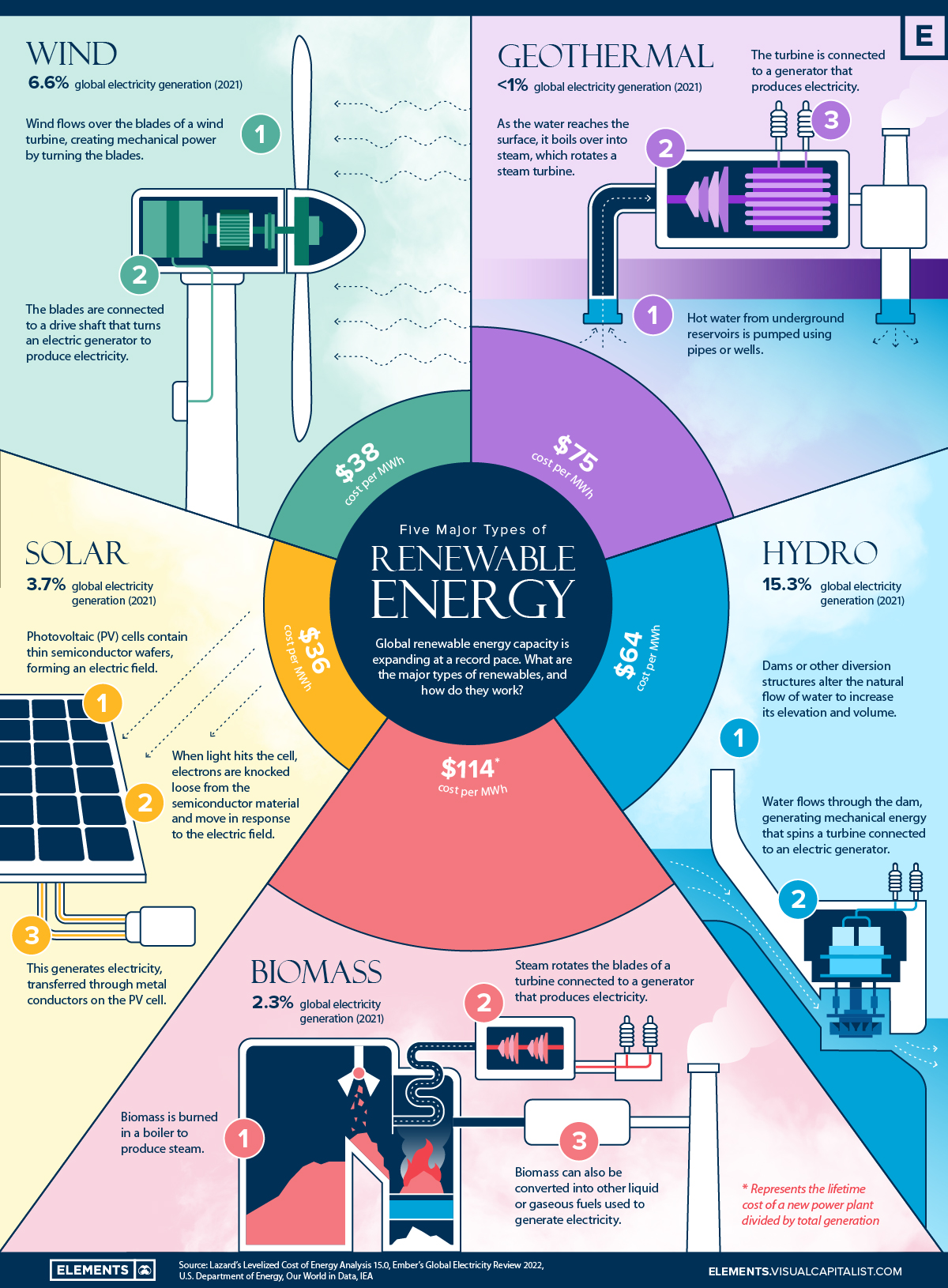 The Renewable Energy Age
This was originally posted on Elements. Sign up to the free mailing list to get beautiful visualizations on natural resource megatrends in your email every week.
Awareness around climate change is shaping the future of the global economy in several ways.
Governments are planning how to reduce emissions, investors are scrutinizing companies' environmental performance, and consumers are becoming conscious of their carbon footprints. But no matter the stakeholder, energy generation and consumption from fossil fuels is one of the biggest contributors to emissions.
Therefore, renewable energy sources have never been more top-of-mind than they are today.
The Five Types of Renewable Energy
Renewable energy technologies harness the power of the sun, wind, and heat from the Earth's core, and then transforms it into usable forms of energy like heat, electricity, and fuel.
The above infographic uses data from Lazard, Ember, and other sources to outline everything you need to know about the five key types of renewable energy:
| Energy Source | % of 2021 Global Electricity Generation | Avg. levelized cost of energy per MWh |
| --- | --- | --- |
| Hydro 💧 | 15.3% | $64 |
| Wind 🌬 | 6.6% | $38 |
| Solar ☀️ | 3.7% | $36 |
| Biomass 🌱 | 2.3% | $114 |
| Geothermal ♨️ | <1% | $75 |
Editor's note: We have excluded nuclear from the mix here, because although it is often defined as a sustainable energy source, it is not technically renewable (i.e. there are finite amounts of uranium).
Though often out of the limelight, hydro is the largest renewable electricity source, followed by wind and then solar.
Together, the five main sources combined for roughly 28% of global electricity generation in 2021, with wind and solar collectively breaking the 10% share barrier for the first time.
The levelized cost of energy (LCOE) measures the lifetime costs of a new utility-scale plant divided by total electricity generation. The LCOE of solar and wind is almost one-fifth that of coal ($167/MWh), meaning that new solar and wind plants are now much cheaper to build and operate than new coal plants over a longer time horizon.
With this in mind, here's a closer look at the five types of renewable energy and how they work.
1. Wind
Wind turbines use large rotor blades, mounted at tall heights on both land and sea, to capture the kinetic energy created by wind.
When wind flows across the blade, the air pressure on one side of the blade decreases, pulling it down with a force described as the lift. The difference in air pressure across the two sides causes the blades to rotate, spinning the rotor.
The rotor is connected to a turbine generator, which spins to convert the wind's kinetic energy into electricity.
2. Solar (Photovoltaic)
Solar technologies capture light or electromagnetic radiation from the sun and convert it into electricity.
Photovoltaic (PV) solar cells contain a semiconductor wafer, positive on one side and negative on the other, forming an electric field. When light hits the cell, the semiconductor absorbs the sunlight and transfers the energy in the form of electrons. These electrons are captured by the electric field in the form of an electric current.
A solar system's ability to generate electricity depends on the semiconductor material, along with environmental conditions like heat, dirt, and shade.
3. Geothermal
Geothermal energy originates straight from the Earth's core—heat from the core boils underground reservoirs of water, known as geothermal resources.
Geothermal plants typically use wells to pump hot water from geothermal resources and convert it into steam for a turbine generator. The extracted water and steam can then be reinjected, making it a renewable energy source.
4. Hydropower
Similar to wind turbines, hydropower plants channel the kinetic energy from flowing water into electricity by using a turbine generator.
Hydro plants are typically situated near bodies of water and use diversion structures like dams to change the flow of water. Power generation depends on the volume and change in elevation or head of the flowing water.
Greater water volumes and higher heads produce more energy and electricity, and vice versa.
5. Biomass
Humans have likely used energy from biomass or bioenergy for heat ever since our ancestors learned how to build fires.
Biomass—organic material like wood, dry leaves, and agricultural waste—is typically burned but considered renewable because it can be regrown or replenished. Burning biomass in a boiler produces high-pressure steam, which rotates a turbine generator to produce electricity.
Biomass is also converted into liquid or gaseous fuels for transportation. However, emissions from biomass vary with the material combusted and are often higher than other clean sources.
When Will Renewable Energy Take Over?
Despite the recent growth of renewables, fossil fuels still dominate the global energy mix.
Most countries are in the early stages of the energy transition, and only a handful get significant portions of their electricity from clean sources. However, the ongoing decade might see even more growth than recent record-breaking years.
The IEA forecasts that, by 2026, global renewable electricity capacity is set to grow by 60% from 2020 levels to over 4,800 gigawatts—equal to the current power output of fossil fuels and nuclear combined. So, regardless of when renewables will take over, it's clear that the global energy economy will continue changing.
Support the Future of Data Storytelling
Sorry to interrupt your reading, but we have a favor to ask. At Visual Capitalist we believe in a world where data can be understood by everyone. That's why we want to build the VC App - the first app of its kind combining verifiable and transparent data with beautiful, memorable visuals. All available for free.
As a small, independent media company we don't have the expertise in-house or the funds to build an app like this. So we're asking our community to help us raise funds on Kickstarter.
If you believe in data-driven storytelling, join the movement and back us on Kickstarter!
Thank you.
How Affordable is Gas in Latin America?
This graphic looks at gas affordability in Latin America, showing how much a liter of gas costs in 19 countries, relative to average incomes.

Creator Program
How Affordable is Gas in Latin America?
As gas prices have risen around the world, not each region and country is impacted equally.
Globally, the average price for a liter of gas was $1.44 USD on June 13, 2022.
But the actual price at the pump, and how affordable that price is for residents, varies greatly from country to country. This is especially true in Latin America, a region widely regarded as one of the world's most unequal regions in terms of its income and resource distribution.
Using monthly data from GlobalPetrolPrices.com as of May 2022, this graphic by Latinometrics compares gas affordability in different countries across Latin America.
Gas Affordability in 19 Different Latin American Countries
To measure gas affordability, Latinometrics took the price of a liter of gas in 19 different Latin American countries and territories, and divided those figures by each country's average daily income, using salary data from Statista.
Out of the 19 regions included in the dataset, Venezuela has the most affordable gas on the list. In Venezuela, a liter of gas is equivalent to roughly 1.3% of the country's average daily income.
| Country | Gas price as of May 2022 (USD) | % of average daily income |
| --- | --- | --- |
| 🇳🇮 Nicaragua | $1.37 | 14.0% |
| ​🇩🇴​ Dominican Republic | $1.41 | 12.6% |
| 🇧🇷​ Brazil | $1.43 | 12.5% |
| 🇵🇾​ Paraguay | $1.39 | 12.2% |
| 🇵🇪 Peru | $1.53 | 10.2% |
| 🇺🇾 Uruguay | $1.92 | 9.8% |
| 🇸🇻​ El Salvador | $1.14 | 9.2% |
| ​​🇭🇳​ Honduras | $1.33 | 8.6% |
| 🇲🇽​ Mexico | $1.17 | 7.8% |
| 🇬🇹​ Guatemala | $1.44 | 7.7% |
| 🇦🇷 Argentina | $1.06 | 6.7% |
| ​🇨🇱​ Chile | $1.37 | 6.6% |
| 🇨🇷​ Costa Rica | $1.42 | 5.9% |
| 🇨🇴 Colombia | $0.58 | 5.7% |
| ​🇵🇦 ​Panama | $1.27 | 5.0% |
| 🇪🇨 Ecuador | $0.67 | 4.1% |
| 🇧🇴 Bolivia | $0.54 | 3.2% |
| 🇵🇷​ Puerto Rico | $1.35 | 2.2% |
| 🇻🇪​ Venezuela | $0.02 | 1.3% |
This isn't too surprising, as Venezuela is home to the largest share of proven oil reserves in the world. However, it's worth noting that international sanctions against Venezuelan oil, largely because of political corruption, have hampered the once prosperous sector in the country.
On the other end of the spectrum, Nicaragua has the least affordable gas on the list, with one liter of gas costing 14% of the average daily income in the country.
Historically, the Nicaraguan government has not regulated gas prices in the country, but in light of the current global energy crisis triggered in large part by the Russia-Ukraine conflict, the government has stepped in to help control the situation.
As the Russia-Ukraine conflict continues with no end in sight, it'll be interesting to see where prices are at in the next few months.
Mapped: Which Ports are Receiving the Most Russian Fossil Fuel Shipments?
Russia's energy exports have become a hot topic. See which ports received fossil shipments during the first 100 days of the Ukraine invasion
As the invasion of Ukraine wears on, European countries are scrambling to find alternatives to Russian fossil fuels.
In fact, an estimated 93% of Russian oil sales to the EU are due to be eliminated by the end of the year, and many countries have seen their imports of Russian gas plummet. Despite this, Russia earned €93 billion in revenue from fossil fuel exports in the first 100 days of the invasion.
While the bulk of fossil fuels travel through Europe via pipelines, there are still a number marine shipments moving between ports. The maps below, using data from MarineTraffic.com and Datalastic, compiled by the Centre for Research on Energy and Clean Air (CREA), are a look at Russia's fossil fuel shipments during the first 100 days of the invasion.
Russia's Crude Oil Shipments
Much of Russia's marine shipments of crude oil went to the Netherlands and Italy, but crude was also shipped as far away as India and South Korea.
India became a significant importer of Russian crude oil, buying 18% of the country's exports (up from just 1%). From a big picture perspective, India and China now account for about half of Russia's marine-based oil exports.
It's important to note that a broad mix of companies were involved in shipping this oil, with some of the companies tapering their trade activity with Russia over time. Even as shipments begin to shift away from Europe though, European tankers are still doing the majority of the shipping.
Russia's Liquefied Natural Gas Shipments
Unlike the gas that flows along the many pipeline routes traversing Europe, liquefied natural gas (LNG) is cooled down to a liquid form for ease and safety of transport by sea. Below, we can see that shipments went to a variety of destinations in Europe and Asia.
Fluxys terminals in France and Belgium stand out as the main destinations for Russian LNG deliveries.
Russia's Oil Product Shipments
For crude oil tankers and LNG tankers, the type of cargo is known. For this dataset, CREA assumed that oil products tankers and oil/chemical tankers were carrying oil products.
Huge ports in Rotterdam and Antwerp, which house major refineries, were the destination for many of these oil products. Some shipments also went to destinations around the Mediterranean as well.
All of the top ports in this category were located within the vicinity of Europe.
Russia's Coal Shipments
Finally, we look at marine-based coal shipments from Russia. For this category, CREA identified 25 "coal export terminals" within Russian ports. These are specific port locations that are associated with loading coal, so when a vessel takes on cargo at one of these locations, it is assumed that the shipment is a coal shipment.
The European Union has proposed a Russian coal ban that is expected to take effect in August. While this may seem like a slow reaction, it's one example of how the invasion of Ukraine is throwing large-scale, complex supply chains into disarray.
With such a heavy reliance on Russian fossil fuels, the EU will be have a busy year trying to secure substitute fuels – particularly if the conflict in Ukraine continues to drag on.