Visualizing the World's Top Plastic Emitting Rivers
Every year, approximately eight million metric tons of plastic enters the world's oceans – the equivalent of one garbage truck of plastic every single minute.
Every plastic fork and bottle cap bobbing along the surface of the ocean has made its way to the ocean from dry land at some point. As it turns out, the hydrological cycle that keeps water circulating around the planet is also an effective means for trash to hitch a ride from our riverside cities to the open ocean.
As today's unique, vintage-themed map – via John Nelson at ESRI – visualizes the shocking amount of plastic emitted by major rivers in the world.
Plastic Superhighways
It would be hard to overstate plastic's influence on modern life.
Unfortunately, when plastic is finished doing it's job, only 10% of it ends up being recycled. Instead, much of the 300 million tonnes of plastic produced each year ends up in the ocean, congregating in places like the Pacific Garbage Patch.
Plastic discharge is especially pronounced in large population centers along large rivers – particularly in rapidly urbanizing regions in China, Indonesia, and Nigeria.
Waste management practices are limited to non-existent in many of Asia's fast-growing urban areas, so it comes as little surprise that 14 to the top 20 plastic emitting rivers are located on that continent.
The mighty Yangtze – China's largest river – supports a population of over 400 million people and is the most prolific emitter of plastic waste on the planet. Over 1.5 million metric tons of plastic is unleashed into the Yellow Sea from the river each year.
Stemming the Tide
Plastic emissions data makes one point clear – China is the key to decreasing the volume of trash entering our ocean ecosystems.
The good news is that the Chinese government has recognized the problem, mandating garbage sorting in nearly 50 cities and setting a target for at 35% recycling rate by 2020. A positive first step in the battle to stem the tide of plastic entering ocean systems.

Animated Map: Visualizing Earth's Seasons
This map visualizes Earth's seasons, showing how our planet's Arctic sea ice and vegetation changes throughout the year.

Creator Program
Animated Map: Visualizing Earth's Seasons
Why does Earth have seasons?
Many people think the seasons are dictated by Earth's proximity to the Sun, but this isn't the case. It's the Earth's tilt, not its closeness to the Sun, that influences our seasons.
This animated map by Eleanor Lutz visualizes Earth's seasons, showing how the temperature changes impact ice levels in the Arctic as well as vegetation more broadly. It also highlights the cloud cover and sunlight each hemisphere receives throughout the year, with each frame in the animation representing a month of time.
Why is Earth Tilted?
Unlike some of the planets that sit completely upright and rotate perpendicularly, Earth rotates on a 23.5-degree axis.
But why? A commonly accepted theory among the scientific community is the giant impact hypothesis. According to this theory, a celestial object called Theia collided with Earth many years ago, when the planet was still forming. This collision not only knocked Earth into its tilted position—some believe that the dust and debris from this impact ended up forming our moon.
Ever since, our planet has been rotating with a slight tilt (which itself is not fixed, as it "wobbles" in cycles), giving us our varying seasons throughout the year.
How Earth's Tilt Influences our Seasons
As our planet orbits the Sun, it's always leaning in the same direction. Because of its tilt, the different hemispheres receive varying amounts of sunlight at different times of the year.
In December, Earth is technically closer to the Sun than it is in June or July. However, because the Northern Hemisphere is tilted away from the Sun during December, that part of the planet experiences winter during that time.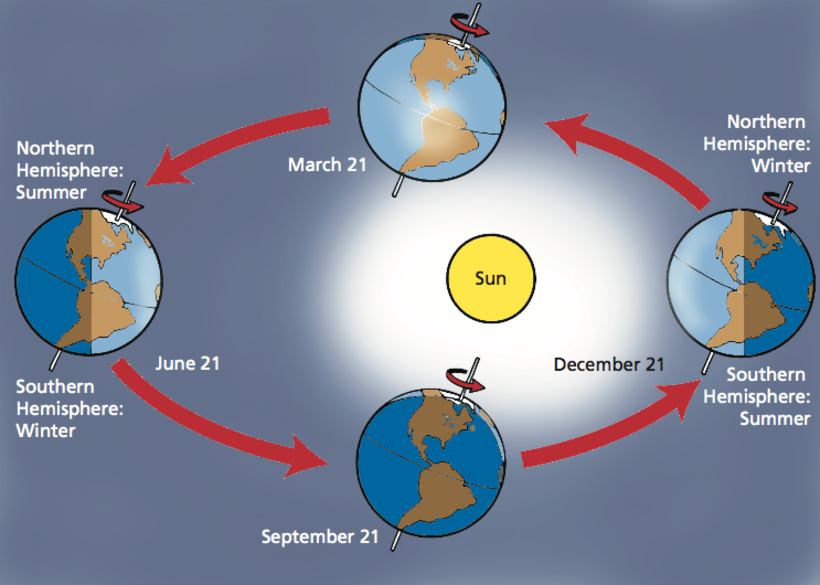 The graphic above by the Smithsonian Science Education Center (SSEC) visualizes Earth's orbit throughout the year, showing when each hemisphere receives the most direct sunlight (and thus, experiences summer).
The Climate Change Impact
While our seasons have always varied, it's worth noting that climate change has impacted our seasons, and changed how much Arctic ice we lose each summer.
In the past, millions of miles of ice remained frozen throughout the summer months. In the 1980s, there were 3.8 million square miles of ice in July—that's roughly the same size as Australia.
Over the years, Arctic ice cover has steadily declined. In July 2020, the ice cover was only 2.8 million square miles—a million less than the amount four decades ago.
Some scientists are predicting that we could lose our summer sea ice entirely by 2035, which would have a devastating impact on the Artic's wildlife and the indigenous people who live there.
Ranked: Nuclear Power Production, by Country
Nuclear power accounted for 10% of global electricity generated in 2020. Here's a look at the largest nuclear power producers.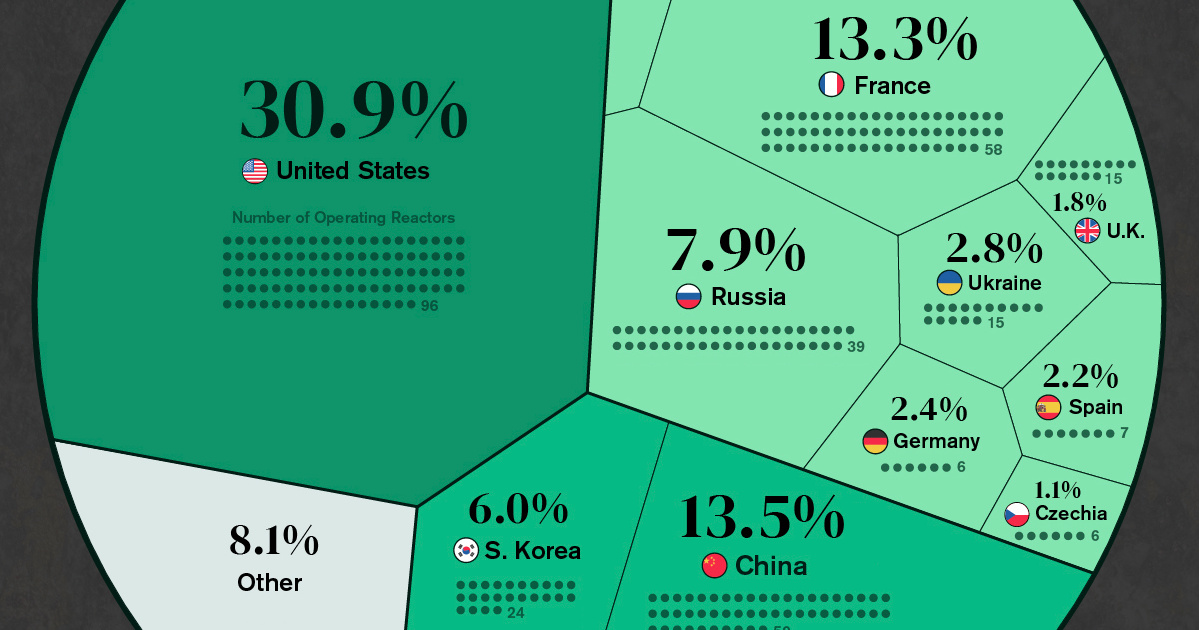 Nuclear Power Production by Country
This was originally posted on Elements. Sign up to the free mailing list to get beautiful visualizations on natural resource megatrends in your email every week.
Nearly 450 reactors around the world supply various nations with nuclear power, combining for about 10% of the world's electricity, or about 4% of the global energy mix.
But while some countries are turning to nuclear as a clean energy source, nuclear energy generation overall has seen a slowdown since its peak in the 1990s.
The above infographic breaks down nuclear electricity generation by country in 2020 using data from the Power Reactor Information System (PRIS).
Ranked: The Top 15 Countries for Nuclear Power
Just 15 countries account for more than 91% of global nuclear power production. Here's how much energy these countries produced in 2020:
Rank
Country
Number of Operating Reactors
Nuclear Electricity Supplied
[GWh]
% share
#1
U.S. 🇺🇸
96
789,919
30.9%
#2
China 🇨🇳
50
344,748
13.5%
#3
France 🇫🇷
58
338,671
13.3%
#4
Russia 🇷🇺
39
201,821
7.9%
#5
South Korea 🇰🇷
24
152,583
6.0%
#6
Canada 🇨🇦
19
92,166
3.6%
#7
Ukraine 🇺🇦
15
71,550
2.8%
#8
Germany 🇩🇪
6
60,918
2.4%
#9
Spain 🇪🇸
7
55,825
2.2%
#10
Sweden 🇸🇪
7
47,362
1.9%
#11
U.K. 🇬🇧
15
45,668
1.8%
#12
Japan 🇯🇵
33
43,099
1.7%
#13
India 🇮🇳
22
40,374
1.6%
#14
Belgium 🇧🇪
7
32,793
1.3%
#15
Czechia 🇨🇿
6
28,372
1.1%
Rest of the World 🌎
44
207,340
8.1%
Total
448
2,553,208
100.0%
In the U.S., nuclear power produces over 50% of the country's clean electricity. Additionally, 88 of the country's 96 operating reactors in 2020 received approvals for a 20-year life extension.
China, the world's second-largest nuclear power producer, is investing further in nuclear energy in a bid to achieve its climate goals. The plan, which includes building 150 new reactors by 2035, could cost as much as $440 billion.
On the other hand, European opinions on nuclear energy are mixed. Germany is the eighth-largest on the list but plans to shutter its last operating reactor in 2022 as part of its nuclear phase-out. France, meanwhile, plans to expand its nuclear capacity.
Which Countries Rely Most on Nuclear Energy?
Although total electricity generation is useful for a high-level global comparison, it's important to remember that there are some smaller countries not featured above where nuclear is still an important part of the electricity mix.
Here's a breakdown based on the share of nuclear energy in a country's electricity mix:
| Rank | Country | Nuclear Share of Electricity Mix |
| --- | --- | --- |
| #1 | France 🇫🇷 | 70.6% |
| #2 | Slovakia 🇸🇰 | 53.1% |
| #3 | Ukraine 🇺🇦 | 51.2% |
| #4 | Hungary 🇭🇺 | 48.0% |
| #5 | Bulgaria 🇧🇬 | 40.8% |
| #6 | Belgium 🇧🇪 | 39.1% |
| #7 | Slovenia 🇸🇮 | 37.8% |
| #8 | Czechia 🇨🇿 | 37.3% |
| #9 | Armenia 🇦🇲 | 34.5% |
| #10 | Finland 🇫🇮 | 33.9% |
| #11 | Switzerland 🇨🇭 | 32.9% |
| #12 | Sweden 🇸🇪 | 29.8% |
| #13 | South Korea 🇰🇷 | 29.6% |
| #14 | Spain 🇪🇸 | 22.2% |
| #15 | Russia 🇷🇺 | 20.6% |
| #16 | Romania 🇷🇴 | 19.9% |
| #17 | United States 🇺🇸 | 19.7% |
| #18 | Canada 🇨🇦 | 14.6% |
| #19 | United Kingdom 🇬🇧 | 14.5% |
| #20 | Germany 🇩🇪 | 11.3% |
European countries dominate the leaderboard with 14 of the top 15 spots, including France, where nuclear power is the country's largest source of electricity.
It's interesting to note that only a few of these countries are top producers of nuclear in absolute terms. For example, in Slovakia, nuclear makes up 53.6% of the electricity mix—however, the country's four reactors make up less than 1% of total global operating capacity.
On the flipside, the U.S. ranks 17th by share of nuclear power in its mix, despite producing 31% of global nuclear electricity in 2020. This discrepancy is largely due to size and population. European countries are much smaller and produce less electricity overall than larger countries like the U.S. and China.
The Future of Nuclear Power
The nuclear power landscape is constantly changing.
There were over 50 additional nuclear reactors under construction in 2020, and hundreds more are planned primarily in Asia.
As countries turn away from fossil fuels and embrace carbon-free energy sources, nuclear energy might see a resurgence in the global energy mix despite the phase-outs planned in several countries around the globe.