Visualizing the World's Loss of Forests Since the Ice-Age
How to Use: To navigate this slideshow, click the arrows on the sides of each image or use the arrow keys on your keyboard.
Visualizing The World's Loss of Forests Since the Ice-Age
How much of Earth used to be covered by forests, and what portion is covered today?
The effects of deforestation on the climate are already being seen and felt, and these repercussions are expected to increase with time. That's why more than 100 world leaders pledged to end and reverse deforestation by 2030 at the COP26 climate summit.
As today's graphic using data from Our World in Data highlights, the world's forests have been shrinking since the last ice age at an increasingly rapid pace.
Earth's Surface Area: 10,000 Years Ago
To examine the deforestation situation properly, it helps to understand Earth's total available surface area. After all, our world can feel massive when glancing at maps or globes. But of the roughly 51 billion hectares in total surface area on Earth, more than 70% is taken up by oceans.
What's left is 14.9 billion hectares of land, not all of which is habitable. Here is how the land was allocated 10,000 years ago, after the last ice age and before the rise of human civilizations.
Uninhabitable land on Earth (10,000 years ago):
Barren land (19% or 2.8bn ha)—Includes deserts, salt flats, exposed rocks, and dunes
Glaciers (10% or 1.5bn ha)—The vast majority concentrated in Antarctica
Habitable land on Earth (10,000 years ago):
Forest (57% or 6bn ha)—Includes tropical, temperate, and boreal forests
Grassland (42% or 4.6bn ha)—Wild grassland and shrubs
Freshwater (1% or <510M ha)—Lakes and rivers
By 2018, forests had receded to just 4 billion hectares. What happened?
Forests and Grassland Recede for Agriculture
Once humans figured out how to cultivate plants and livestock for regular sources of food, they needed land to use.
For centuries, the loss of greenery was relatively slow. By 1800, the world had lost 700 million hectares each of forest and grassland, replaced by around 900 million hectares of land for grazing animals and 400 million hectares for crops.
But industrialization in the 1800s rapidly sped up the process.
| Percentage of Habitable Land | 1700 | 1800 | 1900 | 1950 | 2018 |
| --- | --- | --- | --- | --- | --- |
| Forest | 52% | 50% | 48% | 44% | 38% |
| Grassland | 38% | 36% | 27% | 12% | 14% |
| Grazing | 6% | 9% | 16% | 31% | 31% |
| Crops | 3% | 4% | 8% | 12% | 15% |
| Freshwater | 1% | 1% | 1% | 1% | 1% |
| Urban | <1% | <1% | <1% | <1% | 1% |
While half of Earth's loss of forests occurred from 10,000 years ago to 1900, the other half or 1.1 billion hectares have been lost since 1900. Part of this loss, about 100 million hectares, has occurred in the more recent time period of 2000 to 2018.
The biggest culprit?
Though urban land use has rapidly grown, it still pales in comparison to the 31% of habitable land now being used for grazing livestock. Most of that land came at first from repurposed grasslands, but forests have also been cleared along the way.
Where Will Food Come From?
Countries pledging to stop deforestation have two major hurdles to solve: financial and survival.
Firstly, there are many companies, jobs, and economies that rely on producing and marketing goods made from forests, such as lumber.
But more importantly, the world's rising use of land for crops and agriculture reflects our rapidly growing population. In 1900, the global population numbered just 1.6 billion people. By 2021, it had exceeded 7.9 billion, with hundreds of millions still affected by food shortages every day.
How do you feed so many without needing more land? Meat's extremely large footprint makes prioritizing crops more attractive, and research into other solutions like lab-grown meat and grazing erosion prevention is ongoing.
As the effects of climate change become increasingly felt, it's likely that countries, companies, and people will have to embrace many different solutions at once.
Ranked: The World's Top Cotton Producers
As the most-used natural fiber, cotton has become the most important non-food agricultural product.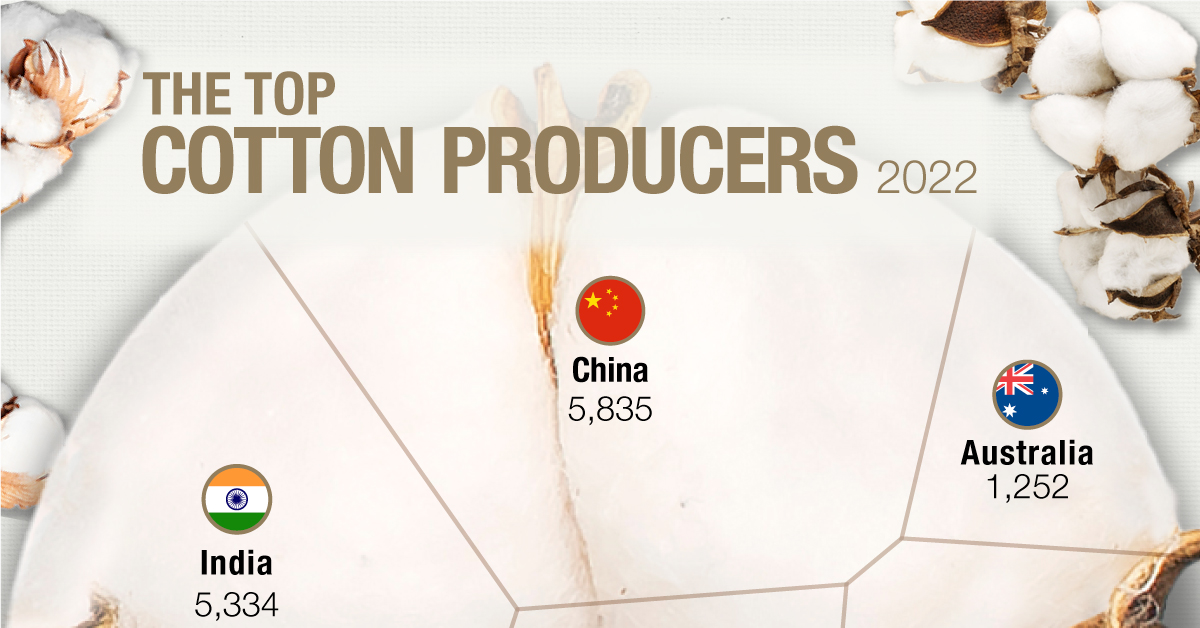 Ranked: The World's Top Cotton Producers
This was originally posted on Elements. Sign up to the free mailing list to get beautiful visualizations on natural resource megatrends in your email every week.
Cotton is present in our everyday life, from clothes to coffee strainers, and more recently in masks to control the spread of COVID-19.
As the most-used natural fiber, cotton has become the most important non-food agricultural product. Currently, approximately half of all textiles require cotton fibers.
The above infographic lists the world's top cotton producers, using data from the United States Department of Agriculture.
Fancy Fabric
Originating from the Arabic word "quton," meaning fancy fabric, cotton is a staple fiber made up of short fibers twisted together to form yarn.
The earliest production of cotton was around 5,000 B.C. in India, and today, around 25 million tons of cotton are produced each year.
Currently, five countries make up around 75% of global cotton production, with China being the world's biggest producer. The country is responsible for over 23% of global production, with approximately 89 million cotton farmers and part-time workers. Cotton's importance cannot be understated, as it is the primary input for the Chinese textile industry along with many other nations' textile industries.
| Top Cotton Producers | 2020/2021 (metric tons) | 2021/2022 (metric tons) |
| --- | --- | --- |
| 🇨🇳 China | 6,445,000 | 5,835,000 |
| 🇮🇳 India | 6,009,000 | 5,334,000 |
| 🇺🇸 United States | 3,181,000 | 3,815,000 |
| 🇧🇷 Brazil | 2,356,000 | 2,504,000 |
| 🇦🇺 Australia | 610,000 | 1,252,000 |
| 🇵🇰 Pakistan | 980,000 | 1,306,000 |
| 🇹🇷 Turkey | 631,000 | 827,000 |
| 🌐 Other | 4,059,000 | 4,282,000 |
| Total | 24,271,000 | 25,155,000 |
The United States is the leading global exporter of cotton, exporting three-fourths of its crop with China as the top buyer.
Despite its importance for the global economy, cotton production faces significant sustainability challenges.
The Controversy Over Cotton
Cotton is one of the largest users of water among all agricultural commodities, and production often involves applying pesticides that threaten soil and water quality.
Along with this, production often involves forced and child labor. According to the European Commission, child labor in the cotton supply chain is most common in Africa and Asia, where it comes from small-holder farmers.
In 2020, U.S. apparel maker Patagonia stopped sourcing cotton from the autonomous territory of Xinjiang because of reports about forced labor and other human rights abuses against Uighurs and other ethnic minorities.
L Brands, the parent company of Victoria's Secret, has also committed to eliminating Chinese cotton from its supply chain. Whether these changes in supply chains impact China's cotton production and its practices, cotton remains essential to materials found across our daily lives.
Mapped: Where Does Our Food Come From?
Did you know that over two-thirds of national crops originated from somewhere else? Over time the food that built national diets has evolved.
Where Does Our Food Come From?
Did you know that over two-thirds of national crops originated from somewhere else?
Humans have been selecting and growing crops for specific traits since the origins of agriculture some 10,000 years ago, shaping where and what crops are grown today.
Now our food system is completely global and many of the world's top producers of staple crops are in countries far from their historical origin. For example, Brazil is now the largest soybean producer in the world, though the crop is originally from East Asia.
The above infographic by Brazil Potash shows the historical origins of crops before they were domesticated across the globe and the main producers of our staple crops today.
Producers Of Staple Crops Today
Staple crops are those that are the most routinely grown and consumed. These can vary between countries depending on availability.
In 2020, sugarcane, maize, wheat, and rice made up around 50% of global crop production.
But when the production and distribution of staple crops are threatened, the consequences can be felt globally. Let's take a look at the countries that were the top three producers of some of our staple crops in 2020.
| Crop | Country | Percentage of Global Production |
| --- | --- | --- |
| Sugar Cane | 🇧🇷Brazil | 40.5% |
| Sugar Cane | 🇮🇳India | 19.9% |
| Sugar Cane | 🇨🇳China | 5.8% |
| Maize | 🇺🇸U.S. | 30.9% |
| Maize | 🇨🇳China | 22.4% |
| Maize | 🇧🇷Brazil | 8.9% |
| Wheat | 🇨🇳China | 17.6% |
| Wheat | 🇮🇳India | 14.1% |
| Wheat | 🇷🇺Russia | 11.3% |
As you can see from the data above, Brazil is the world's largest producer of sugarcane and one of the top three producers of maize.
The Future of Food Security
Global food security depends on staple crops and the countries that produce them. As the global population increases, so does the need to grow more crops.
The FAO estimates that by 2050 the world will need to increase its food output by around 70% in order to feed an ever-growing population.
Early food security solutions were transplanting crops from other regions to supplement diets. Now crop yields must increase as the next evolution in strengthening our food security. Fertilizers are a vital step in this process and are an essential ingredient in the future of global food security. They provide vital nutrients that increase crop production and strengthen nutrition security.
Brazil Potash extracts vital potash ore from the earth for it to return to the earth as fertilizer, fortifying food and helping to maintain continuous growth in the agricultural sector.
Click here to learn more about fertilizer and food production in Brazil.