Snapshot of the World's Forests
View the high resolution version of today's graphic by clicking here.
Forests cover over 30% of the world's land, but human activity is chipping away at the tree line.
At the outset of the 20th century, there was approximately 31 million square miles (50 million square km) of forest around the world. Today, that number has shrunk to less than 25 million square miles (40 million square km). Much of this decline can be attributed to expanding agricultural land use and increasing demand for wood and paper products.
Source: World Bank
The growth and decline of forest cover is hardly uniform. Deserts, farmland, and urban areas ebb and flow around the world, and while some countries are rapidly removing trees from their ecosystem, others are seeing increases in their forest cover.
Receding Leaf Line
Since 1990, global forested area has shrunk by 2 million square miles (3.1 million square km), with many of those losses occurring in South America and Sub-Saharan Africa.
The Amazon Rainforest, one of the most important carbon sinks on the planet, has faced intense pressure from human activity over the last few decades. Brazil's expanding network of roads has been critical for economic development, but the landscape often pays the price as the country increases its GDP per capita.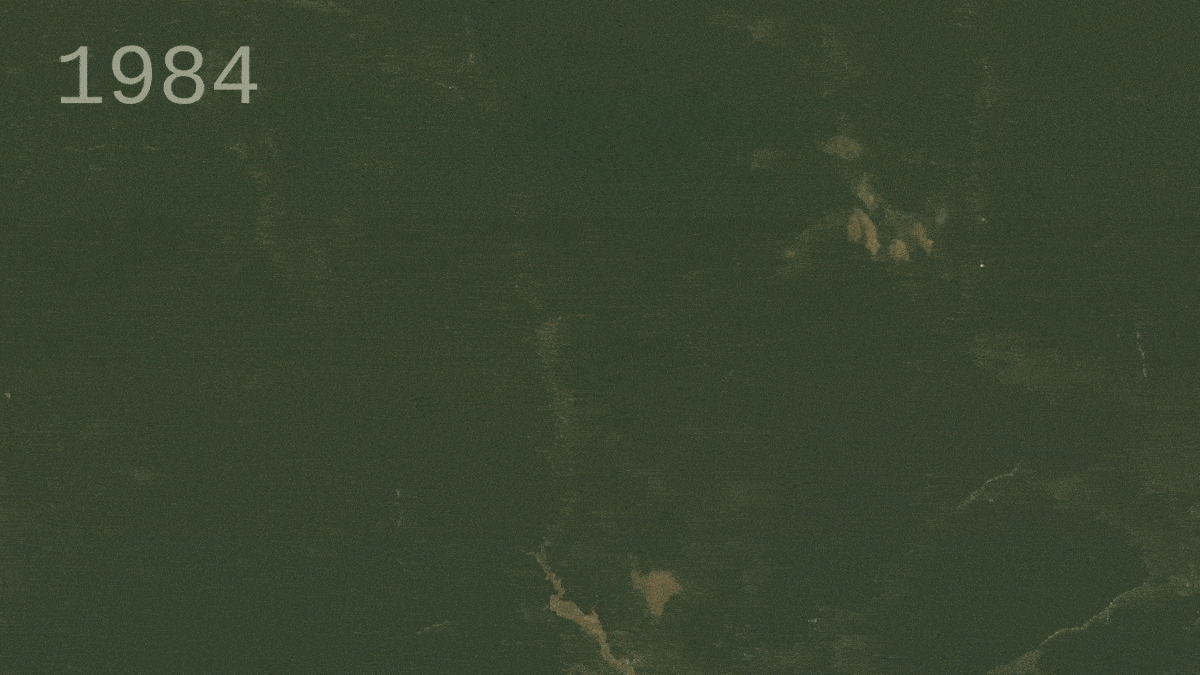 Rainforest turns to farmland in Brazil's Rondônia state: 1984–2016
Across the Atlantic Ocean, Africa is grappling with deforestation.
West Africa, for example, has lost a shocking 90% of its forest cover over the last century – in a number of countries, all of the forest outside of protected areas has been logged, while illegal logging threatens parks and reserves.
If nothing is done, we may lose everything.
– Abraham Baffoe, Africa regional director at Proforest
Forest Renewal
Images of slash-and-burn land clearing and denuded hillsides grab the headlines, however, there are a few places in the world where forests are expanding.
Europe, in particular, has seen widespread regeneration of forests over the past century.
Source: Wageningen
China is another, perhaps surprising, place where there have been big increases in forested areas.
Each year, dust storms blowing in from the expanding Gobi Desert displace as much as 800 square miles (2,000 square km) of topsoil and damage crops adjacent to the expanding desert. In response, the government created the Three-North Shelterbelt Program, which they hope will halt desertification. Thousands of miles of newly-planted vegetation will act like a wall, containing the spread of the Gobi Desert.
The Big Picture
Activities that lead to deforestation differ from region to region, but they're always economic in nature. Palm oil, logging, raising cattle, and even charcoal production are all ways people can pull themselves out of poverty in developing countries.
The good news is that as per capita incomes in developing countries continue to rise, pressure on forests should lessen.
This theory is best visualized by Kuznets Curve, which demonstrates a link between economic development and environmental degradation.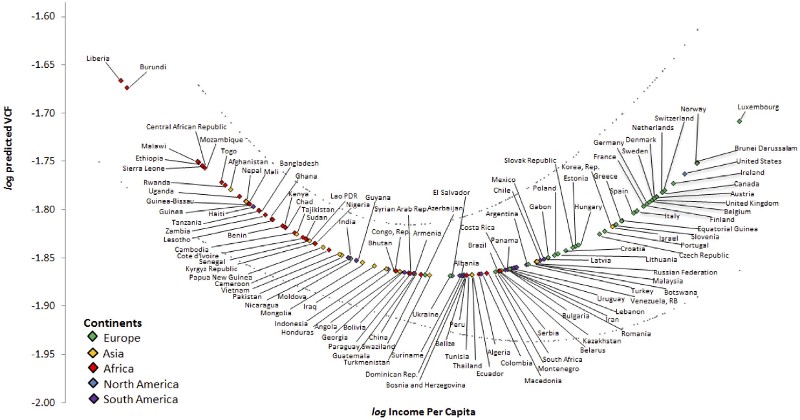 Click here to view the full sized version.
In regions with lax enforcement, corruption, and a large population of people living below the poverty line, deforestation could remain a problem until economic conditions improve. Thankfully, the five countries with the most forest cover – Russia, Brazil, Canada, U.S., and China – are on or are moving towards a more favorable side of the curve.
Another bright spot in this story is that governments are increasingly protecting habitat in the form of nature reserves and national parks. Since 1990, the amount of nationally protected land in the world has nearly doubled.

Animated Map: U.S. Droughts Over the Last 20 Years
The Western U.S. is no stranger to droughts. But this year's is one of the worst yet. Here's a historical look at U.S. droughts since 1999.
Animated Map: U.S. Droughts Over the Last 20 Years
The Western U.S. is experiencing one of the worst recorded droughts in the last 20 years.
Temperatures from California to the Dakotas are currently hovering around 9-12°F above average—but how bad is the situation compared to past years?
This animated map by reddit user /NothingAbnormalHere provides a historical look at droughts in the U.S. since 1999, using data and graphics from the U.S. Drought Monitor (USDM).
What is the U.S. Drought Monitor?
Over the last two decades, the USDM has been tracking, measuring, and comparing droughts across America.
While droughts can be difficult to classify and standardize, there are various factors that can be used to gauge when a region is experiencing drought. These include measurements of snowpack levels, soil moisture, and recent precipitation.
To track these conditions (and make sense of them), the USDM synthesizes data from a plethora of meteorological sources, including the Palmer Drought Severity Index and the Standardized Precipitation Index.
From there, conditions are broken down into categories, ranging from D0 (abnormally dry) to D4 (Exceptional Drought). A map is released each week that shows which states are experiencing drought, and to what degree.
Where Are The Most Drought-Prone Areas?
According to a map created by climatologist Becky Bolinger (which is published on Drought.gov), Arizona and Nevada are the most historically drought-prone states—the two have experienced drought more than 50% of the time tracked by the USDM.
California is high on the list as well, with the state experiencing drought at least 40% of the time.
As the historical data shows, the West is no stranger to droughts. However, this year's drought has become particularly worrisome because of its intensity and breadth.
Right now, more than a quarter of the West is experiencing a D4 level drought—a new record. To help put things into perspective, here's a look at how much overall land area in the West has been in drought, since 2000:
When a region is experiencing a D4 drought, possible impacts include:
Water Scarcity
Lower reservoirs, combined with decreased snowpack lead to water shortages.
Crop losses
Water shortages mean less water for fields, which can lead to acres of fallow (unused) farmland.
Wildfires
Dry conditions and lack of moisture increase the risk of wildfires.
Is This the New Norm?
This record-breaking drought is wreaking havoc across the West. In California, reservoirs have about half as much water as they usually do, and crop failures are happening across Colorado.
The worst part? Some experts believe that this could be the new normal if human-driven climate change continues to increase average temperatures across the globe.
Visualized: The Power of a Sustainable Investment Dollar
Do sustainable investments make a difference? From carbon emissions to board diversity, we break down their impact across three industries.
Visualizing the Power of a Sustainable Investment Dollar
Sustainable investments are booming.
Between January and November 2020 alone, investments in sustainable ETF and mutual funds grew 96%. The UN Principles of Responsible Investment now has over 3,000 signatories representing over $100 trillion in assets. The U.S. Commodity Futures Trading Commission established a Climate Risk Unit to analyze climate risk across derivative markets, and as of March 2021, new sustainability disclosures have come into effect in Europe.
But how do we know if sustainable investments have made a difference?
To answer this question, the above infographic from MSCI examines the effect of a sustainable investment dollar by looking at real-world examples.
A Sustainable vs. Unsustainable Dollar
To start, investing legend Benjamin Graham has compared the stock market to a "voting machine." Just as consumers vote with their purchasing decisions, investors vote with their investment dollars. Especially in the short term, as more dollars flow to sustainable companies, this builds their exposure and access to capital.
In the long term, meanwhile, the market can be compared to a weighing machine. The market recognizes companies with profitable business models that improve their intrinsic value over time. Ultimately, this allows sustainable companies to expand and continue operating.
Given the rising momentum in both green assets and climate targets, here is how investment dollars have influenced and driven change across three industries.
1. Clean Energy vs. Fossil Fuel
Over the last several years, the energy sector has been associated with many of the problems causing climate change. For this reason, many investors are seeking out greener energy alternatives. But how does moving investment dollars from an ESG laggard to an ESG leader support the environment and society?
First, here is a brief explainer of ESG laggards and leaders:
ESG laggards: companies with the weakest environmental, social, and governance (ESG) performance in their sector.
ESG leaders: companies with the strongest environmental, social, and governance (ESG) performance in their sector.
| Industry laggard: U.S. oil & gas company | Industry leader: U.S. utilities company |
| --- | --- |
| Scale of carbon-intensive business lines equal to 73% of its operation | 47% lower CO2 emissions than the industry average |
| This is the equivalent of adding 26 million cars on the road annually | This is the equivalent of removing 9.9 million cars off the road annually |
| 1 of 20 oil and gas companies are responsible for contributing to one third of GHG emissions since 1965 | Uses 3X as many renewable sources than industry average |
| 3X fewer jobs are created vs. energy efficient sector, resulting in lower productivity | This is roughly the same as saving over 9 million pounds of coal burned |
| MSCI ESG Rating: CCC | MSCI ESG Rating: AAA |
Source: MSCI ESG Research
Based on the above example, investors have the ability to finance powerful green initiatives that reduce emissions by almost half, relative to their peers.
2. Safe vs. Unsafe Working Conditions
Weak safety protocols are a key sustainability issue for the industrial sector. Here's how two companies compare:
Industry laggard: South African mining company
Industry leader: U.S. mining company
11 fatalities in 2019
Zero fatalities in 2019
Faced lawsuits from miners surrounding lung diseases contracted from dust exposure in gold mines
Settlement cost: $350 million
Board-level oversight monitors health and safety performance
Lags behind peers in high incident rates
Leads peers in low incident rates
Lags behind peers in setting incident reduction targets
Leads industry in lost time incident rate & total recordable injury rate
MSCI ESG Rating: CCC
MSCI ESG Rating: A
Source: MSCI ESG Research
Despite the risks involved in the sector, investors can choose to support companies that take greater precautions to protect their workers.
3. Building Trust vs. Losing Trust
Over the last several years, the financial sector has faced increased scrutiny over fraudulent activities. Moving investment dollars from an ESG laggard to ESG leader may make a difference:
| Industry laggard: U.S. bank | Industry leader: Dutch bank |
| --- | --- |
| $3 billion settlement in creating fictitious accounts to meet aggressive sales targets | Sustainable finance portfolio valued at over $20 billion |
| Drop in top-tier bank ratings | 13% annual increase in climate finance |
| Board effectiveness questioned | Includes over 60 green loans, mobilizing environmentally friendly projects |
| Resignation of board members | Over 55% of board is female |
| MSCI ESG Rating: CCC | MSCI ESG Rating: A |
Source: MSCI ESG Research
From board diversity to green loans, a sustainable investment dollar supports companies that are actively advancing society and the environment.
Sustainable Investment: The Time to Act
Recently, investor dollars and shareholder activism have been closely linked.
Between 2018 and 2020, large institutional investors filed 217 shareholder proposals on climate change alone, putting increased pressure on companies. Meanwhile, 270 proposals were filed on corporate political activity and 228 on fair labor and equal employment opportunity over the same timeframe. Across all ESG proposals, $2 trillion in assets were pushing for more equitable corporate action.
Through the power of a dollar, investors can send a clear signal to companies: the time for sustainable investing is now.