Zooming In: Visualizing the Relative Size of Particles
View the full-size version of this infographic.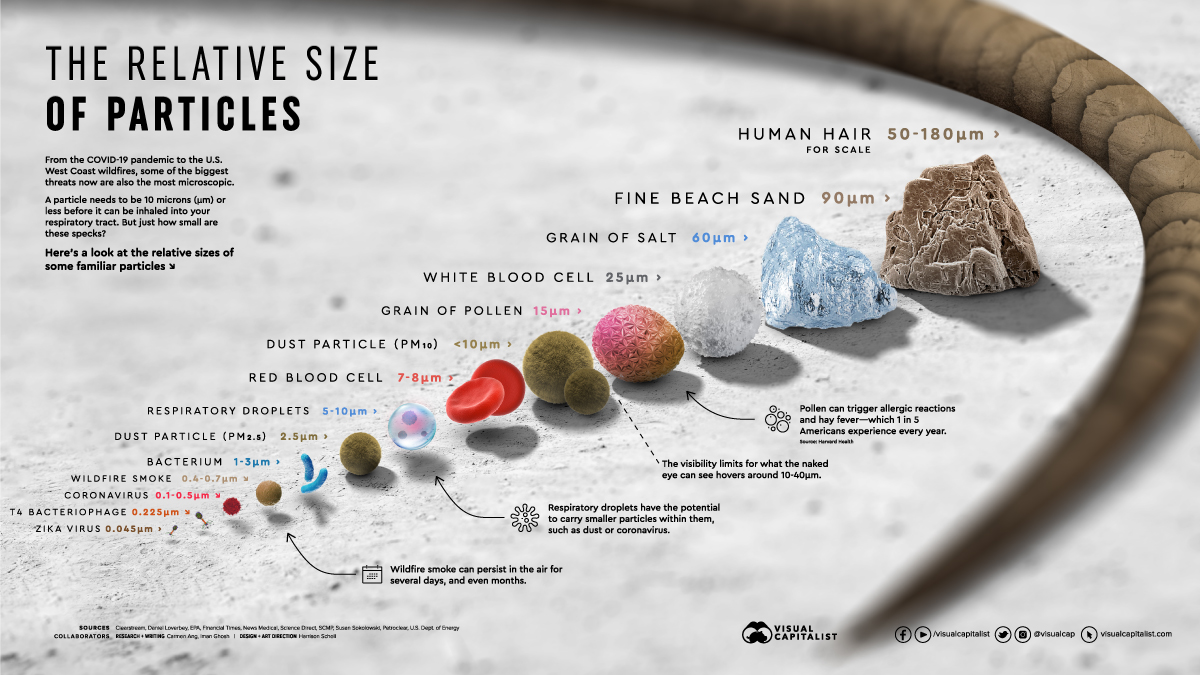 Zooming In: Visualizing the Relative Size of Particles
View the high resolution of this infographic by clicking here.
Lately, the world's biggest threats have been microscopic in size.
From the global COVID-19 pandemic to wildfires ripping through the U.S. West Coast, it seems as though our lungs can't catch a break, or more aptly, a breath.
But just how small are the particles we're currently battling? And how does their size compare to other tiny molecules?
Specks Too Small to See
While the coronavirus that causes COVID-19 is relatively small in size, it isn't the smallest virus particle out there.
Both the Zika virus and the T4 Bacteriophage—responsible for E. coli—are just a fraction of the size, although they have not nearly claimed as many lives as COVID-19 to date.
Coronavirus particles are smaller than both red or white blood cells, however, a single blood cell is still virtually invisible to the naked eye. For scale, we've also added in a single human hair as a benchmark on the upper end of the size range.
Particles
Average Size (microns, μm)
Zika virus
45nm
T4 Bacteriophage
225nm
Coronavirus
COVID-19 (SARS-CoV-2)
0.1-0.5μm
Bacterium
1-3μm
Light dust particle
1μm
Dust particle: PM2.5
≤2.5μm
Respiratory droplets containing COVID-19
5-10μm
Red blood cell
7-8μm
Dust particle: PM10
≤10μm
Pollen grain

15μm
White blood cell
25μm
Visibility threshold
(Limit of what the naked eye can see)
10-40μm
Grain of salt
60μm
Fine beach sand
90μm
Human hair
50-180μm
On the other end of the spectrum, pollen, salt, and sand are significantly larger than viruses or bacteria. Because of their higher relative sizes, our body is usually able to block them out—a particle needs to be smaller than 10 microns before it can be inhaled into your respiratory tract.
Because of this, pollen or sand typically get trapped in the nose and throat before they enter our lungs. The smaller particles particles, however, are able to slip through more easily.
Smoky Skies: Air Pollution and Wildfires
While the virus causing COVID-19 is certainly the most topical particle right now, it's not the only speck that poses a health risk. Air pollution is one of the leading causes of death worldwide—it's actually deadlier than smoking, malaria, or AIDS.
One major source of air pollution is particulate matter, which can contain dust, dirt, soot, and smoke particles. Averaging around 2.5 microns, these particles can often enter human lungs.
At just a fraction of the size between 0.4-0.7 microns, wildfire smoke poses even more of a health hazard. Research has also linked wildfire exposures to not just respiratory issues, but also cardiovascular and neurological issues.
Here's an animated map by Flowing Data, showing how things heated up in peak wildfire season between August-September 2020:
What's the main takeaway from all this?
There are many different kinds of specks that are smaller than the eye can see, and it's worth knowing how they can impact human health.
Visualizing Human Evolution with a New Ancient Human Species
We visualize changes to our understanding of human evolution with the introduction of a new ancient human species, Homo bodoensis.

Creator Program
A New Member of Human Evolution
The next step in understanding human evolution has brought forth the reclassification of some old names.
Mirjana Roksandic, Predrag Radovic, and their team of researchers propose a new human species called Homo bodoensis.
H. bodoensis isn't a discovery of new fossils but a re-examination of old ones. This reclassification is an attempt to clean up long-standing confusion about our ancestors and how humans evolved.
The Muddle in the Middle
The Middle Pleistocene was a period spanning 780,000 to 126,000 years ago and had a lot of different human species existing at the time. These species included:
European Neanderthals (Homo neanderthalensis)
Asian Denisovans
African Homo heidelbergensis
African Homo rhodesiensis
African Homo erectus
The Middle Pleistocene was a lively time for human evolution, as it eventually spawned our species, Homo sapiens. Despite this bountiful presence of activity, our knowledge of human evolution during this age is lacking. This problem is known as "the Muddle in the Middle."
Age-Old Thinking about Human Evolution
Human fossils from the Middle Pleistocene in Africa and Eurasia are usually classified as either Homo heidelbergensis or Homo rhodesiensis.
Homo heidelbergensis
H. heidelbergensis is an extinct species of human whose first fossil was found in a gravel pit in Germany in 1907. Since then, new-found fossils that did not fit the classification criteria of Neanderthals, H. sapiens, or the older H. erectus have been classified as H. heidelbergensis.
Roksandic and her team argue that this 'lumping' is a misattribution that muddles our understanding of which species H. sapiens originated from.
In addition, newer DNA evidence suggests that some H. heidelbergensis fossils from Europe originated from early Neanderthals. The name is, thus, redundant.
Homo rhodesiensis
Some believe that H. rhodesiensis is an extinct species of humans and the most recent ancestor of H. sapiens and Neanderthals.
Despite its importance, it never gained popularity in the paleoanthropology communities. This is because of its poor definition, but Roksandic supports its removal because it is also an alleged namesake to Rhodesia's violent and aggressive colonizer, Cecil Rhodes.
It was high time for both H. heidelbergensis and H. rhodesiensis to go.
Homo bodoensis and What Changes in Human Evolution
Roksandic and her team suggest dissolving the two species to introduce a new merged species, H. bodoensis. The name derives from a 600,000-year-old skull discovered in 1976 in Bodo D'ar, Ethiopia.
All fossils previously classified as H. heidelbergensis and H. rhodesiensis originating in Africa are reclassified as H. bodoensis. As such, this now makes H. bodoensis our direct ancestor.
Fossils from Western Europe are reclassified as H. neanderthalensis to reflect the early appearance of Neanderthal-like traits. Asian fossils, like those from China, may belong to a different lineage.
A Doubted Legacy?
Despite its merits, not everyone agrees with this new proposal.
Renowned anthropologist Chris Stringer from the Natural History Museum of London says that the reshuffling of species is unnecessary.
While he agrees that the name H. heidelbergensis is used too loosely and should be confined to a few select fossils, he is happy to continue using H. rhodesiensis. He argues its namesake comes from the country, not from Cecil Rhodes himself.
In addition, Stinger says there are a variety of other species names to choose from before creating a new one. If H. rhodesiensis must be renamed, species like Homo saldanensis, named by Matthew Drennan in the 1950s from a fossilized skull, should take precedence.
Roksandic and her team reclassified H. saldanensis into H. bodoensis.
Visualizing the Scale and Composition of the Earth's Crust
This animation shows the handful of minerals and elements that constitute the Earth's crust.

Creator Program
Visualizing the Scale and Composition of the Earth's Crust
For as long as humans have been wandering the top of Earth's crust, we've been fascinated with what's inside.
And Earth's composition has been vital for our advancement. From finding the right kinds of rocks to make tools, all the way to making efficient batteries and circuit boards, we rely on minerals in Earth's crust to fuel innovation and technology.
This animation by Dr. James O'Donoghue, a planetary researcher at the Japan Aerospace Exploration Agency (JAXA) and NASA, is a visual comparison of Earth's outer layers and their major constituents by mass.
What is the Composition of Earth's Crust?
The combined mass of Earth's surface water and crust, the stiff outermost layer of our planet, is less than half a percent of the total mass of the Earth.
There are over 90 elements found in Earth's crust. But only a small handful make up the majority of rocks, minerals, soil, and water we interact with daily.
1. Silicon
Most abundant in the crust is silicon dioxide (SiO2), found in pure form as the mineral quartz. We use quartz in the manufacturing of glass, electronics, and abrasives.
Why is silicon dioxide so abundant? It can easily combine with other elements to form "silicates," a group of minerals that make up over 90% of Earth's crust.
Clay is one of the better-known silicates and micas are silicate minerals used in paints and cosmetics to make them sparkle and shimmer.
| Mineral | Major Elements | Percentage of Crust |
| --- | --- | --- |
| Plagioclase Feldspar | O, Si, Al, Ca, Na | 39% |
| Alkali Feldspar | O, Si, Al, Na, K | 12% |
| Quartz | O, Si | 12% |
| Pyroxene | O, Si, Mg, Fe | 11% |
| Amphibole | O, Si, Mg, Fe | 5% |
| Non-silicates | Variable | 8% |
| Micas | O, Si, Al, Mg, Fe, Ca, Na, K | 5% |
| Clay Minerals | O, Si, Al, Mg, Fe, Ca, Na, K | 5% |
| Other Silicates | O, Si | 3% |
2. Aluminum and Calcium
SiO2 bonds very easily with aluminum and calcium, our next most abundant constituents. Together with some sodium and potassium, they form feldspar, a mineral that makes up 41% of rocks on Earth's surface.
While you may not have heard of feldspar, you use it every day; it's an important ingredient in ceramics and it lowers the melting point of glass, making it cheaper and easier to produce screens, windows, and drinking glasses.
3. Iron and Magnesium
Iron and magnesium each make up just under 5% of the crust's mass, but they combine with SiO2 and other elements to form pyroxenes and amphiboles. These two important mineral groups constitute around 16% of crustal rocks.
Maybe the best known of these minerals are the two varieties of jade, jadeite (pyroxene) and nephrite (amphibole). Jade minerals have been prized for their beauty for centuries, and are commonly used in counter-tops, construction, and landscaping.
Some asbestos minerals, now largely banned for their cancer-causing properties, belong to the amphibole mineral group. They were once in high demand for their insulating and fire-retardant properties and were even used in brake pads, cigarette filters, and as artificial snow.
4. Water
Surprisingly, even though it covers almost three quarters of Earth's surface, water (H2O) makes up less than 5% of the crust's mass. This is partly because water is significantly less dense than other crustal constituents, meaning it has less mass per volume.
Breaking Earth's Crust Down by Element
Though there are many different components that form the Earth's crust, all of the above notably include oxygen.
When breaking down the crust by element, oxygen is indeed the most abundant element at just under half the mass of Earth's crust. It is followed by silicon, aluminum, iron, calcium, and sodium.
All other remaining elements make up just over 5% of the crust's mass. But that small section includes all the metals and rare earth elements that we use in construction and technology, which is why discovering and economically extracting them is so crucial.
What Lies Below?
As the crust is only the outermost layer of Earth, there are other layers left to contemplate and discover. While we have never directly interacted with the Earth's mantle or core, we do know quite a bit about their structure and composition thanks to seismic tomography.
The Upper Mantle
At a few specific spots on Earth, volcanic eruptions and earthquakes have been strong enough to expose pieces of the upper mantle, which are also made of mostly silicates.
The mineral olivine makes up about 55% of the upper mantle composition and causes its greenish color. Pyroxene comes in second at 35%, and calcium-rich feldspar and other calcium and aluminum silicates make up between 5–10%.
Going Even Deeper
Beyond the upper mantle, Earth's composition is not as well known.
Deep-mantle minerals have only been found on Earth's surface as components of extra-terrestrial meteorites and as part of diamonds brought up from the deep mantle.
One thing the lower mantle is thought to contain is the silicate mineral bridgmanite, at an abundance of up to 75%. Earth's core, meanwhile, is believed to be made up of iron and nickel with small amounts of oxygen, silicon, and sulphur.
As technology improves, we will be able to discover more about the mineral and elemental makeup of the Earth and have an even better understanding of the place we all call home.