Zooming In: Visualizing the Relative Size of Particles
View the full-size version of this infographic.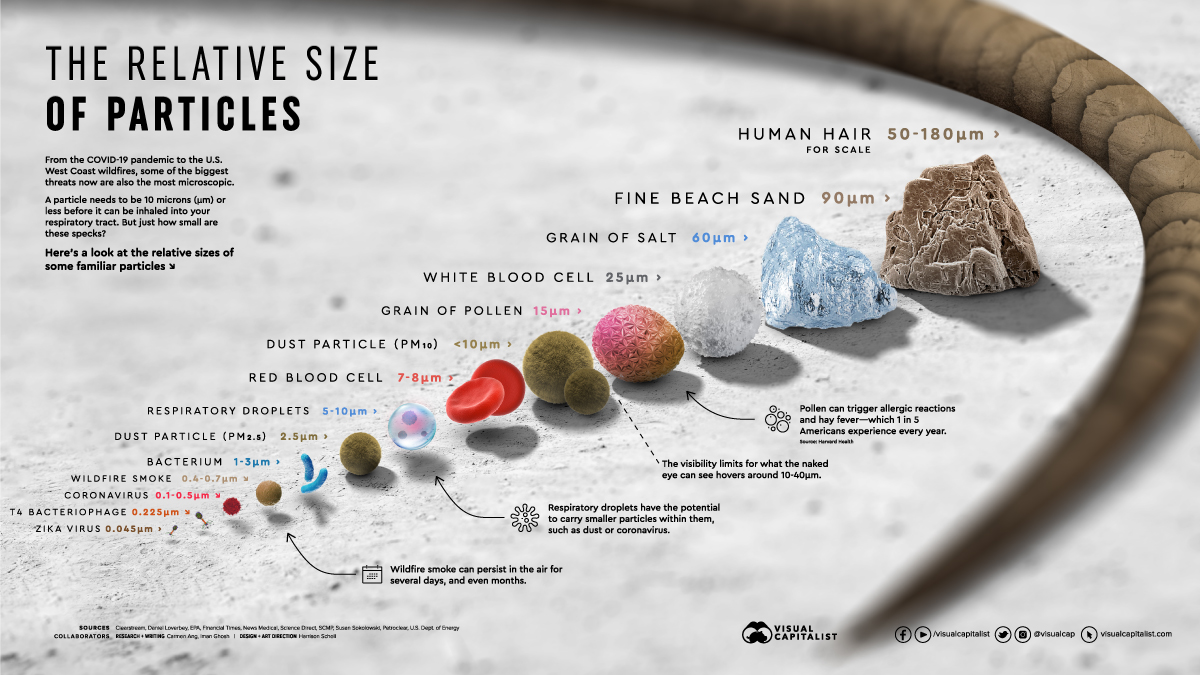 Zooming In: Visualizing the Relative Size of Particles
View the high resolution of this infographic by clicking here.
Lately, the world's biggest threats have been microscopic in size.
From the global COVID-19 pandemic to wildfires ripping through the U.S. West Coast, it seems as though our lungs can't catch a break, or more aptly, a breath.
But just how small are the particles we're currently battling? And how does their size compare to other tiny molecules?
Specks Too Small to See
While the coronavirus that causes COVID-19 is relatively small in size, it isn't the smallest virus particle out there.
Both the Zika virus and the T4 Bacteriophage—responsible for E. coli—are just a fraction of the size, although they have not nearly claimed as many lives as COVID-19 to date.
Coronavirus particles are smaller than both red or white blood cells, however, a single blood cell is still virtually invisible to the naked eye. For scale, we've also added in a single human hair as a benchmark on the upper end of the size range.
Particles
Average Size (microns, μm)
Zika virus
45nm
T4 Bacteriophage
225nm
Coronavirus
COVID-19 (SARS-CoV-2)
0.1-0.5μm
Bacterium
1-3μm
Light dust particle
1μm
Dust particle: PM2.5
≤2.5μm
Respiratory droplets containing COVID-19
5-10μm
Red blood cell
7-8μm
Dust particle: PM10
≤10μm
Pollen grain

15μm
White blood cell
25μm
Visibility threshold
(Limit of what the naked eye can see)
10-40μm
Grain of salt
60μm
Fine beach sand
90μm
Human hair
50-180μm
On the other end of the spectrum, pollen, salt, and sand are significantly larger than viruses or bacteria. Because of their higher relative sizes, our body is usually able to block them out—a particle needs to be smaller than 10 microns before it can be inhaled into your respiratory tract.
Because of this, pollen or sand typically get trapped in the nose and throat before they enter our lungs. The smaller particles particles, however, are able to slip through more easily.
Smoky Skies: Air Pollution and Wildfires
While the virus causing COVID-19 is certainly the most topical particle right now, it's not the only speck that poses a health risk. Air pollution is one of the leading causes of death worldwide—it's actually deadlier than smoking, malaria, or AIDS.
One major source of air pollution is particulate matter, which can contain dust, dirt, soot, and smoke particles. Averaging around 2.5 microns, these particles can often enter human lungs.
At just a fraction of the size between 0.4-0.7 microns, wildfire smoke poses even more of a health hazard. Research has also linked wildfire exposures to not just respiratory issues, but also cardiovascular and neurological issues.
Here's an animated map by Flowing Data, showing how things heated up in peak wildfire season between August-September 2020:
What's the main takeaway from all this?
There are many different kinds of specks that are smaller than the eye can see, and it's worth knowing how they can impact human health.
Support the Future of Data Storytelling
Sorry to interrupt your reading, but we have a favor to ask. At Visual Capitalist we believe in a world where data can be understood by everyone. That's why we want to build the VC App - the first app of its kind combining verifiable and transparent data with beautiful, memorable visuals. All available for free.
As a small, independent media company we don't have the expertise in-house or the funds to build an app like this. So we're asking our community to help us raise funds on Kickstarter.
If you believe in data-driven storytelling, join the movement and back us on Kickstarter!
Thank you.
Explainer: What to Know About Monkeypox
What is monkeypox, and what risk does it pose to the public? This infographic breaks down the symptoms, transmission, and more.
Explainer: What to Know About Monkeypox
The COVID-19 pandemic is still fresh in the minds of the people around the world, so it comes as no surprise that recent outbreaks of another virus are grabbing headlines.
Monkeypox outbreaks have now been reported in multiple countries, and it has scientists paying close attention. For everyone else, numerous questions come to the surface:
How serious is this virus?
How contagious is it?
Could monkeypox develop into a new pandemic?
Below, we answer these questions and more.
What is Monkeypox?
Monkeypox is a virus in the Orthopoxvirus genus which also includes the variola virus (which causes smallpox) and the cowpox virus. The primary symptoms include fever, swollen lymph nodes, and a distinctive bumpy rash.
There are two major strains of the virus that pose very different risks:
Congo Basin strain: 1 in 10 people infected with this strain have died
West African strain: Approximately 1 in 100 people infected with this strain died
At the moment, health authorities in the UK have indicated they're seeing the milder strain in patients there.
Where did Monkeypox Originate From?
The virus was originally discovered in the Democratic Republic of Congo in monkeys kept for research purposes (hence the name). Eventually, the virus made the jump to humans more than a decade after its discovery in 1958.
It is widely assumed that vaccination against another similar virus, smallpox, helped keep monkeypox outbreaks from occurring in human populations. Ironically, the successful eradication of smallpox, and eventual winding down of that vaccine program, has opened the door to a new viral threat. There is now a growing population of people who no longer have immunity against the virus.
Now that travel restrictions are lifting in many parts of the world, viruses are now able to hop between nations again. As of the publishing of this article, a handful of cases have now been reported in the U.S., Canada, the UK, and a number of European countries.
On the upside, contact tracing has helped authorities piece together the transmission of the virus. While cases are rare in Europe and North America, it is considered endemic in parts of West Africa. For example, the World Health Organization reports that Nigeria has experienced over 550 reported monkeypox cases from 2017 to today. The current UK outbreak originated from an individual who returned from a trip to Nigeria.
Could Monkeypox become a new pandemic?
Monkeypox, which primarily spreads through animal-to-human interaction, is not known to spread easily between humans. Most individuals infected with monkeypox pass the virus to between zero and one person, so outbreaks typically fizzle out. For this reason, the fact that outbreaks are occurring in several countries simultaneously is concerning for health authorities and organizations that monitor viral transmission. Experts are entertaining the possibility that the virus' rate of transmission has increased.
Images of people covered in monkeypox lesions are shocking, and people are understandably concerned by this virus, but the good news is that members of the general public have little to fear at this stage.
I think the risk to the general public at this point, from the information we have, is very, very low.
–Tom Inglesby, Director, Johns Hopkins Center for Health Security
» For up-to-date information on monkeypox cases, check out Global.Health's tracking spreadsheet
Synthetic Biology: The $3.6 Trillion Science Changing Life as We Know It
The field of synthetic biology could solve problems in a wide range of industries, from medicine to agriculture—here's how.
How Synthetic Biology Could Change Life as we Know it
Synthetic biology (synbio) is a field of science that redesigns organisms in an effort to enhance and support human life. According to one projection, this rapidly growing field of science is expected to reach $28.8 billion in global revenue by 2026.
Although it has the potential to transform many aspects of society, things could go horribly wrong if synbio is used for malicious or unethical reasons. This infographic explores the opportunities and potential risks that this budding field of science has to offer.
What is Synthetic Biology?
We've covered the basics of synbio in previous work, but as a refresher, here's a quick explanation of what synbio is and how it works.
Synbio is an area of scientific research that involves editing and redesigning different biological components and systems in various organisms.
It's like genetic engineering but done at a more granular level—while genetic engineering transfers ready-made genetic material between organisms, synbio can build new genetic material from scratch.
The Opportunities of Synbio
This field of science has a plethora of real-world applications that could transform our everyday lives. A study by McKinsey found over 400 potential uses for synbio, which were broken down into four main categories:
Human health and performance
Agriculture and food
Consumer products and services
Materials and energy production
If those potential uses become reality in the coming years, they could have a direct economic impact of up to $3.6 trillion per year by 2030-2040.
1. Human Health and Performance
The medical and health sector is predicted to be significantly influenced by synbio, with an economic impact of up to $1.3 trillion each year by 2030-2040.
Synbio has a wide range of medical applications. For instance, it can be used to manipulate biological pathways in yeast to produce an anti-malaria treatment.
It could also enhance gene therapy. Using synbio techniques, the British biotech company Touchlight Genetics is working on a way to build synthetic DNA without the use of bacteria, which would be a game-changer for the field of gene therapy.
2. Agriculture and Food
Synbio has the potential to make a big splash in the agricultural sector as well—up to $1.2 trillion per year by as early as 2030.
One example of this is synbio's role in cellular agriculture, which is when meat is created from cells directly. The cost of creating lab-grown meat has decreased significantly in recent years, and because of this, various startups around the world are beginning to develop a variety of cell-based meat products.
3. Consumer Products and Services
Using synthetic biology, products could be tailored to suit an individual's unique needs. This would be useful in fields such as genetic ancestry testing, gene therapy, and age-related skin procedures.
By 2030-2040, synthetic biology could have an economic impact on consumer products and services to the tune of up to $800 billion per year.
4. Materials and Energy Production
Synbio could also be used to boost efficiency in clean energy and biofuel production. For instance, microalgae are currently being "reprogrammed" to produce clean energy in an economically feasible way.
This, along with other material and energy improvements through synbio methods, could have a direct economic impact of up to $300 billion each year.
The Potential Risks of Synbio
While the potential economic and societal benefits of synthetic biology are vast, there are a number of risks to be aware of as well:
Unintended biological consequences: Making tweaks to any biological system can have ripple effects across entire ecosystems or species. When any sort of lifeform is manipulated, things don't always go according to plan.
Moral issues: How far we're comfortable going with synbio depends on our values. Certain synbio applications, such as embryo editing, are controversial. If these types of applications become mainstream, they could have massive societal implications, with the potential to increase polarization within communities.
Unequal access: Innovation and progress in synbio is happening faster in wealthier countries than it is in developing ones. If this trend continues, access to these types of technology may not be equal worldwide. We've already witnessed this type of access gap during the rollout of COVID-19 vaccines, where a majority of vaccines have been administered in rich countries.
Bioweaponry: Synbio could be used to recreate viruses, or manipulate bacteria to make it more dangerous, if used with ill intent.
According to a group of scientists at the University of Edinburgh, communication between the public, synthetic biologists, and political decision-makers is crucial so that these societal and environmental risks can be mitigated.
Balancing Risk and Reward
Despite the risks involved, innovation in synbio is happening at a rapid pace.
By 2030, most people will have likely eaten, worn, or been treated by a product created by synthetic biology, according to synthetic biologist Christopher A. Voigt.
Our choices today will dictate the future of synbio, and how we navigate through this space will have a massive impact on our future—for better, or for worse.