Zooming In: Visualizing the Relative Size of Particles
View the full-size version of this infographic.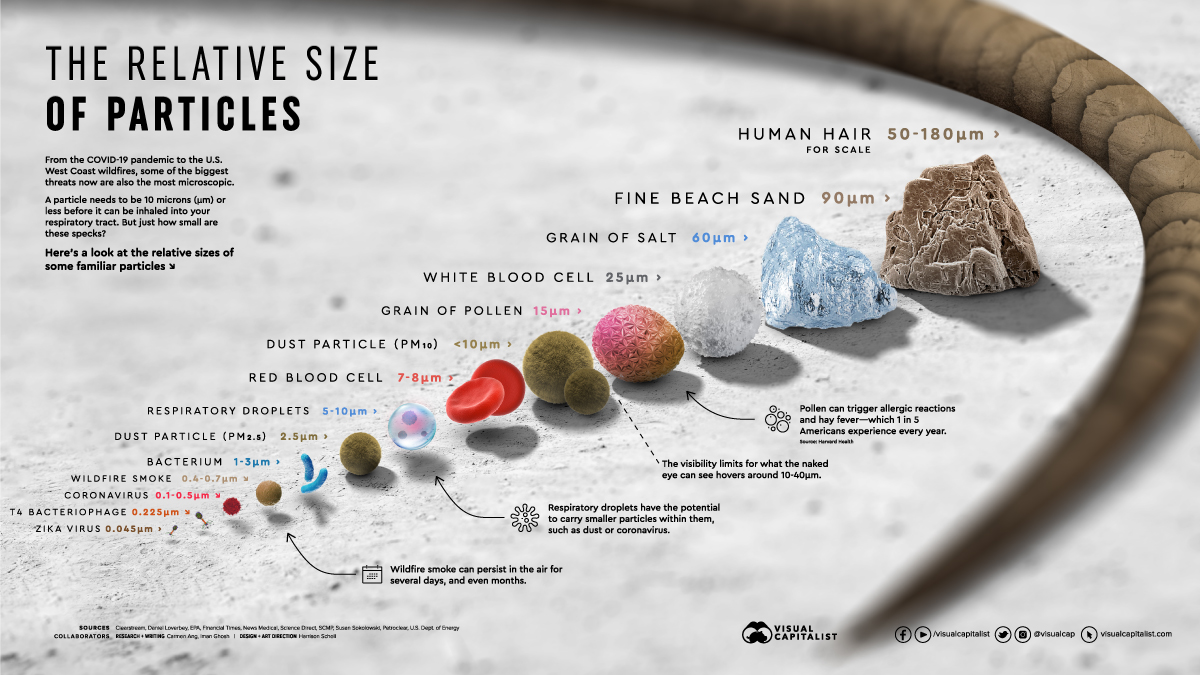 Zooming In: Visualizing the Relative Size of Particles
View the full-size version of this infographic.
Lately, the world's biggest threats have been microscopic in size.
From the global COVID-19 pandemic to wildfires ripping through the U.S. West Coast, it seems as though our lungs can't catch a break, or more aptly, a breath.
But just how small are the particles we're currently battling? And how does their size compare to other tiny molecules?
Specks Too Small to See
While the coronavirus that causes COVID-19 is relatively small in size, it isn't the smallest virus particle out there.
Both the Zika virus and the T4 Bacteriophage—responsible for E. coli—are just a fraction of the size, although they have not nearly claimed as many lives as COVID-19 to date.
Coronavirus particles are smaller than both red or white blood cells, however, a single blood cell is still virtually invisible to the naked eye. For scale, we've also added in a single human hair as a benchmark on the upper end of the size range.
Particles
Average Size (microns, μm)
Zika virus
45nm
T4 Bacteriophage
225nm
Coronavirus
COVID-19 (SARS-CoV-2)
0.1-0.5μm
Bacterium
1-3μm
Light dust particle
1μm
Dust particle: PM2.5
≤2.5μm
Respiratory droplets containing COVID-19
5-10μm
Red blood cell
7-8μm
Dust particle: PM10
≤10μm
Pollen grain

15μm
White blood cell
25μm
Visibility threshold
(Limit of what the naked eye can see)
10-40μm
Grain of salt
60μm
Fine beach sand
90μm
Human hair
50-180μm
On the other end of the spectrum, pollen, salt, and sand are significantly larger than viruses or bacteria. Because of their higher relative sizes, our body is usually able to block them out—a particle needs to be smaller than 10 microns before it can be inhaled into your respiratory tract.
Because of this, pollen or sand typically get trapped in the nose and throat before they enter our lungs. The smaller particles particles, however, are able to slip through more easily.
Smoky Skies: Air Pollution and Wildfires
While the virus causing COVID-19 is certainly the most topical particle right now, it's not the only speck that poses a health risk. Air pollution is one of the leading causes of death worldwide—it's actually deadlier than smoking, malaria, or AIDS.
One major source of air pollution is particulate matter, which can contain dust, dirt, soot, and smoke particles. Averaging around 2.5 microns, these particles can often enter human lungs.
At just a fraction of the size between 0.4-0.7 microns, wildfire smoke poses even more of a health hazard. Research has also linked wildfire exposures to not just respiratory issues, but also cardiovascular and neurological issues.
Here's an animated map by Flowing Data, showing how things heated up in peak wildfire season between August-September 2020:
What's the main takeaway from all this?
There are many different kinds of specks that are smaller than the eye can see, and it's worth knowing how they can impact human health.
The Anthropocene: A New Epoch in the Earth's History
We visualize Earth's history through the geological timeline to reveal the planet's many epochs, including the Anthropocene.
The Anthropocene: A New Epoch in the Earth's History
Over the course of Earth's history, there have been dramatic shifts in the landscape, climate, and biodiversity of the planet. And it is all archived underground.
Layers of the planet's crust carry evidence of pivotal moments that changed the face of the Earth, such as the ice age and asteroid hits. And scientists have recently defined the next major epoch using this geological time scale—the Anthropocene.
In this infographic we dig deep into the Earth's geological timeline to reveal the planet's shift from one epoch to another, and the specific events that separate them.
Understanding the Geological Timeline
The Earth's geological history is divided into many distinct units, from eons to ages. The time span of each varies, since they're dependent on major events like new species introduction, as well as how they fit into their parent units.
| Geochronologic unit | Time span | Example |
| --- | --- | --- |
| Eon | Several hundred million years to two billion years | Phanerozoic |
| Era | Tens to hundreds of millions of years | Cenozoic |
| Period | Millions of years to tens of millions of years | Quaternary |
| Epoch | Hundreds of thousands of years to tens of millions of years | Holocene |
| Age | Thousands of years to millions of years | Meghalayan |
Note: Subepochs (between epochs and ages) have also been ratified for use in 2022, but are not yet clearly defined.
If we were to cut a mountain in half, we could notice layers representing these changing spans of time, marked by differences in chemical composition and accumulated sediment.
Some boundaries are so distinct and so widespread in the geologic record that they are known as "golden spikes." Golden spikes can be climatic, magnetic, biological, or isotopic (chemical).
Earth's Geological Timeline Leading Up to the Anthropocene
The Earth has gone through many epochs leading up to the modern Anthropocene.
These include epochs like the Early Devonian, which saw the dawn of the first early shell organisms 400 million years ago, and the three Jurassic epochs, which saw dinosaurs become the dominant terrestrial vertebrates.
Over the last 11,700 years, we have been living in the Holocene epoch, a relatively stable period that enabled human civilization to flourish. But after millennia of human activity, this epoch is quickly making way for the Anthropocene.
| Epoch | Its start (MYA = Million Years Ago) |
| --- | --- |
| Anthropocene | 70 Years Ago |
| Holocene | 0.01 MYA |
| Pleistocene | 2.58 MYA |
| Pliocene | 5.33 MYA |
| Miocene | 23.04 MYA |
| Oligocene | 33.90 MYA |
| Eocene | 56.00 MYA |
| Paleocene | 66.00 MYA |
| Cretaceous | 145.0 MYA |
| Jurassic | 201.40 MYA |
| Triassic | 251.90 MYA |
| Lopingian | 259.50 MYA |
| Guadalupian | 273.00 MYA |
| Cisuralian | 300.00 MYA |
| Pennsylvanian | 323.40 MYA |
| Mississippian | 359.30 MYA |
| Devonian | 419.00 MYA |
| Silurian | 422.70 MYA |
| Ludlow | 426.70 MYA |
| Wenlock | 432.90 MYA |
| Llandovery | 443.10 MYA |
| Ordovician | 486.90 MYA |
| Furongian | 497.00 MYA |
| Miaolingian | 521.00 MYA |
| Terreneuvian | 538.80 MYA |
The Anthropocene is distinguished by a myriad of imprints on the Earth including the proliferation of plastic particles and a noticeable increase in carbon dioxide levels in sediments.
A New Chapter in Earth's History
The clearest identified marker of this geological time shift, and the chosen golden spike for the Anthropocene, is radioactive plutonium from nuclear testing in the 1950s.
The best example has been found in the sediment of Crawford Lake in Ontario, Canada. The lake has two distinct layers of water that never intermix, causing falling sediments to settle in distinct layers at its bed over time.
While the International Commission on Stratigraphy announced the naming of the new epoch in July 2023, Crawford Lake is still in the process of getting approved as the site that marks the new epoch. If selected, our planet will officially enter the Crawfordian Age of the Anthropocene.