Zooming In: Visualizing the Relative Size of Particles
View the full-size version of this infographic.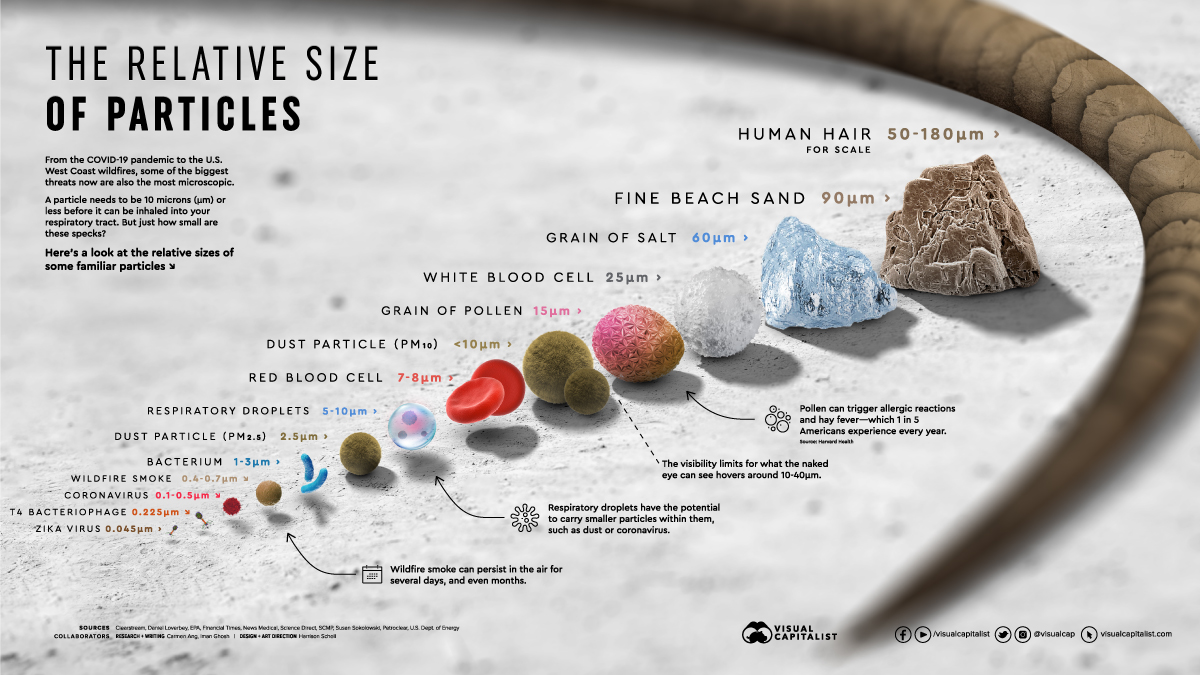 Zooming In: Visualizing the Relative Size of Particles
View the full-size version of this infographic.
Lately, the world's biggest threats have been microscopic in size.
From the global COVID-19 pandemic to wildfires ripping through the U.S. West Coast, it seems as though our lungs can't catch a break, or more aptly, a breath.
But just how small are the particles we're currently battling? And how does their size compare to other tiny molecules?
Specks Too Small to See
While the coronavirus that causes COVID-19 is relatively small in size, it isn't the smallest virus particle out there.
Both the Zika virus and the T4 Bacteriophage—responsible for E. coli—are just a fraction of the size, although they have not nearly claimed as many lives as COVID-19 to date.
Coronavirus particles are smaller than both red or white blood cells, however, a single blood cell is still virtually invisible to the naked eye. For scale, we've also added in a single human hair as a benchmark on the upper end of the size range.
Particles
Average Size (microns, μm)
Zika virus
45nm
T4 Bacteriophage
225nm
Coronavirus
COVID-19 (SARS-CoV-2)
0.1-0.5μm
Bacterium
1-3μm
Light dust particle
1μm
Dust particle: PM2.5
≤2.5μm
Respiratory droplets containing COVID-19
5-10μm
Red blood cell
7-8μm
Dust particle: PM10
≤10μm
Pollen grain

15μm
White blood cell
25μm
Visibility threshold
(Limit of what the naked eye can see)
10-40μm
Grain of salt
60μm
Fine beach sand
90μm
Human hair
50-180μm
On the other end of the spectrum, pollen, salt, and sand are significantly larger than viruses or bacteria. Because of their higher relative sizes, our body is usually able to block them out—a particle needs to be smaller than 10 microns before it can be inhaled into your respiratory tract.
Because of this, pollen or sand typically get trapped in the nose and throat before they enter our lungs. The smaller particles particles, however, are able to slip through more easily.
Smoky Skies: Air Pollution and Wildfires
While the virus causing COVID-19 is certainly the most topical particle right now, it's not the only speck that poses a health risk. Air pollution is one of the leading causes of death worldwide—it's actually deadlier than smoking, malaria, or AIDS.
One major source of air pollution is particulate matter, which can contain dust, dirt, soot, and smoke particles. Averaging around 2.5 microns, these particles can often enter human lungs.
At just a fraction of the size between 0.4-0.7 microns, wildfire smoke poses even more of a health hazard. Research has also linked wildfire exposures to not just respiratory issues, but also cardiovascular and neurological issues.
Here's an animated map by Flowing Data, showing how things heated up in peak wildfire season between August-September 2020:
What's the main takeaway from all this?
There are many different kinds of specks that are smaller than the eye can see, and it's worth knowing how they can impact human health.
Explainer: The Basics of DNA and Genetic Systems
All living things have a genetic system made up of DNA. This graphic explores the basics of DNA composition and structure.

Creator Program
Explainer: The Basics of DNA and Genetic Systems
While there is great diversity among living things, we all have one thing in common—we all rely on a genetic system made up of DNA and/or RNA.
But how do genetic systems work, and to what extent do they vary across species?
This graphic by Anne-Lise Paris explores the basics of DNA and genetic systems, including how they're structured, and how they differ across species.
Composition of Genetic Systems: DNA and RNA
A genetic system is essentially a set of instructions that dictate our genetic makeup—what we look like and how we interact with our environment.
This set of instructions is stored in nucleic acids, the two main types being deoxyribonucleic acid (DNA) and ribonucleic acid (RNA).
While most living things rely on a mix of DNA and RNA for cellular reproduction, some viruses just use RNA to store their genetic information and replicate faster.
DNA is made up of four molecules, known as nucleotides: Adenine (A), Thymine (T), Cytosine ( C), and Guanine (G). These nucleotides are grouped in sets of two, which are called base pairs.
Size of Genomes Across Different Organisms
Human DNA is made up of approximately 3.2 billion base pairs that are tightly wound up and stored in our cells. If you were to unwind and measure the DNA stored in a single human cell, it would be about 2 meters (6.5 feet) long!
This lengthy DNA is stored in pairs of chromosomes. A full collection of chromosomes, or an entire set of genetic information, is referred to as a genome.
Genomes vary in size, depending on the organism. Here is a look at 24 different species and the size of their genomes, from animals and plants to bacteria and viruses:
| Organism | Kingdom | Size of genomes (number of base pairs) |
| --- | --- | --- |
| Poplar tree | Plant | 500,000,000 |
| Human | Animal | 3,200,000,000 |
| Chimpanzee | Animal | 3,300,000,000 |
| Marbled lungfish | Animal | 130,000,000,000 |
| Dog | Animal | 2,400,000,000 |
| Wheat | Plant | 16,800,000,000 |
| Pufferfish | Animal | 400,000,000 |
| Canopy plant | Plant | 150,000,000,000 |
| Mouse-ear cress | Plant | 140,000,000 |
| Corn | Plant | 2,300,000,000 |
| Mouse | Animal | 2,800,000,000 |
| Moss | Plant | 510,000,000 |
| Fruit Fly | Animal | 140,000,000 |
| C. ruddii | Bacteria | 160,000 |
| S. pombe | Fungi | 13,000,000 |
| S. cerevisiae | Fungi | 12,000,000 |
| S. cellulosum | Bacteria | 13,000,000 |
| H. pylori | Bacteria | 1,700,000 |
| E. coli | Bacteria | 4,600,000 |
| Panadoravirus s. | Virus | 2,800,000 |
| HIV-1 | Virus | 9,700 |
| Influenza A | Virus | 14,000 |
| Bacteriophage | Virus | 49,000 |
| Hepatitis D virus | Virus | 1,700 |
The Marbled Lungfish has the largest known animal genome. Its genome is made up of 130 billion base pairs, which is about 126.8 billion more than the average human genome.
Comparatively, small viruses and bacteria have fewer base pairs. The Hepatitis D virus has only 1,700 base pairs, while E. coli bacteria has 4.6 million. Interestingly, research has not found a link between the size of a species' genome and the organism's size or complexity.
In fact, there are still a ton of unanswered questions in the field of genome research. Why do some species have small genomes? Why do some have a ton of redundant DNA? These are still questions being investigated by scientists today.
Explainer: The Different Types of Volcanoes on Earth
This graphic provides a brief introduction to volcanoes, explaining their different types of shapes and sizes, and how they erupt.

Creator Program
Explainer: The Different Types of Volcanoes on Earth
Even if you don't live near a volcano, you've been impacted by their activity.
It's estimated that more than 80% of our planet's surface has been shaped by volcanic activity. They've helped create our mountain ranges, plains, and plateaus, and have even helped fertilize the land that we now use to grow crops.
These critical mounds come in many shapes and sizes. This graphic by Giulia De Amicis provides a brief introduction to volcanoes, explaining their different types of shapes and eruptions.
Types of Eruptions
A volcano starts to form when molten rock rises from a crack in the Earth's surface, which often emerge along tectonic plate boundaries.
Magma rises to the Earth's surface because it's lighter than rock. When it surfaces or erupts, it's referred to as lava.
There are various types of volcanic eruptions, depending on the lava's temperature, thickness, and composition. Generally speaking, high gas content and high ​​viscosity lead to explosive eruptions, while low viscosity and gas content lead to an effusive, or steadily flowing, eruption.
The Four Main Types of Volcanoes
Volcanoes vary in size and structure, depending on how they're formed. Most volcanoes types fall into four main groups:
Shield Volcanoes
Shield volcanoes are built slowly, from low-viscosity lava that spreads far and quick. The lava eventually dries to form a thin, wide sheet, and after repeated eruptions, a mount starts to form.
From the top, these types of volcanoes look like a shield, hence the name. While these volcanoes take a while to form, they aren't necessarily low. In fact, the world's tallest active volcano, Mauna Kea in Hawaii, is a shield volcano.
Stratovolcanoes
Also known as composite volcanoes, stratovolcanoes are built relatively fast, at least compared to shield volcanoes. This is because, in between lava eruptions, composite volcanoes emit ash and rock, which helps add structure to the mound rather quickly.
Some well-known composite volcanoes are Mount Fuji in Japan, Mount St. Helens in Washington, and Mount Cotopaxi in Ecuador.
Volcanic Domes
Opposite to shield volcanoes, volcanic domes are formed when lava is highly-viscous. Because the thick lava can't travel very far, it starts to pool around the volcano's vent.
This can sometimes create a pressure build-up, meaning dome volcanoes are prone to explosive eruptions.
Cinder Cones
These types of volcanoes typically don't release lava. Rather, their eruptions typically emit volcanic ash and rocks, known as pyroclastic products.
Cinder cones are characterized by a bowl-shaped crater at the top, and usually don't exceed 400 m (1,312 ft) in height.
How Volcanoes Benefit the Earth
Volcanoes have a number of ecological benefits. Once broken down, volcanic materials create exceptionally fertile soil, which can help build prospering new habitats for animals and plants.
Volcanic eruptions can also help cool our climate. When a volcano explodes, ash and sulfur gas from the eruption combine with water droplets and get trapped in the atmosphere for years. This has a cooling effect which is extremely beneficial to us, especially given our current global warming situation.
Dr. Tracy Gregg, associate professor for the University at Buffalo's geology department, told Accuweather that "volcanoes have actually helped to keep the world about 2 to 3 degrees cooler than it otherwise may be."