The History of Interest Rates Over 670 Years
The History of Interest Rates Over 670 Years
Today, we live in a low-interest-rate environment, where the cost of borrowing for governments and institutions is lower than the historical average. It is easy to see that interest rates are at generational lows, but did you know that they are also at 670-year lows?
This week's chart outlines the interest rates attached to loans dating back to the 1350s. Take a look at the diminishing history of the cost of debt—money has never been cheaper for governments to borrow than it is today.
The Birth of an Investing Class
Trade brought many good ideas to Europe, while helping spur the Renaissance and the development of the money economy.
Key European ports and trading nations, such as the Republic of Genoa or the Netherlands during the Renaissance period, help provide a good indication of the cost of borrowing in the early history of interest rates.
The Republic of Genoa: 4-5 year Lending Rate
Genoa became a junior associate of the Spanish Empire, with Genovese bankers financing many of the Spanish crown's foreign endeavors.
Genovese bankers provided the Spanish royal family with credit and regular income. The Spanish crown also converted unreliable shipments of New World silver into capital for further ventures through bankers in Genoa.
Dutch Perpetual Bonds
A perpetual bond is a bond with no maturity date. Investors can treat this type of bond as an equity, not as debt. Issuers pay a coupon on perpetual bonds forever, and do not have to redeem the principal—much like the dividend from a blue-chip company.
By 1640, there was so much confidence in Holland's public debt, that it made the refinancing of outstanding debt with a much lower interest rate of 5% possible.
Dutch provincial and municipal borrowers issued three types of debt:
Promissory notes (Obligatiën): Short-term debt, in the form of bearer bonds, that was readily negotiable
Redeemable bonds (Losrenten): Paid an annual interest to the holder, whose name appeared in a public-debt ledger until the loan was paid off
Life annuities (Lijfrenten): Paid interest during the life of the buyer, where death cancels the principal
Unlike other countries where private bankers issued public debt, Holland dealt directly with prospective bondholders. They issued many bonds of small coupons that attracted small savers, like craftsmen and often women.
Rule Britannia: British Consols
In 1752, the British government converted all its outstanding debt into one bond, the Consolidated 3.5% Annuities, in order to reduce the interest rate it paid. Five years later, the annual interest rate on the stock dropped to 3%, adjusting the stock as Consolidated 3% Annuities.
The coupon rate remained at 3% until 1888, when the finance minister converted the Consolidated 3% Annuities, along with Reduced 3% Annuities (1752) and New 3% Annuities (1855), into a new bond─the 2.75% Consolidated Stock. The interest rate was further reduced to 2.5% in 1903.
Interest rates briefly went back up in 1927 when Winston Churchill issued a new government stock, the 4% Consols, as a partial refinancing of WWI war bonds.
American Ascendancy: The U.S. Treasury Notes
The United States Congress passed an act in 1870 authorizing three separate consol issues with redemption privileges after 10, 15, and 30 years. This was the beginning of what became known as Treasury Bills, the modern benchmark for interest rates.
The Great Inflation of the 1970s
In the 1970s, the global stock market was a mess. Over an 18-month period, the market lost 40% of its value. For close to a decade, few people wanted to invest in public markets. Economic growth was weak, resulting in double-digit unemployment rates.
The low interest policies of the Federal Reserve in the early '70s encouraged full employment, but also caused high inflation. Under new leadership, the central bank would later reverse its policies, raising interest rates to 20% in an effort to reset capitalism and encourage investment.
Looking Forward: Cheap Money
Since then, interest rates set by government debt have been rapidly declining, while the global economy has rapidly expanded. Further, financial crises have driven interest rates to just above zero in order to spur spending and investment.
It is clear that the arc of lending bends towards ever-decreasing interest rates, but how low can they go?

Visualizing the Stages of Startup Funding
About 1,500 companies are founded daily, but how does the typical startup get financed? This creative graphic uses pie to explain startup funding rounds.
About 1,500 new companies are founded every day.
However, only a fraction of these entrepreneurial pursuits will eventually operate on a grand scale. With many of these companies propelled by venture capital funding, how do investors provide the cash—and get a piece of the startup pie?
Pie in the Sky
Today's creative infographic from Fundera uses pie to visualize each stage of startup funding, from pre-seed funding to initial public offering.
It's worth noting that numbers presented here are hypothetical in nature, and that startups can have all kinds of paths to success (or failure).
Pre-Seed Funding
In the pre-seed funding round, the founder(s) pitch their business idea to potential investors. These are typically friends, family, angel investors, or pre-seed venture capital firms.
Since there is likely no performance data or positive financials to show yet, potential investors must focus on two primary features: the strength of the idea and the team.
The biggest factor in our decision-making is always the founding team […] that's what success lives or dies on in this industry: the ability for founders to make really quick, good decisions.
At this stage, both the level of risk and potential payoff are at their highest.
Seed Funding
After the initial stages, seed funding—the first official funding round for many companies—takes place. Entrepreneurs use the funds for market testing, product development, and bringing operations up to speed.
By this point, investors are generally looking for the company's ability to solve a need for customers in a way that will achieve product-market fit. At this stage, ideally there is also some level of traction or consumer adoption, such as user or revenue growth. The level of risk is still quite high here, so investors tend to be angel investors or venture capitalists.
Series Funding
In each series funding, the startup generally raises more money and increases their valuation. Here's what investors tend to expect in each round:
Series A: Companies that not only have a great idea, but a strategy for creating long-term profit.
Series B: Companies generating consistent revenue that must scale to meet growing demand.
Series C (and beyond): Companies with strong financial performance that are looking to expand to new markets, develop new products, buy out businesses, or prepare for an Initial Public Offering (IPO).
Private equity firms and investment bankers are attracted to series C funding as it tends to be much less risky. In recent years, startups have been staying private longer. For example, Uber obtained Series G funding and debt financing before going public.
Initial Public Offering
Once a company is large and stable enough, it may choose to go public. An investment bank will commit to selling a certain amount of shares for a certain amount of money.
If the IPO goes well, investors will profit and the company's reputation gets a boost—but if it doesn't, investors lose money and the company's reputation takes a hit.
Here's how the example investment amounts break down at each stage:

| | Pre-Seed | Seed | Series A | Series B | Series C | IPO |
| --- | --- | --- | --- | --- | --- | --- |
| Amount Invested | < $1M | <$1.7M | <$10.5M | <$24.9M | <$50M | <$10.5M |
| Average Equity Stake | 10-15% | 10-25% | 15-50% | 15-30% | 15-30% | 15-50% |
An investor's equity is diluted as other investors come on board, but their "piece of the pie" usually becomes more valuable.
The Venture Capital Funnel
How likely is it that a startup makes its way through the entire process? In a study of over 1,110 U.S. seed tech companies, only 30% exited through an IPO, merger, or acquisition (M&A).
Companies that reach a private valuation of $1B or more, known as unicorns, are even more rare at just 1%.
At each stage, natural selection takes hold with fewer companies advancing. Here's a look at the entire funnel, with the "second round" generally corresponding to a series A stage, a "third round" generally corresponding to a series B stage, and so on.
Source: CB Insights
Notably, 67% of the companies stalled out at some point in the funding process, becoming either dead or self-sustaining. While startups carry a high degree of risk, they also present opportunities for substantial rewards.

The Unparalleled Explosion in Cryptocurrencies
In 12 months, the number of cryptocurrencies worth >$1mm has soared by 468%. Meanwhile, the total value of all currencies together has skyrocketed by 1,466%.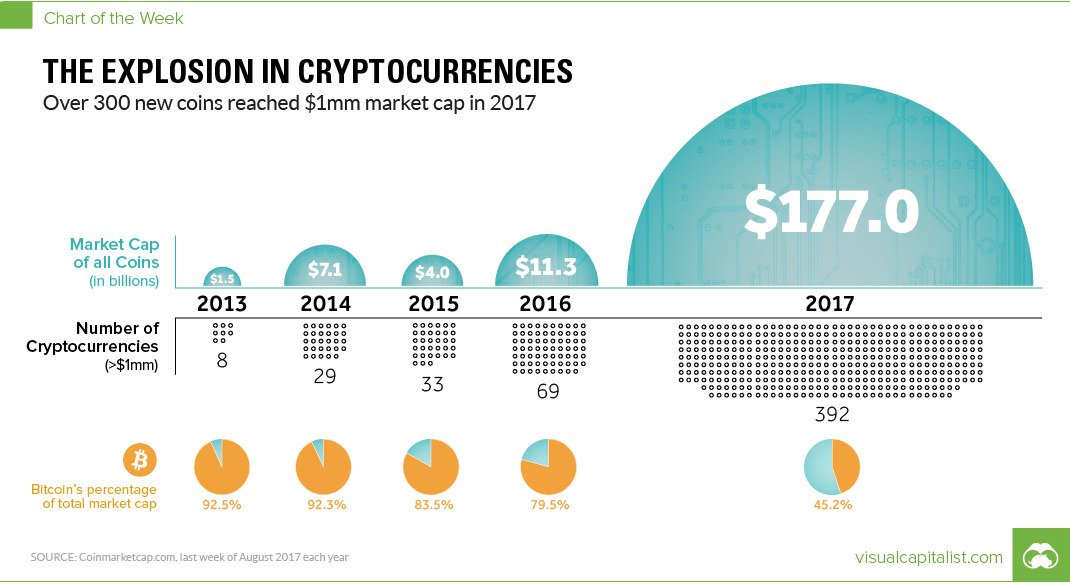 The Unparalleled Explosion in Cryptocurrencies
Over 300 new coins reached $1mm market cap in 2017
The Chart of the Week is a weekly Visual Capitalist feature on Fridays.
After the massive Bitcoin price surge in November 2013, the popularity of launching new cryptocurrencies took off along with it.
In fact, if you go back at historical snapshots around that time, you'll see that there were literally hundreds of new coins available to mine and buy. Here's one from November 2014 – a time when there were only 32 coins that were worth more than $1 million in market cap, and 354 coins that were worth less than $50,000, usually trading for tiny fractions of a cent.
It seems like everyone and their dog were launching cryptocurrencies back then, even if they were a longshot to materialize into anything.
Then vs. Now
Fast forward to today, and things haven't changed much – many people and companies are still launching new cryptocurrencies through a mechanism known as an ICO (Initial Coin Offering).

The only difference?
Today, there is real money at play, and in 12 months the number of cryptocurrencies worth >$1 million has soared by 468%. Meanwhile, the total value of all currencies together has skyrocketed by 1,466%.
Cryptocurrency is so hot, in fact, that raising money through ICOs has become more effective than traditional early-stage angel and VC funding.
For the long-time advocates of Bitcoin and other cryptocurrencies, it is now their moment in the sun.
And with this ICO activity and a wealth of opportunities emerging, a new breed of Bitcoin millionaire has been born. Like the wealthy tech founders that exit and give back to their local startup ecosystems, these new digital tycoons are using their newfound wealth to invest in upstart crypto projects that show potential – ultimately, further enhancing the ecosystem.
Out of the Woodwork
Of course, whenever there is a massive surge in prices and speculation, there are two other players that tend to come out of the woodwork.
One is of the scammer and shyster variety, and certainly crypto-fueled scams are a concern for everyone else in the broader ecosystem.
Perhaps even a bigger threat, however, are the regulators – and in recent weeks the SEC has voiced concerns about ICO "pump and dump" schemes, while Canadian authorities have clearly stated that "most ICOs need oversight".
With the market exploding with hundreds of new cryptocurrencies and the total value reaching $177 billion, a new series of questions has emerged: what risk do ICO scams ultimately have on market? And, could misguided regulation disrupt the momentum of the crypto boom?