Charted: How Long Does it Take Unicorns to Exit?
How Long Does it Take For Unicorns to Exit?
For most unicorns—startups with a $1 billion valuation or more—it can take years to see a liquidity event.
Take Twitter, which went public seven years after its 2006 founding. Or Uber, which had an IPO after a decade of operation in 2019. After all, companies first have to succeed and build up their valuation in order to not go bankrupt or dissolve. Few are able to succeed and capitalize in a quick and tidy manner.
So when do unicorns exit, either successfully through an IPO or acquisition, or unsuccessfully through bankruptcy or liquidation? The above visualization from Ilya Strebulaev breaks down the time it took for 595 unicorns to exit from 1997 to 2022.
Unicorns: From Founding to Exit
Here's how unicorn exits broke down over the last 25 years. Data was collected by Strebulaev at the Venture Capital Initiative in Stanford and covers exits up to October 2022:
Years
(Founding to Exit)
Unicorn Example
Number of Unicorns
1997‒2022
1
YouTube
10
2
Instagram
31
3
Groupon
41
4
Zynga
43
5
Salesforce
36
6
Alphabet (Google)
51
7
Tesla
35
8
Zoom
59
9
Coursera
44
10
Uber Technologies
45
11
WeWork
46
12
Airbnb
35
13
Credit Karma
18
14
SimilarWeb
19
15
23andMe
15
16
Sonos
11
17
Roblox
12
18
Squarespace
6
19
Vizio
9
>20
Cytek
17
Overall, unicorns exited after a median of eight years in business.
Companies like Facebook, LinkedIn, and Indeed are among the unicorns that exited in exactly eight years, which in total made up 10% of tracked exits. Another major example is Zoom, which launched in 2011 and went public in 2019 at a $9.2 billion valuation.
There were also many earlier exits, such as YouTube's one-year turnaround from 2005 founding to 2006 acquisition by Google. Groupon also had an early exit just three years after its founding in 2008, after turning down an even earlier acquisition exit (also through Google).
In total, unicorn exits within 11 years or less accounted for just over three-quarters of tracked exits from 1997 to 2022. Many of the companies that took longer to exit also took longer to reach unicorn status, including website company Squarespace, which was founded in 2003 but didn't reach a billion-dollar valuation until 2017 (and listed on the NYSE in 2021).
Unicorns, by Exit Strategy
Broadly speaking, there are three main types of exits: going public through an IPO, SPAC, or direct listing, being acquired, or liquidation/bankruptcy.
The most well-known are IPOs, or initial public offerings. These are the most common types of unicorn exits in strong market conditions, with 2021 seeing 79 unicorn IPOs globally, with $83 billion in proceeds.
| | 2021 | 2022 | % Change |
| --- | --- | --- | --- |
| # Unicorn IPOs | 79 | 13 | -84% |
| Proceeds | $82.9B | $5.3B | -94% |
But the number of IPOs drops drastically given weaker market performance, as seen above. At the end of 2022, an estimated 91% of unicorn IPOs listed since 2021 had share prices fall below their IPO price.
A less common unicorn exit is an SPAC (special purpose acquisition company), although they've been gaining momentum and were used by WeWork and BuzzFeed. With an SPAC, a shell company raises money in an IPO and merges with a private company to take it public.
Finally, while an IPO lists new shares to the public with an underwriter, a direct listing sells existing shares without an underwriter. Though it was historically seen as a cheaper IPO alternative, some well-known unicorns have used direct listings including Roblox and Coinbase.
And as valuations for unicorns (and their public listings) have grown, acquisitions have become less frequent. Additionally, many major firms have been buying back shares since 2022 to shore up investor confidence instead of engaging in acquisitions.
Slower Exit Activity
While the growth of unicorns has been exponential over the last decade, exit activity has virtually ground to a halt in 2023.
Investor caution and increased conservation of capital have contributed to the lack of unicorn exits. As of the second quarter of 2023, just eight unicorns in the U.S. exited. These include Mosaic ML, an artificial intelligence startup, and carbon recycling firm LanzaTech.
As exit activity declines, companies may halt listing plans and eventually slow expansion and cut costs. What's uncertain is whether or not this lull in unicorn exits—and declining influx of private capital influx—is temporary or part of a long-term readjustment.

This article was published as a part of Visual Capitalist's Creator Program, which features data-driven visuals from some of our favorite Creators around the world.
Charted: What are Retail Investors Interested in Buying in 2023?
What key themes and strategies are retail investors looking at for the rest of 2023? Preview: AI is a popular choice.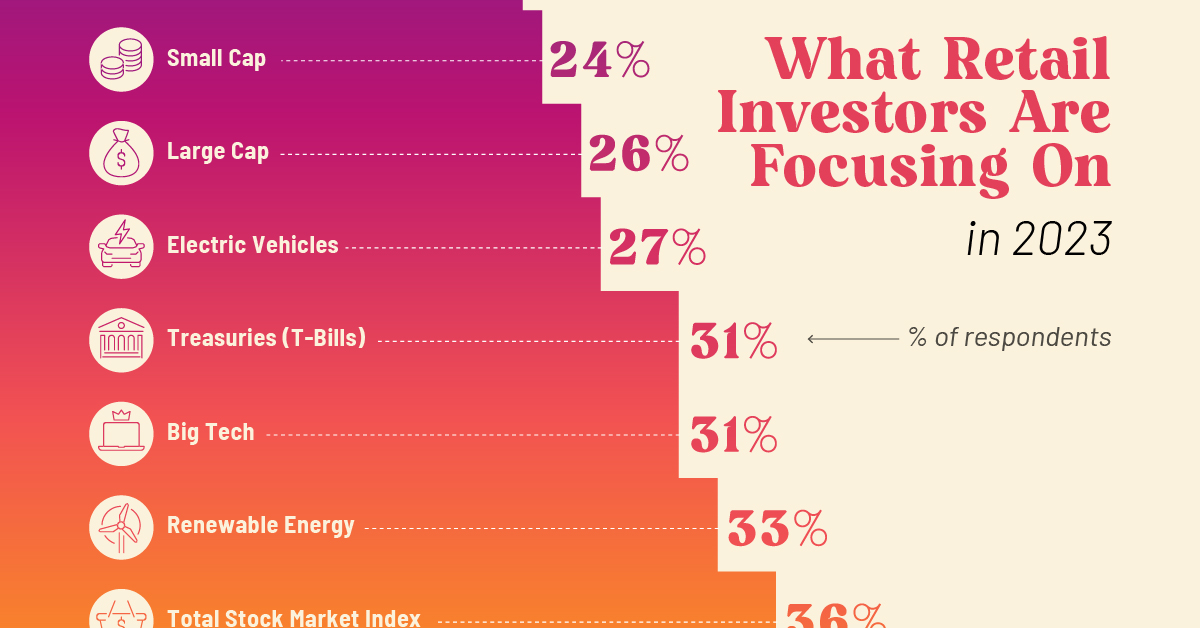 Charted: Retail Investors' Top Picks for 2023
U.S. retail investors, enticed by a brief pause in the interest rate cycle, came roaring back in the early summer. But what are their investment priorities for the second half of 2023?
We visualized the data from Public's 2023 Retail Investor Report, which surveyed 1,005 retail investors on their platform, asking "which investment strategy or themes are you interested in as part of your overall investment strategy?"
Survey respondents ticked all the options that applied to them, thus their response percentages do not sum to 100%.
Where Are Retail Investors Putting Their Money?
By far the most popular strategy for retail investors is dividend investing with 50% of the respondents selecting it as something they're interested in.
Dividends can help supplement incomes and come with tax benefits (especially for lower income investors or if the dividend is paid out into a tax-deferred account), and can be a popular choice during more inflationary times.
| Investment Strategy | Percent of Respondents |
| --- | --- |
| Dividend Investing | 50% |
| Artificial Intelligence | 36% |
| Total Stock Market Index | 36% |
| Renewable Energy | 33% |
| Big Tech | 31% |
| Treasuries (T-Bills) | 31% |
| Electric Vehicles | 27% |
| Large Cap | 26% |
| Small Cap | 24% |
| Emerging Markets | 23% |
| Real Estate | 23% |
| Gold & Precious Metals | 23% |
| Mid Cap | 19% |
| Inflation Protection | 13% |
| Commodities | 12% |
Meanwhile, the hype around AI hasn't faded, with 36% of the respondents saying they'd be interested in investing in the theme—including juggernaut chipmaker Nvidia. This is tied for second place with Total Stock Market Index investing.
Treasury Bills (30%) represent the safety anchoring of the portfolio but the ongoing climate crisis is also on investors' minds with Renewable Energy (33%) and EVs (27%) scoring fairly high on the interest list.
Commodities and Inflation-Protection stocks on the other hand have fallen out of favor.
Come on Barbie, Let's Go Party…
Another interesting takeaway pulled from the survey is how conversations about prevailing companies—or the buzz around them—are influencing trades. The platform found that public investors in Mattel increased 6.6 times after the success of the 'Barbie' movie.
Bud Light also saw a 1.5x increase in retail investors, despite receiving negative attention from their fans after the company did a beer promotion campaign with trans influencer Dylan Mulvaney.
Given the origin story of a large chunk of American retail investors revolves around GameStop and AMC, these insights aren't new, but they do reveal a persisting trend.