Ranked: The World's Most Downloaded Apps
Note: Estimates include unique installs on iPhone, iPad, and Google Play from Jan. 1 through Dec. 31, 2019. Pre-installed apps for Apple and Google are excluded.
Ranked: The World's Most Downloaded Apps
From strategically finding love, to helping researchers search for extraterrestrial life—there is quite literally an app for almost anything these days.
It is therefore no surprise that apps have become one of the largest consumer ecosystems on the planet, with the global app economy expected to reach $6.3 trillion by 2021.
Today's graphics pull data from a recent report by Sensor Tower that ranks the top 20 most downloaded apps of 2019. New entrants are rising up and threatening the dominance of more established tech companies—but can they sustain their current position on the leaderboard?
The Champions of the App Economy
According to the report, total app downloads grew to 115 billion in 2019, including almost 31 billion downloads on the App Store and 84 billion on Google Play.
Social media giant Facebook owns four out of five of 2019's most downloaded apps: Facebook, Facebook Messenger, WhatsApp, and Instagram. Collectively, they boast an eye-watering 16 billion downloads—with WhatsApp holding the top spot for the fourth year running.
Growth in the short-form video category is apparent. The video creation app Likee joined this year's ranking and sits in sixth place, with the majority of the app's 330 million downloads coming from India.
The app lets users edit videos using a wide variety of effects, and directly competes with TikTok—a lip syncing app that entered the ranking in 2018 and now threatens WhatsApp's position at the top of the leaderboard.
Which Apps Are Climbing the Ranks?
TikTok is the newest platform to turn its users into viral sensations, grossing $177 million in 2019. This is equal to more than five times its 2018 revenue. TikTok also bypassed Instagram in 2018, breaking Facebook's foothold on the top four apps globally.
TikTok is owned by Chinese tech firm ByteDance, the most valuable private company in the world—and 78% of TikTok's total Q4'2019 revenue came from its native country.
Aside from several short-form video entrants, new players from other industries continue to storm up the ranks. While they don't make the list of most downloaded apps yet, their recent success could change that.
Streaming Services
Netflix is the only streaming service to make it into the top 20 most downloaded apps, but the launch of Disney+ could potentially change that.
Despite a November launch, Disney+ became the second most popular new app of 2019. Within a month, the service generated $50 million in revenue.
To put this into context, Disney+ acquired 34% of all streaming app downloads in less than three months, or 30 million subscribers—half of Netflix's current 60 million U.S. subscribers. That figure also surpasses Hulu and Amazon Prime's figures for the entirety of 2019.
Gaming
With 2.4 billion people playing mobile games in 2019, gaming is also set to become a major player in the app economy.
Two popular console franchises, Call of Duty and Mario Kart, recently entered the mobile market to become two of the most successful games in the category.
The free mobile version of Call of Duty had the second best quarter of any mobile game ever, with 170 million worldwide downloads. Only Pokémon GO had a better quarter, with more than 300 million installs when it launched in 2016.
The success of these apps can be attributed to their already established consumer base, and the evident shift in more gamers moving to mobile platforms as smartphone technology and processing speeds improve.
Countries Leading the App Economy
The app economy is also being fueled by growth in emerging markets including China, India, Brazil and Russia, thanks to faster internet speeds and increasing smartphone adoption rates.
Specifically, India's increasing digitization is driving significant growth in the market. The country witnessed nearly 5 billion app installs in the last quarter of 2019—surging ahead of the U.S. with just over 3 billion installs.

Note: As Google Play is not available in China, the country was excluded from this chart.
India's demand could be attributed to the fact that half of its 1.3 billion population is under the age of 25. A younger, tech savvy audience has resulted in India becoming TikTok's top market, commanding 45% of the app's first time downloads in 2019.
The App Economy 2.0
With an explosion in user spending, and seemingly endless opportunities for innovation, the global app economy shows a tremendous amount of promise, but is still in its early days.
Consumers spent $101 billion on apps globally in 2018. This is double the size of the global sneaker market, and nearly three times the size of the oral care industry.
—Danielle Levitas, EVP of Global Marketing & Market Insights at App Annie
Rising consumer spend combined with other forms of monetization, such as advertising and mobile commerce, could soon enable the app market to surpass the trillion dollar barrier in revenue.
While many experts claimed that the app industry was dead in its tracks, it's safe to say that those predictions are now being irrefutably challenged.

Which Streaming Service Has the Most Subscriptions?
From Netflix and Disney+ to Spotify and Apple Music, we rank the streaming services with the most monthly paid subscriptions.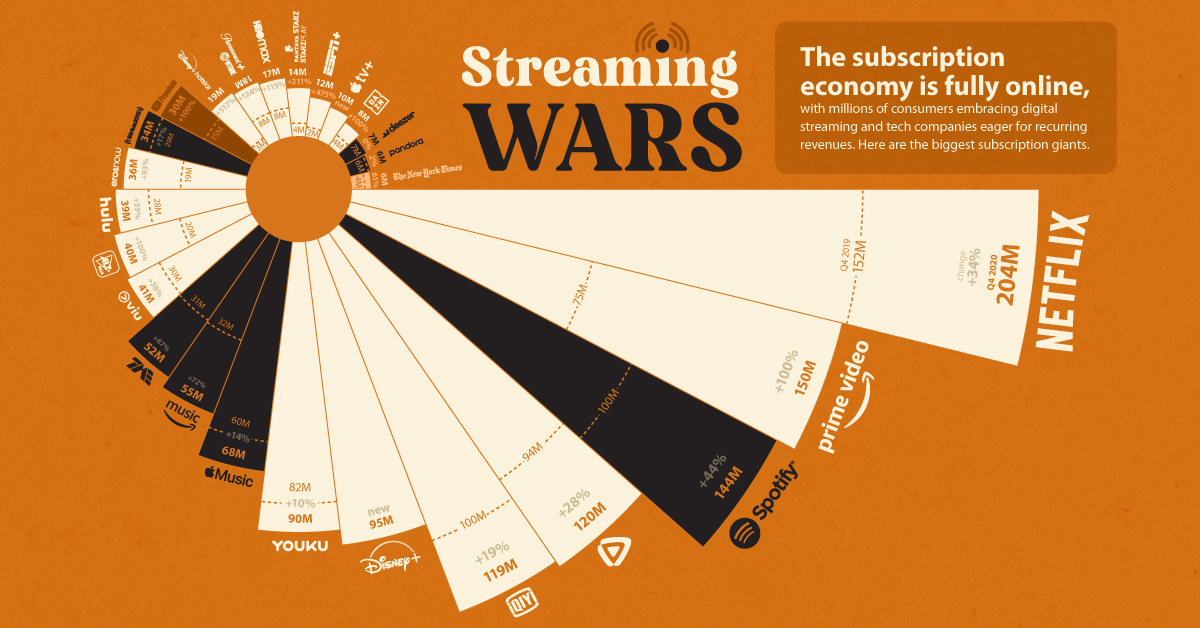 Which Streaming Service Has The Most Subscriptions?
Many companies have launched a streaming service over the past few years, trying to capitalize on the digital media shift and launching the so-called "streaming wars."
After Netflix grew from a small DVD-rental company to a household name, every media company from Disney to Apple saw recurring revenues ripe for the taking. Likewise, the audio industry has long-since accepted Spotify's rise to prominence, as streaming has become the de facto method of consumption for many.
But it was actually the unexpected COVID-19 pandemic that solidified the foothold of digital streaming, with subscription services seeing massive growth over the last year. Although it was expected that many new services would flounder along the way, media subscription services saw wide scale growth and adoption almost across the board.
We've taken the video, audio, and news subscription services with 5+ million subscribers to see who came out on top—and who has grown the most quickly—over the past year. Data comes from the FIPP media association as well as individual company reports.
Streaming Service Giants: Netflix and Amazon
The top of the streaming giant pantheon highlights two staples of business: the first-mover advantage and the power of conglomeration.
With 200+ million global subscribers, Netflix has capitalized on its position as the first and primary name in digital video streaming. Though its consumer base in the Americas has begun to plateau, the company's growth in reach (190+ countries) and content (70+ original movies slated for 2021) has put it more than 50 million subscribers ahead of its closest competition.
The story is the same in the audio market, where Spotify's 144 million subscriber base is more than double that of Apple Music, the next closest competitor with 68 million subscribers.
Meanwhile, Amazon's position as the second most popular video streaming service with 150 million subscribers might be surprising. However, Prime Video subscriptions are included with membership to Amazon Prime, which saw massive growth in usage during the pandemic.
| Service | Type | Subscribers (Q4 2020) |
| --- | --- | --- |
| Netflix | Video | 203.7M |
| Amazon Prime Video | Video | 150.0M |
| Spotify | Audio | 144.0M |
| Tencent Video | Video | 120.0M |
| iQIYI | Video | 119.0M |
| Disney+ | Video | 94.9M |
| Youku | Video | 90.0M |
| Apple Music | Audio | 68.0M |
| Amazon Prime Music | Audio | 55.0M |
| Tencent Music (Group) | Audio | 51.7M |
| Viu | Video | 41.4M |
| Alt Balaji | Video | 40M |
| Hulu | Video | 38.8M |
| Eros Now | Video | 36.2M |
| Sirius Xm | Audio | 34.4M |
| YouTube Premium | Video/Audio | 30M |
| Disney+ Hotstar | Video | 18.5M |
| Paramount+ | Video | 17.9M |
| HBO Max | Video | 17.2M |
| Starz/StarzPlay/Pantaya | Video | 13.7M |
| ESPN+ | Video | 11.5M |
| Apple TV+ | Video | 10M |
| DAZN | Video | 8M |
| Deezer | Audio | 7M |
| Pandora | Audio | 6.3M |
| New York Times | News | 6.1M |
Another standout is the number of large streaming services based in Asia. China-based Tencent Video (also known as WeTV) and Baidu's iQIYI streaming services both crossed 100 million paid subscribers, with Alibaba's Youku not far behind with 90 million.
Disney Leads in Streaming Growth
But perhaps most notable of all is Disney's rapid ascension to the upper echelons of streaming service giants.
Despite Disney+ launching in late 2019 with a somewhat lackluster content library (only one original series with one episode at launch), it has quickly rocketed both in terms of content and its subscriber base. With almost 95 million subscribers, it has amassed more subscribers in just over one year than Disney expected it could reach by 2024.
| Service | Type | Percentage Growth (2019) |
| --- | --- | --- |
| Disney+ | Video | New |
| Apple TV+ | Video | New |
| Disney+ Hotstar | Video | 516.7% |
| ESPN+ | Video | 475.0% |
| Starz/StarzPlay/Pantaya | Video | 211.4% |
| Paramount+ | Video | 123.8% |
| HBO Max | Video | 115.0% |
| Amazon Prime Video | Video | 100.0% |
| Alt Balaji | Video | 100.0% |
| YouTube Premium | Video/Audio | 100.0% |
| DAZN | Video | 100.0% |
| Eros Now | Video | 92.6% |
| Amazon Prime Music | Audio | 71.9% |
| Tencent Music (Group) | Audio | 66.8% |
| New York Times | News | 60.5% |
| Spotify | Audio | 44.0% |
| Hulu | Video | 38.6% |
| Viu | Video | 38.0% |
| Netflix | Video | 34.4% |
| Tencent Video | Video | 27.7% |
| iQiyi | Video | 19.0% |
| Sirius Xm | Audio | 17.4% |
| Apple Music | Audio | 13.3% |
| Youku | Video | 9.6% |
| Pandora | Audio | 1.6% |
| Deezer | Audio | 0% |
The Disney+ wave also spurred growth in partner streaming services like Hotstar and ESPN+, while other services with smaller subscriber bases saw large growth rates thanks to the COVID-19 pandemic.
The lingering question is how the landscape will look when the pandemic starts to wind down, and when all the new players are accounted for. NBCUniversal's Peacock, for example, has reached over 30 million subscribers as of January 2021, but the company hasn't yet disclosed how many are paid subscribers.
Likewise, competitors are investing in content libraries to try and make up ground on Netflix and Disney. HBO Max is slated to start launching internationally in June 2021, and ViacomCBS rebranded and expanded CBS All Access into Paramount+.
And international growth is vital. Three of the top six video streaming services by subscribers are based in China, while Indian services Hotstar, ALTBalaji, and Eros Now all saw surges in subscriber bases, with more room left to grow.

How Do Esports Companies Compare with Sports Teams?
With some esports companies more valuable than traditional sports teams, we visualize esports vs sports in franchise value.
How Do Esports Companies Compare with Sports Teams?
Are esports on the same level as "real" sports? These comparisons range from tricky to subjective, but the monetary value of companies speak for themselves.
The world's largest esports companies have definitely risen to the occasion. Valued at almost half-a-billion dollars, they've started to pass some sports franchises in value.
In the above graphic, we compare Forbes' valuation of the top 10 esports companies in 2020 against median franchises in the "Big Four" major leagues (NFL, MLB, NBA, and NHL). Despite competitive gaming's rapid growth, there's still a long way left to go.
Esports Impress but NFL Teams Reign Supreme
The world's top esports companies have grown quickly, and impressively.
As of 2018, there was only one esports company worth more than $300 million in valuation. By 2020, four of the top 10 were valued at more than $300 million.
| Esports Company | Games with Franchises | Value (2020) |
| --- | --- | --- |
| TSM | League of Legends | $410M |
| Cloud9 | League of Legends, Overwatch | $350M |
| Team Liquid | League of Legends | $310M |
| FaZe Clan | Call of Duty | $305M |
| 100 Thieves | League of Legends, Call of Duty | $190M |
| Gen.G | League of Legends, Overwatch, NBA 2K | $185M |
| Enthusiast Gaming | Call of Duty, Overwatch | $180M |
| G2 Esports | League of Legends | $175M |
| NRG Esports | Call of Duty, Overwatch | $155M |
| T1 | League of Legends | $150M |
When compared to traditional sports valuations, esports companies have already reached major league hockey status.
TSM, the world's most valuable esports company in 2020, has a higher valuation than five NHL franchises. In fact, four esports companies were estimated to be more valuable than two NHL franchises, the Florida Panthers and Arizona Coyotes.
But other sports leagues are further away. While the median value of an NHL franchise in 2020 was $520 million, the MLB, NBA, and NFL all saw median values of over $1.6 billion.
| Esports vs. Sports Franchises | Lowest Valued Team | Highest Valued Team | Median |
| --- | --- | --- | --- |
| NFL | $2.0B | $5.7B | $3.0B |
| NBA | $1.3B | $4.6B | $1.8B |
| MLB | $980M | $5.0B | $1.6B |
| NHL | $285M | $1.6B | $520M |
| Esports (Top 10) | $150M | $410M | $188M |
Differences in Esports vs Sports Structures and Growth
Try as we might to make a clean apples-to-apples comparison between esports and traditional sports teams, there are significant differences in the business models to consider.
For starters, major esports companies own multiple franchises and non-franchise teams across many games. Cloud9 owns both the eponymous Cloud9 League of Legends franchise and the London Spitfire Overwatch franchise, for example, as well as non-franchise teams in Halo, Counter Strike: Global Offensive, Fortnite, and other games.
The revenue streams for esports companies are also extremely varied. Companies like TSM, 100 Thieves, FaZe Clan and Enthusiast Gaming made 50% or more of their revenue from outside of esports, having instead expanded into diverse companies with an equal focus on content creation and apps.
But it's this greater ability to diversify, and the still-increasing size of esports fandom, that continues to grow esports valuations. In fact, TSM's estimated 2020 revenue of $45 million is less than half of the Arizona Coyotes' estimated revenue of $95 million, despite a $100+ million valuation difference in favor of TSM.
That's why the continued maturation of esports is only going to make traditional sports comparisons easier, and closer. Instead of having to pit companies against franchises, direct league-to-league comparisons will be possible, and the differences will likely shrink from billions to millions.