Visualizing the Range of EVs on Major Highway Routes
The Range of EVs on Major Highway Routes
Between growing concerns around climate change, new commuting behaviors due to COVID-19, and imminent policy changes, the global transition to electric vehicles (EVs) is well under way.
By the year 2040, sales of electric vehicles are projected to account for 58% of new car sales, up from just 2.7% currently.
But switching from a gasoline car to an electric one is not seamless. With charging and range capacities to consider, and the supporting infrastructure still being slowly rolled out in many parts of the world, understanding the realities of EV transportation is vital.
Above, we highlight 2020 all-electric vehicle range on well-recognized routes, from California's I-5 in the U.S. to the A2 autobahn in Germany. The data on estimated ranges and costs are drawn from the U.S. EPA as well as directly from manufacturer websites.
The EV Breakdown: Tesla is King of Range
For many consumers, the most important aspect of an electric vehicle is how far they can travel on a single charge.
Whether it's for long commutes or out-of-city trips, vehicles must meet a minimum threshold to be considered practical for many households. As the table below shows, Tesla's well-known EVs are far-and-away the best option for long range drivers.
| Vehicle | Range (miles) | Range (km) | MSRP | Cost per mile |
| --- | --- | --- | --- | --- |
| Tesla Model S Long Range Plus | 402 | 647 | $74,990 | $186.54 |
| Tesla Model X Long Range Plus | 351 | 565 | $79,990 | $227.89 |
| Tesla Model S Performance | 348 | 560 | $94,990 | $272.96 |
| Tesla Model 3 Long Range | 322 | 518 | $46,990 | $145.93 |
| Tesla Model Y Long Range | 316 | 509 | $49,990 | $158.20 |
| Tesla Model X Performance | 305 | 491 | $99,990 | $327.84 |
| Tesla Model 3 LR Performance | 299 | 481 | $54,990 | $183.91 |
| Tesla Model Y Performance | 291 | 468 | $59,990 | $206.15 |
| Polestar 2 | 275 | 443 | $59,900 | $217.82 |
| Chevrolet Bolt EV | 259 | 417 | $36,620 | $141.39 |
| Hyundai Kona Electric | 258 | 415 | $37,190 | $144.15 |
| Tesla Model 3 Standard Range Plus | 250 | 402 | $37,990 | $151.96 |
| Kia Niro EV | 239 | 385 | $39,090 | $163.56 |
| Jaguar I-PACE | 234 | 377 | $69,850 | $298.50 |
| Nissan LEAF e+ S | 226 | 364 | $38,200 | $169.03 |
| Audi e-tron Sportback | 218 | 351 | $69,100 | $316.97 |
| Nissan LEAF e+ SV/SL | 215 | 346 | $39,750 | $184.88 |
| Audi e-tron | 204 | 328 | $65,900 | $323.04 |
| Porsche Taycan 4S Perf Battery Plus | 203 | 327 | $112,990 | $556.60 |
| Porsche Taycan Turbo | 201 | 323 | $153,510 | $763.73 |
| Porsche Taycan Turbo S | 192 | 309 | $187,610 | $977.14 |
| Hyundai IONIQ Electric | 170 | 274 | $33,045 | $194.38 |
| BMW i3 | 153 | 246 | $44,450 | $290.52 |
| Nissan LEAF | 149 | 240 | $31,600 | $212.08 |
| MINI Cooper SE | 110 | 177 | $29,900 | $271.82 |
| Fiat 500e | 84 | 135 | $33,460 | $398.33 |
In an industry where innovation and efficiency are vital, Tesla's first-mover advantage is evident. From the more affordable Model 3 to the more luxurious Model S, the top eight EVs with the longest ranges are all Tesla vehicles.
At 402 miles (647 km), the range of the number one vehicle (the Tesla Model S Long Range Plus) got 127 miles more per charge than the top non-Tesla vehicle, the Polestar 2—an EV made by Volvo's standalone performance brand.
Closer Competition in Cost
Though Tesla leads on overall range and battery capacity, accounting for the price of each vehicle shows that cost-efficiency is far more competitive among brands.
By dividing the retail price by the maximum range of each vehicle, we can paint a clearer picture of efficiency. Leading the pack is the Chevrolet Bolt, which had a cost of $141.39/mile of range in 2020 while still placing in the top 10 for range with 259 miles (417 km).
Just behind in second place was the Hyundai Kona electric at $144.15/mile of range, followed by the Tesla Model 3—the most efficient of the automaker's current lineup. Rounding out the top 10 are the Nissan LEAF and Tesla Model S, but the difference from number one to number ten was minimal, at just over $45/mile.
Top 10 All-Electric Vehicles by Cost Efficiency
Vehicle
Cost per mile
Chevrolet Bolt EV
$141.39
Hyundai Kona Electric
$144.15
Tesla Model 3 Long Range
$145.93
Tesla Model 3 Standard Range Plus
$151.96
Tesla Model Y Long Range
$158.20
Kia Niro EV
$163.56
Nissan LEAF e+ S
$169.03
Tesla Model 3 LR Performance
$183.91
Nissan LEAF e+ SV/SL
$184.88
Tesla Model S Long Range Plus
$186.54
Higher Ranges and Lower Costs on the Horizon
The most important thing to consider, however, is that the EV industry is entering a critical stage.
On one hand, the push for electrification and innovation in EVs has driven battery capacity higher and costs significantly lower. As batteries account for the bulk of weight, cost, and performance in EVs, those dividends will pay out in longer ranges and greater efficiencies with newer models.
Equally important is the strengthening global push for electric vehicle adoption. In countries like Norway, EVs are already among the best selling cars on the market, while adoption rates in China and the U.S. are steadily climbing. This is also being impacted by policy decisions, such as California's recent announcement that it would be banning the sale of gasoline cars by 2035.
Meanwhile, the only thing outpacing the growing network of Tesla superchargers is the company's rising stock price. Not content to sit on the sidelines, competing automakers are rapidly trying to catch up. Nissan's LEAF is just behind the Tesla Model 3 as the world's second-best-selling EV, and Audi recently rolled out a supercharger network that can charge its cars from 0% to 80% at a faster rate than Tesla.
As the tidal wave of electric vehicle demand and adoption continues to pick up steam, consumers can expect increasing innovation to drive up ranges, decrease costs, and open up options.
Correction: A previous version of this graphic showed a European route that was the incorrect distance.
Charted: 40 Years of Global Energy Production, by Country
Here's a snapshot of global energy production, and which countries have produced the most fossil fuels, nuclear, and renewable energy since 1980.

Creator Program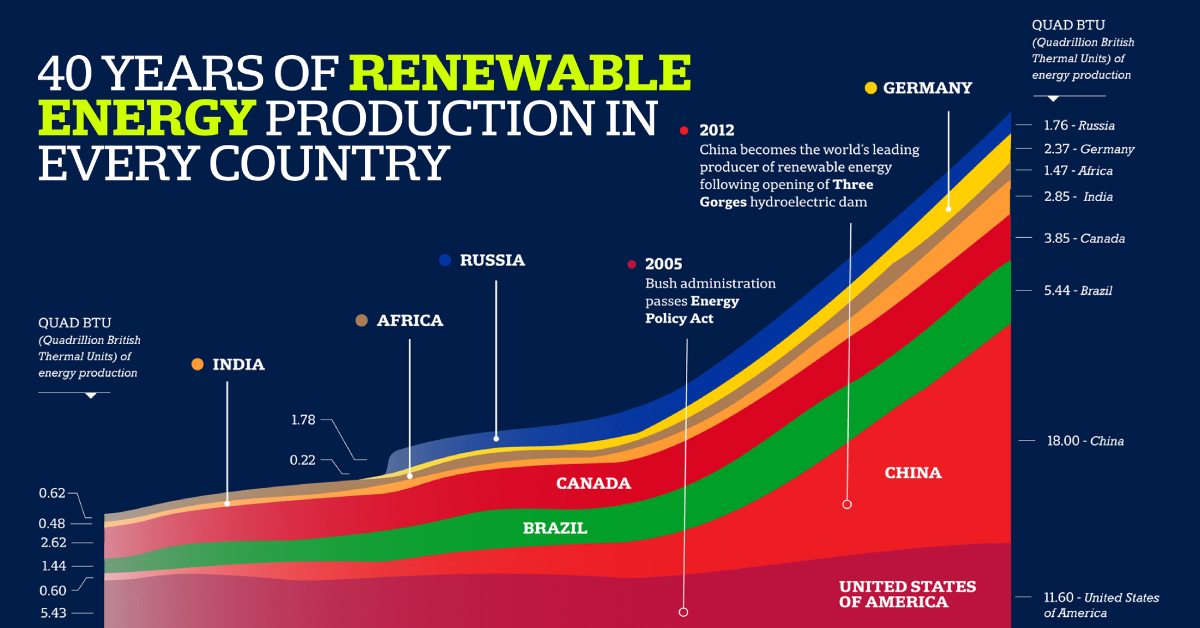 Energy was already a hot topic before 2022, but soaring household energy bills and a cost of living crisis has brought it even more to the forefront.
Which countries are the biggest energy producers, and what types of energy are they churning out? This graphic by 911 Metallurgist gives a breakdown of global energy production, showing which countries have used the most fossil fuels, nuclear, and renewable energy since 1980.
All figures refer to the British thermal unit (BTU), equivalent to the heat required to heat one pound of water by one degree Fahrenheit.
Editor's note: Click on any graphic to see a full-width version that is higher resolution
1. Fossil Fuels
View the full-size infographic
While the U.S. is a dominant player in both oil and natural gas production, China holds the top spot as the world's largest fossil fuel producer, largely because of its significant production and consumption of coal.
Over the last decade, China has used more coal than the rest of the world, combined.
However, it's worth noting that the country's fossil fuel consumption and production have dipped in recent years, ever since the government launched a five-year plan back in 2014 to help reduce carbon emissions.
2. Nuclear Power
View the full-size infographic
The U.S. is the world's largest producer of nuclear power by far, generating about double the amount of nuclear energy as France, the second-largest producer.
While nuclear power provides a carbon-free alternative to fossil fuels, the nuclear disaster in Fukushima caused many countries to move away from the energy source, which is why global use has dipped in recent years.
Despite the fact that many countries have recently pivoted away from nuclear energy, it still powers about 10% of the world's electricity. It's also possible that nuclear energy will play an expanded role in the energy mix going forward, since decarbonization has emerged as a top priority for nations around the world.
3. Renewable Energy
View the full-size infographic
Renewable energy sources (including wind, hydro, and solar) account for about 23% of electricity production worldwide. China leads the front on renewable production, while the U.S. comes in second place.
While renewable energy production has ramped up in recent years, more countries will need to ramp up their renewable energy production in order to reach net-zero targets by 2050.
What is the Cost of Europe's Energy Crisis?
As European gas prices soar, countries are introducing policies to try and curb the energy crisis.
What is the Cost of Europe's Energy Crisis?
This was originally posted on Elements. Sign up to the free mailing list to get beautiful visualizations on natural resource megatrends in your email every week.
Europe is scrambling to cut its reliance on Russian fossil fuels.
As European gas prices soar eight times their 10-year average, countries are introducing policies to curb the impact of rising prices on households and businesses. These include everything from the cost of living subsidies to wholesale price regulation. Overall, funding for such initiatives has reached $276 billion as of August.
With the continent thrown into uncertainty, the above chart shows allocated funding by country in response to the energy crisis.
The Energy Crisis, In Numbers
Using data from Bruegel, the below table reflects spending on national policies, regulation, and subsidies in response to the energy crisis for select European countries between September 2021 and July 2022. All figures in U.S. dollars.
Country
Allocated Funding
Percentage of GDP
Household Energy Spending,
Average Percentage
🇩🇪 Germany
$60.2B
1.7%
9.9%
🇮🇹 Italy
$49.5B
2.8%
10.3%
🇫🇷 France
$44.7B
1.8%
8.5%
🇬🇧 U.K.
$37.9B
1.4%
11.3%
🇪🇸 Spain
$27.3B
2.3%
8.9%
🇦🇹 Austria
$9.1B
2.3%
8.9%
🇵🇱 Poland
$7.6B
1.3%
12.9%
🇬🇷 Greece
$6.8B
3.7%
9.9%
🇳🇱 Netherlands
$6.2B
0.7%
8.6%
🇨🇿 Czech Republic
$5.9B
2.5%
16.1%
🇧🇪 Belgium
$4.1B
0.8%
8.2%
🇷🇴 Romania
$3.8B
1.6%
12.5%
🇱🇹 Lithuania
$2.0B
3.6%
10.0%
🇸🇪 Sweden
$1.9B
0.4%
9.2%
🇫🇮 Finland
$1.2B
0.5%
6.1%
🇸🇰 Slovakia
$1.0B
1.0%
14.0%
🇮🇪 Ireland
$1.0B
0.2%
9.2%
🇧🇬 Bulgaria
$0.8B
1.2%
11.2%
🇱🇺 Luxembourg
$0.8B
1.1%
n/a
🇭🇷 Croatia
$0.6B
1.1%
14.3%
🇱🇻 Lativia
$0.5B
1.4%
11.6%
🇩🇰 Denmark
$0.5B
0.1%
8.2%
🇸🇮 Slovenia
$0.3B
0.5%
10.4%
🇲🇹 Malta
$0.2B
1.4%
n/a
🇪🇪 Estonia
$0.2B
0.8%
10.9%
🇨🇾 Cyprus
$0.1B
0.7%
n/a
Source: Bruegel, IMF. Euro and pound sterling exchange rates to U.S. dollar as of August 25, 2022.
Germany is spending over $60 billion to combat rising energy prices. Key measures include a $300 one-off energy allowance for workers, in addition to $147 million in funding for low-income families. Still, energy costs are forecasted to increase by an additional $500 this year for households.
In Italy, workers and pensioners will receive a $200 cost of living bonus. Additional measures, such as tax credits for industries with high energy usage were introduced, including a $800 million fund for the automotive sector.
With energy bills predicted to increase three-fold over the winter, households in the U.K. will receive a $477 subsidy in the winter to help cover electricity costs.
Meanwhile, many Eastern European countries—whose households spend a higher percentage of their income on energy costs— are spending more on the energy crisis as a percentage of GDP. Greece is spending the highest, at 3.7% of GDP.
Utility Bailouts
Energy crisis spending is also extending to massive utility bailouts.
Uniper, a German utility firm, received $15 billion in support, with the government acquiring a 30% stake in the company. It is one of the largest bailouts in the country's history. Since the initial bailout, Uniper has requested an additional $4 billion in funding.
Not only that, Wien Energie, Austria's largest energy company, received a €2 billion line of credit as electricity prices have skyrocketed.
Deepening Crisis
Is this the tip of the iceberg? To offset the impact of high gas prices, European ministers are discussing even more tools throughout September in response to a threatening energy crisis.
To reign in the impact of high gas prices on the price of power, European leaders are considering a price ceiling on Russian gas imports and temporary price caps on gas used for generating electricity, among others.
Price caps on renewables and nuclear were also suggested.
Given the depth of the situation, the chief executive of Shell said that the energy crisis in Europe would extend beyond this winter, if not for several years.