Institutional Crypto Trading on Coinbase Reaches Record Volume
The Briefing
Institutional trading volume on Coinbase has increased more than fivefold since Q1'2018 ($11B), reaching $57B in Q4'2020
Despite the surge in institutional volume, retail volume has not reached the high set in Q1'2018
Coinbase's Institutional Volume Surges Alongside Bitcoin's Price
As Coinbase prepares to go public with a direct listing on the Nasdaq, the company has released its S-1 filing detailing just about every aspect of their business.
Along with surging users and crypto prices, Coinbase's trading volume has also increased exponentially, with institutions leading the way.
This graphic looks at the return of rising institutional and retail trading volumes on Coinbase over the past two years alongside bitcoin's price.
Coinbase's Volume and Active Users are Rising
Crypto trading volume on Coinbase set record highs in Q4'2020 with $89B in volume, with institutions making up $57B. While recent institutional volume is more than five times Q1'2018 volume, retail trading volume is still below Q1'2018 levels despite bitcoin making new all-time highs.
Overall, trading volumes on Coinbase's platform are far greater today than they were at the peak of the last bitcoin bull run. However, monthly transacting users on the exchange in Q4'2020 just barely surpassed the numbers of Q1'2018.
Coinbase's Monthly Transacting Users per Quarter
| Date | Monthly Transacting Users (millions) |
| --- | --- |
| Q1'2018 | 2.7M |
| Q2'2018 | 1.2M |
| Q3'2018 | 0.9M |
| Q4'2018 | 0.9M |
| Q1'2019 | 0.8M |
| Q2'2019 | 1.3M |
| Q3'2019 | 1.2M |
| Q4'2019 | 1.0M |
| Q1'2020 | 1.3M |
| Q2'2020 | 1.5M |
| Q3'2020 | 2.1M |
| Q4'2020 | 2.8M |
Along with Coinbase's volume figures showing a greater increase in institutional volume compared to retail, it's clear that institutions have bought into the bull run while retail investors have returned to transacting crypto more slowly.
The Institutions Buying into the Bitcoin Bull Run
It began with Michael Saylor's company MicroStrategy purchasing $250M worth of bitcoin in August of 2020, before eventually investing a total of $2.2B in the cryptocurrency. These aggressive bitcoin purchases were followed up by Jack Dorsey's Square and Elon Musk's Tesla investing $220M and $1.5B respectively, with Tesla also revealing plans to accept bitcoin payments in the future.
Along with these companies betting on bitcoin, banks have renewed their interest in cryptocurrency as well. Earlier this month the Bank of New York Mellon set up a digital assets unit to help customers manage their cryptocurrencies, and Goldman Sachs just announced the return of its cryptocurrency trading desk.
While it's rumored that Goldman Sachs could even pursue listing a bitcoin-focused ETF, the Chicago Board Options Exchange has already filed a request with the SEC to list VanEck's bitcoin ETF, which would be the first of its kind in the United States.
>>Like this? Then you might like this article comparing bitcoin's market cap to other cryptocurrencies
Where does this data come from?
Source: Coinbase S-1 Filing
Details: Volatility on this graphic is Coinbase's internal measure of crypto volatility in the market relative to prior periods.
Visualizing the Five Drivers of Forest Loss
Approximately 15 billion trees are cut down annually across the world. Here's a look at the five major drivers of forest loss. (Sponsored)
The Briefing
On average, the world loses more than 20 million hectares of forests annually.
Agriculture and commodity-driven deforestation each account for approximately a quarter of annual forest loss.
Visualizing the Five Drivers of Forest Loss
The world has lost one-third of its forests since the ice age, and today, approximately 15 billion trees are cut down annually.
Forests are wellsprings of biodiversity and an essential buffer against climate change, absorbing billions of tonnes of carbon dioxide emissions every year. Yet, forest loss continues to grow.
The above infographic sponsored by Carbon Streaming Corporation highlights the five primary drivers behind forest loss.
Deforestation vs. Degradation
'Forest loss' is a broad term that captures the impacts of both permanent deforestation and forest degradation. There is an important distinction between the two:
Permanent deforestation: Refers to the complete removal of trees or conversion of forests to another land use (like buildings), where forests cannot regrow.
Forest degradation: Refers to a reduction in the density of trees in the area without a change in land use. Forests are expected to regrow.
Forest degradation accounts for over 70% or 15 million hectares of annual forest loss. The other 30% of lost forests are permanently deforested.
| Driving factor | Category | Average annual forest loss (2001-2015, million hectares) |
| --- | --- | --- |
| Commodity-driven deforestation | Permanent deforestation | 5.7 |
| Urbanization | Permanent deforestation | 0.1 |
| Forestry products | Forest degradation | 5.4 |
| Shifting agriculture | Forest degradation | 5 |
| Wildfires | Forest degradation | 4.8 |
| Total | N/A | 21 |
Commodity-driven deforestation, which includes removal of forests for farming and mining, is the largest driver of forest loss. Agriculture alone accounts for three-fourths of all commodity-driven deforestation, where forests are often converted into land for cattle ranches and plantations.
The harvesting of forestry products like timber, paper, pulp, and rubber accounts for the largest share of forest loss from degradation. This process is often managed and planned so that forests can regrow after the harvest.
Shifting agriculture and wildfires each account for around 5 million hectares or one-fourth of annual forest loss. In both cases, forests can replenish if the land is left unused.
Urbanization—the conversion of forests into land for cities and infrastructure—is by far the smallest contributor, accounting for less than 1% of annual forest loss.
How Much Carbon Do Forests Absorb?
The world's forests absorbed nearly twice as much carbon dioxide (CO2) as they emitted between 2001 and 2019, according to research published in Nature.
On a net basis, forests sequester 7.6 billion tonnes of CO2 equivalent (CO2e) annually, which equates to around 15% of global CO2e emissions. As the impacts of climate change intensify, protecting forests from deforestation and degradation is increasingly critical.
Carbon Streaming Corporation accelerates climate action through carbon credit streams on REDD+ projects that protect the Earth's forests. Click here to learn more now.
Ranked: Top 10 Foreign Policy Concerns of Americans
As the world's superpower, the U.S. has major influence in world events. Which foreign policy concerns stand out for Americans?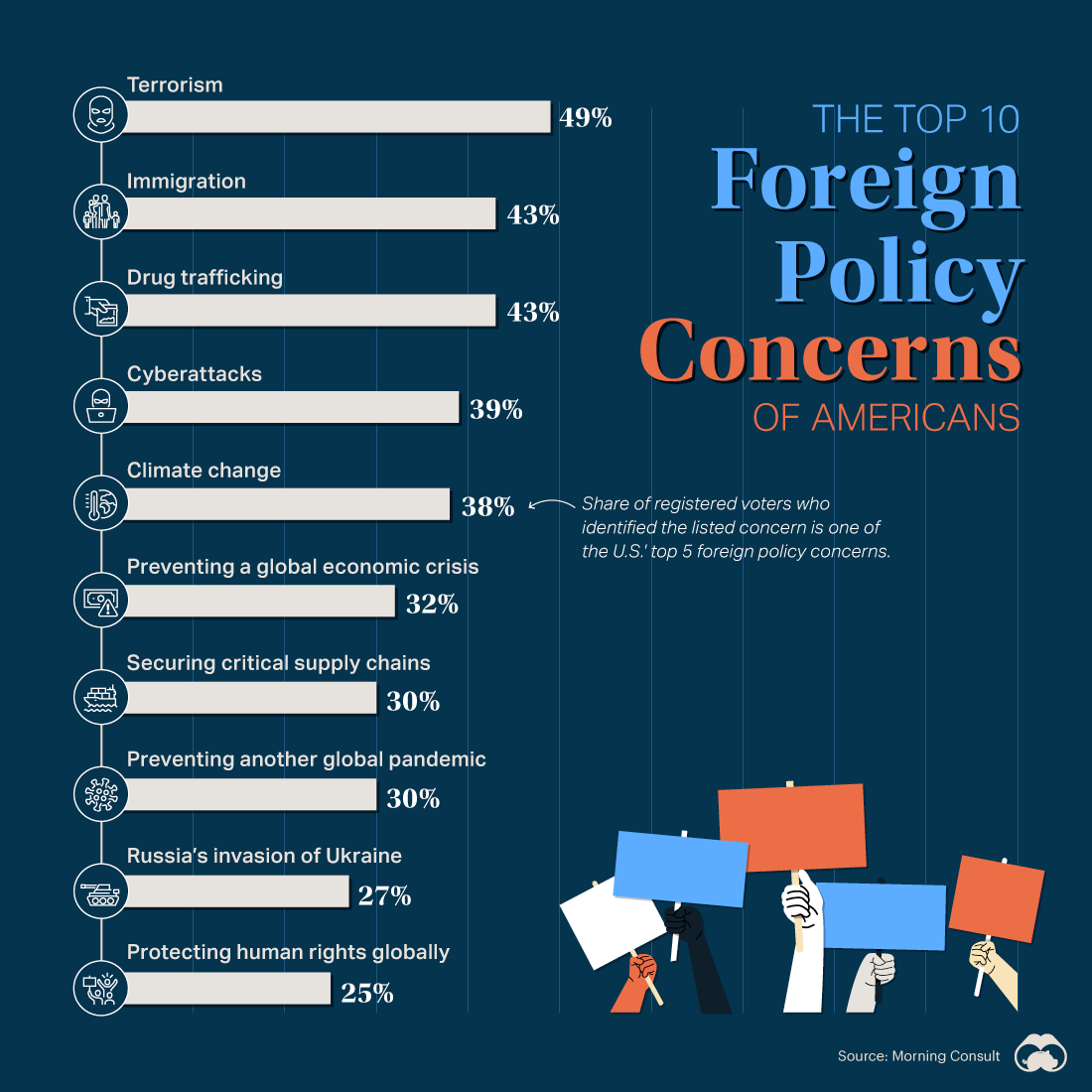 The Briefing
Political leanings aside, terrorism remains a top issue of concern for Americans
Previous top issues, such as disinformation and U.S.–China relations, now rank lower
In the United States, there is a distinct difference on top foreign policy concerns between Democrats and Republicans.
This chart uses data from Morning Consult to assess the top policy concerns of Americans.
The Top Concerns
Overall, the average American is most concerned about terrorism, immigration, and drug trafficking. Interestingly, this list corresponds with the concerns of the average Republican, though falling in a different order.
Meanwhile, Democrats are chiefly worried about climate change, another global pandemic, and terrorism.
Here's a breakdown of the policy concerns at large and across political parties.
| Overall Rank with Americans | Foreign Policy Concern | Share of Voters Listing it as a Top Concern | Share of Democrats Listing it as a Top Concern | Share of Republicans Listing it as a Top Concern |
| --- | --- | --- | --- | --- |
| #1 | Terrorism | 49% | 38% | 62% |
| #2 | Immigration | 43% | 22% | 67% |
| #3 | Drug trafficking | 43% | 30% | 59% |
| #4 | Cyberattacks | 39% | 35% | 40% |
| #5 | Climate change | 38% | 54% | 17% |
| #6 | Preventing a global economic crisis | 32% | 33% | 31% |
| #7 | Securing critical supply chains | 30% | 27% | 34% |
| #8 | Preventing another global pandemic | 30% | 38% | 22% |
| #9 | Russia's invasion of Ukraine | 27% | 33% | 21% |
| #10 | Protecting human rights globally | 25% | 31% | 18% |
| #11 | Preventing disinformation | 24% | 29% | 21% |
| #12 | U.S.-China relations | 24% | 19% | 31% |
| #13 | Iran nuclear deal | 21% | 19% | 24% |
| #14 | Upholding democracy globally | 15% | 22% | 8% |
Notably, the concern around U.S.-China relations ranks considerably low, as does preventing disinformation. Upholding democracy worldwide ranks extremely low with Republicans.
America's Foreign Policy
Along party lines, the results are not surprising. Democrats skew towards multilateralism and want to engage with foreign bodies and other countries to tackle global issues. Republicans are generally more concerned with what's happening at home.
Looking at the country as a whole and its relations with other nations, however, Americans lean more towards an America-first focus. According to Morning Consult, 39% of registered voters want to decrease U.S. involvement in other countries' affairs, whereas 20% want to increase it; 30% want to keep the status quo.
Here's a closer look at Americans' desire to get involved in a variety of foreign policy initiatives:
| Issue | Increase Efforts | Decrease Efforts | Neither |
| --- | --- | --- | --- |
| Overseas Troop Deployment | 21% | 37% | 30% |
| Trade and Tariffs | 41% | 15% | 29% |
| Involvement with International Organizations | 35% | 21% | 32% |
| Resolution of Military Disputes | 38% | 16% | 33% |
| Resolution of Economic Disputes | 43% | 13% | 31% |
As of October 2022
The U.S. Midterm Elections
With midterm elections underway, America's foreign policy may not be the most important factor for voters. Pew Research Center found that in these congressional elections, foreign policy only ranked 12th among other key issues considered "very important" by registered voters.
The top five concerns of voters in these midterms are:
The economy
The future of democracy within the U.S.
Education
Healthcare
Energy policy
Regardless, the U.S. has a massive impact in foreign affairs and the results of the country's midterm elections will likely cause a ripple effect globally. If Republicans win the House—which is looking extremely likely—and the Senate, President Biden's foreign policy initiatives and priorities could be drastically restricted.
Where does this data come from?
Source: Morning Consult
Data notes: This ranking is made using the share of registered U.S. voters who identified the given issue as a top 5 concern for the country. For example, only 30% of registered voters said securing critical supply chains was a top 5 concern which is why it's #7, whereas 43% said immigration was a top concern, ranking it at #2.