Only a Fraction of U.S. IPOs Have Female Founders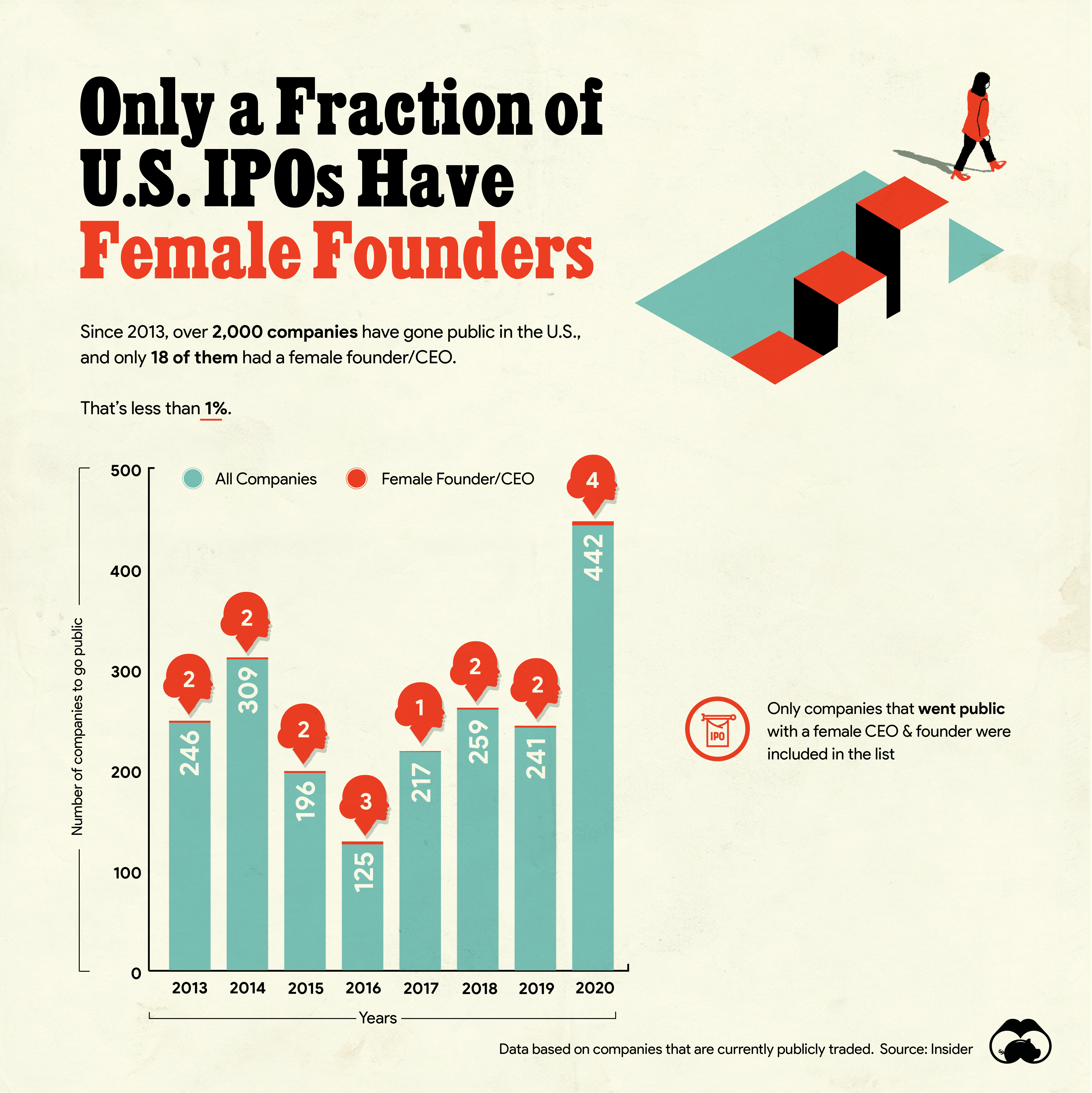 The Briefing
Over the last decade, over 2,000 companies have gone public in the U.S.—but only a fraction of these companies have been female-led
Since 2013, only 18 women have founded and led a company through to an initial public offering (IPO) in the United States
Only a Fraction of U.S. IPOs Have Female Founders
Last month, Bumble's founder and CEO Whitney Wolfe Herd became the youngest female CEO to take a company public in America.
Herd's achievement generated a lot of buzz, and for good reason—since 2013, fewer than 1% of U.S. companies to go public have been female-led. In other words, Herde has hit a milestone that only about 18 other women in the U.S. have achieved in the last decade.
Using data from Insider, this graphic looks at the number of female-led IPOs in America since 2013.
A Decade of U.S. IPOs
In 2020, four women took their companies public. While that's double the amount in 2019, it's still only a drop in the bucket compared to the hundreds of companies that went public with male founders last year.
| Year | All Companies that went Public | Companies with a Female Founder / CEO |
| --- | --- | --- |
| 2013 | 246 | 2 |
| 2014 | 309 | 2 |
| 2015 | 196 | 2 |
| 2016 | 125 | 3 |
| 2017 | 217 | 1 |
| 2018 | 259 | 2 |
| 2019 | 241 | 2 |
| 2020 | 442 | 4 |
Interestingly, three of the four companies in 2020 were in the biotech and pharmaceutical industries:
Annovis Bio Inc (ANVS), founded by Maria L. Maccecchini, develops drugs for neurodegeneration diseases like Alzheimer's and Parkinson's
Ayala Pharmaceuticals (AYLA), founded by Roni Mamluk, is a clinical-stage oncology business focused on rare cancers
Athira Pharma (ATHA), founded by Leen Kawas, is a therapeutics company focused on Alzheimer's disease
The fourth company, Amesite (AMST), founded by Ann Marie Sastry, develops AI software for learning institutions.
Important Note on Methodology
It's important to note that this list excludes companies that went public with a female CEO who wasn't an original founder.
However, Insider points out that even those figures are relatively small—only 9 extra companies would have made the list in 2020 if that was the case.
» Like this? Then you might enjoy this article The Top Female Founder in Every Country
Where does this data come from?
Source: Insider
Details: Data based on companies that are currently publicly traded. Companies that went public with a female CEO who was not the founder were excluded from the list.
Here's What $1,000 Invested in Vaccine Stocks Would Be Worth Now
Ever wonder what you would have gotten if you invested $1,000 into the different vaccine stocks at the start of the pandemic?
The Briefing
Three of seven COVID-19 vaccine stocks have outperformed the S&P 500 since the beginning of the global pandemic
Novavax is the highest performing vaccine stock, returning 1,549% to shareholders
Vaccine Stocks During a Pandemic
It's often said that with every crisis comes great opportunity.
While such catastrophes do create upheaval and uncertainty in financial markets, they can also lead to new opportunities for investors, as asset classes react to different environments.
Since the World Health Organization (WHO) declared COVID-19 to be a pandemic on March 11, 2020, the performance of vaccine stocks have been varied—but with some notable winners that notched triple or quadruple digit returns.
Here's how much a $1,000 investment would be worth as of March 31, 2021, if you had put money into each vaccine stock at the start of the pandemic:
| Stock | Value of Investment | % Growth | Market Cap ($B) |
| --- | --- | --- | --- |
| Novavax | $16,491 | 1,549.1% | $14.3 |
| Moderna | $5,019 | 401.9% | $59.9 |
| BioNTech | $3,247 | 224.7% | $31.3 |
| Johnson & Johnson | $1,252 | 25.2% | $419.8 |
| Pfizer | $1,122 | 12.2% | $207.2 |
| AstraZeneca | $1,121 | 12.1% | $93.8 |
| Sanofi | $1,096 | 9.6% | $105.2 |
The Business of Vaccines
The returns on vaccine stocks have varied greatly. They are staggering in the case of Novavax and Moderna, but also seem quite underwhelming, when considering the likes of Sanofi, AstraZeneca, and Pfizer.
One factor for the discrepancy in stock price performance is the revenue potential from vaccine sales relative to the rest of the existing business, as vaccine sales will have a much greater impact on the fundamentals of smaller companies.
For example, before the pandemic, Novavax had revenues of just $18.7 million—this meant that capturing any portion of global vaccine sales would create massive value for shareholders. On the flipside, vaccine sales are much less likely to impact the fundamentals of Sanofi's business, since the company already is generating $40.5 billion in revenue.
To put it into perspective, analysts are expecting total sales from COVID-19 vaccines to be around $100 billion, with $40 billion in post-tax profits.
Vaccine Stocks vs the S&P 500
Even in a booming and valuable industry, it's difficult to identify the long-term leaders. For example, in the mobile phone market, there was a time where the likes of Motorola, Nokia, and Blackberry appeared untouchable, but eventually lost out.
Similarly, with the limited information available at the start of the pandemic, few, if any, could have separated the winners and losers from this group with accuracy.
In the past year, the S&P 500 grew 44.9%—meaning that only three of the seven vaccine stocks have seen their share prices outperform the market.
Nobody said helping solve a global pandemic guarantees a pay off.
Where does this data come from?
Source: S&P Global Market Intelligence
Notes: Investment growth is calculated between March 11, 2020-March 31, 2021. All market capitalization values are as of March 31, 2021.
Bitcoin is the Fastest Asset to Reach a $1 Trillion Market Cap
Bitcoin is now part of a select very few assets that hold a market cap greater than $1 trillion. How long did it take to get there?
The Briefing
Bitcoin (BTC) hit a $1 trillion market cap in just 12 years, making it the fastest asset to do so
Investor sentiment towards BTC appears to be at extreme bullishness, with the asset adding roughly $500 billion in market cap just in 2021
Bitcoin is the Fastest Asset to Reach $1 Trillion
The world is moving forward at an accelerated pace. Historically, it's taken multiple decades for companies to be worth $1 trillion. For bitcoin, it took just 12 short years to reach such a milestone.
To help put things into perspective, here's a look at how long it took America's biggest tech companies to reach the $1 trillion market cap.
| Asset | Time To Reach $1 Trillion | Current Market Cap |
| --- | --- | --- |
| Microsoft | 44 years | $1.9 trillion |
| Apple | 42 years | $2.2 trillion |
| Amazon | 24 years | $1.7 trillion |
| Google | 21 years | $1.5 trillion |
| Bitcoin | 12 years | $1.1 trillion |
Market caps as of April 12, 2021
Extreme Bullish Sentiment
Bitcoin has been subject to widespread commotion in markets.
At the start of 2021, the cryptocurrency had a more modest market cap of $500 billion, but has gained more than another $500 billion since. An onslaught of headlines has contributed to extremely bullish investor sentiment, including:
1. CEOs begin to show interest
Elon Musk and Jack Dorsey have made sizable investments in bitcoin through Tesla and Square, respectively. It's estimated the gain from Tesla's $1.5 billion bitcoin investment was greater than the profits from the entirety of their business in 2020.
2. New ETFs on the block
Multiple Bitcoin ETFs focused were recently approved by Canadian regulators and some have already launched on the Toronto Stock Exchange (TSX). For many years, the Grayscale Bitcoin Trust (GBTC) was the only readily accessible investment vehicle trading on equity markets that had exposure to BTC.
3. Financial institutions finally joining in?
Mastercard, Visa, and Bank of New York Mellon have made announcements to make it easier for customers to use cryptocurrencies.
On to the Next Trillion?
Future projections for the price of bitcoin are garnering more extreme and widening price targets.
The accelerated rate of change today has many of the Big Tech companies already inching closer to the next trillion in value. Will bitcoin follow suit?
Where does this data come from?
Source: coinmarketcap.com
Notes: Financial data is as of April 12, 2021