Visualizing the Human Impact on the Earth's Surface
Click here to view the full version of this graphic
Visualizing the Human Impact on the Earth's Surface
View the high resolution version of this map by clicking here.
There is little doubt that human activity has impacted the Earth, but to what extent?
As it turns out, nearly 95% of the Earth's surface shows some form of human modification, with 85% bearing evidence of multiple forms of human impact.
This map by data scientist Hannah Ker outlines the extent of humanity's modification on terrestrial land ecosystems.
Measuring the Human Impact
This map relies on the Global Human Modification of Terrestrial Systems data set, which tracks the physical extent of 13 anthropogenic stressors across five categories.
Human settlement: population density, built‐up areas
Agriculture: cropland, livestock
Transportation: major roads, minor roads, two tracks, railroads
Mining and energy production: mining, oil wells, wind turbines
Electrical infrastructure: powerlines, nighttime lights
Researchers compiled all these stress factors and scaled their impact from 0 to 1. Then, in order to map the impacts spatially, the surface of land was organized into cells of 1 kilometer in length creating "edges" of varying impact.
These impacts are further organized by biomes—distinct biological communities that have formed in response to a shared physical climate.
Digging into the Data
Only 5% of the world's lands are unaffected by humans, which amounts to nearly 7 million km² of the Earth's land, and 44% (59 million km²) is categorized as low modification.
The remainder of land has a moderate to high degree of modification: with 34% categorized as moderate (46 million km²), 13% categorized as high (17 million km²), and 4% categorized as very high modification (5.5 million km²). This latter category is the most visible on the map, with portions of China, India, and Italy serving as focal points.
Below is a look at how Earth's various biomes fare under this ranking system:
Out of the 14 biomes studied, the least modified biomes are tundra, boreal forests, deserts, temperate coniferous forests, and montane grasslands. Tropical dry broadleaf forests, temperate broadleaf forests, Mediterranean forests, mangroves, and temperate grasslands are the most modified biomes.
Dense human settlements, agricultural land uses, networks of infrastructure, and industrial activities dominate the more highly modified biomes. These lands are commonly subject to five or more human stressors simultaneously, threatening naturally-occurring ecosystem services.
What are Ecosystem Services?
An ecosystem service is any positive benefit that wildlife or ecosystems provide to people, and they can be sorted into four categories:
Provisioning Services: This is the primary benefit of nature. Humans derive their food, water, and resources from nature.
Regulating: Plants clean air and filter water, tree roots help to keep soil in place to prevent erosion, bees pollinate flowers, and bacterial colonies help to decompose waste.
Cultural Services: Humans have long interacted with the "wild" and it in turn has influenced our social, intellectual, and cultural development. However, the built environment of a city or town separates man from nature and ancient patterns of life. Ecosystems have long served as inspiration for music, art, architecture, and recreation.
Supporting Services: Ecosystems contain the fundamental natural processes that make life possible such as photosynthesis, nutrient cycling, soil creation, and the water cycle. These natural processes bring the Earth to life. Without these supporting services, provisional, regulating, and cultural services wouldn't exist.
A Delicate Balance
With each encroachment upon habitat, the potential increases for humans to inadvertently upset the careful balance of ecosystem services that have nourished the processes of life on Earth.
As we become more aware of the human impact on the plant, we can make smarter decisions about how our society and economies function—ultimately ensuring that the same ecosystem services are there for future generations.
The World's 25 Largest Lakes, Side by Side
This unique map graphic uses the Great Lakes region as a point of comparison for the top 25 largest lakes in the world.
The World's 25 Largest Lakes, Side by Side
In many parts of the world, you don't have to look very far to find a lake.
According to satellite data, there are roughly 100 million lakes larger than one hectare (2.47 acres) to be found globally. The largest lakes, which rival the size of entire nations, are more of a rarity.
One might expect the world's largest lakes to be very alike, but from depth to saline content, their properties can be quite different. As well, the ranking of the world's largest lakes is far from static, as human activity can turn a massive body of water into a desert within a single generation.
Today's graphic – created using the fantastic online tool, Slap It On A Map! – uses the Great Lakes region as a point of comparison for the largest 25 lakes, by area. This is particularly useful in comparing the scale of lakes that are located in disparate parts of the globe.
The Greatest Lakes
The largest lake in the world by a long shot is the Caspian Sea – a name that hints at a past when it was contiguous with the ocean around 11 million years ago. This massive saline lake, which is nearly the same size as Japan, borders five countries: Kazakhstan, Russia, Turkmenistan, Azerbaijan, and Iran. An estimated 48 billion barrels of oil lay beneath the surface of the basin.
The five Great Lakes, which run along the Canada–U.S. border, form one of the largest collections of fresh water on Earth. This interconnected series of lakes represents around 20% of the world's fresh water and the region supports over 100 million people, roughly equal to one-third of the Canada–U.S. population.
Amazingly, a single lake holds as much fresh water as all the Great Lakes combined – Lake Baikal. This rift lake in Siberia has a maximum depth of 5,371ft (1,637m). For comparison, the largest of the Great Lakes (Lake Superior) is only 25% as deep, with a maximum depth of 1,333ft (406m). Lake Baikal is unique in a number of other ways too. It is the world's oldest, coldest lake, and around 80% of its animal species are endemic (not found anywhere else).
Here's a full run-down of the top 25 lakes by area:
Rank
Lake Name
Surface Area
Type
Countries on shoreline
1
Caspian Sea
143,000 sq mi
(371,000km²)
Saline
🇰🇿 Kazakhstan
🇷🇺 Russia
🇹🇲 Turkmenistan
🇦🇿 Azerbaijan
🇮🇷 Iran
2
Superior
31,700 sq mi
(82,100km²)
Freshwater
🇨🇦 Canada
🇺🇸 U.S.
3
Victoria
26,590 sq mi
(68,870km²)
Freshwater
🇺🇬 Uganda
🇰🇪 Kenya
🇹🇿 Tanzania
4
Huron
23,000 sq mi
(59,600km²)
Freshwater
🇨🇦 Canada
🇺🇸 U.S.
5
Michigan
22,000 sq mi
(58,000km²)
Freshwater
🇺🇸 U.S.
6
Tanganyika
12,600 sq mi
(32,600km²)
Freshwater
🇧🇮 Burundi
🇹🇿 Tanzania
🇿🇲 Zambia
🇨🇩 D.R.C.
7
Baikal
12,200 sq mi
(31,500km²)
Freshwater
🇷🇺 Russia
8
Great Bear Lake
12,000 sq mi
(31,000km²)
Freshwater
🇨🇦 Canada
9
Malawi
11,400 sq mi
(29,500km²)
Freshwater
🇲🇼 Malawi
🇲🇿 Mozambique
🇹🇿 Tanzania
10
Great Slave Lake
10,000 sq mi
(27,000km²)
Freshwater
🇨🇦 Canada
11
Erie
9,900 sq mi
(25,700km²)
Freshwater
🇨🇦 Canada
🇺🇸 U.S.
12
Winnipeg
9,465 sq mi
(24,514km²)
Freshwater
🇨🇦 Canada
13
Ontario
7,320 sq mi
(18,960km²)
Freshwater
🇨🇦 Canada
🇺🇸 U.S.
14
Ladoga
7,000 sq mi
(18,130km²)
Freshwater
🇷🇺 Russia
15
Balkhash
6,300 sq mi
(16,400km²)
Saline
🇰🇿 Kazakhstan
16
Vostok
4,800 sq mi
(12,500km²)
Freshwater
🇦🇶 Antarctica
17
Onega
3,700 sq mi
(9,700km²)
Freshwater
🇷🇺 Russia
18
Titicaca
3,232 sq mi
(8,372km²)
Freshwater
🇧🇴 Bolivia
🇵🇪 Peru
19
Nicaragua
3,191 sq mi
(8,264km²)
Freshwater
🇳🇮 Nicaragua
20
Athabasca
3,030 sq mi
(7,850km²)
Freshwater
🇨🇦 Canada
21
Taymyr
2,700 sq mi
(6,990km²)
Freshwater
🇷🇺 Russia
22
Turkana
2,473 sq mi
(6,405km²)
Saline
🇰🇪 Kenya
🇪🇹 Ethiopia
23
Reindeer Lake
2,440 sq mi
(6,330km²)
Freshwater
🇨🇦 Canada
24
Issyk-Kul
2,400 sq mi
(6,200km²)
Saline
🇰🇬 Kyrgyzstan
25
Urmia
2,317 sq mi
(6,001km²)
Saline
🇮🇷 Iran
The Great Lakes World Tour
For people living in Canada and the U.S., the shape and relative size of the Great Lakes system may be quite familiar. This makes the Great Lakes a fantastic point of comparison to help put the size of other world locations into perspective. To this end, we begin our Great Lakes World Tour.
First, the image below shows how the Great Lakes system would look if it was located in India.
Distortions on commonly used maps can downplay the size of India compared to more northern nations. This view of the Great Lakes can help put India's true size into perspective.
Next, we look at the Great Lakes overlaid within Central Europe.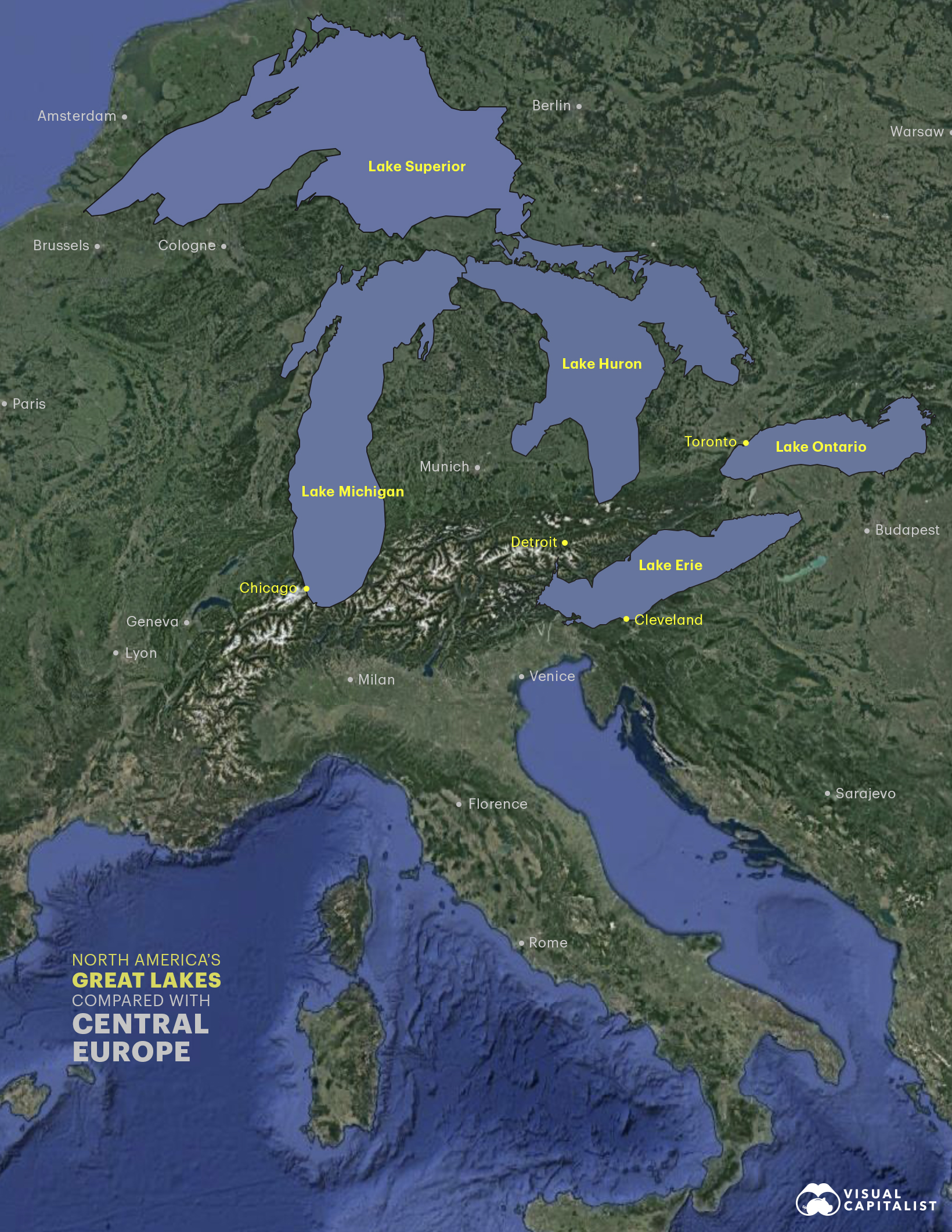 In the context of Europe, the lakes are so large that they extend from the Netherlands over to Slovakia. Lake Superior's surface area of 31,700 mi2 (82,000 km2), is similar in size to Austria. Here's are the five Great Lakes and European countries of equivalent size:
| Great Lakes | Surface Area | Equivalent Country | Area |
| --- | --- | --- | --- |
| Lake Superior | 82,000 km2 (31,700 sq mi) | 🇦🇹 Austria | 83,879 km2 (32,386 sq mi) |
| Lake Huron | 60,000 km2 (23,000 sq mi) | 🇱🇻 Latvia | 64,589 km2 (24,938 sq mi) |
| Lake Michigan | 58,000 km2 (22,300 sq mi) | 🇭🇷 Croatia | 56,594 km2 (21,851 sq mi) |
| Lake Erie | 25,700 km2 (9,910 sq mi) | 🇲🇰 North Macedonia | 25,713 km2 (9,928 sq mi) |
| Lake Ontario | 19,000 km2 (7,340 sq mi) | 🇸🇮 Slovenia | 20,271 km2 (7,827 sq mi) |
Lastly, here is a look at the Great Lakes in Southern Australia. Australia is the world's 6th largest country, so the Great Lakes only occupy one corner of its land mass.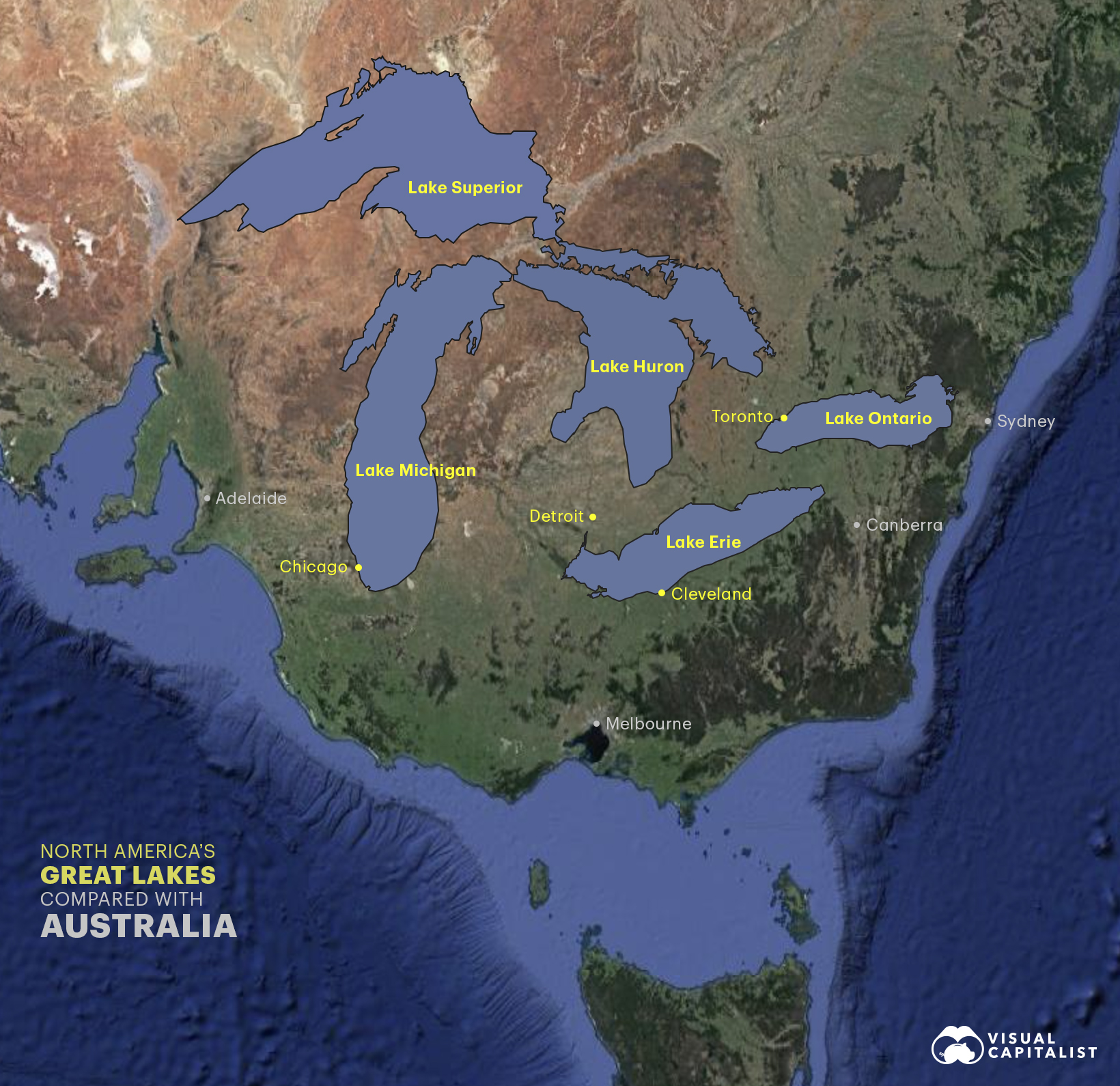 Australia's lack of glacial history means that there are few permanent freshwater lakes in the country. Many of the country's largest lakes only fill up during periods of excessive rainfall.
Shrinking out of the rankings
Not far from the world's largest lake, straddling the border between Kazakhstan and Uzbekistan, lay the sand dunes of the Aralkum Desert. In the not so distant past, this harsh environment was actually the bed of one of the largest lakes in the world – the Aral Sea.
For reasons both climatic and anthropogenic, the Aral Sea began receding in the 1960s. This dramatic change in surface area took the Aral Sea from the fourth largest lake on Earth to not even ranking in the top 50. Researchers note that the size of the lake has fluctuated a lot over history, but through the lens of modern history these recent changes happened rapidly, leaving local economies devastated and former shoreside towns landlocked.
Lake Chad, in Saharan Africa, and Lake Urmia, in Iran, both face similar challenges, shrinking dramatically in recent decades.
How we work to reverse damage and avoid ecosystem collapse in vulnerable lakes will have a big influence on how the top 25 list may look in future years.
All the Biomass of Earth, in One Graphic
Our planet supports nearly 8.7 million species. We break down the total composition of the living world in terms of its biomass.
All the Biomass of Earth, in One Graphic
Our planet supports approximately 8.7 million species, of which over a quarter live in water.
But humans can have a hard time comprehending numbers this big, so it can be difficult to really appreciate the breadth of this incredible diversity of life on Earth.
In order to fully grasp this scale, we draw from research by Bar-On et al. to break down the total composition of the living world, in terms of its biomass, and where we fit into this picture.
Why Carbon?
A "carbon-based life form" might sound like something out of science fiction, but that's what we and all other living things are.
Carbon is used in complex molecules and compounds—making it an essential part of our biology. That's why biomass, or the mass of organisms, is typically measured in terms of carbon makeup.
In our visualization, one cube represents 1 million metric tons of carbon, and every thousand of these cubes is equal to 1 Gigaton (Gt C).
Here's how the numbers stack up in terms of biomass of life on Earth:
| Taxon | Mass (Gt C) | % of total |
| --- | --- | --- |
| Plants | 450 | 82.4% |
| Bacteria | 70 | 12.8% |
| Fungi | 12 | 2.2% |
| Archaea | 7 | 1.3% |
| Protists | 4 | 0.70% |
| Animals | 2.589 | 0.47% |
| Viruses | 0.2 | 0.04% |
| Total | 545.8 | 100.0% |
Plants make up the overwhelming majority of biomass on Earth. There are 320,000 species of plants, and their vital photosynthetic processes keep entire ecosystems from falling apart.
Fungi is the third most abundant type of life—and although 148,000 species of fungi have been identified by scientists, it's estimated there may be millions more.
Animals: A Drop in the Biomass Ocean
Although animals make up only 0.47% of all biomass, there are many sub-categories within them that are worth exploring further.
| Taxon | Mass (Gt C) | % of Animal Biomass |
| --- | --- | --- |
| Arthropods (Marine) | 1.0 | 38.6% |
| Fish | 0.7 | 27.0% |
| Arthropods (Terrestrial) | 0.2 | 7.7% |
| Annelids | 0.2 | 7.7% |
| Mollusks | 0.2 | 7.7% |
| Livestock | 0.1 | 3.9% |
| Cnidarians | 0.1 | 3.9% |
| Humans | 0.06 | 2.3% |
| Nematodes | 0.02 | 0.8% |
| Wild mammals | 0.007 | 0.3% |
| Wild birds | 0.002 | 0.1% |
| Animals (Total) | 2.589 | 100.0% |
Arthropods
Arthropods are the largest group of invertebrates, and include up to 10 million species across insects, arachnids, and crustaceans.
Chordates
The category of chordates includes wild mammals, wild birds, livestock, humans, and fish. Across 65,000 living species in total, nearly half are bony fish like piranhas, salmon, or seahorses.
Surprisingly, humans contribute a relatively small mass compared to the rest of the Animal Kingdom. People make up only 0.01% of all the biomass on the planet.
Annelids, Mollusks, Cnidarians, and Nematodes
Annelids are segmented worms like earthworms or leeches, with over 22,000 living species on this planet. After arthropods, mollusks are the second-largest group of invertebrates with over 85,000 living species. Of these, 80% are snails and slugs.
Cnidarians are a taxon of aquatic invertebrates covering 11,000 species across various marine environments. These include jellyfish, sea anemone, and even corals.
Nematodes are commonly referred to as roundworms. These sturdy critters have successfully adapted to virtually every kind of ecosystem, from polar regions to oceanic trenches. They've even survived traveling into space and back.
The Microscopic Rest
Beyond these animals, plants, and fungi, there are an estimated trillion species of microbes invisible to the naked eye—and we've probably only discovered 0.001% of them so far.
Bacteria
Bacteria were one of the first life forms to appear on Earth, and classified as prokaryotes (nucleus-less). Today, they're the second-largest composition of biomass behind plants. Perhaps this is because these organisms can be found living literally everywhere—from your gut to deep in the Earth's crust.
Researchers at the University of Georgia estimate that there are 5 nonillion bacteria on the planet—that's a five with 30 zeros after it.
Protists and Archaea
Protists are mostly unicellular, but are more complex than bacteria as they contain a nucleus. They're also essential components of the food chain.
Archaea are single-celled microorganisms that are similar to bacteria but differ in compositions. They thrive in extreme environments too, from high temperatures above 100°C (212°F) in geysers to extremely saline, acidic, or alkaline conditions.
Viruses
Viruses are the most fascinating category of biomass. They have been described as "organisms at the edge of life," as they are not technically living things. They're much smaller than bacteria—however, as the COVID-19 pandemic has shown, their microscopic effects cannot be understated.
The Earth's Biomass, Under Threat
Human activities are having an ongoing impact on Earth's biomass.
For example, we've lost significant forest cover in the past decades, to make room for agricultural land use and livestock production. One result of this is that biodiversity in virtually every region is on the decline.
Will we be able to reverse this trajectory and preserve the diversity of all the biomass on Earth, before it's too late?
Editor's note: This visualization was inspired by the work of Javier Zarracina for Vox from a few years ago. Our aim with the above piece was to recognize that while great communication needs no reinvention, it can be enhanced and reimagined to increase editorial impact and help spread knowledge to an even greater share of the population.