Visualizing the Human Impact on the Earth's Surface
Click here to view the full version of this graphic
Visualizing the Human Impact on the Earth's Surface
View the high resolution version of this map by clicking here.
There is little doubt that human activity has impacted the Earth, but to what extent?
As it turns out, nearly 95% of the Earth's surface shows some form of human modification, with 85% bearing evidence of multiple forms of human impact.
This map by data scientist Hannah Ker outlines the extent of humanity's modification on terrestrial land ecosystems.
Measuring the Human Impact
This map relies on the Global Human Modification of Terrestrial Systems data set, which tracks the physical extent of 13 anthropogenic stressors across five categories.
Human settlement: population density, built‐up areas
Agriculture: cropland, livestock
Transportation: major roads, minor roads, two tracks, railroads
Mining and energy production: mining, oil wells, wind turbines
Electrical infrastructure: powerlines, nighttime lights
Researchers compiled all these stress factors and scaled their impact from 0 to 1. Then, in order to map the impacts spatially, the surface of land was organized into cells of 1 kilometer in length creating "edges" of varying impact.
These impacts are further organized by biomes—distinct biological communities that have formed in response to a shared physical climate.
Digging into the Data
Only 5% of the world's lands are unaffected by humans, which amounts to nearly 7 million km² of the Earth's land, and 44% (59 million km²) is categorized as low modification.
The remainder of land has a moderate to high degree of modification: with 34% categorized as moderate (46 million km²), 13% categorized as high (17 million km²), and 4% categorized as very high modification (5.5 million km²). This latter category is the most visible on the map, with portions of China, India, and Italy serving as focal points.
Below is a look at how Earth's various biomes fare under this ranking system:
Out of the 14 biomes studied, the least modified biomes are tundra, boreal forests, deserts, temperate coniferous forests, and montane grasslands. Tropical dry broadleaf forests, temperate broadleaf forests, Mediterranean forests, mangroves, and temperate grasslands are the most modified biomes.
Dense human settlements, agricultural land uses, networks of infrastructure, and industrial activities dominate the more highly modified biomes. These lands are commonly subject to five or more human stressors simultaneously, threatening naturally-occurring ecosystem services.
What are Ecosystem Services?
An ecosystem service is any positive benefit that wildlife or ecosystems provide to people, and they can be sorted into four categories:
Provisioning Services: This is the primary benefit of nature. Humans derive their food, water, and resources from nature.
Regulating: Plants clean air and filter water, tree roots help to keep soil in place to prevent erosion, bees pollinate flowers, and bacterial colonies help to decompose waste.
Cultural Services: Humans have long interacted with the "wild" and it in turn has influenced our social, intellectual, and cultural development. However, the built environment of a city or town separates man from nature and ancient patterns of life. Ecosystems have long served as inspiration for music, art, architecture, and recreation.
Supporting Services: Ecosystems contain the fundamental natural processes that make life possible such as photosynthesis, nutrient cycling, soil creation, and the water cycle. These natural processes bring the Earth to life. Without these supporting services, provisional, regulating, and cultural services wouldn't exist.
A Delicate Balance
With each encroachment upon habitat, the potential increases for humans to inadvertently upset the careful balance of ecosystem services that have nourished the processes of life on Earth.
As we become more aware of the human impact on the plant, we can make smarter decisions about how our society and economies function—ultimately ensuring that the same ecosystem services are there for future generations.
Support the Future of Data Storytelling
Sorry to interrupt your reading, but we have a favor to ask. At Visual Capitalist we believe in a world where data can be understood by everyone. That's why we want to build the VC App - the first app of its kind combining verifiable and transparent data with beautiful, memorable visuals. All available for free.
As a small, independent media company we don't have the expertise in-house or the funds to build an app like this. So we're asking our community to help us raise funds on Kickstarter.
If you believe in data-driven storytelling, join the movement and back us on Kickstarter!
Thank you.
Visualizing the Impact of Rising Sea Levels, by Country
Here's a look at how people around the world could be impacted by coastal flooding by 2100, based on rising sea level projections.

Creator Program
Climate change is already causing sea levels to rise across the globe. In the 20th century alone, it's estimated that the mean global sea level rose by 11-16 cm.
How much will sea levels change in the coming years, and how will it affect our population?
In the below series of visualizations by Florent Lavergne, we can see how rising sea levels could impact countries in terms of flood risk by the year 2100.
These graphics use data from a 2019 study by Scott Kulp and Benjamin Strauss. Their study used CoastalDEM—a 3D graphics tool used to measure a population's potential exposure to extreme coastal water levels—and examined rising sea levels under different levels of greenhouse gas (GHG) emissions.
Flood Risk By Region
Which countries will be most severely affected by rising sea levels?
If things continue as they are, roughly 360 million people around the world could be at risk of annual flood events by 2100. Here's what those figures look like across each region:
Africa
On the continent of Africa, one of the countries with the highest number of people at risk of coastal flooding is Egypt.
Over 95% of Egypt's population lives along the Nile river, with some areas situated at extremely low elevations. The country's lowest point is 133 m below sea level.
Asia
Asia's population will be more heavily impacted by flooding than any other region included in the dataset.
According to the projections, 70% of the people that will be affected by rising sea levels are located in just eight Asian countries: China, Bangladesh, India, Vietnam, Indonesia, Thailand, the Philippines, and Japan.
Europe
One of the most high-risk populations in Europe is the Netherlands. The country has a population of about 17 million, and as of 2019, about half of its population lives in areas below sea level.
The country's lowest point, the town Nieuwekerk aan den Ijssel, is 6.8 m below sea level.
North America
In North America, the U.S., Canada, and Mexico are expected to see the highest numbers of impacted people, due to the size of their populations.
But as a percentage of population, other countries in Central America and the Caribbean are more greatly at risk, especially in high emission scenarios. One country worth highlighting is the Bahamas. Even based on moderate emission levels, the country is expected to see a significant surge in the number of people at risk of flood.
According to the World Bank, this is because land in the Bahamas is relatively flat, making the island especially vulnerable to sea level rises and flooding.
South America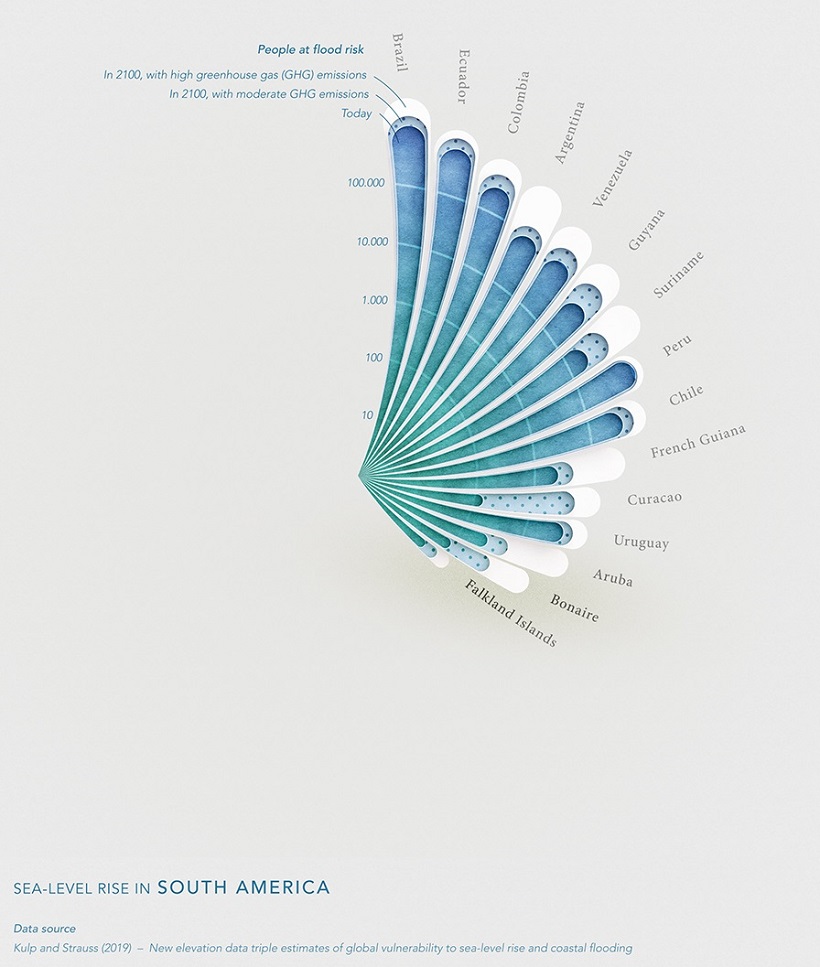 As South America's largest country by population and with large coastal cities, Brazil's population is the most at risk for flood caused by rising sea levels.
Notably, thanks to a lot of mountainous terrain and municipalities situated on high elevation, no country in South America faces a flood risk impacting more than 1 million people.
Oceania
By 2100, Polynesian countries like Tonga are projected to see massive increases in the number of people at risk of flooding, even at moderate GHG emissions.
According to Reuters, sea levels in Tonga have been rising by 6 mm each year, which is nearly double the average global rate. The reason for this is because the islands sit in warmer waters, where sea level changes are more noticeable than at the poles.
What's Causing Sea Levels to Rise?
Since 1975, average temperatures around the world have risen 0.15 to 0.20°C each decade, according to research by NASA.
This global heating has caused polar ice caps to begin melting—in just over two decades, we've lost roughly 28 trillion tonnes of our world's ice. Over that same timeframe, global sea levels have risen by an average of 36 mm. These rising sea levels pose a number of risks, including soil contamination, loss of habitat, and flooding.
As countries are affected by climate change in different ways, and at different levels, the question becomes how they will respond in turn.
What Are the Five Major Types of Renewable Energy?
Renewable energy is the foundation of the ongoing energy transition. What are the key types of renewable energy, and how do they work?
The Renewable Energy Age
This was originally posted on Elements. Sign up to the free mailing list to get beautiful visualizations on natural resource megatrends in your email every week.
Awareness around climate change is shaping the future of the global economy in several ways.
Governments are planning how to reduce emissions, investors are scrutinizing companies' environmental performance, and consumers are becoming conscious of their carbon footprints. But no matter the stakeholder, energy generation and consumption from fossil fuels is one of the biggest contributors to emissions.
Therefore, renewable energy sources have never been more top-of-mind than they are today.
The Five Types of Renewable Energy
Renewable energy technologies harness the power of the sun, wind, and heat from the Earth's core, and then transforms it into usable forms of energy like heat, electricity, and fuel.
The above infographic uses data from Lazard, Ember, and other sources to outline everything you need to know about the five key types of renewable energy:
| Energy Source | % of 2021 Global Electricity Generation | Avg. levelized cost of energy per MWh |
| --- | --- | --- |
| Hydro 💧 | 15.3% | $64 |
| Wind 🌬 | 6.6% | $38 |
| Solar ☀️ | 3.7% | $36 |
| Biomass 🌱 | 2.3% | $114 |
| Geothermal ♨️ | <1% | $75 |
Editor's note: We have excluded nuclear from the mix here, because although it is often defined as a sustainable energy source, it is not technically renewable (i.e. there are finite amounts of uranium).
Though often out of the limelight, hydro is the largest renewable electricity source, followed by wind and then solar.
Together, the five main sources combined for roughly 28% of global electricity generation in 2021, with wind and solar collectively breaking the 10% share barrier for the first time.
The levelized cost of energy (LCOE) measures the lifetime costs of a new utility-scale plant divided by total electricity generation. The LCOE of solar and wind is almost one-fifth that of coal ($167/MWh), meaning that new solar and wind plants are now much cheaper to build and operate than new coal plants over a longer time horizon.
With this in mind, here's a closer look at the five types of renewable energy and how they work.
1. Wind
Wind turbines use large rotor blades, mounted at tall heights on both land and sea, to capture the kinetic energy created by wind.
When wind flows across the blade, the air pressure on one side of the blade decreases, pulling it down with a force described as the lift. The difference in air pressure across the two sides causes the blades to rotate, spinning the rotor.
The rotor is connected to a turbine generator, which spins to convert the wind's kinetic energy into electricity.
2. Solar (Photovoltaic)
Solar technologies capture light or electromagnetic radiation from the sun and convert it into electricity.
Photovoltaic (PV) solar cells contain a semiconductor wafer, positive on one side and negative on the other, forming an electric field. When light hits the cell, the semiconductor absorbs the sunlight and transfers the energy in the form of electrons. These electrons are captured by the electric field in the form of an electric current.
A solar system's ability to generate electricity depends on the semiconductor material, along with environmental conditions like heat, dirt, and shade.
3. Geothermal
Geothermal energy originates straight from the Earth's core—heat from the core boils underground reservoirs of water, known as geothermal resources.
Geothermal plants typically use wells to pump hot water from geothermal resources and convert it into steam for a turbine generator. The extracted water and steam can then be reinjected, making it a renewable energy source.
4. Hydropower
Similar to wind turbines, hydropower plants channel the kinetic energy from flowing water into electricity by using a turbine generator.
Hydro plants are typically situated near bodies of water and use diversion structures like dams to change the flow of water. Power generation depends on the volume and change in elevation or head of the flowing water.
Greater water volumes and higher heads produce more energy and electricity, and vice versa.
5. Biomass
Humans have likely used energy from biomass or bioenergy for heat ever since our ancestors learned how to build fires.
Biomass—organic material like wood, dry leaves, and agricultural waste—is typically burned but considered renewable because it can be regrown or replenished. Burning biomass in a boiler produces high-pressure steam, which rotates a turbine generator to produce electricity.
Biomass is also converted into liquid or gaseous fuels for transportation. However, emissions from biomass vary with the material combusted and are often higher than other clean sources.
When Will Renewable Energy Take Over?
Despite the recent growth of renewables, fossil fuels still dominate the global energy mix.
Most countries are in the early stages of the energy transition, and only a handful get significant portions of their electricity from clean sources. However, the ongoing decade might see even more growth than recent record-breaking years.
The IEA forecasts that, by 2026, global renewable electricity capacity is set to grow by 60% from 2020 levels to over 4,800 gigawatts—equal to the current power output of fossil fuels and nuclear combined. So, regardless of when renewables will take over, it's clear that the global energy economy will continue changing.