Visualizing the Human Impact on the Earth's Surface
Click here to view the full version of this graphic
Visualizing the Human Impact on the Earth's Surface
View the high resolution version of this map by clicking here.
There is little doubt that human activity has impacted the Earth, but to what extent?
As it turns out, nearly 95% of the Earth's surface shows some form of human modification, with 85% bearing evidence of multiple forms of human impact.
This map by data scientist Hannah Ker outlines the extent of humanity's modification on terrestrial land ecosystems.
Measuring the Human Impact
This map relies on the Global Human Modification of Terrestrial Systems data set, which tracks the physical extent of 13 anthropogenic stressors across five categories.
Human settlement: population density, built‐up areas
Agriculture: cropland, livestock
Transportation: major roads, minor roads, two tracks, railroads
Mining and energy production: mining, oil wells, wind turbines
Electrical infrastructure: powerlines, nighttime lights
Researchers compiled all these stress factors and scaled their impact from 0 to 1. Then, in order to map the impacts spatially, the surface of land was organized into cells of 1 kilometer in length creating "edges" of varying impact.
These impacts are further organized by biomes—distinct biological communities that have formed in response to a shared physical climate.
Digging into the Data
Only 5% of the world's lands are unaffected by humans, which amounts to nearly 7 million km² of the Earth's land, and 44% (59 million km²) is categorized as low modification.
The remainder of land has a moderate to high degree of modification: with 34% categorized as moderate (46 million km²), 13% categorized as high (17 million km²), and 4% categorized as very high modification (5.5 million km²). This latter category is the most visible on the map, with portions of China, India, and Italy serving as focal points.
Below is a look at how Earth's various biomes fare under this ranking system:
Out of the 14 biomes studied, the least modified biomes are tundra, boreal forests, deserts, temperate coniferous forests, and montane grasslands. Tropical dry broadleaf forests, temperate broadleaf forests, Mediterranean forests, mangroves, and temperate grasslands are the most modified biomes.
Dense human settlements, agricultural land uses, networks of infrastructure, and industrial activities dominate the more highly modified biomes. These lands are commonly subject to five or more human stressors simultaneously, threatening naturally-occurring ecosystem services.
What are Ecosystem Services?
An ecosystem service is any positive benefit that wildlife or ecosystems provide to people, and they can be sorted into four categories:
Provisioning Services: This is the primary benefit of nature. Humans derive their food, water, and resources from nature.
Regulating: Plants clean air and filter water, tree roots help to keep soil in place to prevent erosion, bees pollinate flowers, and bacterial colonies help to decompose waste.
Cultural Services: Humans have long interacted with the "wild" and it in turn has influenced our social, intellectual, and cultural development. However, the built environment of a city or town separates man from nature and ancient patterns of life. Ecosystems have long served as inspiration for music, art, architecture, and recreation.
Supporting Services: Ecosystems contain the fundamental natural processes that make life possible such as photosynthesis, nutrient cycling, soil creation, and the water cycle. These natural processes bring the Earth to life. Without these supporting services, provisional, regulating, and cultural services wouldn't exist.
A Delicate Balance
With each encroachment upon habitat, the potential increases for humans to inadvertently upset the careful balance of ecosystem services that have nourished the processes of life on Earth.
As we become more aware of the human impact on the plant, we can make smarter decisions about how our society and economies function—ultimately ensuring that the same ecosystem services are there for future generations.
Ranked: The World's Top Cotton Producers
As the most-used natural fiber, cotton has become the most important non-food agricultural product.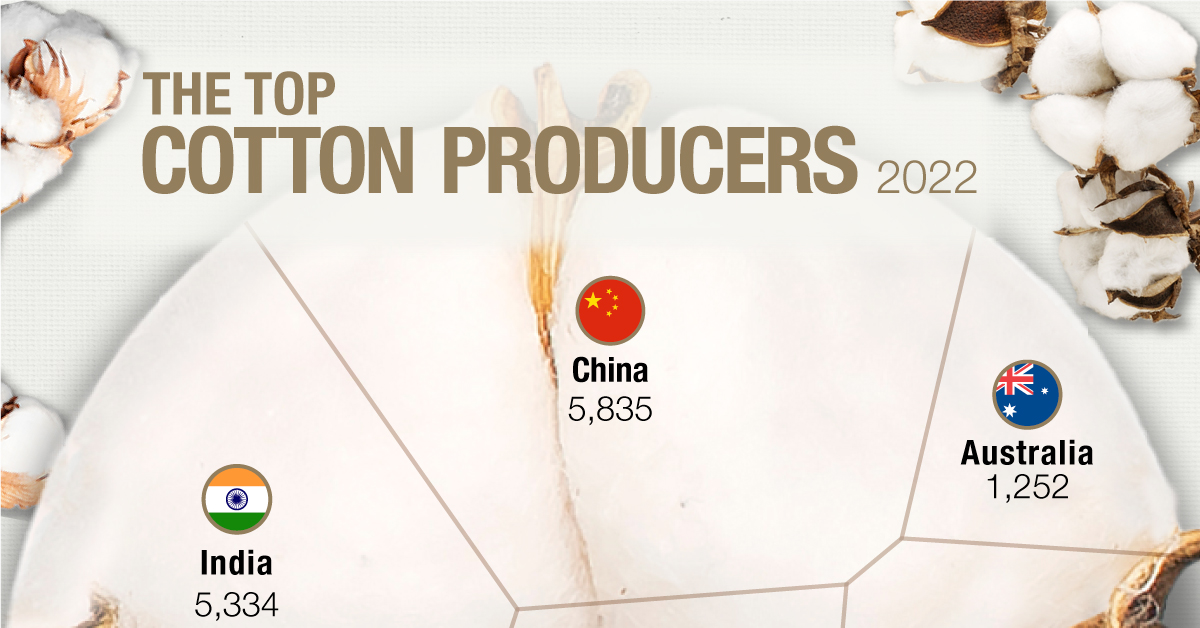 Ranked: The World's Top Cotton Producers
This was originally posted on Elements. Sign up to the free mailing list to get beautiful visualizations on natural resource megatrends in your email every week.
Cotton is present in our everyday life, from clothes to coffee strainers, and more recently in masks to control the spread of COVID-19.
As the most-used natural fiber, cotton has become the most important non-food agricultural product. Currently, approximately half of all textiles require cotton fibers.
The above infographic lists the world's top cotton producers, using data from the United States Department of Agriculture.
Fancy Fabric
Originating from the Arabic word "quton," meaning fancy fabric, cotton is a staple fiber made up of short fibers twisted together to form yarn.
The earliest production of cotton was around 5,000 B.C. in India, and today, around 25 million tons of cotton are produced each year.
Currently, five countries make up around 75% of global cotton production, with China being the world's biggest producer. The country is responsible for over 23% of global production, with approximately 89 million cotton farmers and part-time workers. Cotton's importance cannot be understated, as it is the primary input for the Chinese textile industry along with many other nations' textile industries.
| Top Cotton Producers | 2020/2021 (metric tons) | 2021/2022 (metric tons) |
| --- | --- | --- |
| 🇨🇳 China | 6,445,000 | 5,835,000 |
| 🇮🇳 India | 6,009,000 | 5,334,000 |
| 🇺🇸 United States | 3,181,000 | 3,815,000 |
| 🇧🇷 Brazil | 2,356,000 | 2,504,000 |
| 🇦🇺 Australia | 610,000 | 1,252,000 |
| 🇵🇰 Pakistan | 980,000 | 1,306,000 |
| 🇹🇷 Turkey | 631,000 | 827,000 |
| 🌐 Other | 4,059,000 | 4,282,000 |
| Total | 24,271,000 | 25,155,000 |
The United States is the leading global exporter of cotton, exporting three-fourths of its crop with China as the top buyer.
Despite its importance for the global economy, cotton production faces significant sustainability challenges.
The Controversy Over Cotton
Cotton is one of the largest users of water among all agricultural commodities, and production often involves applying pesticides that threaten soil and water quality.
Along with this, production often involves forced and child labor. According to the European Commission, child labor in the cotton supply chain is most common in Africa and Asia, where it comes from small-holder farmers.
In 2020, U.S. apparel maker Patagonia stopped sourcing cotton from the autonomous territory of Xinjiang because of reports about forced labor and other human rights abuses against Uighurs and other ethnic minorities.
L Brands, the parent company of Victoria's Secret, has also committed to eliminating Chinese cotton from its supply chain. Whether these changes in supply chains impact China's cotton production and its practices, cotton remains essential to materials found across our daily lives.
Mapped: Where Does Our Food Come From?
Did you know that over two-thirds of national crops originated from somewhere else? Over time the food that built national diets has evolved.
Where Does Our Food Come From?
Did you know that over two-thirds of national crops originated from somewhere else?
Humans have been selecting and growing crops for specific traits since the origins of agriculture some 10,000 years ago, shaping where and what crops are grown today.
Now our food system is completely global and many of the world's top producers of staple crops are in countries far from their historical origin. For example, Brazil is now the largest soybean producer in the world, though the crop is originally from East Asia.
The above infographic by Brazil Potash shows the historical origins of crops before they were domesticated across the globe and the main producers of our staple crops today.
Producers Of Staple Crops Today
Staple crops are those that are the most routinely grown and consumed. These can vary between countries depending on availability.
In 2020, sugarcane, maize, wheat, and rice made up around 50% of global crop production.
But when the production and distribution of staple crops are threatened, the consequences can be felt globally. Let's take a look at the countries that were the top three producers of some of our staple crops in 2020.
| Crop | Country | Percentage of Global Production |
| --- | --- | --- |
| Sugar Cane | 🇧🇷Brazil | 40.5% |
| Sugar Cane | 🇮🇳India | 19.9% |
| Sugar Cane | 🇨🇳China | 5.8% |
| Maize | 🇺🇸U.S. | 30.9% |
| Maize | 🇨🇳China | 22.4% |
| Maize | 🇧🇷Brazil | 8.9% |
| Wheat | 🇨🇳China | 17.6% |
| Wheat | 🇮🇳India | 14.1% |
| Wheat | 🇷🇺Russia | 11.3% |
As you can see from the data above, Brazil is the world's largest producer of sugarcane and one of the top three producers of maize.
The Future of Food Security
Global food security depends on staple crops and the countries that produce them. As the global population increases, so does the need to grow more crops.
The FAO estimates that by 2050 the world will need to increase its food output by around 70% in order to feed an ever-growing population.
Early food security solutions were transplanting crops from other regions to supplement diets. Now crop yields must increase as the next evolution in strengthening our food security. Fertilizers are a vital step in this process and are an essential ingredient in the future of global food security. They provide vital nutrients that increase crop production and strengthen nutrition security.
Brazil Potash extracts vital potash ore from the earth for it to return to the earth as fertilizer, fortifying food and helping to maintain continuous growth in the agricultural sector.
Click here to learn more about fertilizer and food production in Brazil.