Mapped: The Anatomy of Land Use in America
Mapped: The Anatomy of Land Use in America
The United States is not just an economic and political giant on the global stage—the country also has one of the largest land masses at its disposal.
Altogether, the country spans 3.8 million square miles (9.8 million km²)—making it the third largest country in the world. Even without factoring Alaska and Hawaii into the calculations, the contiguous U.S. land mass can fit up to 30 European countries within it.
With this much ground to work with, it raises the natural question of how land actually gets used by America's economy. For example, what percentage of land is taken up by urban areas, and how much farmland and forests exist in comparison?
Today's maps from the McHarg Center put America's wide variety of land uses into perspective.
The Components of U.S. Land Use
As the U.S. prepares to add 100 million more people this century, the "2100 Project: An Atlas for the Green New Deal" provides a snapshot of U.S. land use (as of 2017), aimed at managing resources to support this future.
According to this data, here is a snapshot of land use in the Lower 48 States:

| Land type | Land use (%) | Land area |
| --- | --- | --- |
| Forests | 27% | 842,400 mi² |
| Shrubland | 24% | 748,800 mi² |
| Agriculture | 17% | 530,400 mi² |
| Grasslands and Pasture | 17% | 530,400 mi² |
| Wetlands | 5% | 156,000 mi² |
| Other | 5% | 156,000 mi² |
| Open Space | 3% | 93,600 mi² |
| Urban Areas | 2% | 63,400 mi² |
| Total | 100% | 3,120,000 mi² |
Let's dive into the specifics of three types of land: urban areas, forests, and agriculture.
Editor's note: click on any map below to see a large, high-resolution version, which will open in a new window.
Small But Mighty: U.S. Urban Areas
It's clear that even a little space goes a long way. Although urban areas take up only 2% of land, an overwhelming majority of Americans call cities their home. As of 2018, urbanites made up over 82% of the U.S. population.
Where people go, productivity often follows. In 2018, it's estimated that 31 county economies made up a whopping 32% of national GDP. Most of these counties were located in and around major cities, such as Los Angeles or New York.
Although urban areas are a small part of the overall land they're built on, they're integral to the nation's continued growth. According to research by the McKinsey Global Institute, it's estimated that by 2030, 60% of job growth could come from just 25 hubs.
Seeing Green: America's Vast Forests
On the flipside, forests account for over a quarter of land in the U.S., divided almost evenly between deciduous and evergreen trees. Many protected national and state parks can also be found in and around forests.
On the mainland, California and Oregon are the states with the most forested land—unfortunately, they have also been plagued by wildfires in recent, dry summer months.
Wetlands are also included in the map above, particularly around the southern tip of Florida, where Everglades National Park is located. Over the years, many wetlands were drained to make way for agriculture, particularly in the Great Lakes megaregion. As a result, it's estimated that their area today is only half of what they once used to be.
Home Grown: Agriculture in the U.S.
Last but not least, the final set of maps show where America grows its food. Agricultural, food, and related industries contributed $1.05 trillion (5.4%) to U.S. GDP in 2017.
Wheat, corn, and soybeans are the major crops grown in the U.S.—and cotton also makes the cut as a profitable non-food crop. Much of these crops feed not only Americans, but other parts of the world too. Soybeans, corn, and wheat are exported across the Pacific mainly to China and Japan.
Corn, in particular, is a unique crop with a myriad of uses, from food to fuels. Up to 40% of U.S. corn is turned into livestock feed, with cows consuming over half (56%) of this amount.
At present, the U.S. is the world's largest beef producer, followed by Brazil. In fact, beef production takes up 40% of total livestock-related land use domestically.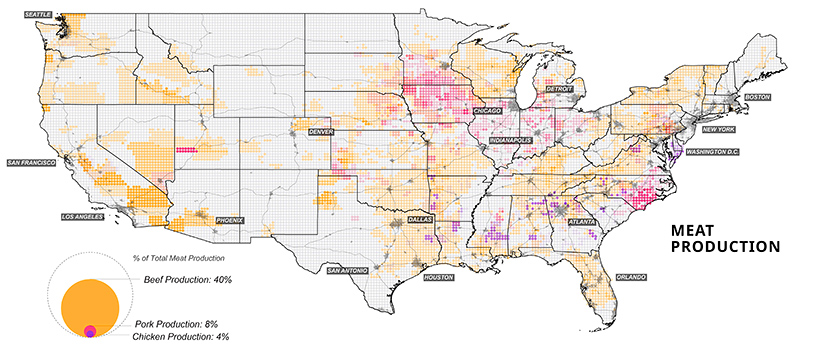 Although fewer American consumers are opting for meat in their diets, production has remained at high rates. Further, as incomes continues to increase worldwide, the global appetite for meat is set to rise along with it.
Future Land Use
The U.S. population is set to grow by 100 million more people over the coming decades, raising the pressure on limited U.S. land and natural resources. This pressure will be felt everywhere, from dense urban land to agricultural farmland.
How the land gets utilized will shape the country's future for years to come.
The World's Top Coffee Producing Countries
Coffee is the third most consumed beverage globally. Here we visualize the countries that have the highest coffee production in the world.
The World's Top Coffee Producing Countries
In many cities around the world, there's a café on every corner, so it comes as no surprise that coffee is one of the globes' top commodities. As the third most consumed beverage globally, after water and tea, coffee beans are in high demand almost everywhere.
The top producing nations each produce billions of kilograms of coffee beans that find their way into the hands of eager consumers. According to the International Coffee Organization, a total of 169.6 million 60-kilogram bags of coffee were produced worldwide in 2020.
So, why does the world universally love coffee so much?
For The Love of Coffee
As most coffee lovers would tell you, drinking coffee is a complex and nuanced experience—there's the rich aroma, the comforting warmth, and the loveliness of the ritual of sitting down with a fresh cup.
With the variety of ways it can be served and the jolt of caffeine it provides us, it's not hard to see why the world loves its coffee. In fact, we love the beverage so much that humans have conditioned themselves to associate the bitter taste of coffee with a bout of energy and positive reinforcement.
So, where does the journey of each cup of joe originate? Let's get to know the world's top coffee producing countries.
The World's Coffee Production Leaders
At the end of 2020, the top 10 biggest coffee-producing nations held 87% of the commodity's market share.
Here is a list of the top 20 largest coffee-producing nations in the world:
Rank
Country
Production in 2020
(Million 60-kg Bags)
Total Market Share
1
🇧🇷 Brazil
63.4
37.4%
2
🇻🇳 Vietnam
29.0
17.1%
3
🇨🇴 Colombia
14.3
8.4%
4
🇮🇩 Indonesia
12.0
7.1%
5
🇪🇹 Ethiopia
7.3
4.3%
6
🇭🇳 Honduras
6.1
3.6%
7
🇮🇳 India
5.7
3.4%
8
🇺🇬 Uganda
5.6
3.3%
9
🇲🇽 Mexico
4.0
2.4%
10
🇵🇪 Peru
3.8
2.2%
11
🇬🇹 Guatemala
3.7
2.2%
12
🇳🇮 Nicaragua
2.7
1.6%
13
🇨🇮 Côte d'Ivoire
1.8
1.1%
14
🇨🇷 Costa Rica
1.5
0.9%
15
🇹🇿 Tanzania
0.9
0.5%
16
🇰🇪 Kenya
0.7
0.4%
17
🇵🇬 Papua New Guinea
0.7
0.4%
18
🇱🇦 Laos
0.6
0.4%
19
🇸🇻 El Salvador
0.6
0.4%
20
🇹🇭 Thailand
0.6
0.4%
While some of the world's top coffee-producing nations are well known, others may come as a surprise. More than 70 countries produce coffee, but the majority of global output comes from just the top five producers: Brazil, Vietnam, Colombia, Indonesia, and Ethiopia.
Meet the Top Coffee Producing Countries
1. Brazil
Brazil is a true powerhouse of coffee production. The country single-highhandedly produces nearly 40% of the world's coffee supply.
Many areas in Brazil have a climate perfectly conducive to coffee farming. Coffee plantations cover about 27,000 square kilometers of Brazil, with the majority located in Minas Gerais, São Paulo, and Parana.
Brazil distinguishes itself from most other coffee-producing nations by drying the coffee cherries in the sun (unwashed coffee) rather than washing them.
The country is so influential to coffee production that the 60-kilogram burlap bags historically used to export beans from Brazil are still the worldwide standard for measuring production and trade.
2. Vietnam
Vietnam found a niche in the international market by focusing primarily on the less-expensive Robusta bean. Robusta beans can have up to twice as much caffeine as Arabica beans, giving the coffee a more bitter taste.
Though coffee has been grown in the region for well over a century, production skyrocketed through the 1990s after Vietnam's communist government introduced economic reforms (known as Đổi Mới).
Today, Vietnam accounts for more than 40% of the world's Robusta bean production.
Coffee cultivation in Vietnam is also extremely productive. The country's coffee yields are considerably higher than other top coffee-producing countries.
3. Colombia
A popular advertising campaign featuring a fictional coffee farmer named Juan Valdez helped brand Colombia as one of the most famous coffee-producing nations. A coveted drink of choice, Colombian coffee is prized for its aromatic, mild, and fruity flavors.
4. Indonesia
Some of the rarest coffees in the Western world originate in Indonesia, including Kopi Luwak—a type of bean that has been eaten and defecated by the Asian palm civet. Coffee made from these coffee beans might cost you anywhere between $35 to $100 per cup.
5. Ethiopia
Known for its full-flavored, down-to-earth, and full-bodied coffee beans, Ethiopia is the country that gave us the Arabica coffee plant. Today this type of coffee is considered to be the most widely sold in cafes and restaurants across the world.
All of these top producing countries are found in the so-called "Bean Belt", which is located between the Tropic of Cancer and the Tropic of Capricorn.
The Future of Coffee Production
With global temperatures on the rise, good coffee may become increasingly challenging to grow. To future-proof good and continued growth of coffee beans, finding newer and hybrid blends of coffee beans is essential.
Several studies and research missions have found wild species of coffee growing off the coast of Côte d'Ivoire and in certain regions of Sierra Leone, which could be the answer to our coffee production problems. Coffee from these coffee plants tasted similar to the famous Arabica bean and also grew at higher temperatures.
Though the future of coffee production around the world is somewhat uncertain, our collective love of the morning cup of coffee will drive innovative solutions, even in the face of changing climate patterns.
Animated Map: U.S. Droughts Over the Last 20 Years
The Western U.S. is no stranger to droughts. But this year's is one of the worst yet. Here's a historical look at U.S. droughts since 1999.
Animated Map: U.S. Droughts Over the Last 20 Years
The Western U.S. is experiencing one of the worst recorded droughts in the last 20 years.
Temperatures from California to the Dakotas are currently hovering around 9-12°F above average—but how bad is the situation compared to past years?
This animated map by reddit user /NothingAbnormalHere provides a historical look at droughts in the U.S. since 1999, using data and graphics from the U.S. Drought Monitor (USDM).
What is the U.S. Drought Monitor?
Over the last two decades, the USDM has been tracking, measuring, and comparing droughts across America.
While droughts can be difficult to classify and standardize, there are various factors that can be used to gauge when a region is experiencing drought. These include measurements of snowpack levels, soil moisture, and recent precipitation.
To track these conditions (and make sense of them), the USDM synthesizes data from a plethora of meteorological sources, including the Palmer Drought Severity Index and the Standardized Precipitation Index.
From there, conditions are broken down into categories, ranging from D0 (abnormally dry) to D4 (Exceptional Drought). A map is released each week that shows which states are experiencing drought, and to what degree.
Where Are The Most Drought-Prone Areas?
According to a map created by climatologist Becky Bolinger (which is published on Drought.gov), Arizona and Nevada are the most historically drought-prone states—the two have experienced drought more than 50% of the time tracked by the USDM.
California is high on the list as well, with the state experiencing drought at least 40% of the time.
As the historical data shows, the West is no stranger to droughts. However, this year's drought has become particularly worrisome because of its intensity and breadth.
Right now, more than a quarter of the West is experiencing a D4 level drought—a new record. To help put things into perspective, here's a look at how much overall land area in the West has been in drought, since 2000:
When a region is experiencing a D4 drought, possible impacts include:
Water Scarcity
Lower reservoirs, combined with decreased snowpack lead to water shortages.
Crop losses
Water shortages mean less water for fields, which can lead to acres of fallow (unused) farmland.
Wildfires
Dry conditions and lack of moisture increase the risk of wildfires.
Is This the New Norm?
This record-breaking drought is wreaking havoc across the West. In California, reservoirs have about half as much water as they usually do, and crop failures are happening across Colorado.
The worst part? Some experts believe that this could be the new normal if human-driven climate change continues to increase average temperatures across the globe.