Mapped: The Anatomy of Land Use in America
Mapped: The Anatomy of Land Use in America
The United States is not just an economic and political giant on the global stage—the country also has one of the largest land masses at its disposal.
Altogether, the country spans 3.8 million square miles (9.8 million km²)—making it the third largest country in the world. Even without factoring Alaska and Hawaii into the calculations, the contiguous U.S. land mass can fit up to 30 European countries within it.
With this much ground to work with, it raises the natural question of how land actually gets used by America's economy. For example, what percentage of land is taken up by urban areas, and how much farmland and forests exist in comparison?
Today's maps from the McHarg Center put America's wide variety of land uses into perspective.
The Components of U.S. Land Use
As the U.S. prepares to add 100 million more people this century, the "2100 Project: An Atlas for the Green New Deal" provides a snapshot of U.S. land use (as of 2017), aimed at managing resources to support this future.
According to this data, here is a snapshot of land use in the Lower 48 States:

| Land type | Land use (%) | Land area |
| --- | --- | --- |
| Forests | 27% | 842,400 mi² |
| Shrubland | 24% | 748,800 mi² |
| Agriculture | 17% | 530,400 mi² |
| Grasslands and Pasture | 17% | 530,400 mi² |
| Wetlands | 5% | 156,000 mi² |
| Other | 5% | 156,000 mi² |
| Open Space | 3% | 93,600 mi² |
| Urban Areas | 2% | 63,400 mi² |
| Total | 100% | 3,120,000 mi² |
Let's dive into the specifics of three types of land: urban areas, forests, and agriculture.
Editor's note: click on any map below to see a large, high-resolution version, which will open in a new window.
Small But Mighty: U.S. Urban Areas
It's clear that even a little space goes a long way. Although urban areas take up only 2% of land, an overwhelming majority of Americans call cities their home. As of 2018, urbanites made up over 82% of the U.S. population.
Where people go, productivity often follows. In 2018, it's estimated that 31 county economies made up a whopping 32% of national GDP. Most of these counties were located in and around major cities, such as Los Angeles or New York.
Although urban areas are a small part of the overall land they're built on, they're integral to the nation's continued growth. According to research by the McKinsey Global Institute, it's estimated that by 2030, 60% of job growth could come from just 25 hubs.
Seeing Green: America's Vast Forests
On the flipside, forests account for over a quarter of land in the U.S., divided almost evenly between deciduous and evergreen trees. Many protected national and state parks can also be found in and around forests.
On the mainland, California and Oregon are the states with the most forested land—unfortunately, they have also been plagued by wildfires in recent, dry summer months.
Wetlands are also included in the map above, particularly around the southern tip of Florida, where Everglades National Park is located. Over the years, many wetlands were drained to make way for agriculture, particularly in the Great Lakes megaregion. As a result, it's estimated that their area today is only half of what they once used to be.
Home Grown: Agriculture in the U.S.
Last but not least, the final set of maps show where America grows its food. Agricultural, food, and related industries contributed $1.05 trillion (5.4%) to U.S. GDP in 2017.
Wheat, corn, and soybeans are the major crops grown in the U.S.—and cotton also makes the cut as a profitable non-food crop. Much of these crops feed not only Americans, but other parts of the world too. Soybeans, corn, and wheat are exported across the Pacific mainly to China and Japan.
Corn, in particular, is a unique crop with a myriad of uses, from food to fuels. Up to 40% of U.S. corn is turned into livestock feed, with cows consuming over half (56%) of this amount.
At present, the U.S. is the world's largest beef producer, followed by Brazil. In fact, beef production takes up 40% of total livestock-related land use domestically.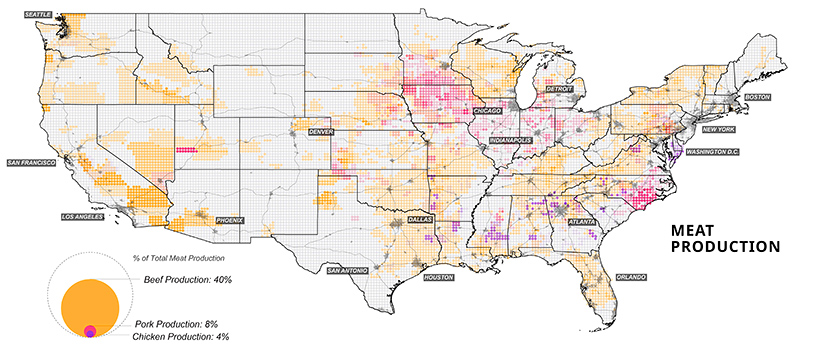 Although fewer American consumers are opting for meat in their diets, production has remained at high rates. Further, as incomes continues to increase worldwide, the global appetite for meat is set to rise along with it.
Future Land Use
The U.S. population is set to grow by 100 million more people over the coming decades, raising the pressure on limited U.S. land and natural resources. This pressure will be felt everywhere, from dense urban land to agricultural farmland.
How the land gets utilized will shape the country's future for years to come.
Which Countries Produce the Most Wheat?
Global wheat production is concentrated in just a handful of countries. Here's a look at the top wheat-producing countries worldwide.

Creator Program
Visualizing Global Wheat Production by Country (2000-2020)
Wheat is a dietary staple for millions of people around the world.
After rice and corn (maize), wheat is the third most-produced cereal worldwide, and the second-most-produced for human consumption. And considering wheat's importance in the global food system, any impact on major producers such as droughts, wars, or other events, can impact the entire world.
Which countries are the largest producers of wheat? This graphic by Kashish Rastogi visualizes the breakdown of 20 years of global wheat production by country.
Top 10 Wheat Producing Countries
While more than 80 different countries produce wheat around the world, the majority of global wheat production comes from just a handful of countries, according to data from The Food and Agriculture Organization of the United Nations (FAO).
Here's a look at the top 10 wheat-producing countries worldwide, based on total yield in tonnes from 2000-2020:
| Rank | Country | Continent | Total yield (tonnes, 2000-2020) | % of total (2000-2020) |
| --- | --- | --- | --- | --- |
| #1 | 🇨🇳 China | Asia & Oceania | 2.4 B | 17.0% |
| #2 | 🇮🇳 India | Asia & Oceania | 1.8 B | 12.5% |
| #3 | 🇷🇺 Russia | Asia & Oceania | 1.2 B | 8.4% |
| #4 | 🇺🇸 U.S. | Americas | 1.2 B | 8.4% |
| #5 | 🇫🇷 France | Europe | 767 M | 5.4% |
| #6 | 🇨🇦 Canada | Americas | 571 M | 4.0% |
| #7 | 🇩🇪 Germany | Europe | 491 M | 3.5% |
| #8 | 🇵🇰 Pakistan | Asia & Oceania | 482 M | 3.4% |
| #9 | 🇦🇺 Australia | Asia & Oceania | 456 M | 3.2% |
| #10 | 🇺🇦 Ukraine | Europe | 433 M | 3.1% |
China, the world's largest wheat producer, has yielded more than 2.4 billion tonnes of wheat over the last two decades, making up roughly 17% of total production from 2000-2020.
A majority of China's wheat is used domestically to help meet the country's rising food demand. China is the world's largest consumer of wheat—in 2020/2021, the country accounted for approximately 19% of global wheat consumption.
The second-largest wheat-producing country is India. Over the last two decades, India has produced 12.5% of the world's wheat. Like China, India keeps most of its wheat domestic because of significant food demand across the country.
Russia, the world's third-largest wheat producer, is also the largest global exporter of wheat. The country exported more than $7.3 billion worth of wheat in 2021, accounting for approximately 13.1% of total wheat exports that year.
Russia-Ukraine Impact on Global Wheat Market
Because Russia and Ukraine are both significant global wheat producers, the ongoing conflict between the two countries has caused massive disruptions to the global wheat market.
The conflict has had an impact on adjacent industries as well. For instance, Russia is one of the world's major fertilizer suppliers, and the conflict has led to a global fertilizer shortage which could lead to food shortages worldwide.
Timeline: The Domestication of Animals
This graphic shows a timeline of when 15 different animals became domesticated, based on archaeological findings.
Timeline: The Domestication of Animals
While dogs weren't always our docile companions, research indicates that they were likely one of the first animals to be domesticated by humans. In fact, genetic evidence suggests that dogs split from their wild wolf ancestors around 33,000 years ago.
When did humans domesticate other animals, and why? This timeline highlights the domestication period of 15 different animals, based on archeological findings.
Because exact timing is tricky to pinpoint and research on the topic is ongoing, these estimates may vary by thousands of years.
Defining Domestic
The domestication of animals is a particular process that's done through selective breeding. Generally speaking, domestic animals follow most of these criteria:
Genetically distinct from their wild ancestors and more human-friendly as a genetic trait.
Dependent on humans for food and reproduction.
They're extremely difficult or impossible to breed with wild counterparts.
Show the physical traits of domestication syndrome, such as smaller skulls, floppy ears, or coat color variations.
Domestication is not the same as taming an animal, which is when humans condition wild animals to live in captivity.
While some research suggests that domestic animals can prosper in the wild, domestic animals are typically more susceptible to predators since they lack some of the advantages, instincts, or traits that help their wild counterparts survive in nature.
Key Reasons for the Domestication of Animals
Humans domesticate animals for a number of reasons: some have been domesticated for food, work, companionship, or a combination of all three.
After dogs, livestock animals such as sheep, cows, and pigs are thought to have been some of the first animals to become domesticated by humans. This was around the same time that humanity shifted from a hunter-gathering lifestyle to an agricultural society.
| Domesticated Animal | Primary Type | Estimated Domestication Period | Origin |
| --- | --- | --- | --- |
| Dog | Pet | 13,000–34,000 BCE | Eurasia |
| Sheep | Livestock | 9,000 BCE | Middle East |
| Goat | Livestock | 8,500 BCE | Middle East |
| Pig | Livestock | 8,300 BCE | Middle East |
| Cow | Livestock | 8,300 BCE | Middle East |
| Cat | Pet | 7,500 BCE | Middle East |
| Zebu (Humped Cow) | Livestock | 6,000 BCE | South Asia |
| Llama | Livestock | 4,000 BCE | South America |
| Horse | Work | 3,500 BCE | Central Asia |
| Alpaca | Livestock | 3,000 BCE | South America |
| Bactrian Camel (two-humped) | Work | 2,500 BCE | Central Asia |
| Chicken | Livestock | 2,000 BCE | East Asia/Middle East |
| Arabian Camel (one-humped) | Work | 1,000 BCE | Middle East |
| Turkey | Livestock | 0 CE | North America |
| Duck | Livestock | 1,000 CE | East Asia/Middle East |
Horses are thought to be some of the first animals domesticated for work. Scientific research suggests that the modern horse originated in Central Asia, and were selectively bred for their exceptional back strength and overall resilience.
When it comes to domesticating animals, herbivores (like cows) are generally the easiest to convert because they're easier to feed than animals that rely on meats or grains, which need to be sourced or domesticated themselves.
Domestication Has Shaped Modern Humanity
The domestication of species has helped create our modern society. Domesticating plants and animals created a world with stable food production, which enabled the human population to boom worldwide.
This is because agriculture meant fewer people could provide more food to humans on a mass scale, so people had more time to focus on other things like creative pursuits, scientific research, etc. This gave us time to create tools that helped boost efficiencies in farming and agriculture, leading to the world as we know it today.