Mapped: The Anatomy of Land Use in America
Mapped: The Anatomy of Land Use in America
The United States is not just an economic and political giant on the global stage—the country also has one of the largest land masses at its disposal.
Altogether, the country spans 3.8 million square miles (9.8 million km²)—making it the third largest country in the world. Even without factoring Alaska and Hawaii into the calculations, the contiguous U.S. land mass can fit up to 30 European countries within it.
With this much ground to work with, it raises the natural question of how land actually gets used by America's economy. For example, what percentage of land is taken up by urban areas, and how much farmland and forests exist in comparison?
Today's maps from the McHarg Center put America's wide variety of land uses into perspective.
The Components of U.S. Land Use
As the U.S. prepares to add 100 million more people this century, the "2100 Project: An Atlas for the Green New Deal" provides a snapshot of U.S. land use (as of 2017), aimed at managing resources to support this future.
According to this data, here is a snapshot of land use in the Lower 48 States:

| Land type | Land use (%) | Land area |
| --- | --- | --- |
| Forests | 27% | 842,400 mi² |
| Shrubland | 24% | 748,800 mi² |
| Agriculture | 17% | 530,400 mi² |
| Grasslands and Pasture | 17% | 530,400 mi² |
| Wetlands | 5% | 156,000 mi² |
| Other | 5% | 156,000 mi² |
| Open Space | 3% | 93,600 mi² |
| Urban Areas | 2% | 63,400 mi² |
| Total | 100% | 3,120,000 mi² |
Let's dive into the specifics of three types of land: urban areas, forests, and agriculture.
Editor's note: click on any map below to see a large, high-resolution version, which will open in a new window.
Small But Mighty: U.S. Urban Areas
It's clear that even a little space goes a long way. Although urban areas take up only 2% of land, an overwhelming majority of Americans call cities their home. As of 2018, urbanites made up over 82% of the U.S. population.
Where people go, productivity often follows. In 2018, it's estimated that 31 county economies made up a whopping 32% of national GDP. Most of these counties were located in and around major cities, such as Los Angeles or New York.
Although urban areas are a small part of the overall land they're built on, they're integral to the nation's continued growth. According to research by the McKinsey Global Institute, it's estimated that by 2030, 60% of job growth could come from just 25 hubs.
Seeing Green: America's Vast Forests
On the flipside, forests account for over a quarter of land in the U.S., divided almost evenly between deciduous and evergreen trees. Many protected national and state parks can also be found in and around forests.
On the mainland, California and Oregon are the states with the most forested land—unfortunately, they have also been plagued by wildfires in recent, dry summer months.
Wetlands are also included in the map above, particularly around the southern tip of Florida, where Everglades National Park is located. Over the years, many wetlands were drained to make way for agriculture, particularly in the Great Lakes megaregion. As a result, it's estimated that their area today is only half of what they once used to be.
Home Grown: Agriculture in the U.S.
Last but not least, the final set of maps show where America grows its food. Agricultural, food, and related industries contributed $1.05 trillion (5.4%) to U.S. GDP in 2017.
Wheat, corn, and soybeans are the major crops grown in the U.S.—and cotton also makes the cut as a profitable non-food crop. Much of these crops feed not only Americans, but other parts of the world too. Soybeans, corn, and wheat are exported across the Pacific mainly to China and Japan.
Corn, in particular, is a unique crop with a myriad of uses, from food to fuels. Up to 40% of U.S. corn is turned into livestock feed, with cows consuming over half (56%) of this amount.
At present, the U.S. is the world's largest beef producer, followed by Brazil. In fact, beef production takes up 40% of total livestock-related land use domestically.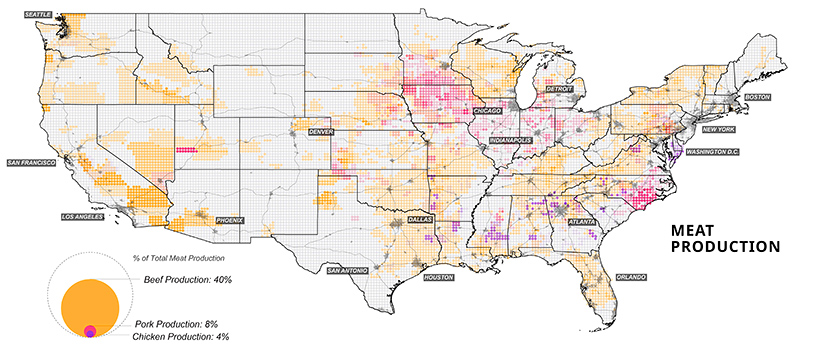 Although fewer American consumers are opting for meat in their diets, production has remained at high rates. Further, as incomes continues to increase worldwide, the global appetite for meat is set to rise along with it.
Future Land Use
The U.S. population is set to grow by 100 million more people over the coming decades, raising the pressure on limited U.S. land and natural resources. This pressure will be felt everywhere, from dense urban land to agricultural farmland.
How the land gets utilized will shape the country's future for years to come.
What's Behind The Rise Of Food Prices?
Many variables contribute to the rising cost of global food. Let's take a look at two major factors influencing food prices in recent years.
The Rise Of Food Prices
The World Food Price Index reached an all-time high in March 2022 before gradually falling for nine months to December 2022. But what caused this surge?
There are many variables contributing to the rising cost of global food, but supply chain disruptions and climate change are two major drivers for the spike in prices over the most recent years.
The above graphic from Brazil Potash explores how these two factors are contributing to the most recent rise in food prices.
1. Supply Chain Disruptions
The COVID-19 pandemic and Russia's invasion of Ukraine have caused major disruptions to global food systems, altering trade patterns, production, and consumption of commodities.
The pandemic placed unprecedented stress on global food systems through a variety of factors, including a change in consumer food consumption, workforce restrictions, and trade pattern disruptions, causing food prices to rise.
Then, on February 24, 2022, Russia invaded Ukraine, blocking vital exports of commodities for international food systems, and causing a sharp spike in food prices.
Ukraine was the fourth largest global exporter of cereals before the invasion. Combined, Russia and Ukraine export around 28% of the world's wheat and 15% of its maize.
Simultaneously the fertilizer industry has also felt the strain, with the trade of essential fertilizers for crop production impacted by both the COVID-19 pandemic and the war in Ukraine.
2. Climate Change
As global temperatures rise and weather patterns become more unpredictable, we are seeing an increase in extreme weather events that are having a devastating effect on crops around the world.
India's rice crop fell by around 8% in 2022 due to a lack of rainfall, while drought conditions in the EU have resulted in grain yields that are approximately 16% below the five-year average.
According to NASA, if greenhouse gas emissions continue to rise at the current rate, maize yields are projected to decline by 24% by 2030, in contrast, wheat may rise by around 17%.
The below video details NASA predictions for maize yields.
Weather conditions have a direct impact on crop production, which in turn affect food prices.
The Role of Fertilizer
Rising food prices are a concern as they directly impact food security. When prices rise, it becomes more difficult for people to afford enough food to meet their needs. This can lead to hunger, malnutrition, and social and political instability.
There are steps that can be taken to mitigate the effects of rising food prices, such as increasing and diversifying the global fertilizer supply. Diversifying the fertilizer supply can alleviate pressure caused by supply chain disruptions.
Additionally, using fertilizers that improve plant resistance to environmental stress factors such as drought and can help to increase crop yields.
Brazil Potash will produce a vital crop nutrient that improves plant resistance to environmental stress factors such as drought, enabling greater yields to feed a growing population.
Click here to learn more about fertilizer and food production in Brazil.