10 Global Insights into a Transforming World
10 Global Insights into a Transforming World from 2019
Every day, global trends are reshaping society and the business landscape.
Today's infographic from McKinsey Global Institute (MGI) presents a snapshot of 10 insights into how the world is changing, based on its research work from 2019.
How did we get here, and where are we going?
A Connected World in Flux
Globalization is making the world "shrink" every day, as humans and trade become increasingly connected. However, there are signs that point to a new phase of globalization that is leading to different outcomes than prior years.
1. Globalization in Transition
Global exports are fundamentally shifting. Although manufactured goods are traded at higher volumes, certain services have grown up to three times faster.
The compound annual growth rate (CAGR, 2007-2017) for different sectors are as follows:

| Sectors | Global CAGR (% of GDP) |
| --- | --- |
| Telecom and IT services | 7.8% |
| Business services | 5.3% |
| IP charges services | 5.2% |
| Total services | 3.9% |
| Travel services | 3.7% |
| Financial and insurance services | 3.2% |
| Total goods | 2.4% |
| Transport services | 1.7% |
This has a profound impact on the mix of industries and countries involved in this shift away from goods and towards services. Asia is coming of age in this phase of the global economy.
2. Asia's Ascent
Trade with and within Asia is rising, and shows no signs of slowing down. The region's economic might is growing rapidly, and with higher disposable incomes, consumption is growing too.
In China, there is a new dynamic at play.
3. China's Changing Relationships
Compared to other developed nations, China's economy is relatively closed. The country is re-balancing its focus towards domestic consumption and relying less on other countries for trade, technology, and capital.
At the same time, the rest of the world is increasingly exposed and tied to China for the same things—and such unequal engagement has a ripple effect on everything from financial markets to flows of technology and innovation.
Technology and the Future of Work
New technologies like artificial intelligence are sparking new opportunities, but they also raise questions about the future of work across geographies and gender.
4. Increasingly Digital India
As the costs of devices and data plummet, India's digital adoption is surging—it closely competes with China for the highest digital population across everything from smartphone ownership to social media users.
As mass adoption of digital technologies continues, it is poised to add significant economic value to the Indian economy.

Digital sector
Current economic value
Maximum potential value (2025E)
Core digital services
e.g. IT business process management
$115B
$250B
Newly digitizing sectors
e.g. Financial services
<$1B
$170B
Companies worldwide are also integrating new technologies—changing the nature of work itself.
5. New Geography of Work
By 2030, talent and investment in the U.S. will be concentrated in a few regions—with 60% of job growth coming from just 25 hubs.

These are just some examples of places which see double-digit potential net job growth by 2030. However, all regions will face unique challenges in the next decade.
6. Automation's Effect on Gender at Work
Globally, women and men are at similar risk of losing their jobs to automation by 2030.
Women: 107 million FTEs
Share of female employment, 2017: 20%
Men: 163 million FTEs
Share of male employment, 2017: 21%
*FTE: full time equivalent. Based on midpoint automation scenario.
While everyone needs to adapt in the age of automation, women face more barriers. They spend up to 1.1 trillion hours on unpaid care work, nearly three times that of men (400 billion hours).
Women are also often in lower-paid roles or male-dominated professions. Additionally, many women have less access to digital technology, and limited flexibility to pursue education. These factors make it harder for women to "catch up" and bridge the gap left behind by automation.
Inequalities and Uncertainties
It's clear that while technology generates opportunities, it also creates new social challenges. Low- and middle-income households face stagnating incomes, higher debt, and rising basic costs.
7. Declining Labor Share of Income
The U.S. labor share of income has been dropping for years—but ¾ of this decline has occurred since 2000.

According to McKinsey Global Institute, boom-bust commodity cycles and rising depreciation are the main factors behind this trend, more so than commonly-cited automation or globalization.
Stagnating incomes mean less purchasing power, while the cost of basics are sharply rising.
8. Changing Consumption Costs
The global inequality gap has narrowed, but within developed economies, it has actually increased.
Technology and globalization have made many discretionary goods cheaper. However, basic costs such as education, housing, and healthcare have ballooned compared to the rate of inflation over the past decade.

With wages stagnating, the higher costs for basics have eaten into disposable incomes in many mature economies.
A Changing Business World
Global trends drastically influence how companies compete with one another, transforming corporate dynamics worldwide.
9. Corporate Superstars
In just two decades, the distribution of economic profits has been growing increasingly wider. The top 10% of companies (>$1 billion in revenue) brings in an ever-larger share of total profits, while the losses of the bottom 10% share deepen.
Average profit per company, 1995-1997
Top 10%: $0.85B
Bottom 10%: -$1.02B
Average profit per company, 2014-2016
Top 10%: $1.36B
Bottom 10%: -$1.56B
*In 2016 dollars. Considers corporations with ≥$1 billion average sales (inflation-adjusted). Sample sizes: 2,450 companies (1996–1997) and 5,750 companies (2014–2016).
In essence, the bottom 10% destroy as much value as the top 10% create—and it has only intensified in 20 years.
10. Latin America's Missing Middle
Latin America best exemplifies this corporate trend of companies "thriving" versus "surviving".
Compared to similar economies, Latin American countries lack mid-size companies with over $50M in revenue. The Latin American average for firms per $1T GDP is 65 firms, while 100 firms is the benchmark average.
While Asia's share of the largest firms is widely distributed across countries, Latin American enterprises are lagging behind.
What does the Future Hold?
CEOs and leaders will need to adapt to the new age of disruption—and quickly. To become a 21st century company, they must ask 10 crucial questions about how they operate in an increasingly complex world:
What is our mission and purpose as a company?
How far do we go beyond shareholder capitalism? How are we accountable to different stakeholders?
Who benefits from our economic success? How?
What is the time horizon for managing our economic success and impact?
What is our responsibility to our workforce, especially given future-of-work implications?
How do we leverage data and technology responsibly and ethically?
What are our aspirations for inclusion and diversity?
What is our responsibility for societal and sustainability issues involving our business, and beyond?
What are our responsibilities regarding participants in our platforms, ecosystems, supply and value chains and their impact on society?
How should we address the global and local (including national) imperatives and implications of how we compete, contribute and operate?
As the 10 insights suggest, global trends are profoundly altering the course of our future. Their impact varies greatly depending on demographics and region.
Everyone—business leaders, policy makers, and individuals worldwide—will need to adapt to the realities of a world in transformation.
The Periodic Table of Commodity Returns (2012-2021)
Energy fuels led the way as commodity prices surged in 2021, with only precious metals providing negative returns.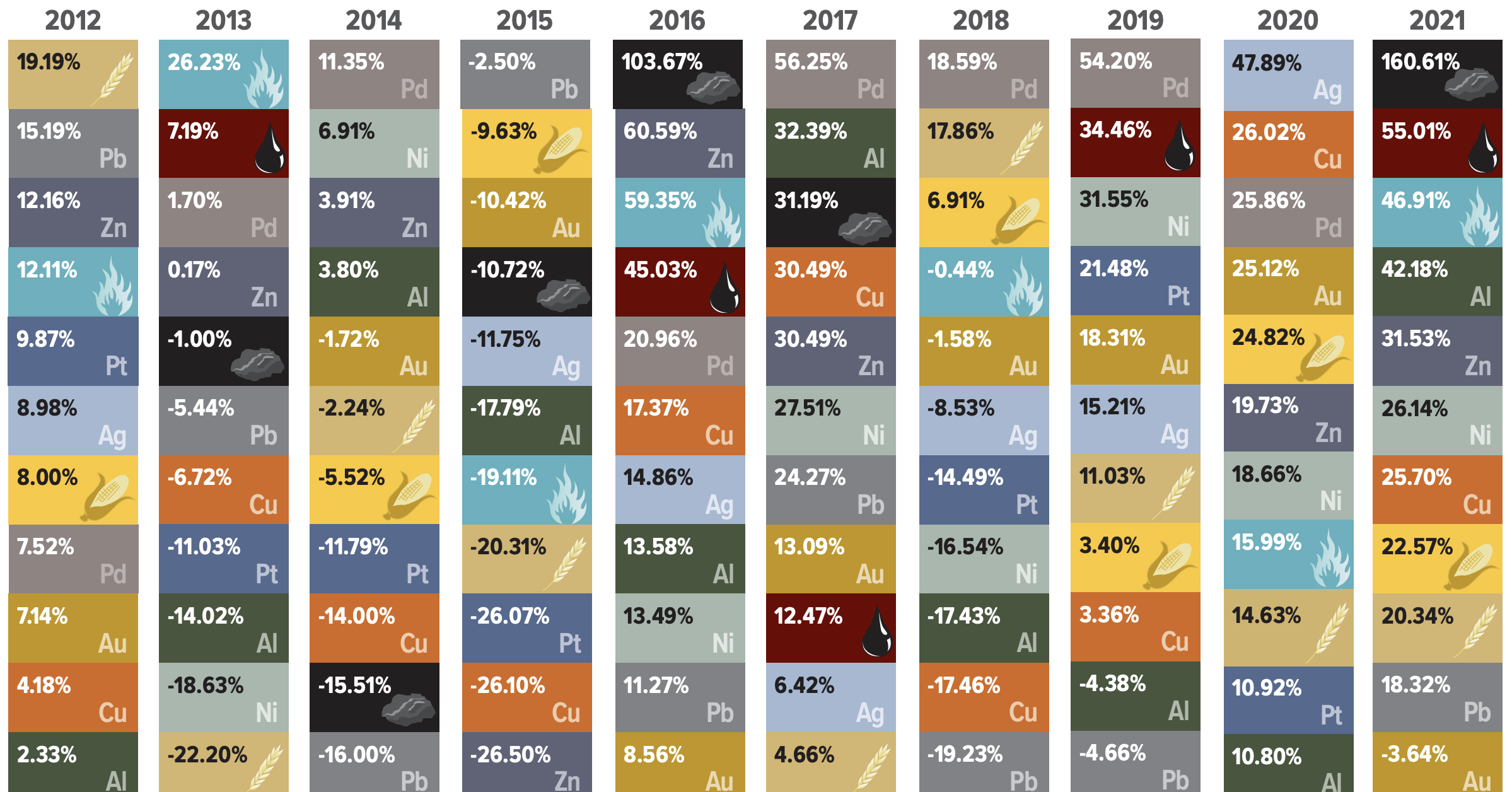 The Periodic Table of Commodity Returns (2022 Edition)
For investors, 2021 was a year in which nearly every asset class finished in the green, with commodities providing some of the best returns.
The S&P Goldman Sachs Commodity Index (GSCI) was the third best-performing asset class in 2021, returning 37.1% and beating out real estate and all major equity indices.
This graphic from U.S. Global Investors tracks individual commodity returns over the past decade, ranking them based on their individual performance each year.
Commodity Prices Surge in 2021
After a strong performance from commodities (metals especially) in the year prior, 2021 was all about energy commodities.
The top three performers for 2021 were energy fuels, with coal providing the single best annual return of any commodity over the past 10 years at 160.6%. According to U.S. Global Investors, coal was also the least volatile commodity of 2021, meaning investors had a smooth ride as the fossil fuel surged in price.
| Commodity | 2021 Returns |
| --- | --- |
| Coal | 160.61% |
| Crude Oil | 55.01% |
| Gas | 46.91% |
| Aluminum | 42.18% |
| Zinc | 31.53% |
| Nickel | 26.14% |
| Copper | 25.70% |
| Corn | 22.57% |
| Wheat | 20.34% |
| Lead | 18.32% |
| Gold | -3.64% |
| Platinum | -9.64% |
| Silver | -11.72% |
| Palladium | -22.21% |
Source: U.S. Global Investors
The only commodities in the red this year were precious metals, which failed to stay positive despite rising inflation across goods and asset prices. Gold and silver had returns of -3.6% and -11.7% respectively, with platinum returning -9.6% and palladium, the worst performing commodity of 2021, at -22.2%.
Aside from the precious metals, every other commodity managed double-digit positive returns, with four commodities (crude oil, coal, aluminum, and wheat) having their best single-year performances of the past decade.
Energy Commodities Outperform as the World Reopens
The partial resumption of travel and the reopening of businesses in 2021 were both powerful catalysts that fueled the price rise of energy commodities.
After crude oil's dip into negative prices in April 2020, black gold had a strong comeback in 2021 as it returned 55.01% while being the most volatile commodity of the year.
Natural gas prices also rose significantly (46.91%), with the UK and Europe's natural gas prices rising even more as supply constraints came up against the winter demand surge.
Despite being the second worst performer of 2020 with the clean energy transition on the horizon, coal was 2021's best commodity.
High electricity demand saw coal return in style, especially in China which accounts for one-third of global coal consumption.
Base Metals Beat out Precious Metals
2021 was a tale of two metals, as precious metals and base metals had opposing returns.
Copper, nickel, zinc, aluminum, and lead, all essential for the clean energy transition, kept up last year's positive returns as the EV batteries and renewable energy technologies caught investors' attention.
Demand for these energy metals looks set to continue in 2022, with Tesla having already signed a $1.5 billion deal for 75,000 tonnes of nickel with Talon Metals.
On the other end of the spectrum, precious metals simply sunk like a rock last year.
Investors turned to equities, real estate, and even cryptocurrencies to preserve and grow their investments, rather than the traditionally favorable gold (-3.64%) and silver (-11.72%). Platinum and palladium also lagged behind other commodities, only returning -9.64% and -22.21% respectively.
Grains Bring Steady Gains
In a year of over and underperformers, grains kept up their steady track record and notched their fifth year in a row of positive returns.
Both corn and wheat provided double-digit returns, with corn reaching eight-year highs and wheat reaching prices not seen in over nine years. Overall, these two grains followed 2021's trend of increasing food prices, as the UN Food and Agriculture Organization's food price index reached a 10-year high, rising by 17.8% over the course of the year.
As inflation across commodities, assets, and consumer goods surged in 2021, investors will now be keeping a sharp eye for a pullback in 2022. We'll have to wait and see whether or not the Fed's plans to increase rates and taper asset purchases will manage to provide price stability in commodities.
Apple's Colossal Market Cap as it Hits $3 Trillion
Apple's market cap recently hit $3 trillion. To put that scale into context, this visualization compares Apple to European indexes.

Creator Program
Apple's Colossal Market Cap in Context
In January of 2019, Apple's market capitalization stood at $700 billion.
While this was perceived as a colossal figure at the time, when we fast forward to today, that valuation seems a lot more modest. Since then, Apple has surged to touch a $3 trillion valuation on January 3rd, 2022.
To gauge just how monstrous of a figure this is, consider that Apple is no longer comparable to just companies, but to countries and even entire stock indexes. This animation from James Eagle ranks the growth in Apple's market cap alongside top indexes from the UK, France, and Germany.
Let's take a closer look.
Apple Takes On Europe
The three indexes Apple is compared to are heavyweights in their own right.
The FTSE 100 consists of giants like HSBC and vaccine producer AstraZeneca, while the CAC 40 Index is home to LVMH, which made Bernard Arnault the richest man in the world for a period of time last year.
Nonetheless, Apple's market cap exceeds that of the 100 companies in the FTSE, as well as the 40 in each of the CAC and DAX indexes.
| Stock/Index | Market Cap ($T) | Country of Origin |
| --- | --- | --- |
| Apple | $3.00T | 🇺🇸 |
| FTSE 100 | $2.90T | 🇬🇧 |
| CAC 40 Index | $2.76T | 🇫🇷 |
| DAX 40 (Dax 30) Index* | $2.50T | 🇩🇪 |
*Germany's flagship DAX Index expanded from 30 to 40 constituents in September 2021.
It's important to note, that while Apple's growth is stellar, European companies have simultaneously seen a decline in their share of the overall global stock market, which helps make these comparisons even more eye-catching.
For example, before 2005, publicly-traded European companies represented almost 30% of global stock market capitalization, but those figures have been cut in half to just 15% today.
Here are some other approaches to measure Apple's dominance.
Apple's Revenue Per Minute vs Other Tech Giants
Stepping away from market capitalization, another unique way to measure Apple's success is in how much sales they generate on a per minute basis. In doing so, we see that they generate a massive $848,090 per minute.
Here's how Apple revenue per minute compares to other Big Tech giants:

| Company | Revenue Per Minute |
| --- | --- |
| Amazon | $955,517 |
| Apple | $848,090 |
| Alphabet (Google) | $433,014 |
| Microsoft | $327,823 |
| Facebook | $213,628 |
| Tesla | $81,766 |
| Netflix | $50,566 |
Furthermore, Apple's profits aren't too shabby either: their $20.5 billion in net income last quarter equates to $156,000 in profits per minute.
How Apple Compares To Countries
Lastly, we can compare Apple's market cap to the GDP of countries.
| Country (excluding Apple) | Total Value ($T) |
| --- | --- |
| Apple | $3.0T |
| Italy | $2.0T |
| Brazil | $1.8T |
| Canada | $1.7T |
| Russia | $1.7T |
| South Korea | $1.6T |
| Australia | $1.4T |
| Spain | $1.4T |
| Mexico | $1.3T |
| Indonesia | $1.1T |
What might be most impressive here is that Apple's market cap eclipses the GDP of major developed economies, such as Canada and Australia. That means the company is more valuable than the entire economic production of these countries in a calendar year.
That's some serious scale.