How Americans Make and Spend Their Money
How do you spend your hard-earned money?
Whether you are extremely frugal, or you're known to indulge in the finer things in life, how you allocate your spending is partially a function of how much cash you have coming in the door.
Simply put, the more income a household generates, the higher the portion that can be spent on items other than the usual necessities (housing, food, clothing, etc), and the more that can be saved or invested for the future.
Earning and Spending, by Income Group
Today's visuals come to us from Engaging Data, and they use Sankey diagrams to display data from the Bureau of Labor Statistics (BLS) that helps to paint a picture of how different household income groups make and spend their money.
We'll show you three charts below for the following income groups:
The Average American
The Lowest Income Quintile (Bottom 20%)
The Highest Income Quintile (Highest 20%)
Let's start by taking a look at the flows of the average American household:
The Average American Household – $53,708 in spending (73% of total income)
The average U.S. household has 2.5 people (1.3 income earners, 0.6 children, and 0.4 seniors)

As you can see above the average household generates $73,574 of total inflows, with 84.4% of that coming from salary, and smaller portions coming from social security (11.3%), dividends and property (2.6%), and other income (1.7%).
In terms of money going out, the highest allocation goes to housing (22.1% of spending), while gas and insurance (9.0%), household (7.7%), and vehicles (7.5%) make up the next largest categories.
Interestingly, the average U.S. household also says it is saving just short of $10,000 per year.
The Bottom 20% – $25,525 in spending (100% of total income)
These contain an average of 1.6 people (0.5 income earners, 0.3 children, and 0.4 seniors)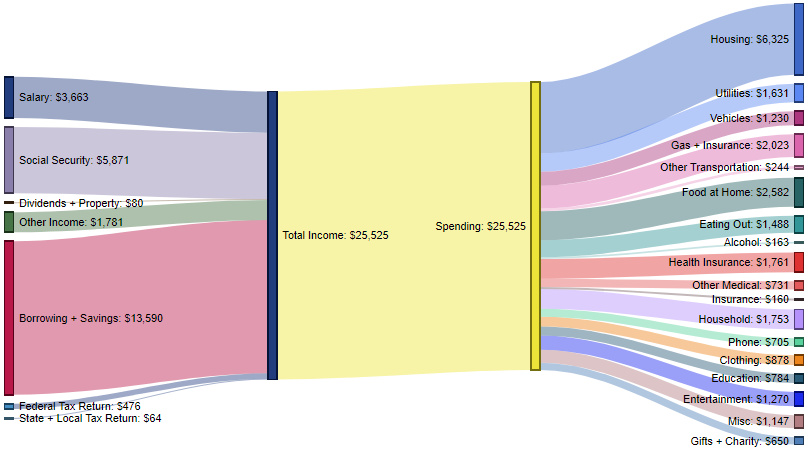 How do the inflows and outflows of the average American household compare to the lowest income quintile?
Here, the top-level statistic tells much of the story, as the poorest income group in America must spend 100% of money coming in to make ends meet. Further, cash comes in from many different sources, showing that there are fewer dependable sources of income for families to rely on.
For expenditures, this group spends the most on housing (24.8% of spending), while other top costs of living include food at home (10.1%), gas and insurance (7.9%), health insurance (6.9%), and household costs (6.9%).
The Highest 20% – $99,639 in spending (53% of total income)
These contain an average of 3.1 people (2.1 income earners, 0.8 children, and 0.2 seniors)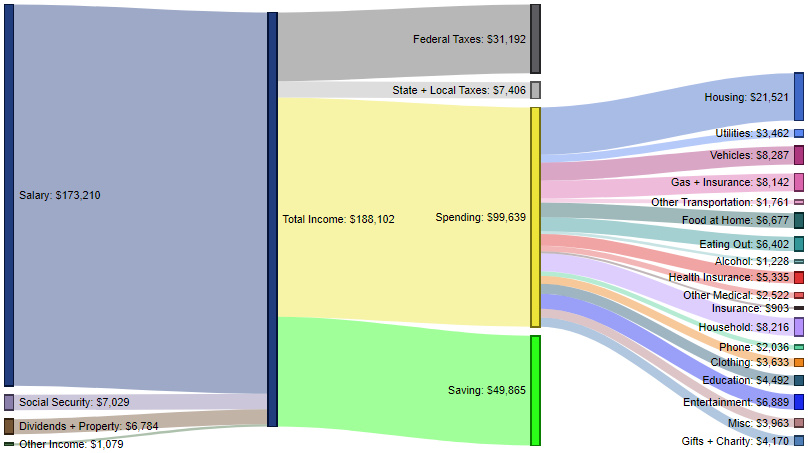 The wealthiest household segment brings in $188,102 in total income on average, with salaries (92.1%) being the top source of inflows.
This group spends just over half of its income, with top expenses being housing (21.6%), vehicles (8.3%), household costs (8.2%), gas and insurance (8.2%), and entertainment (6.9%).
The highest quintile pays just short of $40,000 in federal, state, and local taxes per year, and is also able to contribute roughly $50,000 to savings each year.
Spending Over Time
For a fascinating look at how household spending has changed over time, don't forget to check out our previous post that charts 75 years of data on how Americans spend money.
Support the Future of Data Storytelling
Sorry to interrupt your reading, but we have a favor to ask. At Visual Capitalist we believe in a world where data can be understood by everyone. That's why we want to build the VC App - the first app of its kind combining verifiable and transparent data with beautiful, memorable visuals. All available for free.
As a small, independent media company we don't have the expertise in-house or the funds to build an app like this. So we're asking our community to help us raise funds on Kickstarter.
If you believe in data-driven storytelling, join the movement and back us on Kickstarter!
Thank you.
Interest Rate Hikes vs. Inflation Rate, by Country
Inflation rates are reaching multi-decade highs in some countries. How aggressive have central banks been with interest rate hikes?
Interest Rate Hikes vs. Inflation Rate, by Country
Imagine today's high inflation like a car speeding down a hill. In order to slow it down, you need to hit the brakes. In this case, the "brakes" are interest rate hikes intended to slow spending. However, some central banks are hitting the brakes faster than others.
This graphic uses data from central banks and government websites to show how policy interest rates and inflation rates have changed since the start of the year. It was inspired by a chart created by Macrobond.
How Do Interest Rate Hikes Combat Inflation?
To understand how interest rates influence inflation, we need to understand how inflation works. Inflation is the result of too much money chasing too few goods. Over the last several months, this has occurred amid a surge in demand and supply chain disruptions worsened by Russia's invasion of Ukraine.
In an effort to combat inflation, central banks will raise their policy rate. This is the rate they charge commercial banks for loans or pay commercial banks for deposits. Commercial banks pass on a portion of these higher rates to their customers, which reduces the purchasing power of businesses and consumers. For example, it becomes more expensive to borrow money for a house or car.
Ultimately, interest rate hikes act to slow spending and encourage saving. This motivates companies to increase prices at a slower rate, or lower prices, to stimulate demand.
Rising Interest Rates and Inflation
With inflation rates hitting multi-decade highs in some countries, many central banks have announced interest rate hikes. Below, we show how the inflation rate and policy interest rate have changed for select countries and regions since January 2022. The jurisdictions are ordered from highest to lowest current inflation rate.
| Jurisdiction | Jan 2022 Inflation | May 2022 Inflation | Jan 2022 Policy Rate | Jun 2022 Policy Rate |
| --- | --- | --- | --- | --- |
| UK | 5.50% | 9.10% | 0.25% | 1.25% |
| U.S. | 7.50% | 8.60% | 0.00%-0.25% | 1.50%-1.75% |
| Euro Area | 5.10% | 8.10% | 0.00% | 0.00% |
| Canada | 5.10% | 7.70% | 0.25% | 1.50% |
| Sweden | 3.90% | 7.20% | 0.00% | 0.25% |
| New Zealand | 5.90% | 6.90% | 0.75% | 2.00% |
| Norway | 3.20% | 5.70% | 0.50% | 1.25% |
| Australia | 3.50% | 5.10% | 0.10% | 0.85% |
| Switzerland | 1.60% | 2.90% | -0.75% | -0.25% |
| Japan | 0.50% | 2.50% | -0.10% | -0.10% |
The Euro area has 3 policy rates; the data above represents the main refinancing operations rate. Inflation data is as of May 2022 except for New Zealand and Australia, where the latest quarterly data is as of March 2022.
The U.S. Federal Reserve has been the most aggressive with its interest rate hikes. It has raised its policy rate by 1.5% since January, with half of that increase occurring at the June 2022 meeting. Jerome Powell, the Federal Reserve chair, said the committee would like to "do a little more front-end loading" to bring policy rates to normal levels. The action comes as the U.S. faces its highest inflation rate in 40 years.
On the other hand, the European Union is experiencing inflation of 8.1% but has not yet raised its policy rate. The European Central Bank has, however, provided clear forward guidance. It intends to raise rates by 0.25% in July, by a possibly larger increment in September, and with gradual but sustained increases thereafter. Clear forward guidance is intended to help people make spending and investment decisions, and avoid surprises that could disrupt markets.
Pacing Interest Rate Hikes
Raising interest rates is a fine balancing act. If central banks raise rates too quickly, it's like slamming the brakes on that car speeding downhill: the economy could come to a standstill. This occurred in the U.S. in the 1980's when the Federal Reserve, led by Chair Paul Volcker, raised the policy rate to 20%. The economy went into a recession, though the aggressive monetary policy did eventually tame double digit inflation.
However, if rates are raised too slowly, inflation could gather enough momentum that it becomes difficult to stop. The longer high price increases linger, the more future inflation expectations build. This can result in people buying more in anticipation of prices rising further, perpetuating high demand.
"There's always a risk of going too far or not going far enough, and it's going to be a very difficult judgment to make." — Jerome Powell, U.S. Federal Reserve Chair
It's worth noting that while central banks can influence demand through policy rates, this is only one side of the equation. Inflation is also being caused by supply chain issues, a problem that is more or less outside of the control of central banks.
Mapping the Migration of the World's Millionaires
This graphic maps out the migration of millionaires across the globe, showing the top 10 countries the ultra-rich are moving to and from.
Mapping the Migration of the World's Millionaires
Throughout 2022, a projected 88,000 millionaires will move to a new country, according to the latest Henley Global Citizens Report.
Which countries are these millionaires moving to, and where in the world are they coming from?
This graphic maps the migration of high net worth individuals (HNWIs)—people with a net worth of over US$1 million—showing where rich people are flocking, and where they're fleeing.
Migration of Millionaires is Back
Before diving into the country-specific data, it's worth taking a step back to look at overall millionaire migration trends, and how things are changing this year.
2020 saw a drastic drop in the number of millionaire migrants, as pandemic-induced lockdowns kept people from leaving their home countries—and at times, their homes in general.
But as restrictions ease and countries begin to open up their borders again, the migration of millionaires is beginning to gather steam once again:
| Year | # of HNWIs that migrated | Y-o-y change |
| --- | --- | --- |
| 2018 | 108,000 | 14% |
| 2019 | 110,000 | 2% |
| 2020 | 12,000 | -89% |
| 2021 | 25,000 | 108% |
| 2022P | 88,000 | 252% |
| 2023P | 125,000 | 42% |
Below, we'll dive into which countries are seeing the highest number of HNWI migrants, and which ones are losing the most HNWIs.
Which Countries Are Millionaires Leaving?
There are a plethora of reasons why the ultra-rich move countries. Escaping conflict is one of them, which is why it's no surprise to see Russia and Ukraine are projected to see some of the biggest emigration numbers by the end of 2022.
Here are the top 10 countries by millionaire outflows:
| Country | Projected net outflows of HNWIs (2022) | % of HNWIs lost |
| --- | --- | --- |
| 🇷🇺​ Russia | 15,000 | 15% |
| 🇨🇳​ China | 10,000 | 1% |
| 🇮🇳​ India | 8,000 | 2% |
| 🇭🇰 Hong Kong | 3,000 | 2% |
| ​🇺🇦 Ukraine | 2,800 | 42% |
| ​🇧🇷​ Brazil | 2,500 | 2% |
| 🇬🇧​ UK | 1,500 | 0% |
| 🇲🇽​ Mexico | 800 | 0% |
| 🇸🇦 Saudi Arabia | 600 | 1% |
| 🇮🇩 Indonesia | 600 | 1% |
Figures rounded to the nearest 100.
While Russia is expected to see 15,000 millionaires leaving the country, Ukraine is projected to experience the highest loss in percentage terms—a whopping 42% of its HNWIs could leave the country by the end of 2022.
China could also see a big loss in its millionaire population, with a projected loss of 10,000.
According to Andrew Amoils, Head of Research at New World Wealth, this could be more damaging to the country than in previous years, since general wealth growth in China has declined recently.
Where Are The Ultra-Rich Moving?
The United Arab Emirates (UAE) has become a millionaire magnet, with a projected 4,000 HNWIs flowing into the country by the end of 2022. This influx of ultra-wealthy people is partly because of the country's accommodating immigration policies that are specially tailored to attract private wealth and international talent.
Here are the top 10 countries that saw millionaire inflows:
| Country | Projected net inflows of HNWIs (2022) | % of HNWI Gained |
| --- | --- | --- |
| ​​🇦🇪​ UAE | 4,000 | 4% |
| 🇦🇺​ Australia | 3,500 | 1% |
| 🇸🇬 Singapore | 2,800 | 1% |
| ​🇮🇱 Israel | 2,500 | 2% |
| ​​🇺🇸 USA | 1,500 | 0% |
| ​🇵🇹​ Portugal | 1,300 | 2% |
| 🇬🇷​ Greece | 1,200 | 3% |
| 🇨🇦​ Canada | 1,000 | 0% |
| 🇳🇿​ New Zealand | 800 | 1% |
Australia continues to attract HNWIs, coming in second behind the UAE. According to New World Wealth, approximately 80,000 millionaires have moved to the Land Down Under in the last two decades.
A few things that attract migrants to Australia are the country's low costs of healthcare, its lack of inheritance tax, and its generally prosperous economy.
Where does this data come from?
Source: Henley Global Citizens Report 2022
Data notes: As countries reopen, and the invasion of Ukraine wears on, this will have ripple effects on where people choose to live. There are two main things to keep in mind when view the information above. 1) Individuals need to remain in a country for six months in order to be updated in the database. In many cases, it's not yet clear where people leaving certain countries choosing to relocate. 2) In the graphic above, we've visualized the top 10 countries for inflows and outflows.
Update: This article and graphic have been updated to more clearly explain what's being shown, and list the data source in a more prominent way. We appreciate your feedback.