Charted: Commodities vs Equity Valuations (1970–2023)

Subscribe to the Elements free mailing list for more like this
Charted: Commodities vs Equity Valuations (1970–2023)
This was originally posted on Elements. Sign up to the free mailing list to get beautiful visualizations on natural resource megatrends in your email every week.
In recent years, commodity prices have reached a 50-year low relative to overall equity markets (S&P 500). Historically, lows in the ratio of commodities to equities have corresponded with the beginning of new commodity supercycles.
The infographic above uses data from Incrementum AG and Crescat Capital LLC to show the relationship between commodities and U.S. equities over the last five decades.
What is a Commodity Supercycle?
A commodity supercycle occurs when prices of commodities rise above their long-term averages for long periods of time, even decades. Once the supply has adequately grown to meet demand, the cycle enters a downswing.
The last commodity supercycle started in 1996 and peaked in 2011, driven by raw material demand from rapid industrialization taking place in Brazil, India, Russia, and China.
| Supercycles in Commodity Prices | 1899-1932 | 1933-1961 | 1962-1995 | 1996-2016 |
| --- | --- | --- | --- | --- |
| Peak year | 1904 | 1947 | 1978 | 2011 |
| Peak of supercycle from long-term trend (%) | 10.2 | 14.1 | 19.5 | 33.5 |
| Trough of supercycle from long-term trend (%) | -12.9 | -10 | -38.1 | 23.7 |
| Length of cycle from trough-to-trough (years) | 33 | 29 | 34 | 20 |
| Upswing (years) | 5 | 15 | 17 | 16 |
| Downswing (years) | 28 | 14 | 17 | 4 |
Source: Bank of Canada, IHS
While no two supercycles look the same, they all have three indicators in common: a surge in supply, a surge in demand, and a surge in price.
In general, commodity prices and equity valuations tend to have a low to negative correlation, making it rare to see the two moving in tandem in the same direction for any long period of time.
Commodity Prices and Equity Valuations
In line with the above notion, commodity prices and equity valuations have often been at odds with one another in past market cycles.
During the 1970s and early 1980s, for example, rising oil prices led to a significant decline in stock prices as higher energy costs hurt corporate profits. In contrast, during the first half of the 2000s, low oil prices were accompanied by a strong equity bull market that ended with the 2008 stock market crash.
The relationship, however, is not always straightforward and can be affected by various other factors, such as global economic growth, supply and demand, inflation, and other market events.
With the most recent commodity supercycle peaking in 2011, could the next big one be right around the corner?
Top U.S. Food Imports by Origin Country
This infographic shows the top exporting countries for U.S. food imports, ranging from exotic fruits to meat, oils, spices, and more.

Creator Program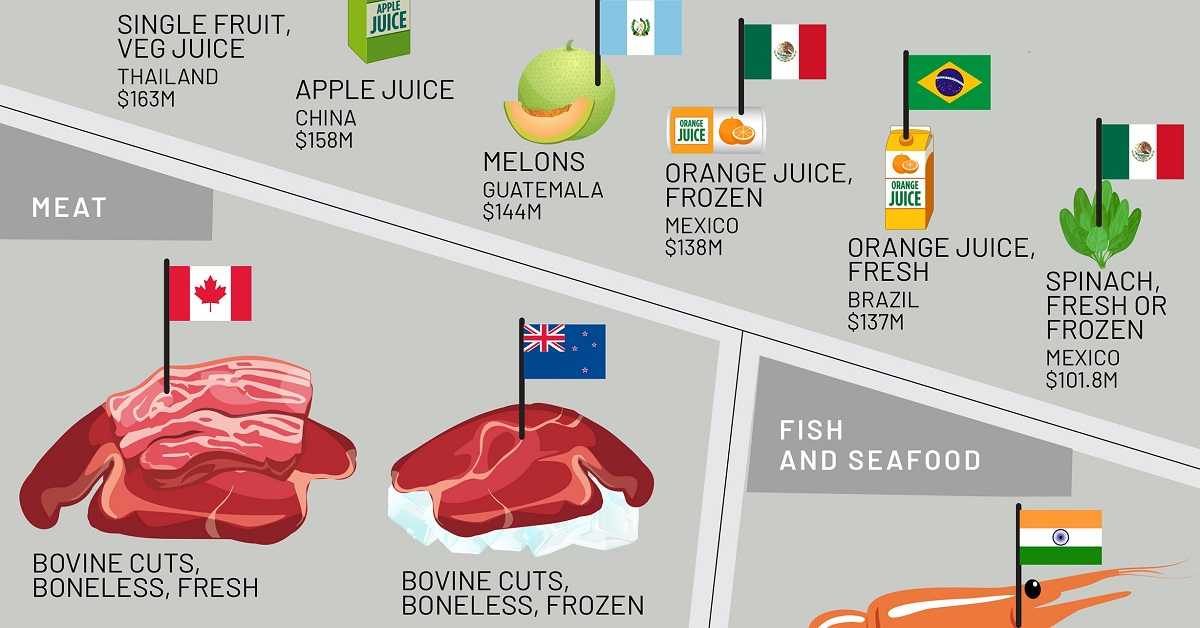 Top U.S. Food Imports by Origin Country
The U.S. is a major producer and exporter of food products, but did you know that it's also one of the world's largest food importers?
Due to seasonality and climate, some foods can't be grown on home soil, at least enough to fulfill consumption demands. Indeed, many familiar grocery items come from other countries.
This infographic from Julie Peasley uses data from the Chatham House Resource Trade Database (CHRTD) to show where the U.S. gets its food from, highlighting the top exporting countries of various imported food items.
The Types of Imported Foods
The U.S. imported around $148 billion worth of agricultural products in 2020, and according to the USDA, this has since risen to $194 billion in 2022.
Around 50% of all U.S. agricultural imports are horticultural products like fruits, vegetables, tree nuts, and more. Other large import categories include sugar and tropical products, meat, grains, and oilseeds.
With that context in mind, we break down each category and highlight the five foods with the largest single-origin import value.
Farm Fresh: Fruit and Vegetable Imports
U.S. fruit and vegetable imports have been on a steady rise since 2000. In fact, between 2011 and 2021, fruits and nuts imports made up 44% of domestic consumption, while 35% of vegetables consumed in the U.S. came from outside the country.
Mexico is by far the largest exporter of fruits and vegetables to the United States.
| Fruit or Vegetable | Largest Exporting Country | U.S. Import Value (2020) |
| --- | --- | --- |
| Tomatoes | 🇲🇽 Mexico | $2.5B |
| Avocados | 🇲🇽 Mexico | $2.1B |
| Peppers | 🇲🇽 Mexico | $1.4B |
| Bananas | 🇬🇹 Guatemala | $1.0B |
| Strawberries | 🇲🇽 Mexico | $897M |
The U.S. imported $2.5 billion worth of tomatoes from Mexico in 2020, representing 31% of international tomato trade. Avocados, native to central Mexico, were nearly as popular with $2.1 billion worth of imports.
Generally, the largest exporters of fruits and vegetables to the U.S. are North and South American countries, with products often coming from Guatemala, Chile, Peru, Costa Rica, and Brazil.
Beefed Up: Meat Imports
The U.S. is the world's largest overall consumer of beef (or bovine meat), and the third-largest per capita consumer at nearly 37.9 kg (84 lbs) per person per year.
Therefore, despite being one of the top producers of beef, the country still imports a lot of it.
| Meat | Largest Exporting Country | U.S. Import Value (2020) |
| --- | --- | --- |
| Bovine Cuts | 🇨🇦 Canada | $1.4B |
| Bovine Cuts, Frozen | 🇳🇿 New Zealand | $839M |
| Sheep Meat | 🇦🇺 Australia | $643M |
| Swine Hams, Shoulders, and Cuts | 🇨🇦 Canada | $559M |
| Bovine Cuts, Bone In | 🇲🇽 Mexico | $449M |
Precisely, The U.S. imported $8.7 billion worth of meat in 2020. Canada was the largest source of imported beef, with the U.S. accounting for more than 70% of all Canadian beef exports.
The sources of meat imports are more geographically diverse than fruits and vegetables, with billions of dollars of imports coming from New Zealand and Australia.
Making Waves: Seafood Imports
Despite plenty of coastlines, the U.S. imports 70–85% of all its seafood and accounted for 15% of global seafood imports in 2020 at $21.8 billion.
Frozen shrimp and prawns were the top seafood import, with $1.9 billion worth from India.
| Fish and Seafood | Largest Exporting Country | U.S. Import Value (2020) |
| --- | --- | --- |
| Shrimp and Prawns, Frozen | 🇮🇳 India | $1.9B |
| Fish Fillet or Meat | 🇨🇱 Chile | $1.4B |
| Fish Fillet or Meat, Frozen | 🇨🇳 China | $884M |
| Lobsters | 🇨🇦 Canada | $764M |
| Crabs, Frozen | 🇨🇦 Canada | $719M |
The largest source of U.S. seafood imports overall with $3.1 billion total was Canada, which leads in lobster, crab, and whole fish imports. It was followed by Chile at $2.1 billion, primarily for parts of fish (fillet or meat, fresh or chilled).
Other Foods: Oils, Grains, Coffee, and More
There are plenty of other types of foods and agricultural products that the U.S. relies on other countries for. Here are the largest single-origin U.S. food imports for the remaining categories:
| Food | Category | Largest Exporting Country | U.S. Import Value (2020) |
| --- | --- | --- | --- |
| Canola Oil, Refined | Oils | 🇨🇦 Canada | $1.4B |
| Coffee, Not Roasted | Stimulants/Spices | 🇨🇴 Colombia | $1.0B |
| Cashews, Shelled | Nuts/Seeds/Beans | 🇻🇳 Vietnam | $960M |
| Raw Sugar, Refined | Sweetners | 🇲🇽 Mexico | $723M |
| Rice | Cereals | 🇹🇭 Thailand | $713M |
| Cheese | Dairy | 🇮🇹 Italy | $310M |
Some of the highest and potentially surprising exports? Imports of refined Canadian canola oil totaled $1.4 billion in 2020, while Vietnam exported a whopping $960 million worth of cashews to America.
A Global Plate: The Diversity of U.S. Food Imports
The amount and value of food imported to the U.S. highlights the diversity of consumer preferences and the importance of global food stocks, considering America is one of the world's leading food producers.
With countries having to rely on others to satisfy demand for limited production supply or exotic foods, the interconnectedness of the global food system is both vital and delicate.
What's clear is that the U.S. food plate is indeed a global one, with many foods taking remarkable journeys from farm to fork.