The Numbers Behind America's Opioid Epidemic
The Numbers Behind America's Opioid Epidemic
Drug overdoses are the leading cause of death for Americans under the age of 50, who are now more likely to die from a drug overdose than from car accidents or firearms. The United States has the dubious distinction of having the highest percentage of drug-related deaths in the world.
While opioid abuse is a nationwide problem, there are specific areas that are being hit harder by this epidemic. Using the location data above, from NORC at the University of Chicago, we can see clusters of counties that have an extremely high rate of overdose deaths. Between 2012 and 2016, West Virginia, Kentucky, and Ohio saw a combined 18,000 deaths related to opioid abuse.
A sharp increase in prescribed opioid-based painkillers and the rise of illegal fentanyl – which is up to 50 times stronger than heroin – has unleashed the worst public health crisis in American history.
It's a problem that can be tough to understand, but by delving into the data, some key observations emerge.
Doctors Prescribed a lot of Pain Killers
Beginning in the 1980s, prescription opioids like oxycodone and hydrocodone were heavily marketed as a treatment for pain, and at the time, the risk of addiction to these substances was downplayed. Opioid prescriptions nearly tripled between 1991 and 2011.
Sales of these powerful painkillers are beginning to drop, in part because the risk of addiction has now been widely publicized. Another decelerating factor is the crackdown on clinics and pharmacies that were over-dispensing painkillers, in some cases directly feeding the elicit drug market.
In 2015, nearly 100 million Americans were prescribed painkillers by their doctor. A recent survey showed one-third of people who abused prescription painkillers in the past year got pills directly from a physician.
This abundance of pills impacts the community at large when excess pills are sold, stolen, or simply given to others. In fact, receiving painkillers from a friend or family member was the most common gateway to abusing opioids.
Fentanyl is Killing a lot of People
If doctors have been prescribing opioids for decades, what is causing this recent spike in overdoses? The answer, for the most part, is fentanyl.
This synthetic opioid presents a problem because it's extremely potent – it only takes about 2 milligrams to overdose on the drug. Since much of the fentanyl on the market is sourced illegally, doses can and do exceed this amount on a regular basis.
As a result, overdose deaths related to opioids have skyrocketed in recent years:
Overdoses are the tip of the Iceberg
The thousands of overdose deaths around the country are the most extreme symptom of the opioid epidemic, but the problem runs much deeper.
In 2017, there were over 11 million "opioid misusers" in the United States. To put that number in perspective, that's equivalent to the entire population of Ohio. In fact, the problem is so widespread, that it's suspected to be influencing workforce participation rates.
The health care burden of the crisis is also staggering. The cost of opioid abuse ranges from $10,000 to $20,000 in annual medical costs per patient.
The hard truth is that, unless bold action is taken, the opioid epidemic is projected to claim nearly 500,000 lives over the next decade.

World Beer Index 2021: What's the Beer Price in Your Country?
The global desire for beer prevails even in a pandemic. These maps compare the average beer price in 58 countries—just how much do we drink?
What's the Beer Price in Your Country?
View the high resolution of this infographic by clicking here.
Although fewer people have been able to grab a beer at the pub during this pandemic, the global desire for beer prevails. For example, sales of the Corona beer actually shot up in the past year, despite—or perhaps because of—associations with the coronavirus.
This World Beer Index from Expensivity compares the average price of a bottle of beer in 58 countries in a detailed map. Additionally, we show which countries spend the most on beer per capita, and just how much beer people really drink.
Pricey Pints: The Average Beer Price
Researchers calculated the average price of a typical bottle of beer (330ml, just shy of a pint) from well known brands via online stores and statistics database Numbeo. In addition, local beer prices were pulled from hotel and bar menus, and average values converted to USD.
In Qatar, you'd have to shell out $11.26 for a single beer, which would surely make for a really expensive night out on the town. In part, this is because in 2019, the Muslim-majority country introduced a 100% excise tax on top the previous sales price of all alcohol imports.
These steep prices are aimed at tourists—and with Qatar hosting the 2022 men's soccer World Cup, there'll be thousands of visitors in the country looking for a cold one at any price.
| Rank | Country | Capital City | Average Price of a Beer |
| --- | --- | --- | --- |
| 1 | South Africa | Pretoria, Bloemfontein, Cape Town | $1.68 |
| 2 | Ukraine | Kyiv | $1.76 |
| 3 | Argentina | Buenos Aires | $1.79 |
| 4 | Bosnia And Herzegovina | Sarajevo | $1.96 |
| 5 | Ghana | Accra | $2.05 |
| 6 | Tunisia | Tunis | $2.09 |
| 7 | Georgia | Tbilisi | $2.30 |
| 8 | North Macedonia | Skopje | $2.34 |
| 9 | Chile | Santiago | $2.40 |
| 10 | Czech Republic (Czechia) | Prague | $2.49 |
| 11 | Rwanda | Kigali | $2.52 |
| 12 | Brazil | Brasilia | $2.52 |
| 13 | Haiti | Port Au Prince | $2.66 |
| 14 | Colombia | Bogota | $2.72 |
| 15 | Spain | Madrid | $2.74 |
| 16 | Panama | Panama City | $2.74 |
| 17 | Sri Lanka | Colombo | $2.77 |
| 18 | Hungary | Budapest | $2.84 |
| 19 | Armenia | Yerevan | $2.96 |
| 20 | Indonesia | Jakarta | $3.17 |
| 21 | Azerbaijan | Baku | $3.18 |
| 22 | Guyana | Georgetown | $3.39 |
| 23 | Bolivia | Santa Cruz | $3.42 |
| 24 | Kazakhstan | Nur-Sultan | $3.44 |
| 25 | Belgium | Brussels | $3.47 |
| 26 | Turkey | Istanbul | $3.61 |
| 27 | Malta | Valletta | $3.65 |
| 28 | Belarus | Minsk | $3.72 |
| 29 | Egypt | Cairo | $3.80 |
| 30 | India | New Delhi | $3.90 |
| 31 | Canada | Ottawa | $3.96 |
| 32 | Austria | Vienna | $3.99 |
| 33 | Wales | Cardiff | $4.06 |
| 34 | Nepal | Kathmandu | $4.13 |
| 35 | Scotland | Edinburgh | $4.18 |
| 36 | Greece | Athens | $4.25 |
| 37 | Philippines | Manila | $4.25 |
| 38 | Poland | Warsaw | $4.37 |
| 39 | Mexico | Mexcio City | $4.46 |
| 40 | Lithuania | Vilnius | $4.55 |
| 41 | South Korea | Seoul | $4.56 |
| 42 | Netherlands | Amsterdam | $4.60 |
| 43 | Germany | Berlin | $4.64 |
| 44 | Malaysia | Kuala Lumpur | $4.74 |
| 45 | United States | Washington D.C. | $4.75 |
| 46 | Thailand | Bangkok | $4.82 |
| 47 | Portugal | Lisbon | $5.06 |
| 48 | Russia | Moscow | $5.08 |
| 49 | Singapore | Singapore | $5.17 |
| 50 | Denmark | Copenhagen | $5.20 |
| 51 | Italy | Rome | $5.83 |
| 52 | England | London | $5.97 |
| 53 | Japan | Tokyo | $6.16 |
| 54 | Switzerland | Bern | $6.23 |
| 55 | France | Paris | $6.39 |
| 56 | China | Beijing | $7.71 |
| 57 | Jordan | Amman | $9.40 |
| 58 | Qatar | Doha | $11.26 |
At just $1.68 per bottle, South Africa has the lowest average beer price thanks at least partially to cultural norms of buying in bulk.
Cashing In: The Per Capita Spend on Beer
The price of a single beer is one thing, but which countries spend the most on beer itself? Germany unsurprisingly tops the list here with nearly $2,000 of expenditures per capita, bolstered by its strong beer culture and annual Oktoberfest celebration.
Germany also prides itself on the purity of its beer—the vast majority of brewers follow the Reinheitsgebot, centuries-old purity laws that broadly state that beer may contain only three ingredients: water, barley, and hops.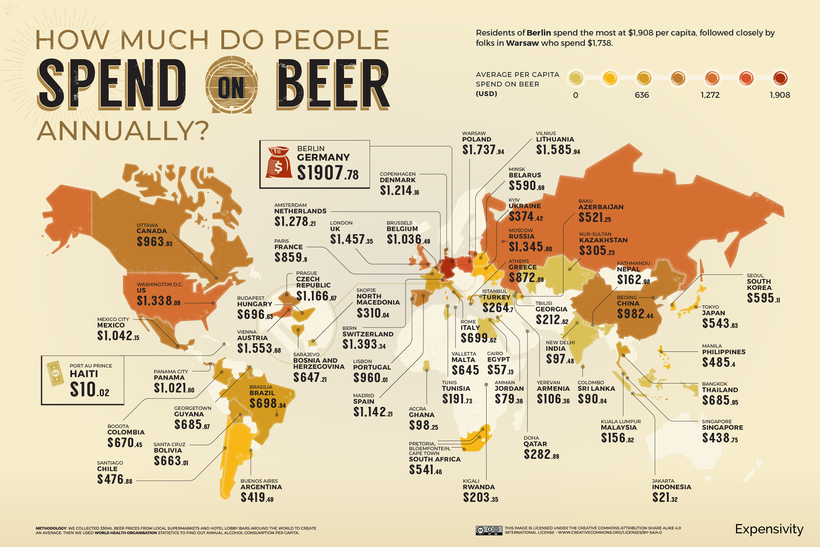 View the high resolution of this infographic by clicking here.
Following closely behind is Poland, which spends $1,738 per capita. Meanwhile, the U.S. ranks eighth in the world for the highest spending on beer per capita at $1,554—beer is also the country's most popular alcoholic beverage.
Getting Boozy: How Much Beer Do People Drink?
Using data from the World Health Organization, the visualization below also digs into how much beer is consumed around the world per capita.
The Czech Republic emerges on top in this regard, with 468 beers on average in a year—that works out to 1.3 beers per day. Spain and Germany are next with 417 and 411 beers, respectively.

View the high resolution of this infographic by clicking here.
On the flip side, people in Haiti only drink about four beers yearly. This may be because they prefer something a little stronger—97% of alcohol consumption in the nation comes from spirits such as rum.
Beer has been around for over 7,000 years. No matter the beer price in your country, it's worth raising a glass to the timelessness of this humble beverage.

How Global Health and Wealth Has Changed Over Two Centuries
This unique animated visualization uses health and wealth measurements to chart the evolution of countries over time.
How Global Health and Wealth Has Changed Over 221 Years
At the dawn of the 19th century, global life expectancy was only 28.5 years.
Outbreaks, war, and famine would still kill millions of people at regular intervals. These issues are still stubbornly present in 21st century society, but broadly speaking, the situation around the world has vastly improved. Today, most of humanity lives in countries where the life expectancy is above the typical retirement age of 65.
At the same time, while inequality remains a hot button topic within countries, income disparity between countries is slowing beginning to narrow.
This animated visualization, created by James Eagle, tracks the evolution of health and wealth factors in countries around the world. For further exploration, Gapminder also has a fantastic interactive chart that showcases the same dataset.
The Journey to the Upper-Right Quadrant
In general terms, history has seen health practices improve and countries become increasingly wealthy–trends that are reflected in this visualization. In fact, most countries drift towards the upper-right quadrant over the 221 years covered in the dataset.
However, that path to the top-right, which indicates high levels of both life expectancy and GDP per capita, is rarely a linear journey. Here are some of the noteworthy events and milestones to watch out for while viewing the animation.
1880s: Breaking the 50-Year Barrier
In the late 19th century, Nordic countries such as Sweden and Norway already found themselves past the 50-year life expectancy mark. This was a significant milestone considering the global life expectancy was a full 20 years shorter at the time. It wasn't until the year 1960 that the global life expectancy would catch up.
1918: The Spanish Flu and WWI
At times, a confluence of factors can impact health and wealth in countries and regions. In this case, World War I coincided with one of the deadliest pandemics in history, leading to global implications. In the animation, this is abundantly clear as the entire cluster of circles takes a nose dive for a short period of time.
1933, 1960: Communist Famines
At various points in history, human decisions can have catastrophic consequences. This was the case in the Soviet Union (1933) and the People's Republic of China (1960), where life expectancy plummeted during famines that killed millions of people. These extreme events are easy to spot in the animation due to the large populations of the countries in question.
1960s: Oil Economies Kick into High Gear
During this time, Iran, Iraq, and Saudi Arabia all experience massive booms in wealth, and in the following decade, smaller countries such as the United Arab Emirates and Kuwait rocket to the right edge of the visualization.
In following decades, both Iran and Iraq can be seen experiencing wild fluctuations in both health and wealth as regime changes and conflict begin to destabilize the region.
1990s: AIDS in Africa
In the animation, a number of countries plummet in unison at the end of the 20th century. These are sub-Saharan African countries that were hit hard by the AIDS pandemic. At its peak in the early '00s, the disease accounted for more than half of deaths in some countries.
1995: Breaking the 65-Year Barrier
Global life expectancy reaches retirement age. At this point in time, there is a clear divide in both health and wealth between African and South Asian countries and the rest of the world. Thankfully, that gap is would continue to narrow in coming years.
1990-2000s: China's Economic Rise
With a population well over a billion people, it's impossible to ignore China in any global overview. Starting from the early '90s, China begins its march from the left to right side of the chart, highlighting the unprecedented economic growth it experienced during that time.
What the Future Holds
If current trends continue, global life expectancy is expected to surpass the 80-year mark by 2100. And, sub-Saharan Africa, which has the lowest life expectancy today, is expected to mostly close the gap, reaching 75 years of age.
Wealth is also expected to increase nearly across the board, with the biggest gains coming from places like Vietnam, Nigeria, and the Philippines. Some experts are projecting the world economy as a whole to double in size by 2050.
There are always bumps along the way, but it appears that the journey to the upper-right quadrant is still very much underway.