6 Ways Hydrogen and Fuel Cells Can Help Transition to Clean Energy
While fossil fuels offer an easily transportable, affordable, and energy-dense fuel for everyday use, the burning of this fuel creates pollutants, which can concentrate in city centers degrading the quality of air and life for residents.
The world is looking for alternative ways to ensure the mobility of people and goods with different power sources, and electric vehicles have high potential to fill this need.
But did you know that not all electric vehicles produce their electricity in the same way?
Hydrogen: An Alternative Vision for the EV
The world obsesses over battery technology and manufacturers such as Tesla, but there is an alternative fuel that powers rocket ships and is road-ready. Hydrogen is set to become an important fuel in the clean energy mix of the future.
Today's infographic comes from the Canadian Hydrogen and Fuel Cell Association (CHFCA) and it outlines the case for hydrogen.
Hydrogen Supply and Demand
Some scientists have made the argument that it was not hydrogen that caused the infamous Hindenburg to burst into flames. Instead, the powdered aluminum coating of the zeppelin, which provided its silver look, was the culprit. Essentially, the chemical compound coating the dirigibles was a crude form of rocket fuel.
Industry and business have safely used, stored, and transported hydrogen for 50 years, while hydrogen-powered electric vehicles have a proven safety record with over 10 million miles of operation. In fact, hydrogen has several properties that make it safer than fossil fuels:
14 times lighter than air and disperses quickly
Flames have low radiant heat
Less combustible
Non-toxic
Since hydrogen is the most abundant chemical element in the universe, it can be produced almost anywhere with a variety of methods, including from fuels such as natural gas, oil, or coal, and through electrolysis. Fossil fuels can be treated with extreme temperatures to break their hydrocarbon bonds, releasing hydrogen as a byproduct. The latter method uses electricity to split water into hydrogen and oxygen.
Both methods produce hydrogen for storage, and later consumption in an electric fuel cell.
Fuel Cell or Battery?
Battery and hydrogen-powered vehicles have the same goal: to reduce the environmental impact from oil consumption. There are two ways to measure the environmental impact of vehicles, from "Well to Wheels" and from "Cradle to Grave".
Well to wheels refers to the total emissions from the production of fuel to its use in everyday life. Meanwhile, cradle to grave includes the vehicle's production, operation, and eventual destruction.
According to one study, both of these measurements show that hydrogen-powered fuel cells significantly reduce greenhouse gas emissions and air pollutants. For every kilometer a hydrogen-powered vehicle drives it produces only 2.7 grams per kilometer (g/km) of carbon dioxide while a battery electric vehicle produces 20 g/km.
During everyday use, both options offer zero emissions, high efficiency, an electric drive, and low noise, but hydrogen offers weight-saving advantages that battery-powered vehicles do not.
In one comparison, Toyota's Mirai had a maximum driving range of 312 miles, 41% further than Tesla's Model 3 220-mile range. The Mirai can refuel in minutes, while the Model 3 has to recharge in 8.5 hours for only a 45% charge at a specially configured quick charge station not widely available.
However, the world still lacks the significant infrastructure to make this hydrogen-fueled future possible.
Hydrogen Infrastructure
Large scale production delivers economic amounts of hydrogen. In order to achieve this scale, an extensive infrastructure of pipelines and fueling stations are required. However to build this, the world needs global coordination and action.
Countries around the world are laying the foundations for a hydrogen future. In 2017, CEOs from around the word formed the Hydrogen Council with the mission to accelerate the investment in hydrogen.
Globally, countries have announced plans to build 2,800 hydrogen refueling stations by 2025. German pipeline operators presented a plan to create a 1,200-kilometer grid by 2030 to transport hydrogen across the country, which would be the world's largest in planning.
Fuel cell technology is road-ready with hydrogen infrastructure rapidly catching up. Hydrogen can deliver the power for a new clear energy era.
Ranked: The World's Top Cobalt Producing Countries
Cobalt, an essential component for certain types of EV batteries, has seen a significant shift in its global production landscape.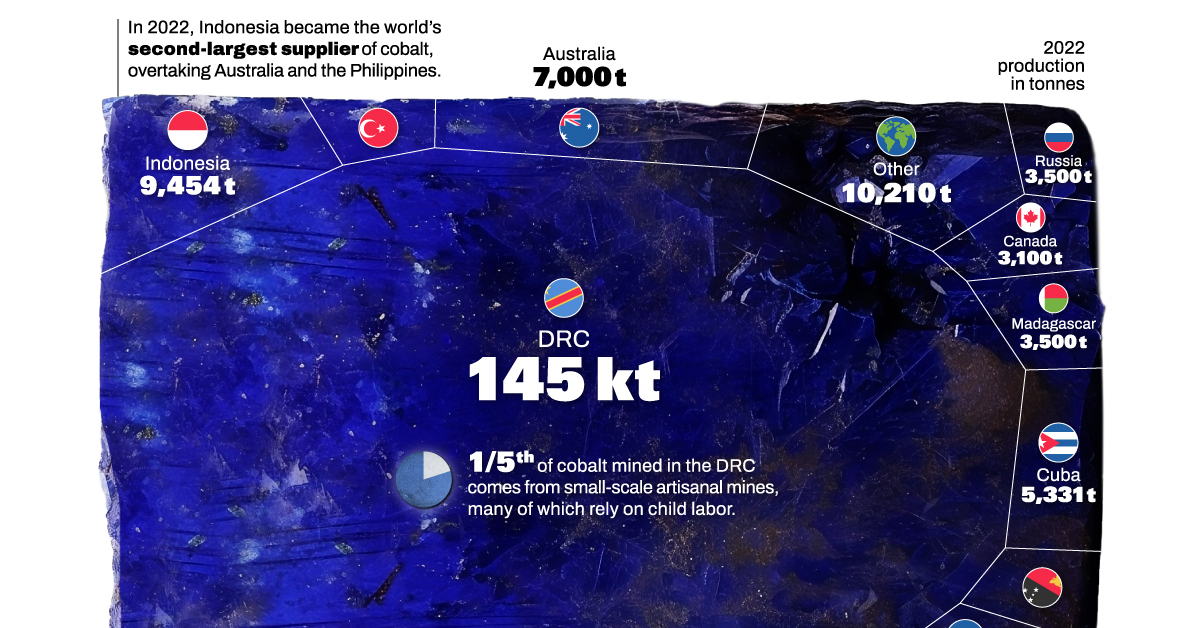 Ranked: The World's Top Cobalt Producing Countries
This was originally posted on Elements. Sign up to the free mailing list to get beautiful visualizations on real assets and resource megatrends each week.
Cobalt, an essential component of key chemistries of the rechargeable lithium-ion batteries used in EVs, has seen a significant shift in its global production landscape.
The Democratic Republic of Congo (DRC) has long been the world's largest cobalt producer, accounting for 73% of global output in 2022.
However, according to the Cobalt Institute, the DRC's dominance is projected to decrease to 57% by 2030 as Indonesia ramps up its cobalt production as a byproduct from its rapidly expanding nickel industry.
Indonesia Became Second Largest Cobalt Producer in 2022
Indonesia accounts for nearly 5% of global cobalt production today, surpassing established producers like Australia and the Philippines.
In 2022, Indonesia's cobalt production surged to almost 9,500 tonnes from 2,700 tonnes in 2021, with the potential to increase production by tenfold by 2030.

| Country | 2022 Production (tonnes) | % of Total Production |
| --- | --- | --- |
| 🇨🇩 DRC | 144,936 | 73.3% |
| 🇮🇩 Indonesia | 9,454 | 4.8% |
| 🇦🇺 Australia | 7,000 | 3.5% |
| 🇵🇭 Philippines | 5,400 | 2.7% |
| 🇨🇺 Cuba | 5,331 | 2.7% |
| 🇷🇺 Russia | 3,500 | 1.8% |
| 🇲🇬 Madagascar | 3,500 | 1.8% |
| 🇨🇦 Canada | 3,100 | 1.6% |
| 🇵🇬 Papua New Guinea | 3,060 | 1.5% |
| 🇹🇷 Türkiye | 2,300 | 1.2% |
| 🌐 Other | 10,210 | 5.2% |
| Total | 197,791 | 100.0% |
Percentages may not add to 100 due to rounding.
In total, global cobalt production reached 197,791 tonnes, with the DRC contributing just under 145,000 tonnes of that mix.
The EV industry is the largest consumer of cobalt, accounting for approximately 40% of total demand. The exponential growth of the EV sector is expected to drive a doubling of global cobalt demand by 2030.
While the shift in cobalt production is notable, it is not without challenges. Plummeting cobalt prices, which fell almost 30% this year to $13.90 a pound, have severely impacted the DRC.
Furthermore, the longer-term prospects of cobalt could face hurdles due to efforts to reduce its use in batteries, partly driven by human rights concerns associated with artisanal cobalt mining in the DRC and related child labor and human rights abuses.
In a 2021 ruling by a federal court in Washington, Google parent Alphabet, Apple, Dell, Microsoft, and Tesla were relieved from a class action suit claiming their responsibility for alleged child labor in Congolese cobalt mines.
The Future of Cobalt
Despite ongoing efforts to substitute cobalt in battery applications, cobalt is expected to remain a vital raw material for the entire battery supply chain in the near future.
The demand for cobalt is forecasted to more than double by 2030 to 388,000 tonnes.