Prediction Consensus: What the Experts See Coming in 2021
2021 Predictions: What Experts See in the Year Ahead
Making predictions is a tricky business at the best of times, but especially so after a year of upheaval. Even so, that didn't stop people from trying their hand at reading the crystal ball. If anything, the uncertainty creates a stronger temptation for us to try to forecast the year ahead.
Out of the thousands of public 2021 predictions and forecasts available, there are plenty of one-off guesses. However, things really get interesting when a desperate majority of experts begin to agree on what might happen. In some ways, these predictions from influential experts and firms have a way of becoming self-fulfilling prophesies, so it's worth paying attention even if we're skeptical about the assertions being made.
This year, we more than doubled the number of sources analyzed for our 2021 Predictions Consensus graphic, including outlooks from financial institutions, thought leaders, media outlets, consultancies, and more. Let's take a closer look at seven of the most popular predictions:
ESG reaches a tipping point
It seems like only recently that the term ESG gained mainstream traction in the investment community, but in a short amount of time, the trend has blossomed into a full-blown societal shift. In 2020, investors piled a record $27.7 billion of inflows into ETFs traded in U.S. markets, and that momentum only appears to be growing.
Fidelity, among others, noted that climate funds are delivering superior returns, which makes ESG an even easier sell to investors. Nasdaq has tapped ESG to be "one of the hottest trends" over the coming year.
China has a strong 2021
Financial institutions that issue predictions generally hedge their language quite a bit, but on this topic they were direct. The world's most populous country has already left the pandemic behind and is back to business as usual. Of the institutions that mentioned a specific number, the median estimate for GDP growth in China was 8.4%.
A souring outlook on SPACs
Much like any hot trend, once enough people get on the bandwagon the mood begins to sour. Many experts believe that special purpose acquisition companies (SPACs) are going to enter that phase in 2021.
SPACs had a monster year in 2020, raising $82 billion in capital. That's more funds in one year than in the last 10 years combined. Of course, now that these 200+ companies are flush with capital, they'll need to find a target. Scott Galloway argues that SPACs "are going to vastly underperform over the next two to three years" since there aren't enough good opportunities to satisfy that level of demand.
Brands must be authentic and values-driven
Over the past few years, brands have become increasingly values-driven. In their 2021 predictions, experts see this trend being pushed even further.
Millennials, which are now the largest generation in the workforce, are shaping society in their own image, and the expectation is that companies have an authentic voice and that actions align with words. This trend is augmented by the transparency that the internet and social media have enabled.
Being a "values-driven" company can mean many things, and often involves focusing on a number of initiatives simultaneously. At the forefront is racial inequality and diversity initiatives, which were a key focus in 2020. According to McKinsey, nine out of ten employees globally believe companies should engage in diversity and inclusion initiatives. When the chorus of voices grows loud enough, eventually actions must follow.
A great rethinking of office life is underway
The great work-from-home experiment will soon be approaching the one-year mark and a lot has changed in a short amount of time.
Even firms that were incredibly resistant to remote work found themselves in a position of having to adapt to new circumstances thanks to COVID-19. Now that the feasibility of at-home work has been proven, it will be tough for companies to walk things back to pre-pandemic times. Over 2021, millions of companies will begin reengineering everything from physical offices to digital infrastructure, and this has broad implications on the economy and our culture.
Individuals and employers start taking wellness seriously
The past year was not good for our collective mental health. In response, many companies are looking at ways to support employees from a health and wellness standpoint. One example is the trend of giving teams access to meditation apps like Headspace and Calm.
This focus on wellness will persist, even as people begin to return to the office. As commercial leases expire in 2021, companies will be re-evaluating their office needs, and many experts believe that wellness will factor into those decisions.
Lastly, this trend ties into the broader theme of values-driven companies. If brands profess a desire to impact society in a positive way, employees expect actions to extend inward as well.
Big Tech backlash continues
Among experts, there's little doubt that the Big Tech backlash will bleed over into 2021. There is a divergence of opinion on exactly what will happen as a result. There are three general themes:
1. Regulators will admonish and threaten Big Tech publicly, but nothing concrete will happen.
2. Facebook will be broken up into parts (Facebook, Instagram, and WhatsApp)
3. Companies will proactively change their business practices and look for ways to settle quickly
Aside from the thread of regulatory action, the tech sector is facing a bit of an identity crisis. Silicon Valley is grappling with the reality that the center of gravity is shifting. Pitchbook notes that Bay Area will fall below 20% of U.S. deal count for first time, and there have been very public departures from the valley in recent months.
Faced with pressure from a number of different angles, the technology sector may have a year of soul-searching ahead.
The Elephant in the Room
COVID-19 is the one factor that impacts nearly every one of these 2021 predictions, yet, there were few predictions–and certainly no consensus from experts–on vaccine rollouts and case counts. It's possible that the complexity of the pandemic and the enormous task of dealing with this public health crisis makes it too much of a moving target to predict in specific terms.
In general though, expert opinions on when we'll return to a more "normal" stage again range from the summer of 2021 to the start of 2022. With the exception of China, most major economies are still grappling with outbreaks and the resulting economic fallout.
It remains to be seen whether COVID-19 will dominate 2022's predictions, or whether we'll be able to look beyond the pandemic era.
The Good Stuff: Sources We Like
Of the hundreds of sources we looked at, here were a few that stood out as memorable and comprehensive:

Bloomberg's Outlook 2021: This article compiled over 500 predictions from Wall Street banks and investment firms.
Kara Swisher and Scott Galloway's Big 2021 Predictions: Swisher and Galloway combine their deep understanding of the technology ecosystem with frank (and hilarious) commentary to come up with some of the most plausible predictions of 2021. From Robinhood to Twitter, they cover a lot of ground in this interview.
Crystal Ball 2021: Fortune's annual batch of predictions is always one to watch. It's comprehensive, succinct, and hits upon a wide variety of topics.
John Battelle's Predictions 2021: John Battelle has been publishing annual predictions for nearly two decades, and this year's batch is perhaps the most eagerly anticipated. His predictions are thoughtful, credible, and specific. It's also worth noting that Battelle circles back and grades his predictions – a level of accountability that is to be praised.
Like this feature? An expanded look at 2021's predictions will be shared with our VC+ audience later this month.
How the Top Cryptocurrencies Performed in 2021
Cryptocurrencies had a breakout year in 2021, providing plenty of volatility and strong returns across crypto's various sectors.
The Returns of Top Cryptocurrencies in 2021
2021 saw the crypto markets boom and mature, with different sectors flourishing and largely outperforming the market leader, bitcoin.
While bitcoin only managed to return 59.8% last year, the crypto sector's total market cap grew by 187.5%, with many of the top coins offering four and even five-digit percentage returns.
2021 Crypto Market Roundup
Last year wasn't just a breakout year for crypto in terms of returns, but also the growing infrastructure's maturity and resulting decorrelation of individual crypto industries and coins.
Crypto's infrastructure has developed significantly, and there are now many more onramps for people to buy altcoins that don't require purchasing and using bitcoin in the process. As a result, many cryptocurrency prices were more dictated by the value and functionality of their protocol and applications rather than their correlation to bitcoin.
| Cryptocurrency | Category | 2021 Returns |
| --- | --- | --- |
| Bitcoin | Cryptocurrency | 59.8% |
| Ethereum | Smart Contract Platform | 399.2% |
| Binance Coin | Exchange Token | 1,268.9% |
| Solana | Smart Contract Platform | 11,177.8% |
| Cardano | Smart Contract Platform | 621.3% |
| XRP | Cryptocurrency | 277.8% |
| Terra | Smart Contract Platform | 12,967.3% |
| Avalanche | Smart Contract Platform | 3,334.8% |
| Polkadot | Smart Contract Platform | 187.9% |
| Dogecoin | Meme Coin | 3,546.0% |
Sources: TradingView, Binance, Uniswap, FTX, Bittrex
Bitcoin wasn't the only cryptocurrency that didn't manage to reach triple-digit returns in 2021. Litecoin and Bitcoin Cash also provided meagre double-digit percentage returns, as payment-focused cryptocurrencies were largely ignored for projects with smart contract capabilities.
Other older projects like Stellar Lumens (109%) and XRP (278%) provided triple-digit returns, with Cardano (621%) being the best performer of the old guard despite not managing to ship its smart contract functionality last year.
The Rise of the Ethereum Competitors
Ethereum greatly outpaced bitcoin in 2021, returning 399.2% as the popularity boom of NFTs and creation of DeFi 2.0 protocols like Olympus (OHM) expanded possible use-cases.
But with the rise of network activity, a 50% increase in transfers in 2021, Ethereum gas fees surged. From minimums of $20 for a single transaction, to NFT mint prices starting around $40 and going into the hundreds on congested network days, crypto's retail crowd migrated to other smart contract platforms with lower fees.
Alternative budding smart contract platforms like Solana (11,178%), Avalanche (3,335%), and Fantom (13,207%) all had 4-5 digit percentage returns, as these protocols built out their own decentralized finance ecosystems and NFT markets.
With Ethereum set to merge onto the beacon chain this year, which uses proof of stake instead of proof of work, we'll see if 2022 brings lower gas fees and retail's return to Ethereum if the merge is successful.
Dog Coins Meme their Way to the Top
While many new cryptocurrencies with strong functionality and unique use-cases were rewarded with strong returns, it was memes that powered the greatest returns in cryptocurrencies this past year.
Dogecoin's surge after Elon Musk's "adoption" saw many other dog coins follow, with SHIB benefitting the most and returning an astounding 19.85 million percent.
But ever since Dogecoin's run from $0.07 to a high of $0.74 in Q2 of last year, the original meme coin's price has slowly bled -77% down to $0.17 at the time of writing. After the roller coaster ride of last year, 2022 started with a positive catalyst for Dogecoin holders as Elon Musk announced DOGE can be used to purchase Tesla merchandise.
Gamifying the Crypto Industry
The intersection between crypto, games, and the metaverse became more than just a pipe dream in 2021. Axie Infinity was the first crypto native game to successfully establish a play to earn structure that combines its native token (AXS) and in-game NFTs, becoming a sensation and source of income for many in the Philippines.
Other crypto gaming projects like Defi Kingdoms are putting recognizable game interfaces on decentralized finance applications, with the decentralized exchange becoming the town's "marketplace" and yield farms being the "gardens" where yield is harvested. This fantasy aesthetic is more than just a new coat of paint, as the project with $1.04B of total value locked is developing an underlying play-to-earn game.
Along with gamification, 2021 saw crypto native and non-crypto developers put a big emphasis on the digital worlds or metaverses users will inhabit. Facebook's name change to Meta resulted in the two prominent metaverse projects The Sandbox (SAND) and Decentraland (MANA) surge another few hundred percent to finish off the year at 16,261% and 4,104% returns respectively.
With so many eyes on the crypto sector after the 2021's breakout year, we'll see how developing U.S. regulation and changing macro conditions affect cryptocurrencies in 2022.
The Periodic Table of Commodity Returns (2012-2021)
Energy fuels led the way as commodity prices surged in 2021, with only precious metals providing negative returns.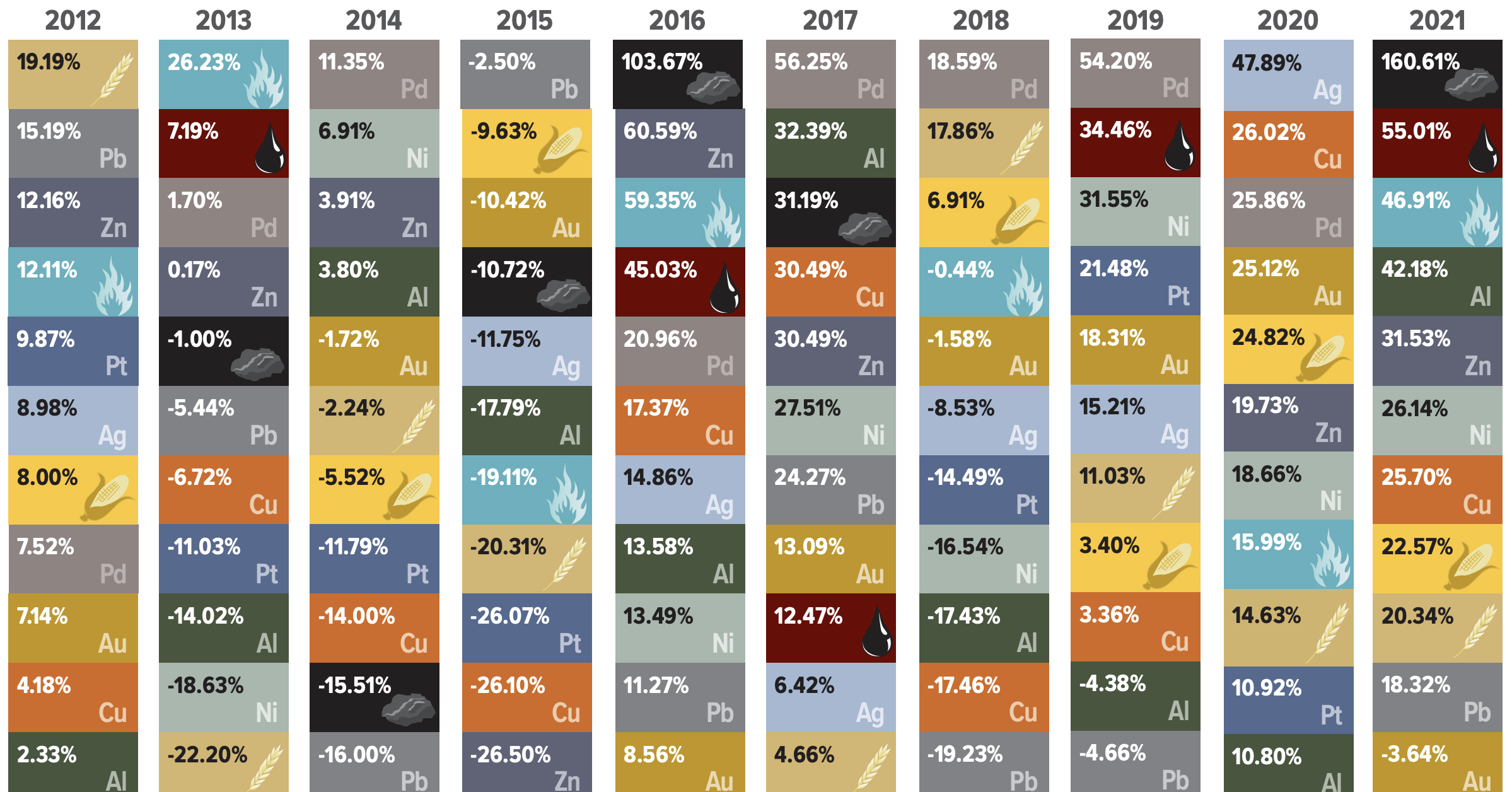 The Periodic Table of Commodity Returns (2022 Edition)
For investors, 2021 was a year in which nearly every asset class finished in the green, with commodities providing some of the best returns.
The S&P Goldman Sachs Commodity Index (GSCI) was the third best-performing asset class in 2021, returning 37.1% and beating out real estate and all major equity indices.
This graphic from U.S. Global Investors tracks individual commodity returns over the past decade, ranking them based on their individual performance each year.
Commodity Prices Surge in 2021
After a strong performance from commodities (metals especially) in the year prior, 2021 was all about energy commodities.
The top three performers for 2021 were energy fuels, with coal providing the single best annual return of any commodity over the past 10 years at 160.6%. According to U.S. Global Investors, coal was also the least volatile commodity of 2021, meaning investors had a smooth ride as the fossil fuel surged in price.
| Commodity | 2021 Returns |
| --- | --- |
| Coal | 160.61% |
| Crude Oil | 55.01% |
| Gas | 46.91% |
| Aluminum | 42.18% |
| Zinc | 31.53% |
| Nickel | 26.14% |
| Copper | 25.70% |
| Corn | 22.57% |
| Wheat | 20.34% |
| Lead | 18.32% |
| Gold | -3.64% |
| Platinum | -9.64% |
| Silver | -11.72% |
| Palladium | -22.21% |
Source: U.S. Global Investors
The only commodities in the red this year were precious metals, which failed to stay positive despite rising inflation across goods and asset prices. Gold and silver had returns of -3.6% and -11.7% respectively, with platinum returning -9.6% and palladium, the worst performing commodity of 2021, at -22.2%.
Aside from the precious metals, every other commodity managed double-digit positive returns, with four commodities (crude oil, coal, aluminum, and wheat) having their best single-year performances of the past decade.
Energy Commodities Outperform as the World Reopens
The partial resumption of travel and the reopening of businesses in 2021 were both powerful catalysts that fueled the price rise of energy commodities.
After crude oil's dip into negative prices in April 2020, black gold had a strong comeback in 2021 as it returned 55.01% while being the most volatile commodity of the year.
Natural gas prices also rose significantly (46.91%), with the UK and Europe's natural gas prices rising even more as supply constraints came up against the winter demand surge.
Despite being the second worst performer of 2020 with the clean energy transition on the horizon, coal was 2021's best commodity.
High electricity demand saw coal return in style, especially in China which accounts for one-third of global coal consumption.
Base Metals Beat out Precious Metals
2021 was a tale of two metals, as precious metals and base metals had opposing returns.
Copper, nickel, zinc, aluminum, and lead, all essential for the clean energy transition, kept up last year's positive returns as the EV batteries and renewable energy technologies caught investors' attention.
Demand for these energy metals looks set to continue in 2022, with Tesla having already signed a $1.5 billion deal for 75,000 tonnes of nickel with Talon Metals.
On the other end of the spectrum, precious metals simply sunk like a rock last year.
Investors turned to equities, real estate, and even cryptocurrencies to preserve and grow their investments, rather than the traditionally favorable gold (-3.64%) and silver (-11.72%). Platinum and palladium also lagged behind other commodities, only returning -9.64% and -22.21% respectively.
Grains Bring Steady Gains
In a year of over and underperformers, grains kept up their steady track record and notched their fifth year in a row of positive returns.
Both corn and wheat provided double-digit returns, with corn reaching eight-year highs and wheat reaching prices not seen in over nine years. Overall, these two grains followed 2021's trend of increasing food prices, as the UN Food and Agriculture Organization's food price index reached a 10-year high, rising by 17.8% over the course of the year.
As inflation across commodities, assets, and consumer goods surged in 2021, investors will now be keeping a sharp eye for a pullback in 2022. We'll have to wait and see whether or not the Fed's plans to increase rates and taper asset purchases will manage to provide price stability in commodities.