Prediction Consensus: What the Experts See Coming in 2021
2021 Predictions: What Experts See in the Year Ahead
Making predictions is a tricky business at the best of times, but especially so after a year of upheaval. Even so, that didn't stop people from trying their hand at reading the crystal ball. If anything, the uncertainty creates a stronger temptation for us to try to forecast the year ahead.
Out of the thousands of public 2021 predictions and forecasts available, there are plenty of one-off guesses. However, things really get interesting when a desperate majority of experts begin to agree on what might happen. In some ways, these predictions from influential experts and firms have a way of becoming self-fulfilling prophesies, so it's worth paying attention even if we're skeptical about the assertions being made.
This year, we more than doubled the number of sources analyzed for our 2021 Predictions Consensus graphic, including outlooks from financial institutions, thought leaders, media outlets, consultancies, and more. Let's take a closer look at seven of the most popular predictions:
ESG reaches a tipping point
It seems like only recently that the term ESG gained mainstream traction in the investment community, but in a short amount of time, the trend has blossomed into a full-blown societal shift. In 2020, investors piled a record $27.7 billion of inflows into ETFs traded in U.S. markets, and that momentum only appears to be growing.
Fidelity, among others, noted that climate funds are delivering superior returns, which makes ESG an even easier sell to investors. Nasdaq has tapped ESG to be "one of the hottest trends" over the coming year.
China has a strong 2021
Financial institutions that issue predictions generally hedge their language quite a bit, but on this topic they were direct. The world's most populous country has already left the pandemic behind and is back to business as usual. Of the institutions that mentioned a specific number, the median estimate for GDP growth in China was 8.4%.
A souring outlook on SPACs
Much like any hot trend, once enough people get on the bandwagon the mood begins to sour. Many experts believe that special purpose acquisition companies (SPACs) are going to enter that phase in 2021.
SPACs had a monster year in 2020, raising $82 billion in capital. That's more funds in one year than in the last 10 years combined. Of course, now that these 200+ companies are flush with capital, they'll need to find a target. Scott Galloway argues that SPACs "are going to vastly underperform over the next two to three years" since there aren't enough good opportunities to satisfy that level of demand.
Brands must be authentic and values-driven
Over the past few years, brands have become increasingly values-driven. In their 2021 predictions, experts see this trend being pushed even further.
Millennials, which are now the largest generation in the workforce, are shaping society in their own image, and the expectation is that companies have an authentic voice and that actions align with words. This trend is augmented by the transparency that the internet and social media have enabled.
Being a "values-driven" company can mean many things, and often involves focusing on a number of initiatives simultaneously. At the forefront is racial inequality and diversity initiatives, which were a key focus in 2020. According to McKinsey, nine out of ten employees globally believe companies should engage in diversity and inclusion initiatives. When the chorus of voices grows loud enough, eventually actions must follow.
A great rethinking of office life is underway
The great work-from-home experiment will soon be approaching the one-year mark and a lot has changed in a short amount of time.
Even firms that were incredibly resistant to remote work found themselves in a position of having to adapt to new circumstances thanks to COVID-19. Now that the feasibility of at-home work has been proven, it will be tough for companies to walk things back to pre-pandemic times. Over 2021, millions of companies will begin reengineering everything from physical offices to digital infrastructure, and this has broad implications on the economy and our culture.
Individuals and employers start taking wellness seriously
The past year was not good for our collective mental health. In response, many companies are looking at ways to support employees from a health and wellness standpoint. One example is the trend of giving teams access to meditation apps like Headspace and Calm.
This focus on wellness will persist, even as people begin to return to the office. As commercial leases expire in 2021, companies will be re-evaluating their office needs, and many experts believe that wellness will factor into those decisions.
Lastly, this trend ties into the broader theme of values-driven companies. If brands profess a desire to impact society in a positive way, employees expect actions to extend inward as well.
Big Tech backlash continues
Among experts, there's little doubt that the Big Tech backlash will bleed over into 2021. There is a divergence of opinion on exactly what will happen as a result. There are three general themes:
1. Regulators will admonish and threaten Big Tech publicly, but nothing concrete will happen.
2. Facebook will be broken up into parts (Facebook, Instagram, and WhatsApp)
3. Companies will proactively change their business practices and look for ways to settle quickly
Aside from the thread of regulatory action, the tech sector is facing a bit of an identity crisis. Silicon Valley is grappling with the reality that the center of gravity is shifting. Pitchbook notes that Bay Area will fall below 20% of U.S. deal count for first time, and there have been very public departures from the valley in recent months.
Faced with pressure from a number of different angles, the technology sector may have a year of soul-searching ahead.
The Elephant in the Room
COVID-19 is the one factor that impacts nearly every one of these 2021 predictions, yet, there were few predictions–and certainly no consensus from experts–on vaccine rollouts and case counts. It's possible that the complexity of the pandemic and the enormous task of dealing with this public health crisis makes it too much of a moving target to predict in specific terms.
In general though, expert opinions on when we'll return to a more "normal" stage again range from the summer of 2021 to the start of 2022. With the exception of China, most major economies are still grappling with outbreaks and the resulting economic fallout.
It remains to be seen whether COVID-19 will dominate 2022's predictions, or whether we'll be able to look beyond the pandemic era.
The Good Stuff: Sources We Like
Of the hundreds of sources we looked at, here were a few that stood out as memorable and comprehensive:

Bloomberg's Outlook 2021: This article compiled over 500 predictions from Wall Street banks and investment firms.
Kara Swisher and Scott Galloway's Big 2021 Predictions: Swisher and Galloway combine their deep understanding of the technology ecosystem with frank (and hilarious) commentary to come up with some of the most plausible predictions of 2021. From Robinhood to Twitter, they cover a lot of ground in this interview.
Crystal Ball 2021: Fortune's annual batch of predictions is always one to watch. It's comprehensive, succinct, and hits upon a wide variety of topics.
John Battelle's Predictions 2021: John Battelle has been publishing annual predictions for nearly two decades, and this year's batch is perhaps the most eagerly anticipated. His predictions are thoughtful, credible, and specific. It's also worth noting that Battelle circles back and grades his predictions – a level of accountability that is to be praised.
Like this feature? An expanded look at 2021's predictions will be shared with our VC+ audience later this month.

Which Asian Economies Have the Most Sustainable Trade Policies?
The Sustainable Trade Index ranks 19 Asian economies and the U.S. across three categories of trade sustainability.
Which Asian Economies Have the Most Sustainable Trade Policies?
To say that Asia has benefited from international trade is an understatement. By opening its economies to the rest of the world, the region has become a leading exporter in many of today's most important industries.
Trade has also improved Asia's quality of life, lifting over one billion people out of poverty since 1990. Without the proper controls, however, such rapid growth could have harmful effects on Asia's environment and society.
In this infographic from The Hinrich Foundation, we break down the results of their 2020 Sustainable Trade Index (STI). Since 2016, this index has ranked 19 Asian economies and the U.S. across three categories of trade sustainability: economic, social, and environmental.
What Exactly is Sustainable Trade?
International trade is an important source of economic growth, enabling domestic businesses to expand, reach new customers, and gain exposure to foreign markets.
At the same time, countries that focus too heavily on exports put themselves at greater long-term risk. For example, an aggressive expansion into manufacturing is likely to impair the quality of a country's air, while overdependence on a single product or sector can create an economy that is susceptible to demand shocks.
"The primary principle which underpins sustainable trade is balance. Trade cannot be pursued solely for economic gains, without considering environmental and social outcomes."
– Merle A. Hinrich
Thus, sustainable trade supports not only economic growth, but also environmental protection and strengthened social capital. It involves finding a balance between short-term incentives and long-term resilience.
Measuring Sustainable Trade
The Sustainable Trade Index (STI) is based on three underlying pillars of trade sustainability. Every economy in the STI receives a score between 0 and 100 for each pillar.
Pillar
Number of Indicators
Examples of Indicators
Economic pillar
21

Use of trade tariffs
Logistics performance
Growth in labor force

Social pillar
12

Level of economic inequality
Presence of child labor
Educational attainment

Environmental pillar
14

Level of air pollution
Reliance on natural resources
Environmental standards
The economic pillar measures a country's ability to to grow its economy through trade, while the social pillar measures a population's tolerance for trade expansion, given the costs and benefits of economic growth.
Last but not least, the environmental pillar measures a country's proficiency at managing climate-related risks. Individual pillar scores are then aggregated to arrive at an overall ranking, which also has a maximum possible score of 100.
The Sustainable Trade Index 2020: Overall Rankings
For the first time in the STI's history, Japan and South Korea have tied for first place. Both countries have placed in the top five previously, but 2020 marks the first time for either to take the top spot.
| Rank | Economy | Overall Score |
| --- | --- | --- |
| 1 (tied) | 🇯🇵 Japan | 75.1 |
| 1 (tied) | 🇰🇷 South Korea | 75.1 |
| 3 | 🇸🇬 Singapore | 70.2 |
| 4 | 🇭🇰 Hong Kong | 68.3 |
| 5 | 🇹🇼 Taiwan | 67.0 |
| 6 | 🇺🇸 U.S. | 66.2 |
| 7 | 🇨🇳 China | 56.5 |
| 8 | 🇵🇭 Philippines | 55.9 |
| | 🌏 Average | 55.1 |
| 9 | 🇹🇭 Thailand | 50.5 |
| 10 | 🇱🇰 Sri Lanka | 50.4 |
| 11 | 🇲🇾 Malaysia | 49.5 |
| 12 | 🇧🇩 Bangladesh | 49.4 |
| 13 | 🇧🇳 Brunei | 48.5 |
| 14 | 🇰🇭 Cambodia | 47.8 |
| 15 (tied) | 🇮🇳 India | 46.9 |
| 15 (tied) | 🇻🇳 Vietnam | 46.9 |
| 17 | 🇮🇩 Indonesia | 46.3 |
| 18 | 🇱🇦 Laos | 46.1 |
| 19 | 🇵🇰 Pakistan | 43.9 |
| 20 | 🇲🇲 Myanmar | 40.3 |
Advanced economies like Singapore, Hong Kong, and Taiwan were also strong performers, each scoring in the high 60s. At the other end of the spectrum, developing countries such as India and Vietnam were tightly packed within the 40 to 50 range.
To learn more, here's how each country performed in the three underlying pillars.
1. Economic Pillar Rankings
Hong Kong topped the economic pillar for the first time thanks to its low trade costs and well-developed financial sector. Financial services have increased their contribution to Hong Kong's GDP from 13% in 2004 to 20% in 2018.
The region's recently initiated national security law—which has resulted in greater political instability—may have a negative effect on future rankings.
| Rank | Economy | Economic Score |
| --- | --- | --- |
| 1 | 🇭🇰 Hong Kong | 69.6 |
| 2 | 🇸🇬 Singapore | 68.7 |
| 3 | 🇨🇳 China | 64.9 |
| 4 | 🇰🇷 South Korea | 63.3 |
| 5 (tied) | 🇲🇾 Malaysia | 61.2 |
| 5 (tied) | 🇺🇸 U.S. | 61.2 |
| 7 | 🇹🇼 Taiwan | 60.3 |
| 8 | 🇧🇳 Brunei | 59.3 |
| 9 (tied) | 🇯🇵 Japan | 58.6 |
| 9 (tied) | 🇵🇭 Philippines | 58.6 |
| | 🌏 Average | 56.9 |
| 11 | 🇧🇩 Bangladesh | 56.3 |
| 12 | 🇰🇭 Cambodia | 56 |
| 13 | 🇱🇰 Sri Lanka | 54.7 |
| 14 | 🇻🇳 Vietnam | 53.9 |
| 15 | 🇮🇩 Indonesia | 52.1 |
| 16 | 🇮🇳 India | 51.4 |
| 17 | 🇲🇲 Myanmar | 49.5 |
| 18 | 🇹🇭 Thailand | 47.4 |
| 19 | 🇵🇰 Pakistan | 46.9 |
| 20 | 🇱🇦 Laos | 44.0  |
China was also a strong performer, climbing to third for the first time. Asia's largest economy benefits from a well-diversified group of trading partners, meaning it doesn't rely too heavily on a single market.
The bottom five countries—India (16th), Myanmar (17th), Thailand (18th), Pakistan (19th) and Laos (20th)—suffered from issues such as payment risk, which is measured as the difficulty of getting money in and out of a country. This risk is especially damaging to trade because it discourages foreign direct investment.
2. Social Pillar Rankings
The social pillar features the highest average score, but also the largest gap from top to bottom. This gap has expanded over recent years, growing from 43.9 points in 2018 to 52.3 in 2020.
| Rank | Economy | Social Score |
| --- | --- | --- |
| 1 | 🇹🇼 Taiwan | 88 |
| 2 | 🇯🇵 Japan | 87.3 |
| 3 | 🇰🇷 South Korea | 86.9 |
| 4 | 🇺🇸 U.S. | 83.1 |
| 5 | 🇸🇬 Singapore | 63.1 |
| 6 | 🇵🇭 Philippines | 62.4 |
| 7 | 🇹🇭 Thailand | 60.9 |
| | 🌏 Average | 59.1 |
| 8 | 🇭🇰 Hong Kong | 57.8 |
| 9 | 🇧🇩 Bangladesh | 55.8 |
| 10 | 🇲🇾 Malaysia | 53.6 |
| 11 | 🇱🇦 Laos | 53.0 |
| 12 | 🇮🇳 India | 52.5 |
| 13 | 🇮🇩 Indonesia | 52.4 |
| 14 | 🇧🇳 Brunei | 51.6 |
| 15 | 🇻🇳 Vietnam | 50.4 |
| 16 | 🇨🇳 China | 50.2 |
| 17 | 🇰🇭 Cambodia | 46.2 |
| 18 | 🇱🇰 Sri Lanka | 46.1 |
| 19 | 🇵🇰 Pakistan | 45.6 |
| 20 | 🇲🇲 Myanmar | 35.7 |
Taiwan claimed the top spot for the second time, solidifying its reputation as Asia's leader in human capital development. It performed well in the educational attainment indicator, with 93.6% of its population receiving a tertiary education.
China, despite its success in other pillars, only managed 16th. This was partly due to the effects of its now defunct one-child policy, which has been responsible for creating gender imbalances and a shrinking population.
3. Environmental Pillar Rankings
The environmental pillar has the lowest average score of the three. Japan, Singapore, Hong Kong, and South Korea were the only countries to score above 75.
| Rank | Economy | Environmental Score |
| --- | --- | --- |
| 1 | 🇯🇵 Japan | 80.0 |
| 2 | 🇸🇬 Singapore | 78.7 |
| 3 | 🇭🇰 Hong Kong | 77.4 |
| 4 | 🇰🇷 South Korea | 75.2 |
| 5 | 🇨🇳 China | 54.5 |
| 6 | 🇺🇸 U.S. | 54.3 |
| 7 | 🇹🇼 Taiwan | 52.8 |
| 8 | 🇱🇰 Sri Lanka | 50.4 |
| | 🌏 Average | 49.1 |
| 9 | 🇵🇭 Philippines | 46.6 |
| 10 | 🇹🇭 Thailand | 43.2 |
| 11 | 🇰🇭 Cambodia | 41.2 |
| 12 | 🇱🇦 Laos | 41.1 |
| 13 | 🇵🇰 Pakistan | 39.3 |
| 14 | 🇮🇳 India | 36.7 |
| 15 | 🇻🇳 Vietnam | 36.3 |
| 16 | 🇧🇩 Bangladesh | 36.0 |
| 17 | 🇲🇲 Myanmar | 35.6 |
| 18 | 🇧🇳 Brunei | 34.6 |
| 19 | 🇮🇩 Indonesia | 34.3 |
| 20 | 🇲🇾 Malaysia | 33.8 |
The top four performed well in areas such as air quality and water pollution, and with the exception of Hong Kong, have all introduced carbon pricing schemes in the past decade. This doesn't mean these countries are without their flaws, however.
Land-constrained Singapore, for instance, ranked 16th in the deforestation indicator. The city-state is one of the densest population centers in the world, and has cut down forests to clear space for further settlement and urbanization.
Building Back Better From COVID-19
Despite the damage that COVID-19 has caused, there are some silver linings. This includes the environmental benefits experienced by China, where lockdowns reduced carbon emissions by 200 million tonnes in a single month. It's been estimated that after two months, China's reduced pollution levels saved the lives of 77,000 people.
These temporary improvements are an explicit reminder of the environmental and social costs associated with economic growth. In response, governments in Asia are taking steps to ensure the long-term sustainability of their nations. Japan and South Korea both announced their commitments to achieving carbon neutrality by 2050, while China set a similar goal for 2060.

Mapping the World's Key Maritime Choke Points
Ocean shipping is the primary mode of international trade. This map identifies maritime choke points that pose a risk to this complex logistic network.
Mapping the World's Key Maritime Choke Points
Maritime transport is an essential part of international trade—approximately 80% of global merchandise is shipped via sea.
Because of its importance, commercial shipping relies on strategic trade routes to move goods efficiently. These waterways are used by thousands of vessels a year—but it's not always smooth sailing. In fact, there are certain points along these routes that pose a risk to the whole system.
Here's a look at the world's most vulnerable maritime bottlenecks—also known as choke points—as identified by GIS.
What's a Choke Point?
Choke points are strategic, narrow passages that connect two larger areas to one another. When it comes to maritime trade, these are typically straits or canals that see high volumes of traffic because of their optimal location.
Despite their convenience, these vital points pose several risks:
Structural risks: As demonstrated in the recent Suez Canal blockage, ships can crash along the shore of a canal if the passage is too narrow, causing traffic jams that can last for days.
Geopolitical risks: Because of their high traffic, choke points are particularly vulnerable to blockades or deliberate disruptions during times of political unrest.
The type and degree of risk varies, depending on location. Here's a look at some of the biggest threats, at eight of the world's major choke points.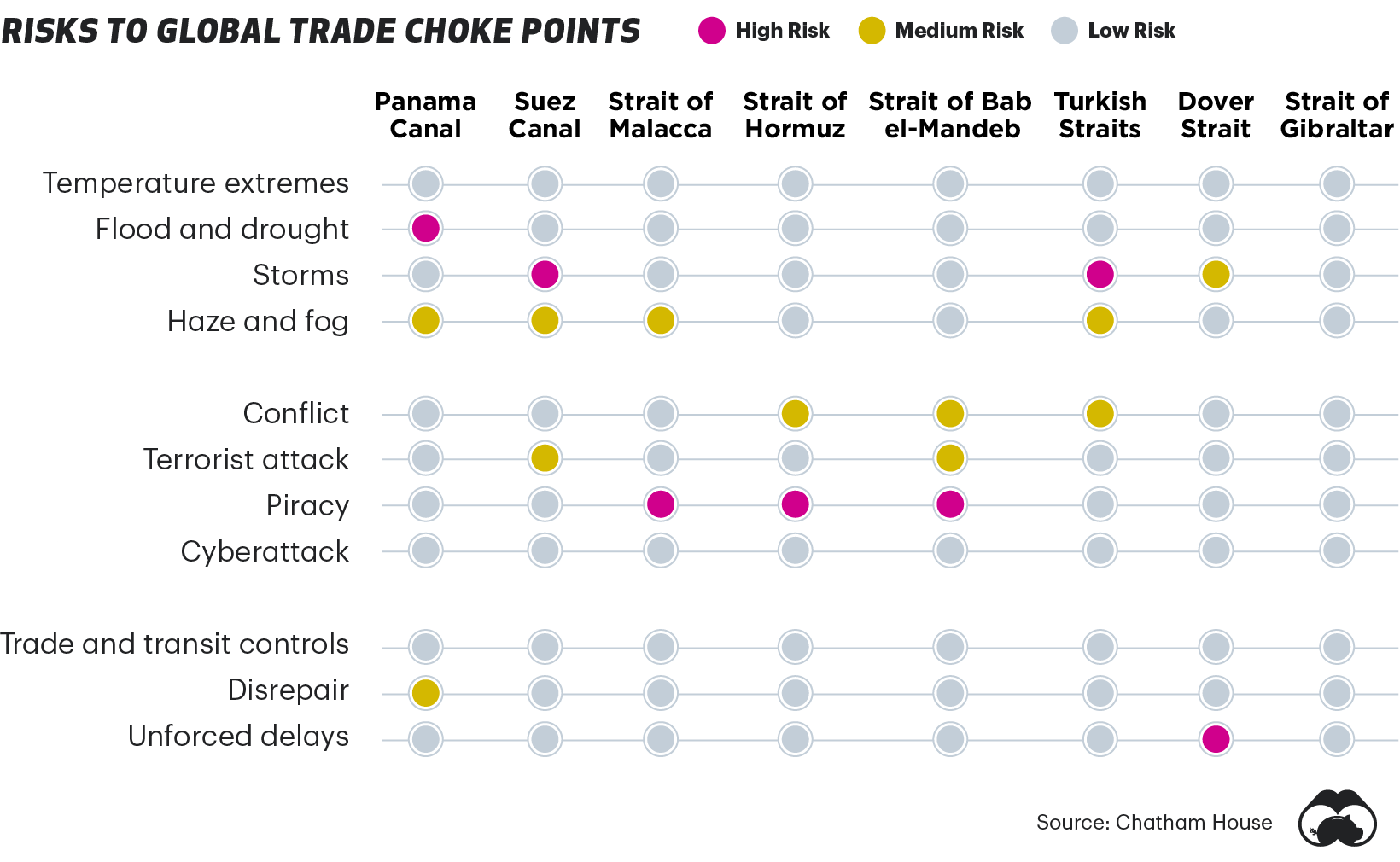 Because of their high risk, alternatives for some of these key routes have been proposed in the past—for instance, in 2013 Nicaraguan Congress approved a $40 billion dollar project proposal to build a canal that was meant to rival the Panama Canal.
As of today, it has yet to materialize.
A Closer Look: Key Maritime Choke Points
Despite their vulnerabilities, these choke points remain critical waterways that facilitate international trade. Below, we dive into a few of the key areas to provide some context on just how important they are to global trade.
The Panama Canal
The Panama Canal is a lock-type canal that provides a shortcut for ships traveling between the Pacific and Atlantic oceans. Ships sailing between the east and west coasts of the U.S. save over 8,000 nautical miles by using the canal—which roughly shortens their trip by 21 days.
In 2019, 252 million long tons of goods were transported through the Panama Canal, which generated over $2.6 billion in tolls.
The Suez Canal
The Suez Canal is an Egyptian waterway that connects Europe to Asia. Without this route, ships would need to sail around Africa, which would add approximately seven days to their trips. In 2019, nearly 19,000 vessels, and 1 billion tons of cargo, traveled through the Suez Canal.
In an effort to mitigate risk, the Egyptian government embarked on a major expansion project for the canal back in 2015. But, given the recent blockage caused by a Taiwanese container ship, it's clear that the waterway is still vulnerable to obstruction.
The Strait of Malacca
At its smallest point, the Strait of Malacca is approximately 1.5 nautical miles, making it one of the world's narrowest choke points. Despite its size, it's one of Asia's most critical waterways, since it provides a critical connection between China, India, and Southeast Asia. This choke point creates a risky situation for the 130,000 or so ships that visit the Port of Singapore each year.
The area is also known to have problems with piracy—in 2019, there were 30 piracy incidents, according to private information group ReCAAP ISC.
The Strait of Hormuz
Controlled by Iran, the Strait of Hormuz links the Persian Gulf to the Gulf of Oman, ultimately draining into the Arabian Sea. It's a primary vein for the world's oil supply, transporting approximately 21 million barrels per day.
Historically, it's also been a site of regional conflict. For instance, tankers and commercial ships were attacked in that area during the Iran-Iraq war in the 1980s.
The Bab el-Mandeb Strait
The Bab el-Mandeb Strait is another primary waterway for the world's oil and natural gas. Nestled between Africa and the Middle East, the critical route connects the Mediterranean Sea (via the Suez Canal) to the Indian Ocean.
Like the Strait of Malacca, it's well known as a high-risk area for pirate attacks. In May 2020, a UK chemical tanker was attacked off the coast of Yemen–the ninth pirate attack in the area that year.
Due to the strategic nature of the region, there is a strong military presence in nearby Djibouti, including China's first ever foreign military base.