Return of the SPAC: They're Back and Bigger than Ever
The Briefing
Special Purpose Acquisition Companies (SPACs) are shell companies created with the sole intent to raise capital and buy a private organization, or a stake in a company
In 2020, 248 new SPACs went public, an increase of more than 300% from 2019
2020 was a record-breaking year for SPACs on many fronts. For instance, Bill Ackman's Pershing Square Tontine Holdings raised $4 billion—the largest raised in SPAC history
SPACs are Back and Bigger than Ever
In 2020, SPACs raised over $82 billion in capital. That's more funds in one year than in the last 10 years combined.
But what exactly is a SPAC, and how have they changed over the years?
SPAC IPOs versus Traditional IPOs
SPAC IPOs are essentially the opposite of traditional IPOs.
In a traditional IPO, an established company goes public to raise funds. In contrast, SPAC IPOs involve a shell company that's already raised capital and is looking to purchase an organization (or a stake in a company).
While traditional IPOs are seeking funds, SPAC IPOs already have the funds—what they're seeking is an organization to attach themselves to.
SPACs, also known as "Blank Check" companies, provide a faster way to raise funds compared to traditional IPOs. That's because the audit process for a SPAC is shorter, since they don't have any financial statements to review.
A Brief History of SPACs
248 SPACs went public in 2020—189 more than in 2019.
2020 has by far been the biggest year for SPACs in the last few decades. Here's a look at the number of SPAC IPOs over the last 15 years, along with their average size:
| Year | # of SPAC IPOs | Average IPO Size (M) |
| --- | --- | --- |
| 2005 | 28 | $75.5 |
| 2006 | 37 | $91.5 |
| 2007 | 66 | $183.2 |
| 2008 | 17 | $226.0 |
| 2009 | 1 | $36.0 |
| 2010 | 7 | $71.8 |
| 2011 | 16 | $69.4 |
| 2012 | 9 | $54.5 |
| 2013 | 10 | $144.7 |
| 2014 | 12 | $145.8 |
| 2015 | 20 | $195.1 |
| 2016 | 13 | $269.2 |
| 2017 | 34 | $295.5 |
| 2018 | 46 | $233.7 |
| 2019 | 59 | $230.5 |
| 2020 | 248 | $334.4 |
SPACs had a brief moment in 2007 prior to the financial crisis, but by 2009 they had lost traction—that year, only one SPAC IPO went public. However, in the last few years, SPACs have picked up momentum again.
And in 2020, the use of this curious go-public vehicle has skyrocketed.
The New and Improved SPACs of 2020
Historically, SPACs haven't had the highest returns for investors. In fact, they were once considered a last resort when it came to raising capital.
But in the last few years, SPACs have ramped up their game. According to a recent report by McKinsey & Company, there have been three significant changes:
Improved track record
In 2020, more than 90% of SPAC deals closed. That's a notable improvement compared to previous years—before 2015, at least 20% of SPACs liquidated.
Bigger in size
The average SPAC trust size is 5x larger than it was a decade ago.
Well-known participants
Some high-profile investors have jumped on the SPAC-train this year, which has helped generate hype.
While some experts are expecting the popularity of the SPAC to continue in 2021, it's still early days. So it's hard to know for certain if SPACs are back for the long-haul.
»If you found this article interesting, you might enjoy this full-length post on traditional IPOs: The World's Largest IPOs Adjusted For Inflation
Where does this data come from?
Source: SPAC Data
Details: All US-listed SPACs are included in the data set. Figures as of Dec 30, 2020
Support the Future of Data Storytelling
Sorry to interrupt your reading, but we have a favor to ask. At Visual Capitalist we believe in a world where data can be understood by everyone. That's why we want to build the VC App - the first app of its kind combining verifiable and transparent data with beautiful, memorable visuals. All available for free.
As a small, independent media company we don't have the expertise in-house or the funds to build an app like this. So we're asking our community to help us raise funds on Kickstarter.
If you believe in data-driven storytelling, join the movement and back us on Kickstarter!
Thank you.
Ranked: These Are 10 of the World's Least Affordable Housing Markets
An analysis of 90+ major cities reveals which ones are the least affordable housing markets based on their price-to-income ratio.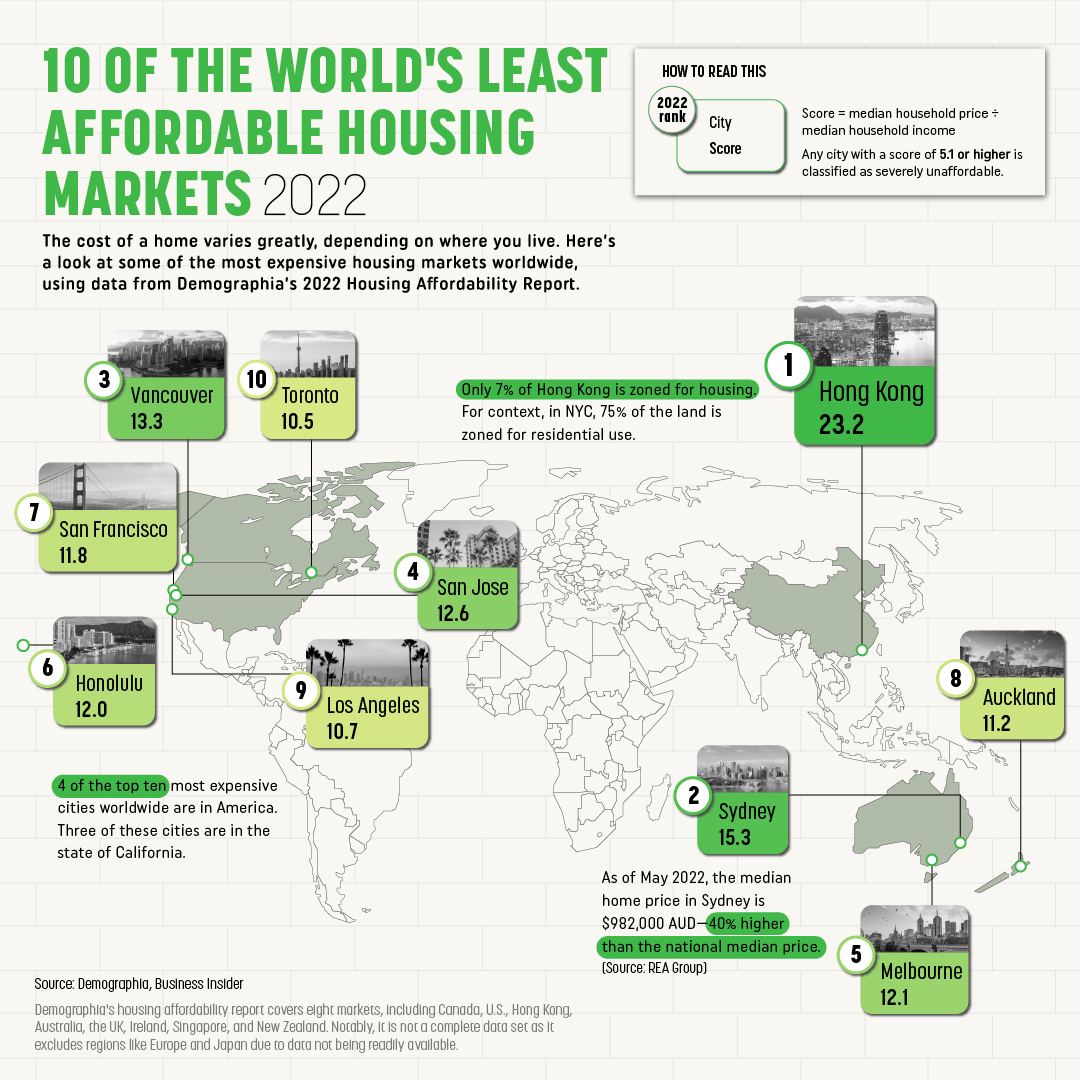 The Briefing
For the 12th year in a row, Hong Kong is the world's least affordable housing market, according to Demographia's ranking of 92 cities in select countries
Sydney, Australia moves up one spot from last year's ranking to take second place
These Are 10 of the World's Least Affordable Housing Markets
It's become increasingly difficult for middle-class families to purchase a home over the last few years—and the global pandemic has only made things worse.
According to Demographia's 2022 Housing Affordability Report, the number of housing markets around the world deemed "severely unaffordable" increased by 60% compared to 2019 (prior to the pandemic).
This graphic looks at some of the least affordable housing markets across the globe, relative to median household income. The report covers 92 different cities in eight nations: Australia, Canada, China, Ireland, New Zealand, Singapore, the United Kingdom, and the United States.
The Least Affordable Housing Markets
Before diving in, it's worth outlining the methodology used in this report, to help explain what's classified as a severely unaffordable housing market.
To calculate affordability, a city's median housing price and divided by its median household income. From there, a city is given a score:
A score of 5.1 or above is considered severely unaffordable
4.1 to 5.0 is considered seriously unaffordable
3.1 to 4.0 is considered moderately unaffordable
All the cities on this graphic are classified as severely unaffordable⁠—and, for the 12th year in a row, Hong Kong takes the top spot as the world's most unaffordable housing market, with a score of 23.2.
| Housing Market | Nation | Score |
| --- | --- | --- |
| Hong Kong | 🇭🇰​ Hong Kong (SAR) | 23.2 |
| Sydney, NSW | 🇦🇺​ Australia | 15.3 |
| Vancouver, BC | 🇨🇦​ Canada | 13.3 |
| San Jose, CA | 🇺🇸​ U.S. | 12.6 |
| Melbourne, VIC | 🇦🇺​ Australia | 12.1 |
| Honolulu, HI | 🇺🇸​ U.S. | 12.0 |
| San Francisco, CA | 🇺🇸​ U.S. | 11.8 |
| Auckland, AUK | 🇳🇿​ New Zealand | 11.2 |
| Los Angeles, CA | 🇺🇸​ U.S. | 10.7 |
| Toronto, ON | 🇨🇦​ Canada | 10.5 |
One reason for Hong Kong's steep housing costs is its lack of supply, partly due to its lack of residential zoning—which only accounts for 7% of the region's zoned land. For context, 75% of New York City's land area is dedicated to residential housing.
Sydney moved up one spot this year, making it the second most expensive city to purchase a home on the list, with a score of 15.3. Besides Hong Kong, no other city has scored this high in the last 18 years this report has been released.
There are several theories for Sydney's soaring housing rates, but industry expert Tom Forrest, CEO of Urban Taskforce Australia, boils it down to one fundamental issue in an interview with Australia Broker—supply isn't keeping up with demand:
"Housing supply has been consistently not meeting demand in the Greater Sydney and across regional New South Wales…if you have supply consistently not meeting demand then the price will go up. That's what happened and we're seeing it in abundance."Tom Forrest, CEO of Urban Taskforce Australia
The COVID-19 Impact
Middle-income earners were already feeling the squeeze prior to the global pandemic, but COVID-19 only exacerbated housing affordability issues.
As people began to work from home, high-income earners started to look for more spacious housing that wasn't necessarily in the city center, driving up demand in suburban areas that were relatively affordable prior to the pandemic.
At the same time, supply chain issues and material costs impacted construction, which created a perfect storm that ultimately drove housing prices up.
But with interest rates rising and COVID-19 restrictions easing around the world, some experts are predicting a market cool down this year—at least in some parts of the world.
>>Like this? Then you might like this article: How Much Prime Real Estate Could You Buy for $1M?

Where does this data come from?
Source: Demographia
Details: The affordability score is calculated by taking a city's median housing price and dividing it by the median household income. Anything over 5.1 is considered severely unaffordable
Notes: Data includes 92 metropolitan markets across eight countries; Australia, Canada, Ireland, Singapore, China, New Zealand, the U.K., and the U.S., as of the third quarter of 2021. Many European countries, along wth Japan, we excluded from the dataset, because information on median income was not readily available.
Poll: Inflation is the Top Financial Concern for Americans
Many Americans are feeling the sting of inflation as everyday items like food and fuel have seen big price increases.
The Briefing
Inflation has quickly become the top financial concern for American families
Compared to 2021, far fewer Americans believe their financial situation is improving
Poll: Inflation is the Top Financial Concern for Americans
A recent survey by Gallup discovered that inflation has become the top financial concern for Americans, surpassing other issues like low wages and housing costs.
While this result may not be too surprising, it is interesting to see how today's concerns compare to that of previous years. For reference, the Consumer Price Index (CPI) has grown 8.3% between April 2021 and April 2022, representing a near 40-year high.
Poll Results
Results were collected in April 2022 and are based on the responses of over 1,000 U.S. adults. In this case, the specific question was: What is the most important financial problem facing your family today?
| Trend | April 2022 | April 2021 | April 2020 | April 2019 |
| --- | --- | --- | --- | --- |
| Inflation | 32% | 8% | 3% | 6% |
| Low wages | 11% | 10% | 11% | 11% |
| Gas prices | 10% | 1% | -- | -- |
| Housing costs | 8% | 9% | 9% | 8% |
| Health care costs | 7% | 8% | 8% | 17% |
Percentage of respondents. Includes the top five categories, based on April 2022 results.
Based on these results, we can see that inflation began to gain momentum in early 2021. Rising gas prices, which are a significant contributor to overall inflation, also popped up in 2021.
Implications
Significantly fewer Americans feel confident about their financial situation due to the rising cost of living. This was captured in the same Gallup survey referenced above.
| Income Group | 2022 | 2021 | Percentage point decrease |
| --- | --- | --- | --- |
| Upper  | 50% | 28% | -22 |
| Middle | 48% | 39% | -9 |
| Lower | 63% | 45% | -18 |
Percentage of respondents who say their personal financial situation is improving.
The largest decreases were seen among the upper and lower income groups.
Upper income families tend to own more financial assets like stocks and bonds. An inflationary environment, especially when combined with rising interest rates, can eat away at the returns generated by these assets, which could explain this cohort's drop in optimism.
Lower income families, on the other hand, are more likely to be struggling already. In fact, a 2017 report found that six in 10 Americans don't have $500 in savings. With this in mind, it's easy to see how an increase in the price of food or gas could cause worry.
Where does this data come from?
Source: Gallup
Notes: Interviews conducted April 1-19, 2022, with a random sample of 1,018 adults, aged 18 and older, living in all 50 U.S. states and the District of Columbia. For results based on the total sample of national adults, the margin of sampling error is ±4 percentage points at the 95% confidence level.