Ranked: The World's Richest Billionaires Over the Past 10 Years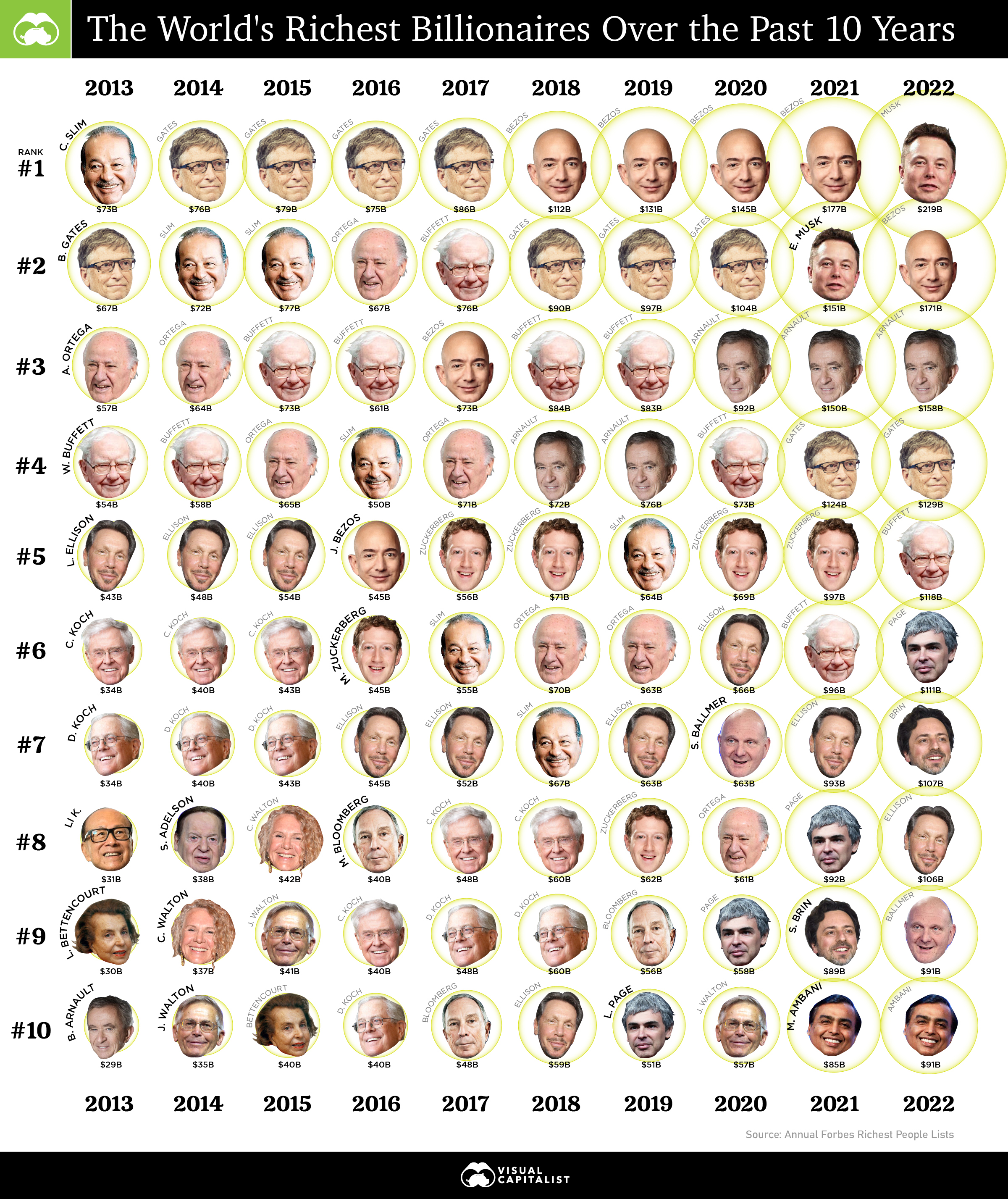 Ranked: The World's Richest Billionaires Over the Past 10 Years
The last decade has seen a number of changes in the world's richest billionaires list.
For one, there are new faces at the top of the leaderboard that were never there before. One of the most obvious changes though, is that the richest billionaires have accumulated a lot more wealth in recent years.
Using annual data from Forbes on the richest billionaires, we've visualized the wealth and ranking of the top 10 billionaires over the past decade.
Who are the World's Richest Billionaires?
While the pecking order has fluctuated, the leaderboard remains very exclusive. Out of a possible 10 spots, there are only 19 individuals that have made the list over the last decade.
Here's the current list of richest billionaires in 2022, including when they first made the list (if in the last decade):
| Rank | Name | Country | Net Worth (2022) | First Year on List* |
| --- | --- | --- | --- | --- |
| #1 | Elon Musk | 🇺🇸 U.S. | $219 billion | 2021 |
| #2 | Jeff Bezos | 🇺🇸 U.S. | $171 billion | 2016 |
| #3 | Bernard Arnault | 🇫🇷 France | $158 billion | - |
| #4 | Bill Gates | 🇺🇸 U.S. | $129 billion | - |
| #5 | Warren Buffett | 🇺🇸 U.S. | $118 billion | - |
| #6 | Larry Page | 🇺🇸 U.S. | $111 billion | 2019 |
| #7 | Sergey Brin | 🇺🇸 U.S. | $107 billion | 2021 |
| #8 | Larry Ellison | 🇺🇸 U.S. | $106 billion | - |
| #9 | Steve Ballmer | 🇺🇸 U.S. | $91 billion | 2020 |
| #10 | Mukesh Ambani | 🇮🇳 India | $91 billion | - |
*Billionaires with "-" first made the list at an earlier date. Example: Mukesh Ambani made the 2008 list.
Microsoft co-founder turned philanthropist, Bill Gates, is a perennial presence at the top of these lists. Gates is currently at his lowest rank over this time period, but is still in fourth spot. The billionaire has pledged to give away nearly all of his fortune to the eponymously named Bill & Melinda Gates Foundation.
From 2018 to 2021, Jeff Bezos sat at the top of the world's richest people ranking, only to be bumped out by Elon Musk. In 2020, Bezos became the first person to amass a $200 billion fortune after Amazon's stock price surged during the pandemic. In recent months, Bezos' net worth has taken a hit as Amazon's share price has fallen back down to Earth.
Today, Elon Musk is the world's richest person.
The Rich Get Richer
Over time, the median net worth of the richest billionaires has grown significantly.
| Year | Median Net Worth of Top 10 Billionaires |
| --- | --- |
| 2013 | $39 billion |
| 2014 | $44 billion |
| 2015 | $49 billion |
| 2016 | $45 billion |
| 2017 | $56 billion |
| 2018 | $71 billion |
| 2019 | $64 billion |
| 2020 | $68 billion |
| 2021 | $97 billion |
| 2022 | $115 billion |
Most fortunes are held in the form of business equity, real estate, and publicly-traded stocks—all asset classes that have benefited from the era of cheap money and ultra-low interest rates.
Over the decade period, the median net worth of the top 10 billionaires has nearly tripled from $39 billion to $115 billion.
In fact, the first billionaire to pass the $100 billion threshold was Jeff Bezos in 2018, when he took the top spot on the list from Bill Gates. However, now all but two on the top 10 wealthiest list are centibillionaires.
Visualizing U.S. GDP by Industry in 2023
Services-producing industries account for the majority of U.S. GDP in 2023, followed by other private industries and the government.
Visualizing U.S. GDP by Industry
The U.S. economy is like a giant machine driven by many different industries, each one akin to an essential cog that moves the whole.
Understanding the breakdown of national gross domestic product (GDP) by industry shows where commercial activity is bustling and how diverse the economy truly is.
The above infographic uses data from the Bureau of Economic Analysis to visualize a breakdown of U.S. GDP by industry in 2023. To show this, we use value added by industry, which reflects the difference between gross output and the cost of intermediate inputs.
The Top 10 U.S. Industries by GDP
As of Q1 2023, the annualized GDP of the U.S. sits at $26.5 trillion.
Of this, 88% or $23.5 trillion comes from private industries. The remaining $3 trillion is government spending at the federal, state, and local levels.
Here's a look at the largest private industries by economic contribution in the United States:
Industry
Annualized Nominal GDP
(as of Q1 2023)
% of U.S. GDP
Professional and business services
$3.5T
13%
Real estate, rental, and leasing
$3.3T
12%
Manufacturing
$2.9T
11%
Educational services, health care, and social assistance
$2.3T
9%
Finance and insurance
$2.0T
8%
Wholesale trade
$1.7T
6%
Retail trade
$1.5T
6%
Information
$1.5T
6%
Arts, entertainment, recreation, accommodation, and food services
$1.2T
4%
Construction
$1.1T
4%
Other private industries
$2.6T
10%
Total
$23.5T
88%
Like most other developed nations, the U.S. economy is largely based on services.
Service-based industries, including professional and business services, real estate, finance, and health care, make up the bulk (70%) of U.S. GDP. In comparison, goods-producing industries like agriculture, manufacturing, mining, and construction play a smaller role.
Professional and business services is the largest industry with $3.5 trillion in value added. It comprises establishments providing legal, consulting, design, administration, and other services. This is followed by real estate at $3.3 trillion, which has consistently been an integral part of the economy.
Due to outsourcing and other factors, the manufacturing industry's share of GDP has been declining for decades, but it still remains a significant part of the economy. Manufacturing of durable goods (metals, machines, computers) accounts for $1.6 trillion in value added, alongside nondurable goods (food, petroleum, chemicals) at $1.3 trillion.
The Government's Contribution to GDP
Just like private industries, the government's value added to GDP consists of compensation of employees, taxes collected (less subsidies), and gross operating surplus.
Government
Annualized Nominal GDP
(as of Q1 2023)
% of U.S. GDP
State and Local
$2.1T
8%
Federal
$0.9T
4%
Total
$3.1T
12%
Figures may not add up to the total due to rounding.
State and local government spending, largely focused on the education and public welfare sectors, accounts for the bulk of value added. The Federal contribution to GDP amounts to roughly $948 billion, with 52% of it attributed to national defense.
The Fastest Growing Industries (2022–2032P)
In the next 10 years, services-producing industries are projected to see the fastest growth in output.
The table below shows the five fastest-growing industries in the U.S. from 2022–2032 in terms of total output, based on data from the Bureau of Labor Statistics:
| Industry | Sector | Compound Annual Rate of Output Growth (2022–2032P) |
| --- | --- | --- |
| Software publishers | Information | 5.2% |
| Computing infrastructure providers, data processing, and related services | Information | 3.9% |
| Wireless telecommunications carriers (except satellite) | Information | 3.6% |
| Home health care services | Health care and social assistance | 3.6% |
| Oil and gas extraction | Mining | 3.5% |
Three of the fastest-growing industries are in the information sector, underscoring the growing role of technology and digital infrastructure. Meanwhile, the projected growth of the oil and gas extraction industry highlights the enduring demand for traditional energy sources, despite the energy transition.
Overall, the development of these industries suggests that the U.S. will continue its shift toward a services-oriented economy. But today, it's also worth noticing how services- and goods-producing industries are increasingly tied together. For example, it's now common for tech companies to produce devices, and for manufacturers to use software in their operations.
Therefore, the oncoming tide of growth in service-based industries could potentially lift other interconnected sectors of the diverse U.S. economy.