Ranked: The World's Largest Energy Sources
The World's Largest and Most Notable Energy Sources
Every day, humans consume roughly 63,300,000 megawatt-hours (MWh) of electricity to power our homes, workplaces, and vehicles─about the same produced by over 5,700 Hoover Dams.
While present-day electricity generation is slanted heavily in favor of coal and gas on a global basis, renewable sources have started to gain ground.
Today's graphic from Information is Beautiful lists the world's largest energy sources and their energy outputs. These power plants are ranked using the daily megawatt-hour (MWh), the amount of energy a power source generates in a day.
Relying on Renewables
Located in the United Kingdom, Drax Power Station is the world's largest biomass plant, powered chiefly by burning wood. Originally a coal-fired plant, Drax is expected to fully phase out coal by the year 2025.
Meanwhile, Tengger Desert Solar Park in China was the biggest solar operation until 2018, but it has since been displaced by the Shakti Sthala plant in India. The latter uses only solar panels─no mirrors─to generate energy from the sun.
Overall, solar photovoltaics have experienced the highest growth of all energy source segments, showing 31% annual growth─nearly triple the rate of wind power according to the International Energy Association (IEA).
Untapped Potential?
Currently, 27% of the world's power comes from renewable energy sources such as solar, wind, hydro, biomass, and other similar resources.
However, according to back-of-the-envelope calculations, the potential for renewables is far beyond existing generation capacity. In fact, humans are just using 0.81% of solar's potential generation capacity, and 0.57% of the potential from wind.
| | Wind | Solar | Hydro | Geothermal |
| --- | --- | --- | --- | --- |
| Potential Energy Generation Capacity | 480,000,000 MWh | 401,850,000 MWh | 86,400,000 MWh | 48,767,123 MWh |
| Energy Generated (Current) | 3,884,983 MWh | 2,304,000 MWh | 11,465,753 MWh | 201,761 MWh |
| % of Potential Used | 0.81% | 0.57% | 13.3% | 0.41% |
Non-renewable Energy Sources
Nuclear power plants have perhaps the strongest stigma against them─largely due to international disasters such as Chernobyl and Fukushima.
However, nuclear power plants are still the most efficient energy sources, sitting at over 90% average capacity.
The largest nuclear plant (by MW) in the world, Kashiwazaki-Kariwa, is currently shut down due to damage from a 2007 earthquake, and awaiting confirmation to restart operations. As a result, the Bruce Nuclear Generating Station in Canada now holds the title of the largest operating reactor in the world. The plant currently generates about 30% of Ontario's power.
In 2018, coal is still being used to generate roughly 38% of the world's total electricity, followed by natural gas with a 23% share.
The Future of Energy Potential
Fittingly, the graphic also shows daily energy outputs for Google and Bitcoin usage. This data helps remind us that our online activity also consumes energy─something that will be top of mind as technology continues to advance and humans need to use more energy through our internet-enabled devices.
Understanding humanity's need for energy is a daunting endeavor, but it's critical to ensuring our planet has a sustainable source of energy for generations to come.
Visualizing U.S. Consumption of Fuel and Materials per Capita
Wealthy countries consume large amounts of natural resources per capita, and the U.S. is no exception. See how much is used per person.
Visualizing U.S. Consumption of Fuel and Materials per Capita
This was originally posted on Elements. Sign up to the free mailing list to get beautiful visualizations on natural resource megatrends in your email every week.
Wealthy countries consume massive amounts of natural resources per capita, and the United States is no exception.
According to data from the National Mining Association, each American needs more than 39,000 pounds (17,700 kg) of minerals and fossil fuels annually to maintain their standard of living.
Materials We Need to Build
Every building around us and every sidewalk we walk on is made of sand, steel, and cement.
As a result, these materials lead consumption per capita in the United States. On average, each person in America drives the demand of over 10,000 lbs of stone and around 7,000 lbs of sand and gravel per year.
| Material/Fossil Fuel | Pounds Per Person |
| --- | --- |
| Stone | 10,643 |
| Natural Gas | 9,456 |
| Sand, Gravel | 7,088 |
| Petroleum Products | 6,527 |
| Coal | 3,290 |
| Cement | 724 |
| Other Nonmetals | 569 |
| Salt | 359 |
| Iron Ore | 239 |
| Phosphate Rock | 166 |
| Sulfur | 66 |
| Potash | 49 |
| Soda Ash | 36 |
| Bauxite (Aluminum) | 24 |
| Other Metals | 21 |
| Copper | 13 |
| Lead | 11 |
| Zinc | 6 |
| Manganese | 4 |
| Total | 39,291 |
The construction industry is a major contributor to the U.S. economy.
Crushed stone, sand, gravel, and other construction aggregates represent half of the industrial minerals produced in the country, resulting in $29 billion in revenue per year.
Also on the list are crucial hard metals such as copper, aluminum, iron ore, and of course many rarer metals used in smaller quantities each year. These rarer metals can make a big economic difference even when their uses are more concentrated and isolated—for example, palladium (primarily used in catalytic converters) costs $54 million per tonne.
Fuels Powering our Lives
Despite ongoing efforts to fight climate change and reduce carbon emissions, each person in the U.S. uses over 19,000 lbs of fossil fuels per year.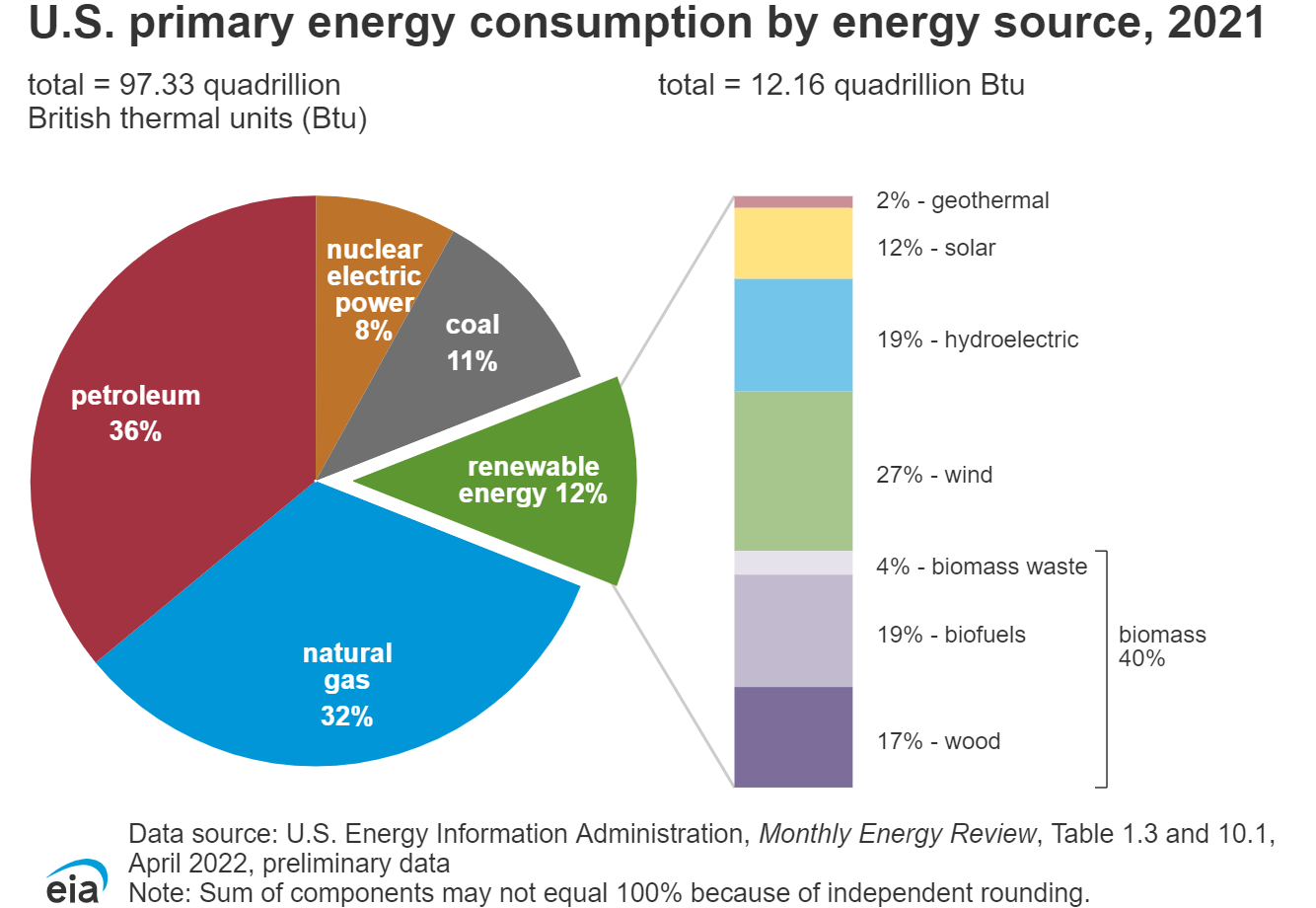 Gasoline is the most consumed petroleum product in the United States.
In 2021, finished motor gasoline consumption averaged about 369 million gallons per day, equal to about 44% of total U.S. petroleum use. Distillate fuel oil (20%), hydrocarbon gas liquids (17%), and jet fuel (7%) were the next most important uses.
Reliance on Other Countries
Over the past three decades, the United States has become reliant on foreign sources to meet domestic demand for minerals and fossil fuels. Today, the country is 100% import-reliant for 17 mineral commodities and at least 50% for 30 others.
In order to reduce the dependency on other countries, namely China, the Biden administration has been working to diversify supply chains in critical minerals. This includes strengthening alliances with other countries such as Australia, India, and Japan.
However, questions still remain about how soon these policies can make an impact, and the degree to which they can ultimately help localize and diversify supply chains.