The World's 25 Largest Lakes, Side by Side
The World's 25 Largest Lakes, Side by Side
In many parts of the world, you don't have to look very far to find a lake.
According to satellite data, there are roughly 100 million lakes larger than one hectare (2.47 acres) to be found globally. The largest lakes, which rival the size of entire nations, are more of a rarity.
One might expect the world's largest lakes to be very alike, but from depth to saline content, their properties can be quite different. As well, the ranking of the world's largest lakes is far from static, as human activity can turn a massive body of water into a desert within a single generation.
Today's graphic – created using the fantastic online tool, Slap It On A Map! – uses the Great Lakes region as a point of comparison for the largest 25 lakes, by area. This is particularly useful in comparing the scale of lakes that are located in disparate parts of the globe.
The Greatest Lakes
The largest lake in the world by a long shot is the Caspian Sea – a name that hints at a past when it was contiguous with the ocean around 11 million years ago. This massive saline lake, which is nearly the same size as Japan, borders five countries: Kazakhstan, Russia, Turkmenistan, Azerbaijan, and Iran. An estimated 48 billion barrels of oil lay beneath the surface of the basin.
The five Great Lakes, which run along the Canada–U.S. border, form one of the largest collections of fresh water on Earth. This interconnected series of lakes represents around 20% of the world's fresh water and the region supports over 100 million people, roughly equal to one-third of the Canada–U.S. population.
Amazingly, a single lake holds as much fresh water as all the Great Lakes combined – Lake Baikal. This rift lake in Siberia has a maximum depth of 5,371ft (1,637m). For comparison, the largest of the Great Lakes (Lake Superior) is only 25% as deep, with a maximum depth of 1,333ft (406m). Lake Baikal is unique in a number of other ways too. It is the world's oldest, coldest lake, and around 80% of its animal species are endemic (not found anywhere else).
Here's a full run-down of the top 25 lakes by area:
Rank
Lake Name
Surface Area
Type
Countries on shoreline
1
Caspian Sea
143,000 sq mi
(371,000km²)
Saline
🇰🇿 Kazakhstan
🇷🇺 Russia
🇹🇲 Turkmenistan
🇦🇿 Azerbaijan
🇮🇷 Iran
2
Superior
31,700 sq mi
(82,100km²)
Freshwater
🇨🇦 Canada
🇺🇸 U.S.
3
Victoria
26,590 sq mi
(68,870km²)
Freshwater
🇺🇬 Uganda
🇰🇪 Kenya
🇹🇿 Tanzania
4
Huron
23,000 sq mi
(59,600km²)
Freshwater
🇨🇦 Canada
🇺🇸 U.S.
5
Michigan
22,000 sq mi
(58,000km²)
Freshwater
🇺🇸 U.S.
6
Tanganyika
12,600 sq mi
(32,600km²)
Freshwater
🇧🇮 Burundi
🇹🇿 Tanzania
🇿🇲 Zambia
🇨🇩 D.R.C.
7
Baikal
12,200 sq mi
(31,500km²)
Freshwater
🇷🇺 Russia
8
Great Bear Lake
12,000 sq mi
(31,000km²)
Freshwater
🇨🇦 Canada
9
Malawi
11,400 sq mi
(29,500km²)
Freshwater
🇲🇼 Malawi
🇲🇿 Mozambique
🇹🇿 Tanzania
10
Great Slave Lake
10,000 sq mi
(27,000km²)
Freshwater
🇨🇦 Canada
11
Erie
9,900 sq mi
(25,700km²)
Freshwater
🇨🇦 Canada
🇺🇸 U.S.
12
Winnipeg
9,465 sq mi
(24,514km²)
Freshwater
🇨🇦 Canada
13
Ontario
7,320 sq mi
(18,960km²)
Freshwater
🇨🇦 Canada
🇺🇸 U.S.
14
Ladoga
7,000 sq mi
(18,130km²)
Freshwater
🇷🇺 Russia
15
Balkhash
6,300 sq mi
(16,400km²)
Saline
🇰🇿 Kazakhstan
16
Vostok
4,800 sq mi
(12,500km²)
Freshwater
🇦🇶 Antarctica
17
Onega
3,700 sq mi
(9,700km²)
Freshwater
🇷🇺 Russia
18
Titicaca
3,232 sq mi
(8,372km²)
Freshwater
🇧🇴 Bolivia
🇵🇪 Peru
19
Nicaragua
3,191 sq mi
(8,264km²)
Freshwater
🇳🇮 Nicaragua
20
Athabasca
3,030 sq mi
(7,850km²)
Freshwater
🇨🇦 Canada
21
Taymyr
2,700 sq mi
(6,990km²)
Freshwater
🇷🇺 Russia
22
Turkana
2,473 sq mi
(6,405km²)
Saline
🇰🇪 Kenya
🇪🇹 Ethiopia
23
Reindeer Lake
2,440 sq mi
(6,330km²)
Freshwater
🇨🇦 Canada
24
Issyk-Kul
2,400 sq mi
(6,200km²)
Saline
🇰🇬 Kyrgyzstan
25
Urmia
2,317 sq mi
(6,001km²)
Saline
🇮🇷 Iran
The Great Lakes World Tour
For people living in Canada and the U.S., the shape and relative size of the Great Lakes system may be quite familiar. This makes the Great Lakes a fantastic point of comparison to help put the size of other world locations into perspective. To this end, we begin our Great Lakes World Tour.
First, the image below shows how the Great Lakes system would look if it was located in India.
Distortions on commonly used maps can downplay the size of India compared to more northern nations. This view of the Great Lakes can help put India's true size into perspective.
Next, we look at the Great Lakes overlaid within Central Europe.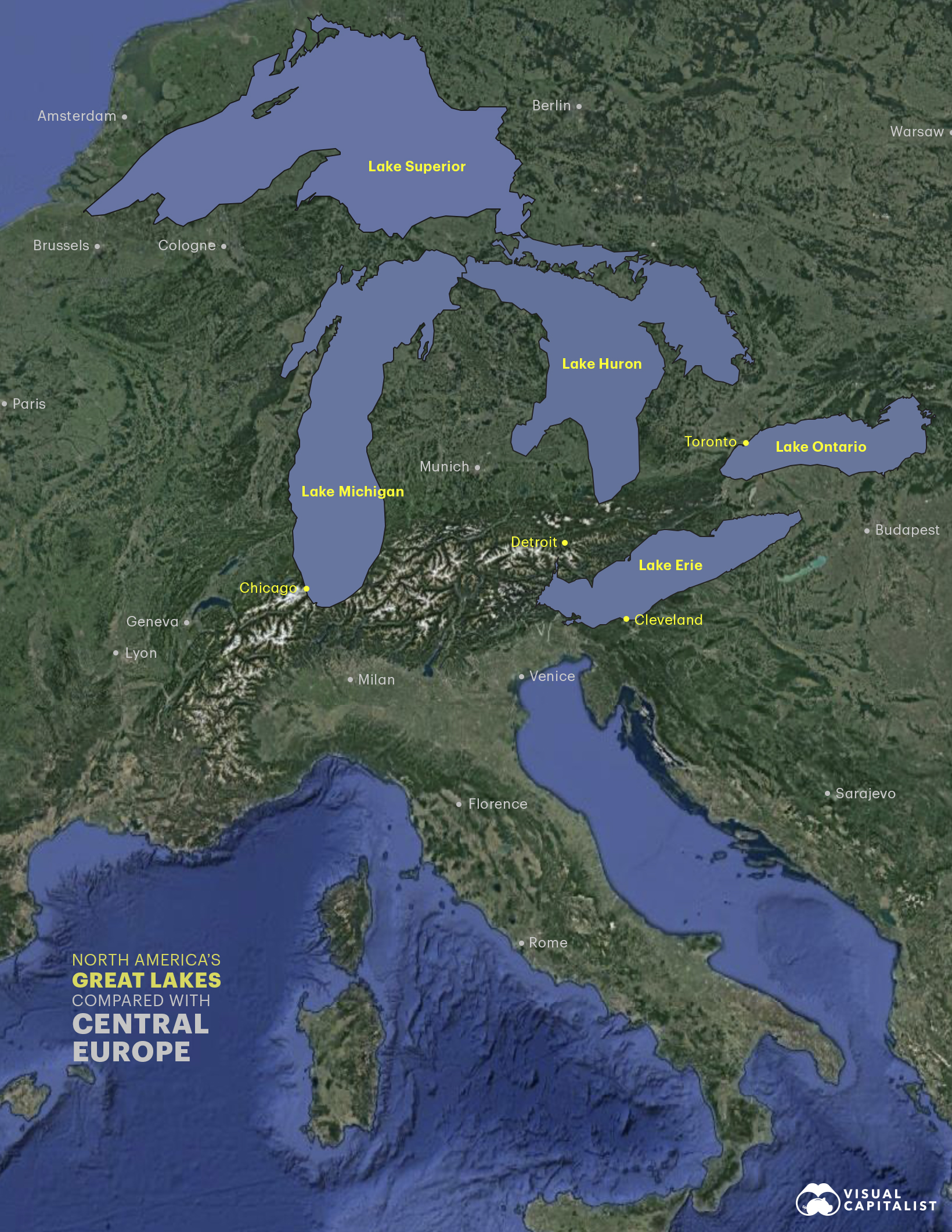 In the context of Europe, the lakes are so large that they extend from the Netherlands over to Slovakia. Lake Superior's surface area of 31,700 mi2 (82,000 km2), is similar in size to Austria. Here's are the five Great Lakes and European countries of equivalent size:
| Great Lakes | Surface Area | Equivalent Country | Area |
| --- | --- | --- | --- |
| Lake Superior | 82,000 km2 (31,700 sq mi) | 🇦🇹 Austria | 83,879 km2 (32,386 sq mi) |
| Lake Huron | 60,000 km2 (23,000 sq mi) | 🇱🇻 Latvia | 64,589 km2 (24,938 sq mi) |
| Lake Michigan | 58,000 km2 (22,300 sq mi) | 🇭🇷 Croatia | 56,594 km2 (21,851 sq mi) |
| Lake Erie | 25,700 km2 (9,910 sq mi) | 🇲🇰 North Macedonia | 25,713 km2 (9,928 sq mi) |
| Lake Ontario | 19,000 km2 (7,340 sq mi) | 🇸🇮 Slovenia | 20,271 km2 (7,827 sq mi) |
Lastly, here is a look at the Great Lakes in Southern Australia. Australia is the world's 6th largest country, so the Great Lakes only occupy one corner of its land mass.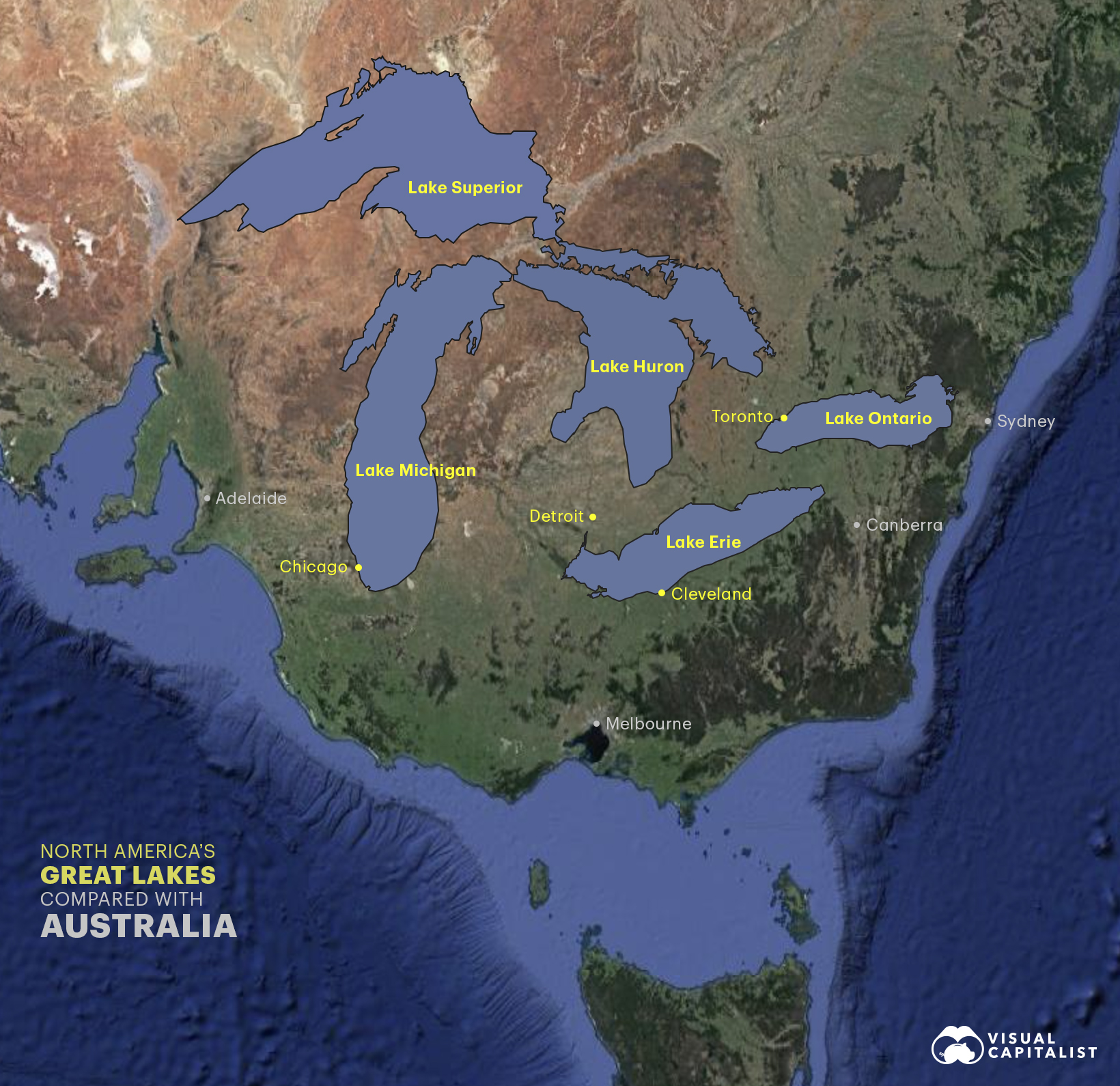 Australia's lack of glacial history means that there are few permanent freshwater lakes in the country. Many of the country's largest lakes only fill up during periods of excessive rainfall.
Shrinking out of the rankings
Not far from the world's largest lake, straddling the border between Kazakhstan and Uzbekistan, lay the sand dunes of the Aralkum Desert. In the not so distant past, this harsh environment was actually the bed of one of the largest lakes in the world – the Aral Sea.
For reasons both climatic and anthropogenic, the Aral Sea began receding in the 1960s. This dramatic change in surface area took the Aral Sea from the fourth largest lake on Earth to not even ranking in the top 50. Researchers note that the size of the lake has fluctuated a lot over history, but through the lens of modern history these recent changes happened rapidly, leaving local economies devastated and former shoreside towns landlocked.
Lake Chad, in Saharan Africa, and Lake Urmia, in Iran, both face similar challenges, shrinking dramatically in recent decades.
How we work to reverse damage and avoid ecosystem collapse in vulnerable lakes will have a big influence on how the top 25 list may look in future years.
Ranked: The World's Top Cotton Producers
As the most-used natural fiber, cotton has become the most important non-food agricultural product.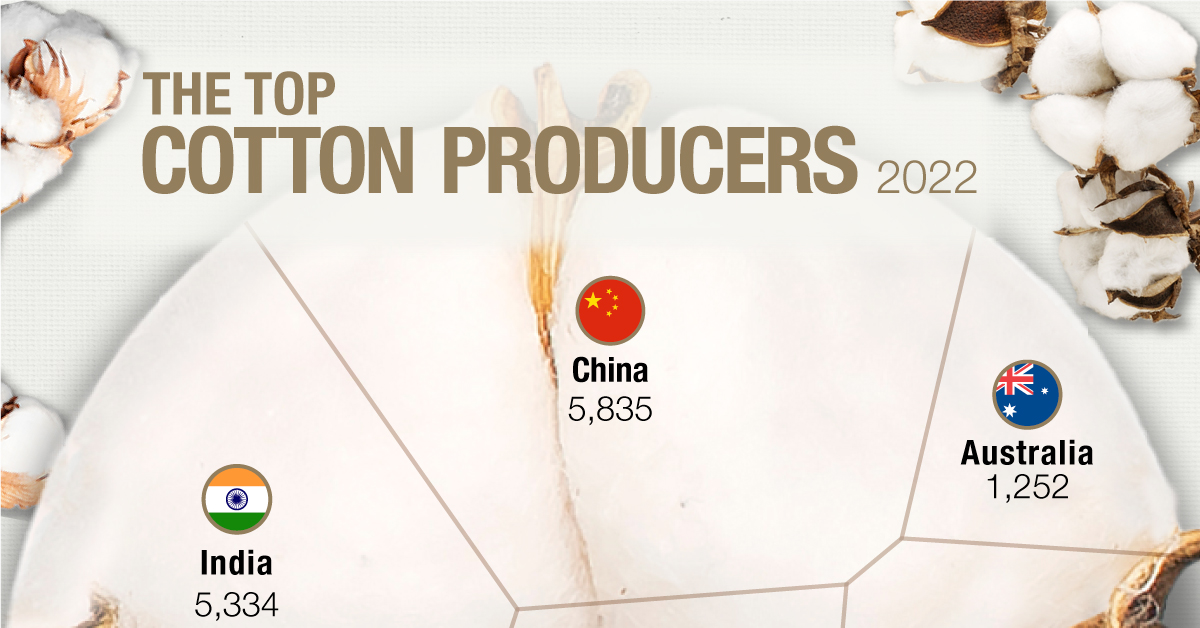 Ranked: The World's Top Cotton Producers
This was originally posted on Elements. Sign up to the free mailing list to get beautiful visualizations on natural resource megatrends in your email every week.
Cotton is present in our everyday life, from clothes to coffee strainers, and more recently in masks to control the spread of COVID-19.
As the most-used natural fiber, cotton has become the most important non-food agricultural product. Currently, approximately half of all textiles require cotton fibers.
The above infographic lists the world's top cotton producers, using data from the United States Department of Agriculture.
Fancy Fabric
Originating from the Arabic word "quton," meaning fancy fabric, cotton is a staple fiber made up of short fibers twisted together to form yarn.
The earliest production of cotton was around 5,000 B.C. in India, and today, around 25 million tons of cotton are produced each year.
Currently, five countries make up around 75% of global cotton production, with China being the world's biggest producer. The country is responsible for over 23% of global production, with approximately 89 million cotton farmers and part-time workers. Cotton's importance cannot be understated, as it is the primary input for the Chinese textile industry along with many other nations' textile industries.
| Top Cotton Producers | 2020/2021 (metric tons) | 2021/2022 (metric tons) |
| --- | --- | --- |
| 🇨🇳 China | 6,445,000 | 5,835,000 |
| 🇮🇳 India | 6,009,000 | 5,334,000 |
| 🇺🇸 United States | 3,181,000 | 3,815,000 |
| 🇧🇷 Brazil | 2,356,000 | 2,504,000 |
| 🇦🇺 Australia | 610,000 | 1,252,000 |
| 🇵🇰 Pakistan | 980,000 | 1,306,000 |
| 🇹🇷 Turkey | 631,000 | 827,000 |
| 🌐 Other | 4,059,000 | 4,282,000 |
| Total | 24,271,000 | 25,155,000 |
The United States is the leading global exporter of cotton, exporting three-fourths of its crop with China as the top buyer.
Despite its importance for the global economy, cotton production faces significant sustainability challenges.
The Controversy Over Cotton
Cotton is one of the largest users of water among all agricultural commodities, and production often involves applying pesticides that threaten soil and water quality.
Along with this, production often involves forced and child labor. According to the European Commission, child labor in the cotton supply chain is most common in Africa and Asia, where it comes from small-holder farmers.
In 2020, U.S. apparel maker Patagonia stopped sourcing cotton from the autonomous territory of Xinjiang because of reports about forced labor and other human rights abuses against Uighurs and other ethnic minorities.
L Brands, the parent company of Victoria's Secret, has also committed to eliminating Chinese cotton from its supply chain. Whether these changes in supply chains impact China's cotton production and its practices, cotton remains essential to materials found across our daily lives.
Mapped: Where Does Our Food Come From?
Did you know that over two-thirds of national crops originated from somewhere else? Over time the food that built national diets has evolved.
Where Does Our Food Come From?
Did you know that over two-thirds of national crops originated from somewhere else?
Humans have been selecting and growing crops for specific traits since the origins of agriculture some 10,000 years ago, shaping where and what crops are grown today.
Now our food system is completely global and many of the world's top producers of staple crops are in countries far from their historical origin. For example, Brazil is now the largest soybean producer in the world, though the crop is originally from East Asia.
The above infographic by Brazil Potash shows the historical origins of crops before they were domesticated across the globe and the main producers of our staple crops today.
Producers Of Staple Crops Today
Staple crops are those that are the most routinely grown and consumed. These can vary between countries depending on availability.
In 2020, sugarcane, maize, wheat, and rice made up around 50% of global crop production.
But when the production and distribution of staple crops are threatened, the consequences can be felt globally. Let's take a look at the countries that were the top three producers of some of our staple crops in 2020.
| Crop | Country | Percentage of Global Production |
| --- | --- | --- |
| Sugar Cane | 🇧🇷Brazil | 40.5% |
| Sugar Cane | 🇮🇳India | 19.9% |
| Sugar Cane | 🇨🇳China | 5.8% |
| Maize | 🇺🇸U.S. | 30.9% |
| Maize | 🇨🇳China | 22.4% |
| Maize | 🇧🇷Brazil | 8.9% |
| Wheat | 🇨🇳China | 17.6% |
| Wheat | 🇮🇳India | 14.1% |
| Wheat | 🇷🇺Russia | 11.3% |
As you can see from the data above, Brazil is the world's largest producer of sugarcane and one of the top three producers of maize.
The Future of Food Security
Global food security depends on staple crops and the countries that produce them. As the global population increases, so does the need to grow more crops.
The FAO estimates that by 2050 the world will need to increase its food output by around 70% in order to feed an ever-growing population.
Early food security solutions were transplanting crops from other regions to supplement diets. Now crop yields must increase as the next evolution in strengthening our food security. Fertilizers are a vital step in this process and are an essential ingredient in the future of global food security. They provide vital nutrients that increase crop production and strengthen nutrition security.
Brazil Potash extracts vital potash ore from the earth for it to return to the earth as fertilizer, fortifying food and helping to maintain continuous growth in the agricultural sector.
Click here to learn more about fertilizer and food production in Brazil.