The World's 25 Largest Lakes, Side by Side
The World's 25 Largest Lakes, Side by Side
In many parts of the world, you don't have to look very far to find a lake.
According to satellite data, there are roughly 100 million lakes larger than one hectare (2.47 acres) to be found globally. The largest lakes, which rival the size of entire nations, are more of a rarity.
One might expect the world's largest lakes to be very alike, but from depth to saline content, their properties can be quite different. As well, the ranking of the world's largest lakes is far from static, as human activity can turn a massive body of water into a desert within a single generation.
Today's graphic – created using the fantastic online tool, Slap It On A Map! – uses the Great Lakes region as a point of comparison for the largest 25 lakes, by area. This is particularly useful in comparing the scale of lakes that are located in disparate parts of the globe.
The Greatest Lakes
The largest lake in the world by a long shot is the Caspian Sea – a name that hints at a past when it was contiguous with the ocean around 11 million years ago. This massive saline lake, which is nearly the same size as Japan, borders five countries: Kazakhstan, Russia, Turkmenistan, Azerbaijan, and Iran. An estimated 48 billion barrels of oil lay beneath the surface of the basin.
The five Great Lakes, which run along the Canada–U.S. border, form one of the largest collections of fresh water on Earth. This interconnected series of lakes represents around 20% of the world's fresh water and the region supports over 100 million people, roughly equal to one-third of the Canada–U.S. population.
Amazingly, a single lake holds as much fresh water as all the Great Lakes combined – Lake Baikal. This rift lake in Siberia has a maximum depth of 5,371ft (1,637m). For comparison, the largest of the Great Lakes (Lake Superior) is only 25% as deep, with a maximum depth of 1,333ft (406m). Lake Baikal is unique in a number of other ways too. It is the world's oldest, coldest lake, and around 80% of its animal species are endemic (not found anywhere else).
Here's a full run-down of the top 25 lakes by area:
Rank
Lake Name
Surface Area
Type
Countries on shoreline
1
Caspian Sea
143,000 sq mi
(371,000km²)
Saline
🇰🇿 Kazakhstan
🇷🇺 Russia
🇹🇲 Turkmenistan
🇦🇿 Azerbaijan
🇮🇷 Iran
2
Superior
31,700 sq mi
(82,100km²)
Freshwater
🇨🇦 Canada
🇺🇸 U.S.
3
Victoria
26,590 sq mi
(68,870km²)
Freshwater
🇺🇬 Uganda
🇰🇪 Kenya
🇹🇿 Tanzania
4
Huron
23,000 sq mi
(59,600km²)
Freshwater
🇨🇦 Canada
🇺🇸 U.S.
5
Michigan
22,000 sq mi
(58,000km²)
Freshwater
🇺🇸 U.S.
6
Tanganyika
12,600 sq mi
(32,600km²)
Freshwater
🇧🇮 Burundi
🇹🇿 Tanzania
🇿🇲 Zambia
🇨🇩 D.R.C.
7
Baikal
12,200 sq mi
(31,500km²)
Freshwater
🇷🇺 Russia
8
Great Bear Lake
12,000 sq mi
(31,000km²)
Freshwater
🇨🇦 Canada
9
Malawi
11,400 sq mi
(29,500km²)
Freshwater
🇲🇼 Malawi
🇲🇿 Mozambique
🇹🇿 Tanzania
10
Great Slave Lake
10,000 sq mi
(27,000km²)
Freshwater
🇨🇦 Canada
11
Erie
9,900 sq mi
(25,700km²)
Freshwater
🇨🇦 Canada
🇺🇸 U.S.
12
Winnipeg
9,465 sq mi
(24,514km²)
Freshwater
🇨🇦 Canada
13
Ontario
7,320 sq mi
(18,960km²)
Freshwater
🇨🇦 Canada
🇺🇸 U.S.
14
Ladoga
7,000 sq mi
(18,130km²)
Freshwater
🇷🇺 Russia
15
Balkhash
6,300 sq mi
(16,400km²)
Saline
🇰🇿 Kazakhstan
16
Vostok
4,800 sq mi
(12,500km²)
Freshwater
🇦🇶 Antarctica
17
Onega
3,700 sq mi
(9,700km²)
Freshwater
🇷🇺 Russia
18
Titicaca
3,232 sq mi
(8,372km²)
Freshwater
🇧🇴 Bolivia
🇵🇪 Peru
19
Nicaragua
3,191 sq mi
(8,264km²)
Freshwater
🇳🇮 Nicaragua
20
Athabasca
3,030 sq mi
(7,850km²)
Freshwater
🇨🇦 Canada
21
Taymyr
2,700 sq mi
(6,990km²)
Freshwater
🇷🇺 Russia
22
Turkana
2,473 sq mi
(6,405km²)
Saline
🇰🇪 Kenya
🇪🇹 Ethiopia
23
Reindeer Lake
2,440 sq mi
(6,330km²)
Freshwater
🇨🇦 Canada
24
Issyk-Kul
2,400 sq mi
(6,200km²)
Saline
🇰🇬 Kyrgyzstan
25
Urmia
2,317 sq mi
(6,001km²)
Saline
🇮🇷 Iran
The Great Lakes World Tour
For people living in Canada and the U.S., the shape and relative size of the Great Lakes system may be quite familiar. This makes the Great Lakes a fantastic point of comparison to help put the size of other world locations into perspective. To this end, we begin our Great Lakes World Tour.
First, the image below shows how the Great Lakes system would look if it was located in India.
Distortions on commonly used maps can downplay the size of India compared to more northern nations. This view of the Great Lakes can help put India's true size into perspective.
Next, we look at the Great Lakes overlaid within Central Europe.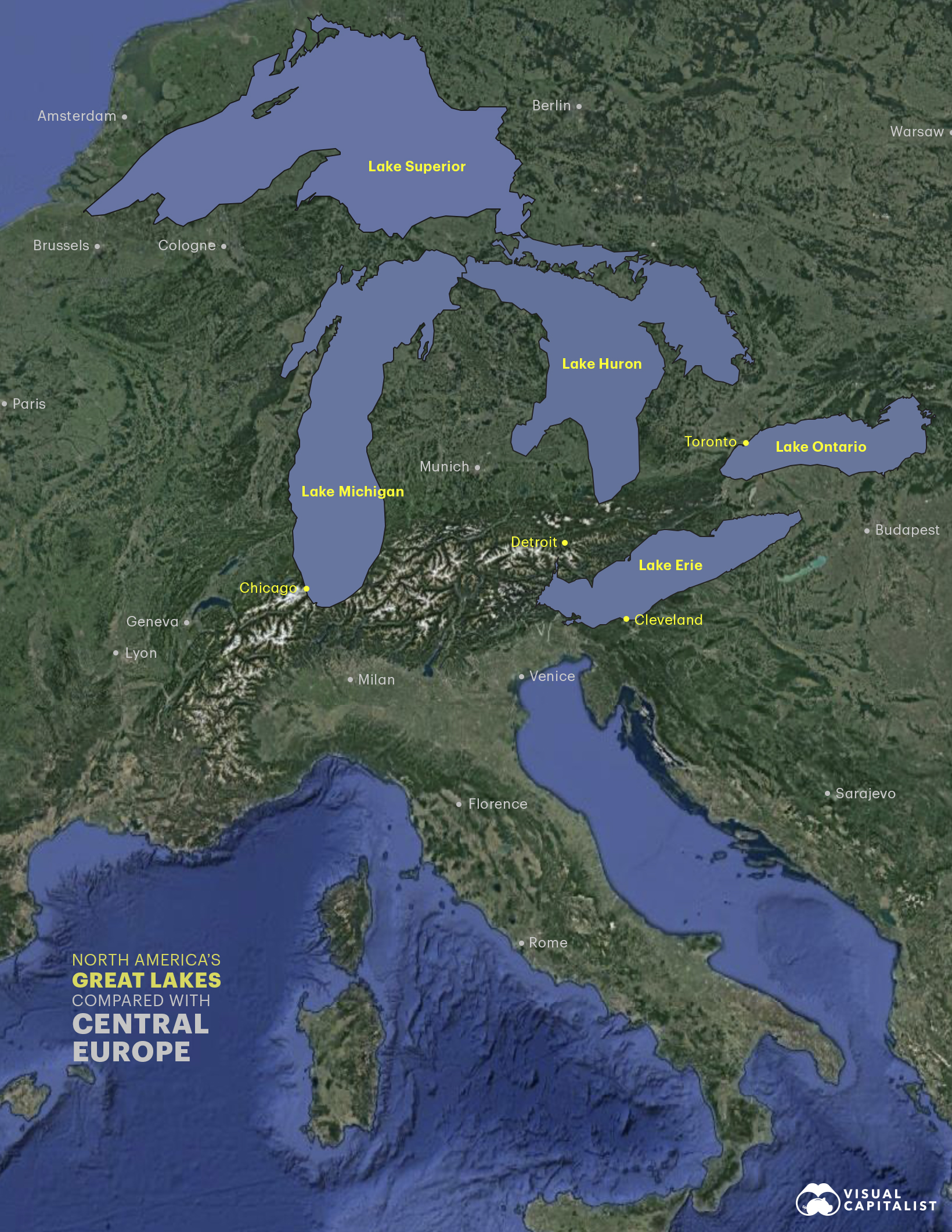 In the context of Europe, the lakes are so large that they extend from the Netherlands over to Slovakia. Lake Superior's surface area of 31,700 mi2 (82,000 km2), is similar in size to Austria. Here's are the five Great Lakes and European countries of equivalent size:
| Great Lakes | Surface Area | Equivalent Country | Area |
| --- | --- | --- | --- |
| Lake Superior | 82,000 km2 (31,700 sq mi) | 🇦🇹 Austria | 83,879 km2 (32,386 sq mi) |
| Lake Huron | 60,000 km2 (23,000 sq mi) | 🇱🇻 Latvia | 64,589 km2 (24,938 sq mi) |
| Lake Michigan | 58,000 km2 (22,300 sq mi) | 🇭🇷 Croatia | 56,594 km2 (21,851 sq mi) |
| Lake Erie | 25,700 km2 (9,910 sq mi) | 🇲🇰 North Macedonia | 25,713 km2 (9,928 sq mi) |
| Lake Ontario | 19,000 km2 (7,340 sq mi) | 🇸🇮 Slovenia | 20,271 km2 (7,827 sq mi) |
Lastly, here is a look at the Great Lakes in Southern Australia. Australia is the world's 6th largest country, so the Great Lakes only occupy one corner of its land mass.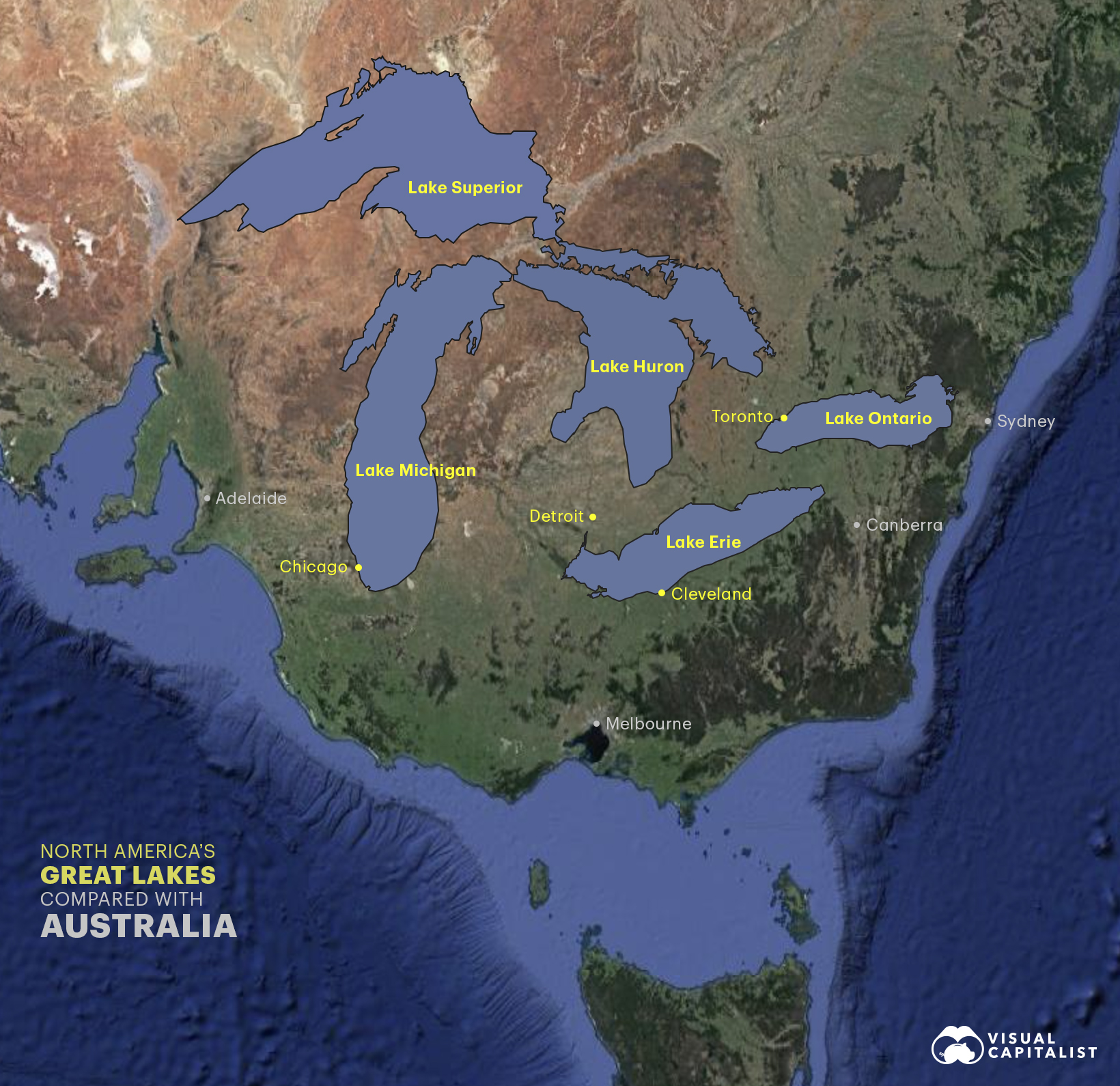 Australia's lack of glacial history means that there are few permanent freshwater lakes in the country. Many of the country's largest lakes only fill up during periods of excessive rainfall.
Shrinking out of the rankings
Not far from the world's largest lake, straddling the border between Kazakhstan and Uzbekistan, lay the sand dunes of the Aralkum Desert. In the not so distant past, this harsh environment was actually the bed of one of the largest lakes in the world – the Aral Sea.
For reasons both climatic and anthropogenic, the Aral Sea began receding in the 1960s. This dramatic change in surface area took the Aral Sea from the fourth largest lake on Earth to not even ranking in the top 50. Researchers note that the size of the lake has fluctuated a lot over history, but through the lens of modern history these recent changes happened rapidly, leaving local economies devastated and former shoreside towns landlocked.
Lake Chad, in Saharan Africa, and Lake Urmia, in Iran, both face similar challenges, shrinking dramatically in recent decades.
How we work to reverse damage and avoid ecosystem collapse in vulnerable lakes will have a big influence on how the top 25 list may look in future years.
Net-Zero Emissions: The Steps Companies and Investors Can Consider
More companies are declaring net-zero emissions targets, but where can they start? Find out the steps companies and investors can take.
The Steps to Net-Zero Emissions
To help prevent the worst effects of climate change, a growing number of companies are pledging to achieve net-zero emissions by 2050. In fact, the percentage of companies declaring a net-zero target nearly doubled from 2019 to 2020.
With urgency building, how can companies and investors approach net-zero emissions? The above infographic from MSCI highlights the steps these two groups can take, from defining a strategy to reporting progress.
Net-Zero Emissions: A Clear Process
Setting a net-zero emissions target means reducing carbon emissions to the greatest extent possible, and compensating for the remaining unavoidable emissions via removal.
Companies and investors can take four broad steps to move toward their targets.
1. Define Strategy
To begin, companies can measure current emissions and identify priority areas where emissions can be reduced. For example, ABC chemical company determines that its greenhouse gas (GHG) emissions far exceed those of its competitors. In response, ABC chemical company prioritizes reducing GHG emissions during material processing.
Similarly, wealth and asset managers can assess climate risks:
Risks of transitioning to a net-zero economy
Risks of extreme weather events
They can then map out a strategy to curb climate risk. For example, XYZ asset manager determines that 33% of its portfolio may be vulnerable to asset stranding or some level of transition risk. XYZ decides to lower its transition risk by aligning with a 1.5 degrees Celsius (2.7 degrees Fahrenheit) warming scenario.
2. Set Target
With a strategy set, companies can pledge their net-zero emissions commitment and set interim goals. They can also specify how their pledge will be achieved. For example, ABC chemical company could set a net-zero emissions target by 2050. To increase short-term accountability, they set an interim target to halve carbon emissions by 2035.
Wealth and asset managers can also set targets and interim goals, as they apply to their portfolios. For instance, XYZ asset manager could set a goal to decarbonize its portfolio 5% by 2025, and 10% by 2030. This means that the companies within the portfolio are reducing their carbon emissions at this rate.

| Scenario | Warming Potential |
| --- | --- |
| Business as usual | 3.6℃ (6.5℉) |
| 10% decarbonization | 1.5℃ (2.7℉) |
As shown above, a 10% year-on-year decarbonization will align XYZ asset manager's model portfolio with a 1.5 degrees Celsius warming scenario.
3. Implement
ABC chemical company takes immediate action consistent with its interim targets. For instance, the company can start by reducing the carbon footprint of its processes. This approach carries the lowest risks and costs. But to take larger strides toward its net-zero emissions goal, ABC could draw on renewable energy together with carbon-removal technologies as they are developed.
In the same vein, XYZ asset manager can move toward its decarbonization targets by adopting a benchmark index and reallocating capital. This could include:
Increasing investment in clean technologies
Re-weighting securities or selecting those that are "best in class" for ESG metrics
Reducing risk exposure and targeting companies for shareholder engagement
Selling holdings in companies with the greatest exposure
All of these actions will help XYZ become better aligned with its investment strategy.
4. Track and Publish Progress
Here, the actions for companies and investors converge. Both groups can measure and monitor progress, disclose results, and adjust as necessary.
For example, XYZ asset manager shares the following year-end results of its decarbonization strategy. The results compare the portfolio and its benchmark on their implied temperature rise and exposure to low-carbon transition categories.

Portfolio
Benchmark
Difference 
(Portfolio - Benchmark)
Implied temperature rise
3.2℃ (5.8℉)
3.4℃ (6.1℉)
-0.2℃ (-0.4℉)
Exposure to companies classified as:
Asset stranding
0.0%
0.5%
-0.5%
Product transition
6.1%
8.1%
-2.0%
Operational transition
5.2%
7.0%
-1.8%
Neutral
77.6%
77.8%
-0.2%
Solutions
11.1%
6.6%
+4.5%
Asset stranding is the potential for an asset to lose its value well ahead of its anticipated useful life because of the low carbon transition. Companies with product transition risk may suffer from reduced demand for carbon-intensive products and services, while companies with operational transition risk may have increased operational or capital costs due to the low carbon transition.
XYZ asset manager's portfolio has less risk than the benchmark. XYZ has also significantly reduced its exposure to transition risk to 11.3%, down from 33% in step 1. However, with an implied temperature rise of 3.2 degrees Celsius, the portfolio is far from meeting its 1.5 degrees Celsius warming goal. In response, XYZ begins to intensify pressure on portfolio companies to cut their GHG emissions by at least 10% every year.
A Climate Revolution for Net-Zero Emissions
The time to drive the transition to net-zero emissions is now. By the end of this century, the world is on track to be up to 3.5 degrees Celsius warmer. This could lead to catastrophic flooding, harm to human health, and increased rates of mortality.
As of July 2021, just 10% of the world's publicly listed companies have aligned with global temperature goals. Preventing the worst effects of climate change will demand the largest economic transformation since the Industrial Revolution. Companies, investors and other capital-market participants can drive this change.
Mapped: Human Impact on the Earth's Surface
This detailed map looks at where humans have (and haven't) modified Earth's terrestrial environment. See human impact in incredible detail.
Mapped: Human Impact on the Earth's Surface
With human population on Earth approaching 8 billion (we'll likely hit that milestone in 2023), our impact on the planet is becoming harder to ignore with each passing year.
Our cities, infrastructure, agriculture, and pollution are all forms of stress we place on the natural world. This map, by David M. Theobald et al., shows just how much of the planet we've now modified. The researchers estimate that 14.6% or 18.5 million km² of land area has been modified – an area greater than Russia.
Defining Human Impact
Human impact on the Earth's surface can take a number of different forms, and researchers took a nuanced approach to classifying the "modifications" we've made. In the end, 10 main stressors were used to create this map:
Built-Up Areas: All of our cities and towns
Agriculture: Areas devoted to crops and pastures
Energy and extractive resources: Primarily locations where oil and gas are extracted
Mines and quarries: Other ground-based natural resource extraction, excluding oil and gas
Power plants: Areas where energy is produced – both renewable and non-renewable
Transportation and service corridors: Primarily roads and railways
Logging: This measures commodity-based forest loss (excludes factors like wildfire and urbanization)
Human intrusion: Typically areas adjacent to population centers and roads that humans access
Natural systems modification: Primarily modifications to water flow, including reservoir creation
Pollution: Phenomenon such as acid rain and fog caused by air pollution
The classification descriptions above are simplified. See the methodology for full descriptions and calculations.
A Closer Look at Human Impact on the Earth's Surface
To help better understand the level of impact humans can have on the planet, we'll take a closer look three regions, and see how the situation on the ground relates to these maps.
Land Use Contrasts: Egypt
Almost all of Egypt's population lives along the Nile and its delta, making it an interesting place to examine land use and human impact.
The towns and high intensity agricultural land following the river stand out clearly on the human modification map, while the nearby desert shows much less impact.
Intensive Modification: Netherlands
The Netherlands has some of the heavily modified landscapes on Earth, so the way it looks on this map will come as no surprise.
The area shown above, Rotterdam's distinctive port and surround area, renders almost entirely in colors at the top of the human modification scale.
Resource Extraction: West Virginia
It isn't just cities and towns that show up clearly on this map, it's also the areas we extract our raw materials from as well. This mountainous region of West Virginia, in the United States, offers a very clear visual example.
The mountaintop removal method of mining—which involves blasting mountains in order to retrieve seams of bituminous coal—is common in this region, and mine sites show up clearly in the map.
You can explore the interactive version of this map yourself to view any area on the globe. What surprises you about these patterns of human impact?