Who are the Longest Serving Active CEOs in the S&P 500?
The Briefing
The longest serving CEOs highlighted have remained in their position for an average of 33 years
The best performing CEOs in 2019 held their jobs for 2x the average duration of S&P 500 CEOs
Who are the Longest Serving Active CEOs in the S&P 500?
Have you ever wondered which chief executive officer has remained at their position the longest? As an investor, you might be interested to know that studies have linked CEO duration with superior stock returns.
One study in particular from the University of Sydney looked at some 19,000 CEOs across the NYSE and NASDAQ from 1992-2016 and concluded:
"A one year increase in CEO tenure, on average, increases future stock returns by 0.029 percentage points, and suggests that longer CEO tenure has robust positive predictive power on cross-sectional stock returns."
The data in this piece highlights several of the most tenured CEOs in the S&P 500. Warren Buffett is the longest serving leader of the bunch, having maintained his position for over half a century.
| CEO | Duration | Company |
| --- | --- | --- |
| Warren Buffet | 51 years (since1970) | Berkshire Hathaway |
| Alan B. Miller | 42 years (since 1979) | Universal Health Services |
| Stephen Schwarzman | 36 years (since 1985) | Blackstone Group |
| James Herbert | 35 years (since 1986) | First Republic Bank |
| Richard Fain | 32 years (since 1988) | Royal Caribbean Cruises |
| Leonard Schleifer | 32 years (since 1988) | Regeneron |
| Jensen Huang | 28 years (since 1993) | Nvidia |
| Richard Fairbank | 27 years (since 1994) | Capital One |
| Jamie Dimon | 16 years (since 2005) | JP Morgan |
Depending on your investment style, who the CEO is can be an important consideration. Fundamental-oriented investors frequently size up a management team as a key step in evaluating the future prospects of a company.
The Top CEOs
A few of the longest serving CEOs are some of the top rated in the world as well. This table below shows where Warren Buffett, Jamie Dimon, and Jensen Huang appear and rank, in various business magazines and reports:
Jensen Huang, in particular, has gained a ton of popularity due to Nvidia's impressive growth and performance. Their $816 billion market cap means Huang oversees the largest company of this group. In fact, a 23% further increase in their share price would launch Nvidia into the elite trillion dollar club, a fairly small gain when contrasted to their 1,250% share price increase during the last five years.
CEO Duration and Performance
The data on CEO performance is often contingent on how long they last in the role. An HBR report took a look at the performance of 747 S&P 500 CEOs and has some surprising insights. For example, the best performance period for CEOs tends to come in the 2nd decade in years 11-15, otherwise known as "The Golden Years" stage.
Unfortunately, a lot of CEOs don't make it long enough to enjoy their golden years. PWC found that CEO turnover has become increasingly more rapid relative to the past. Consider that turnover among CEOs at the world's 2,500 largest companies soared to a record high of 17.5% just a few years ago. Furthermore, median tenures for CEOs have steadily dipped from a 10-year average in 2000, to 8 years in 2016, and closer to 5 in more recent times.
If recent trends and patterns are any indication, long-term serving CEOs like those highlighted above will become even more rare.
Where does this data come from?
Source: Statista, Money Control, PWC, HBR
Notes: CEO duration data does not include specific date or month joined
AWS: Powering the Internet and Amazon's Profits
Amazon is best known for its sprawling ecommerce empire, but three-quarters of the company's profits actually come from cloud computing.
The Briefing
Cloud computing has become a hugely important element of Amazon's business
In 2021, AWS accounted for 13% of Amazon's revenue, but clocks in nearly three-quarters of their operating profit
AWS: Powering the Internet and Amazon's Profits
The Amazon growth story has been a remarkable one so far.
On the top line, the company has grown every single year since its inception. Even in going back to 2004, Amazon generated a much more modest $6.9 billion in revenue compared to the massive $469 billion for 2021.
Most of these sales come from their retail and ecommerce operations, which the company has come to be known for. However, on the bottom line, the source of profit paints a completely different picture. That's because 74% of Amazon's operating profit comes from Amazon Web Services (AWS).
Here's a closer look at the financials around Amazon and AWS:
| Year | AWS Operating Profit ($B) | Total Operating Profit ($B) | AWS % of Operating Profit | Revenue ($B) |
| --- | --- | --- | --- | --- |
| 2021 | $18.5 | $24.8 | 74% | $469.8 |
| 2020 | $13.5 | $22.9 | 59% | $386.1 |
| 2019 | $9.2 | $14.5 | 63% | $280.5 |
| 2018 | $7.2 | $12.4 | 58% | $232.8 |
Ultimately, the data suggests that the cloud business has been, and possibly will always remain, a higher margin business and consistent profit center in comparison to ecommerce and the physical distribution of goods.
A Glance at AWS
AWS is Amazon's cloud computing service that provides the critical infrastructure for an assortment of applications like data storage and networking. With this, they help fuel over a million organizations including businesses like Twitter and Netflix and even both the U.S. and Canadian Federal Governments.
Here are some other notable entities and the monthly payments they've made towards AWS:
| AWS Customer | Monthly Payments ($M) |
| --- | --- |
| Netflix | $19 |
| Twitch | $15 |
| LinkedIn | $13 |
| Facebook | $11 |
| Turner Broadcasting | $10 |
| BBC | $9 |
| Baidu | $9 |
| ESPN | $8 |
| Adobe | $8 |
| Twitter | $7 |
Source: Continho (2020)
Based on these monthly figures from 2020, AWS collects $1.3 billion in sales a year just from these 10 customers, while raking in $62 billion of revenue overall. Moreover, this makes them the leader in the competitive cloud market.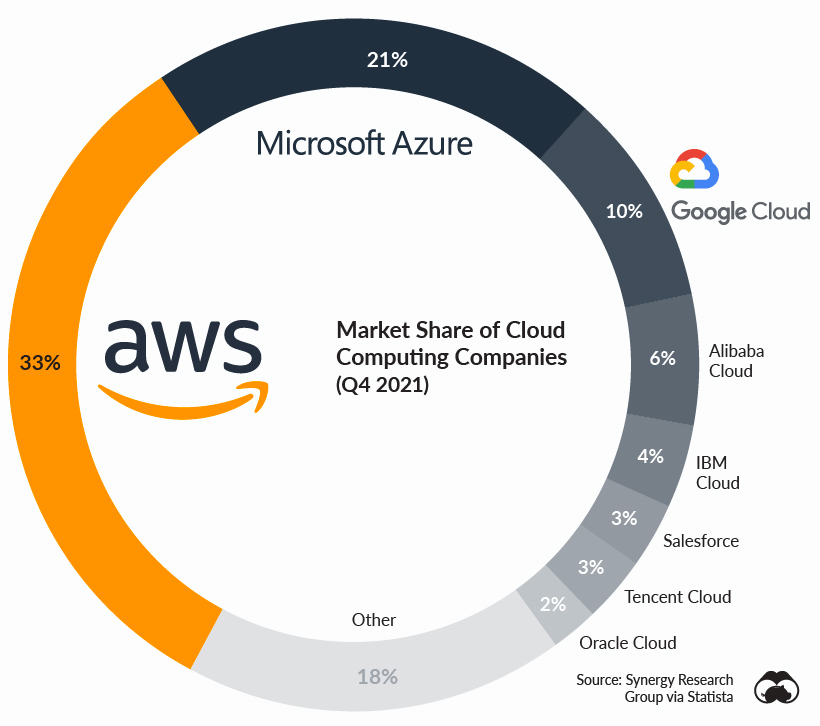 In an industry worth an excess of $180 billion, Amazon's 33% market share position exceeds both Google and Microsoft (Azure) combined. Their market share also surpasses the bottom six shown on the chart combined, who are formidable tech giants in their own right.
The Future of AWS?
AWS has been a cash cow for years and there have even been rumors of an Amazon split up, where AWS would spin off as its own entity. It's believed by some that if the cloud segment of the business separates, it will be seen as a pure play on the cloud industry and will be awarded a higher valuation multiple by the market.
One thing is for sure, from the perspective of profits, Amazon could be better be described as a cloud company, with an ecommerce business on the side.
Where does this data come from?
Source: Amazon SEC Filings
Notes: Operating profit is the profit from the business before the deduction of non-operating expenses like interest and taxes.
Ranked: These Are 10 of the World's Least Affordable Housing Markets
An analysis of 90+ major cities reveals which ones are the least affordable housing markets based on their price-to-income ratio.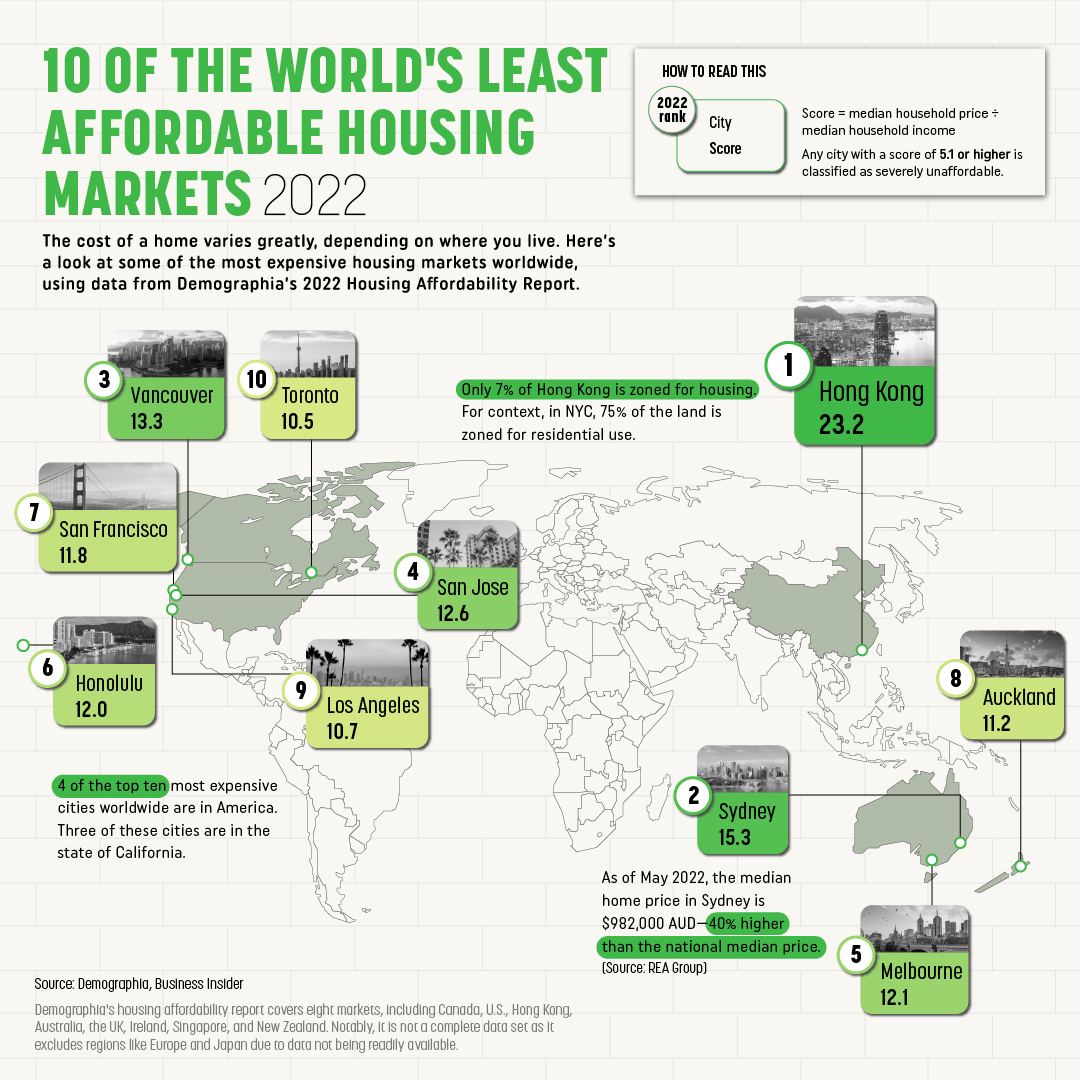 The Briefing
For the 12th year in a row, Hong Kong is the world's least affordable housing market, according to Demographia's ranking of 92 cities in select countries
Sydney, Australia moves up one spot from last year's ranking to take second place
These Are 10 of the World's Least Affordable Housing Markets
It's become increasingly difficult for middle-class families to purchase a home over the last few years—and the global pandemic has only made things worse.
According to Demographia's 2022 Housing Affordability Report, the number of housing markets around the world deemed "severely unaffordable" increased by 60% compared to 2019 (prior to the pandemic).
This graphic looks at some of the least affordable housing markets across the globe, relative to median household income. The report covers 92 different cities in eight nations: Australia, Canada, China, Ireland, New Zealand, Singapore, the United Kingdom, and the United States.
The Least Affordable Housing Markets
Before diving in, it's worth outlining the methodology used in this report, to help explain what's classified as a severely unaffordable housing market.
To calculate affordability, a city's median housing price and divided by its median household income. From there, a city is given a score:
A score of 5.1 or above is considered severely unaffordable
4.1 to 5.0 is considered seriously unaffordable
3.1 to 4.0 is considered moderately unaffordable
All the cities on this graphic are classified as severely unaffordable⁠—and, for the 12th year in a row, Hong Kong takes the top spot as the world's most unaffordable housing market, with a score of 23.2.
| Housing Market | Nation | Score |
| --- | --- | --- |
| Hong Kong | 🇭🇰​ Hong Kong (SAR) | 23.2 |
| Sydney, NSW | 🇦🇺​ Australia | 15.3 |
| Vancouver, BC | 🇨🇦​ Canada | 13.3 |
| San Jose, CA | 🇺🇸​ U.S. | 12.6 |
| Melbourne, VIC | 🇦🇺​ Australia | 12.1 |
| Honolulu, HI | 🇺🇸​ U.S. | 12.0 |
| San Francisco, CA | 🇺🇸​ U.S. | 11.8 |
| Auckland, AUK | 🇳🇿​ New Zealand | 11.2 |
| Los Angeles, CA | 🇺🇸​ U.S. | 10.7 |
| Toronto, ON | 🇨🇦​ Canada | 10.5 |
One reason for Hong Kong's steep housing costs is its lack of supply, partly due to its lack of residential zoning—which only accounts for 7% of the region's zoned land. For context, 75% of New York City's land area is dedicated to residential housing.
Sydney moved up one spot this year, making it the second most expensive city to purchase a home on the list, with a score of 15.3. Besides Hong Kong, no other city has scored this high in the last 18 years this report has been released.
There are several theories for Sydney's soaring housing rates, but industry expert Tom Forrest, CEO of Urban Taskforce Australia, boils it down to one fundamental issue in an interview with Australia Broker—supply isn't keeping up with demand:
"Housing supply has been consistently not meeting demand in the Greater Sydney and across regional New South Wales…if you have supply consistently not meeting demand then the price will go up. That's what happened and we're seeing it in abundance."Tom Forrest, CEO of Urban Taskforce Australia
The COVID-19 Impact
Middle-income earners were already feeling the squeeze prior to the global pandemic, but COVID-19 only exacerbated housing affordability issues.
As people began to work from home, high-income earners started to look for more spacious housing that wasn't necessarily in the city center, driving up demand in suburban areas that were relatively affordable prior to the pandemic.
At the same time, supply chain issues and material costs impacted construction, which created a perfect storm that ultimately drove housing prices up.
But with interest rates rising and COVID-19 restrictions easing around the world, some experts are predicting a market cool down this year—at least in some parts of the world.
>>Like this? Then you might like this article: How Much Prime Real Estate Could You Buy for $1M?

Where does this data come from?
Source: Demographia
Details: The affordability score is calculated by taking a city's median housing price and dividing it by the median household income. Anything over 5.1 is considered severely unaffordable
Notes: Data includes 92 metropolitan markets across eight countries; Australia, Canada, Ireland, Singapore, China, New Zealand, the U.K., and the U.S., as of the third quarter of 2021. Many European countries, along wth Japan, we excluded from the dataset, because information on median income was not readily available.