Visualizing the Future Global Economy by GDP in 2050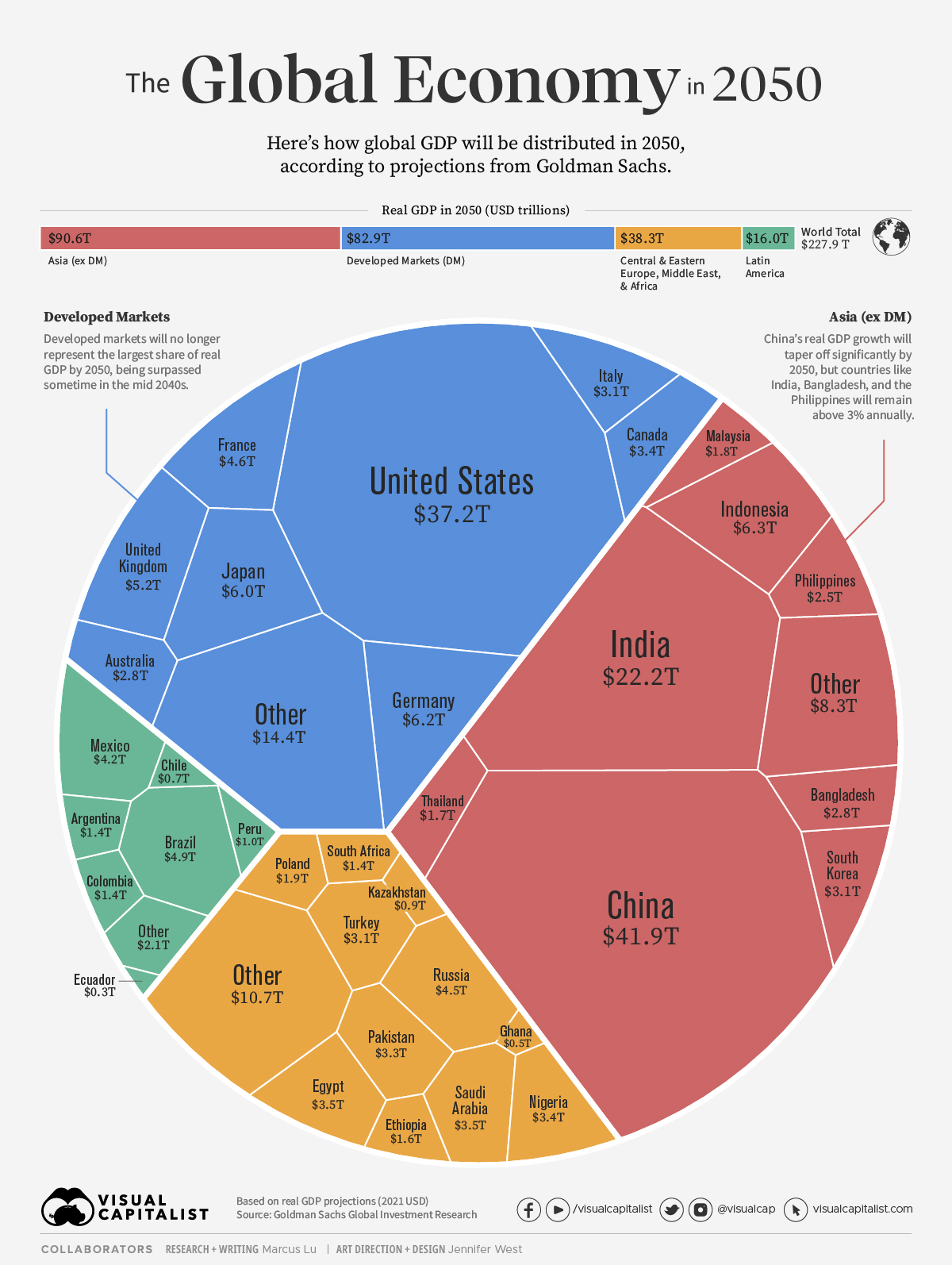 Visualizing the Future Global Economy by GDP in 2050
According to a recent report from Goldman Sachs, the balance of global economic power is projected to shift dramatically in the coming decades.
More specifically, analysts believe that Asia could soon become the largest regional contributor to world GDP, surpassing the traditional economic powerhouses grouped together in the Developed Markets (DM) category.
In the graphic above, we've visualized Goldman Sachs' real GDP forecasts for the year 2050 using a voronoi diagram.
Data and Highlights
The following table includes a regional breakdown of expected real GDP in 2050. All figures are based on 2021 USD.
Region
Real GDP In 2050
(USD trillions)
% of Total
Asia (ex DM)
$90.6
40%
Developed Markets (DM)
$82.9
36%
Central & Eastern Europe, Middle East and Africa
$38.3
17%
Latin America
$16.0
7%
World Total
(Figures rounded)
$227.9
100%
Based on these projections, Asia (ex DM) will represent 40% of global GDP, slightly ahead of Developed Markets' expected share of 36%. This would mark a massive shift from 50 years ago (2000), when DMs represented over 77% of global GDP.
Asia
Focusing on Asia, China and India will account for the majority of the region's expected GDP in 2050, though growth in China will have tapered off significantly. In fact, Goldman Sachs expects annual real GDP growth in the country to average 1.1% through the 2050s. This is surprisingly slower than America's expected 1.4% annual growth during the same decade.
The fastest growing economies in Asia during the 2050s will be India (3.1% annually), Bangladesh (3.0% annually), and the Philippines (3.5% annually). These countries are expected to thrive thanks to their high population growth rates and relatively low median age, which translates into a larger work force.
Latin America
Turning our attention to Latin America, we can see that the region will account for a relatively small 7% of global GDP in 2050. According to Goldman Sachs' previous projections from 2011, many Latin American countries have underperformed over the past decade. For example, Brazil's real GDP shrank from $2.7 trillion in 2010, to $1.5 trillion in 2020.
Because of these setbacks, Goldman Sachs believes Indonesia will be able to overtake Brazil as the world's largest emerging market before 2050.
That said, Brazil's economic ranking is still expected to climb above France and Canada by then, if these projections prove to be accurate.
Visualized: Seaport Trade Traffic by Country
This infographic highlights the countries with the highest container traffic across their ports, thus dominating seaport trade in 2021.

Creator Program
Visualized: Seaport Trade Traffic by Country
According to the World Bank, global seaport trade traffic reached 841 million TEUs (20-foot container equivalent units) in 2021.
In this infographic, Winifred Amase uses that data to highlight the countries with the highest seaport trade traffic.
China Leads All Seaport Trade Traffic
With a third of the world's total seaport trade traffic surrounding its many ports, it's no surprise to see China on top of the list.
In addition to owning seven of the world's 10 busiest ports, the country also owns close to 100 ports across 63 other countries. This brought the country's container traffic up to 263 million TEUs in 2021.
| Country | 20-Foot Container Count (2021) |
| --- | --- |
| 🇨🇳 China | 263M |
| 🇺🇸 United States | 61M |
| 🇸🇬 Singapore | 37M |
| 🇰🇷 South Korea | 30M |
| 🇲🇾 Malaysia | 28M |
| 🇯🇵 Japan | 22M |
| 🇮🇳 India | 20M |
| 🇦🇪 United Arab Emirates | 19M |
| 🇻🇳 Vietnam | 18M |
| 🇭🇰 Hong Kong SAR, China | 18M |
In second place is the United States, which saw container traffic of 61 million TEUs. Massive U.S. ports in Los Angeles and New York are some of the busiest ports on the continent.
Asian countries dominated the rest of the top 10 list, taking up seven of the remaining eight spots.
Singapore came in third with 37 million 20-foot container units passing through in 2021. The port handled 599 million tonnes of freight, making it the busiest single port in total shipping tonnage.
The ports in Dubai and Abu Dhabi make the United Arab Emirates a key player in Middle Eastern trade. With a container traffic of 19 million TEUs, the UAE is seventh on the list of nations with the highest seaport traffic in 2021.