Mapped: Each Region's Median Age Since 1950
Mapped: Each Region's Median Age Since 1950
Over the last 70 years, the global population has gotten older. Since 1950, the worldwide median age has gone from 25 years to 33 years.
Yet, despite an overall increase globally, not all regions have aged at the same rate. For instance, Europe's median age has grown by 14 years, while Africa's has only increased by 1 year.
Today's animated map uses data from the UN Population Index to highlight the changes in median age over the last 70 years, and to visualize the differences between each region. We also explain why some regions skew older than others.
Factors that Affect a Region's Median Age
Before diving into the numbers, it's important to understand the key factors that influence a region's median age:
Fertility Rate
The average number of children that women give birth to in their reproductive years. The higher the fertility rate, the younger a population skews. Since 1950, the global fertility rate has dropped by 50%.
Mortality Rate
The number of deaths in a particular region, usually associated with a certain demographic or period in time. For example, global child mortality (children who have died under five years of age) has been on the decline, which has contributed to an increase in the average life expectancy across the globe.
Migration
International migration may lower a region's population since migrants are usually younger or working age. In 2019, there were 272 million migrants globally.
The Change in Median Age
As mentioned, not all regions are created equal. Here's how much the median age has changed in each region since 1950:
The Highs
Regions that have seen the most growth and generally skew older are Latin America, followed by Europe and Asia.
Interestingly, Asia's notable increase is largely influenced by Japan, which has the oldest population on the planet. The country has seen a significant increase in median age since 1950—it's gone from 22 to 48 years in 2020. This can be explained by its considerably low fertility rate, which is 1.4 births per woman—that's less than half the global average.
But why is Japan's fertility rate so low? There are more women in the workforce than ever before, and they are too busy to take on the burden of running a household. Yet, while women are more prosperous than ever, the workforce in general has taken a hit.
Japan's recession in the early 1990s led to an increase in temporary jobs, which has had lasting effects on the region's workforce—in 2019, about 1 in 5 men were working contract jobs with little stability or job growth.
The Lows
In contrast to Asia's growth, Africa has seen the lowest increase in median age. The region's population skews young, with over 60% of its population under the age of 25.
Africa's young population can be explained by its high birth rate of 4.4 births per woman. It also has a relatively low life expectancy, at 65 years for women and 61 years for men. To put things into perspective, the average life expectancy across the globe is 75 years for women and 70 years for men.
Another trend worth noting is Oceania's relatively small growth. It's interesting because the region's fertility rate is almost on par with the global average, at 2.4 births per woman, and the average life expectancy doesn't differ much from the norm either.
The most likely reason for Oceania's stagnant growth in median age is its high proportion of migrants. In 2019, the country had 8.9 million international migrants, which is 21% of its overall population. In contrast, migrants only make up 10% of North America's population.
Unique Challenges for Every Region
Age composition has significant impacts on a region's labor force, health services, and economic productivity.
Regions with a relatively high median age face several challenges such as shrinking workforce, higher taxes, and increasing healthcare costs. On the other end of the spectrum, regions with a younger population face increased demand for educational services and a lack of employment opportunities.
As our population worldwide continues to grow and age, it's important to bring attention to issues that impact our global community. World Population Day on July 11, 2020, was established by the UN to try and solve worldwide population issues.
"The 2030 Agenda for Sustainable Development is the world's blueprint for a better future for all on a healthy planet. On World Population Day, we recognize that this mission is closely interrelated with demographic trends including population growth, aging, migration, and urbanization."
– UN Secretary-General António Guterres
The Incredible Historical Map That Changed Cartography
Check out the Fra Mauro Mappa Mundi (c. 1450s), a historical map that formed a bridge between medieval and renaissance worldviews.
The Incredible Historical Map That Changed Cartography
This map is the latest in our Vintage Viz series, which presents historical visualizations along with the context needed to understand them.
In a one-paragraph story called On Exactitude in Science (Del Rigor en la Ciencia), Jorge Luis Borges imagined an empire where cartography had reached such an exact science that only a map on the same scale of the empire would suffice.
The Fra Mauro Mappa Mundi (c. 1450s), named for the lay Camaldolite monk and cartographer whose Venetian workshop created it, is not nearly as large, at a paltry 77 inches in diameter (196 cm). But its impact and significance as a bridge between Middle Age and Renaissance thought certainly rivaled Borges' imagined map.
One of 'the Wonders of Venice'
Venice was the undisputed commercial power in the Mediterranean, whose trade routes connected east and west, stretching to Flanders, London, Algeria, and beyond.
This network was protected by fleets of warships built at the famous Arsenale di Venezia, the largest production facility in the West, whose workforce of thousands of arsenalotti built ships on an assembly line, centuries before Henry Ford.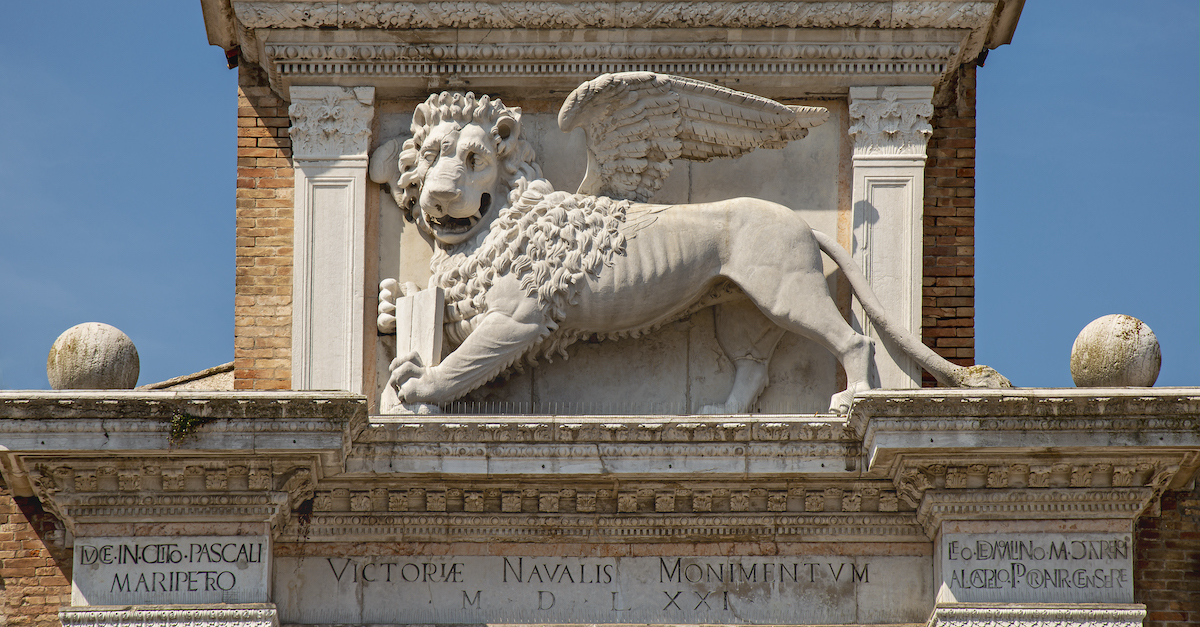 The lion of St Mark guards the land gate to the Arsenale di Venezia, except instead of the usual open bible in its hands offering peace, this book is closed, reflecting its martial purpose. Source: Wikipedia
The Mappa Mundi (literally "map of the world") was considered one of the wonders of Venice with a reputation that reached the Holy Land. It is a circular planisphere drawn on four sheets of parchment, mounted onto three poplar panels and reinforced by vertical battens.
The map is painted in rich reds, golds, and blues; this last pigment was obtained from rare lapis lazuli, imported from mines in Afghanistan. At its corners are four spheres showing the celestial and sublunar worlds, the four elements (earth, air, fire, and water), and an illumination of the Garden of Eden by Leonardo Bellini (active 1443-1490).
Japan (on the left edge, called the Isola de Cimpagu) appears here for the first time in a Western map. And contradicting Ptolemaic tradition, it also shows that it was possible to circumnavigate Africa, presaging the first European journey around the Cape of Good Hope by the Portuguese explorer Bartolomeu Dias in 1488.
NASA called the historical map "stunning" in its accuracy.
A Historical Map Between Two Worlds
Medieval maps, like the Hereford Mappa Mundi (c. 1300), were usually oriented with east at the top, because that's where the Garden of Eden was thought to be. Fra Mauro, however, chose to orient his to the south, perhaps following Muslim geographers such as Muhammad ibn Muhammad al-Idrisi.
Significantly, the Garden of Eden is placed outside of geographic space and Jerusalem is no longer at the center, though it is still marked by a windrose. The nearly 3,000 place names and descriptions are written in the Venetian vernacular, rather than Latin.
At the same time, as much as Fra Mauro's map is a departure from the past, it also retains traces of a medieval Christian worldview. For example, included on the map are the Kingdom of the Magi, the Kingdom of Prester John, and the Tomb of Adam.
Isidore of Seville, Etymologiae (c. 600–625). Source: Wikipedia
The circular planisphere also follows the medieval T-O schema, first described by Isidore of Seville, with Asia occupying the top half of the circle, and Europe and Africa each occupying the bottom two quarters (Fra Mauro turns the 'T' on its side, to reflect a southern orientation). Around the circle, are many islands, beyond which is the "dark sea" where only shipwreck and misfortune await.
Fra Mauro's Legacy
Fra Mauro died some time before 20 October 1459, and unfortunately his contributions fell into obscurity soon thereafter; until 1748, it was believed that the Mappa Mundi was a copy of a lost map by Marco Polo.
In 1811, the original was moved from Fra Mauro's monastery of San Michele to the Biblioteca Nazionale Marciana, following the suppression of religious orders in the Napoleonic era, where it can be viewed today.
Two digital editions have also been produced by the Museo Galileo and the Engineering Historical Memory project, where readers can get a glimpse into a fascinating piece of cartographic history.