Visualizing the Abundance of Elements in the Earth's Crust

Subscribe to the Elements free mailing list for more like this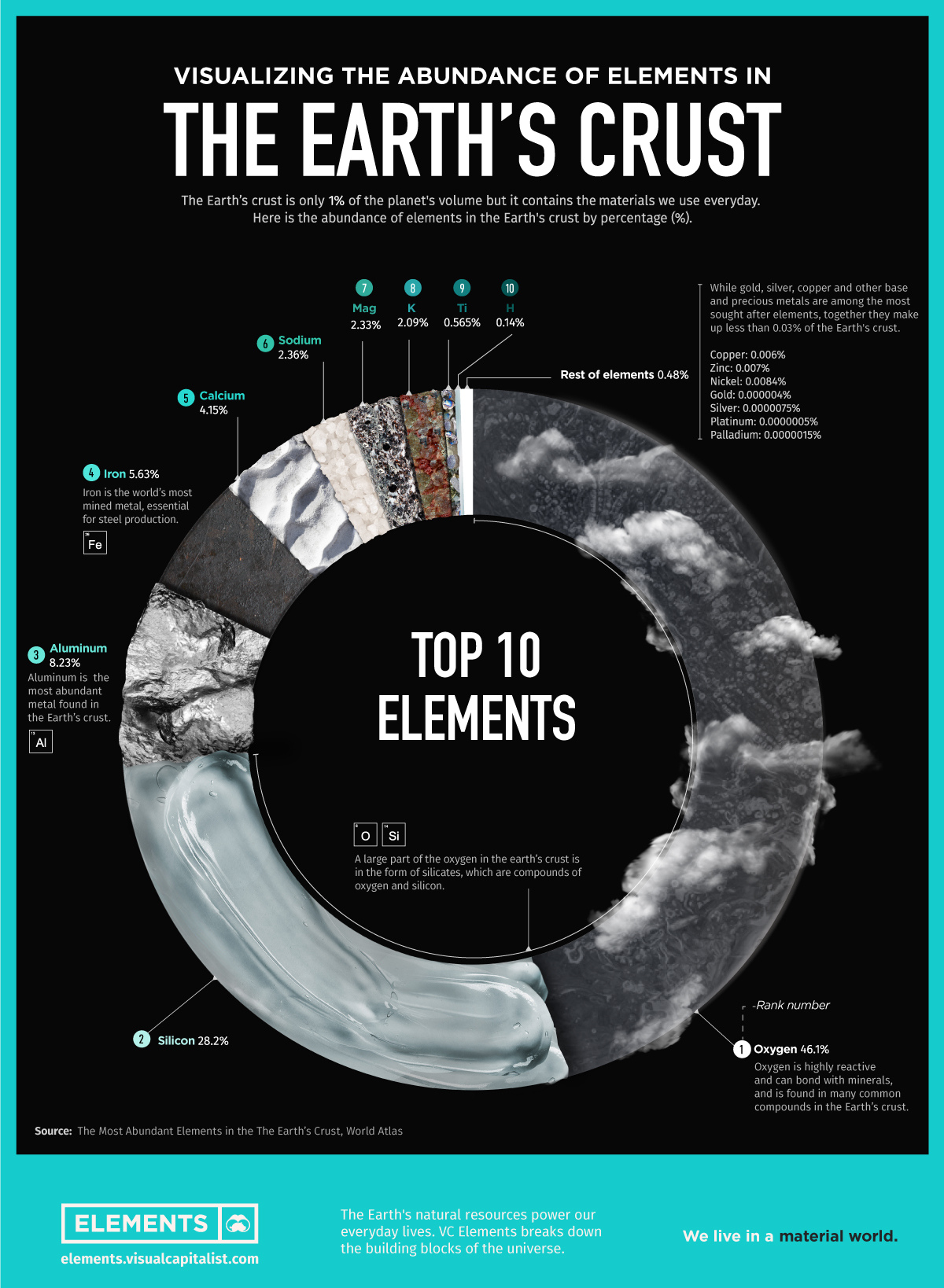 Visualizing the Abundance of Elements in the Earth's Crust
This was originally posted on Elements. Sign up to the free mailing list to get beautiful visualizations on natural resource megatrends in your email every week.
Elements in the Earth's crust provide all the basic building blocks for mankind.
But even though the crust is the source of everything we find, mine, refine, and build, it really is just scratching the surface of our planet.
After all, the innermost layer of the Earth, the core, represents 15% of the planet's volume, whereas the mantle occupies 84%. Representing the remaining 1% is the crust, a thin layer that ranges in depth from approximately 5-70 km (~3-44 miles).
This infographic takes a look at what elements make up this 1%, based on data from WorldAtlas.
Earth's Crust Elements
The crust is a rigid surface containing both the oceans and landmasses. Most elements are found in only trace amounts within the Earth's crust, but several are abundant.
The Earth's crust comprises about 95% igneous and metamorphic rocks, 4% shale, 0.75% sandstone, and 0.25% limestone.
Oxygen, silicon, aluminum, and iron account for 88.1% of the mass of the Earth's crust, while another 90 elements make up the remaining 11.9%.
| Rank | Element | % of Earth's Crust |
| --- | --- | --- |
| 1 | Oxygen (O) | 46.1% |
| 2 | Silicon (Si) | 28.2% |
| 3 | Aluminum (Al) | 8.2% |
| 4 | Iron (Fe) | 5.6% |
| 5 | Calcium (Ca) | 4.1% |
| 6 | Sodium (Na) | 2.3% |
| 7 | Magnesium (Mg) | 2.3% |
| 8 | Potassium (K) | 2.0% |
| 9 | Titanium (Ti) | 0.5% |
| 10 | Hydrogen (H) | 0.1% |
| | Other elements | 0.5% |
| | Total | 100.0% |
While gold, silver, copper and other base and precious metals are among the most sought after elements, together they make up less than 0.03% of the Earth's crust by mass.
#1: Oxygen
Oxygen is by far the most abundant element in the Earth's crust, making up 46% of mass—coming up just short of half of the total.
Oxygen is a highly reactive element that combines with other elements, forming oxides. Some examples of common oxides are minerals such as granite and quartz (oxides of silicon), rust (oxides of iron), and limestone (oxide of calcium and carbon).
#2: Silicon
More than 90% of the Earth's crust is composed of silicate minerals, making silicon the second most abundant element in the Earth's crust.
Silicon links up with oxygen to form the most common minerals on Earth. For example, in most places, sand primarily consists of silica (silicon dioxide) usually in the form of quartz. Silicon is an essential semiconductor, used in manufacturing electronics and computer chips.
#3: Aluminum
Aluminum is the third most common element in the Earth's crust.
Because of its strong affinity for oxygen, aluminum is rarely found in its elemental state. Aluminum oxide (Al2O3), aluminum hydroxide (Al(OH)3) and potassium aluminum sulphate (KAl(SO4)2) are common aluminum compounds.
Aluminum and aluminum alloys have a variety of uses, from kitchen foil to rocket manufacturing.
#4: Iron
The fourth most common element in the Earth's crust is iron, accounting for over 5% of the mass of the Earth's crust.
Iron is obtained chiefly from the minerals hematite and magnetite. Of all the metals we mine, over 90% is iron, mainly to make steel, an alloy of carbon and iron. Iron is also an essential nutrient in the human body.
#5: Calcium
Calcium makes up about 4.2% of the planet's crust by weight.
In its pure elemental state, calcium is a soft, silvery-white alkaline earth metal. It is never found in its isolated state in nature but exists instead in compounds. Calcium compounds can be found in a variety of minerals, including limestone (calcium carbonate), gypsum (calcium sulphate) and fluorite (calcium fluoride).
Calcium compounds are widely used in the food and pharmaceutical industries for supplementation. They are also used as bleaches in the paper industry, as components in cement and electrical insulators, and in manufacturing soaps.
Digging the Earth's Crust
Despite Jules Verne's novel, no one has ever journeyed to the center of Earth.
In fact, the deepest hole ever dug by humanity reaches approximately 12 km (7.5 miles) below the Earth's surface, about one-third of the way to the Earth's mantle. This incredible depth took about 20 years to reach.
Although mankind is constantly making new discoveries and reaching for the stars, there is still a lot to explore about the Earth we stand on.
Ranked: The World's Largest Copper Producers
Many new technologies critical to the energy transition rely on copper. Here are the world's largest copper producers.
Visualizing the World's Largest Copper Producers
This was originally posted on Elements. Sign up to the free mailing list to get beautiful visualizations on natural resource megatrends in your email every week.
Man has relied on copper since prehistoric times. It is a major industrial metal with many applications due to its high ductility, malleability, and electrical conductivity.
Many new technologies critical to fighting climate change, like solar panels and wind turbines, rely on the red metal.
But where does the copper we use come from? Using the U.S. Geological Survey's data, the above infographic lists the world's largest copper producing countries in 2021.
The Countries Producing the World's Copper
Many everyday products depend on minerals, including mobile phones, laptops, homes, and automobiles. Incredibly, every American requires 12 pounds of copper each year to maintain their standard of living.
North, South, and Central America dominate copper production, as these regions collectively host 15 of the 20 largest copper mines.
Chile is the top copper producer in the world, with 27% of global copper production. In addition, the country is home to the two largest mines in the world, Escondida and Collahuasi.
Chile is followed by another South American country, Peru, responsible for 10% of global production.
| Rank | Country | 2021E Copper Production (Million tonnes) | Share |
| --- | --- | --- | --- |
| #1 | 🇨🇱 Chile | 5.6 | 27% |
| #2 | 🇵🇪 Peru | 2.2 | 10% |
| #3 | 🇨🇳 China | 1.8 | 8% |
| #4 | 🇨🇩 DRC | 1.8 | 8% |
| #5 | 🇺🇸 United States | 1.2 | 6% |
| #6 | 🇦🇺 Australia | 0.9 | 4% |
| #7 | 🇷🇺 Russia | 0.8 | 4% |
| #8 | 🇿🇲 Zambia | 0.8 | 4% |
| #9 | 🇮🇩 Indonesia | 0.8 | 4% |
| #10 | 🇲🇽 Mexico | 0.7 | 3% |
| #11 | 🇨🇦 Canada | 0.6 | 3% |
| #12 | 🇰🇿 Kazakhstan | 0.5 | 2% |
| #13 | 🇵🇱 Poland | 0.4 | 2% |
| | 🌍 Other countries | 2.8 | 13% |
| | 🌐 World total | 21.0 | 100% |
The Democratic Republic of Congo (DRC) and China share third place, with 8% of global production each. Along with being a top producer, China also consumes 54% of the world's refined copper.
Copper's Role in the Green Economy
Technologies critical to the energy transition, such as EVs, batteries, solar panels, and wind turbines require much more copper than conventional fossil fuel based counterparts.
For example, copper usage in EVs is up to four times more than in conventional cars. According to the Copper Alliance, renewable energy systems can require up to 12x more copper compared to traditional energy systems.
| Technology | 2020 Installed Capacity (megawatts) | Copper Content (2020, tonnes) | 2050p Installed Capacity (megawatts) | Copper Content (2050p, tonnes) |
| --- | --- | --- | --- | --- |
| Solar PV | 126,735 MW | 633,675 | 372,000 MW | 1,860,000 |
| Onshore Wind | 105,015 MW | 451,565 | 202,000 MW | 868,600 |
| Offshore Wind | 6,013 MW | 57,725 | 45,000 MW | 432,000 |
With these technologies' rapid and large-scale deployment, copper demand from the energy transition is expected to increase by nearly 600% by 2030.
As the transition to renewable energy and electrification speeds up, so will the pressure for more copper mines to come online.
How Gold Royalties Outperform Gold and Mining Stocks
Gold royalty companies shield investors from inflation's rising expenses, resulting in stronger returns than gold and gold mining companies.
How Gold Royalties Outperform Gold and Mining Stocks
Gold and gold mining companies have long provided a diverse option for investors looking for gold-backed returns, however royalty companies have quietly been outperforming both.
While inflation's recent surge has dampened profits for gold mining companies, royalty companies have remained immune thanks to their unique structure, offering stronger returns in both the short and long term.
After Part One of this series sponsored by Gold Royalty explained exactly how gold royalties avoid rising expenses caused by inflation, Part Two showcases the resulting stronger returns royalty companies can offer.
Comparing Returns
Since the pandemic lows in mid-March of 2020, gold royalty companies have greatly outperformed both gold and gold mining companies, shining especially bright in the past year's highly inflationary environment.
While gold is up by 9% since the lows, gold mining companies are down by almost 3% over the same time period. On the other hand, gold royalty companies have offered an impressive 33% return for investors.
In the graphic above, you can see how gold royalty and gold mining company returns were closely matched during 2020, but when inflation rose in 2021, royalty companies held strong while mining company returns fell downwards.
Returns since the pandemic lows
(Mid-March 2020)
Returns of the past four months
(July 8-November 8, 2022)
Gold Royalty Companies
33.8%
1.7%
Gold
9.1%
-1.7%
Gold Mining Companies
-3.0%
-8.6%
Even over the last four months as gold's price fell by 1.7%, royalty companies managed to squeeze out a positive 1.7% return while gold mining companies dropped by 8.6%.
Gold Royalty Dividends Compared to Gold Mining Companies
Along with more resilient returns, gold royalty companies also offer significantly more stability than gold mining companies when it comes to dividend payouts.
Gold mining companies have highly volatile dividend payouts that are significantly adjusted depending on gold's price. While this has provided high dividend payouts when gold's price increases, it also results in huge dividend cuts when gold's price falls as seen in the chart below.
Rather than following gold's price, royalty companies seek to provide growing stability with their dividend payouts, adjusting them so that shareholders are consistently rewarded.
Over the last 10 years, dividend-paying royalty companies have steadily increased their payouts, offering stability even when gold prices fall.
Why Gold Royalty Companies Outperform During Inflation
Gold has provided investors with the stability of a hard monetary asset for centuries, with mining companies offering a riskier high volatility bet on gold-backed cash flows. However, when gold prices fall or inflation increases operational costs, gold mining companies fall significantly more than the precious metal.
Gold royalty companies manage to avoid inflation's bite or falling gold prices' crunch on profit margins as they have no exposure to rising operational expenses like wages and energy fuels while also having a much smaller headcount and lower G&A expenses as a result.
Along with avoiding rising expenses, gold royalty companies still retain exposure to mine expansions and exploration, offering just as much upside as mining companies when projects grow.
Gold Royalty offers inflation-resistant gold exposure with a portfolio of royalties on top-tier mines across the Americas. Click here to find out more about Gold Royalty.