Visualizing All Electric Car Models Available in the U.S.
Visualizing All Electric Car Models Available in the U.S.
America's electric vehicle (EV) market has surged over the last decade, and it's only expected to grow further. The Biden administration has allocated billions towards the EV transition in the hopes that by 2030, electric cars make up 50% of all new cars sales in America.
Given the rising demand, what types of electric car models are available for U.S. consumers to choose from today?
This graphic, using data from Car and Driver and EPA, highlights every single EV that's available for sale across America, showing the wide range of manufacturers, vehicle types, and prices.
What Electric Vehicles Are Available in America?
As of February 2022, there are 28 different electric vehicles available in the U.S., from 18 different manufacturers. Here are their base model statistics:
EV
Model (2022)
Price (MSRP)
Max. Horsepower
Combined Fuel Economy
Combined Max. Range
GMC Hummer EV Pickup
$110,295
1,000
N/A
N/A
Audi e-tron GT
$102,400
469
82 MPGe
238 miles
Mercedes EQS
$102,310
329
97 MPGe
350 miles
Tesla Model X
$98,940
670
102 MPGe
348 miles
Tesla Model S
$94,990
670
120 MPGe
405 miles
Porsche Taycan
$82,700
321
79 MPGe
200 miles
Lucid Air Pure
$77,400
480
N/A
406 miles
Rivian R1S
$72,500
600+
N/A
260+ miles
Jaguar I-Pace*
$69,900
394
76 MPGe
234 miles
Rivian R1T
$67,500
600+
70 MPGe
260+ miles
Audi e-tron
$65,900
402
78 MPGe
222 miles
Volvo C40 Recharge
$58,750
402
87 MPGe
226 miles
Volvo XC40 Recharge
$55,300
402
85 MPGe
223 miles
Tesla Model Y Long Range
$53,940
480
122 MPGe
330 miles
Polestar 2
$45,900
231
107 MPGe
270 miles
Tesla Model 3
$44,990
283
132 MPGe
272 miles
Audi Q4 e-tron
$43,900
295
95 MPGe
241 miles
Ford Mustang Mach-E RWD
$43,895
266
103 MPGe
247 miles
Hyundai Ioniq 5
$43,650
168
110 MPGe
220 miles
Kia EV6
$40,900
167
117 MPGe
232 miles
Volkswagen ID.4*
$40,760
201
99 MPGe
260 miles
Kia Niro EV
$39,990
201
112 MPGe
239 miles
Hyundai Kona Electric
$34,000
201
120 MPGe
258 miles
Chevrolet Bolt EUV
$33,500
200
115 MPGe
247 miles
Mazda MX-30
$33,470
143
92 MPGe
100 miles
Chevrolet Bolt EV
$31,500
200
120 MPGe
259 miles
Mini Cooper SE
$29,900
181
110 MPGe
114 miles
Nissan Leaf
$27,400
147
111 MPGe
149 miles
As of February 2022. *Indicates EPA data on fuel economy and range was only available for 2021 models.
At less than $30,000, the Nissan Leaf and Mini Cooper SE are currently the most affordable options for Americans.
Released in 2010, the Nissan Leaf is one of the oldest EVs on the market. Widely considered a pioneer in the EV space, it's one of the top-selling electric cars in the U.S.—in 2021, more than 14,000 cars were sold in America.
While the Leaf's low price point may be appealing to many, it has the third shortest maximum range on the list at 149 miles before needing a recharge. The only other cars with shorter ranges were the Mini Cooper SE and the Mazda MX-30.
GMC's Hummer EV pickup is the most expensive EV on the list, with a base price point of $110,295—however, GMC is planning to release less expensive versions of the Hummer EV over the coming years.
The only other EV pickup available in the U.S. market in early 2022 is Rivian's R1T. However, more manufacturers like Ford and Chevrolet are planning to release their own EV pickups, and Tesla's Cybertruck has been in the works for years.
And new EVs are quickly entering the market. For example, BMW's all-electric i4 and iX have only recently become available for sale in the U.S.
The Top EV Manufacturers
There are a number of domestic and international manufacturers that sell EVs in America, including German manufacturer Audi, Swedish carmaker Volvo, and South Korean manufacturer Kia.
Here's a breakdown of the 18 different manufacturers on the list, six of which are U.S. based:
| Manufacturer | Country of HQ | # EVs sold in the U.S. |
| --- | --- | --- |
| Tesla | 🇺🇸 U.S. | 4 |
| Audi | 🇩🇪 Germany | 3 |
| Volvo | 🇸🇪 Sweden | 2 |
| Rivian | 🇺🇸 U.S. | 2 |
| Kia | 🇰🇷 South Korea | 2 |
| Hyundai | 🇰🇷 South Korea | 2 |
| Chevrolet | 🇺🇸 U.S. | 2 |
| Volkswagen | 🇩🇪 Germany | 1 |
| Porsche | 🇩🇪 Germany | 1 |
| Polestar | 🇸🇪 Sweden | 1 |
| Nissan | 🇯🇵 Japan | 1 |
| Mini Cooper | 🇩🇪 German | 1 |
| Mercedes | 🇩🇪 German | 1 |
| Mazda | 🇯🇵 Japan | 1 |
| Lucid | 🇺🇸 U.S. | 1 |
| Jaguar | 🇬🇧 UK | 1 |
| GMC | 🇺🇸 U.S. | 1 |
| Ford | 🇺🇸 U.S. | 1 |
Tesla has the highest number of EV models on the market, with four different vehicles available: the Model S, Model X, Model Y, and the Model 3. It's one of the few manufacturers on the list that exclusively makes electric cars—the only others being Rivian and Lucid.
While anticipation has been building around Tesla's Cybertruck, and murmurs of a cheaper Tesla have been circulating, Tesla' CEO Elon Musk has confirmed that there will be no new Tesla models released in 2022. The company will instead focus on its existing models for the time being.
Are U.S. Consumers Ready to Transition to Electric Cars?
It's important to note that, while EV adoption in America has increased over the years, the U.S. is still lagging behind other countries. Between 2015 and 2020, America's EV fleet grew at an annual rate of 28%, while China's grew by 51%, and Europe increased by 41%.
Why are so many Americans dragging their feet when it comes to electric cars? According to a survey by Pew Research Center, the cost is a big barrier, as well as concerns over their reliability compared to gas vehicles.
But with gas prices at all-time highs, and as consumers grow increasingly concerned over the carbon costs of gas vehicles, switching to an electric car may soon be too hard to resist.
Ranked: The World's Top Cotton Producers
As the most-used natural fiber, cotton has become the most important non-food agricultural product.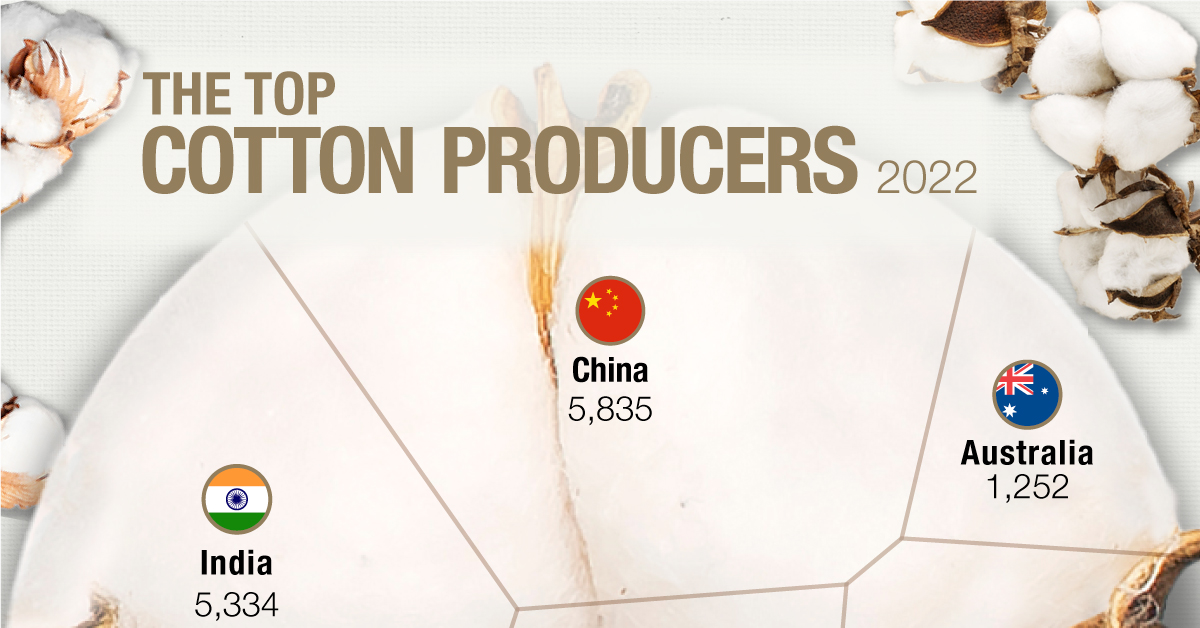 Ranked: The World's Top Cotton Producers
This was originally posted on Elements. Sign up to the free mailing list to get beautiful visualizations on natural resource megatrends in your email every week.
Cotton is present in our everyday life, from clothes to coffee strainers, and more recently in masks to control the spread of COVID-19.
As the most-used natural fiber, cotton has become the most important non-food agricultural product. Currently, approximately half of all textiles require cotton fibers.
The above infographic lists the world's top cotton producers, using data from the United States Department of Agriculture.
Fancy Fabric
Originating from the Arabic word "quton," meaning fancy fabric, cotton is a staple fiber made up of short fibers twisted together to form yarn.
The earliest production of cotton was around 5,000 B.C. in India, and today, around 25 million tons of cotton are produced each year.
Currently, five countries make up around 75% of global cotton production, with China being the world's biggest producer. The country is responsible for over 23% of global production, with approximately 89 million cotton farmers and part-time workers. Cotton's importance cannot be understated, as it is the primary input for the Chinese textile industry along with many other nations' textile industries.
| Top Cotton Producers | 2020/2021 (metric tons) | 2021/2022 (metric tons) |
| --- | --- | --- |
| 🇨🇳 China | 6,445,000 | 5,835,000 |
| 🇮🇳 India | 6,009,000 | 5,334,000 |
| 🇺🇸 United States | 3,181,000 | 3,815,000 |
| 🇧🇷 Brazil | 2,356,000 | 2,504,000 |
| 🇦🇺 Australia | 610,000 | 1,252,000 |
| 🇵🇰 Pakistan | 980,000 | 1,306,000 |
| 🇹🇷 Turkey | 631,000 | 827,000 |
| 🌐 Other | 4,059,000 | 4,282,000 |
| Total | 24,271,000 | 25,155,000 |
The United States is the leading global exporter of cotton, exporting three-fourths of its crop with China as the top buyer.
Despite its importance for the global economy, cotton production faces significant sustainability challenges.
The Controversy Over Cotton
Cotton is one of the largest users of water among all agricultural commodities, and production often involves applying pesticides that threaten soil and water quality.
Along with this, production often involves forced and child labor. According to the European Commission, child labor in the cotton supply chain is most common in Africa and Asia, where it comes from small-holder farmers.
In 2020, U.S. apparel maker Patagonia stopped sourcing cotton from the autonomous territory of Xinjiang because of reports about forced labor and other human rights abuses against Uighurs and other ethnic minorities.
L Brands, the parent company of Victoria's Secret, has also committed to eliminating Chinese cotton from its supply chain. Whether these changes in supply chains impact China's cotton production and its practices, cotton remains essential to materials found across our daily lives.
Mapped: Where Does Our Food Come From?
Did you know that over two-thirds of national crops originated from somewhere else? Over time the food that built national diets has evolved.
Where Does Our Food Come From?
Did you know that over two-thirds of national crops originated from somewhere else?
Humans have been selecting and growing crops for specific traits since the origins of agriculture some 10,000 years ago, shaping where and what crops are grown today.
Now our food system is completely global and many of the world's top producers of staple crops are in countries far from their historical origin. For example, Brazil is now the largest soybean producer in the world, though the crop is originally from East Asia.
The above infographic by Brazil Potash shows the historical origins of crops before they were domesticated across the globe and the main producers of our staple crops today.
Producers Of Staple Crops Today
Staple crops are those that are the most routinely grown and consumed. These can vary between countries depending on availability.
In 2020, sugarcane, maize, wheat, and rice made up around 50% of global crop production.
But when the production and distribution of staple crops are threatened, the consequences can be felt globally. Let's take a look at the countries that were the top three producers of some of our staple crops in 2020.
| Crop | Country | Percentage of Global Production |
| --- | --- | --- |
| Sugar Cane | 🇧🇷Brazil | 40.5% |
| Sugar Cane | 🇮🇳India | 19.9% |
| Sugar Cane | 🇨🇳China | 5.8% |
| Maize | 🇺🇸U.S. | 30.9% |
| Maize | 🇨🇳China | 22.4% |
| Maize | 🇧🇷Brazil | 8.9% |
| Wheat | 🇨🇳China | 17.6% |
| Wheat | 🇮🇳India | 14.1% |
| Wheat | 🇷🇺Russia | 11.3% |
As you can see from the data above, Brazil is the world's largest producer of sugarcane and one of the top three producers of maize.
The Future of Food Security
Global food security depends on staple crops and the countries that produce them. As the global population increases, so does the need to grow more crops.
The FAO estimates that by 2050 the world will need to increase its food output by around 70% in order to feed an ever-growing population.
Early food security solutions were transplanting crops from other regions to supplement diets. Now crop yields must increase as the next evolution in strengthening our food security. Fertilizers are a vital step in this process and are an essential ingredient in the future of global food security. They provide vital nutrients that increase crop production and strengthen nutrition security.
Brazil Potash extracts vital potash ore from the earth for it to return to the earth as fertilizer, fortifying food and helping to maintain continuous growth in the agricultural sector.
Click here to learn more about fertilizer and food production in Brazil.