How the World's Top Gold Mining Stocks Performed in 2020
How Top Gold Mining Stocks Performed in 2020
Gold mining stocks and the GDX saw strong returns in 2020 as gold was one of the most resilient and best performing assets in a highly volatile year.
But picking gold mining stocks isn't easy, as each company has a variety of individual projects and risks worth assessing. This is why the GDX (VanEck Vectors Gold Miners ETF), is one of the most popular methods investors choose to get exposure to players in the gold mining industry.
While the GDX and gold miners can generally offer leveraged upside compared to gold during bull markets, in 2020 the GDX returned 23%, just a couple of points shy from spot gold's 25.1% return.
This graphic compares the returns of gold, the GDX, and the best and worst performing gold mining equities in the index.
Understanding the GDX ETF and its Value
The GDX is one of many index ETFs created by investment management firm VanEck and offers exposure to 52 of the top gold mining stocks.
It provides a straightforward way to invest in the largest names in the gold mining industry, while cutting down on some of the individual risks that many mining companies are exposed to. The GDX is VanEck's largest and most popular ETF averaging ~$25M in volume every day, with the largest amount of total net assets at $15.3B.
In terms of its holdings, the GDX attempts to replicate the returns of the NYSE Arca Gold Miners Index (GDM), which tracks the overall performance of companies in the gold mining industry.
How the Largest Gold Miners Performed in 2020
As a market-cap weighted ETF, the GDX allocates more assets towards constituents with a higher market cap, resulting in larger gold mining companies making up more of the index's holdings.
This results in the five largest companies in the GDX making up 39.5% of the index's holdings, and the top 10 making up 59.3%.
An equally-weighted index of the top five GDX constituents returned 27.3% for the year, outperforming gold and the index by a few points. Meanwhile, an equally-weighted index of the top 10 constituents significantly underperformed, only returning 18.4%.
Newmont was the only company of the top five which outperformed gold and the overall index, returning 37.8% for the year. Wheaton Precious Metals (40.3%) and Kinross Gold (54.9%) were the only other companies in the top 10 that managed to outperform.
Kinross Gold was the best performer among the top constituents largely due to its strong Q3 results, where the company generated significant free cash flow while quadrupling reported net earnings. Along with these positive results, the company also announced its expectation to increase gold production by 20% over the next three years.
The Best and Worst Performers in 2020
Among the best and worst performers of the GDX, it was the smaller-sized companies in the bottom half of the ranking which either significantly over- or underperformed.
K92 Mining's record gold production from their Kainantu gold mine, along with a significant resource increase at their high-grade Kora deposit nearby saw a return of 164.2%, with the company graduating from the TSX-V to the TSX at the end of 2020.
Four of the five worst performers for 2020 were Australian mining companies as the country entered its first recession in 30 years after severe COVID-19 lockdowns and restrictions. Bushfires early in the year disrupted shipments from Newcrest's Cadia mine, and rising tensions with China (Australia's largest trading partner) also contributed to double-digit drawdowns for some Australian gold miners.
The worst performer and last-ranked company in the index, Resolute Mining (-36.9%), had further disruptions in H2'2020 at their Syama gold mine in Mali. The military coup and resignation of Mali's president Ibrahim Keïta in August was followed by unionized workers threatening strikes in September, slowing operations at Syama gold mine. Outright strikes eventually occurred before year's end.
How Gold Mining Stocks are Chosen for the GDX
There are some ground rules which dictate how the index is weighted to ensure the GDM and GDX properly reflect the gold mining industry.
Along with the rules on the index's weighting, there are company-specific requirements for inclusion into the GDM, and as a result the GDX:
Derive >50% of revenues from gold mining and related activities
Market capitalization >$750M
Average daily volume >50,000 shares over the past three months
Average daily value traded >$1M over the past three months
Gold mining stocks already in the index have some leeway regarding these requirements, and ultimately inclusion or exclusion from the index us up to the Index Administrator.
What 2021 Will Bring for Gold Mining Stocks
The GDX has had a muted start to the new year, with the index at -2.3% as it has mostly followed spot gold's price.
Gold and gold mining stocks cooled off significantly following their strong rally Q1-Q3'2020, as positive developments regarding the COVID-19 vaccine have resulted in a stronger-than-expected U.S. dollar and a rise in treasury yields.
This being said, the arrival of new monetary stimulus in the U.S. could spur inflation-fearing investors towards gold and gold mining stocks as the year progresses.
Visualizing China's Dominance in Clean Energy Metals
Despite being the world's biggest carbon emitter, China is also a key producer of most of the critical minerals for the green revolution.
Visualizing China's Dominance in Clean Energy Metals
This was originally posted on Elements. Sign up to the free mailing list to get beautiful visualizations on natural resource megatrends in your email every week.
Renewable sources of energy are expected to replace fossil fuels over the coming decades, and this large-scale transition will have a downstream effect on the demand of raw materials. More green energy means more wind turbines, solar panels, and batteries needed, and more clean energy metals necessary to build these technologies.
This visualization, based on data from the International Energy Agency (IEA), illustrates where the extraction and processing of key metals for the green revolution take place.
It shows that despite being the world's biggest carbon polluter, China is also the largest producer of most of the world's critical minerals for the green revolution.
Where Clean Energy Metals are Produced
China produces 60% of all rare earth elements used as components in high technology devices, including smartphones and computers.
The country also has a 13% share of the lithium production market, which is still dominated by Australia (52%) and Chile (22%). The highly reactive element is key to producing rechargeable batteries for mobile phones, laptops, and electric vehicles.
| China's Share | Extraction | Processing |
| --- | --- | --- |
| Copper | 8% | 40% |
| Nickel | 5% | 35% |
| Cobalt | 1.5% | 65% |
| Rare Earths | 60% | 87% |
| Lithium | 13% | 58% |
But even more than extraction, China is the dominant economy when it comes to processing operations. The country's share of refining is around 35% for nickel, 58% for lithium, 65% for cobalt, and 87% for rare earth elements.
Despite being the largest economy in the world, the U.S. does not appear among the largest producers of any of the metals listed. To shorten the gap, the Biden administration recently launched an executive order to review the American strategy for critical and strategic materials.
It's also worth noting that Russia also does not appear among the top producers when it comes to clean energy metals, despite being one of the world's leading producers of minerals like copper, iron, and palladium.
Low Regulation in the Clean Metal Supply Chain
While China leads all countries in terms of cobalt processing, the metal itself is primarily extracted in the Democratic Republic of Congo (DRC). Still, Chinese interests own 15 of the 17 industrial cobalt operations in the DRC, according to a data analysis by The New York Times and Benchmark Mineral Intelligence.
Unfortunately, the DRC's cobalt production has been criticized due to reports of corruption and lack of regulation.
Part of the Congolese cobalt comes from artisanal mines with low regulation. Of the 255,000 Congolese artisanal miners, an estimated 40,000 are children, some as young as six years old.
The Rise of Clean Energy Metals
The necessary shift from fossil fuels to renewable energy opens up interesting questions about how geopolitics, and these supply chains, will be affected.
In the race to secure raw materials needed for the green revolution, new world powers could emerge as demand for clean energy metals grows.
For now, China has the lead.
The Periodic Table of Commodity Returns (2012-2021)
Energy fuels led the way as commodity prices surged in 2021, with only precious metals providing negative returns.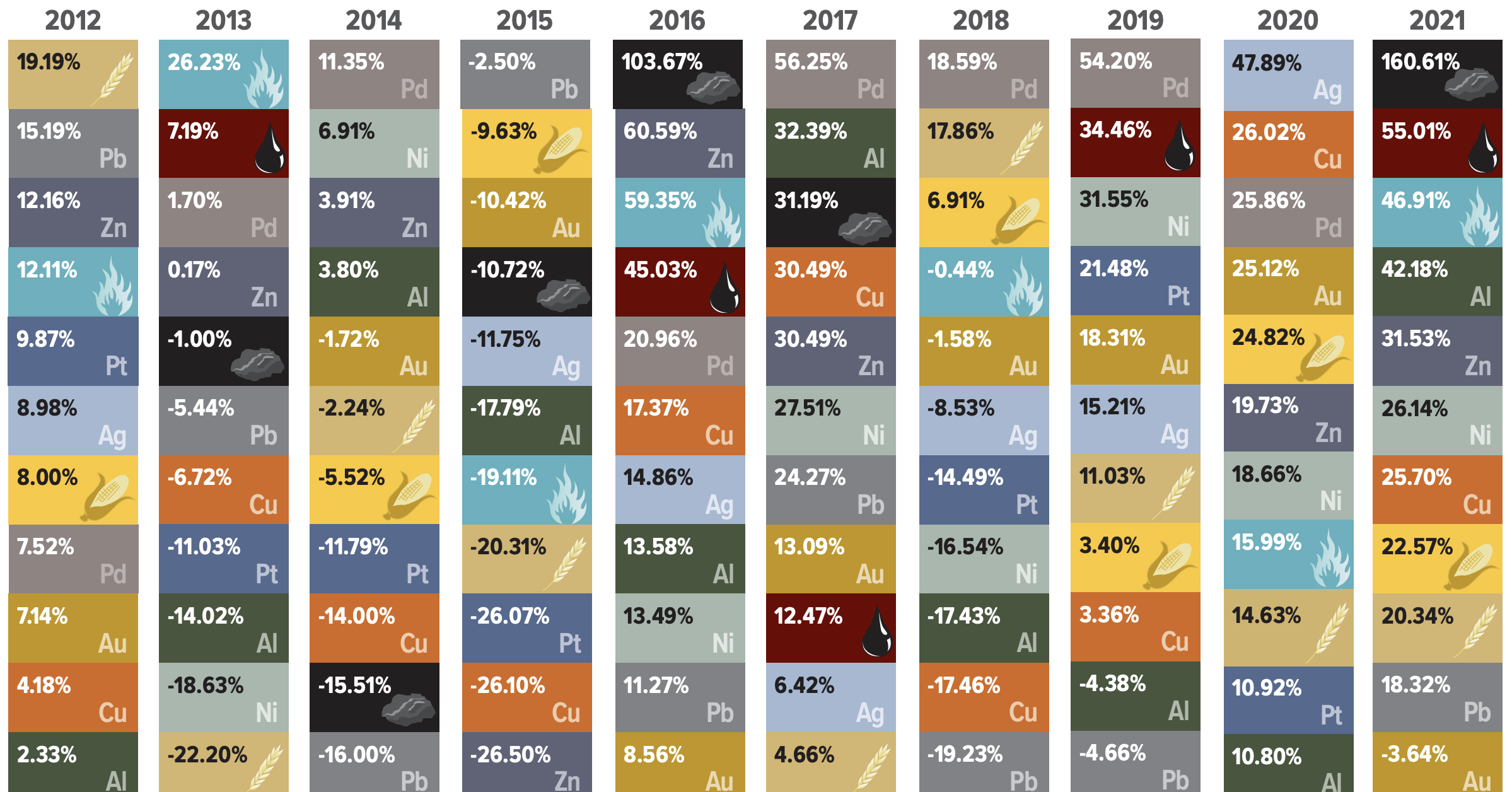 The Periodic Table of Commodity Returns (2022 Edition)
For investors, 2021 was a year in which nearly every asset class finished in the green, with commodities providing some of the best returns.
The S&P Goldman Sachs Commodity Index (GSCI) was the third best-performing asset class in 2021, returning 37.1% and beating out real estate and all major equity indices.
This graphic from U.S. Global Investors tracks individual commodity returns over the past decade, ranking them based on their individual performance each year.
Commodity Prices Surge in 2021
After a strong performance from commodities (metals especially) in the year prior, 2021 was all about energy commodities.
The top three performers for 2021 were energy fuels, with coal providing the single best annual return of any commodity over the past 10 years at 160.6%. According to U.S. Global Investors, coal was also the least volatile commodity of 2021, meaning investors had a smooth ride as the fossil fuel surged in price.
| Commodity | 2021 Returns |
| --- | --- |
| Coal | 160.61% |
| Crude Oil | 55.01% |
| Gas | 46.91% |
| Aluminum | 42.18% |
| Zinc | 31.53% |
| Nickel | 26.14% |
| Copper | 25.70% |
| Corn | 22.57% |
| Wheat | 20.34% |
| Lead | 18.32% |
| Gold | -3.64% |
| Platinum | -9.64% |
| Silver | -11.72% |
| Palladium | -22.21% |
Source: U.S. Global Investors
The only commodities in the red this year were precious metals, which failed to stay positive despite rising inflation across goods and asset prices. Gold and silver had returns of -3.6% and -11.7% respectively, with platinum returning -9.6% and palladium, the worst performing commodity of 2021, at -22.2%.
Aside from the precious metals, every other commodity managed double-digit positive returns, with four commodities (crude oil, coal, aluminum, and wheat) having their best single-year performances of the past decade.
Energy Commodities Outperform as the World Reopens
The partial resumption of travel and the reopening of businesses in 2021 were both powerful catalysts that fueled the price rise of energy commodities.
After crude oil's dip into negative prices in April 2020, black gold had a strong comeback in 2021 as it returned 55.01% while being the most volatile commodity of the year.
Natural gas prices also rose significantly (46.91%), with the UK and Europe's natural gas prices rising even more as supply constraints came up against the winter demand surge.
Despite being the second worst performer of 2020 with the clean energy transition on the horizon, coal was 2021's best commodity.
High electricity demand saw coal return in style, especially in China which accounts for one-third of global coal consumption.
Base Metals Beat out Precious Metals
2021 was a tale of two metals, as precious metals and base metals had opposing returns.
Copper, nickel, zinc, aluminum, and lead, all essential for the clean energy transition, kept up last year's positive returns as the EV batteries and renewable energy technologies caught investors' attention.
Demand for these energy metals looks set to continue in 2022, with Tesla having already signed a $1.5 billion deal for 75,000 tonnes of nickel with Talon Metals.
On the other end of the spectrum, precious metals simply sunk like a rock last year.
Investors turned to equities, real estate, and even cryptocurrencies to preserve and grow their investments, rather than the traditionally favorable gold (-3.64%) and silver (-11.72%). Platinum and palladium also lagged behind other commodities, only returning -9.64% and -22.21% respectively.
Grains Bring Steady Gains
In a year of over and underperformers, grains kept up their steady track record and notched their fifth year in a row of positive returns.
Both corn and wheat provided double-digit returns, with corn reaching eight-year highs and wheat reaching prices not seen in over nine years. Overall, these two grains followed 2021's trend of increasing food prices, as the UN Food and Agriculture Organization's food price index reached a 10-year high, rising by 17.8% over the course of the year.
As inflation across commodities, assets, and consumer goods surged in 2021, investors will now be keeping a sharp eye for a pullback in 2022. We'll have to wait and see whether or not the Fed's plans to increase rates and taper asset purchases will manage to provide price stability in commodities.