Timeline: Looking Back at 10 Years of Snapchat
Looking Back at 10 Years of Snapchat
Over the years, many ideas have emerged from the dorm rooms at Stanford University, but not all of them evolve into billion dollar companies.
Snapchat, however, has beaten the odds. The company's stock has recently shot up during the COVID-19 pandemic, a bright spot in a decade of highs and lows.
The graphic above is a high level look at Snapchat's 10-year history, including user growth and financials. Snapchat's wild ride from start-up to massive success is well documented, so we'll focus on key elements of story—product design, the Facebook rivalry—and look at how the company is doing today now that the hype surrounding the app has died down.
But first, a quick history…
Setting the Scene
Snapchat originally began its life as a project called Picaboo in 2011.
Cofounders Evan Spiegel, Bobby Murphy, and Reggie Brown, who were attending Stanford, began building an app that could send photos that disappear after a certain amount of time.
Picaboo was renamed Snapchat in 2012, and by the end of that year, it was clear that the start-up was onto something big. A $13.5 million Series A financing in early 2013 helped fuel the company's explosive growth.
Positive Momentum: Product Design
One of Snapchat's biggest strengths over the years has been innovative product design. Many of the features we now see baked into every social app originated from Snapchat.
Here's a quick rundown of Snapchat's key feature and product development over the past decade.
Of all the features listed above, the concept of stories is perhaps the most significant contribution to the digital landscape. Disappearing short-form videos started off as a messaging tool, but ended up transforming the way people share their lives online.
As well, the forward-looking acquisition of Looksery in 2015, helped introduce millions of people to augmented reality (AR). AR continues to be a major growth driver for Snapchat today, as advertisers embrace the Lenses feature.
Negative Momentum: Facebook Rivalry
To Mark Zuckerberg's credit, he realized the potential of Snapchat early.
When the company was only one year old, the Facebook CEO offered the Snapchat founders $60 million to buy the company. When they rejected the offer, Facebook almost immediately launched an app called Poke which was extremely similar to Snapchat's offering. You'd be forgiven for not knowing what Poke is, as the app received a tepid reception and was quietly shut down in 2014.
"I hope you enjoy Poke." – Mark Zuckerberg, in an email to Evan Spiegel
For Snapchat, Poke was a blessing in disguise as it brought even more attention to their growing app. Mark Zuckerberg, however, was not done trying to steal the company's thunder. After offering $3 billion in cash to purchase Snapchat (the offer was once again rebuffed), Facebook copied a number of features from Snapchat and integrated them into Instagram.
Stories were a massive hit for Instagram, and Snapchat, which could not yet match Instagram's scale, took a big hit. Growth began to slow noticeably after that Instagram update.
Snapchat Today
Snapchat hit rock bottom in 2018 after shares dropped below the $5 mark, and user growth had stalled out. As well, underwhelming sales of Snapchat's Spectacles product garnered negative press and hurt the brand's "cool factor".
Today though, the situation looks much different. The app still has a strong market share with the younger demographic, and close to 300 million daily active users. Snapchat was one of the many digital companies to benefit from the COVID-19 pandemic (or, at least, the increase in digital content consumption), and the share price has rocketed to new highs. One other promising indicator is the company's rising average revenue per user, or ARPU.
Of course, as the last 10 years have shown, success is not guaranteed. TikTok is still a significant competitor with a lot of momentum, and tastes can change quickly in the digital world. That said, there is a positive path forward for Snap Inc.
Which Companies Make Up the "Magnificent Seven" Stocks?
FAANG is dead… meet the 'Magnificent Seven' stocks that now make up over 25% of the S&P 500.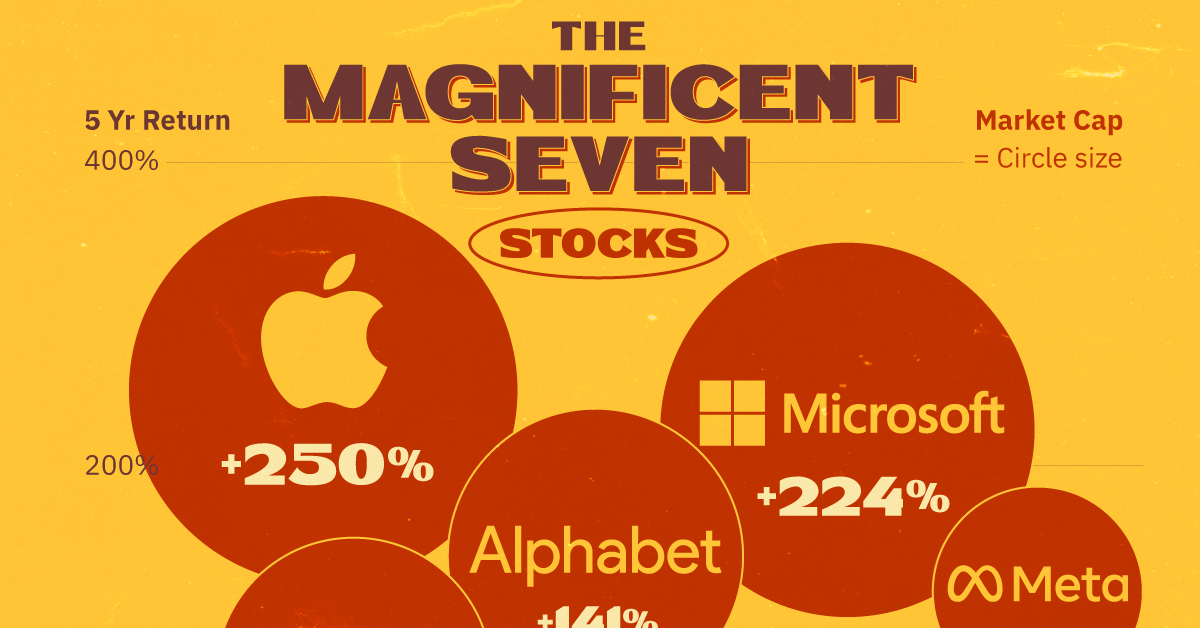 Which Companies Make Up the "Magnificent Seven" Stocks?
In 2013 CNBC analyst Jim Cramer popularized "FANG," comprised of Facebook (now Meta), Amazon, Netflix, and Google (now Alphabet), as a shorthand for the best performing technology stocks on the market. Apple, added in 2017, made it FAANG.
However, over the last year a new moniker given by Bank of America analyst Michael Hartnett highlights the most valuable and popularly-owned companies on the American stock market: the "Magnificent Seven" stocks.
We visualize the Magnificent Seven's market capitalization and 5-year stock performance as of November 2023 using data from Google Finance and CompaniesMarketCap.
The Magnificent Seven Stocks by Market Cap and 5-Year Return
The Magnificent Seven stocks are megacap companies focused and capitalizing on tech growth trends including AI, cloud computing, and cutting-edge hardware and software.
Four of the five FAANG stocks retain their place amongst the Magnificent Seven, with newcomers Nvidia, Tesla, and Microsoft joining the group. Following a poor 2022 performance and having more difficulty capitalizing on tech trends, Netflix is the sole FAANG company not included.
Here's a look at the companies ranked by their market capitalization on November 6, 2023, alongside their 5-year stock performance:
| Rank | Company | Market Cap | 5 Year Performance |
| --- | --- | --- | --- |
| 1 | Apple | $2.8 trillion | +250% |
| 2 | Microsoft | $2.6 trillion | +224% |
| 3 | Alphabet | $1.6 trillion | +141% |
| 4 | Amazon | $1.4 trillion | +63% |
| 5 | Nvidia | $1.1 trillion | +783% |
| 6 | Meta | $811 billion | +118% |
| 7 | Tesla | $690 billion | +829% |
The Magnificent Seven make up more than one-quarter of the S&P 500 and more than half of the Nasdaq 100.
Meanwhile, five of the seven are part of the rare trillion dollar club, with Nvidia being the most recent entry.
A common theme among the Magnificent Seven is their ability to collect vast amounts of customer data, create cutting-edge hardware and software, as well as harness the power of AI.
However, if Netflix gets back on track—recently announcing its new ad-supported membership tier has 15 million subscribers—we could soon see a "Magnificent Eight."