The History of Wearable Technology
The History of Wearable Technology
Today's infographic not only highlights the history of wearable technology, but it also shows the noticeable acceleration in the advancement and adoption of new innovations. At the beginning, it would take hundreds of years between breakthroughs such as eyeglasses and the abacus ring. Today, new wearable tech innovations happen every month. In the last ten years, we've had the Google Glass, Fitbit, Oculus Rift, and countless others.
Interestingly, the history of wearable technology is littered with commercial failures and a few game changers, with not much in between. The reality is, however, that the duds seem to outweigh the successes by a wide margin.
For investors, this means that a strategic investment in a wearable tech company or product could either be a ten-bagger or go to zero. For this reason, due diligence is a key aspect of judging the validity of these companies.
As examples, the air-conditioned hat, Pulsar Calculator Watch, Seiko UC 2000 Wrist PC, and Levi's ICD+ Jacket never really took off. Even great technologies such as the Google Glass never really generated any returns. This was a lot of risk to take on for no return, but perhaps in the future these patents and knowledge can benefit a company like Google.
The clearest commercial success on the list happened in 1979. The Sony Walkman and subsequent Sony Discman helped put the company on track to become an entertainment powerhouse. Over 400 million Walkman portable music players have been sold over time, with about 200 million of those being cassette players.
However, not all products with good fanfare are destined for success. The commercial potential of many wearable technologies introduced in recent years are still up in the air.
Fitbit filed for a $100 million IPO, but it now has to compete against a plethora of other fitness trackers on the market. The Apple Watch has been launched to much fanfare, but it comes with no guarantees for Apple – a company that needs a lot of new revenues on a product to move the needle. Lastly, the creation of the Oculus Rift could pioneer virtual reality and bring it to consumers. The company was already bought by Facebook for $400 million in cash, $1.6 billion in stock, and an additional $300 million contingent on specific financial targets. Will this transaction ultimately benefit Facebook shareholders? While there are no guarantees, so far reviews have been overwhelmingly positive for the virtual reality device.
What is clear is that, based on the history of wearable technology, devices that move the masses are far and between. The successes that do make it, however, can change the world and generate chart-topping returns.
Original graphic by: Staysourced
Which Companies Make Up the "Magnificent Seven" Stocks?
FAANG is dead… meet the 'Magnificent Seven' stocks that now make up over 25% of the S&P 500.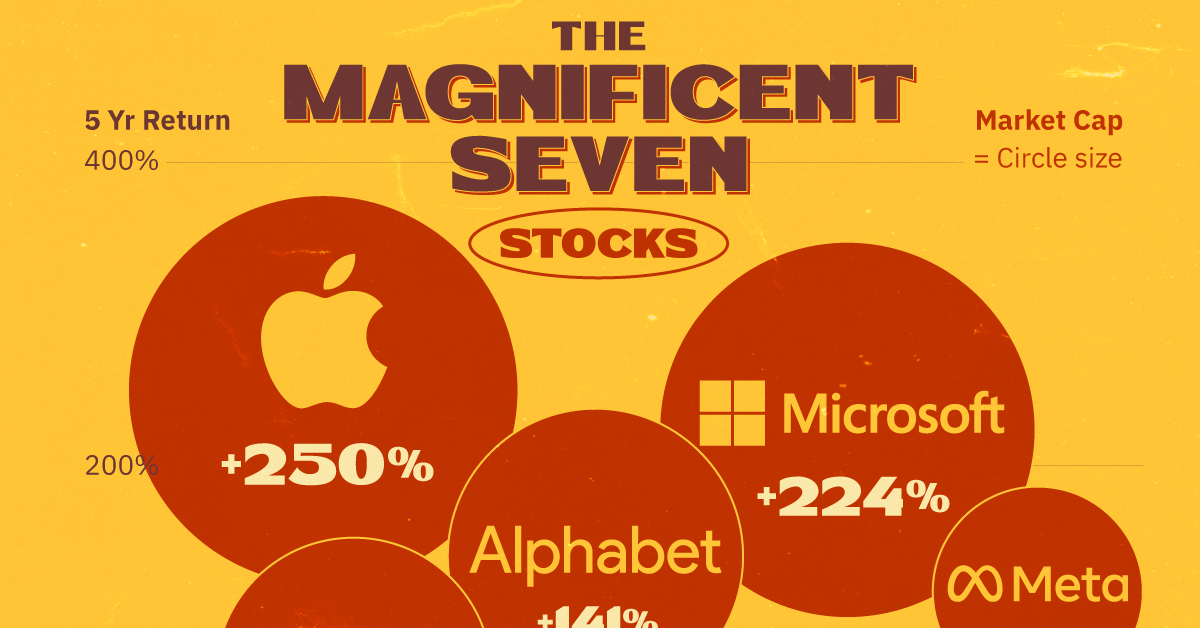 Which Companies Make Up the "Magnificent Seven" Stocks?
In 2013 CNBC analyst Jim Cramer popularized "FANG," comprised of Facebook (now Meta), Amazon, Netflix, and Google (now Alphabet), as a shorthand for the best performing technology stocks on the market. Apple, added in 2017, made it FAANG.
However, over the last year a new moniker given by Bank of America analyst Michael Hartnett highlights the most valuable and popularly-owned companies on the American stock market: the "Magnificent Seven" stocks.
We visualize the Magnificent Seven's market capitalization and 5-year stock performance as of November 2023 using data from Google Finance and CompaniesMarketCap.
The Magnificent Seven Stocks by Market Cap and 5-Year Return
The Magnificent Seven stocks are megacap companies focused and capitalizing on tech growth trends including AI, cloud computing, and cutting-edge hardware and software.
Four of the five FAANG stocks retain their place amongst the Magnificent Seven, with newcomers Nvidia, Tesla, and Microsoft joining the group. Following a poor 2022 performance and having more difficulty capitalizing on tech trends, Netflix is the sole FAANG company not included.
Here's a look at the companies ranked by their market capitalization on November 6, 2023, alongside their 5-year stock performance:
| Rank | Company | Market Cap | 5 Year Performance |
| --- | --- | --- | --- |
| 1 | Apple | $2.8 trillion | +250% |
| 2 | Microsoft | $2.6 trillion | +224% |
| 3 | Alphabet | $1.6 trillion | +141% |
| 4 | Amazon | $1.4 trillion | +63% |
| 5 | Nvidia | $1.1 trillion | +783% |
| 6 | Meta | $811 billion | +118% |
| 7 | Tesla | $690 billion | +829% |
The Magnificent Seven make up more than one-quarter of the S&P 500 and more than half of the Nasdaq 100.
Meanwhile, five of the seven are part of the rare trillion dollar club, with Nvidia being the most recent entry.
A common theme among the Magnificent Seven is their ability to collect vast amounts of customer data, create cutting-edge hardware and software, as well as harness the power of AI.
However, if Netflix gets back on track—recently announcing its new ad-supported membership tier has 15 million subscribers—we could soon see a "Magnificent Eight."