Long Waves: The History of Innovation Cycles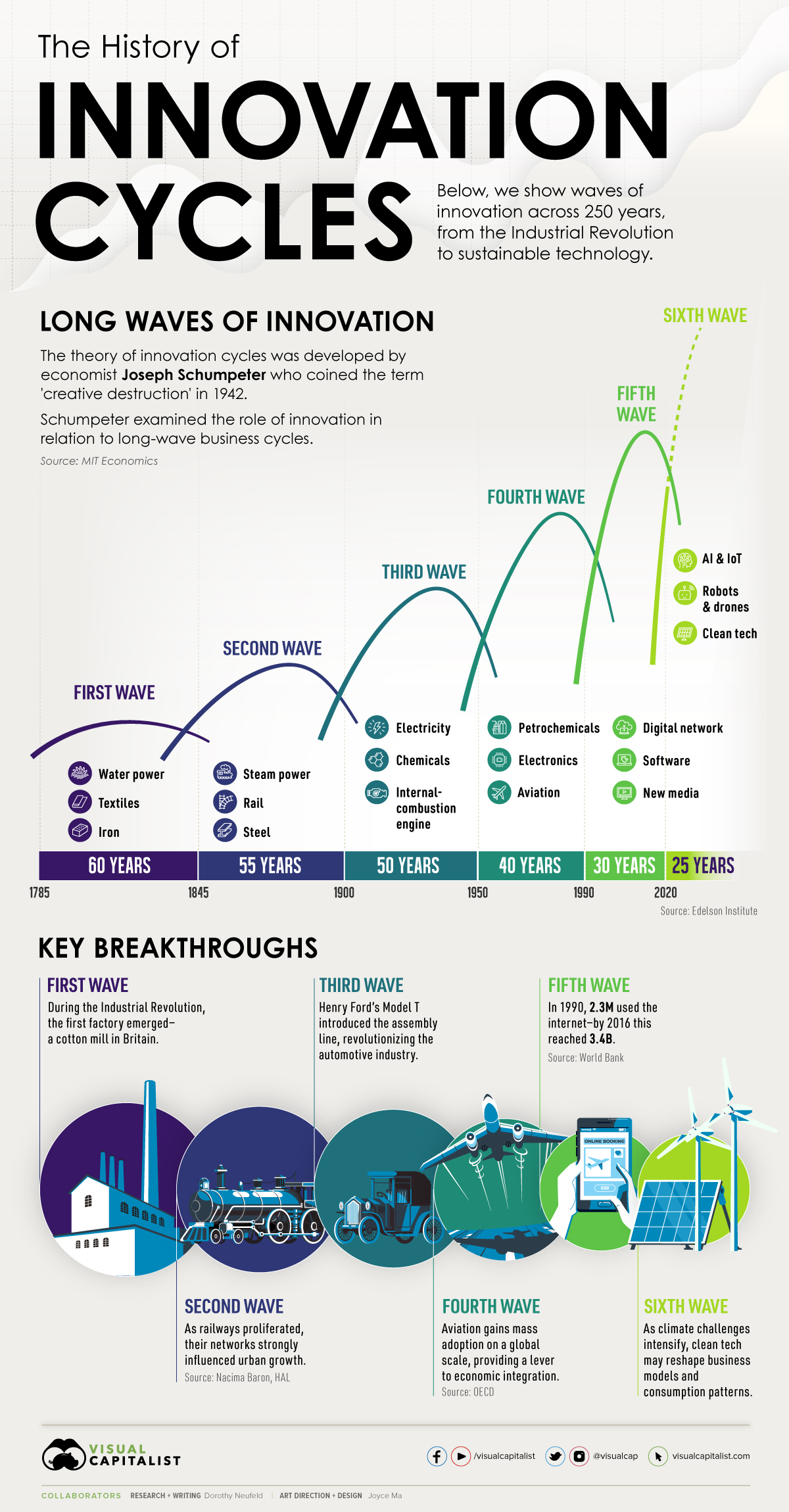 Long Waves: How Innovation Cycles Influence Growth
Creative destruction plays a key role in entrepreneurship and economic development.
Coined by economist Joseph Schumpeter in 1942, the theory of "creative destruction" suggests that business cycles operate under long waves of innovation. Specifically, as markets are disrupted, key clusters of industries have outsized effects on the economy.
Take the railway industry, for example. At the turn of the 19th century, railways completely reshaped urban demographics and trade. Similarly, the internet disrupted entire industries—from media to retail.
The above infographic shows how innovation cycles have impacted economies since 1785, and what's next for the future.
Innovation Cycles: The Six Waves
From the first wave of textiles and water power in the industrial revolution, to the internet in the 1990s, here are the six waves of innovation and their key breakthroughs.
First Wave
Second Wave
Third Wave
Fourth Wave
Fifth Wave
Sixth Wave
Water Power
Textiles
Iron

Steam
Rail
Steel

Electricity
Chemicals
Internal-Combustion Engine

Petrochemicals
Electronics
Aviation

Digital Network
Software
New Media

Digitization (AI, IoT, AV,
Robots & Drones)
Clean Tech

60 years
55 years
50 years
40 years
30 years
25 years
Source: Edelsen Institute, Detlef Reis
During the first wave of the Industrial Revolution, water power was instrumental in manufacturing paper, textiles, and iron goods. Unlike the mills of the past, full-sized dams fed turbines through complex belt systems. Advances in textiles brought the first factory, and cities expanded around them.
With the second wave, between about 1845 and 1900, came significant rail, steam, and steel advancements. The rail industry alone affected countless industries, from iron and oil to steel and copper. In turn, great railway monopolies were formed.
The emergence of electricity powering light and telephone communication through the third wave dominated the first half of the 1900s. Henry Ford introduced the Model T, and the assembly line transformed the auto industry. Automobiles became closely linked with the expansion of the American metropolis. Later, in the fourth wave, aviation revolutionized travel.
After the internet emerged by the early 1990s, barriers to information were upended. New media changed political discourse, news cycles, and communication in the fifth wave. The internet ushered in a new frontier of globalization, a borderless landscape of digital information flows.
Market Power
To the economist Schumpeter, technological innovations boosted economic growth and improved living standards.
However, these disruptors can also have a tendency to lead to monopolies. Especially during a cycle's upswing, the strongest players realize wide margins, establish moats, and fend off rivals. Typically, these cycles begin when the innovations become of general use.
Of course, this can be seen today—never has the world been so closely connected. Information is more centralized than it has ever been, with Big Tech dominating global search traffic, social networks, and advertising.
Like the Big Tech behemoths of today, the rail industry had the power to control prices and push out competitors during the 19th century. At the peak, listed shares of rail companies on the New York Stock Exchange made up 60% of total stock market capitalization.
Waves of Change
As cycle longevity continues to shorten, the fifth wave may have a few years left under its belt.
The sixth wave, marked by artificial intelligence and digitization across information of things (IoT), robotics, and drones, will likely paint an entirely new picture. Namely, the automation of systems, predictive analytics, and data processing could make an impact. In turn, physical goods and services will likely be digitized. The time to complete tasks could shift from hours to even seconds.
At the same time, clean tech could come to the forefront. At the heart of each technological innovation is solving complex problems, and climate concerns are becoming increasingly pressing. Lower costs in solar PV and wind are also predicating efficiency advantages.
Ranked: America's 20 Biggest Tech Layoffs Since 2020
How bad are the current layoffs in the tech sector? This visual reveals the 20 biggest tech layoffs since the start of the pandemic.
Ranked: America's 20 Biggest Tech Layoffs This Decade
The events of the last few years could not have been predicted by anyone. From a global pandemic and remote work as the standard, to a subsequent hiring craze, rising inflation, and now, mass layoffs.
Alphabet, Google's parent company, essentially laid off the equivalent of a small town just weeks ago, letting go of 12,000 people—the biggest layoffs the company has ever seen in its history. Additionally, Amazon and Microsoft have also laid off 10,000 workers each in the last few months, not to mention Meta's 11,000.
This visual puts the current layoffs in the tech industry in context and ranks the 20 biggest tech layoffs of the 2020s using data from the tracker, Layoffs.fyi.
The Top 20 Layoffs of the 2020s
Since 2020, layoffs in the tech industry have been significant, accelerating in 2022 in particular. Here's a look at the companies that laid off the most people over the last three years.
| Rank | Company | # Laid Off | % of Workforce | As of |
| --- | --- | --- | --- | --- |
| #1 | Google | 12,000 | 6% | Jan 2023 |
| #2 | Meta | 11,000 | 13% | Nov 2021 |
| #3 | Amazon | 10,000 | 3% | Nov 2021 |
| #4 | Microsoft | 10,000 | 5% | Jan 2023 |
| #5 | Salesforce | 8,000 | 10% | Jan 2023 |
| #6 | Amazon | 8,000 | 2% | Jan 2023 |
| #7 | Uber | 6,700 | 24% | May 2020 |
| #8 | Cisco | 4,100 | 5% | Nov 2021 |
| #9 | IBM | 3,900 | 2% | Jan 2023 |
| #10 | Twitter | 3,700 | 50% | Nov 2021 |
| #11 | Better.com | 3,000 | 33% | Mar 2022 |
| #12 | Groupon | 2,800 | 44% | Apr 2020 |
| #13 | Peloton | 2,800 | 20% | Feb 2022 |
| #14 | Carvana | 2,500 | 12% | May 2022 |
| #15 | Katerra | 2,434 | 100% | Jun 2021 |
| #16 | Zillow | 2,000 | 25% | Nov 2021 |
| #17 | PayPal | 2,000 | 7% | Jan 2023 |
| #18 | Airbnb | 1,900 | 25% | May 2020 |
| #19 | Instacart | 1,877 | -- | Jan 2021 |
| #20 | Wayfair | 1,750 | 10% | Jan 2023 |
Layoffs were high in 2020 thanks to the COVID-19 pandemic, halting the global economy and forcing staff reductions worldwide. After that, things were steady until the economic uncertainty of last year, which ultimately led to large-scale layoffs in tech—with many of the biggest cuts happening in the past three months.
The Cause of Layoffs
Most workforce slashings are being blamed on the impending recession. Companies are claiming they are forced to cut down the excess of the hiring boom that followed the pandemic.
Additionally, during this hiring craze competition was fierce, resulting in higher salaries for workers, which is now translating in an increased need to trim the fat thanks to the current economic conditions.
Of course, the factors leading up to these recent layoffs are more nuanced than simple over-hiring plus recession narrative. In truth, there appears to be a culture shift occurring at many of America's tech companies. As Rani Molla and Shirin Ghaffary from Recode have astutely pointed out, tech giants really want you to know they're behaving like scrappy startups again.
Twitter's highly publicized headcount reduction in late 2022 occurred for reasons beyond just macroeconomic factors. Elon Musk's goal of doing more with a smaller team seemed to resonate with other founders and executives in Silicon Valley, providing an opening for others in tech space to cut down on labor costs as well. In just one example, Mark Zuckerberg hailed 2023 as the "year of efficiency" for Meta.
Meanwhile, over at Google, 12,000 jobs were put on the chopping block as the company repositions itself to win the AI race. In the words of Google's own CEO:
"Over the past two years we've seen periods of dramatic growth. To match and fuel that growth, we hired for a different economic reality than the one we face today… We have a substantial opportunity in front of us with AI across our products and are prepared to approach it boldly and responsibly."– Sundar Pichai
The Bigger Picture in the U.S. Job Market
Beyond the tech sector, job openings continue to rise. Recent data from the Bureau of Labor Statistics (BLS) revealed a total of 11 million job openings across the U.S., an increase of almost 7% month-over-month. This means that for every unemployed worker in America right now there are 1.9 job openings available.
Additionally, hiring increased significantly in January, with employers adding 517,000 jobs. While the BLS did report a decrease in openings in information-based industries, openings are increasing rapidly especially in the food services, retail trade, and construction industries.