Long Waves: The History of Innovation Cycles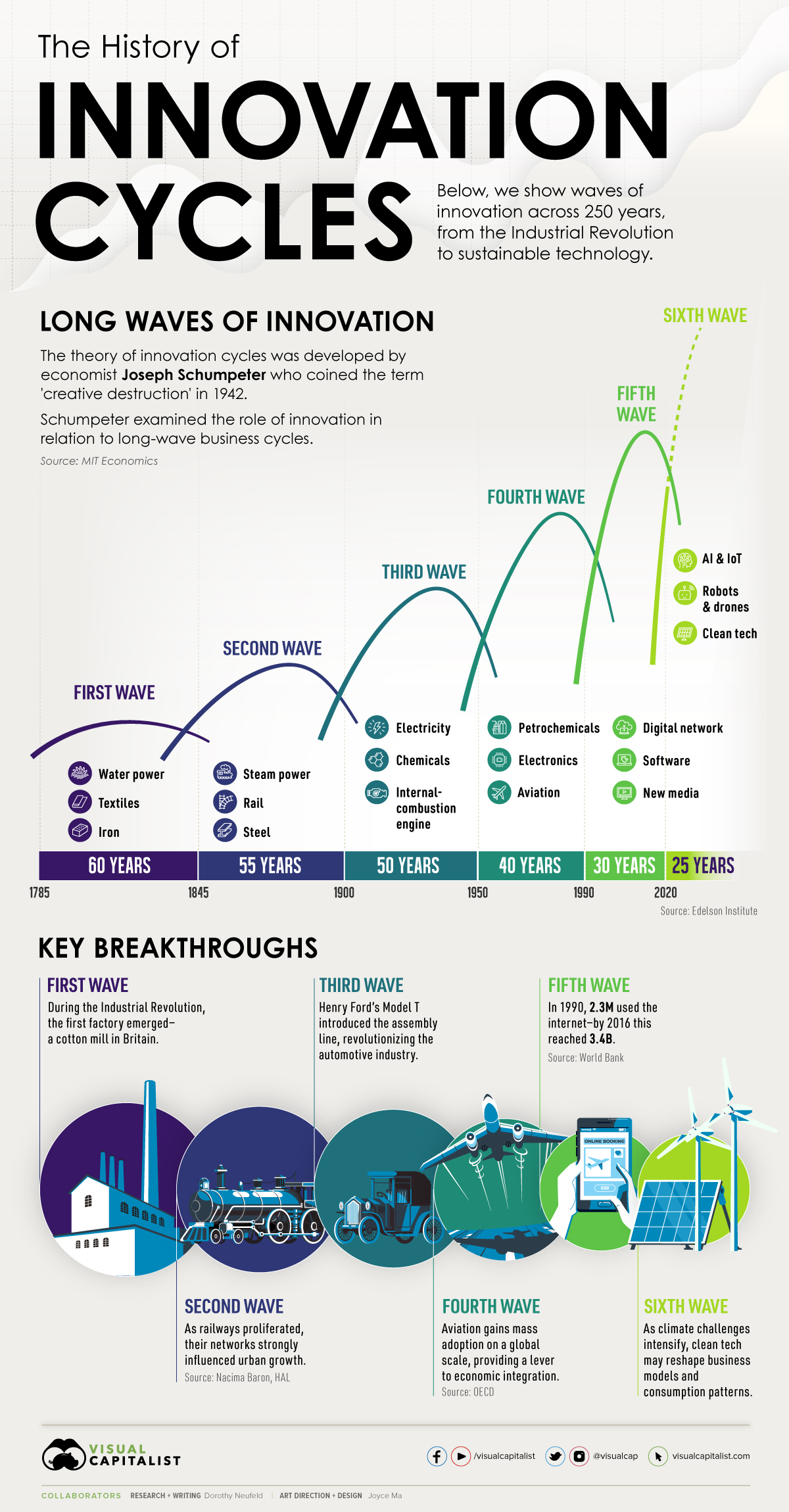 Long Waves: How Innovation Cycles Influence Growth
Creative destruction plays a key role in entrepreneurship and economic development.
Coined by economist Joseph Schumpeter in 1942, the theory of "creative destruction" suggests that business cycles operate under long waves of innovation. Specifically, as markets are disrupted, key clusters of industries have outsized effects on the economy.
Take the railway industry, for example. At the turn of the 19th century, railways completely reshaped urban demographics and trade. Similarly, the internet disrupted entire industries—from media to retail.
The above infographic shows how innovation cycles have impacted economies since 1785, and what's next for the future.
Innovation Cycles: The Six Waves
From the first wave of textiles and water power in the industrial revolution, to the internet in the 1990s, here are the six waves of innovation and their key breakthroughs.
First Wave
Second Wave
Third Wave
Fourth Wave
Fifth Wave
Sixth Wave
Water Power
Textiles
Iron

Steam
Rail
Steel

Electricity
Chemicals
Internal-Combustion Engine

Petrochemicals
Electronics
Aviation

Digital Network
Software
New Media

Digitization (AI, IoT, AV,
Robots & Drones)
Clean Tech

60 years
55 years
50 years
40 years
30 years
25 years
Source: Edelsen Institute, Detlef Reis
During the first wave of the Industrial Revolution, water power was instrumental in manufacturing paper, textiles, and iron goods. Unlike the mills of the past, full-sized dams fed turbines through complex belt systems. Advances in textiles brought the first factory, and cities expanded around them.
With the second wave, between about 1845 and 1900, came significant rail, steam, and steel advancements. The rail industry alone affected countless industries, from iron and oil to steel and copper. In turn, great railway monopolies were formed.
The emergence of electricity powering light and telephone communication through the third wave dominated the first half of the 1900s. Henry Ford introduced the Model T, and the assembly line transformed the auto industry. Automobiles became closely linked with the expansion of the American metropolis. Later, in the fourth wave, aviation revolutionized travel.
After the internet emerged by the early 1990s, barriers to information were upended. New media changed political discourse, news cycles, and communication in the fifth wave. The internet ushered in a new frontier of globalization, a borderless landscape of digital information flows.
Market Power
To the economist Schumpeter, technological innovations boosted economic growth and improved living standards.
However, these disruptors can also have a tendency to lead to monopolies. Especially during a cycle's upswing, the strongest players realize wide margins, establish moats, and fend off rivals. Typically, these cycles begin when the innovations become of general use.
Of course, this can be seen today—never has the world been so closely connected. Information is more centralized than it has ever been, with Big Tech dominating global search traffic, social networks, and advertising.
Like the Big Tech behemoths of today, the rail industry had the power to control prices and push out competitors during the 19th century. At the peak, listed shares of rail companies on the New York Stock Exchange made up 60% of total stock market capitalization.
Waves of Change
As cycle longevity continues to shorten, the fifth wave may have a few years left under its belt.
The sixth wave, marked by artificial intelligence and digitization across information of things (IoT), robotics, and drones, will likely paint an entirely new picture. Namely, the automation of systems, predictive analytics, and data processing could make an impact. In turn, physical goods and services will likely be digitized. The time to complete tasks could shift from hours to even seconds.
At the same time, clean tech could come to the forefront. At the heart of each technological innovation is solving complex problems, and climate concerns are becoming increasingly pressing. Lower costs in solar PV and wind are also predicating efficiency advantages.
Visualizing the Critical Metals in a Smartphone
Smartphones can contain ~80% of the stable elements on the periodic table. This graphic details the critical metals you carry in your pocket.
Visualizing the Critical Metals in a Smartphone
In an increasingly connected world, smartphones have become an inseparable part of our lives.
Over 60% of the world's population owns a mobile phone and smartphone adoption continues to rise in developing countries around the world.
While each brand has its own mix of components, whether it's a Samsung or an iPhone, most smartphones can carry roughly 80% of the stable elements on the periodic table.
But some of the vital metals to build these devices are considered at risk due to geological scarcity, geopolitical issues, and other factors.
| Smartphone Part | Critical Metal |
| --- | --- |
| Touch Screen | indium |
| Display | lanthanum; gadolinium; praseodymium; europium; terbium; dysprosium |
| Electronics | nickel, gallium, tantalum |
| Casing | nickel, magnesium |
| Battery | lithium, nickel, cobalt |
| Microphone, speakers, vibration unit | nickel, praseodymium, neodymium, gadolinium, terbium, dysprosium |
What's in Your Pocket?
This infographic based on data from the University of Birmingham details all the critical metals that you carry in your pocket with your smartphone.
1. Touch Screen
Screens are made up of multiple layers of glass and plastic, coated with a conductor material called indium which is highly conductive and transparent.
Indium responds when contacted by another electrical conductor, like our fingers.
When we touch the screen, an electric circuit is completed where the finger makes contact with the screen, changing the electrical charge at this location. The device registers this electrical charge as a "touch event", then prompting a response.
2. Display
Smartphones screens display images on a liquid crystal display (LCD). Just like in most TVs and computer monitors, a phone LCD uses an electrical current to adjust the color of each pixel.
Several rare earth elements are used to produce the colors on screen.
3. Electronics
Smartphones employ multiple antenna systems, such as Bluetooth, GPS, and WiFi.
The distance between these antenna systems is usually small making it extremely difficult to achieve flawless performance. Capacitors made of the rare, hard, blue-gray metal tantalum are used for filtering and frequency tuning.
Nickel is also used in capacitors and in mobile phone electrical connections. Another silvery metal, gallium, is used in semiconductors.
4. Microphone, Speakers, Vibration Unit
Nickel is used in the microphone diaphragm (that vibrates in response to sound waves).
Alloys containing rare earths neodymium, praseodymium and gadolinium are used in the magnets contained in the speaker and microphone. Neodymium, terbium and dysprosium are also used in the vibration unit.
5. Casing
There are many materials used to make phone cases, such as plastic, aluminum, carbon fiber, and even gold. Commonly, the cases have nickel to reduce electromagnetic interference (EMI) and magnesium alloys for EMI shielding.
6. Battery
Unless you bought your smartphone a decade ago, your device most likely carries a lithium-ion battery, which is charged and discharged by lithium ions moving between the negative (anode) and positive (cathode) electrodes.
What's Next?
Smartphones will naturally evolve as consumers look for ever-more useful features. Foldable phones, 5G technology with higher download speeds, and extra cameras are just a few of the changes expected.
As technology continues to improve, so will the demand for the metals necessary for the next generation of smartphones.
This post was originally featured on Elements
Which Companies Belong to the Elite Trillion-Dollar Club?
Only a few companies have broken the 13-digit market cap barrier to join the $1T+ club. Who's a member, and who's hot on their heels?
Which Companies Belong to the Elite Trillion-Dollar Club?
Just a handful of publicly-traded companies have managed to achieve $1 trillion or more in market capitalization—only six, to be precise.
We pull data from Companies Market Cap to find out which familiar names are breaking the 13-digit barrier—and who else is waiting in the wings.
Footnote: All data referenced is as of August 17, 2021.
The Major Players in the Game
Apple and Microsoft are the only two companies to have shattered the $2T market cap milestone to date, leaving others in the dust. Apple was also the first among its Big Tech peers to ascend to the $1 trillion landmark back in 2018.
| Company | Valuation | Country | Age of company |
| --- | --- | --- | --- |
| Apple | $2.48T | 🇺🇸 U.S. | 45 years (Founded 1976) |
| Microsoft | $2.20T | 🇺🇸 U.S. | 46 years (Founded 1975) |
| Saudi Aramco | $1.88T | 🇸🇦 Saudi Arabia | 88 years (Founded 1933) |
| Alphabet (Google) | $1.83T | 🇺🇸 U.S. | 23 years (Founded 1998) |
| Amazon | $1.64T | 🇺🇸 U.S. | 27 years (Founded 1994) |
| Facebook | $1.01T | 🇺🇸 U.S. | 17 years (Founded 2004) |
Facebook dipped in and out of the $1T+ club in July 2021, and continues its capricious movement. With just 17 years under its belt, it's the youngest company ever to reach this valuation milestone—though not without some wild rides along the way.
State-owned oil and gas giant Saudi Aramco is the only non-American company to make the trillion-dollar club. This makes it a notable outlier, as American companies typically dominate the leaderboard of the biggest corporations around the world.
Who Else Might Join the Trillion-Dollar Club?
Companies with a market capitalization above $500 billion are also few and far between. Within this next list of six companies, the world's most valuable automaker Tesla is another strong candidate to eventually join the Four Comma Club.
As per usual, analyst views on Tesla are quite varied. That said, some on Wall Street are predicting that Tesla might reach $3 trillion in market cap within the decade, owing to significant current and projected demand for electric vehicles (EVs) and driverless systems.
| Company | Valuation | Country | Age of company |
| --- | --- | --- | --- |
| Tesla | $659B | 🇺🇸 U.S. | 17 years (Founded 2003) |
| Berkshire Hathaway | $655B | 🇺🇸 U.S. | 182 years (Founded 1839) |
| TSMC | $576B | 🇹🇼 Taiwan | 34 years (Founded 1987) |
| Tencent | $537B | 🇨🇳 China | 23 years (Founded 1998) |
| Visa | $515B | 🇺🇸 U.S. | 63 years (Founded 1958) |
Visa, one of the pioneers of consumer credit in the United States, continues to innovate even 63 years after its founding. In attempts to expand the reach of its already massive payments ecosystem, Visa is experimenting with acquisitions, and even dipping its toes into cryptocurrency with some success.
Whether the next company to join the trillion-dollar club comes from the U.S., from the tech industry, or out of left field, it's clear that it has some pretty big shoes to fill.