Here's What Happens Every Minute on the Internet in 2020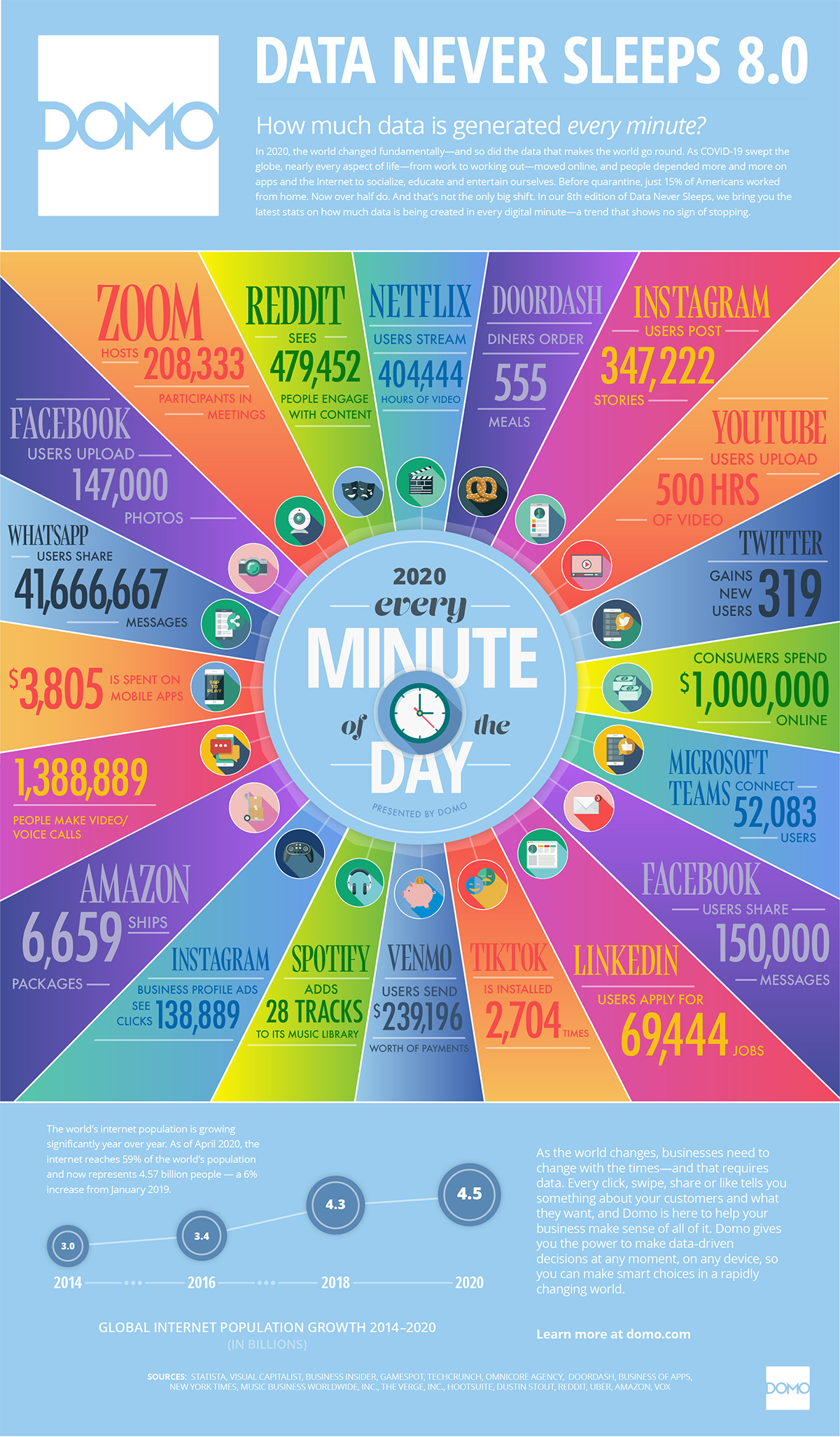 What Happens Every Minute on the Internet in 2020
In 2020, an unfathomable amount of digital activity is occurring at any given moment. This ongoing explosion in activity is the aggregate output of 4.5 billion internet users today, a number that's projected to increase even further in coming years.
This powerful visual from Domo helps capture what happens each minute in today's hyper-connected internet era, and it's actually the eighth edition produced since the year 2012.
What can we learn from the evolution of what happens in an internet minute?
How Times Have Changed
Over its relatively short history, the internet has been a catalyst for both the rise and demise of new companies and platforms.
By looking at which brands have appeared in the graphic in earlier years, we can roughly chart the prominence of certain tech segments, as well as observe brands with the most staying power.
As you can see above, platforms like Tumblr, Flickr, and Foursquare showed some promise, but eventually got omitted from the graphic as they dropped off in relevance.
Meanwhile, tech companies like Facebook, Amazon, and Google have had impressive staying power, evolving to become some of the biggest companies in the world. In the process, they've caught up to longer-standing titans like Apple and Microsoft at the top of the food chain.
The New "New Thing"
Not surprisingly, much of the internet landscape looks different in 2020. Here are a few of the digital hot spots today.
Cash Transfers
Nearly $240,000 worth of transactions occur on Venmo per minute. This has served as a catalyst for parent company PayPal, which evolved along successfully with fintech trends. PayPal's stock now trades at near all-time highs.
E-Commerce
Even before COVID-19 resulted in shuttered storefronts and surging online orders, e-commerce was a booming industry. It's now estimated that $1 million is now spent per minute online. Amazon ships an astounding 6,659 packages every minute to keep up with this demand.
Collaboration Tools
In a predominantly remote-working environment, tools like Zoom and Microsoft Teams host 208,333 and 52,083 users each minute respectively. Particularly in the pandemic era, it seems that this trend is here to stay.
Accelerated Turnover
The accelerated world we are in today means that many companies do not sustain a competitive advantage for as long. Social media companies have dwindled as observed above, and this is similarly reflected in the average lifespan of an S&P 500 company.
A typical company's tenure on the S&P 500 is expected to shrink rapidly in the next few years:
1964: 33 years
2016: 24 years
2027E: 12 years
Companies are shaving anywhere between 15-20 years off those highs, with estimates of further declines. This metric symbolizes the rapid evolution of the business landscape.
What Lies Ahead
It's seemingly easy to forget mankind is still very early in the developments when it comes to the internet. But in this short period, its rise to prominence and the broad digitization of the world has left us with a very eventful timeline.
If the last decade serves as a reference point, one can expect further and intensifying competition among tech companies. After all, the reward—winning in today's digital economy—reaps much greater value.
All signs point to internet activity advancing to further heights, if not because of 5G and its associated breakthroughs, then perhaps due to the steady rise in people gaining internet access.
Visualizing the Critical Metals in a Smartphone
Smartphones can contain ~80% of the stable elements on the periodic table. This graphic details the critical metals you carry in your pocket.
Visualizing the Critical Metals in a Smartphone
In an increasingly connected world, smartphones have become an inseparable part of our lives.
Over 60% of the world's population owns a mobile phone and smartphone adoption continues to rise in developing countries around the world.
While each brand has its own mix of components, whether it's a Samsung or an iPhone, most smartphones can carry roughly 80% of the stable elements on the periodic table.
But some of the vital metals to build these devices are considered at risk due to geological scarcity, geopolitical issues, and other factors.
| Smartphone Part | Critical Metal |
| --- | --- |
| Touch Screen | indium |
| Display | lanthanum; gadolinium; praseodymium; europium; terbium; dysprosium |
| Electronics | nickel, gallium, tantalum |
| Casing | nickel, magnesium |
| Battery | lithium, nickel, cobalt |
| Microphone, speakers, vibration unit | nickel, praseodymium, neodymium, gadolinium, terbium, dysprosium |
What's in Your Pocket?
This infographic based on data from the University of Birmingham details all the critical metals that you carry in your pocket with your smartphone.
1. Touch Screen
Screens are made up of multiple layers of glass and plastic, coated with a conductor material called indium which is highly conductive and transparent.
Indium responds when contacted by another electrical conductor, like our fingers.
When we touch the screen, an electric circuit is completed where the finger makes contact with the screen, changing the electrical charge at this location. The device registers this electrical charge as a "touch event", then prompting a response.
2. Display
Smartphones screens display images on a liquid crystal display (LCD). Just like in most TVs and computer monitors, a phone LCD uses an electrical current to adjust the color of each pixel.
Several rare earth elements are used to produce the colors on screen.
3. Electronics
Smartphones employ multiple antenna systems, such as Bluetooth, GPS, and WiFi.
The distance between these antenna systems is usually small making it extremely difficult to achieve flawless performance. Capacitors made of the rare, hard, blue-gray metal tantalum are used for filtering and frequency tuning.
Nickel is also used in capacitors and in mobile phone electrical connections. Another silvery metal, gallium, is used in semiconductors.
4. Microphone, Speakers, Vibration Unit
Nickel is used in the microphone diaphragm (that vibrates in response to sound waves).
Alloys containing rare earths neodymium, praseodymium and gadolinium are used in the magnets contained in the speaker and microphone. Neodymium, terbium and dysprosium are also used in the vibration unit.
5. Casing
There are many materials used to make phone cases, such as plastic, aluminum, carbon fiber, and even gold. Commonly, the cases have nickel to reduce electromagnetic interference (EMI) and magnesium alloys for EMI shielding.
6. Battery
Unless you bought your smartphone a decade ago, your device most likely carries a lithium-ion battery, which is charged and discharged by lithium ions moving between the negative (anode) and positive (cathode) electrodes.
What's Next?
Smartphones will naturally evolve as consumers look for ever-more useful features. Foldable phones, 5G technology with higher download speeds, and extra cameras are just a few of the changes expected.
As technology continues to improve, so will the demand for the metals necessary for the next generation of smartphones.
This post was originally featured on Elements
Which Companies Belong to the Elite Trillion-Dollar Club?
Only a few companies have broken the 13-digit market cap barrier to join the $1T+ club. Who's a member, and who's hot on their heels?
Which Companies Belong to the Elite Trillion-Dollar Club?
Just a handful of publicly-traded companies have managed to achieve $1 trillion or more in market capitalization—only six, to be precise.
We pull data from Companies Market Cap to find out which familiar names are breaking the 13-digit barrier—and who else is waiting in the wings.
Footnote: All data referenced is as of August 17, 2021.
The Major Players in the Game
Apple and Microsoft are the only two companies to have shattered the $2T market cap milestone to date, leaving others in the dust. Apple was also the first among its Big Tech peers to ascend to the $1 trillion landmark back in 2018.
| Company | Valuation | Country | Age of company |
| --- | --- | --- | --- |
| Apple | $2.48T | 🇺🇸 U.S. | 45 years (Founded 1976) |
| Microsoft | $2.20T | 🇺🇸 U.S. | 46 years (Founded 1975) |
| Saudi Aramco | $1.88T | 🇸🇦 Saudi Arabia | 88 years (Founded 1933) |
| Alphabet (Google) | $1.83T | 🇺🇸 U.S. | 23 years (Founded 1998) |
| Amazon | $1.64T | 🇺🇸 U.S. | 27 years (Founded 1994) |
| Facebook | $1.01T | 🇺🇸 U.S. | 17 years (Founded 2004) |
Facebook dipped in and out of the $1T+ club in July 2021, and continues its capricious movement. With just 17 years under its belt, it's the youngest company ever to reach this valuation milestone—though not without some wild rides along the way.
State-owned oil and gas giant Saudi Aramco is the only non-American company to make the trillion-dollar club. This makes it a notable outlier, as American companies typically dominate the leaderboard of the biggest corporations around the world.
Who Else Might Join the Trillion-Dollar Club?
Companies with a market capitalization above $500 billion are also few and far between. Within this next list of six companies, the world's most valuable automaker Tesla is another strong candidate to eventually join the Four Comma Club.
As per usual, analyst views on Tesla are quite varied. That said, some on Wall Street are predicting that Tesla might reach $3 trillion in market cap within the decade, owing to significant current and projected demand for electric vehicles (EVs) and driverless systems.
| Company | Valuation | Country | Age of company |
| --- | --- | --- | --- |
| Tesla | $659B | 🇺🇸 U.S. | 17 years (Founded 2003) |
| Berkshire Hathaway | $655B | 🇺🇸 U.S. | 182 years (Founded 1839) |
| TSMC | $576B | 🇹🇼 Taiwan | 34 years (Founded 1987) |
| Tencent | $537B | 🇨🇳 China | 23 years (Founded 1998) |
| Visa | $515B | 🇺🇸 U.S. | 63 years (Founded 1958) |
Visa, one of the pioneers of consumer credit in the United States, continues to innovate even 63 years after its founding. In attempts to expand the reach of its already massive payments ecosystem, Visa is experimenting with acquisitions, and even dipping its toes into cryptocurrency with some success.
Whether the next company to join the trillion-dollar club comes from the U.S., from the tech industry, or out of left field, it's clear that it has some pretty big shoes to fill.