Here's What Happens Every Minute on the Internet in 2020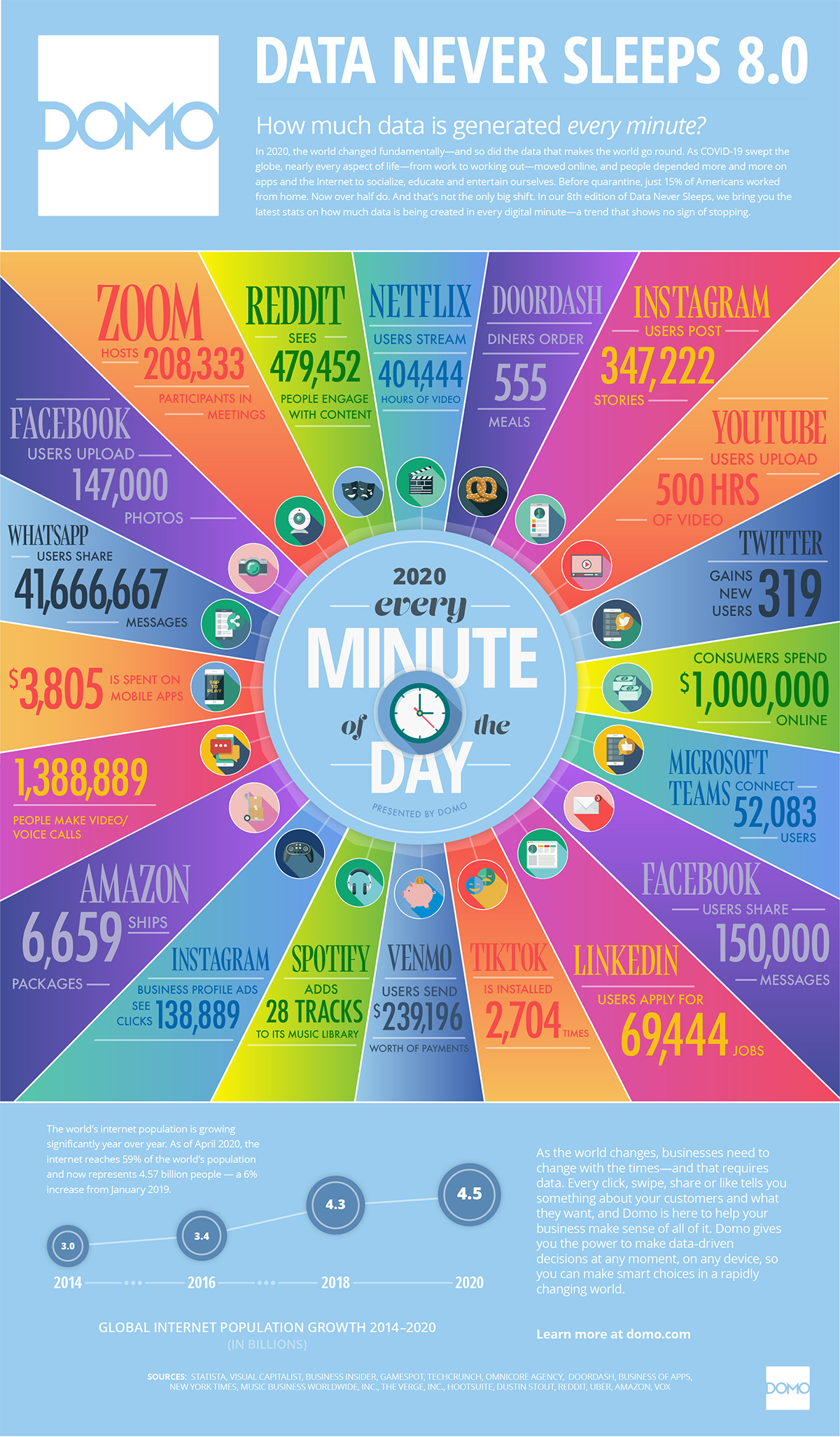 What Happens Every Minute on the Internet in 2020
In 2020, an unfathomable amount of digital activity is occurring at any given moment. This ongoing explosion in activity is the aggregate output of 4.5 billion internet users today, a number that's projected to increase even further in coming years.
This powerful visual from Domo helps capture what happens each minute in today's hyper-connected internet era, and it's actually the eighth edition produced since the year 2012.
What can we learn from the evolution of what happens in an internet minute?
How Times Have Changed
Over its relatively short history, the internet has been a catalyst for both the rise and demise of new companies and platforms.
By looking at which brands have appeared in the graphic in earlier years, we can roughly chart the prominence of certain tech segments, as well as observe brands with the most staying power.
As you can see above, platforms like Tumblr, Flickr, and Foursquare showed some promise, but eventually got omitted from the graphic as they dropped off in relevance.
Meanwhile, tech companies like Facebook, Amazon, and Google have had impressive staying power, evolving to become some of the biggest companies in the world. In the process, they've caught up to longer-standing titans like Apple and Microsoft at the top of the food chain.
The New "New Thing"
Not surprisingly, much of the internet landscape looks different in 2020. Here are a few of the digital hot spots today.
Cash Transfers
Nearly $240,000 worth of transactions occur on Venmo per minute. This has served as a catalyst for parent company PayPal, which evolved along successfully with fintech trends. PayPal's stock now trades at near all-time highs.
E-Commerce
Even before COVID-19 resulted in shuttered storefronts and surging online orders, e-commerce was a booming industry. It's now estimated that $1 million is now spent per minute online. Amazon ships an astounding 6,659 packages every minute to keep up with this demand.
Collaboration Tools
In a predominantly remote-working environment, tools like Zoom and Microsoft Teams host 208,333 and 52,083 users each minute respectively. Particularly in the pandemic era, it seems that this trend is here to stay.
Accelerated Turnover
The accelerated world we are in today means that many companies do not sustain a competitive advantage for as long. Social media companies have dwindled as observed above, and this is similarly reflected in the average lifespan of an S&P 500 company.
A typical company's tenure on the S&P 500 is expected to shrink rapidly in the next few years:
1964: 33 years
2016: 24 years
2027E: 12 years
Companies are shaving anywhere between 15-20 years off those highs, with estimates of further declines. This metric symbolizes the rapid evolution of the business landscape.
What Lies Ahead
It's seemingly easy to forget mankind is still very early in the developments when it comes to the internet. But in this short period, its rise to prominence and the broad digitization of the world has left us with a very eventful timeline.
If the last decade serves as a reference point, one can expect further and intensifying competition among tech companies. After all, the reward—winning in today's digital economy—reaps much greater value.
All signs point to internet activity advancing to further heights, if not because of 5G and its associated breakthroughs, then perhaps due to the steady rise in people gaining internet access.
Ranked: Largest Semiconductor Foundry Companies by Revenue
Most of the 10 largest semiconductor foundries in the world, are headquartered in just three Asian countries, accounting for 90% of the entire industry's revenue.
Ranked: Largest Semiconductor Foundry Companies by Revenue
They're in our phones, cars, planes, and even fridges.
Semiconductor chips have become critical for the modern way of life, and the biggest semiconductor foundry companies rake in billions of dollars from widespread demand.
This chart shows the largest semiconductor foundry companies by their percentage of global revenues in Q1 2023, using data sourced from Trendforce.
ℹ️ We highlight data for companies that only operate foundries (fabrication plants) that manufacture chips for clients, also known as a "pure-play" foundries, as well as companies that design and manufacture their own chips, known as integrated device manufacturers. "Fabless" manufacturers that only design and don't manufacture their own chips are not included.
Semiconductor Foundry Companies by Revenue
At the top of the list and dwarfing every other company by revenue share is TSMC which earned 60% (or nearly $17 billion) of the entire industry's revenue in Q1 2023.
Founded in 1987, TSMC is a pure-play foundry that has become Taiwan's largest company and manufactures products for a host of clients including Apple, NVIDIA, and AMD.
Rank
Company
Country
Revenue
(Q1 2023, USD)
1
TSMC
🇹🇼 Taiwan
$16,735M
2
Samsung
🇰🇷 South Korea
$3,446M
3
GlobalFoundries
🇺🇸 US
$1,841M
4
UMC
🇹🇼 Taiwan
$1,784M
5
SMIC
🇨🇳 China
$1,462M
6
HuaHong Group
🇨🇳 China
$845M
7
Tower Semiconductor
🇮🇱 Israel
$356M
8
PSMC
🇹🇼 Taiwan
$332M
9
VIS
🇹🇼 Taiwan
$269M
10
DB Hitek
🇰🇷 South Korea
$234M
Other
$556M
Global Total
$27,860M
Note: Revenue based on the following conversion rates: USD 1 = WON 1,276; USD 1 = NTD 30.4.
Well behind TSMC in foundry revenues is integrated device manufacturer Samsung, the biggest company in South Korea, which made $3.4 billion (12.4% of the industry's revenue) from its semiconductor manufacturing business.
GlobalFoundries from the U.S., UMC from Taiwan and SMIC from China round out the top five, with each taking home around 6% of industry's revenue share in Q1 2023. The former spun out from AMD's manufacturing arm when the company went fabless in 2009.
Industry concentration is apparent in semiconductors. For example, the top 10 semiconductor foundry companies account for 98% of the entire industry's revenue. Furthermore, 90% of the market is dominated by companies in just three Asian countries: Taiwan, South Korea, and China.