Ranked: The Most Popular Websites Since 1993
The Most Popular Websites Since 1993
The internet has become an increasingly important part of our everyday lives.
While it's hard to imagine modern life without Google or YouTube, it's interesting to reflect on how much the web has changed over the last few decades.
This animation by Captain Gizmo provides a historical rundown of the most popular websites since 1993, showing how much the internet has evolved since the early '90s.
The Top Websites
While the web has changed drastically over the years, the top-ranking websites have remained relatively consistent. Here's a look at the websites with the most traffic since 1993, and when each site held the number one spot:
| Date Range | Top Ranking Website | Highest Number of Monthly Visits |
| --- | --- | --- |
| Jan 1993 - Jun 2000 | AOL | 405,000,000 |
| Jul 2000 - May 2006 | Yahoo | 5,500,000,000 |
| Jun 2006 - Jul 2008 | Google | 8,300,000,000 |
| Aug 2008 - Jun 2010 | Yahoo | 11,600,000,000 |
| Jul 2010 - current | Google | 81,000,000,000 |
*Note: Numbers rounded for clarity.
AOL
AOL was one of the first major web portals, back in the era of CD-ROMs and dial-up modems. In its heyday, the company dominated the market, largely due to an aggressive free trial campaign that cost millions (possibly even billions) of dollars to execute.
Despite the large investment, the campaign worked—at its peak, AOL had over 30 million users, and a market cap of over $200 billion. It was the most popular website online until the early 2000s, when broadband started to replace dial-up. As the sands shifted, AOL struggled to stay relevant and was eventually sold to Verizon for just $4.4 billion.
Yahoo
Following AOL's downfall, Yahoo became the next internet giant.
Starting off as a web directory, Yahoo was the first website to offer localized indexes for major cities. At Yahoo's zenith, it was worth $125 billion, but a series of missed opportunities and failed acquisitions meant that it could not keep up. Like AOL, Yahoo is now also owned by Verizon, but remains a top 10 website globally.
Google
It's no surprise that Google currently comes in at number one. It started out in the early '90s as a university research project. Today, it's become virtually synonymous with the internet, which makes sense, considering 90% of all internet searches are made on Google-owned properties.
Old School Search Engines
Prior to Google's success, there were several other go-to search engines that paved the way for Google in many ways:
WebCrawler: One of the earlier search engines, WebCrawler was the first search engine to enable full-text search. At one point, the website was so popular, it's server would constantly crash, making it virtually unusable during peak hours.
Lycos: This was another pivotal search engine, created in 1994 (a year before Yahoo). Lycos was the first of its kind to incorporate relevance retrieval, prefix matching, and word proximity.
Infoseek: As Netscape's default search engine, Infoseek was popular during the web browser's heyday. Eventually, Infoseek was purchased by Disney and rebranded to go.com.
Unlike Infoseek, Lycos and WebCrawler have somehow managed to stick around—both companies still exist today. Of course, they're nowhere near comparable to Google in terms of revenue or daily search volume.
The Evolution of Social Media
Unless you are a Gen Zer, you probably remember MySpace. Like Lycos and WebCrawler, MySpace technically still exists, although it's certainly not the high traffic site it used to be.
Created in 2004, MySpace became a hub for musicians and music fans on the web. In just a year, the website saw massive growth, and by 2005, it was acquired by News Corp. MySpace continued to dominate the social media landscape until 2008, when Facebook took over as the internet's most popular social media platform.
Facebook's story is well-known at this point. The Zuckerberg-led creation was a social networking site that was exclusive to Harvard students, but it soon opened up to dozens of other universities and then finally the general public in 2006. Just two years later, and the site had 100 million active users, rising to the top of the social media spectrum.
Although Facebook often finds itself mired in controversy today, the site remains the world's most popular social media platform on the internet with close to 3 billion users.
What's Next?
It's hard to predict what the future holds for Facebook, or for any of the other websites currently dominating the web.
If anything is clear from the above animation, it's that the list of the world's most popular websites is constantly shifting—and only time will tell what the next few decades will bring.
Charted: What are Retail Investors Interested in Buying in 2023?
What key themes and strategies are retail investors looking at for the rest of 2023? Preview: AI is a popular choice.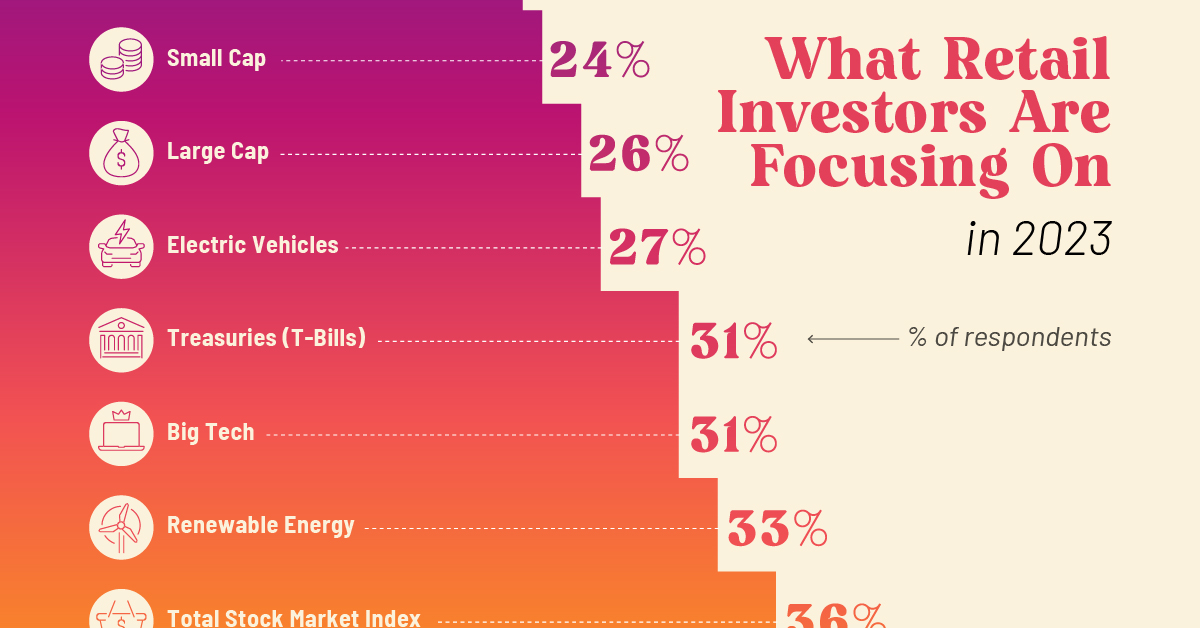 Charted: Retail Investors' Top Picks for 2023
U.S. retail investors, enticed by a brief pause in the interest rate cycle, came roaring back in the early summer. But what are their investment priorities for the second half of 2023?
We visualized the data from Public's 2023 Retail Investor Report, which surveyed 1,005 retail investors on their platform, asking "which investment strategy or themes are you interested in as part of your overall investment strategy?"
Survey respondents ticked all the options that applied to them, thus their response percentages do not sum to 100%.
Where Are Retail Investors Putting Their Money?
By far the most popular strategy for retail investors is dividend investing with 50% of the respondents selecting it as something they're interested in.
Dividends can help supplement incomes and come with tax benefits (especially for lower income investors or if the dividend is paid out into a tax-deferred account), and can be a popular choice during more inflationary times.
| Investment Strategy | Percent of Respondents |
| --- | --- |
| Dividend Investing | 50% |
| Artificial Intelligence | 36% |
| Total Stock Market Index | 36% |
| Renewable Energy | 33% |
| Big Tech | 31% |
| Treasuries (T-Bills) | 31% |
| Electric Vehicles | 27% |
| Large Cap | 26% |
| Small Cap | 24% |
| Emerging Markets | 23% |
| Real Estate | 23% |
| Gold & Precious Metals | 23% |
| Mid Cap | 19% |
| Inflation Protection | 13% |
| Commodities | 12% |
Meanwhile, the hype around AI hasn't faded, with 36% of the respondents saying they'd be interested in investing in the theme—including juggernaut chipmaker Nvidia. This is tied for second place with Total Stock Market Index investing.
Treasury Bills (30%) represent the safety anchoring of the portfolio but the ongoing climate crisis is also on investors' minds with Renewable Energy (33%) and EVs (27%) scoring fairly high on the interest list.
Commodities and Inflation-Protection stocks on the other hand have fallen out of favor.
Come on Barbie, Let's Go Party…
Another interesting takeaway pulled from the survey is how conversations about prevailing companies—or the buzz around them—are influencing trades. The platform found that public investors in Mattel increased 6.6 times after the success of the 'Barbie' movie.
Bud Light also saw a 1.5x increase in retail investors, despite receiving negative attention from their fans after the company did a beer promotion campaign with trans influencer Dylan Mulvaney.
Given the origin story of a large chunk of American retail investors revolves around GameStop and AMC, these insights aren't new, but they do reveal a persisting trend.