Such Great Heights: Where Are the World's Tallest Buildings?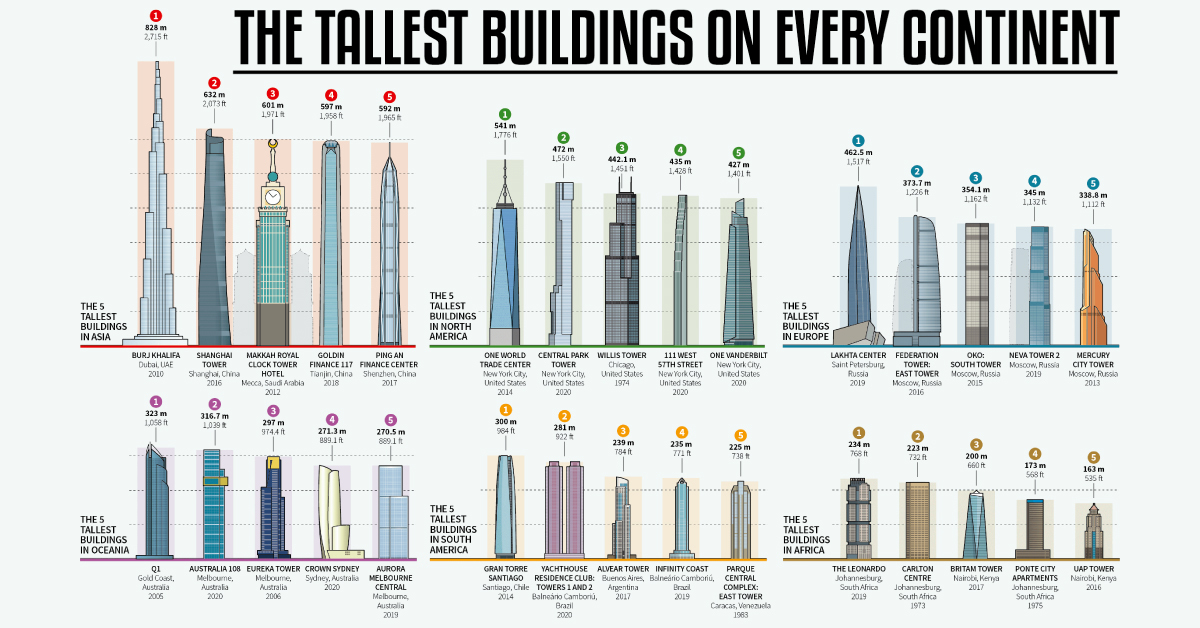 Such Great Heights: The World's Tallest Buildings
It seems that humanity is always vying to exceed our past accomplishments, and nowhere is the evidence clearer than in the tallest buildings that make up our cities.
We've previously looked at how the architectural feats of humanity have simply grown in magnitude over time, tracing this progress as far back as the Stone Age.
The question now is, how much higher and further into the skies can we reach? This infographic by Alan's Factory Outlet looks at the glittering urban skyscrapers on every continent. We also examine some interesting facts about each region.
Asia: Growing Ever Upwards
The first name on this list certainly needs no introduction. Dubai's Burj Khalifa is one of the most popular tourist attractions in the Middle East. With just a one minute elevator ride to the Burj Khalifa's pinnacle, it must seem like even the sky is no longer the limit.
| Building | City, Country | Height | # Floors |
| --- | --- | --- | --- |
| Burj Khalifa | 🇦🇪 Dubai, UAE | 828m / 2,715ft | 163 |
| Shanghai Tower | 🇨🇳 Shanghai, China | 632m / 2,073ft | 128 |
| Makkah Royal Clock Tower Hotel | 🇸🇦 Mecca, Saudi Arabia | 601m / 1,971ft | 120 |
| Goldin Finance 117 | 🇨🇳 Tianjin, China | 597m / 1,958ft | 128 |
| Ping An Finance Center | 🇨🇳 Shenzhen, China | 592m / 1,965ft | 115 |
Ping An Finance Center from Shenzhen edges into fifth place on the list, and it's worth mentioning the speed of change occurring in the city. China's hi-tech capital will see the completed construction of approximately 51 buildings over 145m (476ft) by the end of 2020.
North America: Concrete Jungle
The One World Trade Center, built to memorialize the loss of the Twin Towers after September 11th, 2001, is also informally called the "Freedom Tower". It's exactly 1,776ft high—symbolizing the year the U.S. Declaration of Independence was adopted.
| Building | City, Country | Height | # Floors |
| --- | --- | --- | --- |
| One World Trade Center | 🇺🇸 New York City, U.S. | 541m / 1,776ft | 104 |
| Central Park Tower | 🇺🇸 New York City, U.S. | 472m / 1,550ft | 98 |
| Willis Tower | 🇺🇸 Chicago, U.S. | 442.1m / 1,451ft | 110 |
| 111 West 57th Street | 🇺🇸 New York City, U.S. | 435m / 1,428ft | 82 |
| One Vanderbilt | 🇺🇸 New York City, U.S. | 427m / 1,401ft | 67 |
While the Central Park Tower has reached its full height, parts of the interior are still undergoing construction. The price of luxury apartments in the complex start at $7 million for a two-bedroom, just in case you had any extra change lying around.
In fact, the illustrious New York City holds four of the top five buildings on the continent. However, a nod also goes to the Willis Tower (formerly Sears Tower) in Chicago, an imposing office building which held the title of world's tallest building for 25 years, until the Petronas Towers were erected in Kuala Lumpur.
Europe: Russia's Reign
The top five tallest buildings in Europe can all be found in Russia. What's more, those from Moscow are all clustered within a single towering business district known as "Moscow-City".
| Building | City, Country | Height | # Floors |
| --- | --- | --- | --- |
| Lakhta Center | 🇷🇺 Saint Petersburg, Russia | 462.5m / 1,517ft | 87 |
| Federation Tower: East Tower | 🇷🇺 Moscow, Russia | 373.7m / 1,226ft | 101 |
| OKO: South Tower | 🇷🇺 Moscow, Russia | 354.1m / 1,161ft | 85 |
| Neva Tower 2 | 🇷🇺 Moscow, Russia | 345m / 1,132ft | 79 |
| Mercury City Tower | 🇷🇺 Moscow, Russia | 338.8m / 1,112ft | 75 |
This begs the question—why doesn't Europe build more skyscrapers? There's an interesting historical reasoning behind this. As North America's new age ideals and influence on the world stage grew, European cultural values focused on preserving heritage.
Of course, with globalization, things have changed somewhat, and major financial centers of London, Paris and more boast unique skylines of their own.
Oceania: The Views Down Under
Australia's buildings unsurprisingly dominate the tallest ones in the region. In the surfer's paradise, Q1 on the Gold Coast has a twist in its design—literally. Its architecture is loosely based on studies of ribbons moving in the wind, as they wrap around the tower.
| Building | City, Country | Height | # Floors |
| --- | --- | --- | --- |
| Q1 | 🇦🇺 Gold Coast, Australia | 323m / 1,058 ft | 78 |
| Australia 108 | 🇦🇺 Melbourne, Australia | 316.7m / 1,039 ft | 100 |
| Eureka Tower | 🇦🇺 Melbourne, Australia | 297m / 974.4ft | 91 |
| Crown Sydney | 🇦🇺 Sydney, Australia | 271.3m / 889.1ft | 75 |
| Aurora Melbourne Central | 🇦🇺 Melbourne, Australia | 270.5m / 889.1 ft | 92 |
The Eureka Tower has a fascinating story behind it, too. It's named after the 1854 Victorian gold rush, with elements of the building reflecting this history—from a gold crown to a red stripe for revolutionary bloodshed.
South America: Views From the Top
The tallest buildings in South America are mainly residential, and often found in Brazil, Argentina, and Venezuela—but Chile is the one standout exception to this rule.
| Building | City, Country | Height | # Floors |
| --- | --- | --- | --- |
| Gran Torre Santiago | 🇨🇱 Santiago, Chile | 300m / 984ft | 62 |
| Yachthouse Residence Club Towers 1 and 2 | 🇧🇷 Balneário Camboriú, Brazil | 281m / 922ft | 81 |
| Alvear Tower | 🇦🇷 Buenos Aires, Argentina | 239m / 784ft | 54 |
| Infinity Coast | 🇧🇷 Balneário Camboriú, Brazil | 235m / 771ft | 66 |
| Parque Central Complex: East Tower | 🇻🇪 Caracas, Venezuela | 225m / 738ft | 59 |
Gran Torre Santiago is a retail and office complex, and the largest shopping mall across Latin America. It's often considered the heart of Chile, and built to hold its ground steadfastly in the earthquake-prone country.
Africa: Budding Buildings
Located in South Africa's largest city, The Leonardo is the jewel of Johannesburg. The tallest building in Africa was also designed by an architectural team of mostly women.
| Building | City, Country | Height | # Floors |
| --- | --- | --- | --- |
| The Leonardo | 🇿🇦 Johannesburg, South Africa | 234m / 768ft | 55 |
| Carlton Center | 🇿🇦 Johannesburg, South Africa | 223m / 732ft | 50 |
| Britam Tower | 🇰🇪 Nairobi, Kenya | 200m / 660ft | 31 |
| Ponte City Apartments | 🇿🇦 Johannesburg, South Africa | 173m / 568ft | 54 |
| UAP Tower | 🇰🇪 Nairobi, Kenya | 163m / 535 ft | 33 |
For African nations, these tallest buildings mean much more than just breaking engineering records. In a journal article, it's posited that skyscrapers can act as a symbol of power and the continent's drive towards modernity.
Future Superstar Skyscrapers
A few more mammoth buildings are expected to rise up in the next couple years. Saudi Arabia's 167-floor Jeddah Tower, while currently on hold, could someday take over the first place crown.
Meanwhile, Dubai's set to outdo itself—and compete directly with Saudi Arabia. The Kingdom Tower is inspired by the Hanging Gardens of Babylon, and is proposed to break the 1 kilometer-high (or 0.6 mile) mark not yet achieved by any building.
Who knows what greater heights we could scale this century?
Each of us is carving a stone, erecting a column, or cutting a piece of stained glass in the construction of something much bigger than ourselves.
—Adrienne Clarkson, Former Governor General of Canada


These Powerful Maps Show the Extremes of U.S. Population Density
The U.S. population is spread across a huge amount of land, but its distribution is far from equal. These maps are a unique look at population density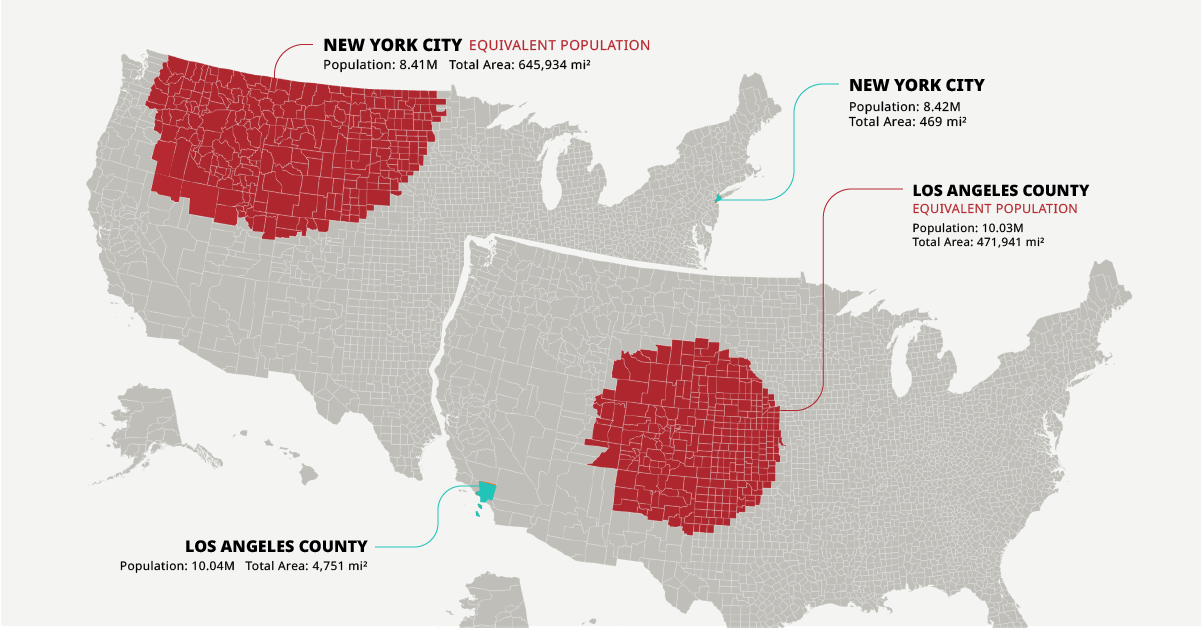 America's 328 million people are spread across a huge amount of territory, but the population density of various regions is far from equal.
It's no secret that cities like New York have a vastly different population density than, say, a rural county in North Dakota. Even so, this interactive map by Ben Blatt of Slate helps visualize the stark contrast between urban and rural densities in a way that might intrigue you.
How many counties does it take to equal the population of these large urban areas? Let's find out.
New York City's Rural Equivalent
New York City (proper) Population: 8.42 million
New York City Population density: 27,547 persons / mi²
New York City became the largest city in the U.S. back in 1781 and has long been the country's most densely packed urban center. Today, 1 in every 38 people living in the United States resides in The Big Apple.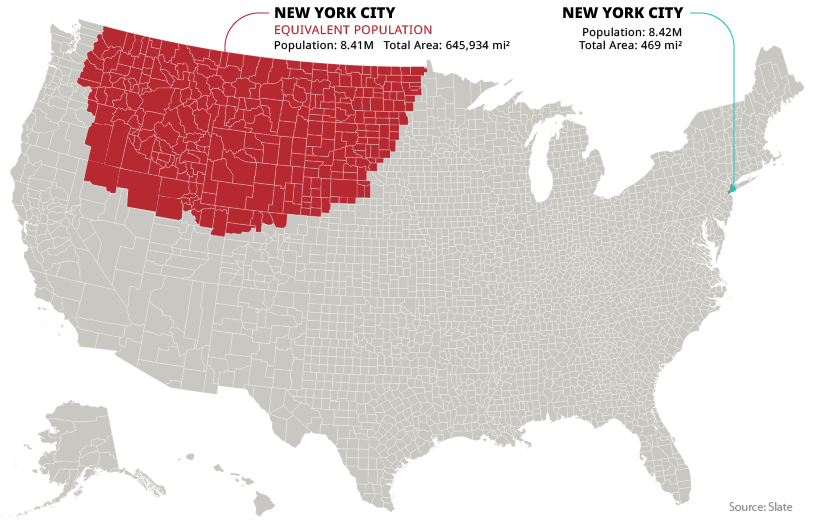 For the northwestern counties above to match the population of New York City, it takes a land area around the size of Mongolia. The region shown above is 645,934 mi², and runs through portions of 12 different states.
In order to match the population of the entire New York metropolitan area, which holds 18 million people and includes adjacent cities and towns in New York state, New Jersey, and Connecticut, the above equivalent area would have to be even more massive.
Los Angeles County's Rural Equivalent
LA County Population: 10.04 million
LA County Population density: 2,100 persons / mi²
Los Angeles County is home to the 88 incorporated cities that make up the urban area of Los Angeles.
Even excluding nearby population centers such as Anaheim, San Bernadino, and Riverside (which are located in adjacent counties) it is still the most populous county in the United States, with over 10 million inhabitants.
To match this enormous scale in Middle America, it would take 298 counties covering an area of 471,941 mi².
Chicago's Rural Equivalent
Chicago Metropolitan Area Population: 9.53 million
Chicago Metropolitan Area Population density: 1,318 persons / mi²
Next up is America's third largest city, Chicago. For this visualization, we're using the Chicago metropolitan area, which covers the full extent of the city's population.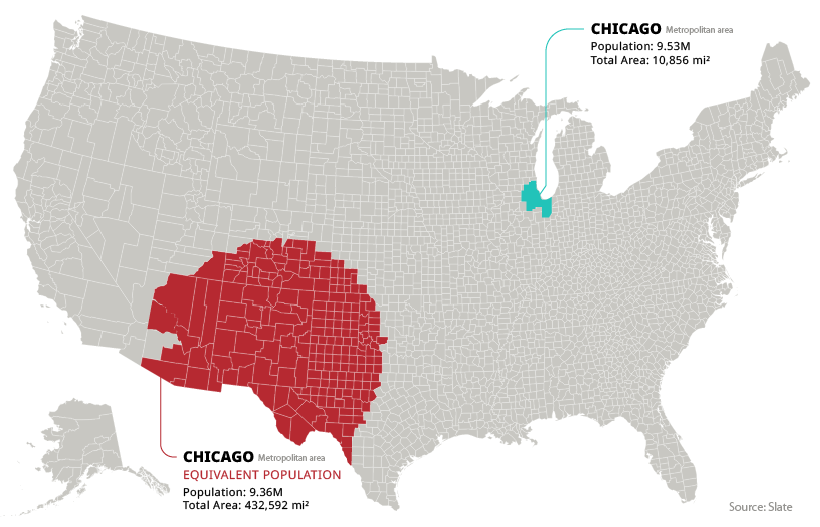 To match the scale of the population of the Windy City, we would need to add up every county in New Mexico, along with large portions of Colorado, Arizona, and Texas.
Turning the Tables?
Conversely, what if we transported the people in the country's least densely populated counties into the middle of an urban center?
| Rank | County | Population |
| --- | --- | --- |
| 1 | Kalawao County, Hawaii | 86 |
| 2 | Loving County, Texas | 169 |
| 3 | King County, Texas | 272 |
| 4 | Kenedy County, Texas | 404 |
| 5 | Arthur County, Nebraska | 463 |
As it turns out, the total population of the five least populated counties is just 1,394—roughly the same amount of people that live on the average Manhattan block.

Visualized: Comparing the Titanic to a Modern Cruise Ship
The sheer size of the Titanic was a sight to behold in 1912, but over 100 years later, how does this vessel compare to a modern cruise ship?
Remembering the Tragedy of the Titanic
When the Titanic was completed on April 2, 1912, it was the largest and perhaps most luxurious ship in the world. The vessel could hold over 3,300 people including crew members, and boasted various amenities including a swimming pool and squash court.
The Titanic's impressive size attracted many of the world's wealthiest individuals, and on April 10, 1912, it set out on its maiden voyage. Just five days later, the ship sank after hitting an iceberg, resulting in more than 1,500 deaths.
It's been over 100 years since the Titanic's demise, so how have passenger ships evolved?
To find out, we've visualized it beside Royal Caribbean's Symphony of the Seas, currently the world's largest cruise ship.
The Size of the Titanic, in Perspective
The following table lists the dimensions of both ships to provide a better understanding of the Titanic's relative size.
| | RMS Titanic | Symphony of the Seas |
| --- | --- | --- |
| Year Built | 1912 | 2018 |
| Length | 882ft (269m) | 1,184ft (361m) |
| Width | 92ft (28m) | 215ft (66m) |
| Height | 175ft (53m) | 238ft (73m) |
| Internal volume | 46,328 gross register tonnage (grt) | 228,081 gross tonnage (gt) |
| Passengers | 2,435 | 6,680 |
| Crew | 892 | 2,200 |
Source: Owlcation, Insider
Note: Gross register tonnage (grt) is a historic measure of a ship's internal volume. This metric was replaced by gross tonnage (gt) on July 18, 1982.
One of the biggest differences between these two ships is width, with the latter being more than twice as wide. This is likely due to the vast amenities housed within the Symphony of the Seas, which includes 24 pools, 22 restaurants, 2 rock climbing walls, an ice-skating rink, and more. With accommodations for 6,680 passengers, the Symphony of the Seas also supports a crew that is 147% larger.
The Symphony of the Seas clearly surpasses the Titanic in terms of size, but there's also a substantial difference in cost. When converted to today's dollars, the bill for the Titanic equates to roughly $400 million, less than half of the Symphony of the Seas' cost of $1.35 billion.
Lessons Learned from the Disaster
Inadequate safety preparations were a contributor to the Titanic's high death toll. During its journey, the vessel carried enough lifeboats to accommodate just 33% of its total passengers and crew. This was legal at the time, as regulations based a ship's number of required lifeboats on its weight, rather than its passenger capacity.
To make matters worse, investigations determined that the Titanic's lifeboats had not been used to their full capacity, and that a scheduled lifeboat drill had been cancelled by the ship's captain. These shortfalls, among others, paved the way for numerous improvements in maritime safety regulation.
These include the creation of the International Convention for the Safety of Life at Sea Treaty (SOLAS) in 1914, which is still in force today. Regarded as the most important international treaty on ship safety, SOLAS has been updated numerous times and is followed by 164 states, which together flag 99% of merchant ships (by gross tonnage) on the high seas today.