Charted: Changing Sentiments Towards AI in the Workplace
Is generative AI the catalyst for the next industrial revolution? Or is it a flash in the pan? Is the entire workforce destined to become AI makers and managers?
It's possible that one, all, or none of these options could be correct. But despite how fast large language models (LLMs) and tools have grown the popularity of artificial intelligence, one thing that is clear is that there are no quick or easy answers.
Amidst all this uncertainty, opinions on how we use AI in the workplace have evolved. Recent survey data from Boston Consulting Group (BCG) reveals how the labor force feels about AI in the workplace today, compared to how they felt five years ago.
The consultancy surveyed 13,000 people (C-suite leaders, managers, and frontline employees) in 18 different countries for the results, and divided their top two responses into five categories: Curiosity, Optimism, Concern, Confidence, and Indifference.
ℹ️ Data note: Since the top two feelings were selected and categorized per question, the percentages across categories do not total to 100%.
More Optimism, Less Caution Around AI
General curiosity about AI remains almost unchanged (at 60%) since 2018.
Meanwhile, despite how rapidly AI has advanced in the last five years, or perhaps because of it, more than 50% of workers surveyed are optimistic about AI's impact on work, a 17 percentage point (p.p.) increase from 2018.
And though 30% remain concerned about AI, this fell 10 p.p. over the same time period.
| Sentiment towards AI | 2018 | 2023 |
| --- | --- | --- |
| Curiosity | 60% | 61% |
| Optimism | 35% | 52% |
| Concern | 40% | 30% |
| Confidence | 17% | 26% |
| Indifference | 21% | 14% |
Clearly, respondents perceive AI in the workplace far more positively now than they did in 2018. But that's not all. The respondents' confidence in how AI can influence their work has also increased (+5 p.p.) and indifference towards it has shrunk significantly (-7 p.p.).
Given the explosive growth in generative AI since the end of 2022—ChatGPT gets 1.8 billion visitors a month—it's not surprising that workers are far more aware of AI compared to just five years ago.
Optimistic Leaders, Cautious Employees
As with any survey data, the devil is in the details. BCG notes that the sentiments between rungs on the company ladder differ sharply around AI.
While two-thirds of polled leaders are optimistic about AI in 2023, less than half of polled frontline employees shared the same sentiment. Frontline employees were also the biggest group that responded with concern (nearly 40%).
Importantly, frontline employees are almost as optimistic as they are concerned about AI in the workplace.
| Position | Optimism | Concern |
| --- | --- | --- |
| Leaders | 62% | 22% |
| Managers | 54% | 28% |
| Frontline Employees | 42% | 39% |
Managers were closer to leaders in their AI optimism, though some experts believe their jobs might actually be the most at risk of being replaced all together.
More Use, More Optimism Around AI
With ChatGPT reaching 100 million active users just two months after launching, it's clear that more and more people are experimenting with generative AI.
In BCG's poll, regular AI users—categorized as people who use it at least once a week for work—are nearly three times more optimistic than concerned about AI's impact on their work in 2023.
| AI Use Level | Optimism | Concern |
| --- | --- | --- |
| Regular | 62% | 22% |
| Rare | 55% | 27% |
| None | 36% | 42% |
Even rare users are two times more optimistic than cautious, with the non-user category registering the most concern.
Which brings us to who these regular users are.
A staggering 80% of the leaders polled say they're already regular users of AI, compared to 46% managers and 20% frontline employees.
While eyebrow-raising, these figures are not surprising.
People in leadership positions tend to have a mandate to stay ahead of the curve on current business trends, and along with their less strictly defined roles, have more freedom to try, use, and adopt AI tools while they formulate policies for their workplace.
| Position | Regular User | Rare User | Nonuser |
| --- | --- | --- | --- |
| Leaders | 80% | 12% | 8% |
| Managers | 46% | 23% | 31% |
| Frontline Employees | 20% | 20% | 60% |
At the same time, AI tools may not be green-lit en masse in many workplaces yet, preventing frontline employees from giving them a go.
So Is AI Coming For Jobs or Not?
Regardless of how definitively one can make a claim about artificial intelligence taking away people's jobs, the survey respondents were unanimous that AI in the workplace will have some kind of an impact on their employment.
Slightly more than one-third felt that their job is in jeopardy as of 2023, while an overwhelming 86% polled said they needed training to adapt to how AI will transform their work.
With how fast the field is currently transforming, upskilling could be the safest path to follow as the AI revolution unfolds.
Charted: What are Retail Investors Interested in Buying in 2023?
What key themes and strategies are retail investors looking at for the rest of 2023? Preview: AI is a popular choice.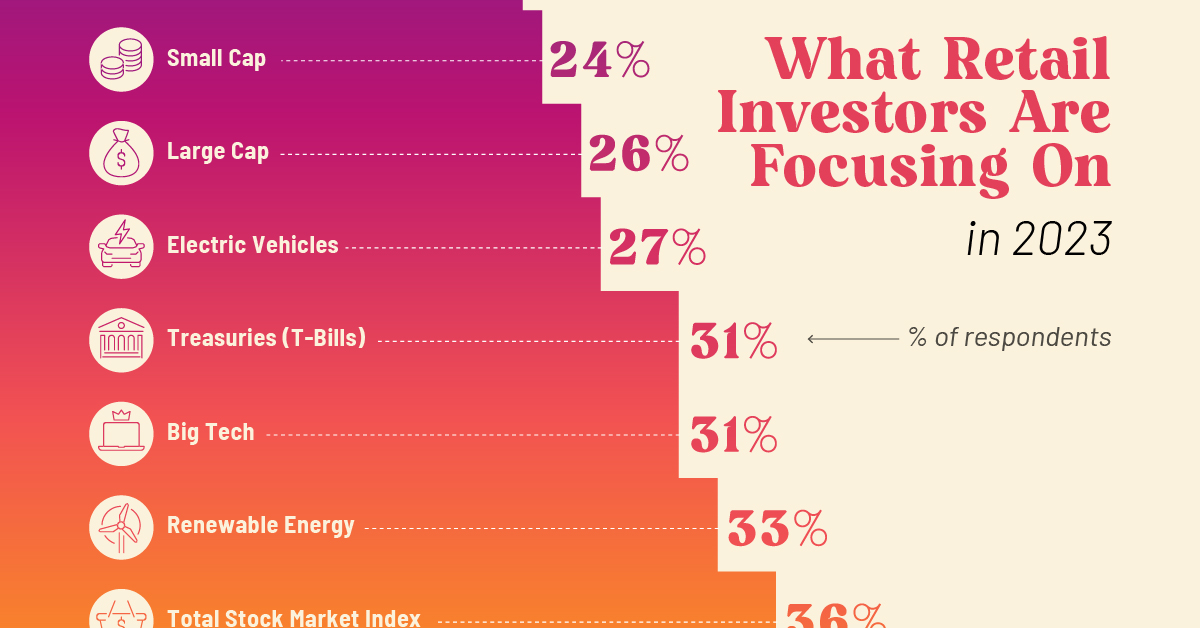 Charted: Retail Investors' Top Picks for 2023
U.S. retail investors, enticed by a brief pause in the interest rate cycle, came roaring back in the early summer. But what are their investment priorities for the second half of 2023?
We visualized the data from Public's 2023 Retail Investor Report, which surveyed 1,005 retail investors on their platform, asking "which investment strategy or themes are you interested in as part of your overall investment strategy?"
Survey respondents ticked all the options that applied to them, thus their response percentages do not sum to 100%.
Where Are Retail Investors Putting Their Money?
By far the most popular strategy for retail investors is dividend investing with 50% of the respondents selecting it as something they're interested in.
Dividends can help supplement incomes and come with tax benefits (especially for lower income investors or if the dividend is paid out into a tax-deferred account), and can be a popular choice during more inflationary times.
| Investment Strategy | Percent of Respondents |
| --- | --- |
| Dividend Investing | 50% |
| Artificial Intelligence | 36% |
| Total Stock Market Index | 36% |
| Renewable Energy | 33% |
| Big Tech | 31% |
| Treasuries (T-Bills) | 31% |
| Electric Vehicles | 27% |
| Large Cap | 26% |
| Small Cap | 24% |
| Emerging Markets | 23% |
| Real Estate | 23% |
| Gold & Precious Metals | 23% |
| Mid Cap | 19% |
| Inflation Protection | 13% |
| Commodities | 12% |
Meanwhile, the hype around AI hasn't faded, with 36% of the respondents saying they'd be interested in investing in the theme—including juggernaut chipmaker Nvidia. This is tied for second place with Total Stock Market Index investing.
Treasury Bills (30%) represent the safety anchoring of the portfolio but the ongoing climate crisis is also on investors' minds with Renewable Energy (33%) and EVs (27%) scoring fairly high on the interest list.
Commodities and Inflation-Protection stocks on the other hand have fallen out of favor.
Come on Barbie, Let's Go Party…
Another interesting takeaway pulled from the survey is how conversations about prevailing companies—or the buzz around them—are influencing trades. The platform found that public investors in Mattel increased 6.6 times after the success of the 'Barbie' movie.
Bud Light also saw a 1.5x increase in retail investors, despite receiving negative attention from their fans after the company did a beer promotion campaign with trans influencer Dylan Mulvaney.
Given the origin story of a large chunk of American retail investors revolves around GameStop and AMC, these insights aren't new, but they do reveal a persisting trend.