Meet the Competing Apps Battling for Twitter's Market Share
Meet the Competing Apps Battling for Twitter's Market Share
The Twitterverse is under siege as a flurry of microblogging platforms, keen to capitalize on simmering discontent, vie for its vast user base. Among the most serious contenders are five apps offering diverse solutions, each with their unique appeal.
Five Twitter Alternatives
At the top of the list is Meta's Threads, a fresh entrant that leverages the success and massive userbase of Instagram. Launched hot on the heels of Twitter's controversial 'rate limit' decision in June 2023, Threads emulates Twitter's microblogging approach with an Instagram twist. The new kid on the block swiftly amassed over 30 million users on its launch day, posing a credible threat to Twitter's dominance.
Meanwhile, the decentralized platform Mastodon, which has been running since 2016, continues to challenge the status quo. Its open-source model enables user control over data and privacy, providing an alternative to mainstream social media monopolies. Mastodon saw a big surge in users last year as Elon Musk took control of Twitter—a move that was wildly unpopular with a subset of users.
Another decentralized contender is BlueSky, a brainchild of Twitter co-founder Jack Dorsey. Still in its nascent 'invite-only' stage, BlueSky already has a whopping 1.2 million potential users on its waitlist, a testament to its potential to disrupt the social media landscape.
Spill, co-founded by former Twitter employees, is also shaking things up. The platform aims to foster diverse communities rather than mimic Twitter, but the similarities are hard to overlook. Impressively, even though Spill is still invite-only, it has become one of the most downloaded apps on Apple's App Store.
Lastly, there's Truth Social, a product of Trump Media & Technology Group. It bills itself as a bastion of free speech. In the aftermath of Twitter's introduction of a daily post limit by Elon Musk, Truth Social's servers were overwhelmed by an influx of users seeking an unrestricted social media experience.
As these platforms fight for Twitter's turf, only time will tell who'll come out on top. Twitter's rule remains challenged, but the battle for social media supremacy is far from over.
Charted: What are Retail Investors Interested in Buying in 2023?
What key themes and strategies are retail investors looking at for the rest of 2023? Preview: AI is a popular choice.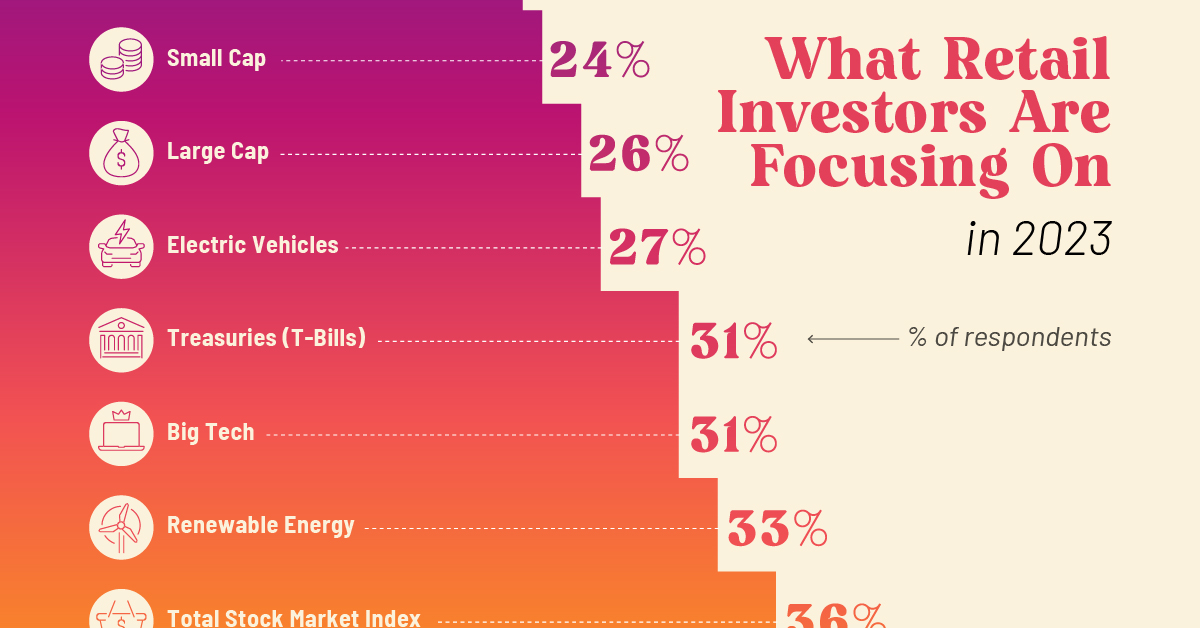 Charted: Retail Investors' Top Picks for 2023
U.S. retail investors, enticed by a brief pause in the interest rate cycle, came roaring back in the early summer. But what are their investment priorities for the second half of 2023?
We visualized the data from Public's 2023 Retail Investor Report, which surveyed 1,005 retail investors on their platform, asking "which investment strategy or themes are you interested in as part of your overall investment strategy?"
Survey respondents ticked all the options that applied to them, thus their response percentages do not sum to 100%.
Where Are Retail Investors Putting Their Money?
By far the most popular strategy for retail investors is dividend investing with 50% of the respondents selecting it as something they're interested in.
Dividends can help supplement incomes and come with tax benefits (especially for lower income investors or if the dividend is paid out into a tax-deferred account), and can be a popular choice during more inflationary times.
| Investment Strategy | Percent of Respondents |
| --- | --- |
| Dividend Investing | 50% |
| Artificial Intelligence | 36% |
| Total Stock Market Index | 36% |
| Renewable Energy | 33% |
| Big Tech | 31% |
| Treasuries (T-Bills) | 31% |
| Electric Vehicles | 27% |
| Large Cap | 26% |
| Small Cap | 24% |
| Emerging Markets | 23% |
| Real Estate | 23% |
| Gold & Precious Metals | 23% |
| Mid Cap | 19% |
| Inflation Protection | 13% |
| Commodities | 12% |
Meanwhile, the hype around AI hasn't faded, with 36% of the respondents saying they'd be interested in investing in the theme—including juggernaut chipmaker Nvidia. This is tied for second place with Total Stock Market Index investing.
Treasury Bills (30%) represent the safety anchoring of the portfolio but the ongoing climate crisis is also on investors' minds with Renewable Energy (33%) and EVs (27%) scoring fairly high on the interest list.
Commodities and Inflation-Protection stocks on the other hand have fallen out of favor.
Come on Barbie, Let's Go Party…
Another interesting takeaway pulled from the survey is how conversations about prevailing companies—or the buzz around them—are influencing trades. The platform found that public investors in Mattel increased 6.6 times after the success of the 'Barbie' movie.
Bud Light also saw a 1.5x increase in retail investors, despite receiving negative attention from their fans after the company did a beer promotion campaign with trans influencer Dylan Mulvaney.
Given the origin story of a large chunk of American retail investors revolves around GameStop and AMC, these insights aren't new, but they do reveal a persisting trend.