33 Problems With Media in One Chart
33 Problems With Media in One Chart
One of the hallmarks of democratic society is a healthy, free-flowing media ecosystem.
In times past, that media ecosystem would include various mass media outlets, from newspapers to cable TV networks. Today, the internet and social media platforms have greatly expanded the scope and reach of communication within society.
Of course, journalism plays a key role within that ecosystem. High quality journalism and the unprecedented transparency of social media keeps power structures in check—and sometimes, these forces can drive genuine societal change. Reporters bring us news from the front lines of conflict, and uncover hard truths through investigative journalism.
That said, these positive impacts are sometimes overshadowed by harmful practices and negative externalities occurring in the media ecosystem.
The graphic above is an attempt to catalog problems within the media ecosystem as a basis for discussion. Many of the problems are easy to understand once they're identified. However, in some cases, there is an interplay between these issues that is worth digging into. Below are a few of those instances.
Editor's note: For a full list of sources, please go to the end of this article. If we missed a problem, let us know!
Explicit Bias vs. Implicit Bias
Broadly speaking, bias in media breaks down into two types: explicit and implicit.
Publishers with explicit biases will overtly dictate the types of stories that are covered in their publications and control the framing of those stories. They usually have a political or ideological leaning, and these outlets will use narrative fallacies or false balance in an effort to push their own agenda.
Unintentional filtering or skewing of information is referred to as implicit bias, and this can manifest in a few different ways. For example, a publication may turn a blind eye to a topic or issue because it would paint an advertiser in a bad light. These are called no fly zones, and given the financial struggles of the news industry, these no fly zones are becoming increasingly treacherous territory.
Misinformation vs. Disinformation
Both of these terms imply that information being shared is not factually sound. The key difference is that misinformation is unintentional, and disinformation is deliberately created to deceive people.
Fake news stories, and concepts like deepfakes, fall into the latter category. We broke down the entire spectrum of fake news and how to spot it, in a previous infographic.
Simplify, Simplify
Mass media and social feeds are the ultimate Darwinistic scenario for ideas.
Through social media, stories are shared widely by many participants, and the most compelling framing usually wins out. More often than not, it's the pithy, provocative posts that spread the furthest. This process strips context away from an idea, potentially warping its meaning.
Video clips shared on social platforms are a prime example of context stripping in action. An (often shocking) event occurs, and it generates a massive amount of discussion despite the complete lack of context.
This unintentionally encourages viewers to stereotype the persons in the video and bring our own preconceived ideas to the table to help fill in the gaps.
Members of the media are also looking for punchy story angles to capture attention and prove the point they're making in an article. This can lead to cherrypicking facts and ideas. Cherrypicking is especially problematic because the facts are often correct, so they make sense at face value, however, they lack important context.
Simplified models of the world make for compelling narratives, like good-vs-evil, but situations are often far more complex than what meets the eye.
The News Media Squeeze
It's no secret that journalism is facing lean times. Newsrooms are operating with much smaller teams and budgets, and one result is 'churnalism'. This term refers to the practice of publishing articles directly from wire services and public relations releases.
Churnalism not only replaces more rigorous forms of reporting—but also acts as an avenue for advertising and propaganda that is harder to distinguish from the news.
The increased sense of urgency to drive revenue is causing other problems as well. High-quality content is increasingly being hidden behind paywalls.
The end result is a two-tiered system, with subscribers receiving thoughtful, high-quality news, and everyone else accessing shallow or sensationalized content. That everyone else isn't just people with lower incomes, it also largely includes younger people. The average age of today's paid news subscriber is 50 years old, raising questions about the future of the subscription business model.
For outlets that rely on advertising, desperate times have called for desperate measures. User experience has taken a backseat to ad impressions, with ad clutter (e.g. auto-play videos, pop-ups, and prompts) interrupting content at every turn. Meanwhile, in the background, third-party trackers are still watching your every digital move, despite all the privacy opt-in prompts.
How Can We Fix the Problems with Media?
With great influence comes great responsibility. There is no easy fix to the issues that plague news and social media. But the first step is identifying these issues, and talking about them.
The more media literate we collectively become, the better equipped we will be to reform these broken systems, and push for accuracy and transparency in the communication channels that bind society together.
Sources and further reading:
Veils of Distortion: How the News Media Warps our Minds by John Zada
Hate Inc. by Matt Taibbi
Manufacturing Consent by Edward S. Herman and Noam Chomsky
The Truth Matters: A Citizen's Guide to Separating Facts from Lies and Stopping Fake News in its Tracks by Bruce Bartlett
Active Measures: The Secret History of Disinformation and Political Warfare by Thomas Rid
The Twittering Machine by Richard Seymour
After the Fact by Nathan Bomey
Ten Arguments for Deleting Your Social Media Accounts Right Now by Jaron Lanier
Zucked by Roger McNamee
Antisocial: Online Extremists, Techno-Utopians, and the Highjacking of the American Conversation by Andrew Marantz
Social media is broken by Sara Brown
The U.S. Media's Problems Are Much Bigger than Fake News and Filter Bubbles by Bharat N. Anand
What's Wrong With the News? by FAIR
Is the Media Doomed? by Politico
The Implied Truth Effect by Gordon Pennycook, Adam Bear, Evan T. Collins, David G. Rand
Mapped: What Did the World Look Like in the Last Ice Age?
A map of the Earth 20,000 years ago, at the peak of the last ice age, when colder temperatures transformed the planet we know so well.

Creator Program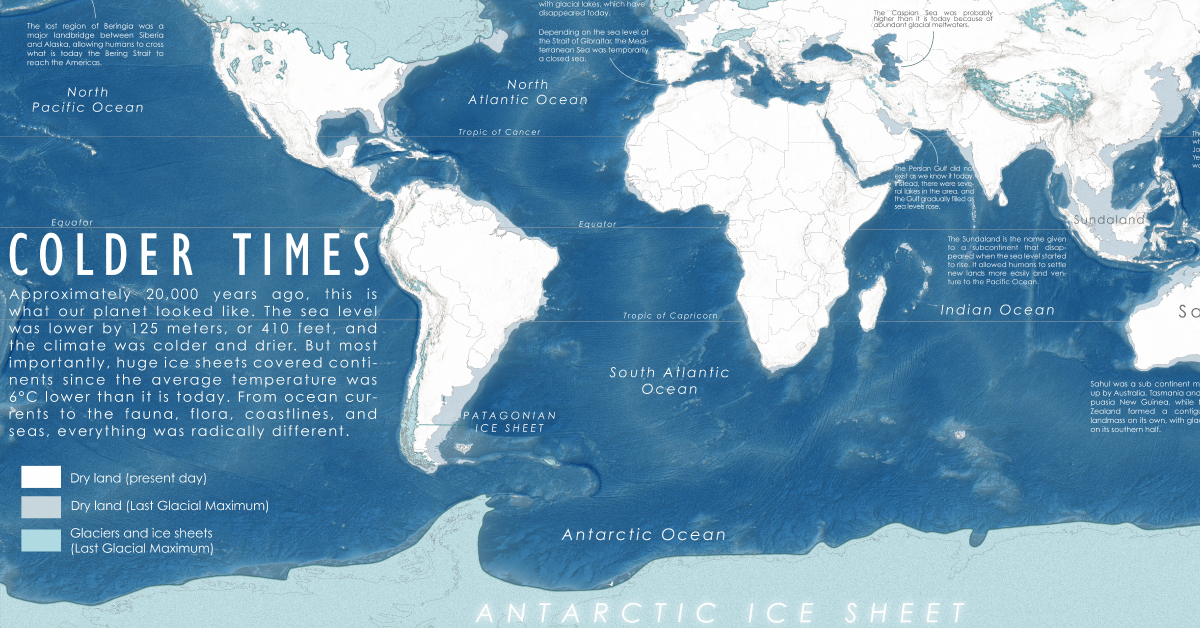 What Did the World Look Like in the Last Ice Age?
What did the world look like during the last ice age? Was it all endless glaciers and frozen ice? The answer is a partial yes—with some interesting caveats.
The Last Glacial Maximum (LGM), colloquially called the last ice age, was a period in Earth's history that occurred roughly 26,000 to 19,000 years ago.
This map by cartographer Perrin Remonté offers a snapshot of the Earth from that time, using data of past sea levels and glaciers from research published in 2009, 2014, and 2021, alongside modern-day topographical data.
Let's dive into the differences between the two Earths below.
The Last Ice Age: Low Seas, Exposed Landmasses
During an ice age, sea levels fall as ocean water that evaporates is stored on land on a large scale (ice sheets, ice caps, glaciers) instead of returning to the ocean.
| Earth's Ice Cover | 20,000 Years Ago | Today |
| --- | --- | --- |
| Surface | 8% | 3% |
| Land | 25% | 11% |
At the time of the LGM, the climate was cold and dry with temperatures that were 6 °C (11 °F) lower on average. Water levels in the ocean were more than 400 feet below what they are now, exposing large areas of the continental shelf.
In the map above, these areas are represented as the gray, dry land most noticeable in a few big patches in Southeast Asia and between Russia and Alaska. Here are a few examples of regions of dry land from 20,000 years ago that are now under water:
A "lost continent" called Sundaland, a southeastern extension of Asia which forms the island regions of Indonesia today. Some scholars see a connection with this location and the mythical site of Atlantis, though there are many other theories.
The Bering land bridge, now a strait, connecting Asia and North America. It is central to the theory explaining how ancient humans crossed between the two continents.
Another land bridge connected the island of Great Britain with the rest of continental Europe. The island of Ireland is in turn connected to Great Britain by a giant ice sheet.
In Japan, the low water level made the Sea of Japan a lake, and a land bridge connected the region to the Asian mainland. The Yellow Sea—famous as a modern-day fishing location—was completely dry.
The cold temperatures also caused the polar parts of continents to be covered by massive ice sheets, with glaciers forming in mountainous areas.
Flora and Fauna in the Last Ice Age
The dry climate during the last ice age brought about the expansion of deserts and the disappearance of rivers, but some areas saw increased precipitation from falling temperatures.
Most of Canada and Northern Europe was covered with large ice sheets. The U.S. was a mix of ice sheets, alpine deserts, snow forests, semi-arid scrubland and temperate grasslands. Areas that are deserts today—like the Mojave—were filled with lakes. The Great Salt Lake in Utah is a remnant from this time.
Africa had a mix of grasslands in its southern half and deserts in the north—the Sahara Desert existed then as well—and Asia was a mix of tropical deserts in the west, alpine deserts in China, and grasslands in the Indian subcontinent.
Several large animals like the woolly mammoth, the mastodon, the giant beaver, and the saber-toothed tiger roamed the world in extremely harsh conditions, but sadly all are extinct today.
However, not all megafauna from the LGM disappeared forever; many species are still alive, including the Bactrian camel, the tapir, the musk ox, and the white rhinoceros—though the latter is now an endangered species.
Will There Be Another Ice Age?
In a technical sense, we're still in an "ice age" called the Quaternary Glaciation, which began about 2.6 million years ago. That's because a permanent ice sheet has existed for the entire time, the Antarctic, which makes geologists call this entire period an ice age.
We are currently in a relatively warmer part of that ice age, described as an interglacial period, which began 11,700 years ago. This geological epoch is known as the Holocene.
Over billions of years, the Earth has experienced numerous glacial and interglacial periods and has had five major ice ages:
| Major Ice Ages | Name | Time Period (Years Ago) |
| --- | --- | --- |
| 1 | Huronian Glaciation | 2.4 billion - 2.1 billion |
| 2 | Cryogenian Glaciation | 720 million - 635 million |
| 3 | Andean-Saharan Glaciation | 450 million - 420 million |
| 4 | Late Paleozoic ice age | 335 million - 260 million |
| 5 | Quaternary Glaciation | 2.6 million - present |
It is predicted that temperatures will fall again in a few thousand years, leading to expansion of ice sheets. However there are a dizzying array of factors that are still not understood well enough to say comprehensively what causes (or ends) ice ages.
A popular explanation says the degree of the Earth's axial tilt, its wobble, and its orbital shape, are the main factors heralding the start and end of this phenomenon.
The variations in all three lead to a change in how much prolonged sunlight parts of the world receive, which in turn can cause the creation or melting of ice sheets. But these take thousands of years to coincide and cause a significant change in climate.
Furthermore, current industrial activities have warmed the climate considerably and may in fact delay the next ice age by 50,000-100,000 years.