Mapping the World's Key Maritime Choke Points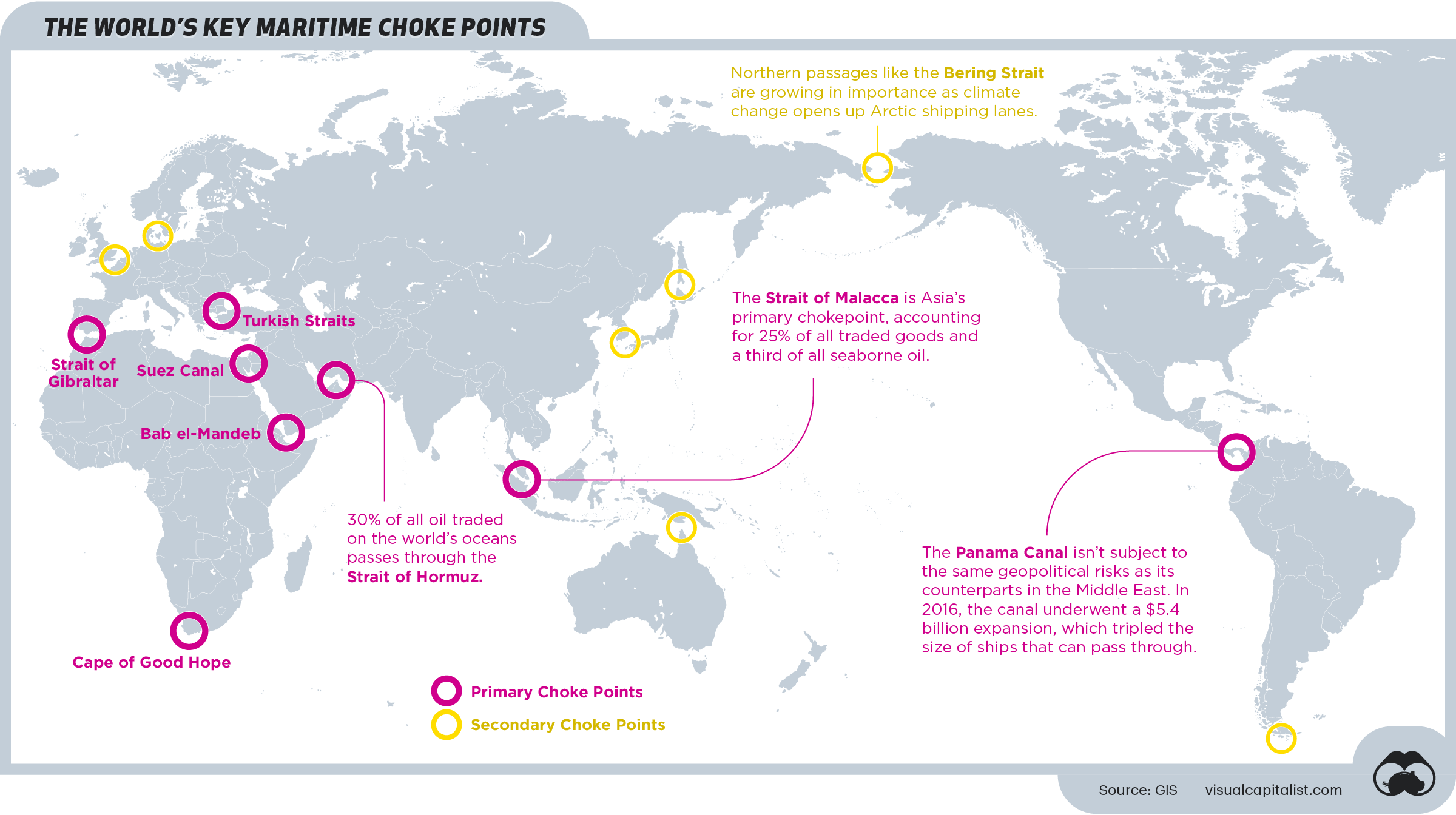 Mapping the World's Key Maritime Choke Points
Maritime transport is an essential part of international trade—approximately 80% of global merchandise is shipped via sea.
Because of its importance, commercial shipping relies on strategic trade routes to move goods efficiently. These waterways are used by thousands of vessels a year—but it's not always smooth sailing. In fact, there are certain points along these routes that pose a risk to the whole system.
Here's a look at the world's most vulnerable maritime bottlenecks—also known as choke points—as identified by GIS.
What's a Choke Point?
Choke points are strategic, narrow passages that connect two larger areas to one another. When it comes to maritime trade, these are typically straits or canals that see high volumes of traffic because of their optimal location.
Despite their convenience, these vital points pose several risks:
Structural risks: As demonstrated in the recent Suez Canal blockage, ships can crash along the shore of a canal if the passage is too narrow, causing traffic jams that can last for days.
Geopolitical risks: Because of their high traffic, choke points are particularly vulnerable to blockades or deliberate disruptions during times of political unrest.
The type and degree of risk varies, depending on location. Here's a look at some of the biggest threats, at eight of the world's major choke points.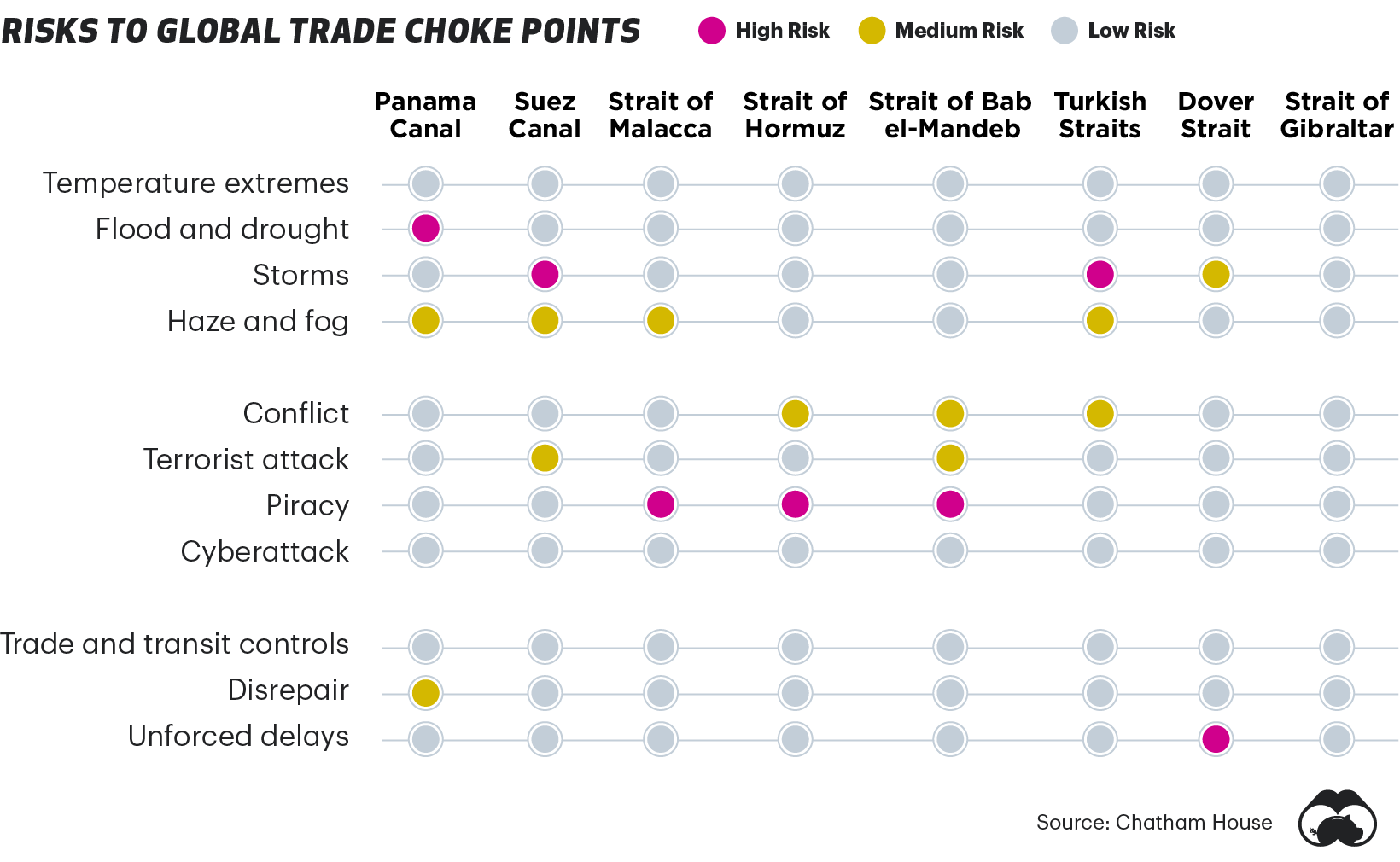 Because of their high risk, alternatives for some of these key routes have been proposed in the past—for instance, in 2013 Nicaraguan Congress approved a $40 billion dollar project proposal to build a canal that was meant to rival the Panama Canal.
As of today, it has yet to materialize.
A Closer Look: Key Maritime Choke Points
Despite their vulnerabilities, these choke points remain critical waterways that facilitate international trade. Below, we dive into a few of the key areas to provide some context on just how important they are to global trade.
The Panama Canal
The Panama Canal is a lock-type canal that provides a shortcut for ships traveling between the Pacific and Atlantic oceans. Ships sailing between the east and west coasts of the U.S. save over 8,000 nautical miles by using the canal—which roughly shortens their trip by 21 days.
In 2019, 252 million long tons of goods were transported through the Panama Canal, which generated over $2.6 billion in tolls.
The Suez Canal
The Suez Canal is an Egyptian waterway that connects Europe to Asia. Without this route, ships would need to sail around Africa, which would add approximately seven days to their trips. In 2019, nearly 19,000 vessels, and 1 billion tons of cargo, traveled through the Suez Canal.
In an effort to mitigate risk, the Egyptian government embarked on a major expansion project for the canal back in 2015. But, given the recent blockage caused by a Taiwanese container ship, it's clear that the waterway is still vulnerable to obstruction.
The Strait of Malacca
At its smallest point, the Strait of Malacca is approximately 1.5 nautical miles, making it one of the world's narrowest choke points. Despite its size, it's one of Asia's most critical waterways, since it provides a critical connection between China, India, and Southeast Asia. This choke point creates a risky situation for the 130,000 or so ships that visit the Port of Singapore each year.
The area is also known to have problems with piracy—in 2019, there were 30 piracy incidents, according to private information group ReCAAP ISC.
The Strait of Hormuz
Controlled by Iran, the Strait of Hormuz links the Persian Gulf to the Gulf of Oman, ultimately draining into the Arabian Sea. It's a primary vein for the world's oil supply, transporting approximately 21 million barrels per day.
Historically, it's also been a site of regional conflict. For instance, tankers and commercial ships were attacked in that area during the Iran-Iraq war in the 1980s.
The Bab el-Mandeb Strait
The Bab el-Mandeb Strait is another primary waterway for the world's oil and natural gas. Nestled between Africa and the Middle East, the critical route connects the Mediterranean Sea (via the Suez Canal) to the Indian Ocean.
Like the Strait of Malacca, it's well known as a high-risk area for pirate attacks. In May 2020, a UK chemical tanker was attacked off the coast of Yemen–the ninth pirate attack in the area that year.
Due to the strategic nature of the region, there is a strong military presence in nearby Djibouti, including China's first ever foreign military base.
Support the Future of Data Storytelling
Sorry to interrupt your reading, but we have a favor to ask. At Visual Capitalist we believe in a world where data can be understood by everyone. That's why we want to build the VC App - the first app of its kind combining verifiable and transparent data with beautiful, memorable visuals. All available for free.
As a small, independent media company we don't have the expertise in-house or the funds to build an app like this. So we're asking our community to help us raise funds on Kickstarter.
If you believe in data-driven storytelling, join the movement and back us on Kickstarter!
Thank you.
News Explainer: The Economic Crisis in Sri Lanka
Sri Lanka is currently in an economic crisis with over $50 billion in debt and consumer inflation at 39%. So how did they get here?
Explained: the Economic Crisis in Sri Lanka
Sri Lanka is currently in an economic and political crisis of mass proportions, recently culminating in a default on its debt payments. The country is also nearly at empty on their foreign currency reserves, decreasing the ability to purchase imports and driving up domestic prices for goods.
There are several reasons for this crisis and the economic turmoil has sparked mass protests and violence across the country. This visual breaks down some of the elements that led to Sri Lanka's current situation.
A Timeline of Events
The ongoing problems in Sri Lanka have bubbled up after years of economic mismanagement. Here's a brief timeline looking at just some of the recent factors.
2009
In 2009, a decades-long civil war in the country ended and the government's focus turned inward towards domestic production. However, a stress on local production and sales, instead of exports, increased the reliance on foreign goods.
2019
Unprompted cuts were introduced on income tax in 2019, leading to significant losses in government revenue, draining an already cash-strapped country.
2020
The COVID-19 pandemic hit the world causing border closures globally and stifling one of Sri Lanka's most lucrative industries. Prior to the pandemic, in 2018, tourism contributed nearly 5% of the country's GDP and generated over 388,000 jobs. In 2020, tourism's share of GDP had dropped to 0.8%, with over 40,000 jobs lost to that point.
2021
Recently, the Sri Lankan government introduced a ban on foreign-made chemical fertilizers. The ban was meant to counter the depletion of the country's foreign currency reserves.
However, with only local, organic fertilizers available to farmers, a massive crop failure occurred and Sri Lankans were subsequently forced to rely even more heavily on imports, further depleting reserves.
April 2022
In early April this year, massive protests calling for President Gotabaya Rajapaksa's resignation, sparked in Sri Lanka's capital city, Colombo.
May 2022
In May, pro-government supporters brutally attacked protesters. Subsequently, Prime Minister Mahinda Rajapaksa, brother of President Rajapaksa, stepped down and was replaced with former PM, Ranil Wickremesinghe.
June 2022
Recently, the government approved a four-day work week to allow citizens an extra day to grow food, as prices continue to shoot up. Food inflation increased over 57% in May.
Additionally, the increasing prices on grain caused by the war in Ukraine and rising fuel prices globally have played into an already dire situation in Sri Lanka.
The Key Information
"Our economy has completely collapsed."
Prime minister Ranil Wickremesinghe to Parliament last week.
One of the main causes of the economic crisis in Sri Lanka is the reliance on imports and the amount spent on them. Let's take a look at the numbers:
2021 total imports = $20.6 billion USD
2022 total imports (to March) = $5.7 billion USD
In contrast, the most recent reported foreign currency reserve levels in the country were at an abysmal $50 million, having plummeted an astounding 99%, from $7.6 billion in 2019.
Some of the top imports in 2021, according to the country's central bank were:
Refined petroleum = $2.8 billion
Textiles = $3.1 billion
Chemical products = $1.1 billion
Food & beverage = $1.7 billion
Of course, without the cash to purchase these goods from abroad, Sri Lankans face an increasingly drastic situation.
Additionally, the debt Sri Lanka has incurred is huge, further hampering their ability to boost their reserves. Recently, they defaulted on a $78 million loan from international creditors, and in total, they've borrowed $50.7 billion.
The largest source of their debt is by far due to market borrowings, followed closely by loans taken from the Asian Development Bank, China, and Japan, among others.
What it Means
Sri Lanka is home to more than 22 million people who are rapidly losing the ability to purchase everyday goods. Consumer inflation reached 39% at the end of May.
Due to power outages meant to save energy and fuel, schools are currently shuttered and children have nowhere to go during the day. Protesters calling for the president's resignation have been camped in the capital for months, facing tear gas from police and backlash from president Rajapaksa's supporters, but many have also responded violently to pushback.
India and China have agreed to send help to the country and the the International Monetary Fund recently arrived in the country to discuss a bailout. Additionally, the government has sent ministers to Russia to discuss a deal for discounted oil imports.
A Foreshadowing for Low Income Countries
Governments need foreign currency in order to purchase goods from abroad. Without the ability to purchase or borrow foreign currency, the Sri Lankan government cannot buy desperately needed imports, including food staples and fuel, causing domestic prices to rise.
Furthermore, defaults on loan payments discourage foreign direct investment and devalue the national currency, making future borrowing more difficult.
What's happening in Sri Lanka may be an ominous preview of what's to come in other low and middle-income countries, as the risk of debt distress continues to rise globally.
The Debt Service Suspension Initiative (DSSI) was implemented by G20 countries, suspending nearly $13 billion in debt from the start of the pandemic until late 2021.
Some DSSI and LIC countries facing a high risk of debt distress include Zambia, Ethiopia, and Tajikistan, to name a few.
Going forward, Sri Lanka's next steps in managing this situation will either serve as a useful example for other countries at risk or a warning worth heeding.
Note: The debt breakdown in the main visualization represents total outstanding external debt owed to foreign creditors rather total debt.
Interest Rate Hikes vs. Inflation Rate, by Country
Inflation rates are reaching multi-decade highs in some countries. How aggressive have central banks been with interest rate hikes?
Interest Rate Hikes vs. Inflation Rate, by Country
Imagine today's high inflation like a car speeding down a hill. In order to slow it down, you need to hit the brakes. In this case, the "brakes" are interest rate hikes intended to slow spending. However, some central banks are hitting the brakes faster than others.
This graphic uses data from central banks and government websites to show how policy interest rates and inflation rates have changed since the start of the year. It was inspired by a chart created by Macrobond.
How Do Interest Rate Hikes Combat Inflation?
To understand how interest rates influence inflation, we need to understand how inflation works. Inflation is the result of too much money chasing too few goods. Over the last several months, this has occurred amid a surge in demand and supply chain disruptions worsened by Russia's invasion of Ukraine.
In an effort to combat inflation, central banks will raise their policy rate. This is the rate they charge commercial banks for loans or pay commercial banks for deposits. Commercial banks pass on a portion of these higher rates to their customers, which reduces the purchasing power of businesses and consumers. For example, it becomes more expensive to borrow money for a house or car.
Ultimately, interest rate hikes act to slow spending and encourage saving. This motivates companies to increase prices at a slower rate, or lower prices, to stimulate demand.
Rising Interest Rates and Inflation
With inflation rates hitting multi-decade highs in some countries, many central banks have announced interest rate hikes. Below, we show how the inflation rate and policy interest rate have changed for select countries and regions since January 2022. The jurisdictions are ordered from highest to lowest current inflation rate.
| Jurisdiction | Jan 2022 Inflation | May 2022 Inflation | Jan 2022 Policy Rate | Jun 2022 Policy Rate |
| --- | --- | --- | --- | --- |
| UK | 5.50% | 9.10% | 0.25% | 1.25% |
| U.S. | 7.50% | 8.60% | 0.00%-0.25% | 1.50%-1.75% |
| Euro Area | 5.10% | 8.10% | 0.00% | 0.00% |
| Canada | 5.10% | 7.70% | 0.25% | 1.50% |
| Sweden | 3.90% | 7.20% | 0.00% | 0.25% |
| New Zealand | 5.90% | 6.90% | 0.75% | 2.00% |
| Norway | 3.20% | 5.70% | 0.50% | 1.25% |
| Australia | 3.50% | 5.10% | 0.10% | 0.85% |
| Switzerland | 1.60% | 2.90% | -0.75% | -0.25% |
| Japan | 0.50% | 2.50% | -0.10% | -0.10% |
The Euro area has 3 policy rates; the data above represents the main refinancing operations rate. Inflation data is as of May 2022 except for New Zealand and Australia, where the latest quarterly data is as of March 2022.
The U.S. Federal Reserve has been the most aggressive with its interest rate hikes. It has raised its policy rate by 1.5% since January, with half of that increase occurring at the June 2022 meeting. Jerome Powell, the Federal Reserve chair, said the committee would like to "do a little more front-end loading" to bring policy rates to normal levels. The action comes as the U.S. faces its highest inflation rate in 40 years.
On the other hand, the European Union is experiencing inflation of 8.1% but has not yet raised its policy rate. The European Central Bank has, however, provided clear forward guidance. It intends to raise rates by 0.25% in July, by a possibly larger increment in September, and with gradual but sustained increases thereafter. Clear forward guidance is intended to help people make spending and investment decisions, and avoid surprises that could disrupt markets.
Pacing Interest Rate Hikes
Raising interest rates is a fine balancing act. If central banks raise rates too quickly, it's like slamming the brakes on that car speeding downhill: the economy could come to a standstill. This occurred in the U.S. in the 1980's when the Federal Reserve, led by Chair Paul Volcker, raised the policy rate to 20%. The economy went into a recession, though the aggressive monetary policy did eventually tame double digit inflation.
However, if rates are raised too slowly, inflation could gather enough momentum that it becomes difficult to stop. The longer high price increases linger, the more future inflation expectations build. This can result in people buying more in anticipation of prices rising further, perpetuating high demand.
"There's always a risk of going too far or not going far enough, and it's going to be a very difficult judgment to make." — Jerome Powell, U.S. Federal Reserve Chair
It's worth noting that while central banks can influence demand through policy rates, this is only one side of the equation. Inflation is also being caused by supply chain issues, a problem that is more or less outside of the control of central banks.