Mapping the World's Key Maritime Choke Points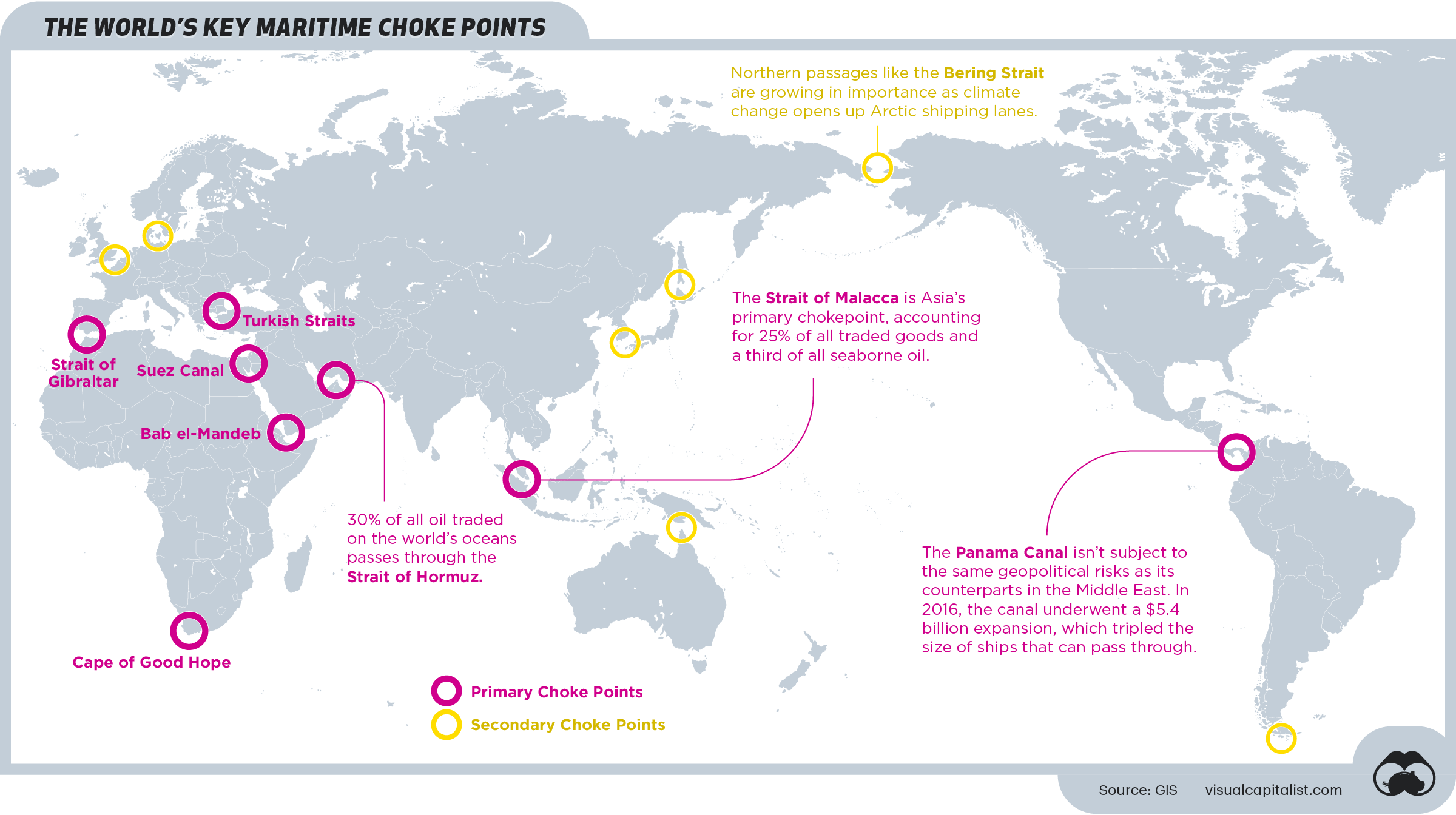 Mapping the World's Key Maritime Choke Points
Maritime transport is an essential part of international trade—approximately 80% of global merchandise is shipped via sea.
Because of its importance, commercial shipping relies on strategic trade routes to move goods efficiently. These waterways are used by thousands of vessels a year—but it's not always smooth sailing. In fact, there are certain points along these routes that pose a risk to the whole system.
Here's a look at the world's most vulnerable maritime bottlenecks—also known as choke points—as identified by GIS.
What's a Choke Point?
Choke points are strategic, narrow passages that connect two larger areas to one another. When it comes to maritime trade, these are typically straits or canals that see high volumes of traffic because of their optimal location.
Despite their convenience, these vital points pose several risks:
Structural risks: As demonstrated in the recent Suez Canal blockage, ships can crash along the shore of a canal if the passage is too narrow, causing traffic jams that can last for days.
Geopolitical risks: Because of their high traffic, choke points are particularly vulnerable to blockades or deliberate disruptions during times of political unrest.
The type and degree of risk varies, depending on location. Here's a look at some of the biggest threats, at eight of the world's major choke points.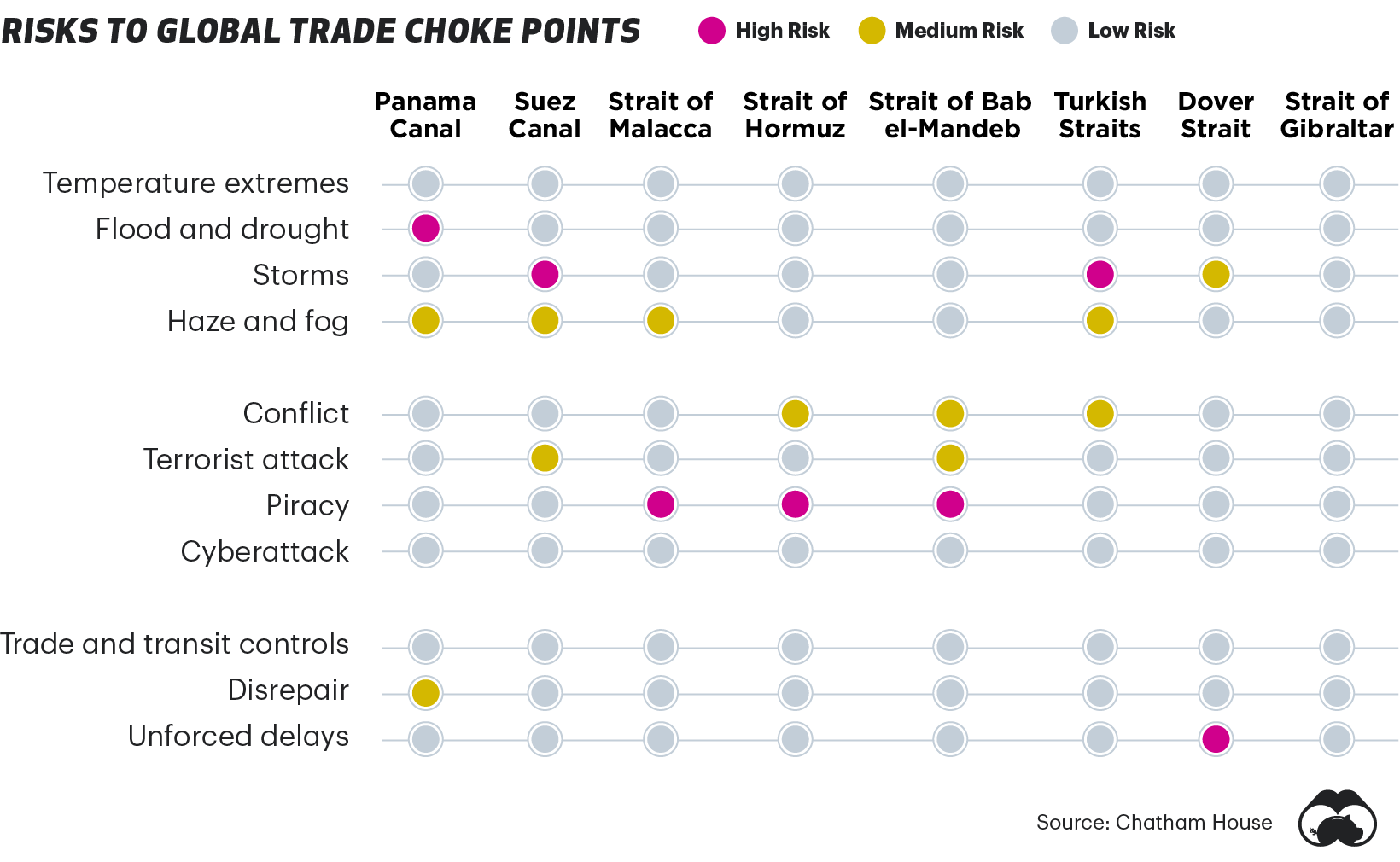 Because of their high risk, alternatives for some of these key routes have been proposed in the past—for instance, in 2013 Nicaraguan Congress approved a $40 billion dollar project proposal to build a canal that was meant to rival the Panama Canal.
As of today, it has yet to materialize.
A Closer Look: Key Maritime Choke Points
Despite their vulnerabilities, these choke points remain critical waterways that facilitate international trade. Below, we dive into a few of the key areas to provide some context on just how important they are to global trade.
The Panama Canal
The Panama Canal is a lock-type canal that provides a shortcut for ships traveling between the Pacific and Atlantic oceans. Ships sailing between the east and west coasts of the U.S. save over 8,000 nautical miles by using the canal—which roughly shortens their trip by 21 days.
In 2019, 252 million long tons of goods were transported through the Panama Canal, which generated over $2.6 billion in tolls.
The Suez Canal
The Suez Canal is an Egyptian waterway that connects Europe to Asia. Without this route, ships would need to sail around Africa, which would add approximately seven days to their trips. In 2019, nearly 19,000 vessels, and 1 billion tons of cargo, traveled through the Suez Canal.
In an effort to mitigate risk, the Egyptian government embarked on a major expansion project for the canal back in 2015. But, given the recent blockage caused by a Taiwanese container ship, it's clear that the waterway is still vulnerable to obstruction.
The Strait of Malacca
At its smallest point, the Strait of Malacca is approximately 1.5 nautical miles, making it one of the world's narrowest choke points. Despite its size, it's one of Asia's most critical waterways, since it provides a critical connection between China, India, and Southeast Asia. This choke point creates a risky situation for the 130,000 or so ships that visit the Port of Singapore each year.
The area is also known to have problems with piracy—in 2019, there were 30 piracy incidents, according to private information group ReCAAP ISC.
The Strait of Hormuz
Controlled by Iran, the Strait of Hormuz links the Persian Gulf to the Gulf of Oman, ultimately draining into the Arabian Sea. It's a primary vein for the world's oil supply, transporting approximately 21 million barrels per day.
Historically, it's also been a site of regional conflict. For instance, tankers and commercial ships were attacked in that area during the Iran-Iraq war in the 1980s.
The Bab el-Mandeb Strait
The Bab el-Mandeb Strait is another primary waterway for the world's oil and natural gas. Nestled between Africa and the Middle East, the critical route connects the Mediterranean Sea (via the Suez Canal) to the Indian Ocean.
Like the Strait of Malacca, it's well known as a high-risk area for pirate attacks. In May 2020, a UK chemical tanker was attacked off the coast of Yemen–the ninth pirate attack in the area that year.
Due to the strategic nature of the region, there is a strong military presence in nearby Djibouti, including China's first ever foreign military base.
Visualizing the Recent Explosion in Lumber Prices
Lumber prices in the U.S. continue to break records as pressure from both the supply and demand sides of the market collide.
Visualizing the Recent Explosion in Lumber Prices
Lumber is an important commodity used in construction, and refers to wood that has been processed into beams or planks.
Fluctuations in its price, which is typically quoted in USD/1,000 board feet (bd ft), can significantly affect the housing industry and in turn, influence the broader U.S. economy.
To understand the impact that lumber prices can have, we've visualized the number of homes that can be built with $50,000 worth of lumber, one year apart.
A Story of Supply and Demand
Before discussing the infographic above, it's important to understand the market's current environment.
In just one year, the price of lumber has increased 377%—reaching a record high of $1,635 per 1,000 bd ft. For context, lumber has historically fluctuated between $200 to $400.
To understand what's driving lumber prices to new heights, let's look at two economic elements: supply and demand.
Shortened Supply
U.S. lumber supplies came under pressure in April 2017, when the Trump administration raised tariffs on Canadian lumber. Since then, lumber imports have fallen and prices have experienced significant volatility.
After a brief stint above $600 in April 2018, lumber quickly tumbled down to sub $250 levels, causing a number of sawmills to shut down. The resulting decreases in production capacity (supply) were estimated to be around 3 billion board feet.
Once COVID-19 emerged, labor shortages cut production even further, making the lumber market incredibly sensitive to demand shocks. The U.S. government has since reduced its tariffs on Canadian lumber, but these measures appear to be an example of too little, too late.
Pent-up Demand
Against expectations, COVID-19 has led to a significant boom in housing markets, greatly increasing the need for lumber.
Lockdowns in early 2020 delayed many home purchases until later in the year, while increased savings rates during the pandemic meant Americans had more cash on hand. The demand for homes was further amplified by record-low mortgage rates across the country.
Existing homeowners needed lumber too, as many Americans suddenly found themselves requiring upgrades and renovations to accommodate their new stay-at-home lifestyles.
How Many Homes Can You Build With $50K of Lumber?
To see how burgeoning lumber prices are impacting the U.S. housing market, we've calculated the number of single family homes that could be built with $50,000 worth of lumber. First, we established the following parameters:
Lumber requirements: 6.3 board feet (bd ft) per square foot (sq ft)
Median single family house size: 2,301 sq ft
Total lumber required per single family house: 14,496 bd ft
Based on these parameters, here's how many single family homes can be built with $50,000 worth of lumber:

| Date* | Lumber Price | Total Lumber Purchased | Total Homes Built |
| --- | --- | --- | --- |
| 2021-05-05 | $1,635 per 1,000 bd ft | 30,581 bd ft | 2.11 |
| 2020-05-04 | $343 per 1,000 bd ft | 145,773 bd ft | 10.05 |
| 2015-05-01 | $234 per 1,000 bd ft | 213,675 bd ft | 14.74 |
| 2010-05-01 | $270 per 1,000 bd ft | 185,185 bd ft | 12.77 |
*Exact matching dates were not available for past years.
Source: Insider
As lumber prices continue to set record highs, the National Association of Home Builders (NAHB) has reported that the cost to build a single family home has increased by $36,000. Most of this cost can be passed down to the consumer, but extremely tight supplies mean homebuilders are unable to start more projects.
The Clock is Ticking
Despite their best efforts to increase output, it's likely that sawmills across the U.S. will continue playing catch-up in 2021.
"There was a great fear among sawmills to prepare for a downturn. When home buying surged, they could not open up capacity quickly enough."
– Lawrence Yun, National Association of Realtors
Analysts are now warning that lumber prices could reach a flashpoint, where affordability becomes so limited that demand suddenly falls off. This has led the NAHB to ask the Biden administration for a temporary pause on Canadian lumber tariffs, which currently sit at 9%.
U.S. tariffs on Canadian lumber were first introduced in 1982, and represent one of the longest lasting trade wars between the two nations. The U.S. is currently appealing a World Trade Organization (WTO) ruling that states its 2017 tariff hike was a breach of global trading rules.
Mapped: The State of Small Business Recovery in America
Compared to January 2020, 34% of small businesses are currently closed. This map looks at the small business recovery rate in 50 metro areas.
Mapped: The State of Small Business Recovery in America
In the business news cycle, headlines are often dominated by large corporations, macroeconomic news, or government action.
While mom and pop might not always be in focus, collectively small businesses are a powerful and influential piece of the economy. In fact, 99.9% of all businesses in the U.S. qualify as small businesses, collectively employing almost half (47.3%) of the nation's private workforce.
Unfortunately, they've also been one of the hardest-hit sectors of the economy amid the pandemic. From the CARES Act to the new budget proposal, billions of dollars have been allocated towards helping small businesses to get back on their feet.
Small Business Recovery in 50 Metro Areas
During the pandemic, many small businesses have either swiftly pivoted to survive, or struggled to stay afloat. This map pulls data from Opportunity Insights to examine the small business recovery rate in 50 metro areas across America.
So, has the situation improved since the last time we examined this data? The short answer is no—on a national scale, 34% of small businesses are closed compared to January 2020.
San Francisco is one of the most affected metro areas, with a 48% closure rate of small businesses. New York City has spiralled the most since the end of September 2020.
U.S. Metro Area
% Change in # of
Small Businesses Open
(As of Sep 25, 2020)
% Change in # of
Small Businesses Open
(As of Apr 23, 2021)
7-month change (p.p.)
Albuquerque
-23%
-34%
-11
Atlanta
-26%
-35%
-9
Austin
-32%
-38%
-6
Bakersfield
-31%
-35%
-4
Baltimore
-28%
-35%
-7
Boston
-33%
-47%
-14
Charlotte
-18%
-28%
-10
Chicago
-27%
-38%
-11
Cleveland
-26%
-34%
-8
Colorado Springs
-23%
-28%
-5
Columbus
-21%
-28%
-7
Dallas-Fort Worth
-21%
-28%
-7
Denver
-25%
-29%
-4
Detroit
-28%
-38%
-10
El Paso
-25%
-26%
-1
Fresno
-26%
-30%
-4
Honolulu
-41%
-25%
+16
Houston
-30%
-34%
-4
Indianapolis
-25%
-34%
-9
Jacksonville
-18%
-28%
-10
Kansas City
-15%
-26%
-11
Las Vegas
-22%
-30%
-8
Los Angeles
-27%
-34%
-7
Louisville
-23%
-35%
-12
Memphis
-21%
-24%
-3
Miami
-23%
-34%
-11
Milwaukee
-22%
-27%
-5
Minneapolis
-21%
-29%
-8
Nashville
-21%
-26%
-5
New Orleans
-45%
-39%
+6
New York City
-21%
-42%
-21
Oakland
-32%
-35%
-3
Oklahoma City
-26%
-35%
-9
Philadelphia
-24%
-31%
-7
Phoenix
-19%
-31%
-12
Portland
-34%
-36%
-2
Raleigh
-16%
-29%
-13
Sacramento
-33%
-34%
-1
Salt Lake City
-18%
-23%
-5
San Antonio
-34%
-40%
-6
San Diego
-28%
-38%
-10
San Francisco
-49%
-48%
+2
San Jose
-35%
-44%
-9
Seattle
-28%
-30%
-2
Tampa
-22%
-40%
-18
Tucson
-27%
-28%
-1
Tulsa
-23%
-32%
-9
Virginia Beach
-
-36%
0
Washington DC
-37%
-47%
-10
Wichita
-15%
-28%
-13
Data as of Apr 23, 2021 and indexed to Jan 4-31, 2020.
On the flip side, Honolulu has seen the most improvement. As travel and tourism numbers into Hawaii have steadily risen up with lifted nationwide restrictions, there has been a 16 p.p. increase in open businesses compared to September 2020.
Road to a K-Shaped Recovery
As of April 25, 2021, nearly 42% of the U.S. population has received at least one dose of a COVID-19 vaccine. However, even with this rapid vaccine rollout, various segments of the economy aren't recovering at the same pace.
Take for instance the stark difference between professional services and the leisure and hospitality sector. Though small business revenues in both segments have yet to return to pre-pandemic levels, the latter has much more catching up to do:
This uneven phenomena is known as a K-shaped recovery, where some industries see more improvement compared to others that stagnate in the aftermath of a recession.
The Entrepreneurial Spirit Endures
Despite these continued hardships, it appears that many Americans have not been deterred from starting their own businesses.
Many small businesses require an Employer Identification Number (EIN) which makes EIN applications a good proxy for business formation activity. Despite an initial dip in the early months of the pandemic, there has been a dramatic spike in EIN business applications.
Even in the face of a global pandemic, the perseverance of such metrics prove that the innovative American spirit is unwavering, and spells better days to come for small business recovery.