Mapped: The 25 Richest Countries in the World
The Briefing
The richest country in the world is Luxembourg with a GDP per capita of over $109,000
The world's 25 richest countries are located across North America, Europe, Asia, and Oceania
Mapped: The 25 Richest Countries in the World
Which are the richest countries in the world, by nominal GDP per capita?
This map looks at the top 25 countries by this metric. They're located across North America, Europe, Asia, and Oceania. Notably, no South American or African countries make the list.
| Country | GDP per capita (USD) |
| --- | --- |
| 🇱🇺 Luxembourg | $109,602.32 |
| 🇨🇭 Switzerland | $81,867.46 |
| 🇮🇪 Ireland | $79,668.50 |
| 🇳🇴 Norway | $67,988.59 |
| 🇺🇸 United States | $63,051.40 |
| 🇸🇬 Singapore | $58,483.96 |
| 🇩🇰 Denmark | $58,438.85 |
| 🇮🇸 Iceland | $57,189.03 |
| 🇶🇦 Qatar | $52,751.11 |
| 🇦🇺 Australia | $51,885.47 |
| 🇳🇱 Netherlands | $51,289.57 |
| 🇸🇪 Sweden | $50,339.20 |
| 🇦🇹 Austria | $48,634.34 |
| 🇫🇮 Finland | $48,461.48 |
| 🇩🇪 Germany | $45,466.12 |
| 🇭🇰 Hong Kong SAR | $45,175.73 |
| 🇧🇪 Belgium | $43,813.80 |
| 🇨🇦 Canada | $42,080.10 |
| 🇸🇲 San Marino | $41,682.81 |
| 🇮🇱 Israel | $41,559.51 |
| 🇫🇷 France | $39,257.43 |
| 🇬🇧 United Kingdom | $39,228.52 |
| 🇯🇵 Japan | $39,047.90 |
| 🇲🇴 Macao SAR | $38,769.20 |
| 🇳🇿 New Zealand | $38,675.32 |
Although number one on the global stage in terms of total GDP, the U.S. places fifth with a GDP per capita of $63,051.
Interestingly, a number of countries with smaller population sizes have a high GDP per capita. For example, Iceland makes the top 10 at $57,189, but the island's population is only around 342,000 people. Similarly, Luxembourg's population is just under 633,000—but it's the richest country in the world on a per capita basis.
Building Wealth
So how did these countries become so well off?
Looking at history, most high-income countries went through a similar linear journey. Beginning with agriculture-based economies, they went through a period of rapid industrialization, and finally became service-based economies.
In Luxembourg today, one of the top industries is banking and financial services, for example. Here's a look at some of the top industries in the next five richest countries:
🇨🇭 Switzerland:
Banking and financial services, agriculture
🇮🇪 Ireland:
Natural resources (including agriculture, fisheries, forestry, and mining), pharmaceuticals
🇳🇴 Norway:
Oil and gas, hydropower, seafood
🇺🇸 U.S.:
Real estate, healthcare, technology
🇸🇬 Singapore:
Financial services, manufacturing, oil and gas
The world's wealthiest economies will likely remain on top for the foreseeable future, though some may experience plateauing growth. In Japan, for example, the domestic market is beginning to shrink due to an aging population.
Regardless, the wealth of these countries today is astounding, with the richest country in the world having a GDP per capita of 415x more than the poorest country in the world.
Where does this data come from?
Source: IMF
Details: GDP per capita is measured in $USD, 2020. In IMF's database, Macao SAR and Hong Kong SAR are both listed separately from China.
Visualizing the World's Population by Age Group
33% of the world's population is under 20, making young people the largest demographic worldwide. But this might not be the case forever.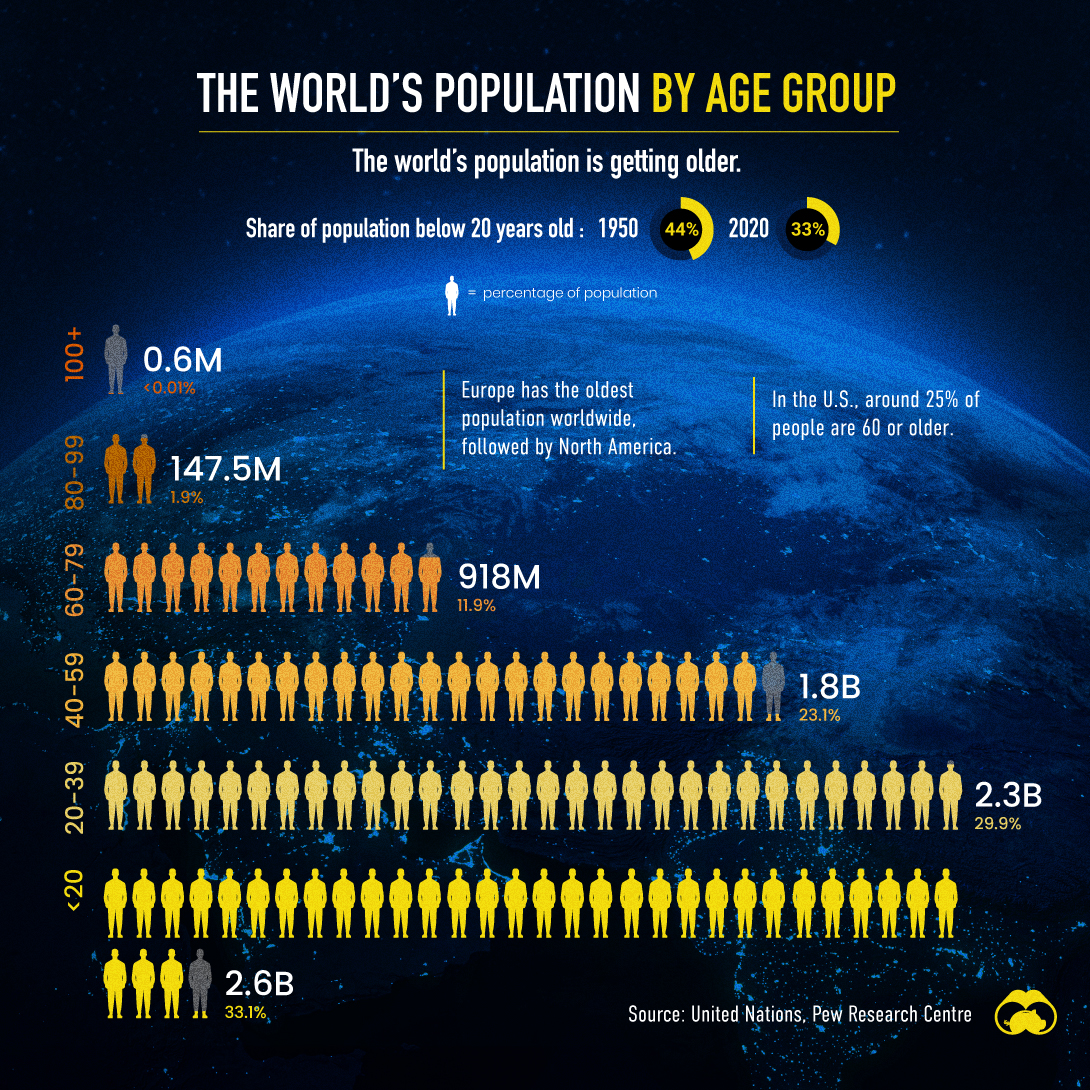 The Briefing
According to the United Nations, the global median age has increased by 7 years since 1950, from 24 to 31
That said, young people accounted for 33% of the global population in 2020, making them the largest demographic across the globe
Visualizing the World's Population, By Age Group
An aging population can have far-reaching consequences on a country's economy.
With this in mind, today's graphic looks at the age composition of the global population in 2020, based on the latest figures from the United Nations.
The Global Age Composition
Our global population is getting older, largely because of increasing life expectancies and declining birth rates.
In 2020, more than 147 million people around the world were between the ages of 80-99, accounting for 1.9% of the global population.
| Age Group | Number of People (2020) | % of Global Population |
| --- | --- | --- |
| <20 years | 2.6 billion | 33.2% |
| 20-39 years | 2.3 billion | 29.9% |
| 40-59 years | 1.8 billion | 23.1% |
| 60-79 years | 918 million | 11.8% |
| 80-99 years | 147 million | 1.9% |
| 100+ years | 0.6 million | 0.01% |
While that percentage may seem small, that particular demographic accounted for merely 0.05% of the population in 1950, meaning our world has a notably higher percentage of older people than it did 70 years ago.
Why is this significant? An aging population typically means a declining workforce and an increase of people looking to cash in their pensions. This can put pressure on the working class if taxes are raised.
Of course, an aging population can have positive impacts on society as well. For instance, elderly citizens tend to volunteer more than other age groups. And research has shown that older communities have lower crime rates. By 2050, the crime rate in Australia expected to drop by 16% as the country's population gets older.
To mitigate some of the risks associated with a rapidly aging population, certain countries are working towards more sustainable pension systems, to support aging citizens while taking the stress off the working population.
» Like this? Then you might like this article on The World's Youngest and Oldest Countries
Where does this data come from?
Source: United Nations World Population Prospects 2019 (accessed Feb 12, 2021)
Euro 2020: Qualified Nations and Past Winners
After a year-long delay, the 2020 UEFA European Championship is back with new rules, reduced spectators, and fierce competition.
The Briefing
The 2020 UEFA European Football Championship will kick off Friday, June 11th 2021 after a year-long delay due to COVID-19
The tournament will take place across 11 host cities and feature new rules, reduced spectators, and fierce competition
The 2020 European Championship Returns with New Rules
After a year-long delay, the 2020 UEFA European Championship is set to kick off what will be the largest international sports tournament to take place since the pandemic.
While the final stage of the tournament typically takes place in one or two nations, this year's will be played across 11 different countries.
Running from June 11th to July 11th 2021, the opening game between Italy and Turkey will kick off at the Stadio Olimpico in Rome, and the final will take place at London's Wembley Stadium.
COVID-19's Impact on Teams and Spectators
Aside from the initial year-long delay, COVID-19 has changed how teams and spectators will participate in the tournament.
Squads have been expanded from 23 to 26 players, and coaches will be permitted to call up more players if COVID-19 infections force players into isolation.
For spectators, individual stadiums within host cities have announced varying capacities ranging from 20-100%, with strict stadium entry requirements across the board. Since these capacities are pre-tournament estimates, we'll have to wait until matchday to see how many ticket-holders are comfortable attending the fixtures in person.
| Host Stadium and City | Spectator Capacity |
| --- | --- |
| Johann Cruijff ArenA, Amsterdam | 25-45% |
| Baku Olympic Stadium, Baku | 50% |
| Arena Națională, Bucharest | 25-45% |
| Puskás Aréna, Budapest | Aiming for 100% |
| Parken Stadium, Copenhagen | 25-45% |
| Hampden Park, Glasgow | 25-45% |
| Wembley Stadium, London | Minimum of 25% |
| Football Arena Munich (Allianz Arena), Munich | Minimum of 14,500 spectators (~22%) |
| Stadio Olimpico, Rome | 25-45% |
| Estadio La Cartuja, Seville | 25-45% |
| Krestovsky Stadium (Gazprom Arena), Saint Petersburg | 50% |
Source: UEFA
More Substitutions and the Video Assistant Referee System
This edition of the tournament will also feature two new rule changes to the action on the field.
Coaches will now be able to make up to five substitutions (six if the match goes to extra time), a change first introduced in domestic leagues to allow players more rest as match calendars became congested.
Another key change which was already in play at the 2018 FIFA World Cup is the Video Assistant Referee (VAR) system. This system appoints a match official who reviews the head referee's decisions with video footage, and allows the head referee to conduct an on-field video review and potentially change decisions.
Strong Competition Among Euro 2020's Favorites
Despite current world champions France remaining as undeniable favorites, bookies are putting England to win the tournament (despite a fairly young squad) partially due to the home field advantage in the semi-finals and final.
Spain, Germany, and Italy remain formidable competitors, and Belgium's golden generation will have one final shot at silverware after their third place finish at the 2018 FIFA World Cup.
European champions Portugal are another obvious threat, as Cristiano Ronaldo will be looking to become the tournament's top goalscorer of all time (currently tied with Michel Platini at 9 goals).
While the 2020 edition of UEFA's European Championship features a variety of on-field and off-the-field changes, the trophy truly feels up for grabs and is a welcome return to international football for fans around the world.
»Like this? Then you might enjoy this article, The Top 10 Football Clubs by Market Value
Where does this data come from?
Source: UEFA