Mapped: Global Happiness Levels in 2022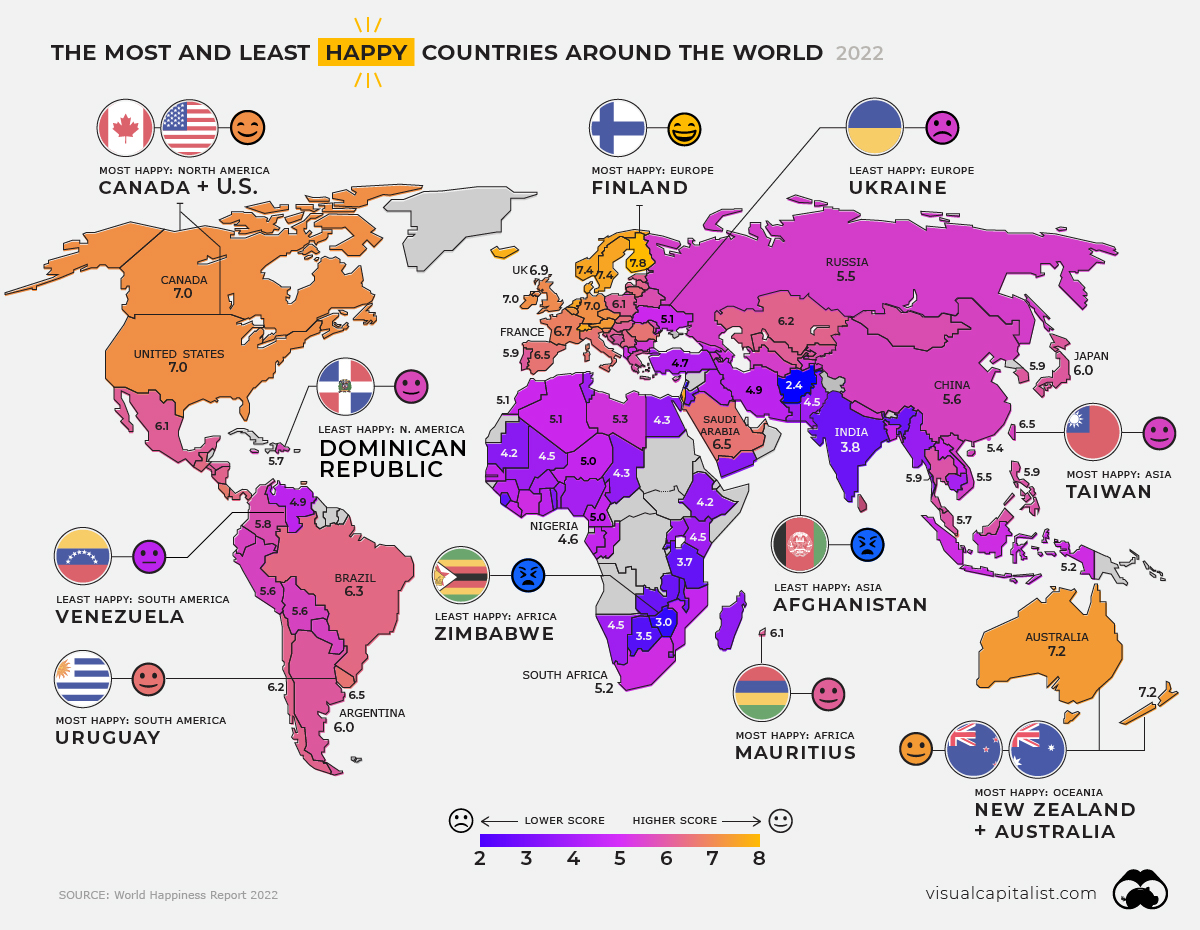 Mapped: Global Happiness Levels in 2022
What really makes people happy? While countless academic researchers have tried to get to the bottom of this, the truth is, it's a complicated question to answer.
Happiness levels depend on a number of factors, including one's financial security, perceptions of social support, feelings of personal freedom, and much more.
This map pulls data from the World Happiness Report to uncover the average happiness scores of 146 countries. It shows average scores from 2019 to 2021, and highlights which countries are the happiest—or unhappiest—and why.
How is Happiness Measured?
Before diving in, let's briefly touch on how happiness levels are measured in this report.
The numbers shown represent the survey data from thousands of respondents for each country, who are asked to rate their subjective well-being (happiness score) using the Cantril life ladder question. For more information on the methodology of this and technical notes, go here.
The report also does a regression analysis to look at how happiness scores could be explained, by looking at tangible and intangible factors that could factor in:
Social support
Life expectancy
Freedom to make life choices
Generosity
GDP per capita
Perceptions of corruption
Positive and negative affects
Similar to last year, the report takes special considerations to track how COVID-19 has impacted aspects of our daily lives, and how it's affected global happiness levels.
Editor's note: there are several countries covered in last year's report that were not included in this year's dataset, including Haiti, Maldives, and Burundi.
Zooming in: Regional Happiness Levels
Worldwide happiness comes in at an average score of 5.6, which is a slight improvement since last year's report. Below, we dive into each region's happiness levels.
North America
Current Mood: Happy (6.3)
Like last year, Canada ranks first as the happiest country in North America. However, it's lost some ground on the global ranking, placing 15th this year compared to 14th the year prior. In contrast, the U.S. climbed three places in this year's report and ranked just under Canada with a score of 6.97 (7.0 after rounding).
The Dominican Republic comes in last place in the region. While the Dominican Republic has experienced impressive economic growth over the last 25 years, the country was hit hard by the global pandemic—in 2020, approximately 270,000 people fell into poverty, and the economy is still struggling to reach its pre-pandemic levels.
South America
Current Mood: Content (5.8)
Uruguay retains its top spot as the happiest country in South America. It continues to rank high on the list because of its high income per capita, relatively low levels of poverty, and strong middle class.
While Uruguay was not immune to the impacts of COVID-19, the country was able to transition smoothly to online learning and was the first country in the region to reopen schools.

In last year's World Happiness Report, Colombia was the most improved country in the region. But this year, it's dropped 14 places on the global ranking, making it the least improved country in this year's report.
While Colombia has made significant strides towards elevating extreme poverty in the last few decades, it still has one of the highest levels of income inequality in Latin America. In 2020, its top 10% of workers took home more than 50% of national income.
Europe
Current Mood: Happy (6.5)
Finland is not only the happiest country in Europe, but it also takes the top spot as the happiest country in the world, for the fifth year in a row. Finland is one of five Nordic countries to place in the top 10. Denmark comes in second place, followed by Iceland in third.
Romania was the most improved country in Europe, climbing 18 spots on the global ranking since last year's report. Over the last decade, the country has seen some of the most significant economic growth in the European Union and was able to bounce back quickly from its COVID-19- triggered slump.
Ukraine ranks in last place, making it the unhappiest country in Europe. Ukraine has experienced ongoing challenges since the Maidan Uprising peaked in 2014. Events in the country have recently taken a turn for the worse, when Russia launched a full-scale invasion of Ukraine on February 24, 2022. As a result of the conflict, over 3 million people have fled the country.
Middle East and Central Asia
Current Mood: It's Complicated (5.2)
Turkmenistan is the most improved country in the region, rising 19 places on the global ranking since last year's report. The country's boost could be explained by its rapid economic growth in recent years. In 2021, the country's GDP grew by an estimated 6.3%.
For the last two years, Lebanon has been dealing with a slew of crises. In 2020, COVID-19 spurred an economic crisis that's been ranked as one of the top 10 most severe economic crises since the mid-nineteenth century. And on August 4th, 2020, a massive ammonium nitrate explosion left the country's capital city, Beirut, in shambles.
East Asia and Oceania
Current Mood: Neutral (5.6)
Note: As the report only covers 146 countries, "Oceania" only refers to Australia and New Zealand in this instance.
In this year's report, China climbed 12 places on the global ranking, making it the most improved country in East Asia and Oceania. The Chinese government recently identified "common prosperity" as a top priority, and has made numerous policy shifts in an effort to combat inequality and eradicate poverty.

On the flipside, Thailand has improved the least in the region, likely because of the significant toll that COVID-19 had on the country's economy. In 2020, economic growth shrunk by 6.1% in Thailand—the country's worst contraction since the Asian Financial Crisis in 1997. Thailand's economy is not expected to bounce back to pre-pandemic levels until 2023.
Africa
Current Mood: Unhappy (4.5)
With a regional score of 4.5, Africa ranks as the unhappiest region worldwide. Zimbabwe remains the most unhappy country in the region, as it continues to struggle with high levels of poverty. In 2021, approximately 6.1 million people were living below the international poverty line.

Mauritius remains the happiest country in the region, likely because of its relatively high levels of income. It's worth noting that Mauritius became a High-Income country in July 2020, but slipped back to its Upper-Middle-Income status in 2021 because of the global pandemic.
We're into our third year of dealing with the COVID-19 pandemic, and it's clear that countries worldwide are still reeling from the pandemic's devastating health, social, and economic impact. It's unclear when things will fully return to normal—if ever. But on the bright side, countries are slowly showing signs of recovery.
Editor's note: We've adjusted the "How is Happiness Measured" portion of this article to better reflect the methodology used in the World Happiness Report
Mapped: The State of Global Democracy in 2022
We map the state of global democracy, as the Democracy Index hits its lowest point since the inception of the index in 2006.
Mapped: The State of Democracy Around the World
The world's (almost) eight billion people live under a wide variety of political and cultural circumstances. In broad terms, those circumstances can be measured and presented on a sliding scale between "free" and "not free"—the subtext being that democracy lies on one end, and authoritarianism on the other.
This year's Democracy Index report by the Economist Intelligence Unit (EIU), is one such attempt to apply a score to countries based on how closely they measure up to democratic ideals.
According to EIU, the state of democracy is at its lowest point since the index began in 2006, blamed in part on the pandemic restrictions that saw many countries struggling to balance public health with personal freedom.
In this year's report, the EIU reported a drop of the average global score from 5.37 to 5.28, the biggest drop since 2010 after the global financial crisis. This translates into a sobering fact: only 46% of the population is living in a democracy "of some sort."
Let's dive a bit deeper into what this means.
Percentage of Population by Regime Type
In 2021, 37% of the world's population still lived under an authoritarian regime. Afghanistan tops this list, followed by Myanmar, North Korea, Democratic Republic of the Congo, and Syria. Of course, China has a big share of the population living under this style of regime.
On the other side of the spectrum we have full democracies, which only account for 6.4% of the population. Norway tops this list, followed by New Zealand, Finland, Sweden, and Iceland.
| Regime Type | No. of Countries | Share of countries | Share of World Population |
| --- | --- | --- | --- |
| Full democracies | 21 | 12.6% | 6.4% |
| Flawed democracies | 53 | 31.7% | 39.3% |
| Hybrid Regimes | 34 | 20.4% | 17.2% |
| Authoritarian regimes | 59 | 35.3% | 37.1% |
Let's explore the characteristics of each of the four types of regime according to the EIU:
Full democracies are nations where:
Civil liberties and fundamental political freedoms are respected
Valid systems of governmental checks and balances exist
There are limited problems in democratic functioning
Media is diverse and independent
Flawed democracies are nations where:
Elections are fair and free
Basic liberties are honored but may have issues
There are issues in the functioning of governance
Hybrid regimes are nations where:
Electoral fraud or irregularities occur regularly
Pressure is applied to political opposition
Corruption is widespread and rule of law tends to be weak
Media is pressured and harassed
There are issues in the functioning of governance
Authoritarian regimes are nations where:
Political pluralism is nonexistent or limited
The population is ruled by absolute monarchies or dictatorships
Infringements and abuses of civil liberties are common
Elections are not fair or free (if they occur at all)
Media is state-owned or controlled directly or indirectly by the ruling regime
The judiciary system is not independent
Criticism of the government is censored
Global Democracy Index by Region
As mentioned earlier, in 2021, the global democracy score declined from 5.37 to 5.28. This was driven by a decline in the average regional score, but every region has a different reality. Let's take a look at the democratic state of each region in the world.
Americas
North America (Canada and U.S.) is the top-ranked region in the Democracy Index with an average score of 8.36, but this dropped significantly from 8.58 in 2020.
Both countries have dropped their positions in the global ranking, however, Canada still maintains the status as a full democracy.
The U.S. is still classified by EIU as a flawed democracy, and has been since 2016. The report points to extreme polarization and "gerrymandering" as key issues facing the country. On the bright side, political participation in the U.S. is still very robust compared with the rest of the world.
Latin America and the Caribbean experienced the largest decline in regional scores in the world. This region dropped from 6.09 in 2020 to 5.83 in 2021. This decline shows the general discontent of the population about how their governments have handled the pandemic.
In this region, the only country that falls under a full democracy is Costa Rica. On the other side of the spectrum, Venezuela, Nicaragua, and Cuba fall under the authoritarian regime classification.
Europe
In 2021, Western Europe is the region with the most full democracies in the world.
In fact, four out of the top five full democracies are in this region: Norway, Finland, Sweden, and Iceland. A notable downgrade in this region happened in Spain; the country is now considered a flawed democracy.
Eastern Europe paints a different picture, where there is not a single full democracy. Three countries (Moldova, Montenegro, and North Macedonia) were upgraded from being considered hybrid regimes to flawed democracies.
Ukraine's score declined to 5.57, becoming a hybrid region. Russia's score also declined to 3.24 keeping the authoritarian regime status. It's important to note that this report by the EIU was published before the invasion of Ukraine began, and the conflict will almost certainly impact scores in next year's report.
Africa
Sub-Saharan Africa has the most countries at the bottom of the Democracy Index rankings.
The fact is that 23 countries are considered "authoritarian regimes". Meanwhile, there are 14 countries that are hybrid regimes, six countries under flawed democracy, and only one country, Mauritius, is considered a full democracy.
In North Africa, four countries are considered authoritarian regimes: Sudan, Egypt, Libya, and Algeria. Only Morocco and Tunisia fall into the hybrid regime classification.
Middle East and Central Asia
This region concentrates a substantial number of countries classified as authoritarian regimes. In fact, the region's overall democracy score is now lower than what it was before the start of the Arab Spring in 2010.
There are no countries falling under the category of full democracy in this region. Only Israel (7.97) and Cyprus (7.43) are considered flawed democracies. Turkey, Georgia, Armenia, and Pakistan fall under the category of hybrid regimes, and the rest of the countries in the region are considered authoritarian regimes.
East Asia and Oceania
This is broad region is full of contrasts. Aside from Western Europe, East Asia and Oceania contains the most full democracies: New Zealand, Taiwan, Australia, South Korea, and Japan. There are also a high number of countries that fall under the category of flawed democracies.
It's worth noting that some of the most contentious geopolitical relationships are between neighbors with big differences in their scores: China and Taiwan, or North and South Korea are examples of this juxtaposition.
Decline in Global Democracy Levels
Two years after the world got hit by the pandemic, we can see that global democracy is in a downward trend.
Every region's global score experienced a drop, with the exception of Western Europe, which remained flat. Out of the 167 countries, 74 (44%) experienced a decline in their democracy score.
As pandemic restrictions continue to be lifted, will democracy make a comeback in 2022?
Mapped: Solar and Wind Power by Country
Wind and solar make up 10% of the world's electricity. Combined, they are the fourth-largest source of electricity after coal, gas, and hydro.
Mapped: Solar and Wind Power by Country
This was originally posted on Elements. Sign up to the free mailing list to get beautiful visualizations on natural resource megatrends in your email every week.
Wind and solar generate over a tenth of the world's electricity. Taken together, they are the fourth-largest source of electricity, behind coal, gas, and hydro.
This infographic based on data from Ember shows the rise of electricity from these two clean sources over the last decade.
Europe Leads in Wind and Solar
Wind and solar generated 10.3% of global electricity for the first time in 2021, rising from 9.3% in 2020, and doubling their share compared to 2015 when the Paris Climate Agreement was signed.
In fact, 50 countries (26%) generated over a tenth of their electricity from wind and solar in 2021, with seven countries hitting this landmark for the first time: China, Japan, Mongolia, Vietnam, Argentina, Hungary, and El Salvador.
Denmark and Uruguay achieved 52% and 47% respectively, leading the way in technology for high renewable grid integration.
| Rank | Top Countries | Solar/Wind Power Share |
| --- | --- | --- |
| #1 | 🇩🇰 Denmark | 51.9% |
| #2 | 🇺🇾 Uruguay | 46.7% |
| #3 | 🇱🇺 Luxembourg | 43.4% |
| #4 | 🇱🇹 Lithuania | 36.9% |
| #5 | 🇪🇸 Spain | 32.9% |
| #6 | 🇮🇪 Ireland | 32.9% |
| #7 | 🇵🇹 Portugal | 31.5% |
| #8 | 🇩🇪 Germany | 28.8% |
| #9 | 🇬🇷 Greece | 28.7% |
| #10 | 🇬🇧 United Kingdom | 25.2% |
From a regional perspective, Europe leads with nine of the top 10 countries. On the flipside, the Middle East and Africa have the fewest countries reaching the 10% threshold.
Further Renewables Growth Needed to meet Global Climate Goals
The electricity sector was the highest greenhouse gas emitting sector in 2020.
According to the International Energy Agency (IEA), the sector needs to hit net zero globally by 2040 to achieve the Paris Agreement's goals of limiting global heating to 1.5 degrees. And to hit that goal, wind and solar power need to grow at nearly a 20% clip each year to 2030.
Despite the record rise in renewables, solar and wind electricity generation growth currently doesn't meet the required marks to reach the Paris Agreement's goals.
In fact, when the world faced an unprecedented surge in electricity demand in 2021, only 29% of the global rise in electricity demand was met with solar and wind.
Transition Underway
Even as emissions from the electricity sector are at an all-time high, there are signs that the global electricity transition is underway.
Governments like the U.S., Germany, UK, and Canada are planning to increase their share of clean electricity within the next decade and a half. Investments are also coming from the private sector, with companies like Amazon and Apple extending their positions on renewable energy to become some of the biggest buyers overall.
More wind and solar are being added to grids than ever, with renewables expected to provide the majority of clean electricity needed to phase out fossil fuels.