Mapped: Global Happiness Levels in 2021
Mapped: Global Happiness Levels in 2021
"Are you happy?" is a deceptively complex question to both ask and answer.
It's generally understood that having enough money to cover your needs and wants can help you live a relatively happy, comfortable life—and recent research shows this relationship may increase linearly as income levels grow, as well.
However, there's much more to it than that. Happiness levels depend not just on financial security, but also broader perceptions of one's social support, personal freedom, and more.
This series of map pulls data from the World Happiness Report to uncover the average scores of 149 countries between 2018-2020, and which ones emerged the happiest or unhappiest. We also look at the most and least improved countries in every region.
How is Happiness Measured?
First, let's look at the factors used to calculate world happiness levels. Some clear indicators are health and wealth, both metrics that have been steadily on the rise worldwide. The report takes these into account, weighting GDP per capita and life expectancy at birth into the scores.
The report also looks at more intangible aspects, collecting survey responses around:
Social support
Freedom to make life choices
Generosity
Perceptions of government/ business corruption
Positive or negative affects (Recent experience of emotions)
This year, there was a natural focus on the negative affect measure of the COVID-19 pandemic on happiness levels, such as exacerbating mental health risks. In addition, such measurements varied depending on each country's response to the crisis.
Looking Closely at Regional Happiness Levels
Worldwide happiness comes in at an average score of 5.5, a marginal improvement since our previous coverage of this report in 2019. Let's dive into regional outlooks for happiness levels.
North America
Current Mood: Happy (6.1)
Canada retains its spot as the happiest country in North America, although its overall global ranking has dropped over the years. In 2019, it was ranked in ninth place globally, dropping to 11th in the 2020 edition, and declining further to 14th place in this year's report.
Haiti continues to fare poorly as the unhappiest in the region, with an average annual GDP growth of only 1.3% over 20 years. Its weak economy and political instability have been worsened by the pandemic—setting back efforts to reduce poverty and widening inequality.
South America
Current Mood: Content (5.9)
With the largest middle class in the Americas—60% of its population—and a miniscule 0.1% extreme poverty rate, Uruguay is the happiest South American country. The nation has also achieved equitable access to basic services, from education to electricity.
The trio of Colombia, Ecuador, and Venezuela are experiencing different stages of progress in happiness levels, but their relationship is very much interdependent.
Venezuela and Ecuador face similar economic challenges and sharp declines in oil prices. Venezuela is additionally acutely affected by socio-political unrest, triggering a mass exodus of citizens to Ecuador and Colombia alike. The silver lining is that the influx of highly-educated Venezuelan migrants may provide a 2% boost to Ecuador's GDP.
Colombia, the most improved country, has halved its poverty rate in the last decade. In addition, it has welcomed almost 2 million Venezuelan migrants as of Dec 2020—and plans to provide them up to 10 years of protective status.
Europe
Current Mood: Happy (6.4)
Finland remains at the top of the leaderboard as the world's happiest country. This year's ranking was also influenced by high levels of trust in the way the COVID-19 pandemic was handled.
Meanwhile, the shock of the COVID-19 crisis is expected to be short-lived in Croatia, which is the most improved country. This is partly due to its steady pre-pandemic economic gains, although risks remain.
In the unhappiest country of Ukraine, conflicts continue to cause stress on its politics, security, and economy. In particular, government corruption remains a big public issue.
Middle East and Central Asia
Current Mood: It's Complicated (5.3)
Saudi Arabia is the most improved country in the region, as it continues to reduce its oil dependence, diversify its economy, and bolster its public services. It has also been making some progress towards gender equality.
The tourism and hospitality industries contribute nearly 20% of Jordan's GDP—and COVID-19 has caused a prolonged economic decline in the country along with the headwinds of these industries.
Although Afghanistan has seen improvements in access to basic services and its agricultural economy, challenges remain with prolonged conflict and violence. A post-pandemic recovery in the world's unhappiest country might take several years.
East Asia and Oceania
Current Mood: Neutral (5.5)
Both New Zealand and Taiwan saw a successful COVID-19 response and recovery boosting their positions in the global happiness rankings. In fact, New Zealand was the only non-European country to make it into the top 10 on the global happiness list.
Note: As the report only covers 149 countries, "Oceania" only refers to Australia and New Zealand in this instance.
Although India remains the unhappiest country in the region, it also showed the most improvement overall, possibly due to its increased access to basic services. Notably though, the pandemic caused a sharp economic contraction in real GDP by 23.9% year-over-year in Q1'2021.
Africa
Current Mood: Unhappy (4.5)
In July 2020, the island nation of Mauritius joined Seychelles to become the second high-income country in Africa, helping cement its status as the happiest in the region.
Zambia, the most improved African country, has one of the world's youngest populations by median age—which presents long-term opportunities for labor force participation.
On the flip side, agriculturally-reliant Benin struggles with high poverty, with close to 40% of the population living below $1.90 per day.
Zimbabwe, the unhappiest country, has been through not just natural disasters but financial disasters too. It experienced hyperinflation of 786% in May 2020, accompanied by an equally sharp rise in food prices.
Although each country has been uniquely impacted by the pandemic, it's clear that on the whole, happiness levels take into account so much more. How will future rankings look like in a post-pandemic world?
Mapping The Biggest Companies By Market Cap in 60 Countries
Tech, finance or energy giant? We mapped the biggest companies by market cap and industry.
The Biggest Companies By Market Cap in 60 Countries
Tech giants are increasingly making up more of the Fortune 500, but the world's biggest companies by market cap aren't so cut and dry.
Despite accounting for the largest market caps worldwide—with trillion-dollar companies like Apple and contenders including Tencent and Samsung—tech wealth is largely concentrated in just a handful of countries.
So what are the biggest companies in each country? We mapped the largest company by market cap across 60 countries in August 2021 using market data from CompaniesMarketCap, TradingView, and MarketScreener.
What are the Largest Companies in the World?
The world has 60+ stock exchanges, and each one has a top company. We looked at the largest local company, since many of the world's largest firms trade on multiple exchanges, and converted market cap to USD.
| Country | Company | Industry | Market Cap (August 2021) |
| --- | --- | --- | --- |
| USA | Apple | Technology | $2.5T |
| Saudi Arabia | Saudi Aramco | Energy | $1.9T |
| Taiwan | TSMC | Technology | $594.5B |
| China | Tencent | Technology | $554.0B |
| South Korea | Samsung | Technology | $429.7B |
| France | LVMH | Consumer Cyclical | $414.3B |
| Switzerland | Roche | Healthcare | $350.0B |
| Netherlands | ASML | Technology | $322.6B |
| Japan | Toyota | Consumer Cyclical | $251.6B |
| Denmark | Novo Nordisk | Healthcare | $236.7B |
| Ireland | Accenture | Technology | $208.2B |
| India | Reliance Industries | Energy | $198.1B |
| Australia | BHP Group | Materials | $191.7B |
| Canada | Shopify | Technology | $185.7B |
| UK | Astrazeneca | Healthcare | $182.0B |
| Germany | SAP | Technology | $174.6B |
| Singapore | SEA | Technology | $152.3B |
| Hong Kong | AIA | Financials | $146.4B |
| Belgium | Anheuser-Busch Inbev | Consumer Staples | $122.7B |
| Spain | Inditex | Consumer Cyclical | $108.3B |
| Brazil | VALE | Materials | $103.9B |
| Russia | Sberbank | Financials | $96.7B |
| Italy | Enel | Utilities | $93.7B |
| Argentina | MercadoLibre | Consumer Cyclical | $89.5B |
| Sweden | Atlas Copco | Industrials | $84.1B |
| South Africa | Naspers | Technology | $74.1B |
| Norway | Equinor | Energy | $67.9B |
| UAE | Etisalat | Communication | $58.7B |
| Mexico | Walmex | Consumer Staples | $58.1B |
| Indonesia | Bank Cental Asia | Financials | $54.8B |
| Kazakhstan | Kaspi.kz | Financials | $49.8B |
| Qatar | QNB | Financials | $48.2B |
| Finland | Nordea Bank | Financials | $48.0B |
| Luxembourg | ArcelorMittal | Materials | $36.3B |
| Austria | Verbund | Utilities | $33.7B |
| Thailand | PTT PCL | Energy | $30.1B |
| Colombia | Ecopetrol | Energy | $26.7B |
| Malaysia | Maybank | Financials | $23.7B |
| Philippines | SM Investments | Consumer Cyclical | $22.9B |
| Kuwait | Kuwait Finance House | Financials | $21.9B |
| Portugal | EDP Group | Utilities | $21.0B |
| Vietnam | Vinhomes | Real Estate | $17.1B |
| Israel | NICE | Technology | $16.9B |
| Kenya | Safaricom | Communication | $16.0B |
| Czech Republic | ÄŒEZ Group | Energy | $15.8B |
| New Zealand | Xero | Technology | $15.8B |
| Turkey | QNB Finansbank | Financials | $15.8B |
| Hungary | OTP Bank | Financials | $15.6B |
| Chile | Enel Americas | Utilities | $14.3B |
| Morocco | Maroc Telecom | Communication | $13.6B |
| Poland | PKO Bank Polski | Financials | $12.6B |
| Cyprus | Polymetal | Materials | $10.0B |
| Nigeria | Dangote Group | Materials | $10.0B |
| Bahrain | Ahli United Bank | Financials | $8.6B |
| Greece | OTE Group | Communication | $8.4B |
| Peru | Credicorp | Financials | $8.0B |
| Egypt | Commercial International Bank | Financials | $5.9B |
| Iceland | Marel | Industrials | $5.8B |
| Oman | Bank Muscat | Financials | $4.2B |
| Panama | Copa Holdings | Industrials | $3.1B |
Many are former monopolies or massive conglomerates that have grown in the public space, such as South Africa's Naspers and India's Reliance Industries.
Others are local subsidiaries of foreign corporations, including Mexico's Walmex, Chile's Enel and Turkey's QNB Finansbank.
But even more noticeable is the economic discrepancy. Apple and Saudi Aramco are worth trillions of dollars, while the smallest companies we tracked—including Panama's Copa Group and Oman's Bank Muscat—are worth less than $5 billion.
Finance and Tech Dominate The Biggest Companies By Market Cap
Across the board, the largest companies were able to accumulate wealth and value.
Some are newer to the top thanks to recent success. Canada's Shopify has become one of the world's largest e-commerce providers, and the UK's AstraZeneca developed one of the world's COVID-19 vaccines.
But the reality is most companies here are old guards that grew on existing resources, or in the case of banks, accumulated wealth.
| Industry | Biggest Companies by Country |
| --- | --- |
| Financials | 16 |
| Technology | 12 |
| Energy | 6 |
| Materials | 5 |
| Communication | 4 |
| Consumer Cyclical | 4 |
| Utilities | 4 |
| Healthcare | 3 |
| Industrials | 3 |
| Consumer Staples | 2 |
| Real Estate | 1 |
Banks were the most commonly found at the top of each country's stock market. Closely behind were oil and gas giants, mining companies, and former state-owned corporations that drove most of a country's wealth generation.
But as more economies develop and catch up to Western economies (where tech is dominant), newer innovative companies will likely put up a fight for each country's top company crown.
All World Languages in One Visualization
See the world's major languages broken down by country in this stunning visualization.
All World Languages, By Native Speakers
View a high resolution version of today's graphic by clicking here.
Languages provide a window into culture and history. They're also a unique way to map the world – not through landmasses or geopolitical borders, but through mother tongues.
The Tower of Babel
Today's infographic from Alberto Lucas Lopez condenses the 7,102 known living languages today into a stunning visualization, with individual colors representing each world region.
Only 23 languages are spoken by at least 50 million native speakers. What's more, over half the planet speaks at least one of these 23 languages.
Chinese dominates as a macrolanguage, but it's important to note that it consists of numerous languages. Mandarin, Yue (including Cantonese), Min, Wu, and Hakka cover over 200 individual dialects, which vary further by geographic location.
| Country | Native Chinese speakers (millions) |
| --- | --- |
| 🇨🇳 China | 1,152.0 |
| 🇹🇼 Taiwan | 21.8 |
| 🇭🇰 Hong Kong SAR | 6.5 |
| 🇲🇾 Malaysia | 5.1 |
| 🇸🇬 Singapore | 1.8 |
| 🇹🇭 Thailand | 1.2 |
| 🇻🇳 Vietnam | 0.9 |
| 🇵🇭 Philippines | 0.7 |
| 🇲🇲 Myanmar | 0.5 |
| 🇲🇴 Macau SAR | 0.5 |
| Other | 6.0 |
| Total | 1,197 million |
Chinese is one of the most challenging languages for English speakers to pick up, in part due its completely unfamiliar scripts. You'd have to know at least 3,000 characters to be able to read a newspaper, a far cry from memorizing the A-Z alphabet.
Spanglish Takes Over
After Chinese, the languages of Spanish and English sit in second and third place in terms of global popularity. The rapid proliferation of these languages can be traced back to the history of Spanish conquistadors in the Americas, and British colonies around the world.
Animation: Map of Colonization (1492 – 2008):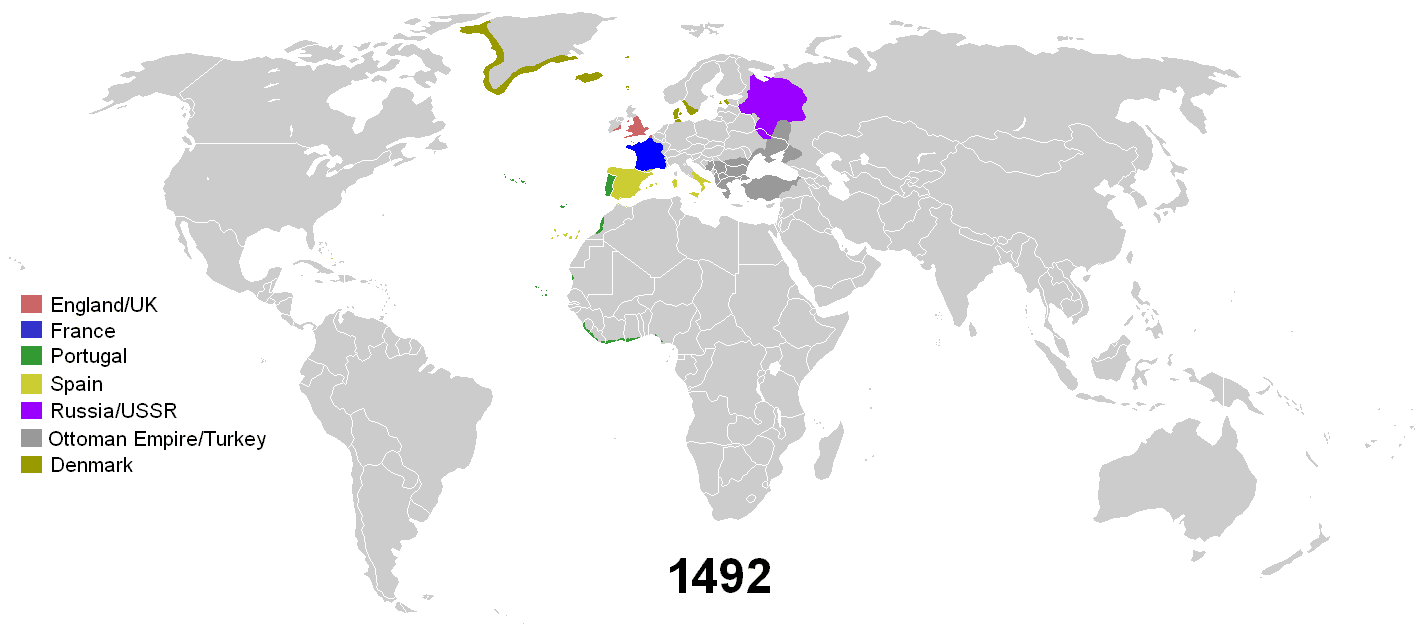 Today, Spanish has 399 million native speakers, but these are mostly concentrated in Latin America. English has 335 million native speakers under its belt, with a widespread reach all over the globe.
Two Worlds, One Family
While the visualization makes all the world languages seem disparate, this linguistic family tree shows how they grew from a common root. It also explains how languages can evolve and branch out over time.
Created by Minna Sundberg. Full version.
This linguistic tree also includes many languages that are not on the large visualization of 23 mother tongues. Some of them might be considered endangered or at risk today, such as Catalan or Welsh. However, with globalization, a few interesting linguistic trends are arising.
1. Language revival
Certain enclaves of marginalized languages are being preserved out of pride for the traditional and cultural histories attached.
While Catalan was once banned, its rebirth is a key marker of identity in Barcelona. More than 150 universities teach Catalan worldwide. In the case of Welsh, a mammoth university project plans to make sure it does not die out. Researchers are compiling ten million Welsh words to preserve the past, present, and future of the language.
2. Language forecast
At this point in time, English is the lingua franca – adopted as a common language among speakers with different mother tongues. However, this status might soon be fuzzier as demographic trends continue.
The rise of China is an obvious one to consider. As China continues to increase its economic might and influence, its languages will proliferate as well.
At the same time, 26 African countries are projected to double their current size, many of which speak French as a first language. One study by investment bank Natixis suggests that Africa's growth may well bring French to the forefront – making it the most-spoken language by 2050.
Could French provide a certain je ne sais quoi that no other world language can quite replace?
This post was first published in 2018. We have since updated it, adding in new content for 2021.