Mapped: Every Power Plant in the United States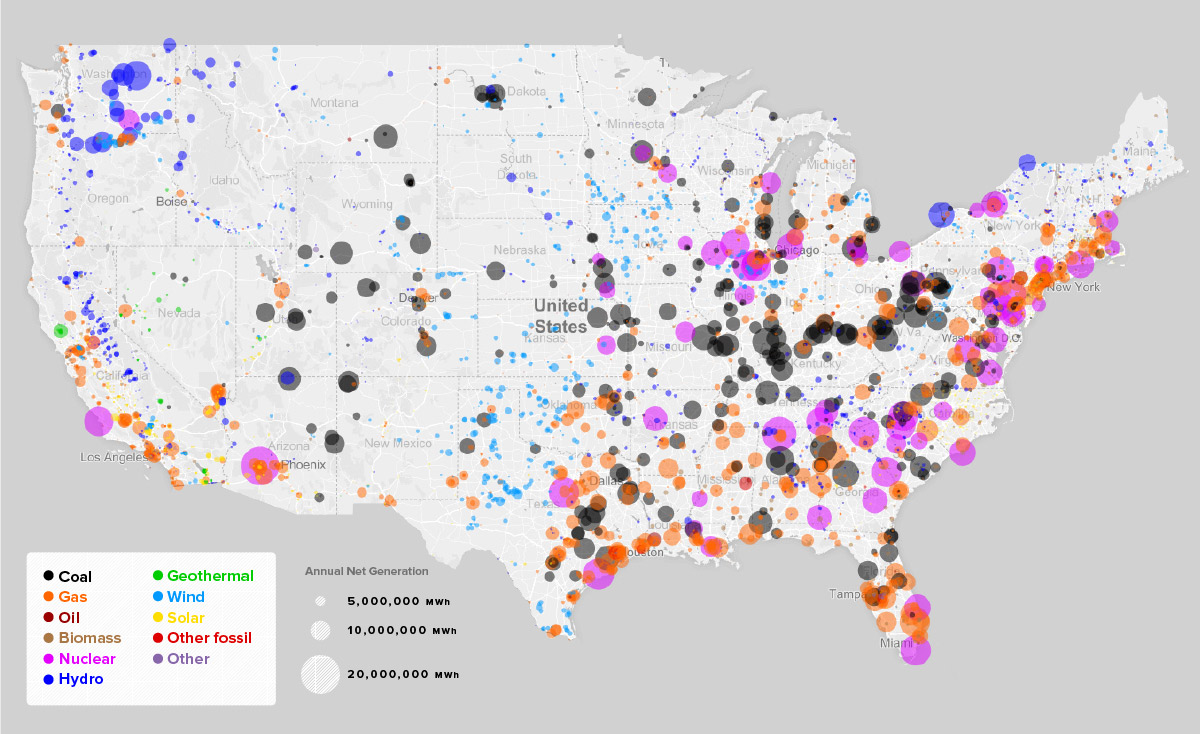 This Map Shows Every Power Plant in the United States
Every year, the United States generates 4,000 million MWh of electricity from utility-scale sources.
While the majority comes from fossil fuels like natural gas (32.1%) and coal (29.9%), there are also many other minor sources that feed into the grid, ranging from biomass to geothermal.
Do you know where your electricity comes from?
The Big Picture View
Today's series of maps come from Weber State University, and they use information from the EPA's eGRID databases to show every utility-scale power plant in the country.
Use the white slider in the middle below to see how things have changed between 2007 and 2016:
The biggest difference between the two maps is the reduced role of coal, which is no longer the most dominant energy source in the country. You can also see many smaller-scale wind and solar dots appear throughout the appropriate regions.
Here's a similar look at how the energy mix has changed in the United States over the last 70 years: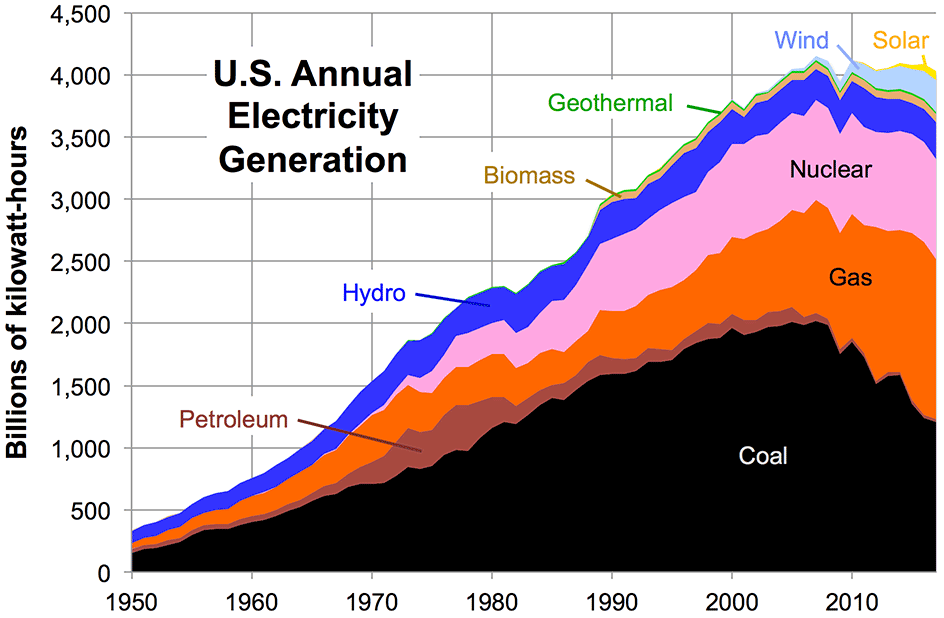 Up until the 21st century, power almost always came from fossil fuels, nuclear, or hydro sources. More recently, we can see different streams of renewables making a dent in the mix.
Maps by Source
Now let's look at how these maps look by individual sources to see regional differences more clearly.
Here's the map only showing fossil fuels.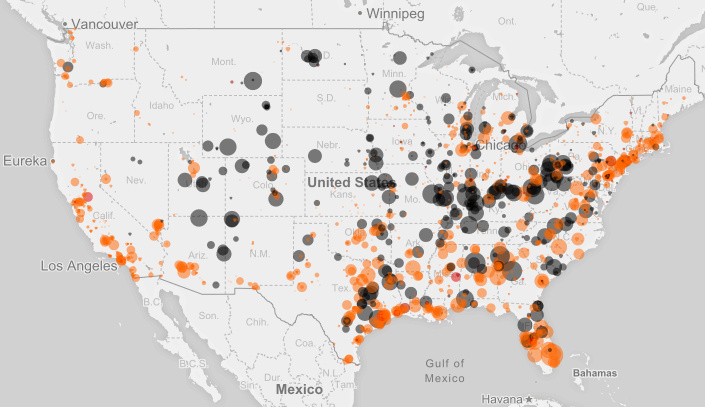 The two most prominent sources are coal (black) and natural gas (orange), and they combine to make up about 60% of total annual net generation.
Now here's just nuclear on the map:
Nuclear is pretty uncommon on the western half of the country, but on the Eastern Seaboard and in the Midwest, it is a major power source. All in all, it makes up about 20% of the annual net generation mix.
Finally, a look at renewable energy:
Hydro (dark blue), wind (light blue), solar (yellow), biomass (brown), and geothermal (green) all appear here.
Aside from a few massive hydro installations – such as the Grand Coulee Dam in Washington State (19 million MWh per year) – most renewable installations are on a smaller scale.
Generally speaking, renewable sources are also more dependent on geography. You can't put geothermal in an area where there is no thermal energy in the ground, or wind where there is mostly calm weather. For this reason, the dispersion of green sources around the country is also quite interesting to look at.
See all of the above, as well as Hawaii and Alaska, in an interactive map here.
The Top 10 Biggest Companies in Brazil
What drives some of the world's emerging economies? From natural resources to giant banks, here are the top 10 biggest companies in Brazil.
The Top 10 Biggest Companies in Brazil
In 2009, the at-the-time emerging economies of Brazil, Russia, India, and China held their first formal summits as members of BRIC (with South Africa joining in 2010).
Together, BRICS represents 26.7% of the world's land surface and 41.5% of its population. By GDP ranking, they're also some of the most powerful economies in the world.
But what drives their economies? We're highlighting the top 10 biggest companies in each country, starting with Brazil.
What Are the Biggest Public Companies in Brazil?
Brazil isn't just one of the largest and most diverse countries in the world, it is also an economic powerhouse.
With over 213 million people, Brazil is the sixth most populous country on Earth and the largest in Latin America. It's also the wealthiest on the continent, with the world's 12th-largest economy.
Once a colony focused on sugar and gold, Brazil rapidly industrialized in the 20th century. Today, it is a top 10 exporter of industrial steel, with the country's economic strength coming chiefly from natural resources and financials.
Here are Brazil's biggest public companies by market capitalization in October 2021:
| Top 10 Companies (October 2021) | Category | Market Cap (USD) |
| --- | --- | --- |
| Vale | Metals and Mining | $73.03B |
| Petróleo Brasileiro | Oil and Gas | $69.84B |
| Ambev | Drinks | $43.87B |
| Itaú Unibanco | Financial | $41.65B |
| Banco Bradesco | Financial | $34.16B |
| WEG | Industrial Engineering | $29.43B |
| BTG Pactual | Financial | $25.01B |
| Banco Santander Brasil | Financial | $24.70B |
| Rede D'Or Sao Luiz | Hospital | $23.79B |
| XP Inc. | Financial | $22.45B |
At the top of the ranking is Vale, a metals and mining giant that is the world's largest producer of iron ore and nickel. Also the operator of infrastructure including hydroelectricity plants, railroads, and ports, It consistently ranks as the most valuable company in Latin America.
Vale and second-ranking company Petróleo Brasileiro, Brazil's largest oil producer, were former state-owned corporations that became privatized in the 1990s.
Finance in Brazil's Top 10 Biggest Companies
Other than former monopolies, the top 10 biggest companies in Brazil highlight the power of the banking sector.
Five of the 10 companies with a market cap above $20 billion are in the financial industry.
They include Itaú Unibanco, the largest bank in the Southern Hemisphere, and Banco Santander Brasil, the Brazilian subsidiary of Spanish finance corp.
Another well-known subsidiary is brewing company Ambev, which produces the majority of the country's liquors and also bottles and distributes PepsiCo products in much of Latin America. Ambev is an important piece of Belgian drink juggernaut Anheuser-Busch InBev, which is one of the world's largest 100 companies.
Noticeably missing from the top 10 list are companies in the agriculture sector, as Brazil is the world's largest exporter of coffee, soybeans, beef, and ethanol. Many multinational corporations have Brazilian subsidiaries or partners for supply chain access, which has recently put a spotlight on Amazon deforestation.
What other companies or industries do you associate with Brazil?
Correction: Two companies listed had errors in their market cap calculations and have been updated. All data is as of October 11, 2021.
Which Countries Have the Most Nuclear Weapons?
How big is the world's nuclear arsenal? Here are the stockpiles of the nine countries with nuclear weapons.
Which Countries Have the Most Nuclear Weapons?
In theory, nuclear weapon stockpiles are closely held national secrets. The leading countries have rough estimates that aren't regularly updated, newly nuclear countries keep their capabilities vague and unclear, and Israel has never officially confirmed a nuclear weapons program.
But thanks to limited disclosures, records, and leaks, we can visualize the full extent* of the world's nuclear arsenal. This graphic uses estimated nuclear warhead inventories from the Federation of American Scientists as of August 2021.
Based on these estimates, there are just nine countries with nuclear weapons in the world.
Editor's note: Exact numbers of nuclear warheads possessed by countries are closely guarded state secrets, with the FAS estimate being the closest, most-used, and most-trusted international approximation available.
Nuclear Weapons, by Country
The nuclear arms race has always centered around the U.S. and Russia.
After the end of World War II and well into the Cold War, the world's two superpowers raced to build more nuclear weapons (and more capable nuclear weapons) than the other.
Even while international organizations lobbied for the end of nuclear proliferation, the world's nuclear weapon stockpile grew to a peak of 70,300 total warheads in 1986.
As arms agreements and non-proliferation treaties started to gain greater momentum, the U.S. and Russia cut back on stockpiles while new countries with nuclear weapons started to pop up.
| Country | Total Warheads (2021) | % of Total |
| --- | --- | --- |
| 🇷🇺 Russia | 6,257 | 47.7% |
| 🇺🇸 U.S. | 5,550 | 42.3% |
| 🇨🇳 China | 350 | 2.67% |
| 🇫🇷 France | 290 | 2.21% |
| 🇬🇧 UK | 225 | 1.71% |
| 🇵🇰 Pakistan | 165 | 1.26% |
| 🇮🇳 India | 160 | 1.22% |
| 🇮🇱 Israel | 90 | 0.69% |
| 🇰🇵 North Korea | 45 | 0.34% |
Despite reducing their stockpiles significantly since the end of the Cold War, Russia and the U.S. still own around 90% of all nuclear warheads in the world.
Far behind them are China and France, which started testing nuclear weapons in 1964 and 1960 respectively. The UK has the fifth-most nuclear weapons today, though it was the third country in the world to develop them after the U.S. and Russia in 1952.
The countries with fewer than 200 nuclear weapons are regional rivals India and Pakistan, which first tested nuclear weapons in the 1970s, and North Korea, which began to operate uranium fabrication plants and conduct explosive tests in the 1980s.
Israel is also estimated to have fewer than 200 nuclear weapons, and reports have its weapons program dating back to the 1960s. However, the country has never confirmed or announced its nuclear capabilities.
Countries With Nuclear Weapons, by Warhead Status
Though the world has 13,132 nuclear weapons, that doesn't mean they're all ready to fire.
Weapons (or "warheads") are delivered by missile, and countries don't keep all of their nuclear warheads primed for use. The estimation of nuclear stockpiles also clarifies whether warheads are considered deployed, reserved, or retired:
Deployed warheads are deployed on intercontinental missiles, at heavy bomber bases, and on bases with operational short-range delivery systems.
Reserve warheads are in storage and not deployed on launchers.
Retired warheads are still intact but in queue for dismantlement.
| Country | Deployed Warheads | Reserve Warheads | Retired Warheads |
| --- | --- | --- | --- |
| 🇷🇺 Russia | 1,600 | 2,897 | 1,760 |
| 🇺🇸 U.S. | 1,800 | 2,000 | 1,750 |
| 🇨🇳 China | 0 | 350 | 0 |
| 🇫🇷 France | 280 | 10 | 0 |
| 🇬🇧 UK | 120 | 105 | 0 |
| 🇵🇰 Pakistan | 0 | 165 | 0 |
| 🇮🇳 India | 0 | 160 | 0 |
| 🇮🇱 Israel | 0 | 90 | 0 |
| 🇰🇵 North Korea | 0 | 45 | 0 |
Only four countries have officially deployed warheads, while the majority of the world's nuclear stockpile is in reserve. This is partially due to estimates ranging from relatively transparent in the case of the U.S. to opaque and uncertain for countries like China and North Korea.
But some countries are expected to further bolster their stockpiles. The UK government announced it would increase its stockpile to no more than 260 warheads, and U.S. intelligence expects China, India, and Pakistan to increase their stockpiles.
Though the world's nuclear stockpile will likely continue dwindling on account of U.S. and Russia retirements, the 2021 landscape of countries with nuclear weapons shows that proliferation is still underway.