Mapped: Every Power Plant in the United States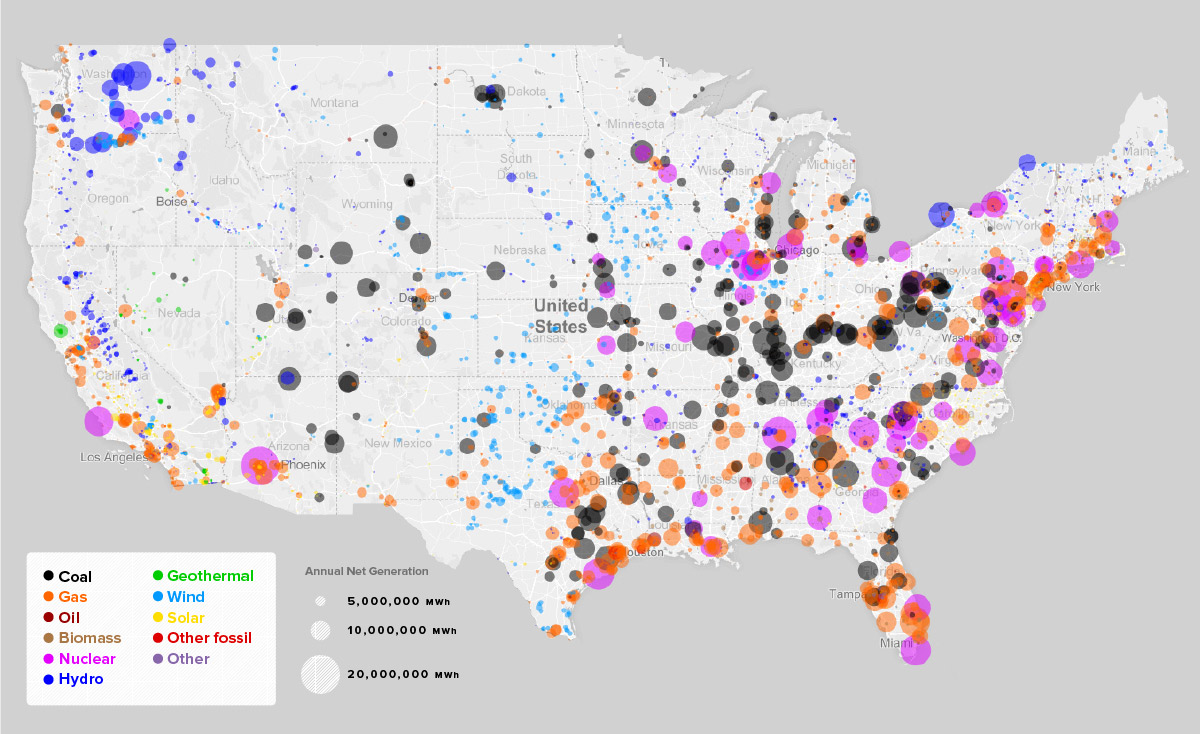 This Map Shows Every Power Plant in the United States
Every year, the United States generates 4,000 million MWh of electricity from utility-scale sources.
While the majority comes from fossil fuels like natural gas (32.1%) and coal (29.9%), there are also many other minor sources that feed into the grid, ranging from biomass to geothermal.
Do you know where your electricity comes from?
The Big Picture View
Today's series of maps come from Weber State University, and they use information from the EPA's eGRID databases to show every utility-scale power plant in the country.
Use the white slider in the middle below to see how things have changed between 2007 and 2016:
The biggest difference between the two maps is the reduced role of coal, which is no longer the most dominant energy source in the country. You can also see many smaller-scale wind and solar dots appear throughout the appropriate regions.
Here's a similar look at how the energy mix has changed in the United States over the last 70 years: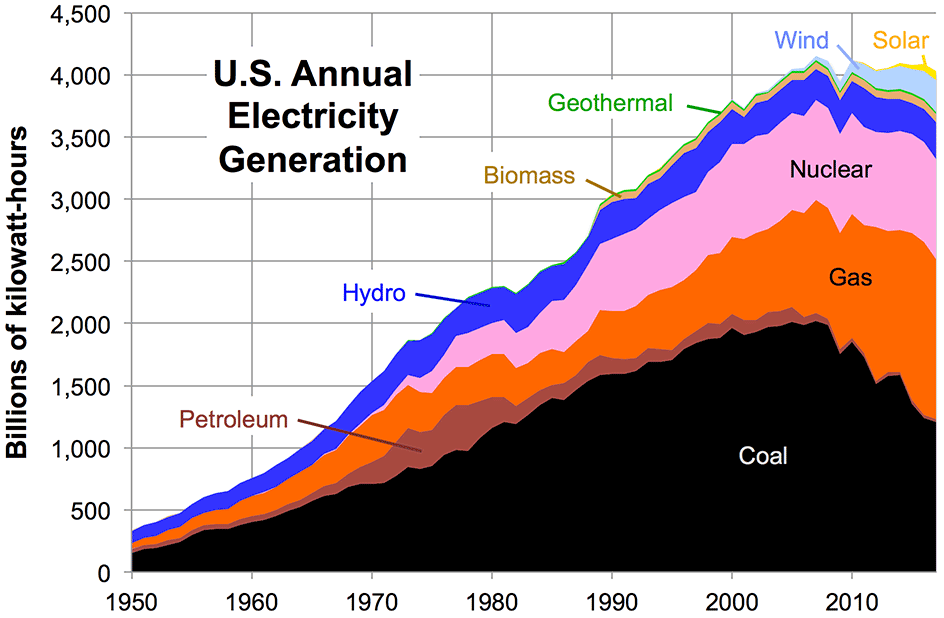 Up until the 21st century, power almost always came from fossil fuels, nuclear, or hydro sources. More recently, we can see different streams of renewables making a dent in the mix.
Maps by Source
Now let's look at how these maps look by individual sources to see regional differences more clearly.
Here's the map only showing fossil fuels.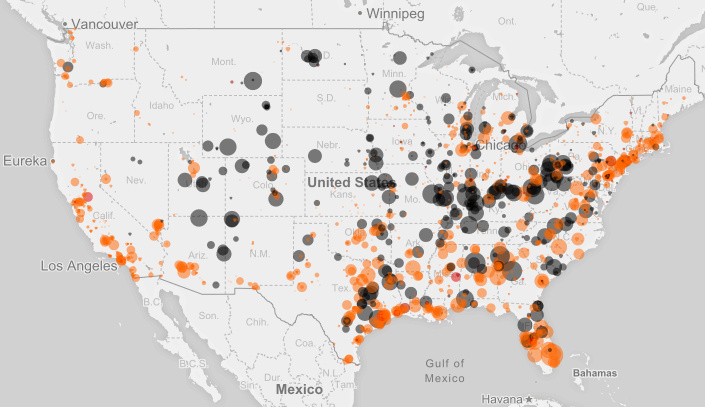 The two most prominent sources are coal (black) and natural gas (orange), and they combine to make up about 60% of total annual net generation.
Now here's just nuclear on the map:
Nuclear is pretty uncommon on the western half of the country, but on the Eastern Seaboard and in the Midwest, it is a major power source. All in all, it makes up about 20% of the annual net generation mix.
Finally, a look at renewable energy:
Hydro (dark blue), wind (light blue), solar (yellow), biomass (brown), and geothermal (green) all appear here.
Aside from a few massive hydro installations – such as the Grand Coulee Dam in Washington State (19 million MWh per year) – most renewable installations are on a smaller scale.
Generally speaking, renewable sources are also more dependent on geography. You can't put geothermal in an area where there is no thermal energy in the ground, or wind where there is mostly calm weather. For this reason, the dispersion of green sources around the country is also quite interesting to look at.
See all of the above, as well as Hawaii and Alaska, in an interactive map here.
Visualizing China's Energy Transition in 5 Charts
This infographic takes a look at what China's energy transition plans are to make its energy mix carbon neutral by 2060.
Visualizing China's Energy Transition in 5 Charts
In September 2020, China's President Xi Jinping announced the steps his nation would take to reach carbon neutrality by 2060 via videolink before the United Nations Assembly in New York.
This infographic takes a look at what this ambitious plan for China's energy would look like and what efforts are underway towards this goal.
China's Ambitious Plan
A carbon-neutral China requires changing the entire economy over the next 40 years, a change the IEA compares to the ambition of the reforms that industrialized the country's economy in the first place.
China is the world's largest consumer of electricity, well ahead of the second place consumer, the United States. Currently, 80% of China's energy comes from fossil fuels, but this plan envisions only 14% coming from coal, oil, and natural gas in 2060.
| Energy Source | 2025 | 2060 | % Change |
| --- | --- | --- | --- |
| Coal | 52% | 3% | -94% |
| Oil | 18% | 8% | -56% |
| Natural Gas | 10% | 3% | -70% |
| Wind | 4% | 24% | +500% |
| Nuclear | 3% | 19% | +533% |
| Biomass | 2% | 5% | +150% |
| Solar | 3% | 23% | +667% |
| Hydro | 8% | 15% | +88% |
Source: Tsinghua University Institute of Energy, Environment and Economy; U.S. EIA
According to the Carbon Brief, China's 14th five-year plan appears to enshrine Xi's goal. This plan outlines a general and non specific list of projects for a new energy system. It includes the construction of eight large-scale clean energy centers, coastal nuclear power, electricity transmission routes, power system flexibility, oil-and-gas transportation, and storage capacity.
Progress Towards Renewables?
While the goal seems far off in the future, China is on a trajectory towards reducing the carbon emissions of its electricity grid with declining coal usage, increased nuclear, and increased solar power capacity.
According to ChinaPower, coal fueled the rise of China with the country using 144 million tonnes of oil equivalent "Mtoe" in 1965, peaking at 1,969 Mtoe in 2013. However, its share as part of the country's total energy mix has been declining since the 1990s from ~77% to just under ~60%.
Another trend in China's energy transition will be the greater consumption of energy as electricity. As China urbanized, its cities expanded creating greater demand for electricity in homes, businesses, and everyday life. This trend is set to continue and approach 40% of total energy consumed by 2030 up from ~5% in 1990.
Under the new plan, by 2060, China is set to have 42% of its energy coming from solar and nuclear while in 2025 it is only expected to be 6%. China has been adding nuclear and solar capacity and expects to add the equivalent of 20 new reactors by 2025 and enough solar power for 33 million homes (110GW).
Changing the energy mix away from fossil fuels, while ushering in a new economic model is no small task.
Up to the Task?
China is the world's factory and has relatively young industrial infrastructure with fleets of coal plants, steel mills, and cement factories with plenty of life left.
However, China also is the biggest investor in low-carbon energy sources, has access to massive technological talent, and holds a strong central government to guide the transition.
The direction China takes will have the greatest impact on the health of the planet and provide guidance for other countries looking to change their energy mixes, for better or for worse.
The world is watching…even if it's by videolink.
Visualizing the Flow of U.S. Energy Consumption
From renewables to fossil fuels, we've visualized the diverse mix of energy sources that powered U.S. energy consumption in 2020.
Breaking Down America's Energy Consumption in 2020
The United States relies on a complex mix of energy sources to fuel the country's various end-sectors' energy consumption.
While this energy mix is still dominated by fossil fuels, there are signs of a steady shift to renewable energy over the past decade.
This radial Sankey diagram using data from the EIA (Energy Information Administration) breaks down U.S. energy consumption in 2020, showing us how much each sector relies on various energy sources.
The Balance of Energy Production and Consumption
In 2019 and now in 2020, America's domestic energy production has actually been greater than its consumption—a development that hasn't taken place since 1957.
Last year's numbers were severely impacted by the COVID-19 pandemic, seeing a 5% drop in energy production and a 7% drop in consumption compared to 2019. Total energy production and consumption for 2020 came in at 95.75 and 92.94 quads respectively.
The energy amounts are equalized and measured in quadrillion BTUs (British thermal units), also known as quads. A quad is a huge amount of energy, equivalent to 183 million barrels of petroleum or 36 million tonnes of coal.
So how is America's overall energy production and consumption split between energy sources?
U.S. Energy Production and Consumption Share by Source
| Energy Source | Percentage of U.S. Energy Production | Percentage of U.S. Energy Consumption |
| --- | --- | --- |
| Petroleum | 32% | 35% |
| Natural Gas | 36% | 34% |
| Renewable Energy | 12% | 12% |
| Coal | 11% | 10% |
| Nuclear | 9% | 9% |
Source: IEA
America's new margin of energy production over consumption has resulted in the country being a net total energy exporter again, providing some flexibility as the country continues its transition towards more sustainable and renewable energy sources.
Fossil Fuels Still Dominate U.S. Energy Consumption
While America's mix of energy consumption is fairly diverse, 79% of domestic energy consumption still originates from fossil fuels. Petroleum powers over 90% of the transportation sector's consumption, and natural gas and petroleum make up 74% of the industrial sector's direct energy consumption.
There are signs of change as consumption of the dirtiest fossil fuel, coal, has declined more than 58% since its peak in 2005. Coinciding with this declining coal dependence, consumption from renewable energy has increased for six years straight, setting record highs again in 2020.
However, fossil fuels still make up 79% of U.S. energy consumption, with renewables and nuclear accounting for the remaining 21%. The table below looks at the share of specific renewable energy sources in 2020.
Distribution of Renewable Energy Sources
| Renewable Energy Source | 2020 Energy Consumption in Quads | Share of 2020 Renewable Energy Consumption |
| --- | --- | --- |
| Biomass | 4.52 | 39% |
| Wind | 3.01 | 26% |
| Hydroelectric | 2.55 | 22% |
| Solar | 1.27 | 11% |
| Geothermal | 0.23 | 2% |
Source: IEA
The Nuclear Necessity for a Zero-Emission Energy Transition
It's not all up to renewable energy sources to clean up America's energy mix, as nuclear power will play a vital role in reducing carbon emissions. Technically not a renewable energy source due to uranium's finite nature, nuclear energy is still a zero-emission energy that has provided around 20% of total annual U.S. electricity since 1990.
Support for nuclear power has been growing slowly, and last year was the first which saw nuclear electricity generation overtake coal. However, this might not last as three nuclear plants including New York's Indian Point nuclear plant are set to be decommissioned in 2021, with a fourth plant scheduled for retirement in 2022.
It's worth noting that while other countries might have a higher share of nuclear energy in their total electricity generation, the U.S. still has the largest nuclear generation capacity worldwide and has generated more nuclear electricity than any other country in the world.
Converting Energy to Electricity
The energy produced by nuclear power plants doesn't go directly to its end-use sector, rather, 100% of nuclear energy in the U.S. is converted to electricity which is sold to consumers. Along with nuclear, most energy sources aside from petroleum are primarily converted to electricity.
Unfortunately, electricity conversion is a fairly inefficient process, with around 65% of the energy lost in the conversion, transmission, and distribution of electricity.
This necessary but wasteful step allows for the storage of energy in electrical form, ensuring that it can be distributed properly. Working towards more efficient methods of energy to electricity conversion is an often forgotten aspect of reducing wasted energy.
Despite the dip in 2020, both energy production and consumption in the U.S. are forecasted to continue rising. As Biden aims to reduce greenhouse gas emissions by 50% by 2030 (from 2005 emission levels), U.S. energy consumption will inevitably continue to shift away from fossil fuels and towards renewable and nuclear energy.