Walmart Nation: Mapping America's Biggest Employers
Walmart Nation: Mapping America's Biggest Employers
In America, approximately 150 million people are currently employed, doing everything from neurosurgery to greeting customers at your local Walmart Supercenter.
While there is a breathtaking variety of jobs out there, a few large-scale organizations stand out as the top employer in each state.
The Largest Employer in Each State
The U.S. is the third most populous country in the world, so it takes a lot of manpower to keep the government running. It'll come as no surprise that, in most states, either the state or federal government is the top employer. California alone employs a quarter of a million federal workers.
New York State is a unique case as NYC's municipal workforce is the top employer.
Technically, the largest employer on the planet is the U.S. Department of Defense, and in eight states, there are more active military personnel than any single private employer.
Non-Government Employers
When we exclude direct government and military employment, a few trends emerge. Universities and hospitals – there is often some overlap between the two – are top employers in nearly half of the states.
In a handful of cases, the top employer reflects an industry that is well known in the region. General Motors, for example, is still the top employer in Michigan. In Nevada? MGM Resorts International, with over 55,000 employees.
When it comes to large-scale employment, there's one regional trend that stands out the most – the broad blue expanse of Walmart country.

View the high resolution version of today's graphic by clicking here.
Walmart Nation
Walmart is the biggest company in the world by revenue, and there are over 3,500 Walmart Supercenters spread around the United States alone. It takes about 1% of private sector workforce in the United States to keep this massive fleet of big box stores running. In Arkansas, that figure jumps up to 4%, with about one-third of the total retail workforce employed at the retail giant.
Here's a full look at the 21 states where Walmart is the top employer.
| State | # of Walmart Employees |
| --- | --- |
| Texas | 168,403 |
| Florida | 107,460 |
| Georgia | 60,002 |
| Illinois | 53,687 |
| Arkansas | 52,367 |
| Ohio | 50,186 |
| Virginia | 43,623 |
| Missouri | 42,029 |
| Tennessee | 40,598 |
| Indiana | 39,875 |
| Alabama | 37,207 |
| Louisiana | 36,309 |
| Oklahoma | 32,713 |
| South Carolina | 32,165 |
| Kentucky | 29,554 |
| Mississippi | 24,180 |
| Kansas | 20,103 |
| West Virginia | 11,864 |
| New Hampshire | 7,593 |
| Montana | 4,861 |
| Wyoming | 4,648 |
What About Amazon?
When we talk about the retail industry, it's impossible to avoid discussing Amazon. The e-commerce company is growing at an impressive clip, and is now the second largest private employer in the country, with over half a million employees.
That said, even with the acquisition of Whole Foods, Amazon still has a long way to go to catch up to Walmart's massive employee count. The company's reliance on contract workers and supply chain automation means that this map is unlikely to turn orange in the near future.
Charted: What are Retail Investors Interested in Buying in 2023?
What key themes and strategies are retail investors looking at for the rest of 2023? Preview: AI is a popular choice.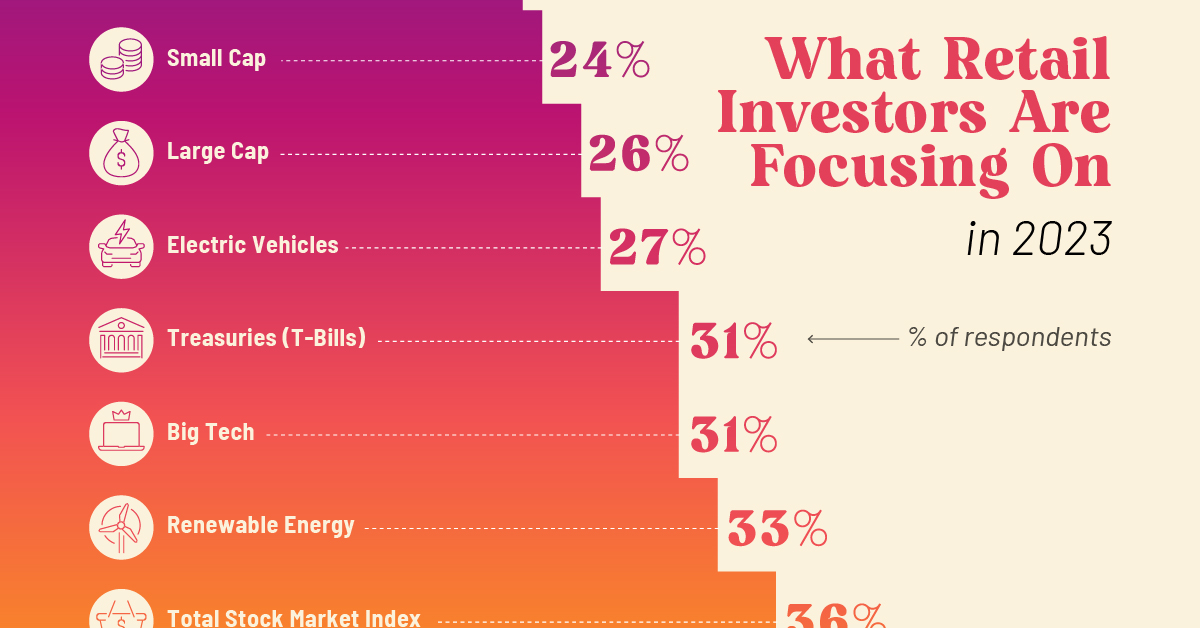 Charted: Retail Investors' Top Picks for 2023
U.S. retail investors, enticed by a brief pause in the interest rate cycle, came roaring back in the early summer. But what are their investment priorities for the second half of 2023?
We visualized the data from Public's 2023 Retail Investor Report, which surveyed 1,005 retail investors on their platform, asking "which investment strategy or themes are you interested in as part of your overall investment strategy?"
Survey respondents ticked all the options that applied to them, thus their response percentages do not sum to 100%.
Where Are Retail Investors Putting Their Money?
By far the most popular strategy for retail investors is dividend investing with 50% of the respondents selecting it as something they're interested in.
Dividends can help supplement incomes and come with tax benefits (especially for lower income investors or if the dividend is paid out into a tax-deferred account), and can be a popular choice during more inflationary times.
| Investment Strategy | Percent of Respondents |
| --- | --- |
| Dividend Investing | 50% |
| Artificial Intelligence | 36% |
| Total Stock Market Index | 36% |
| Renewable Energy | 33% |
| Big Tech | 31% |
| Treasuries (T-Bills) | 31% |
| Electric Vehicles | 27% |
| Large Cap | 26% |
| Small Cap | 24% |
| Emerging Markets | 23% |
| Real Estate | 23% |
| Gold & Precious Metals | 23% |
| Mid Cap | 19% |
| Inflation Protection | 13% |
| Commodities | 12% |
Meanwhile, the hype around AI hasn't faded, with 36% of the respondents saying they'd be interested in investing in the theme—including juggernaut chipmaker Nvidia. This is tied for second place with Total Stock Market Index investing.
Treasury Bills (30%) represent the safety anchoring of the portfolio but the ongoing climate crisis is also on investors' minds with Renewable Energy (33%) and EVs (27%) scoring fairly high on the interest list.
Commodities and Inflation-Protection stocks on the other hand have fallen out of favor.
Come on Barbie, Let's Go Party…
Another interesting takeaway pulled from the survey is how conversations about prevailing companies—or the buzz around them—are influencing trades. The platform found that public investors in Mattel increased 6.6 times after the success of the 'Barbie' movie.
Bud Light also saw a 1.5x increase in retail investors, despite receiving negative attention from their fans after the company did a beer promotion campaign with trans influencer Dylan Mulvaney.
Given the origin story of a large chunk of American retail investors revolves around GameStop and AMC, these insights aren't new, but they do reveal a persisting trend.