Cents and Sounds: How Music Streaming Makes Money
How Music Streaming Makes Money
The global music market experienced its fourth consecutive year of growth in 2018, generating over $19 billion in revenue. Music streaming now accounts for almost half of that revenue, with 255 million paid users worldwide.
Today's infographic from Global Web Index compares the popularity of streaming services, exploring how streaming behavior differs by age group and region.
While listeners can now gain access to an abundance of streaming options—is the success of the industry good news for everyone?
The Age of Streaming
Streaming platforms are web-based services that allow users to listen to high-definition music without having to download and store large files.
The foundations of music streaming were laid by peer-to-peer file sharing system Napster when it was created in 2001, followed by Apple's iTunes a couple of years later. Spotify, in an attempt to combat music piracy, was founded in 2006 by Swedish duo Daniel Ek and Martin Lorentzon.
Today, 68% of adults use a music streaming service of some kind. According to Global Web Index, Gen Z leads the way with the highest average streaming times, accessing their favorite tracks across multiple platforms.
How Streaming Platforms Make Money
There are currently 33 active streaming platforms available, with a range of different features and characteristics available. Spotify and Apple Music, the largest of the streaming giants, rely on almost identical models to generate revenue:
Paid Subscriptions: Advertising drives free users towards monthly subscription packages, which include a premium offering for $10 a month and a family offering for $15 a month.
Advertising: Advertisers pay for exposure, with ads played every 15 minutes for 30 seconds, and can also include sponsored playlists, and homepage takeovers.
Spotify
With 217 million active users, and revenues of almost $6 billion in 2018, Spotify is the global leader in music streaming.
For Spotify, 91% of the company's revenue comes from its 100 million paid subscriptions—double that of Apple Music—while the other 9% comes from advertising.
Apple Music
Apple's streaming service commands a larger user-base than Spotify in the Asia Pacific and the Middle East and Africa regions.
While Apple Music has not been a profitable move for the company, the streaming platform bolsters Apple's ecosystem of services—encouraging a more loyal consumer base.
How Artists Make Money
For both Spotify and Apple Music, 70% of the revenue generated from paid subscriptions and advertising goes towards paying music labels and artists.
Both platforms use the pro-rata model, which pays based on the total share of streams each artist has. For example, if $100 million is generated in revenue, and an artist accounts for 1% of all streams, then they would receive $1 million in royalties.
However, artists advocate for a fairer, more user-centric model that would pay artists based on who each user listens to the most, using their subscription fee. Smaller platforms like Deezer are moving towards a user-centric model and pressuring more established platforms to do the same.
The Future of Streaming
Over the next decade, the music streaming industry will continue to transform, with new innovations presenting significant opportunities and challenges for both streaming platforms and consumers alike.
Personalization: Streaming platforms are using technology to fully understand a user's listening habits and to tailor music recommendations directly to them.
Original Content: Spurred on by the growth of streaming services like Netflix and YouTube, Spotify's purchase of Gimlet Media for over $200 million signals the beginning of streaming platforms investing in original content.
Premium Prices: Artists and music labels are demanding more for music, forcing streaming platforms to hike their subscription rates in an attempt to make up for lost revenue.
Live Streaming: With live streaming rising in popularity, artists can offer audiences an intimate connection and more authentic version of their music.
Currently, artists can increase their chances of being featured on more playlists and ultimately earn more money by altering their music based on streaming platform algorithms. For example, artists only get paid if their song is listened to for 30 seconds, which results in much shorter songs that open with the chorus to keep the listener's attention.
While streaming platforms continue to provide more avenues for artists to get in front of the right ears, many industry critics argue that music is no longer about creating something for pure enjoyment, but rather about using a formulaic approach to make more money.
Is the future of music safe in the hands of tech giants?
The World's Top 50 Influencers Across Social Media Platforms
Which influencers have the most total social media followers? We tally up follower counts across all major platforms, from Twitter to TikTok.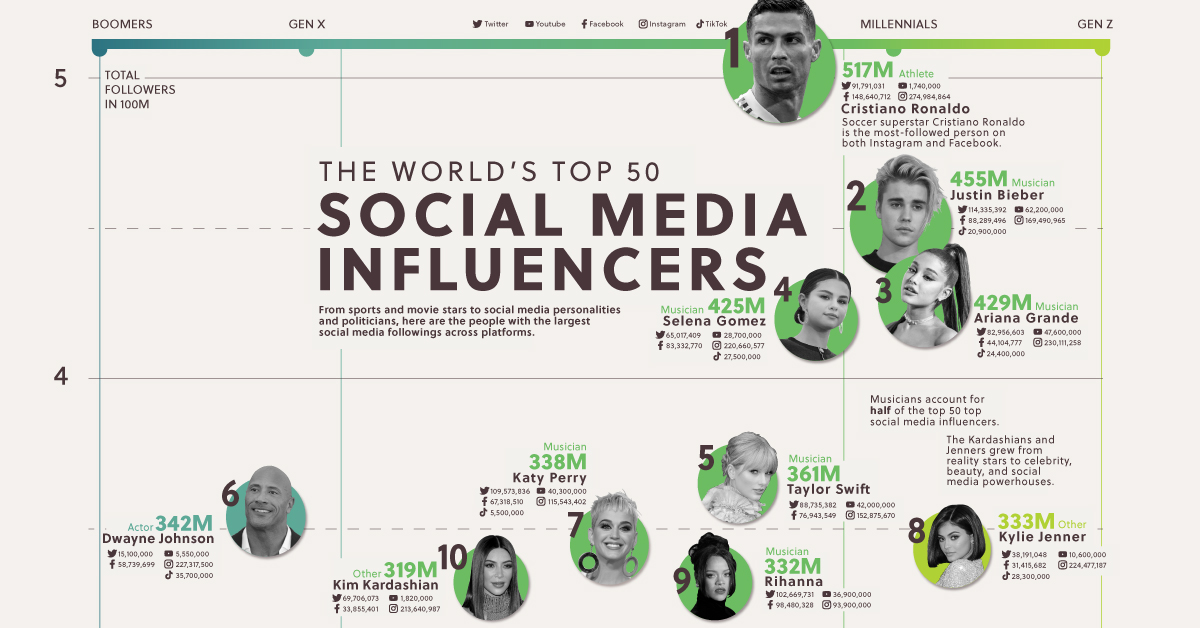 Visualizing the World's Top 50 Influencers
In the modern digital world, social media reach is power.
The people with the most followers on Twitter, for example, have a massive platform to spread their messages, while those with large, engaged followings on Instagram are an advertiser's dream sponsor partner.
Social media can also be an equalizer of power. It's true that many celebrities boast large followings across platforms, but social media has also enabled previously unknown personalities to turn YouTube or TikTok fame into veritable star power and influence.
Who has the biggest reach across the entire social media universe? Instead of looking at who has the most followers on Instagram, Twitter, or other networks, we ranked the most-followed personalities across all major platforms combined.
Who Has the Most Overall Followers on Social Media?
We parsed through hundreds of the most-followed accounts on multiple platforms to narrow down the top influencers across social media as of April 2021.
Sources include trackers of the most followers on Twitter, Instagram, Facebook, YouTube, Twitch, and TikTok, verified directly on site and with social media tracker Socialblade.
The results? A top 50 list of social media influencers consisting of athletes, musicians, politicians, and other personalities.
| Rank | Name | Category | Total Followers | Biggest Platform |
| --- | --- | --- | --- | --- |
| #1 | Cristiano Ronaldo | Sports | 517M | Instagram |
| #2 | Justin Bieber | Music | 455M | Instagram |
| #3 | Ariana Grande | Music | 429M | Instagram |
| #4 | Selena Gomez | Music | 425M | Instagram |
| #5 | Taylor Swift | Music | 361M | Instagram |
| #6 | Dwayne Johnson | Film & TV | 342M | Instagram |
| #7 | Katy Perry | Music | 338M | Instagram |
| #8 | Kylie Jenner | Other | 333M | Instagram |
| #9 | Rihanna | Music | 332M | Twitter |
| #10 | Kim Kardashian | Other | 319M | Instagram |
| #11 | Lionel Messi | Sports | 298M | Instagram |
| #12 | Neymar | Sports | 283M | Instagram |
| #13 | Shakira | Music | 282M | Facebook |
| #14 | Jennifer Lopez | Music | 277M | Instagram |
| #15 | Beyoncé | Music | 267M | Instagram |
| #16 | Ellen DeGeneres | Film & TV | 260M | Instagram |
| #17 | Miley Cyrus | Music | 235M | Instagram |
| #18 | Nicki Minaj | Music | 232M | Instagram |
| #19 | Barack Obama | Politics | 221M | Twitter |
| #20 | Will Smith | Film & TV | 217M | Facebook |
| #21 | Kendall Jenner | Other | 212M | Instagram |
| #22 | Demi Lovato | Music | 211M | Instagram |
| #23 | Lady Gaga | Music | 210M | Twitter |
| #24 | Kevin Hart | Film & TV | 201M | Instagram |
| #25 | Virat Kohli | Sports | 195M | Instagram |
| #26 | Eminem | Music | 194M | Facebook |
| #27 | Drake | Music | 192M | Instagram |
| #28 | Khloé Kardashian | Other | 191M | Instagram |
| #29 | Bruno Mars | Music | 191M | Facebook |
| #30 | Chris Brown | Music | 187M | Instagram |
| #31 | Vin Diesel | Film & TV | 177M | Facebook |
| #32 | Narendra Modi | Politics | 175M | Twitter |
| #33 | Justin Timberlake | Music | 175M | Twitter |
| #34 | Billie Eilish | Music | 171M | Instagram |
| #35 | Charli D'Amelio | Other | 169M | TikTok |
| #36 | Kourtney Kardashian | Other | 165M | Instagram |
| #37 | Cardi B | Music | 160M | Instagram |
| #38 | LeBron James | Sports | 157M | Instagram |
| #39 | Adele | Music | 156M | Facebook |
| #40 | Priyanka Chopra | Film & TV | 144M | Instagram |
| #41 | Germán Garmendia | Gaming | 143M | Youtube |
| #42 | Wiz Khalifa | Music | 142M | Facebook |
| #43 | Felix "PewDiePie" Kjellberg | Gaming | 141M | Youtube |
| #44 | Akshay Kumar | Film & TV | 140M | Instagram |
| #45 | Snoop Dogg | Music | 138M | Instagram |
| #46 | Deepika Padukone | Film & TV | 138M | Instagram |
| #47 | Britney Spears | Music | 137M | Twitter |
| #48 | Shawn Mendes | Music | 136M | Instagram |
| #49 | Whindersson Nunes Batista | Other | 135M | Instagram |
| #50 | Salman Khan | Film & TV | 134M | Facebook |
Unsurprisingly, celebrities reign supreme on social media. As of April 2021, soccer superstar Cristiano Ronaldo was the most-followed person on social media with more than 500 million total followers.
But there are other illuminating highlights, such as the global reach of music. With large and diverse fanbases, artists account for half of the top 50 largest social media followings.
Also notable is the power of Instagram, which was the biggest platform for 67% of the top 50 social media influencers. This includes hard-to-categorize celebrities like the Kardashians and Jenners, which turned reality TV and social media fame into business and media empires.
Download the Generational Power Report (.pdf)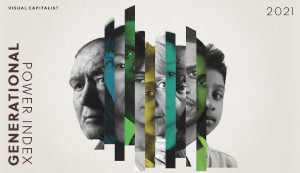 The Most Followers on Twitter, TikTok, and YouTube
However, it's not only celebrities that dominate social media.
Personalities that started on one social media platform and developed massive followings include TikTok's most-followed star Charli D'Amelio and YouTubers Germán Garmendia, Felix "PewDiePie" Kjellberg, and Whindersson Nunes Batista.
Politicians were also prominent influencers. Former U.S. President Barack Obama has the most followers on Twitter, and India's Prime Minister Narendra Modi has more than 175 million followers across social media.
Former U.S. President Donald Trump would have also made the list with more than 140 million followers across social media before being banned from multiple platforms on January 8, 2021.
A Generational Look at Social Media Influence
While older generations have had to adapt to social media platforms, younger generations have grown up alongside them. As a measure of cultural importance, this gives Gen X, Millennials, and Gen Z a rare leg-up on older generations.
Millennials, in particular, hold the lion's share of spots in this top 50 list:
| Generation | # of Influencers in Generation | Top Influencer in Generation |
| --- | --- | --- |
| Gen Z | 4 | Kylie Jenner |
| Millennial | 33 | Cristiano Ronaldo |
| Gen X | 10 | Dwayne (The Rock) Johnson |
| Baby Boomer | 3 | Ellen DeGeneres |
The average age of the top 50 influencers was just over 37.
In our Generational Power Index (GPI), which measures the share of power generations hold in various categories, digital platforms were a key area where Millennials derived their power and influence. Overall, Baby Boomers—and to a lesser extent, Gen X—still run the show in most areas of society today.
Social Media Influence, Going Forward
As most fans and advertisers know, not all social media accounts and followings are homogenous.
Many influencers with relatively small followings have more consistent engagement, and are often able to demand high advertising fees as a result.
Conversely, most social media platforms are reckoning with a severe glut of fake accounts or bots that inflate follower counts, impacting everything from celebrities and politicians to personalities and businesses.
Regardless, social media has become a mainstay platform (or soapbox) for today's cultural influencers. Billions of people turn to social media for news, engagement, recommendations, and entertainment, and new platforms are always on the rise.
Editor's Note: An earlier version of the data used for this story incorrectly counted Facebook likes instead of followers for some personalities. The content has since been corrected and updated."
Which U.S. Generation Wields the Most Cultural Power?
Visual Capitalist's first-ever Generational Power Index looks at which U.S. generation holds the most cultural influence in American society.
Which U.S. Generation Wields the Most Cultural Power?
This year, our team put together Visual Capitalist's inaugural Generational Power Index (GPI), which looks at power dynamics across generations in America.
We considered three categories in our quest to quantify power: economics, political, and cultural. And while it turns out Baby Boomers dominate when it comes to economics and political factors—cultural influence is a different story.
Here's a look at which U.S. generation holds the most cultural power, and how this power dynamic is expected to shift in the coming years.
Generations and Power, Defined
Before we get started, it's important to clarify which generations we've included in our research, along with their age and birth year ranges.
| Generation | Age range (years) | Birth year range |
| --- | --- | --- |
| The Silent Generation | 76 and over | 1928-1945 |
| Baby Boomers | 57-75 | 1946-1964 |
| Gen X | 41-56 | 1965-1980 |
| Millennials | 25-40 | 1981-1996 |
| Gen Z | 9-24 | 1997-2012 |
| Gen Alpha | 8 and below | 2013-present |
Using these age groups as a framework, we then calculated the Cultural Power category using these distinct equally-weighted variables:
With this methodology in mind, here's how the Cultural Power category shakes out, using insights from the GPI.
Share of Cultural Power by Generation
Overall, we found that Gen X captures the largest share of cultural power, at 36%.
| Generation | Cultural Power Share |
| --- | --- |
| The Silent Generation | 8.8% |
| Baby Boomers | 25.1% |
| Gen X | 36.0% |
| Millennials | 23.9% |
| Gen Z | 6.1% |
| Gen Alpha | 0.00% |
| Total | 99.9% |
*Note: figures may not add up to 100% due to rounding.
Gen X is particularly dominant in the film and TV industry, along with news media. For instance, over half of America's largest news corporations have a Gen Xer as their CEO, and roughly 50% of Oscar winners in 2020 were members of Gen X.
Baby Boomers come in second place, capturing a 25% share of cultural power. They show particular dominance in traditional entertainment like books and art. For example, 42% of the authors on the NYT's best-selling books list were Baby Boomers.
However, these older generations fall short in one critical category—digital platforms.
The Dominance of Digital
Why is digital so important when it comes to cultural power? Because digital media becoming increasingly more popular than traditional media sources (e.g. TV, radio).
In 2020, Americans spent nearly 8 hours per day consuming digital media, nearly two hours more per day than they spent with traditional media.
This divide is expected to grow even further over the next few years. With younger generations dominating the digital space, Gen X may soon lose its place as the top dog of the culture category.
Celebrity 2.0: The Social Influencer
As audiences flock to online channels, advertisers have followed suit—and they're willing to spend good money to gain access to their target demographics.
In fact, spend on influencer marketing has steadily increased in the last five years, and it's expected to reach $13.8 billion by the end of 2021.
This shift to social media advertising is redefining the notion of celebrity, and who reaps the financial benefits of content creation. For instance, six-year-old Vlogger Like Nastya made an estimated $7.7 million per month from her YouTube channel in 2020. And keep in mind, this estimate is purely based on YouTube revenue—it doesn't even include corporate partnerships and/or merchandise sales.
With all these shifts occurring, culture as we know it is at a crossroads. And as we continue to move towards a digital dominant society, those who hold power in traditional realms will either adapt or pass along the torch.
Download the Generational Power Report (.pdf)